REVIEW: New Menu Items at Homecomin' at Disney Springs from a Florida Native's Perspective
When you're at Walt Disney World you're not meant to feel like you're in Florida. You're meant to be transported to hundreds of destinations and time periods. But, Disney Springs came along with a Florida backstory. And it is only Chef Art Smith's Homecomin' that displays the culinary culture of the nation's Southernmost state.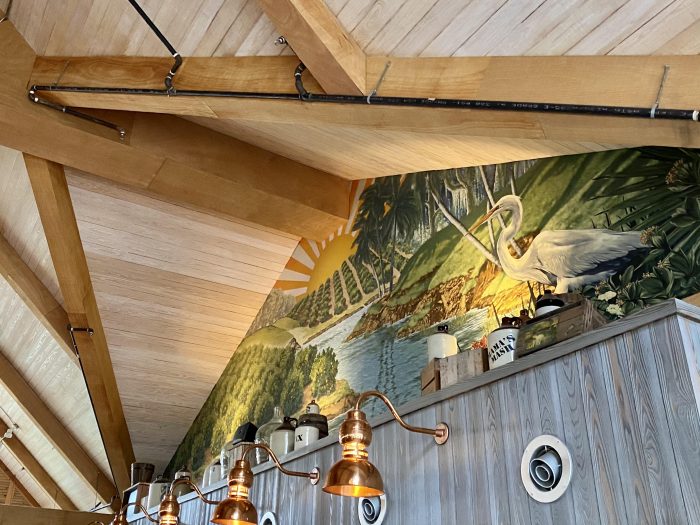 A Rough Start at Homecomin'
When Homecomin' first opened I jumped at the chance to dine there with a fellow Florida Native. Unfortunately, the restaurant disappointed in what was offered, dubbing it Epcot's version of Florida food. While there is a kernel of truth to that statement I let it taint my first impression. However, after multiple visits, mostly for a Sweet Tea Shine and some Thigh High Chicken Biscuits, I have warmed up to Homecomin'. Southern food, the kind of food that Homecomin' aims to showcase, is often simple and humble. Here though, the food is elevated, for all to enjoy. And now there are a few new menu items to keep things interesting.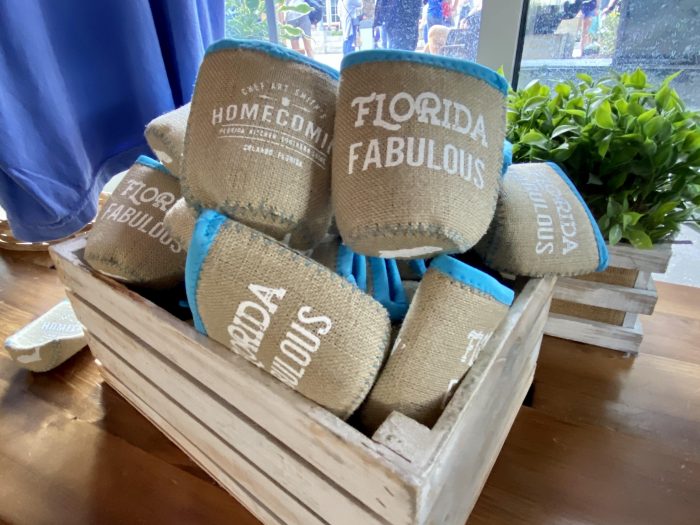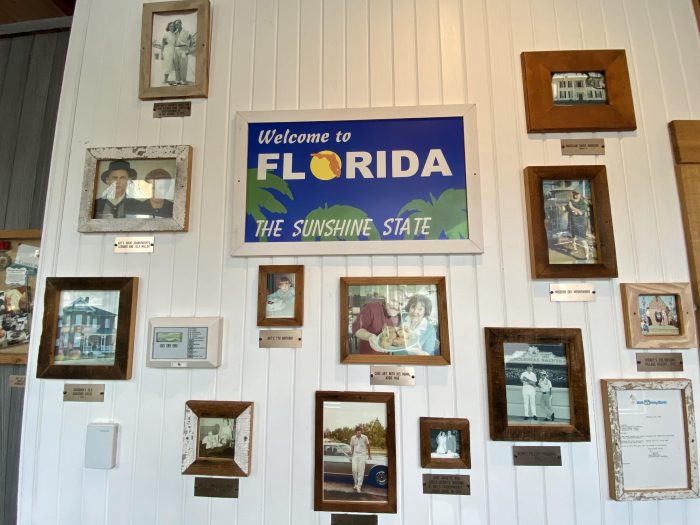 New Appetizers and Drinks at Chef Art Smith's Homecomin'
Walking into Homecomin' feels warm and inviting. The staff is always full of friendly smiles. The interior is bright with wood beams stretched across the ceiling and a mural over the kitchen that nearly brings a tear to my Florida native eye. I find myself ready to start tasting the Florida flavors as quickly as possible any time I set foot in these doors.
Moonshine and Resort Cocktails are the highlights of the specialty drinks, and there are two new additions. The Floradora sounds like a Florida original, but it's not. This gin focused cocktail got its name from a musical comedy that debuted in London's West End in 1899. A Floradora must have gin, raspberry, and ginger – and preferably some lime too. Homecomin's version has all this plus some added sweetness from simple syrup. Some consider the Floradora to be the first "girly" cocktail, and it is light and fruity, but the brooding men in my dining party enjoyed it as well. The Whiskey Breeze is also new. This play on a Whiskey Sour uses Bulleit Bourbon, which is already a plus in my book. Peach puree combines with fresh lime juice and triple sec to bring a balance of tart and sweet. I'd gladly sip on either cocktail again.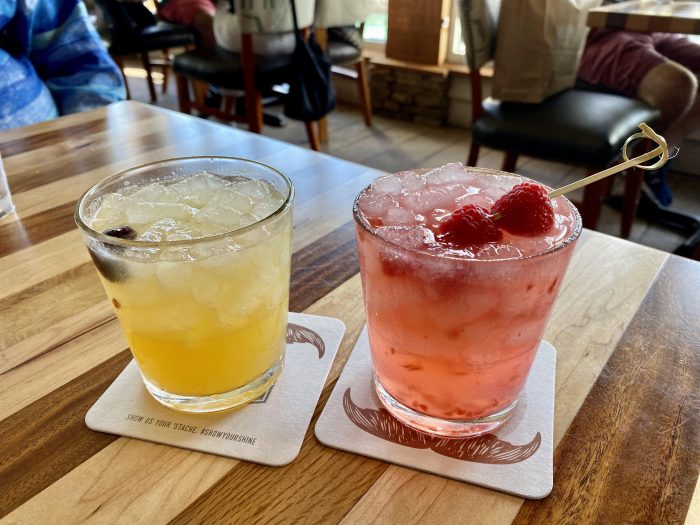 Two new appetizers are on the menu. The Okra Fries piqued my interest right away. Okra is a vegetable that is often used in Southern cooking, mainly in soups and stews, and sometimes diced, battered in corn meal, and fried. Originating in African, okra has a unique flavor that is somewhat tart, but not sour. The texture can be slightly slimy, which is nicely contrasted when fried. Such is the case with these Okra Fries. The batter is light, much lighter than I am used to. And the okra is not diced, but served in long french fry length pieces. This appetizer is akin to green bean fries of the early 2000s fame. The dipping sauce adds some cool creaminess. I would recommend this dish, even if you are not familiar with okra. However, it is would be difficult to choose these over the popular Thigh High Chicken Biscuits or Church Lady Deviled Eggs.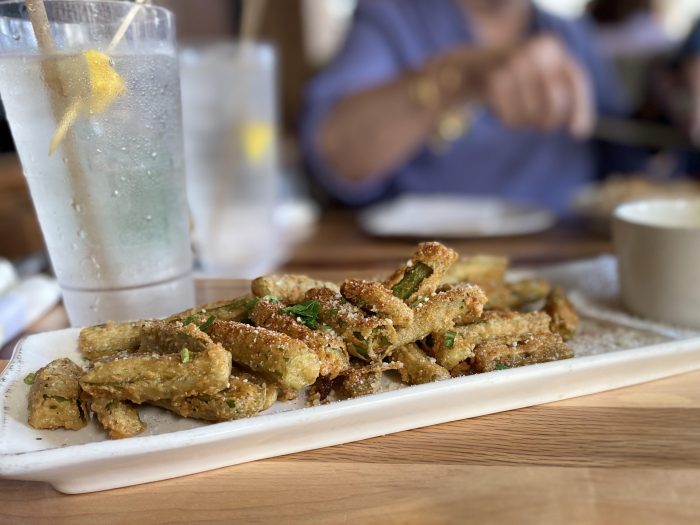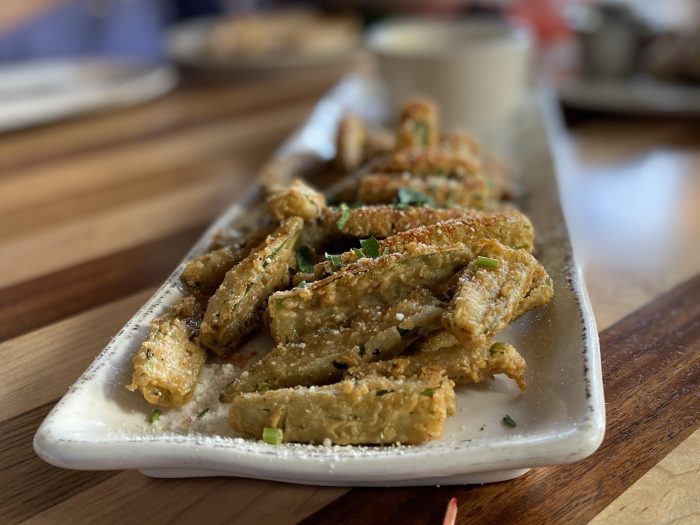 The other new appetizer is the Grilled Chicken Tenders. If you're health conscious this dish may win your favor. Fried chicken is the star of the show at Homecomin' so it is a little curious to see this new appetizer hatch on the menu. All the chicken at Homecomin' is brined in buttermilk (though dairy-free chicken is available upon request); this included the grilled chicken tenders. Thank goodness for that. Without the buttermilk brine I am afraid our grilled chicken would have been dry. The char on our tenders was a little overdone in my opinion. But, the brine kept the chicken fairly juicy. Two sauces accompany the chicken: a hot honey sauce (more on this in a moment) and iceberg dressing (very similar to a homemade ranch dressing). The hot honey makes this dish. I could not get enough of it. The heat does not burn, it simply creates a warmth in the back of your throat and the sweet of the honey tantalizes. Compared to other items on the appetizer menu, this one nearly laid an egg. It isn't awful, it just can't keep up with the other options available.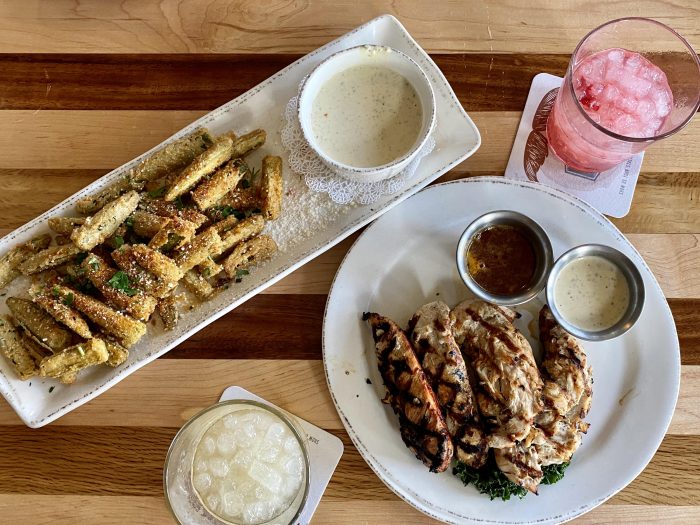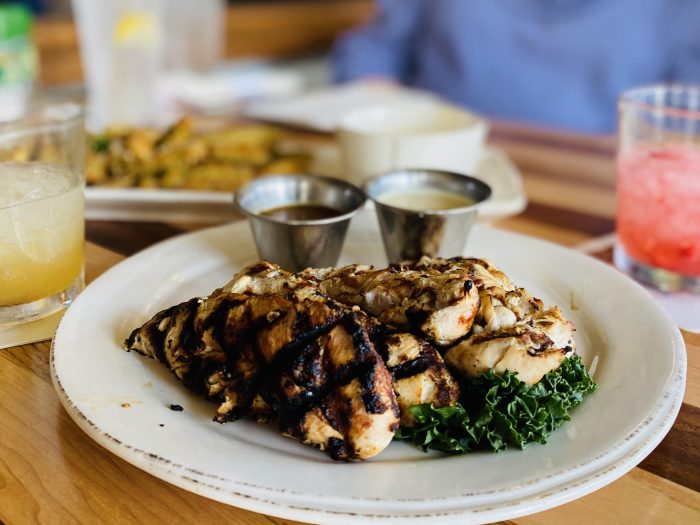 New Entrees at Chef Art Smith's Homecomin'
And now for my favorite new addition, the 1981 Salad. This meal of a salad is a tribute to the 1905 Salad, a famous Florida salad that hails from the Columbia Restaurant. The 1905 Salad celebrates Spanish flavors. Homecomin's 1981 Salad (named such as a nod to the year Chef Art Smith was part of the Disney College Program) honors these flavors. Tart Spanish olives and tangy artichokes are balanced by Parmesan cheese, as well as julienne slices of Swiss cheese. Sweet and smoky ham, and juicy tomatoes round out the toppings.
The dressing is the star made from lemon juice, olive oil, vinegar, and Worcestershire sauce. The combination is unmistakable. I wasn't expecting Chef Art Smith's 1981 Salad to outdo Columbia's 1905, in fact, I was hoping it wouldn't. But it did. Perhaps it is because I admittedly have not had the original in Tampa, but I have dined on the 1905 Salad at two Columbia locations and it is one of the dishes I consider to be a Florida staple. Everyone in my dining party has also enjoyed Columbia's famous salad and they too found Homecomin's interpretation to be remarkable.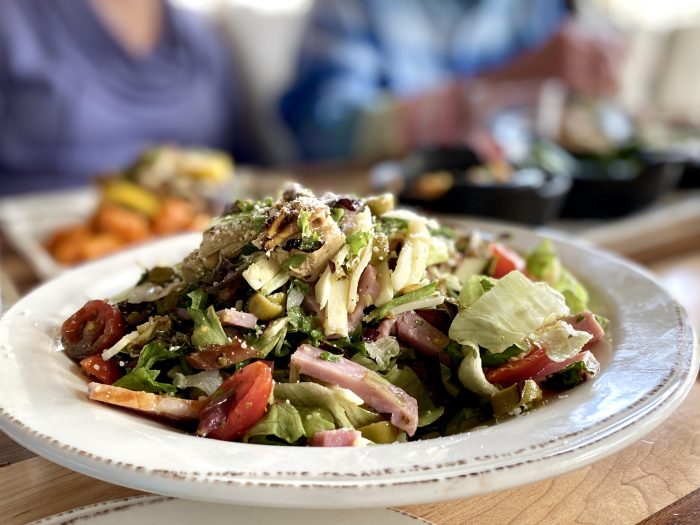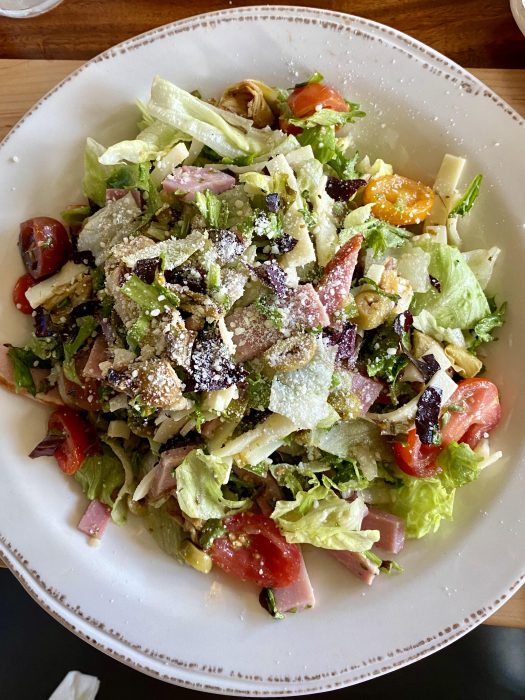 Southern Fried Steak has also joined the menu. To my surprise I really enjoyed this dish. Southern fried steak is inspired by Schnitzel and other similar dishes in which a piece of meat, beef or pork usually, is pounded thin and then fried. Southern fried steak is also known as chicken fried steak as the battered is generally very similar to what is used to fry chicken. I may be born and raised in the South, but this dish isn't one that ever caught on with me.
Homecomin's version is incredibly flavorful. I surprised myself at how much I savored the portion that was shared with me. The smoky sawmill gravy absolutely made this dish. It is creamy and thick, not something I generally enjoy, but the smoky flavor was addicting. The steak was too thin, however, and the breading came right off. The accompanying mashed potatoes were sinful, but the French green beans did nothing for me. There are better entrees on the menu, but if you want something hearty and filling this is not a bad choice.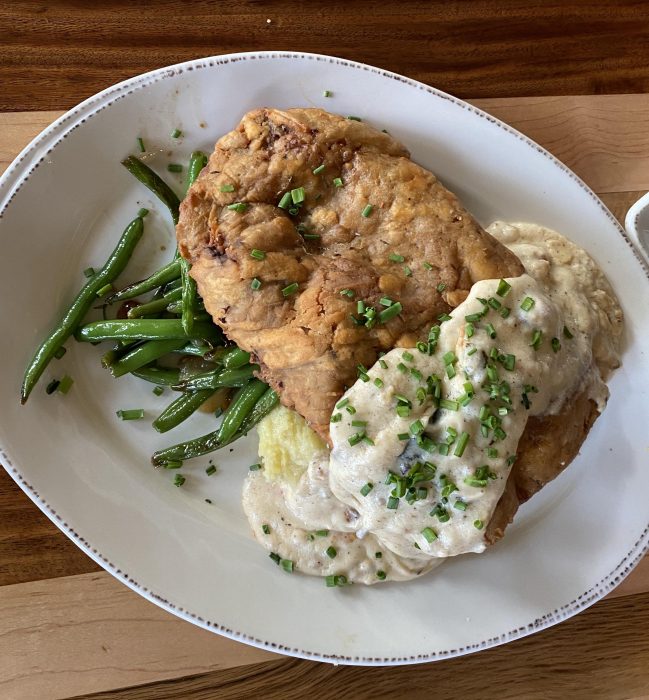 Finally, another highly anticipated entree, the Florida Grouper. Chances are if you're a Floridian and you like fish, Grouper ranks pretty high. Homecomin' now serves it in a way I have never experienced before: with sides I associate with much heartier meals like pork chops. The Grouper is grilled, which I have encountered plenty of times in my life of dining in Florida. However, the char was overdone. It overpowered the delicateness of the fish and there wasn't much seasoning to help overcome the char. I loved the scrumptious sides of sweet potatoes and turnip greens. Oh how I love turnip greens – dark and hearty, with a little tang, sometimes a little sweet and sometimes a little heat. The sweet potatoes could easily be a dessert. Overall, I found the combination of the grilled Grouper with the hearty sides to be a strange combination, but perhaps others will enjoy.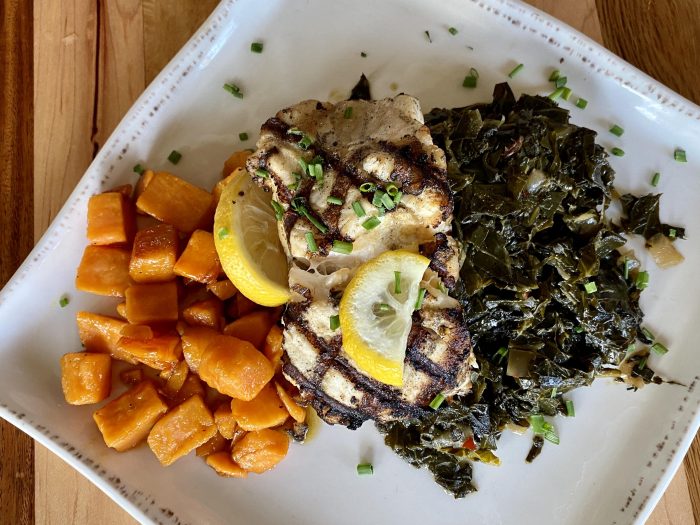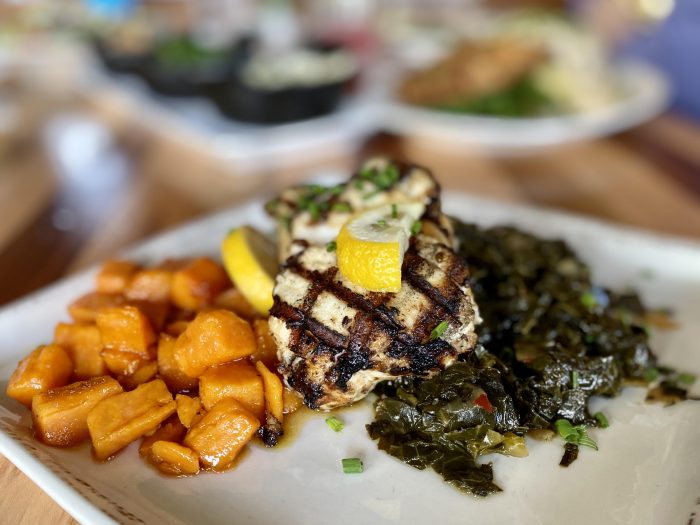 New Sides at Chef Art Smith's Homecomin'
Three new side dishes round out the new additions to the menu. Southern Baked Beans, French Green Beans, and Southern Slaw are now available on their own, as part of The Kitchen Board, or you can generally swap them out for any of the sides with which your entree is traditionally served. The Southern Baked Beans tasted and looked more like Texas style beans to myself and my dining party. The flavor was great, however, though I am not sure why the fried onions were added. The French Green Beans were too al dente to all of us, including a young child dining with us, and didn't have much flavor. The Southern Slaw was surprisingly my favorite. It was crisp and not overly dressed.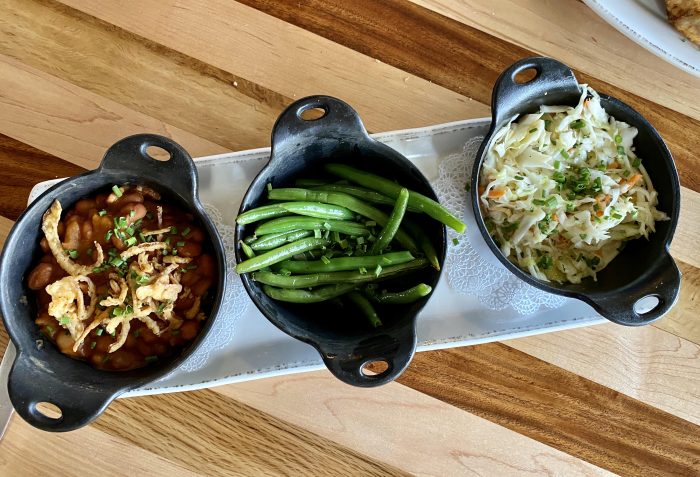 Parting Thoughts
Despite some mild disappointment in some of the new menu items, we enjoyed our meal and our experience. Our server, as well as every server I witnessed, exhibited Southern hospitality. The manager, Al, came over to help with one of our party with food allergies. I would recommend the Okra Fries, the 1981 Salad, the Southern Fried Steak, and the Southern Slaw. A new seasonal dessert is on the way too!
Chef Art Smith's hometown of Jasper, Florida, is mere miles from the Georgia border. Us Floridians like to say that "to go South in Florida, you gotta go North." It is fitting that Chef Art Smith's Florida themed restaurant showcases Southern food with a few Florida favorites. After multiple visits to Homecomin' it feels like coming home, to this Florida native.
Chef Art Smith's Homecomin' and other Disney Springs restaurants can be toughed to snag reservations. Our free TouringPlans Reservation Finding is free to use! Learn more here.