Review of the Disney100 Kitchens at Food & Wine 2023
Last week four new Food & Wine booths (Global Marketplaces) went into action with the official opening of the Disney100 Celebration at Disney World. Our tasting team does yeoman's work on the day that the Festival opens to put together our recommendations (The Best $50 You Can Spend at EPCOT's Food & Wine Festival in 2023), and we sent them back to check out these new offerings. What did they think? Let's get right to it.
Wine & Wedge
Food:
🆕🧀Assorted Artisanal Cheeses and Accompaniments – $7.00
🆕🧀Boursin Fig & Balsamic Soufflé with fig tapenade – $5.75
🆕🧀Southern Pimento Cheese with bread-and-butter pickled vegetables and grilled bread – $5.25
🆕Artist Palette of Wine and Cheese: Assorted Artisanal Cheeses and Accoutrements paired with Selbach-Oster Zeltinger Sonnenuhr Riesling Spätlese, Hartley Apple Brandy, and Florida Orange Groves Winery Black and Blue Port – $18.00
Beverages: 
🆕Selbach-Oster Zeltinger Sonnenuhr Riesling Spätlese – $10.50
🆕Hartley Apple Brandy – $5.50
🆕Florida Orange Groves Winery Black and Blue Port – $12.00
🆕Wine & Wedge Wine Flight – $12.00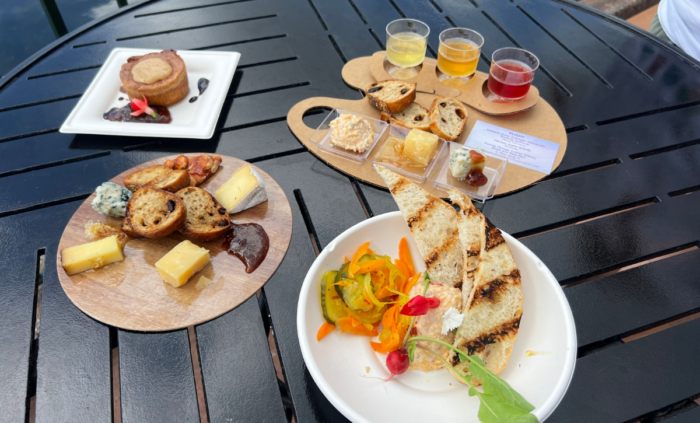 Our Taste Team said …
This is the best all-around kitchen at Food and Wine. Every single dish is excellent and each is reasonably priced for what you get. For anyone who enjoys a drink, the Artist Palette comes with 3 wildly different sips and two of them are seriously strong. The Hartley Apple Brandy and the Black and Blue Port are very bold and pair well with the selection of cheeses and accompaniments. Try the fig bread with a bit of the pimento cheese – the sweet bread and the kick of the cheese are delightful. We loved the entire plate.
For anyone not wanting the spirits, the Assorted Cheeses and Accompaniments is a steal at $7.00. One note – we've had it twice on the first two days of the festival and the bread was different from one day to the next. Every cheese was lovely and the portions were generous. The honeycomb added a special treat to an already exceptional bounty of happy bites.
The Fig Souffle is an adult dish but it was one of the most unique tastes that incorporated common ingredients. I loved it more as it cooled and had visions of creeping to the kitchen at 2 a.m. and eating the leftovers against the open fridge door. So, so nice with the fig and balsamic sauce.
As a proper Southern lady of a certain age, I feel entitled to speak on the worthiness of pimento cheese dishes and this one is not lacking. Just the exact right amount of spice to keep the sweetness from being cloying. Perfection. All they need is a slice of Wonder White and a Cheerwine and we've got the makings of a full southern summer memory!
Bubbles & Brine
Food
🆕Jumbo Shrimp Cocktail with prosecco cocktail sauce and grilled lemon – $14.00
🆕Jonah Crab Claw Cocktail with stone-ground mustard sauce – $12.00
Beverages: 
Moët & Chandon Impérial – $21.00
Veuve Clicquot Rosé – $38.00
Dom Pérignon – $69.00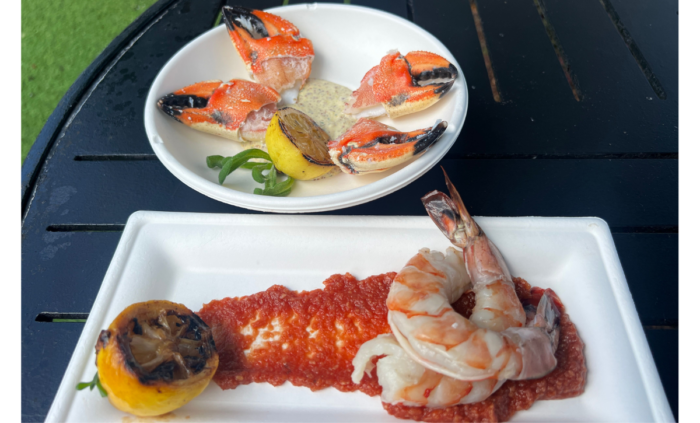 Our Taste Team said …
Disney knew what they were doing when they made this kitchen one of the Disney100 celebration booths. Crab and shrimp and the best bubbly!
If you have to pick between the two, always get the crab. The stone-ground mustard sauce is plucky and adds a little pop/crunch to this soft dish. The crab is cold and tastes so fresh – surprisingly fresh for a food festival in central Florida. We had to get it a few times just to make sure. And just because we are all about testing and research, we will probably have to grab this five or six more times before the end of the Festival. Technically it is enough to share but only with one other person that you are either genetically or legally obligated to care about. Even then we would suggest two.
Swirled Showcase
Food:
Mickey-shaped Liquid Nitro Cake – $4.75
Soft-serve in a Waffle Cone – $6.00
Cream Soda Float with vanilla soft-serve – $6.25
Fanta Grape Float with vanilla soft-serve – $6.25
Beverages: 
Frozen Apple Pie (Non-alcoholic) – $6.25
Cinnamon Apple Cider (Non-alcoholic) – $3.75
3 Daughters Toasted Coconut Porter – $11.25
3 Daughters Toasted Coconut Porter Float with vanilla soft-serve – $13.00
Berry Fizz Fragolino Red Sparkling Wine Float with vanilla soft-serve – $13.00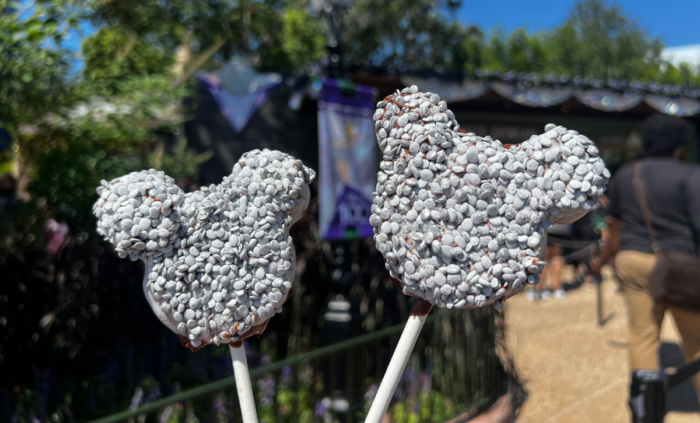 Our Taste Team said …
We've seen lots of comments about the Mickey-shaped Liquid Nitro Cake saying it's just cold cake or it's just chocolate cake, but we heartily disagree. The entire point of the food at these festivals is for us to try things that we wouldn't ever try otherwise – either because we don't know how to make them, the ingredients are too expensive, or it's too much trouble. The food is supposed to be 1) special or different 2) delicious 3) enough to share.
We checked all of those boxes without even tasting as our excited 10-year-old tester watched the chef prepare the pops. This is a child filled with ennui for most things Disney because she has an overly indulgent uncle is a frequent visitor — she was delighted! She asked to have her picture taken with her cake and she talked about it the rest of the day. $4.75 to talk about something other than Roblox for 20 minutes?!? Yep! That's a win. There was even a conversation and quick Google search about how liquid nitrogen freezes and "boils" as we attempted to get the chocolate off our hands. Oh, and it tasted great too.
The rest of the menu is probably not worth the effort or money but I will stand in this line with my $4.75 ready every single time. So happy they brought this type of dessert back even though the sprinkles gave me flashbacks to the glitter bombs of the 50th. Still a hearty yes.
Char and Chop
Food:
🆕Roasted Porchetta with lemon-parsley salsa verde and shaved fennel salad – $6.25
🆕Grilled IMPOSSIBLE Spicy Sausage with herbed polenta, puttanesca sauce, and ricotta – $6.00
🆕Meat Assorti: Trio of shaved meats with baby arugula, pickled mustard seeds, truffle oil, and grilled ciabatta – $6.75
Beverages: 
🆕Krombacher Pilsner – $5.50
🆕North Coast Laguna Baja Vienna Lager – $5.50
🆕Motorworks Brewing Midnight Espresso Coffee Porter – $5.50
GoGi 'Birdie' Pinot Noir – $16.00
Bloody Mary with Seaside Grown Bloody Mary Mix and Kurvball Barbecue Whiskey – $11.00
Beer Flight – $10.00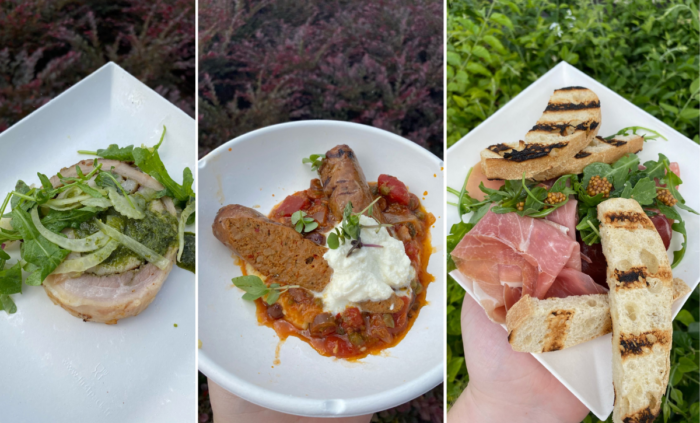 Our Taste Team said …
Spend your money elsewhere. I didn't love anything from Char & Chop. I am not a fan of anything from Impossible so if you are, your opinion may differ. But I get an unpleasant aftertaste from all of their products, so for me the sausage is a yuck. But if it's your yum, I'm not judging.
The other two dishes were totally forgettable and for sure not worth the line or the money. The fennel salad that came with the porchetta was nice, but not enough of a push to get the whole dish. Just underwhelming all around.
Have you tried out the new Festival booths yet? What did you think? Let us know in the comments!