Five Things to Know About Mickey's PhilharMagic
One of the things you can count on at Walt Disney World is magic. And Mickey's PhilharMagic delivers just the right mix of nostalgia, great Disney music, and fun. All in 3D! The result is a show that every member of the family will enjoy. We'll tell you five things you should know about PhilharMagic, but if you want to skip ahead a couple measures to the whys, wheres, and hows, here's a magical shortcut.
1. Mickey's PhilharMagic is phun for the whole phamily!
Disney's website may say it best: "Disney magic meets Disney music in this spectacular 12-minute, 3D fantasy adventure starring Donald Duck." Without giving the whole show away, the plot involves Mickey as a conductor who leaves his Sorcerer's hat behind when he leaves the stage to solve a mystery. While he's gone, Donald puts on that Sorcerer's Hat and calamity ensues. In his 3D adventure, he meets other Disney characters in classic animated musical sequences.
This popular attraction has versions at Hong Kong Disneyland, Tokyo Disneyland, Disneyland Paris and Disney California Adventure. But for purposes here, the rest of our things to know will focus on the Walt Disney World version of PhilharMagic.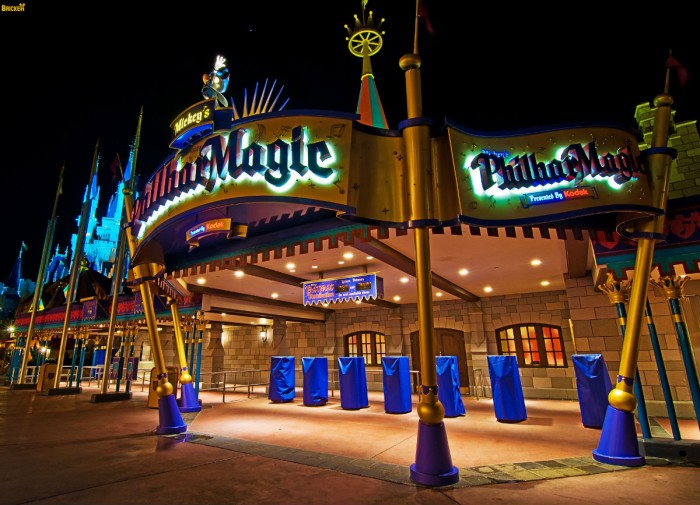 The theater for Mickey's PhilharMagic has a storied history. It originally housed the Mickey Mouse Revue which opened with the Magic Kingdom in 1971. The audio-animatronic show, which closed in 1980, featured Mickey conducting characters from various Disney films playing instruments. Then the 3D film Magic Journeys moved over from EPCOT. In turn, this feature gave way to a live stage show, Legend of the Lion King, which played until 2002. Finally, on October 8, 2003, Mickey's PhilharMagic opened and turned out to be a smash hit with real staying power.
2. Mickey's PhilharMagic pheatures phavorite music!
When you enter the building, you'll walk through a number of switchbacks. The path winds past pun-filled posters featuring characters who have "performed" here at this very theatre. You end up in a gold and blue holding room, where you'll get your special 3D "opera glasses" for the show.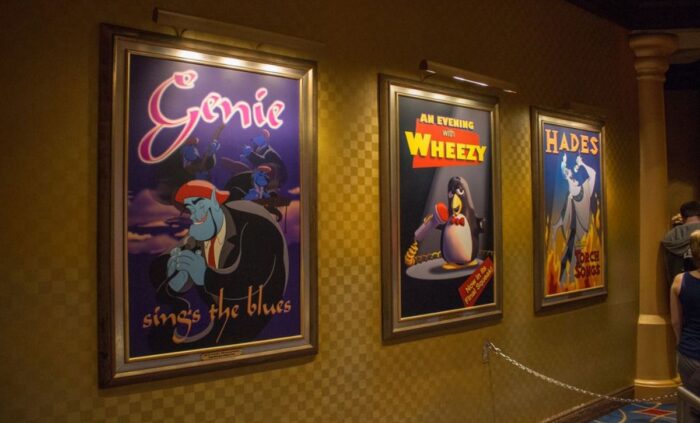 As hinted above, even though the attraction is called Mickey's PhilharMagic, it's really a story about Donald Duck. And while some of the computer animation looks a little dated by today's standards, you're rewarded with a plethora of favorite characters who appear in revamped sequences from classic Disney animated films. And part of its charm is the very fact that it's not as "up to date" as if it were produced this year. Together, the 3D sensory effects and the brilliant music are still magical!
It's worth mentioning that the 3D effects in Mickey's PhilharMagic are more about fun than they are about scaring you. But for what it's worth, you'll be sprayed lightly with a bit of water, and you'll smell different scents. And at the finale of "Be Our Guest," the champagne bottles pop their corks toward the audience, and you'll feel puffs of air on your face which could startle some littles.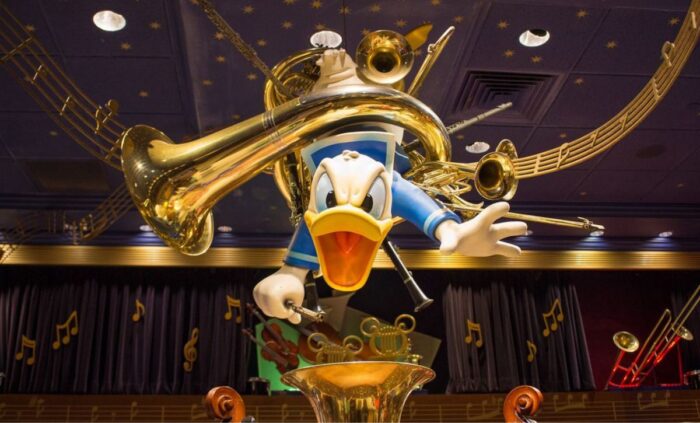 The songs you'll be treated to include the original Mickey Mouse March, Be Our Guest, The Sorcerer's Apprentice, Part of Your World, I Just Can't Wait to Be King, Un Poco Loco, You Can Fly, and A Whole New World. When you leave, don't miss the audio-animatronic of Donald Duck who has crashed through the back wall! More fun: you exit through a gift shop (of course) where you can see how Donald ended up after smashing through the wall!
3. A phruitful phusion conjured up the PhilharMagic.
Imagineers initially thought Tinker Bell should star in the show. Then-chairman Michael Eisner thought Donald would provide more opportunities for comedic situations. So, Donald it was! But it wasn't just Imagineers that created Mickey's PhilharMagic, it was a team effort between Walt Disney Imagineering and Walt Disney Animation Studios.
Disney takes continuity and historic accuracy seriously; the very same animators who originally rendered the characters in their respective movies helped create the new CGI 3D versions. Donald Duck's voice was created by utilizing archived recordings of Clarence Nash, Donald's original voice. And Tony Anselmo, who has voiced Donald since 1985, was brought in for a few lines that couldn't be created from the old recordings. He can be heard humming along with Be Our Guest and speaks a couple of lines in the newest segment from Coco. Most other characters were also voiced by their original actors when possible.
In November 2021, as part of the first year celebrating Disney's 50th anniversary, a new sequence featuring "Un Poco Loco" from the Pixar film "Coco!" was added. Which begs the question: will there be more updates to the show in the future?
4. Mickey's PhilharMagic is philled with phirsts!
When Mickey's PhilharMagic debuted in 2003, it featured the world's largest seamless projection screen. This gigantic screen is 150' long and 24' high and wraps around the stage. All of which works with the 3D effects to give the audience a truly immersive experience.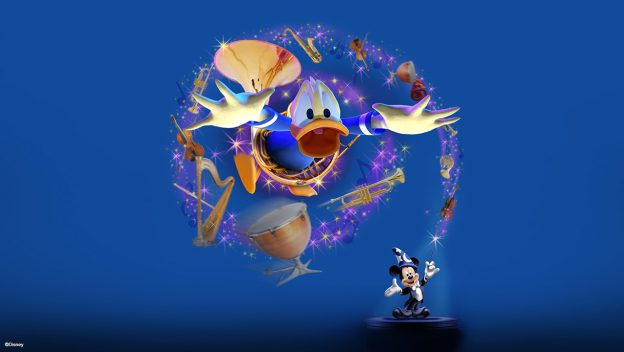 PhilmarMagic is the first time that Mickey appeared in 3D. It's also the first time Mickey was rendered using only CGI. In fact, Mickey's PhilharMagic was created completely on the computer, marking the first time all the Disney characters you see in the show were modeled and animated by computer. Another first: the land of Agrabah in the Aladdin sequence was the largest 3-D environment ever created up to that point in time.
5. The Nuts and Bolts.
Mickey's PhilharMagic is located between Peter Pan's Flight and Cinderella Castle, across from Prince Charming Regal Carousel in Fantasyland at the Magic Kingdom. You'd have to try to miss it, given the huge marquee out front! Weather doesn't affect the show since it's indoors.
Inside, the seats are similar to those in grand European theatres: long, curved rows of individual padded seats with armrests facing the screen. As is true for many theatre-style presentations at Walt Disney World, there isn't a bad seat in the house. The 3D effects work just fine no matter where you end up.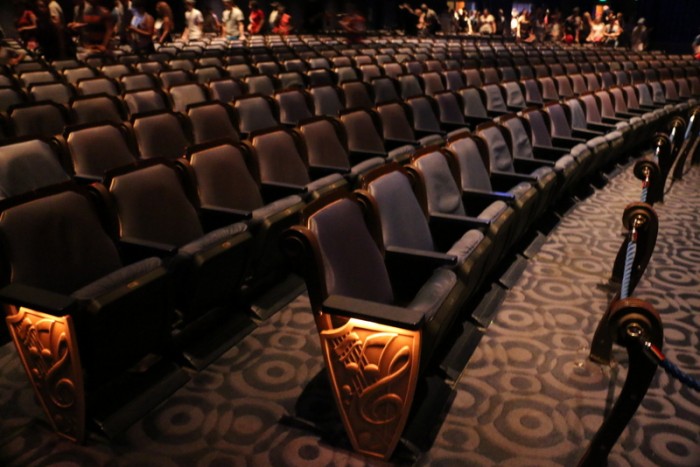 There aren't any height requirements or health advisories for Mickey's PhilharMagic. Guests may remain in a wheelchair/ECV to experience the show! Audio Description, Assistive Listening, and Handheld Captioning devices are available.  And while Lightning Lane via Genie+ is available, this show isn't the wisest use. Because the theatre is so large, generally the only wait time you'll have is waiting for the next show to begin. Mickey's PhilharMagic is open for Early Theme Park Entry and for Extended Evening Theme Park Hours.
The Bottom Line.
We like Mickey's PhilharMagic. it's sure to get a grin or maybe even a guffaw from all but the most humorless souls. Corny? Maybe. But despite advances in technology, the 3-D effects have aged well. Plus, stopping by provides a nice break in air-conditioned comfort and padded seats in the middle of your touring day!
Have you enjoyed Mickey's PhilharMagic? What did you like best? Tell us in the comments below.