REVIEW: Tots and Brats at Magic Kingdom (including a plant-based option)
Taters tots have taken over as one of the most popular theme park foods. Now with Universal Orlando reopening Green Eggs and Ham with an explosion of tater tot options, let's take a look at how Magic Kingdom does tots.
Inside Fantasyland, Magic Kingdom's busiest land, you'll find Friar's Nook – it's around the corner from Fairytale Hall. If you're looking for a quick lunch on the go, this is a good option, and the menu is all tots and brats. Sometimes during a busy day at what can feel like the busiest place on Earth you just need a little comfort food. There are two downsides to Friar's Nook. First, there is no mobile order option since it is such a small location. Second, seating is very limited.
When I visited the Magic Kingdom recently I decided to give some loaded tots and the brat a try. I ended up claiming a spot on the bench seating along the wall that borders. I ordered the Loaded Buffalo Chicken Tots and the Brat and Tots – out of curiosity I went with the plant-based version.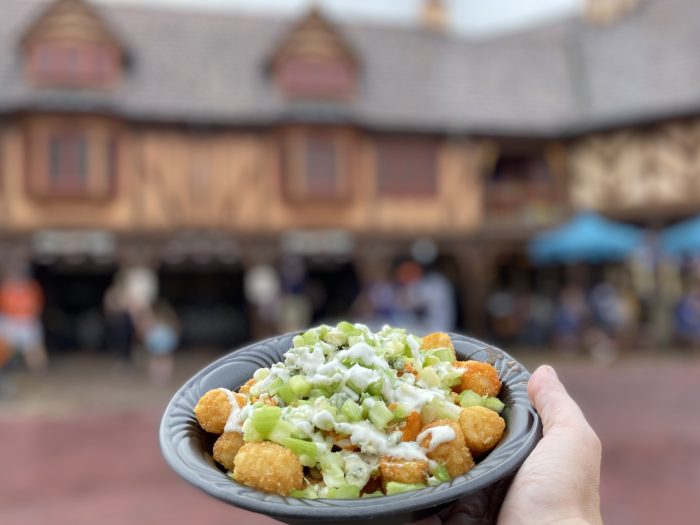 The Loaded Buffalo Chicken Tots are $9.99 and let me tell you, they are a deal. They are indeed loaded, absolutely loaded. In fact, they might actually be overloaded. This could easily be shared and it would still be satisfying. You certainly need to be a fan of buffalo sauce; it is nearly drowning in it. A small pool of the sauce collected at the bottom of the bowl and some of the tots got a little soggy, but I think I would rather have too many toppings instead of not enough.
When I ordered, the hospitable Cast Member asked if the blue cheese and celery was okay for me. It was nice of her to ask, and I did not pass up these included toppings. They add a much needed contrast to the strong buffalo sauce. That is not to say that the sauce was too spicy, in fact, it was a mild as can be. But the flavor itself was very strong. I couldn't get enough of the tender, all-white meat chicken. The serving of the chicken could have been a tad more generous compared to the amount of sauce, cheese, and celery, but it was not a disappointment.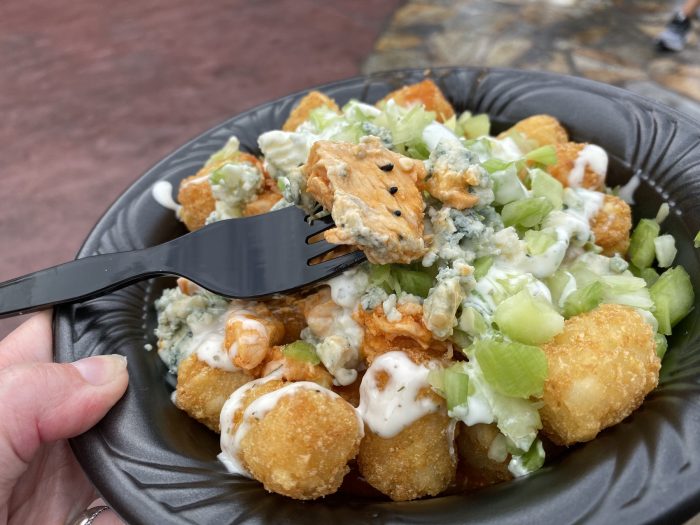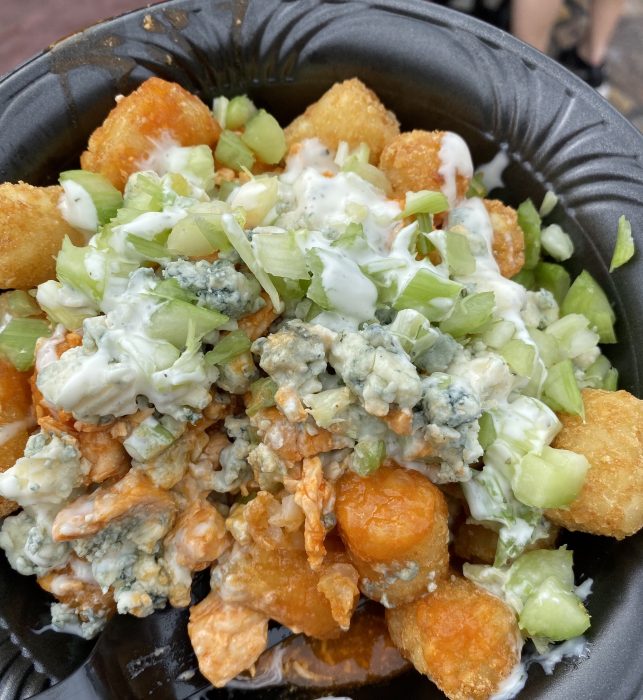 After chowing down on about half the serving of the Loaded Buffalo Chicken Tots, I moved on to the Brat and Tots. A regular brat is standard, but there is a plant-based options available too. I decided to give the plant-based version a try. The flavor was absolutely spot on. I couldn't believe how the flavor of the plant-based brat matched the real thing. What was missing is the juiciness and tenderness of a real brat, which in all reality how could one expect a plant-based brat to have the texture of a meat protein?
The sauerkraut was served warm and on the side. I added it to the top of the plant-based brat as well as some spicy mustard, both helped create a more authentic flavor. The other challenge with the plant-based brat is it is a little smaller than a regular brat so there was a lot of extra bun. However, the bun is a pretzel bun which add a nice heartiness and extra flavor to the entire bite. The tots are served plain and cooked perfectly – crispy on the outside and buttery and tender on the inside. If I had been smart I would've taken a few plain ones and add them back into the Loaded Buffalo Chicken Tots to help with the extra toppings.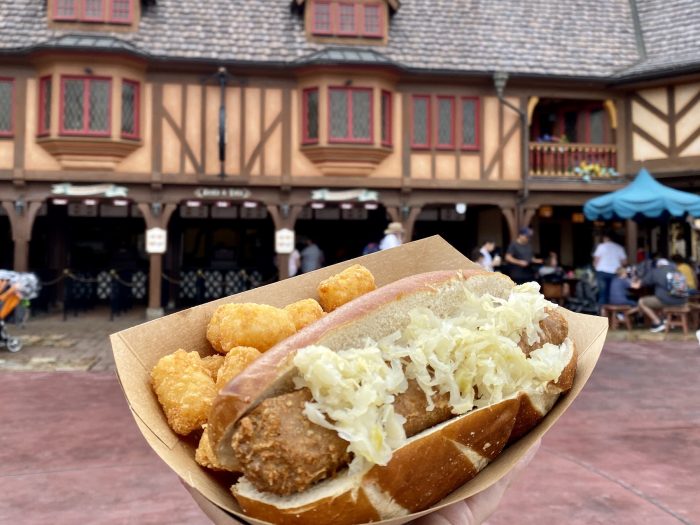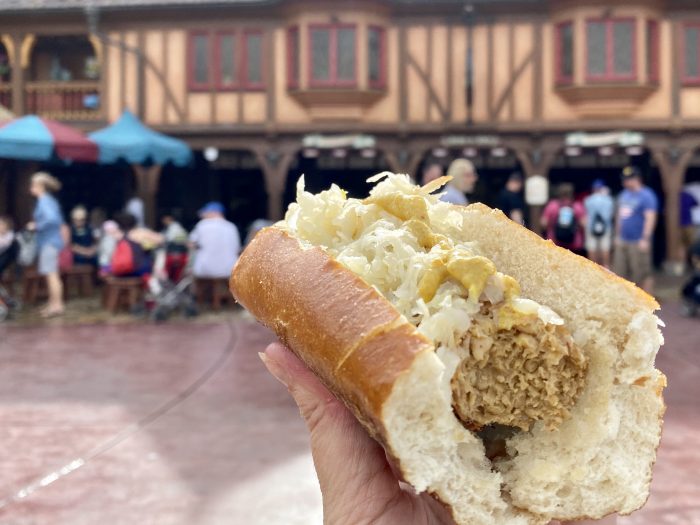 The Brats and Tots are $10.29, not a bad deal. Coupled with the Loaded Buffalo Chicken Tots at $9.99 two people could dine for $21 and have plenty to eat. Besides the two items I tried out, there is Creamy Bacon Mac and Cheese available on its own, or loaded on top of a bed a tots. There is also an All-Beef Hot Dog with Tots.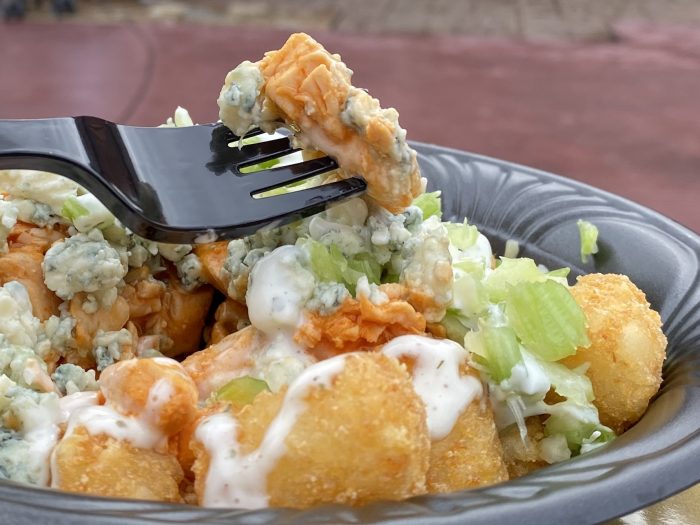 The Tots and Brats available at Friar's Nook are a good casual meal or a satisfying snack when shared. What do you think of the tots crave? Are you a tots fan?