REVIEW: What Is It Like to Dine At Cinderella's Royal Table Without the Characters?
The most iconic restaurant in all of Walt Disney World is back. Cinderella's Royal Table reopened yesterday and you helped us decide what to dine on during our lunch to welcome back this royal establishment. While the traditional Disney princess character experience is on pause, Cinderella still graces diners with her presence, from afar. While this dining experience has changed, we still believe Cinderella's Royal Table is still worth a visit.
Cinderella's Royal Table – Lunch $62.00 Adults / $37.00 Child (Three Courses)
Cinderella's Royal Table is rated at 88% thumbs up according to over 500,000 surveys submitted by our readers. Where this royal restaurant falls short is value. It is one of the most expensive meals in all of Walt Disney World. The quality of the food is strong, but depending on your budget may not be worth the high price of the meal. What wins over guests here is the atmosphere and service. No where else can you dine inside the most recognizable theme park icon in the world.
Check out the menu here. You can choose between the Soup of the Day, Charcuterie Plate, and the Castle Salad to start off your royal meal. We asked our Instagram followers to choose our appetizers. The Charcuterie Plate is a Chef's selection of cured meats, pickles, and accompaniments. The portion was a little small, but each piece on the plate was quality; the spicy mustard and the pickles pack a punch. The Castle Salad is composed of hearty mixed greens, toasted pumpkin seeds, Riesling-marinated golden raisins, pink lady apples, and maple-balsamic vinaigrette. This salad was a hit with our team–well composed and satisfying.
For your main entrée you have a choice of four options. We asked our Instagram followers to help us select our entrees. They selected the Fish of the Day, which was a pan seared filet of Salmon, and Tenderloin of Beef, which comes with celery root mash, seasonal vegetables, and Sauce Bordelaise. Each was nicely prepared, seasoned well, and the portions were satisfying. The beef was cooked exactly as we had requested and the sauce should be bottled and sold. (You're welcome, Disney.) The salmon rested on mixed greens and dill. The side of spaetzle had pancetta or bacon – adding a nice smoky flavor – and was not over salted.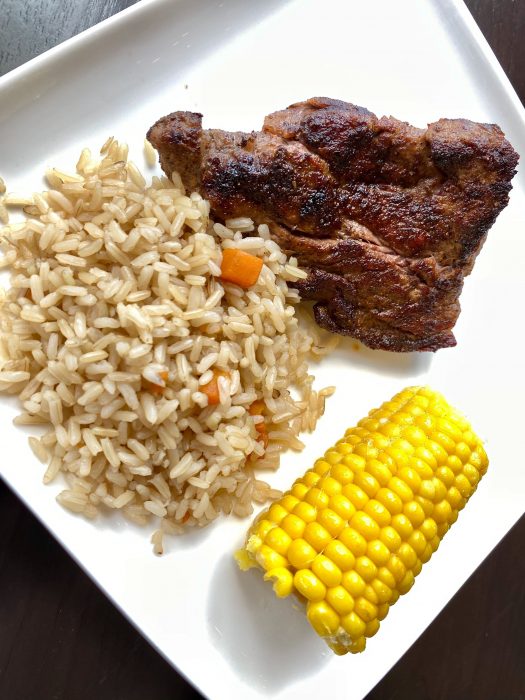 The kid's meal choices have classics like chicken nuggets or macaroni and cheese, but there is also the kid's beef tenderloin and kid's fish of the day. These small, simplified version of adult entrées are great for kids who are willing to explore different flavors.
A royal meal deserves elegant desserts. Our team could not choose between The Clock Strikes Twelve, Jaq & Gus, and the Coffee Pots de Creme. In an example of going above and beyond, the Cast Member brought out all three!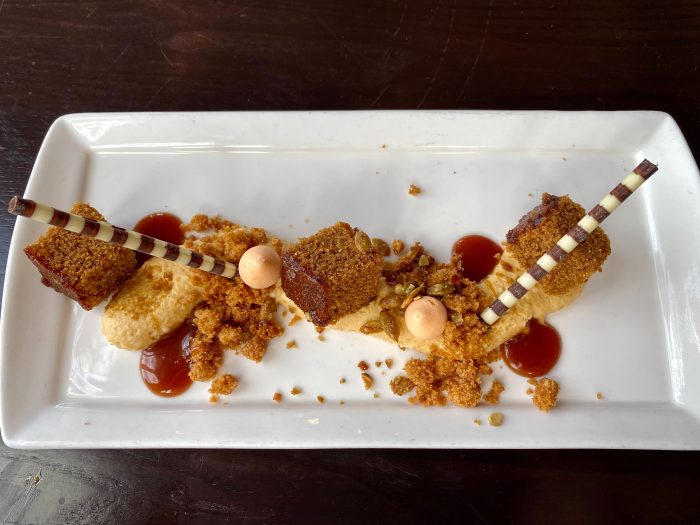 Jaq & Gus has been given a fall makeover. This special dessert looks a bit deconstructed with whipped pumpkin cheesecake, roasted pumpkin seeds, gingerbread cubes, tiny pumpkin meringue drops, caramel, spiced streusel, and rolled chocolate. This was one of the best desserts our team has ever had anywhere on Disney property.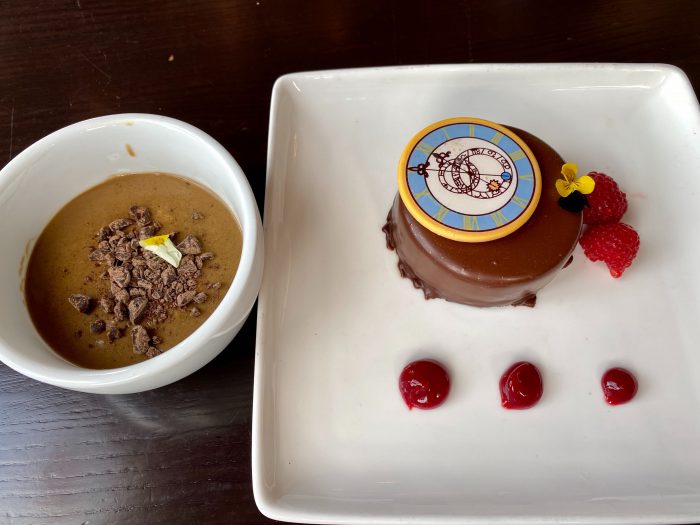 The Clock Strikes Twelve is a signature chocolate dessert that is divine. The chocolate raspberry sauce is sinful and elegant; our team could not get enough. The Coffee Pots are sinful, but not heavy, with coffee-infused coconut custard, passion fruit gelee, and crumbled chocolate espresso beans.
Each are a sweet way to end a special meal. The servings are enough to share, but not so much that they weigh you down.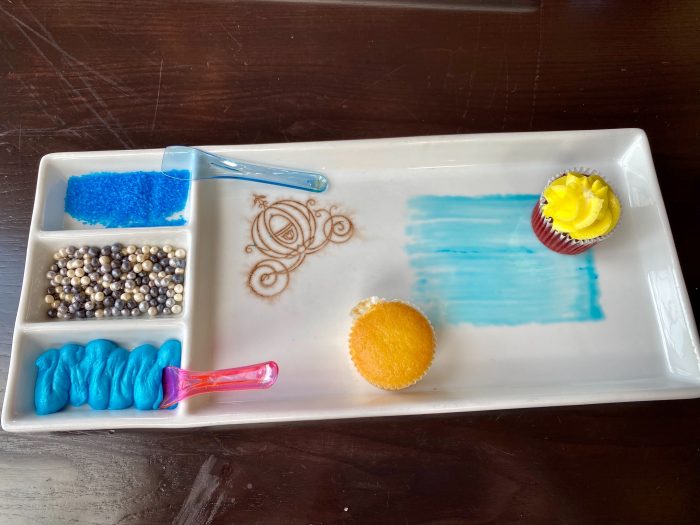 The kid's meal dessert is precious and allows your little one to build your own cupcakes. Lots of Disney restaurants offer this build-your-own dessert for kids, but this one might be the best with its perfectly themed components.
Cinderella's Royal Table New Experience
When arriving to Cinderella's Royal Table you check in outside, at the back of Cinderella Castle. Soon you enter an interior waiting area, adorned with royal decorations and a beautiful display of Cinderella's glass slipper. The dining room has large vaulted ceilings with sparkling, tall stained glass windows overlooking Fantasyland. It is easy to feel like royalty here.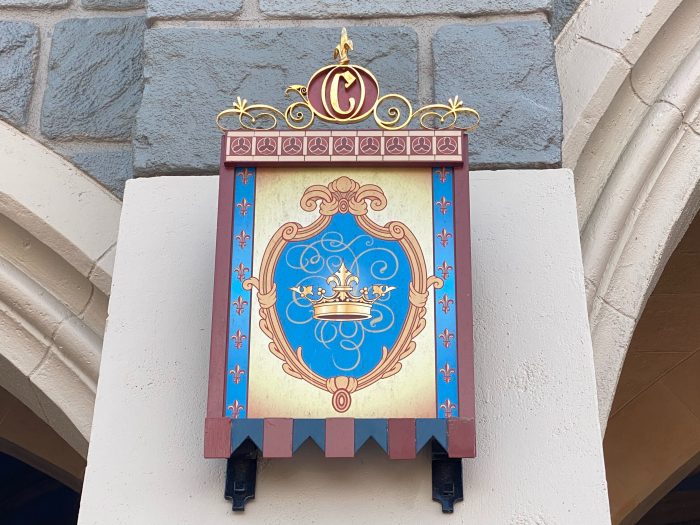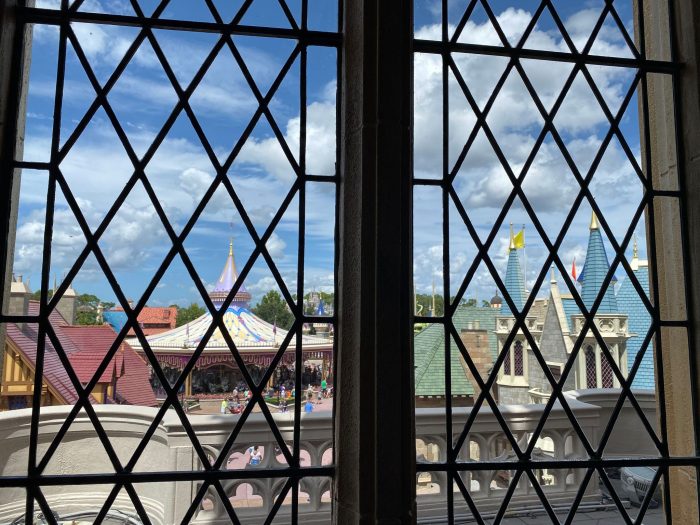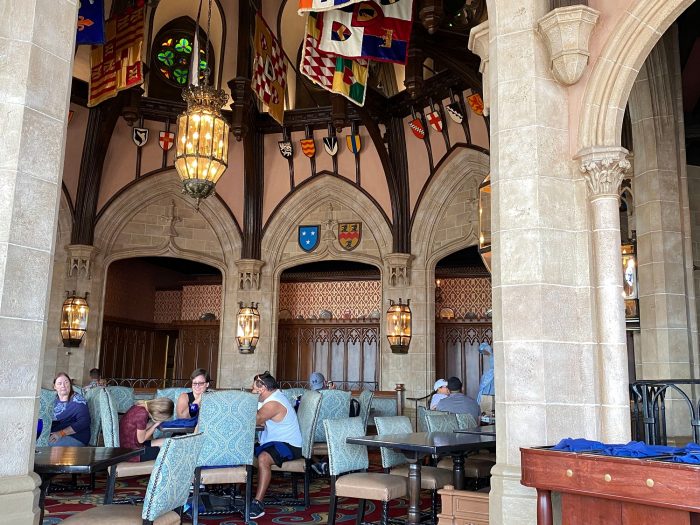 Tables are spaced six feet apart. The chairs are cushy and high backed. Cast Members wear regal costumes and offer some of the best service you'll experience at Walt Disney World. Normally your meal will be accompanied by the Disney Princesses coming to your table one by one for a short meet and greet. Due to COVID-19, this experience is on pause, but Cinderella does make an appearance in the dining room. She greets her royal guests from afar, but it is still a delightful moment.
If you're looking for one of the best meals you can savor at Disney you may want to consider California Grill at Disney's Contemporary Resort, which offers breathtaking views of Magic Kingdom and the surrounding area, and some of the highest rated food on property. Be Our Guest is also an option for consideration if Cinderella's Royal Table's price tag is unreasonable.
Yet, for many Disney fans, dining at Cinderella's Royal Table is a must-do. If you're celebrating a special occasion this iconic location should be a contender on your list. It truly is the most iconic Walt Disney World restaurant and something that should be experienced at least once, if it fits into your budget.
If you want to feel like royalty throughout your entire Walt Disney World trip, become a TouringPlans Subscriber to get a full library of tools and resources at your fingertips.
Have you dined at Cinderella's Royal Table before? Will you consider dining here even without the full character experience?