REVIEW – Yak and Yeti at Disney's Animal Kingdom Should Not Be Overlooked
With the lack of the Disney Dining Plan right now we're focused on finding the best values. This sparked our team to revisit a restaurant at Disney's Animal Kingdom that doesn't get in the spotlight often enough. Yak and Yeti is a table service restaurant operated by a third party, Landry's Restaurants. So what makes this oddly named eatery a decent value? In a word: portions. But diving deeper, we found good quality food and drinks, nice service, and an elaborate setting.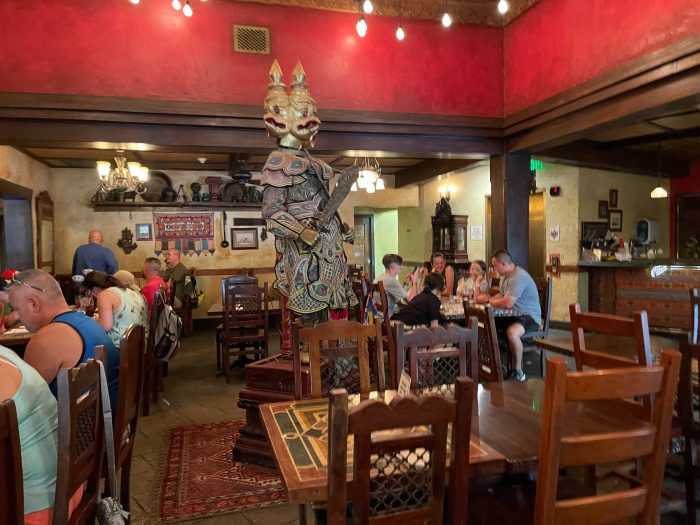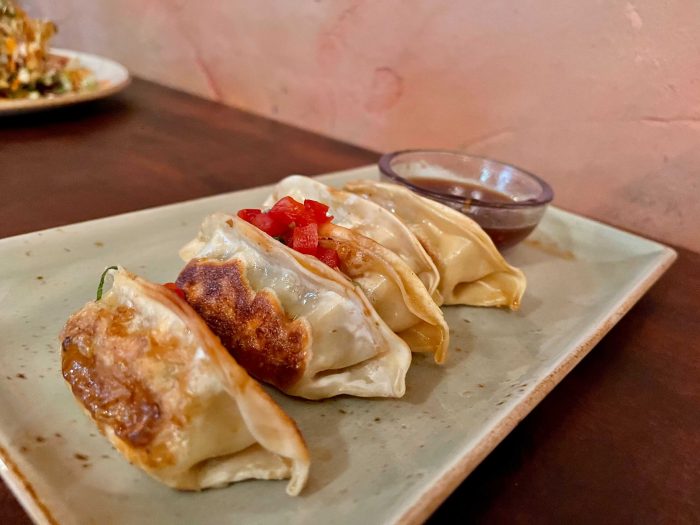 We have ratings and rankings for every Walt Disney World restaurant and Yak and Yeti has a 92% thumbs up, from over 500,000 surveys in the past few years. It is currently ranked #15 out of 105 table service restaurants.
Here's what Chrissy and her party ordered from the Yak and Yeti menu:
Yak Attack Cocktail – Mango Daiquiri, Don Q Cristal Rum, and Wildberry Flavors – $12.00
Cruzan Mule Cocktail – Cruzan Single Barrel Rum, Ginger Beer, Monin Lychee Syrup, Pineapple Juice – $14.00 (brand new, being added to the menu)
Pork Pot Stickers – Pan seared or steamed, soy lime dipping sauce -$11.29
Ahi Tuna Nachos – Sushi grade Ahi tuna, Asian slaw, crispy fried wontons, wasabi aioli, sweet soy glaze – $18.79 (meant for two or more people)
Chicken Tikka Masala – Boneless chicken breast marinated in yogurt and freshly ground herbs cooked in a traditional Masala sauce, jasmine rice, garlic naan – $25.99
Miso Salmon – Miso glazed Atlantic Salmon, coconut-ginger rice, stir-fried vegetables – $28.99
Fried Wontons – Skewers of Fresh Pineapple and Cream Cheese Wontons, Vanilla Ice Cream, Honey Vanilla Drizzle – $10.99
Mango Pie – Shortbread cookie crust, whipped topping, raspberry sauce – $10.99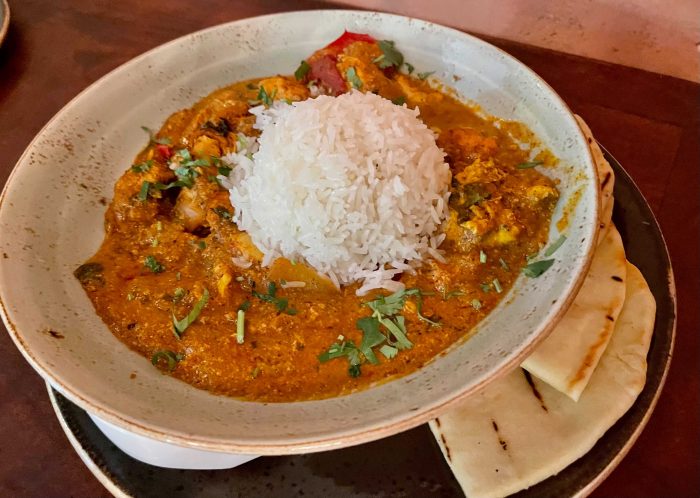 Chrissy was able to order a new cocktail that is not on the menu just yet, but is in the works, the Cruzan Mule. This cocktail packs a punch and is strong. Two shots of rum may make Disney fans think of Trader Sam's Grog Grotto, but in this case it is a potent combination with ginger beer for a tart twang, and mellowed with some lychee syrup. At $14 it's still less than the cocktails at Nomad Lounge, and pretty on par with them too.
The Yak Attack tasted like a virgin drink after the Cruzan Mule, but it was fruity, refreshing, and mellow. Essentially it is a special version of a strawberry daiquiri, which for many is the quintessential vacation cocktail. There is a small bar at Yak and Yeti that you can walk up to for drinks and food. It would lovely if this bar were larger, but alas it seats just a few and is usually full most of the day.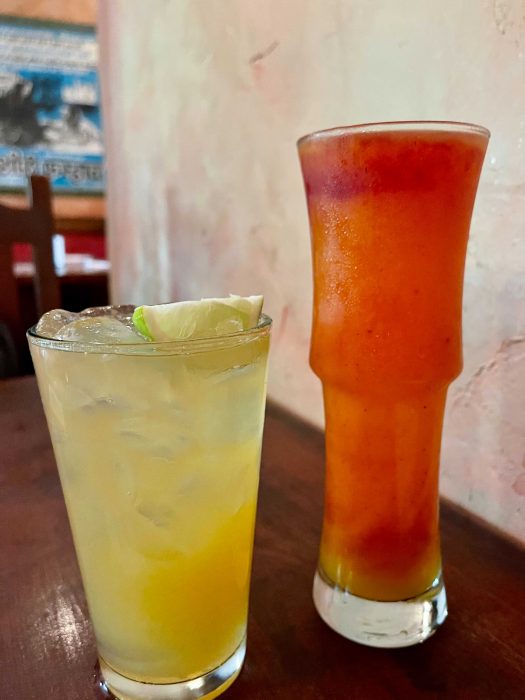 The massive Ahi Nachos are meant to share and in Chrissy's book are worth making a reservation. The fried wontons in lieu of traditional tortilla chips really make this sharable appetizer special. There was a slight hint of heat thanks to the wasabi. Order these and a round of cocktails for a light, relaxing lunch that won't completely break the bank.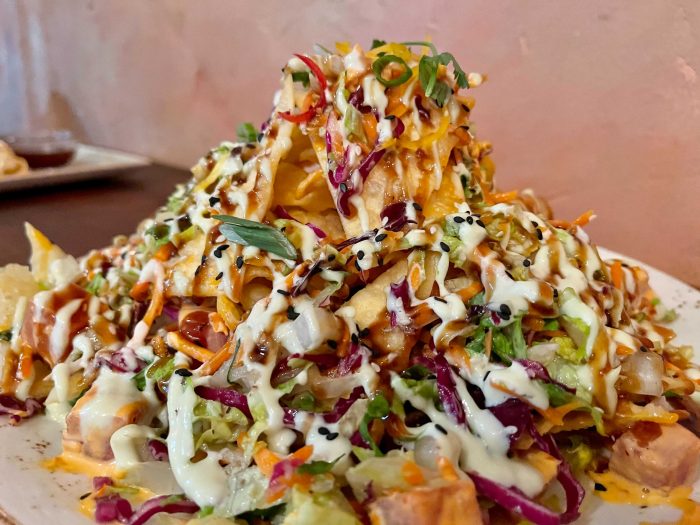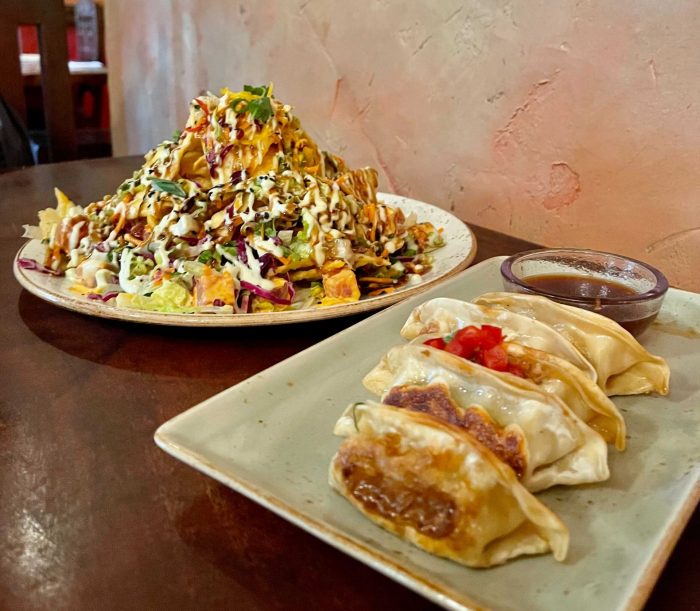 The Pork Pot Stickers can be prepared just steamed or pan seared. On the recommendation of their server, Melissa, Chrissy's party went with pan seared. Crispy bottoms and chewy tops with the dipping sauce made for a savory and satisfying combination.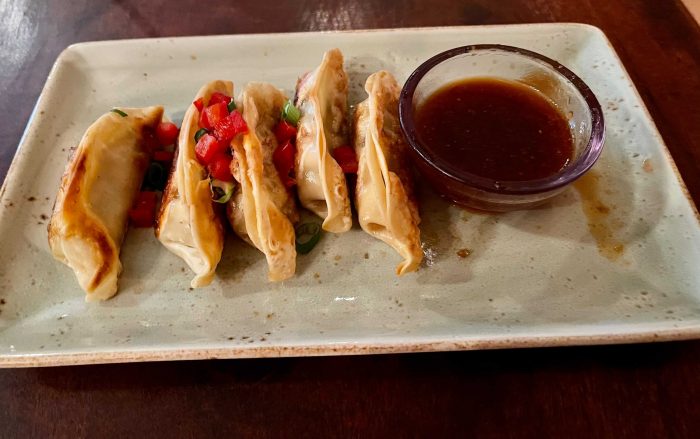 The first entrée was a bit of a test. Between myself, Chrissy, and other folks on our team we've had some pretty awful salmon entrees at Walt Disney World. The usual culprit in such cases is that it is overcooked. We're happy to report that in the case of this Miso Salmon it was cooked well, but not dry and dense. The sauce is the star that elevates the whole dish. The sugary glaze makes for a slightly crispy coating. The rice smelled and tasted divine, a light and airy complement to the flavorful fish. The accompanying vegetables did their job, but were outshone by the rice and glazed fish.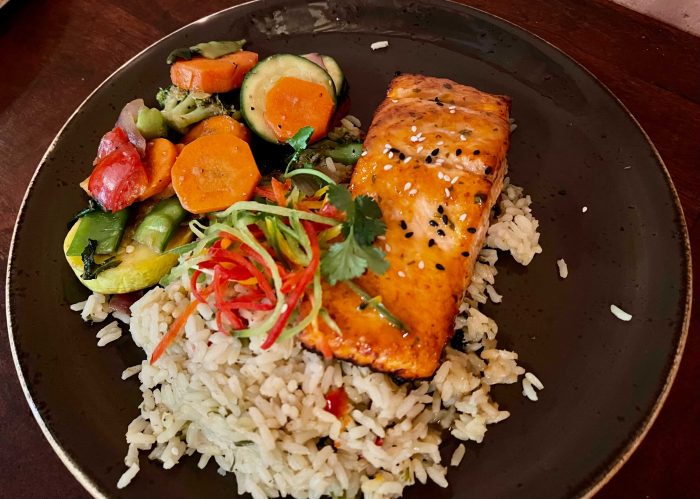 Whenever I see Chicken Tikka Masala on a menu I usually go for it, and Chrissy indicates she usually does as well. This was a great version! Just right levels of heat and spice and a large enough portion to share. Having more garlic naan bread would certainly have been welcomed, but this dish absolutely satisfied.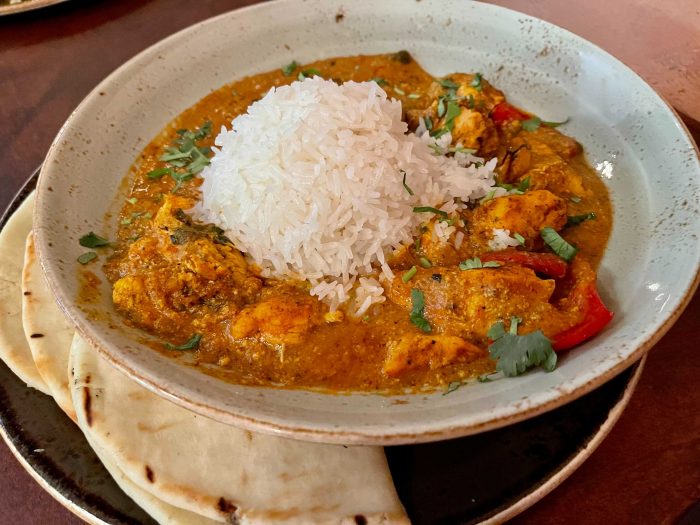 Between the two desserts the Mango Pie won the duel. Chrissy is now practically in love with this dessert. The sweetness and creaminess still manage to be refreshing in this cool and comforting pie. The pricier Fried Wontons are certainly a special choice you can't find anywhere else. It was a hefty portion, with sweet, creamy notes and a crunchy texture, but these just paled next to the Mango Pie. Only people who hate mango should order the wontons over the pie.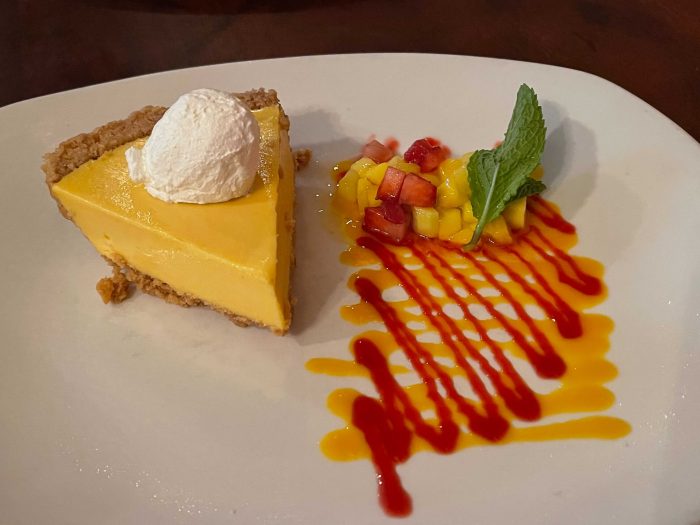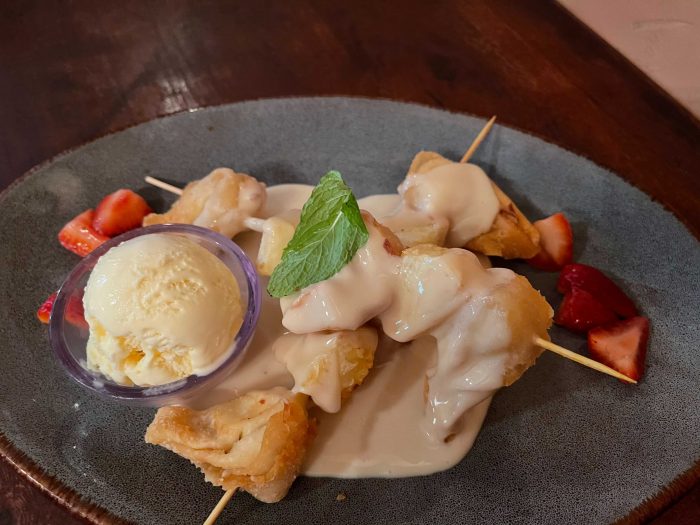 Tips and Information About Yak and Yeti
Yak and Yeti is part of Landry's Restaurants, so its menu and operation are not handled by the Disney Company.
If you cannot find the reservation you want, try our Reservation Finder.
Landy's Restaurants does have a loyalty program, for earning points and priority seating, it does have a cost, but you earn it back immediately in the form of a reward.
This program can be used at any participating restaurants nationwide.
There are other specials available daily that are not regular menu items, so be sure to ask about them.
A 10% Annual Pass discount is available.
Yak and Yeti offers indoor seating only.
Have you ever dined at Yak and Yeti? How was your experience, would you go back?