Riviera's Tower Studio Rooms Are the Worst Value in Walt Disney World
Having spent the last 24 hours at Disney's Riviera Resort, I'll say that there's a lot to like: there's just enough theming to make it feel different; the one- and two-bedroom units are spacious and very functional (the dedicated 2BRs have three showers, which is fantastic).  The new Topolino restaurant is above average in food quality, presentation, and service; and the pool amenities, including the water slide and kids' play area, are very good.  Coupled with Skyliner access to the theme parks, I'll be confident in recommending the Riviera to a wide range of guests.
But every resort has its problems, and the Riviera is no different.  In this case, the problem is the 2-person Tower Studio rooms.  These are almost certainly the worst hotel rooms on Disney property.  Riviera's rates for these 220 square foot rooms start at $377 per night and go up to $631, making them the worst value of any hotel room in Walt Disney World, too.
The Tower Studios' main problem isn't its diminutive size – it's the lighting, which is dismal at night.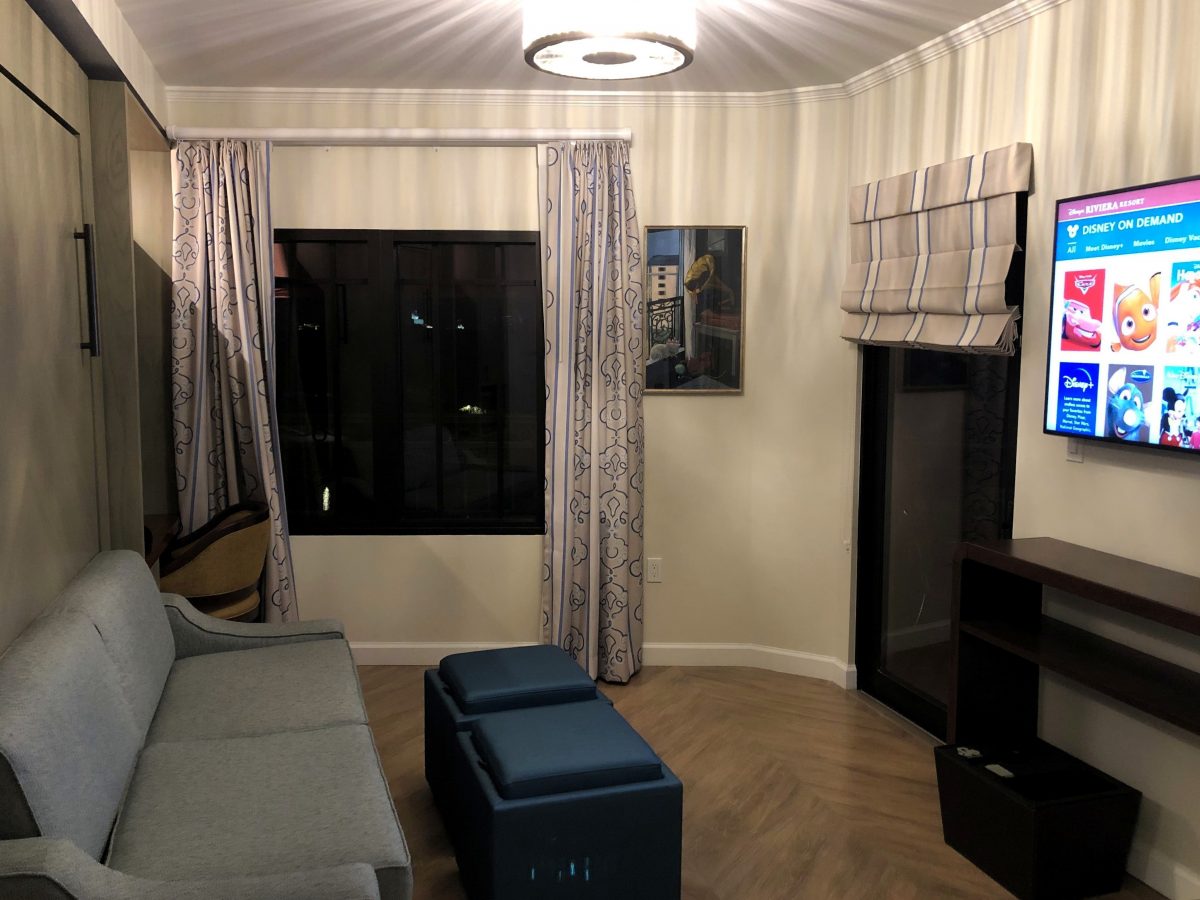 That's the entire living area of the hotel room – I took the photo standing in the doorway.
Besides the lighting, the room's obvious drawback is its size.  At 220 square feet, the Riviera Tower Studio rooms are 40 square feet smaller than the smallest rooms at Disney's value resorts.  Those value rooms accommodate four people, or about 65 square feet per person.  (For reference, that's about what you get at most state prisons.)  The Riviera's Tower Studio rooms work out to about 110 square feet per person.  In practice, it feels much, much smaller than that.  There were two adults in this room with me – good friends of mine – and we all felt claustrophobic within a few seconds of being together.
The floor-to-ceiling storage unit is part of the problem.  The gray color scheme seems to absorb light at night.  It would've helped to have under-shelf lighting.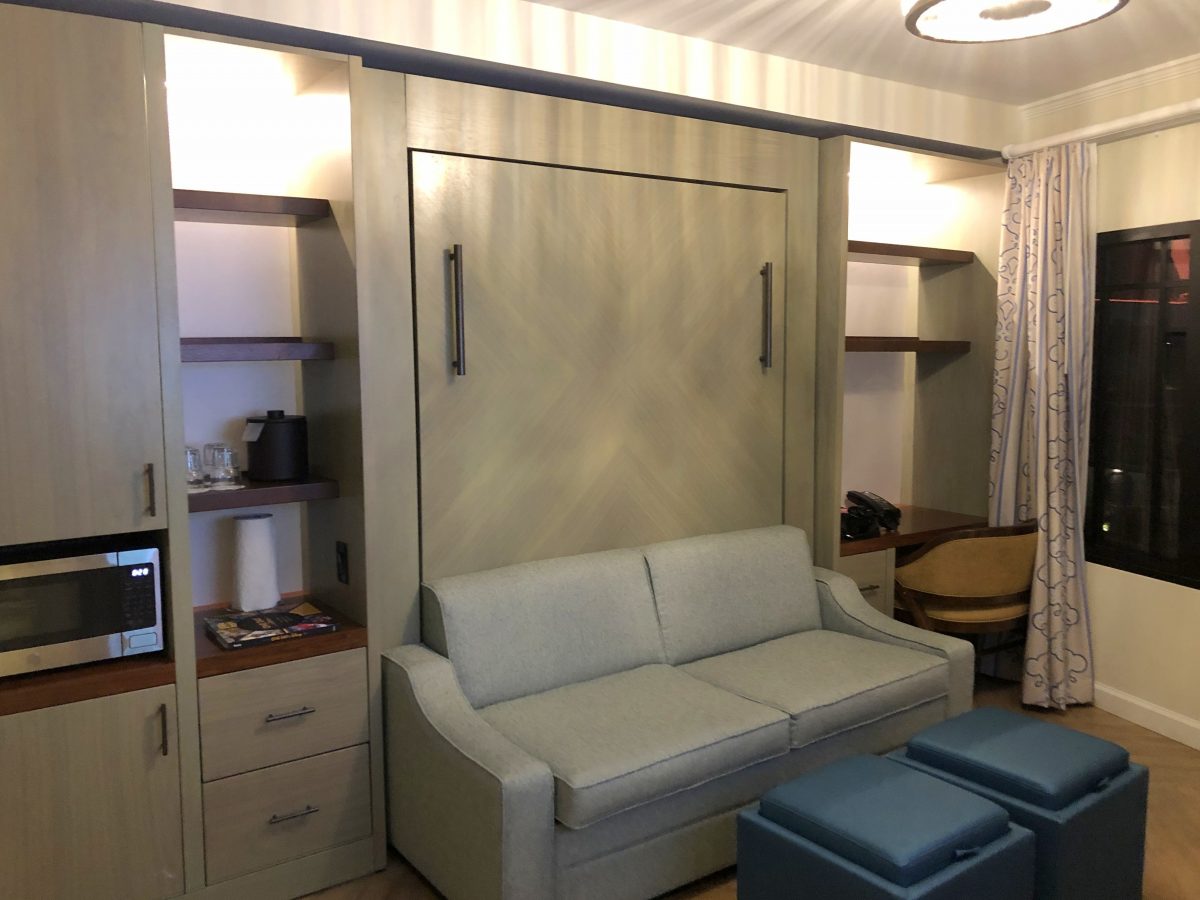 Here's the view of the opposite side of the room, with me standing with my back to the window: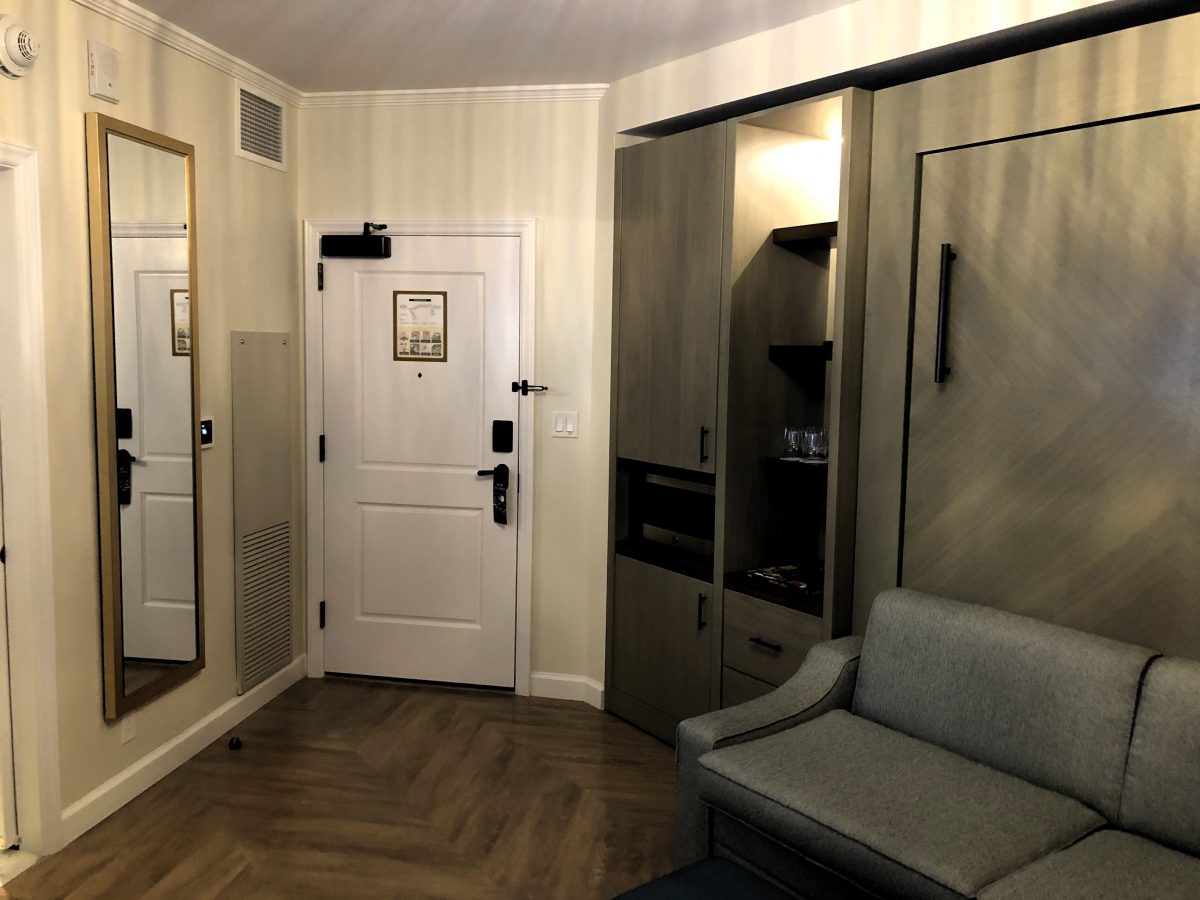 The cabinets include a small microwave.  Above the microwave is a cabinet that holds a four-slot toaster.  To its right is a coffee machine.  I looked desperately for a packet of Prozac among the sugar and creamer packets with the coffee, but didn't find one.
I think the above photo sums up the Tower Studio room best. Is there anything in this image that says "Riveria" or "luxury", or that justifies a starting price of over $375 per night?
The most cheerful part of the Tower Studio room is the bath – and that's where one of my friends stood as we talked: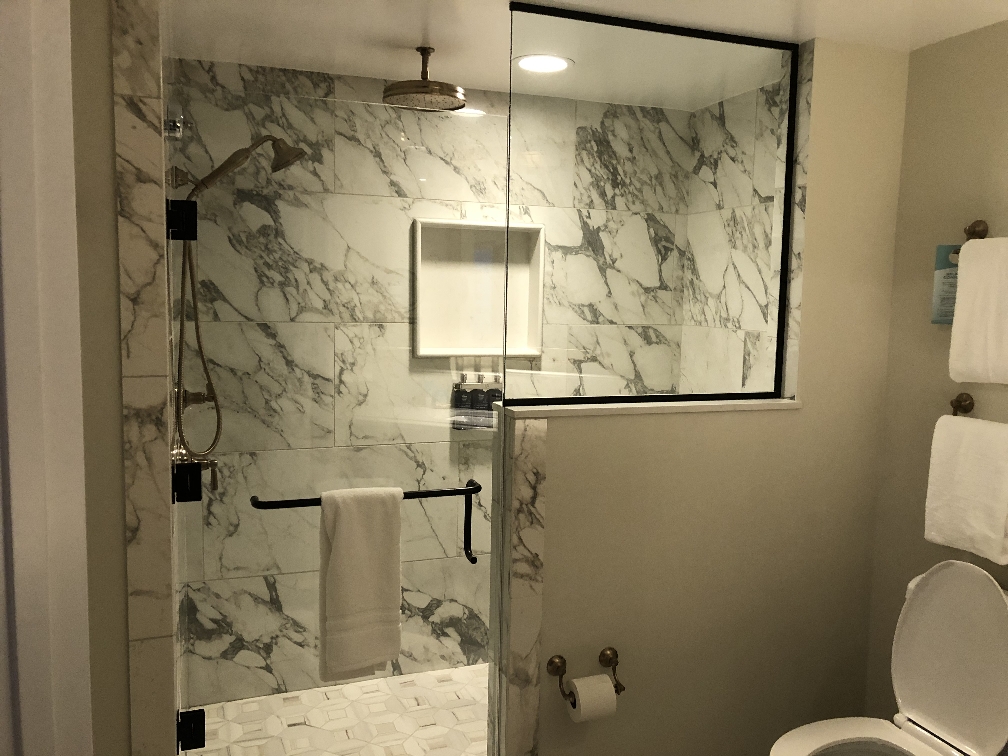 The bathroom lighting is slightly better than in the living area, and that's probably helped by the white marble shower tiles.  The shower is spacious, and I really like the rainforest shower head to go along with the hand-held wand.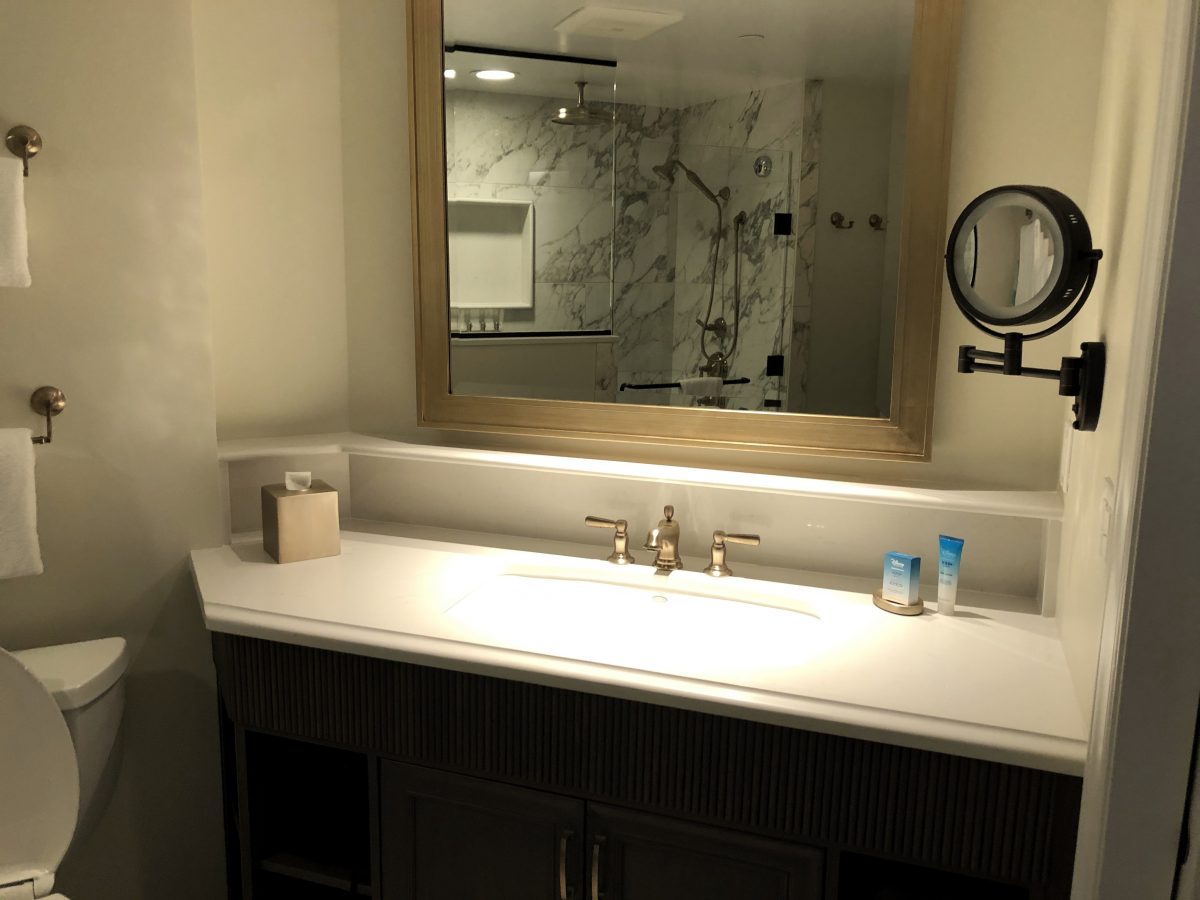 On the plus side, the bathroom vanity has plenty of space for two people.  It's also got the best lighting in the room. I wish there was a chair in the living area, because I'd pull it into the bathroom to relax.
Disney's Riviera Resort is a Disney Vacation Club property, so most people who stay here will be using points (or renting points) rather than paying cash.  Here's the points chart for the Tower Studio room for 2020:
Adventure Season
Days of Week
Points
Jan 1—31
Sep 1—30
Dec 1—14
Sun-Thu
Fri-Sat
Weekly
11
13
81
Choice Season
Days of Week
Points
Oct 1—Nov 24
Nov 28—30
Dec 15—23
Sun-Thu
Fri-Sat
Weekly
12
15
90
Dream Season
Days of Week
Points
Feb 1

—

15
May 1

—

Jun 10
Aug 16

—

31
Sun-Thu
Fri-Sat
Weekly
15
17
109
Magic Season
Days of Week
Points
Feb 16

—

Apr 4
Apr 19

—

30
Jun 11

—

Aug 15
Nov 25

—

27
Sun-Thu
Fri-Sat
Weekly
18
21
132
Adventure Season
Days of Week
Points
Apr 5

—

18
Dec 24

—

31
Sun-Thu
Fri-Sat
Weekly
22
26
162
The Riviera Tower Studios rooms per-night points price is less than those at, say Beach Club Villas but the Beach Club Villas rooms sleep 5.  But the Riviera's Tower Studio requires more points year-round than a value studio at Animal Kingdom Lodge, even though the Animal Kingdom Lodge studio sleeps 4 people, and is attached to one of the highest-rated resorts in Walt Disney World, with some of the best restaurants, too.  It's hard to see how any DVC owner would consider the Riviera's Tower Studio rooms as a good use of points as compared to those options.
The easiest way to fix these rooms is to drop the price significantly – something in the range of Art of Animation to Caribbean Beach's standard rooms.  I wouldn't be surprised to see discounts appear for these rooms throughout the year.  That's probably the only way I'd recommend staying in one for now.
If you've stayed in one of these Tower Studio rooms, I'd love to hear about your experience – leave a comment below.