Review: Jolly Holiday Bakery, Disneyland's Most Popular Quick Service Restaurant
Jolly Holiday Bakery is a quick service restaurant located on Main Street, U.S.A. in Disneyland in Anaheim, California. This Mary Poppins themed bakery offers up pastries, sandwiches, an assortment of coffee drinks, and some wonderful seasonal items throughout the year. Jolly Holiday holds the distinction of being the highest rated quick service restaurant in Disneyland with TouringPlans.com and Unofficial Guide to Disneyland readers. It currently has a 94% thumbs up rating, which just beats its neighbor across the street, Plaza Inn at 93%. Today we'll take a look at it's menu and see if it deserves its place at the top.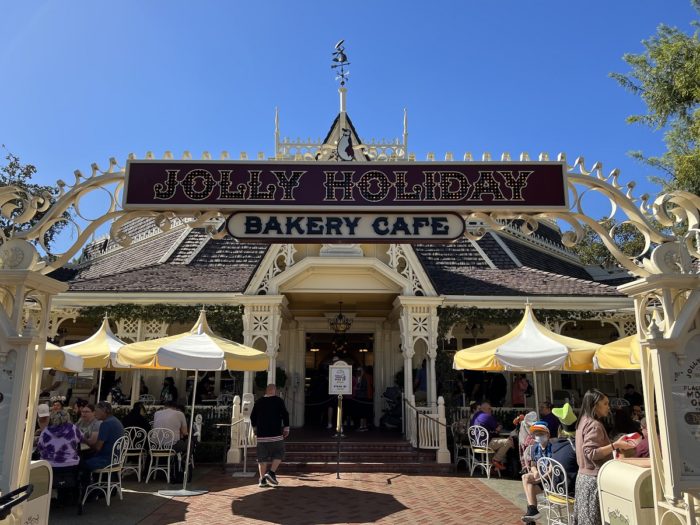 If you're headed up Main Street towards Sleeping Beauty Castle, Jolly Holiday Bakery will be on your left hand side, just to the left of the entrance to Adventureland. You're greeted by this pretty archway topped off with one of the film's famous penguins.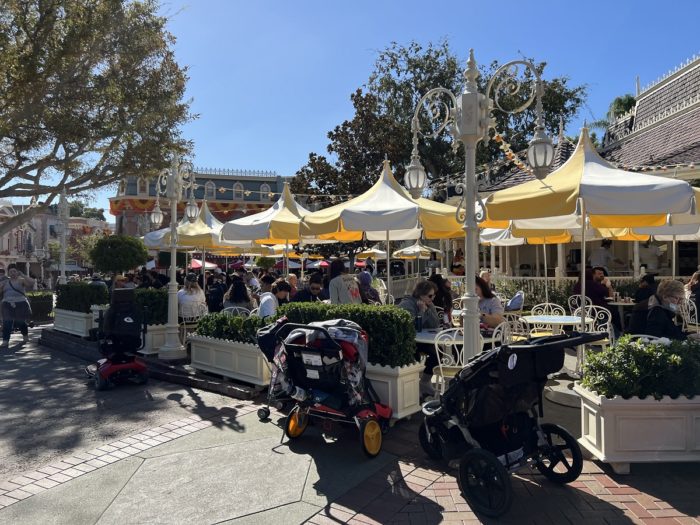 There's no indoor seating at Jolly Holiday, but there are two large outdoor patios. The restaurant is located in the highest trafficked area of the park so seating can be hard to come by during peak dining hours.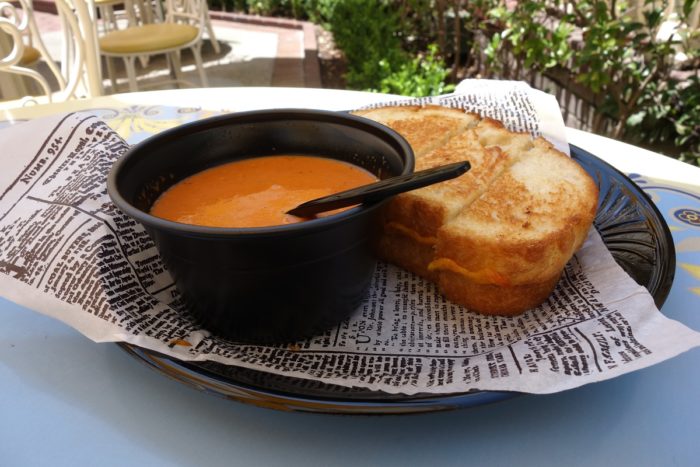 The highlight of Jolly Holiday's menu for many people is the Jolly Holiday Combo. For $12.49 you get a toasted cheese sandwich and a cup of tomato basil soup. This entree is perfect comfort food that's simple but perfectly executed. The tomato soup is creamy and rich, and the toasted cheese sandwich is gloriously gooey. If you don't want the soup you can get just the toasted cheese sandwich for $8.99. The Jolly Holiday Combo is especially good on chilly nights later in the year, or on a rare rainy day in Southern California.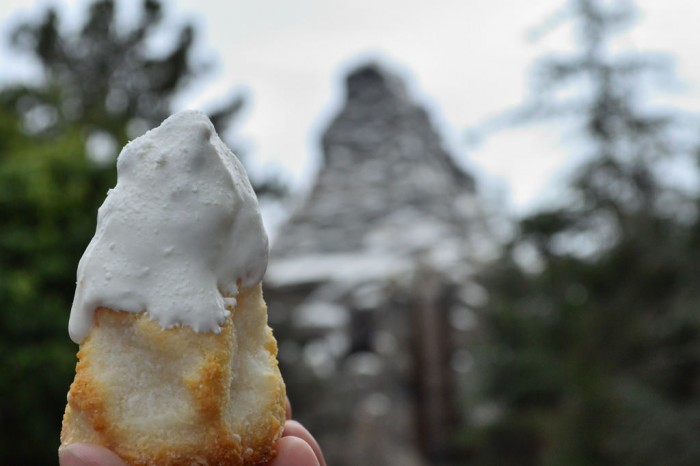 Another highlight I have to bring up is the Matterhorn Macaroon, which is my personal favorite Disneyland treat. This is a coconut macaroon, dipped in white chocolate, and sprinkled with confectioner's sugar to recreate the look of the park's famous ice capped mountain. It's a delicious as it is photogenic. It's also cheap, priced at only $2.99. You can't beat that!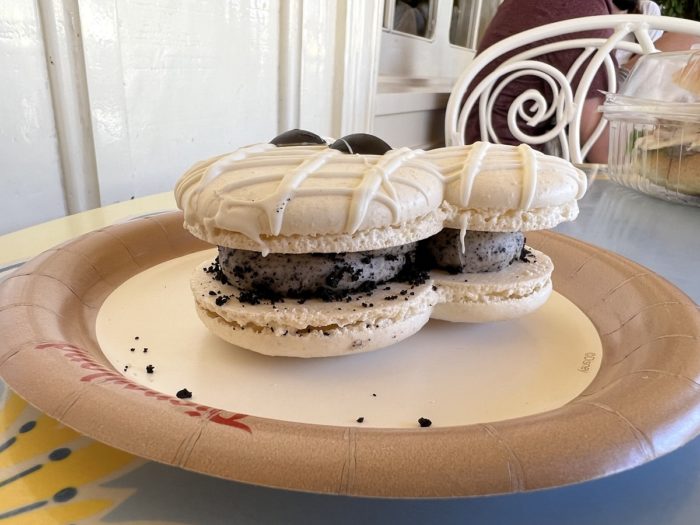 Jolly Holiday receives a ton of special seasonal items for major and minor holidays, as well as whatever event the park is promoting. These are usually very good quality and photogenic. Pictured above is the Mickey Mummy Macaron (with cookies and cream filling inside) which is available during the Halloween season. How cute is that?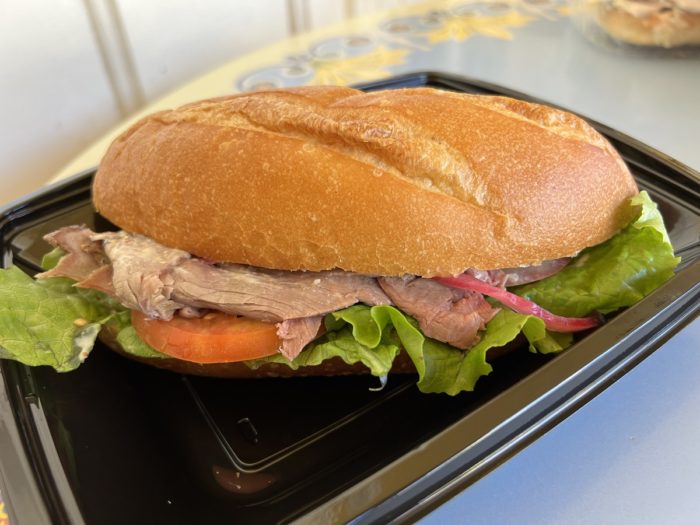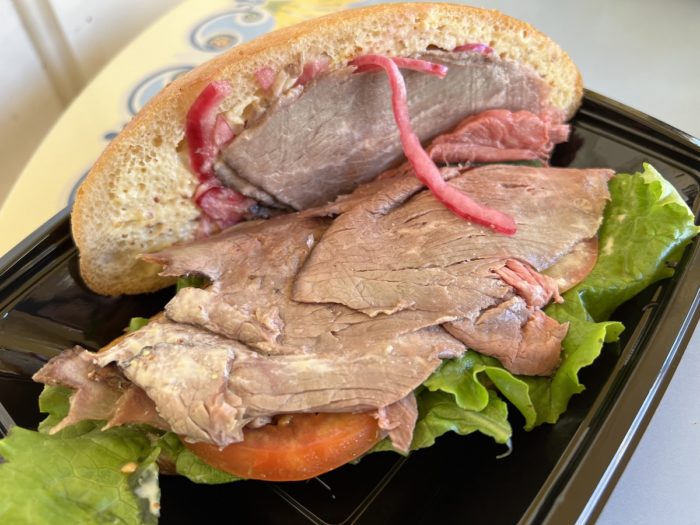 Here's the Roast Beef and Smoked Cheddar on Hoagie Roll. You get a good portion of roast beef on this sandwich and the pickled onion and mustard aioli spread gives it a unique taste compared to other quick service items in the park. It's also "only" $10.99, which is expensive for a sandwich in the real world. But in Disneyland that makes it one of the cheapest quick service items. However, I'm not a big fan of this sandwich because it's mostly bread. Very chewy bread.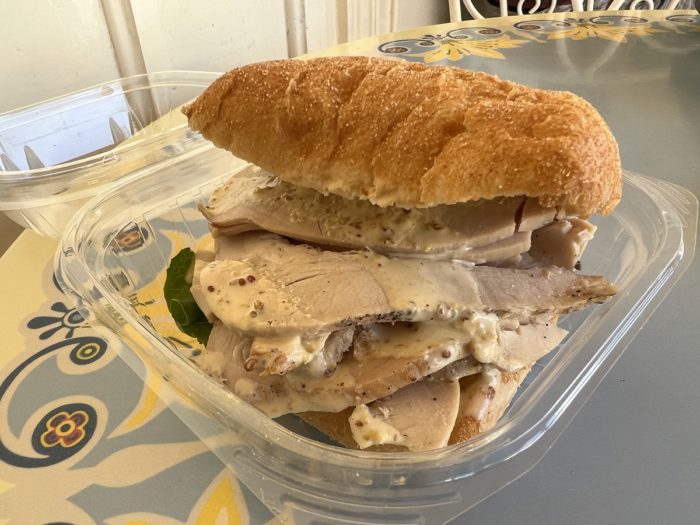 Here's the Oven-roasted Turkey on Ciabatta. This sandwich is tasty and substantial with a generous helping of thick sliced turkey and mustard aioli. At $10.49 it's another decent value relative to other Disneyland quick service items.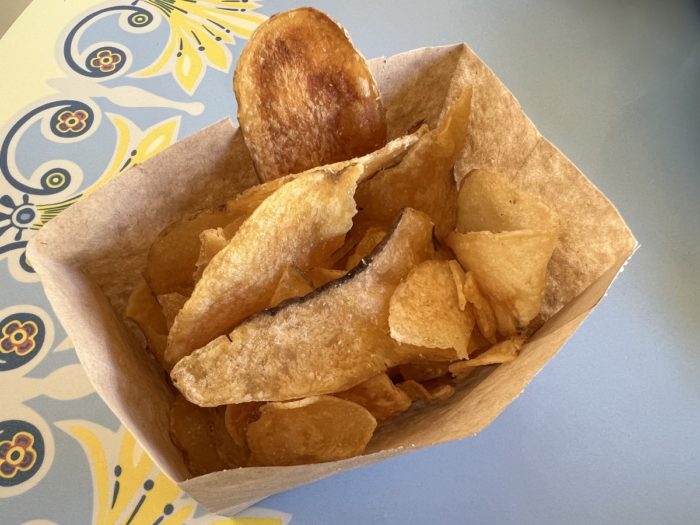 Both the Roast Beef and Smoked Cheddar and Oven-roasted Turkey sandwiches are served with house-made chips. They're crunchy, salty, and very satisfying.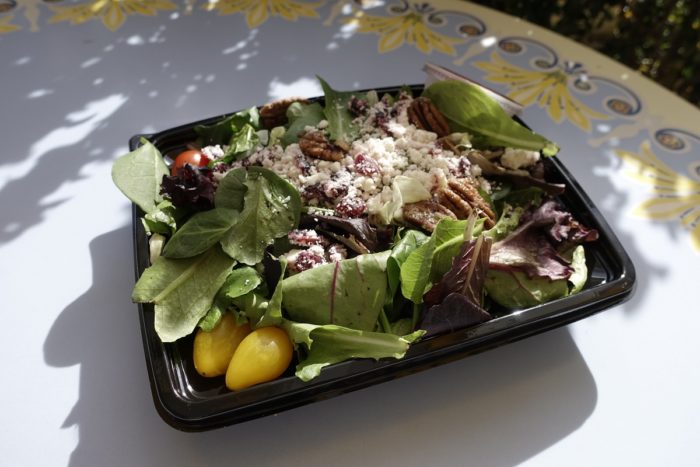 The Jolly Holiday Salad includes Mixed Greens, Spiced Pecans, Feta, Tomatoes, Dried Cranberries and Raspberry Vinaigrette served with a Parmesan Breadstick. This is one of the better salads in Disneyland Resort. I enjoy the mix of sweet and savory flavors and you can't beat the $8.49 price tag.
That's it for the items you could make a meal out of at Jolly Holiday Bakery. We didn't cover the variety of coffee drinks or other baked goods available, but you get the idea. I have to assume Jolly Holiday is as highly rated as it is because of it's central location in Disneyland. Everyone walking up Main Street after entering the park will undoubtedly see the restaurant, so therefore more people will eat there. More than, for example, French Market in New Orleans Square which has a much more diverse and better quality menu. Also, if you want sandwiches, Earl of Sandwich in Downtown Disney is a much better and cheaper option (and it's a short monorail ride away). Take lunch out of the equation and Jolly Holiday is a great place for pastries and baked goods. So it does have that going for it.
What's your favorite item at Jolly Holiday Bakery? Does it deserve to be the highest rated Disneyland quick service restaurant? Let us know in the comments.