The SATURDAY SIX Looks at DISNEY SING ALONG SONGS – Happy Haunting
This week's SATURDAY SIX takes a look at the Disney Sing Along Series – HAPPY HAUNTING! Today is Halloween, so we here at SAT 6 headquarters thought it would be a good time to head back into the Disney Sing Along Series and check out one based around pure spookiness…Happy Haunting!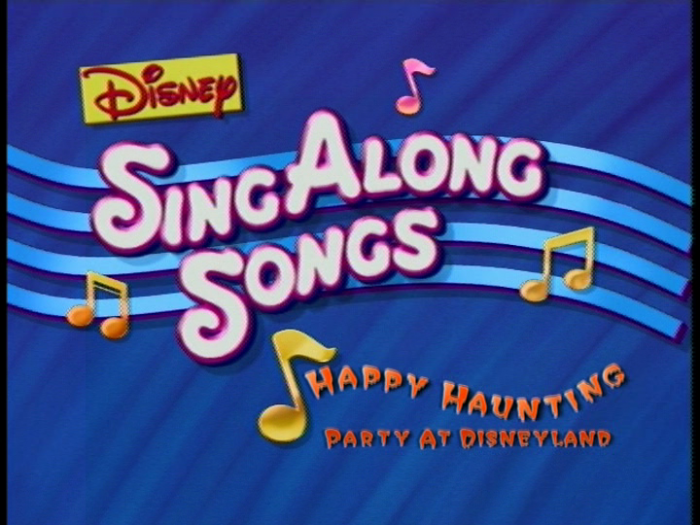 Our program starts off with a card featuring Mickey and Minnie inviting us to a Halloween party.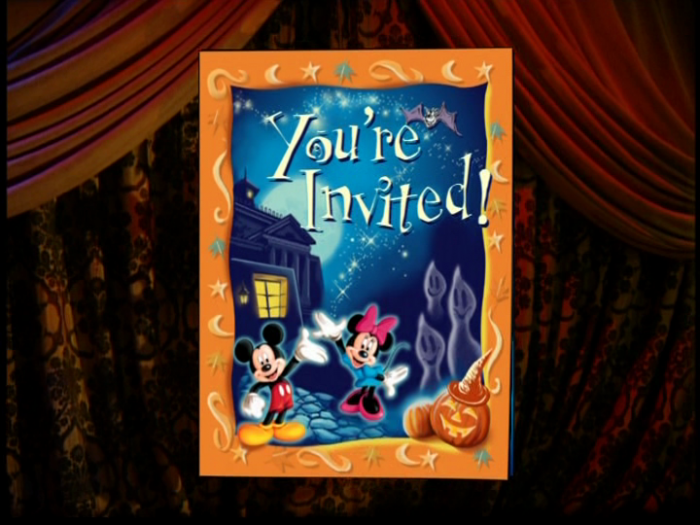 The Magic Mirror from Snow White is our narrator. Think of him as an evil Dr. Seuss, as everything he says is in rhyme. "To the Haunted Mansion you're invited. For a Halloween party, I'm so excited. Mickey and Minnie are waiting at the gate, they need your help to decorate. So come one, come all, join in. The Halloween party is about to begin."
# 6 – The Haunted Mansion
The setting for Happy Haunting is Disneyland's Haunted Mansion. At the start of the program, my mind began to think of all the cool elements of the Haunted Mansion that we'd be able to see and have the characters interact with. Nay Nay. The Sing Along Series had something else in mind.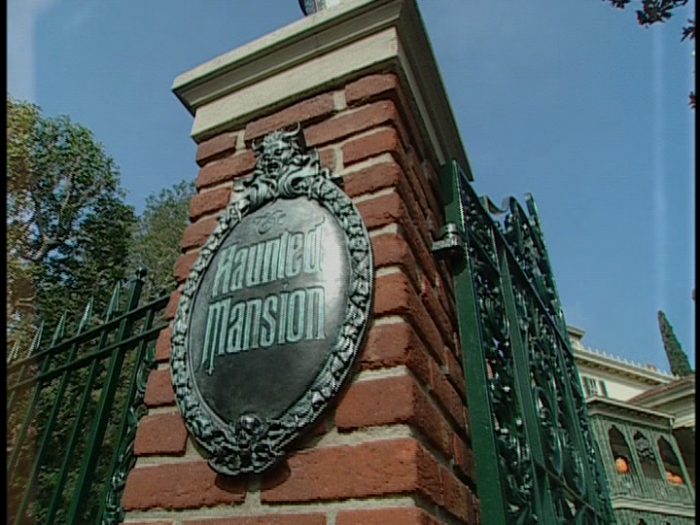 Mickey and Minnie stand at the front of the Haunted Mansion, welcoming in a group of kids.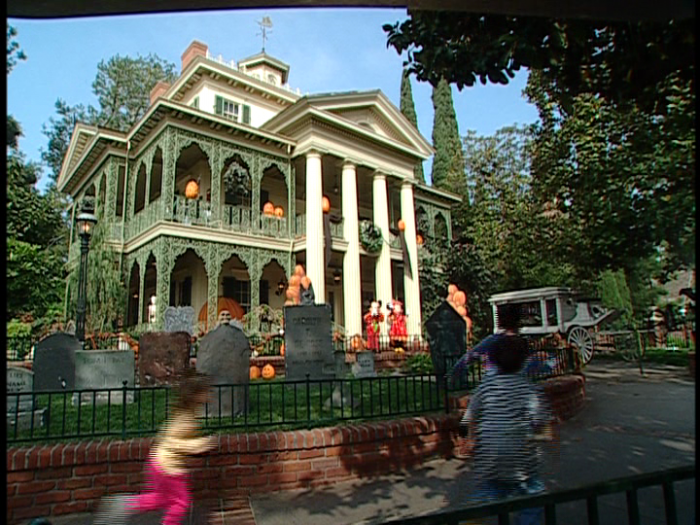 Mickey and Minnie have coordinated outfits, and they definitely made a choice.
We then enter the "Haunted Mansion" and it's like we're in a soundstage set straight out of an '80s sitcom like Full House or Step By Step. Daisy Duck, Donald Duck, Goofy and his son Max are here, along with adult humans dressed as Dracula, werewolf, mummy, Frankenstein, and the bride of Frankenstein. Our first sing along song is "It's Halloween," which must have been made just for this show because the lyrics seemed like someone was making them up on the spot; including You can trick or treat with a skeleton. Make no bones about it it's fun… and It's Halloween. We'll be real dandy. We're going to sing and dress up and eat candy.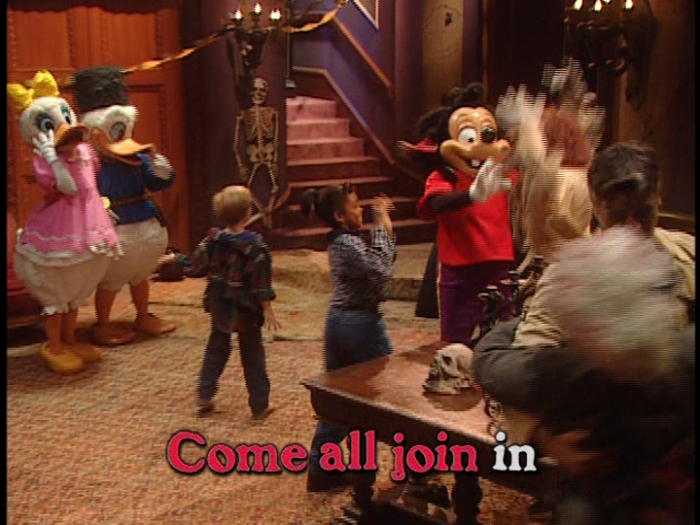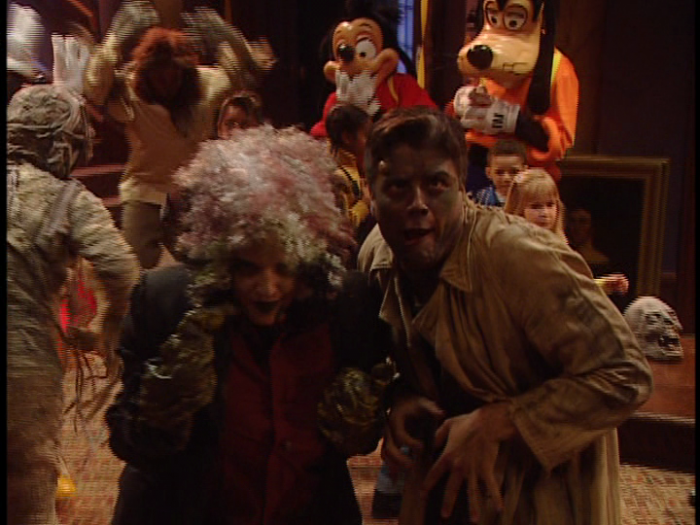 The party is interrupted by Magic Mirror, but he is unseen and has everyone wondering who is speaking. Here we are introduced to three of the kids who will be our main characters throughout Happy Haunting: Sally, Sam, and Zach.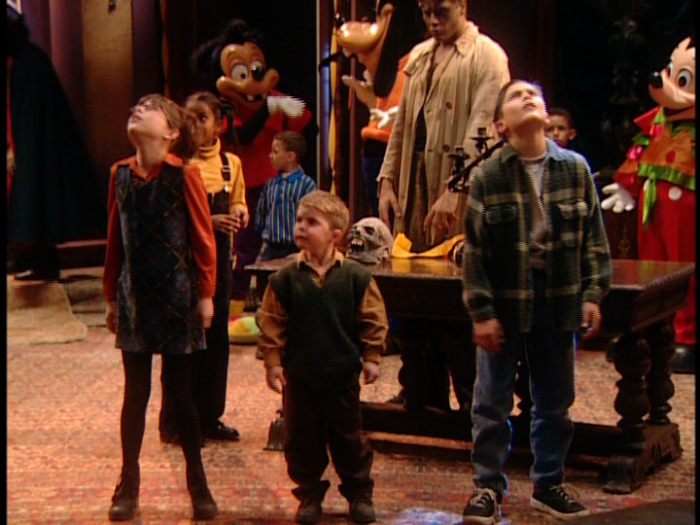 # 5 –  Grim Grinning Ghosts
Interestingly enough, Grim Grinning Ghosts was just about a headliner song on Disneyland Fun, but here it is just tossed out near the beginning with a much worse version that does not include the voice of Thurl Ravenscroft. There's another bizarre decision later on in the song list, but it makes you wonder if Disney had the rights to their own songs when making Happy Haunting, because this is what you would do if you couldn't use the good versions.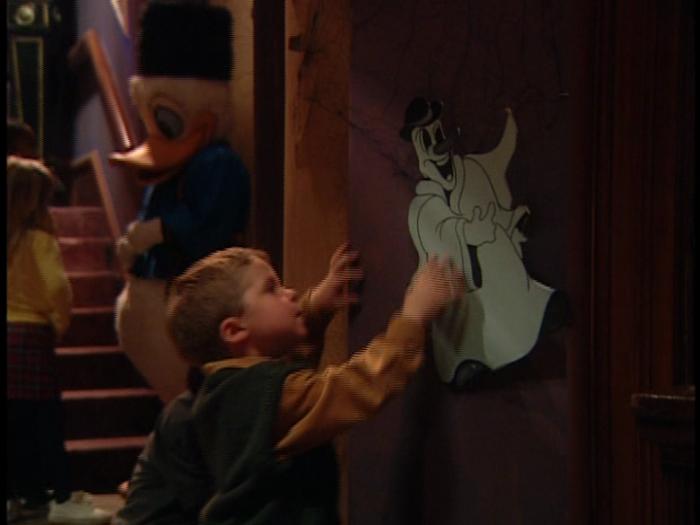 Grim Grinning Ghosts plays the show cuts to a montage of ghost and "scary" moments from various Disney shorts and animated features over the years, including Alice in Wonderland and Snow White, but most come from the famous Lonesome Ghosts short from 1937.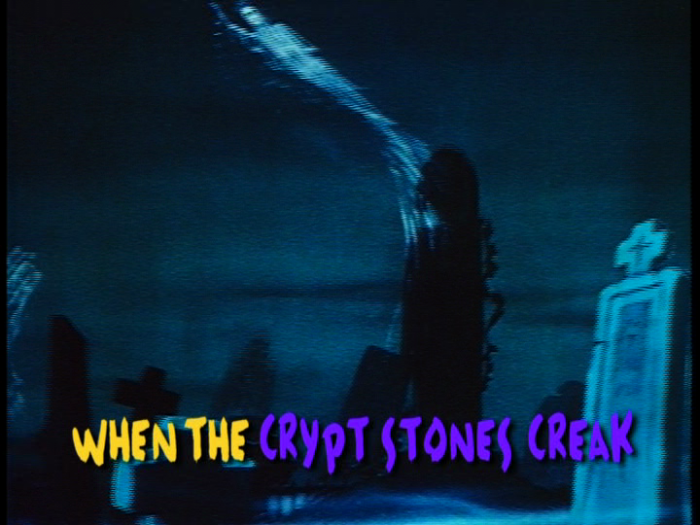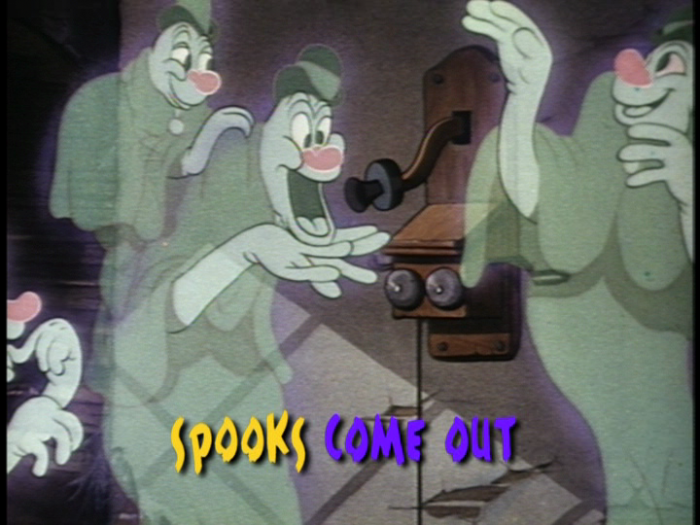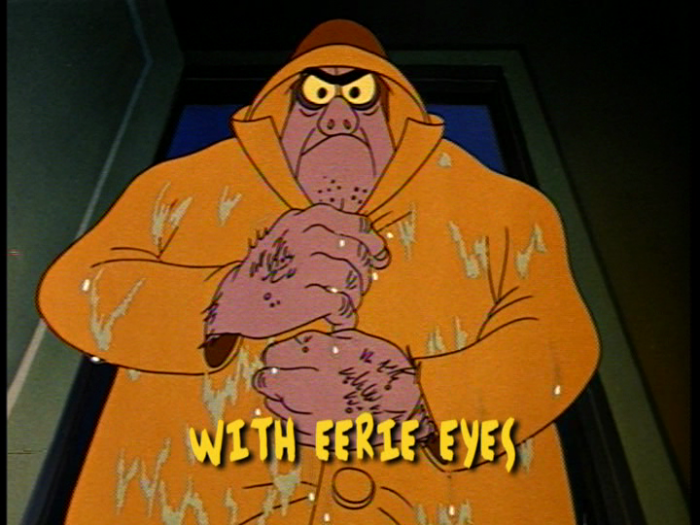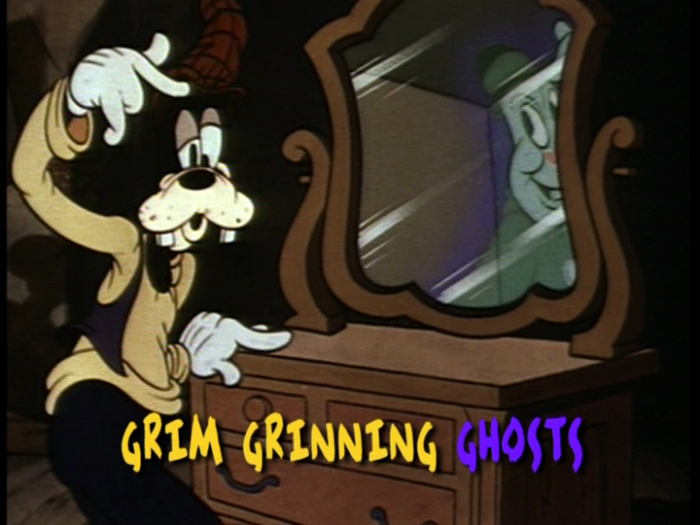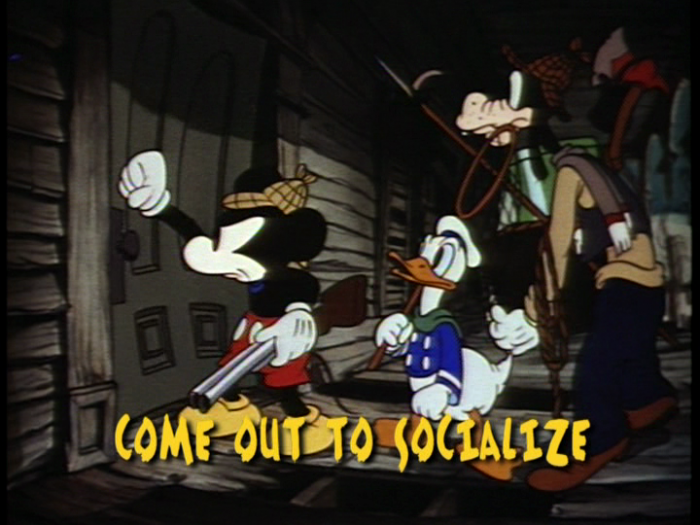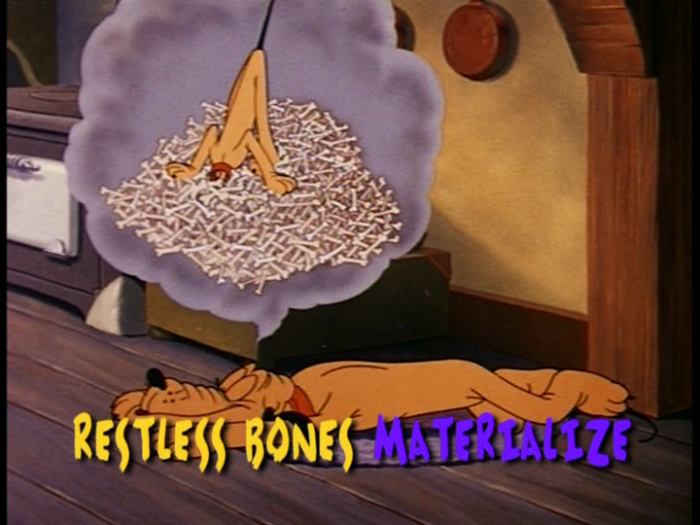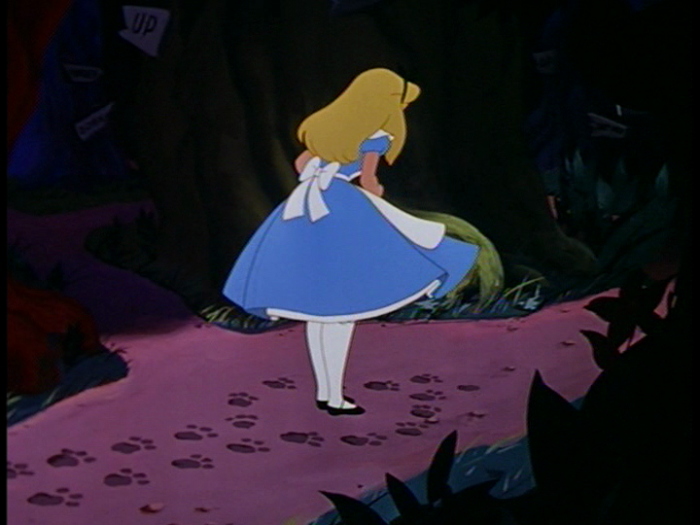 # 4 – Goofy's Fever Dream
To set up the song "Chicken Lips and Lizard Hips" we have Zach explaining to Dracula that he's hungry. For whatever reason, at this point Sam is sitting on Dracula's lap.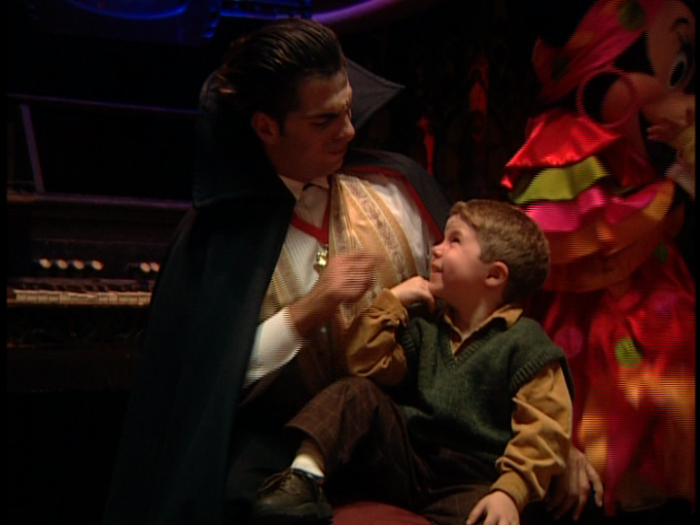 The Magic Mirror says: "Sounds like you need recharging, and your tummy needs enlarging. Without a doubt. Goofy is the one to help you out."
We then cut to maybe one of the craziest music videos I have ever seen in my life. Chicken Lips and Lizard Hips is definitely a fun kid's song, filled with a lot of funny lines for the younger set, so I can imagine this was probably one of the biggest "hits" for kid's growing up watching this VHS tape.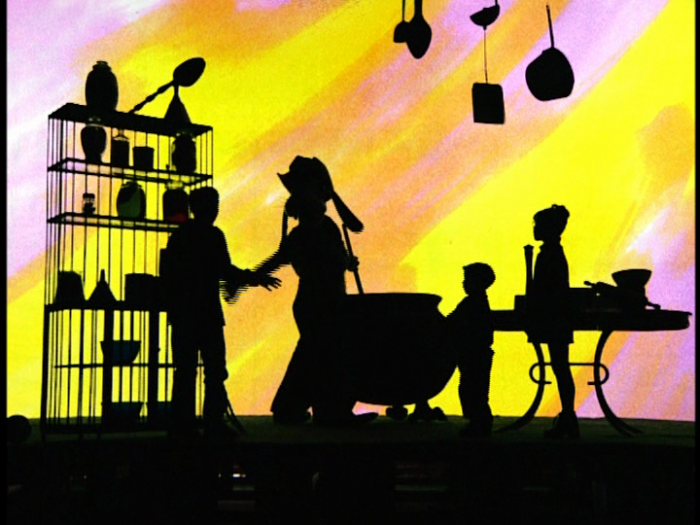 So the song has Goofy dancing in front of the kid's as he explains his cooking process.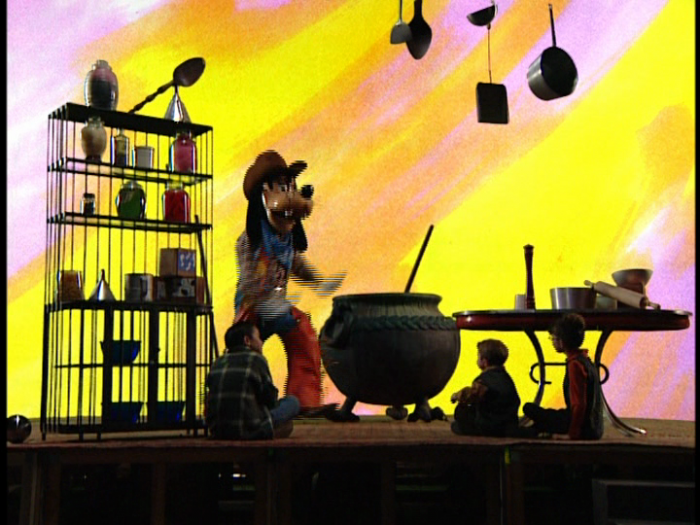 Then the kid's just disappear out of nowhere.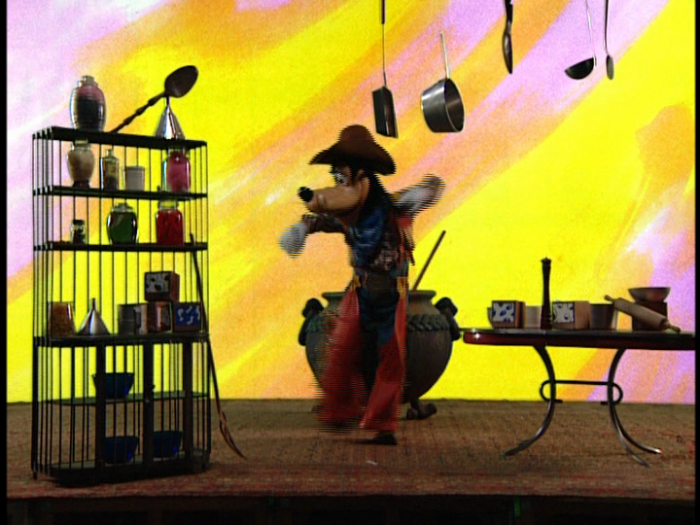 Only to reappear a second later. No idea if this was a mistake that Disney felt wasn't worth the time to fix, or it was a deliberate part of the song meant to mess with your mind.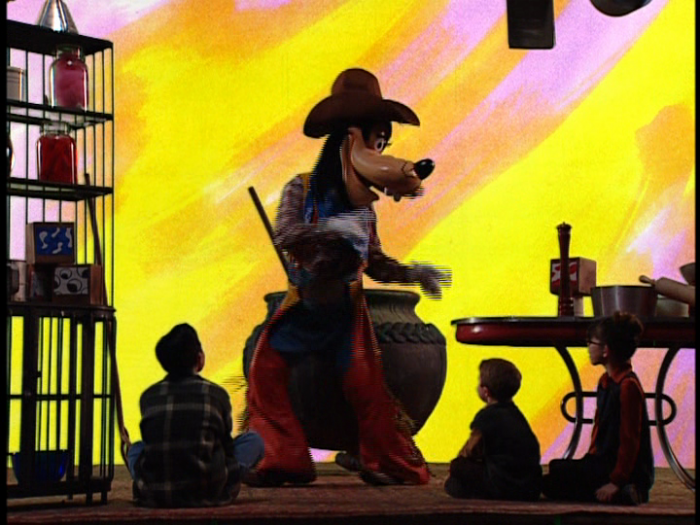 Here is the main chorus of Chicken Lips and Lizard Hips, with verses that would make any kid giggle.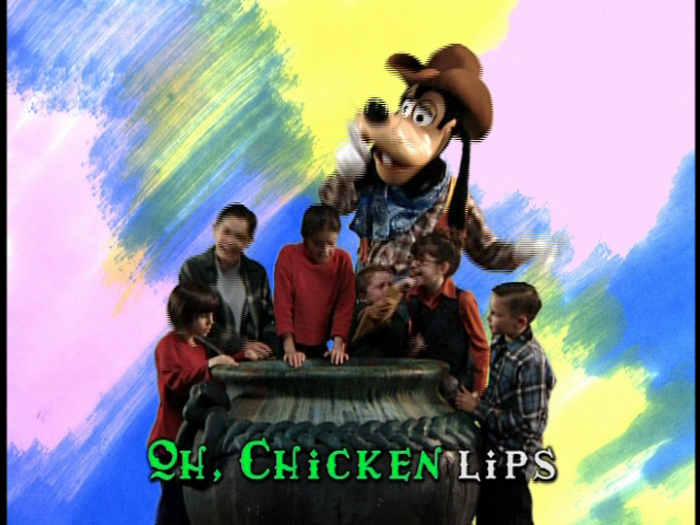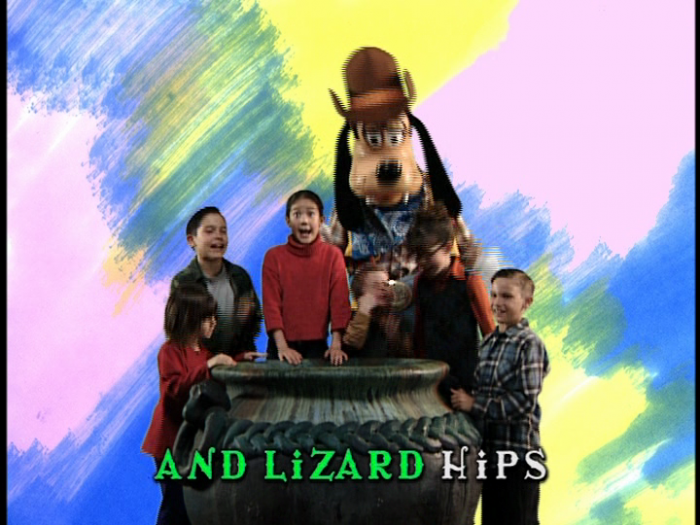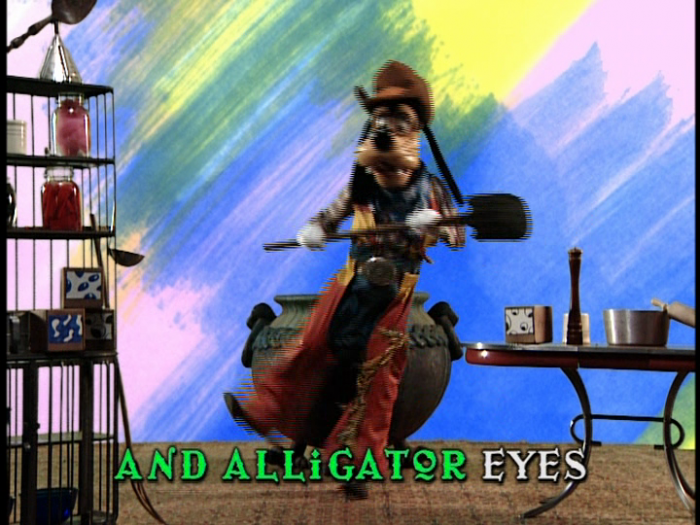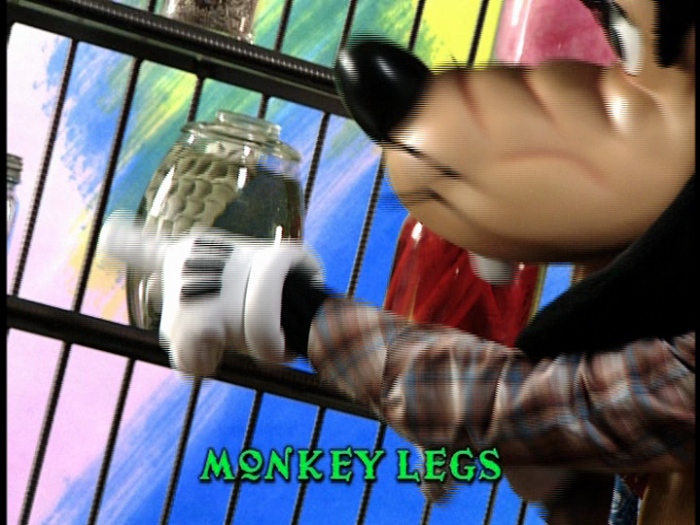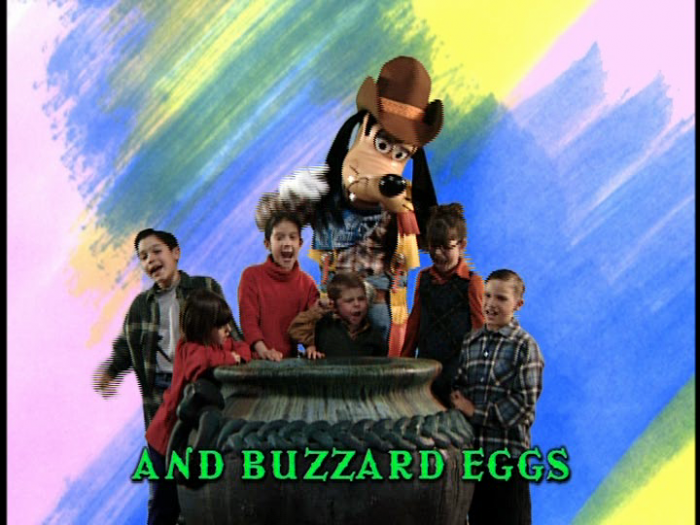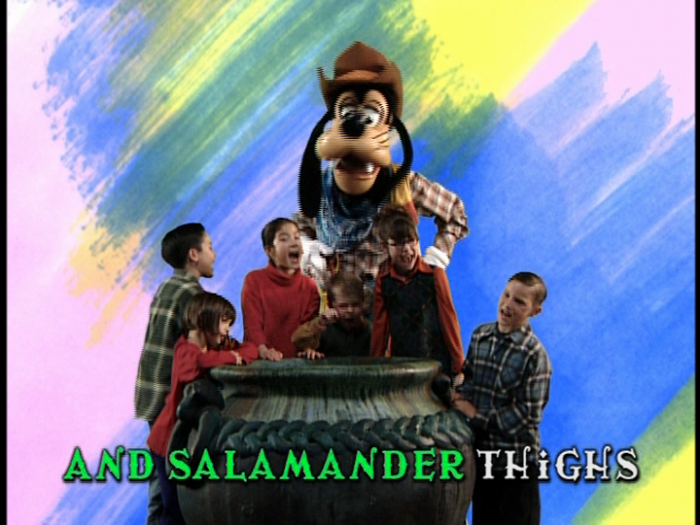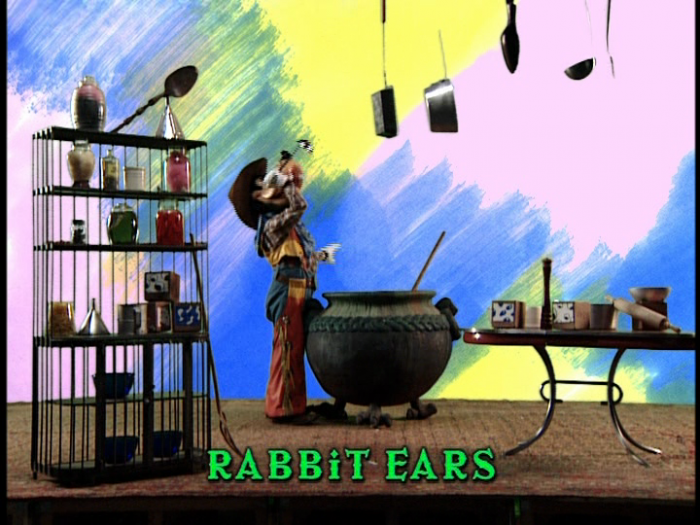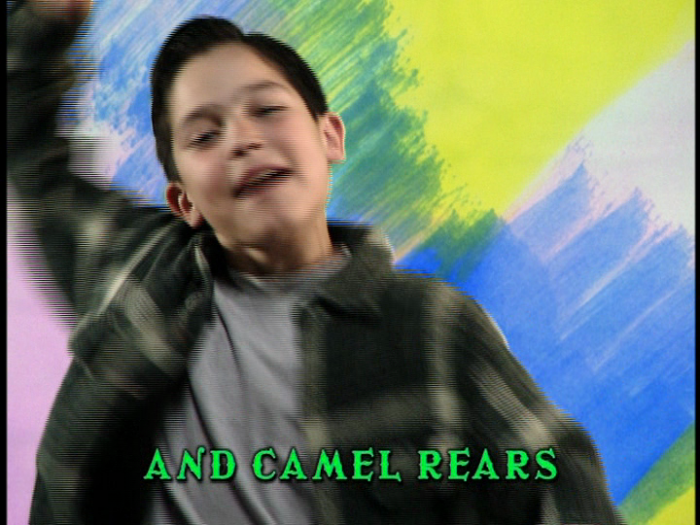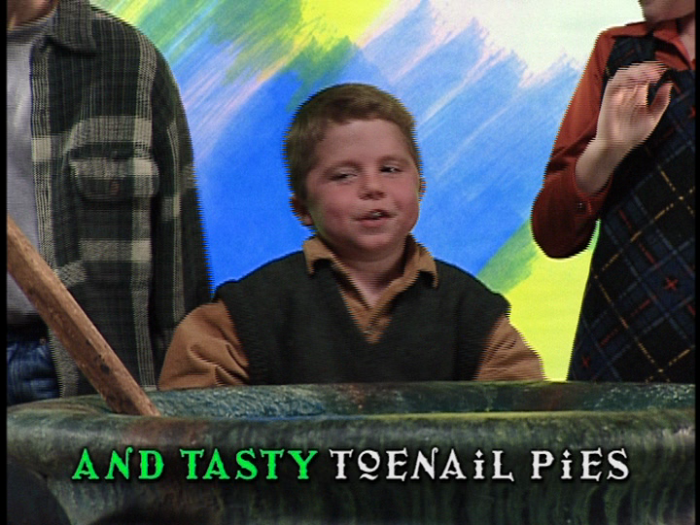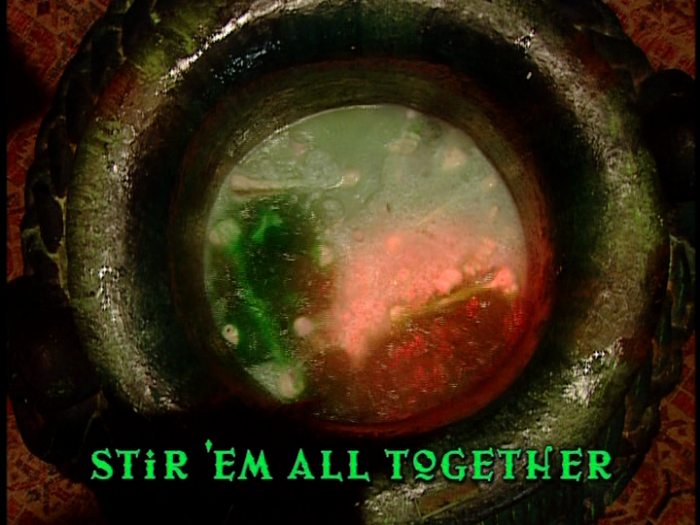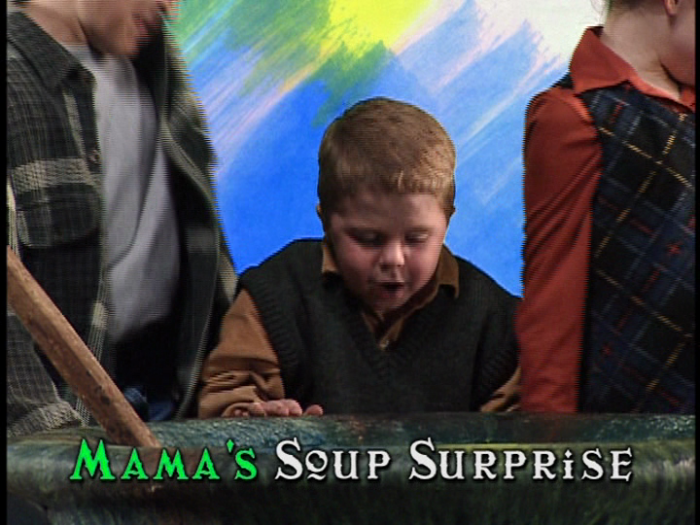 At the end of the song Goofy serves his meal to the kids and they would clearly rather eat a Pop Tart Sandwich.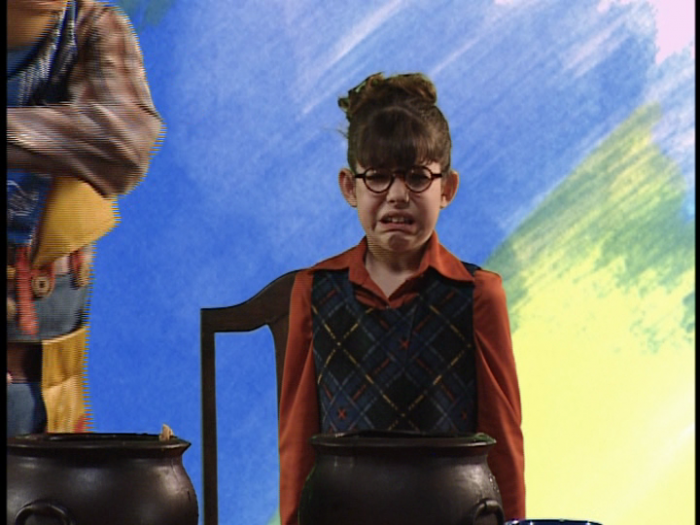 # 3 – The Legend of Sleepy Hollow
Our three main characters spend a lot of time on the "second floor" of the Haunted Mansion, and in one scene they are led to a bookcase for story fun. The kid's say they don't know any Halloween stories. The Magic Mirror responds, "the best way to start knowing, is to read the book that is glowing."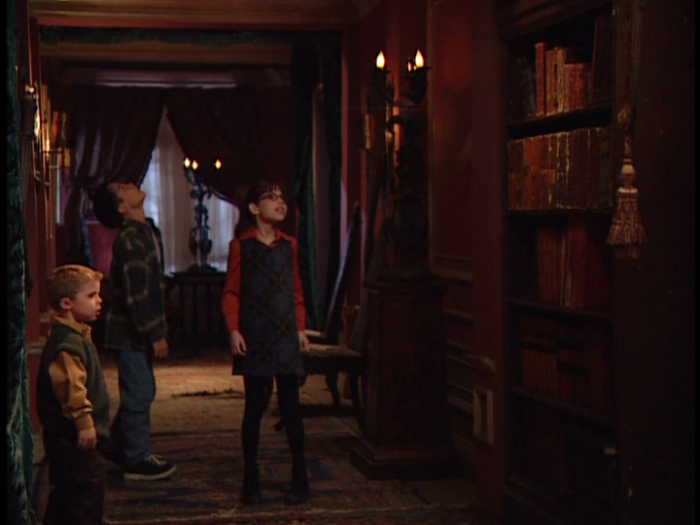 In front of them, a book starts to glow. I say with no sarcasm this was one of the more impressive effects of Happy Haunting.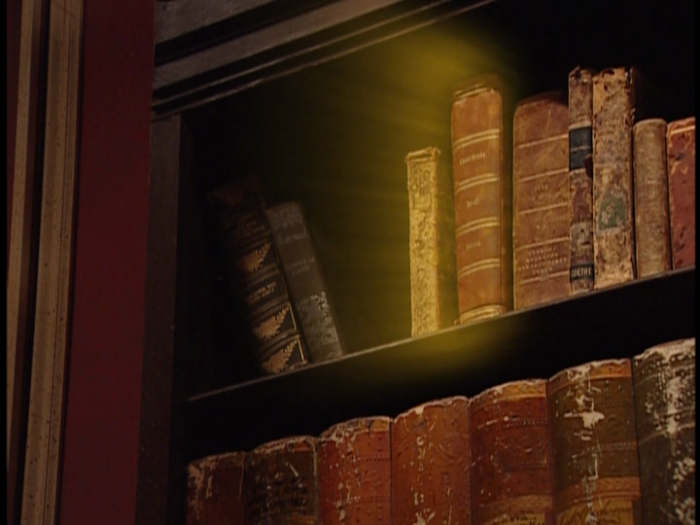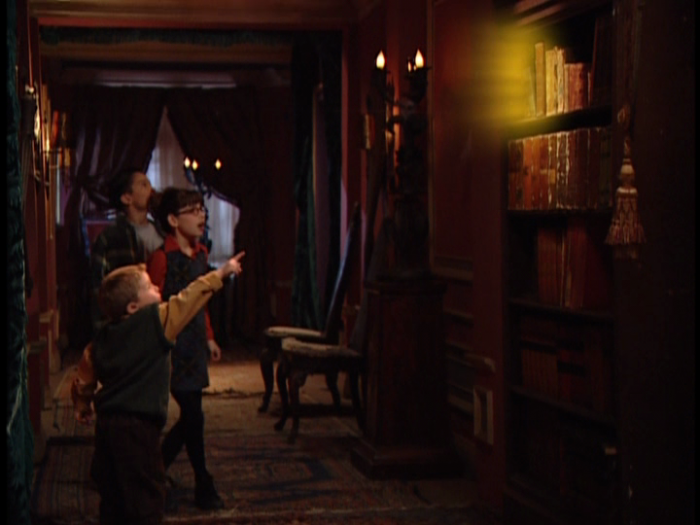 The book then falls to the floor, revealing itself to be The Legend of Sleepy Hollow.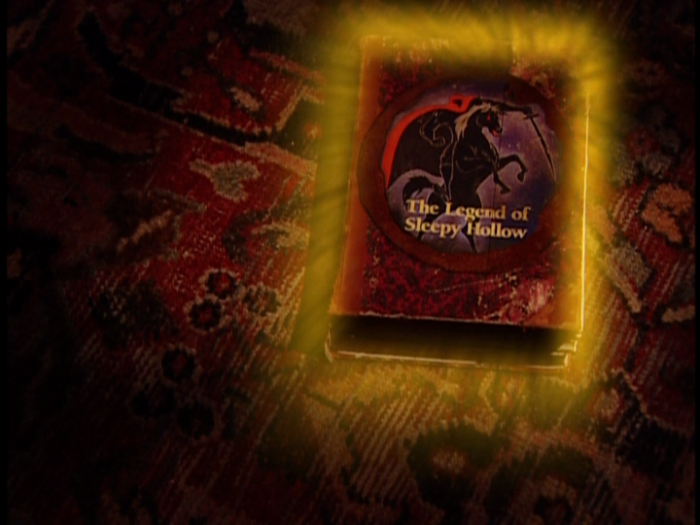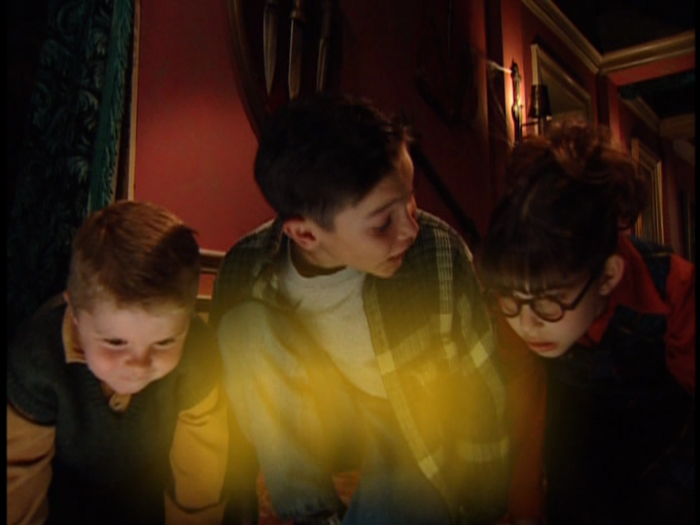 The book magically opens up and flips through the pages, leading to Brom Van Brunt singing "The Headless Horseman" from Disney's The Legend of Sleepy Hollow.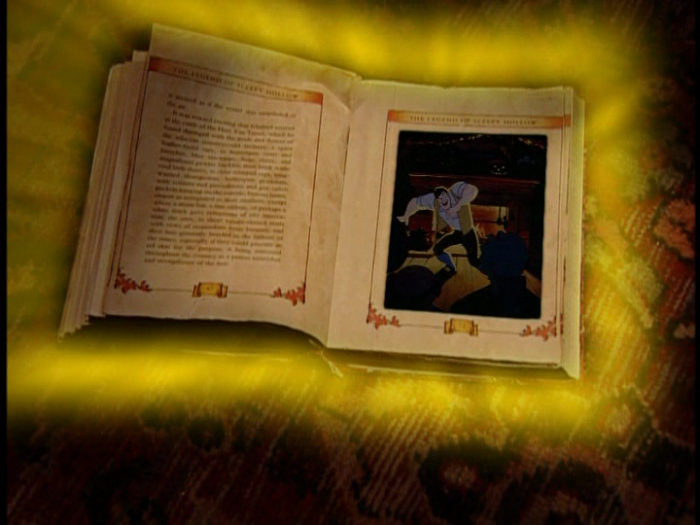 However, Disney's iconic version – the one we all know and love – has Bing Crosby singing The Headless Horseman. Like Grim Grinning Ghosts, Happy Haunting decided to replace Bing Crosby's voice with someone else singing the song and we are much worse off for it.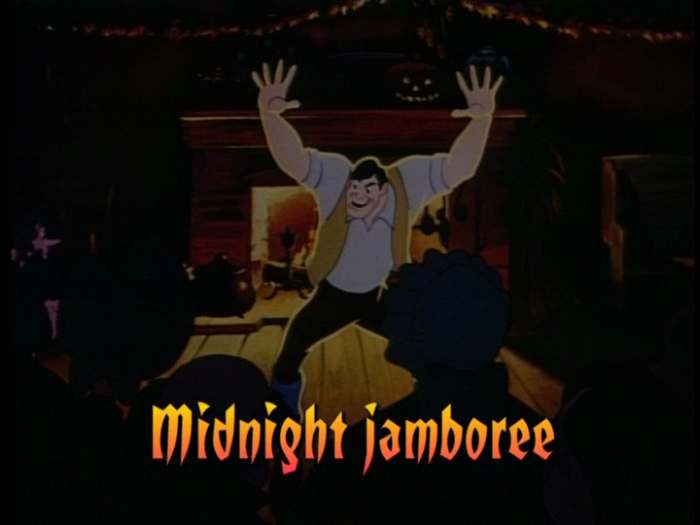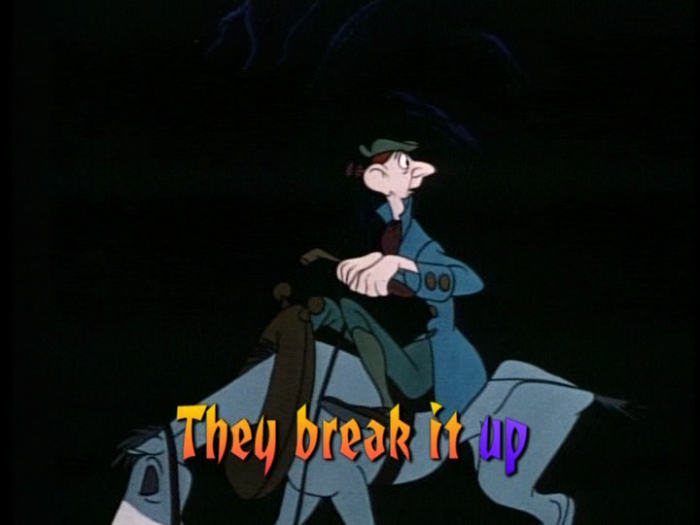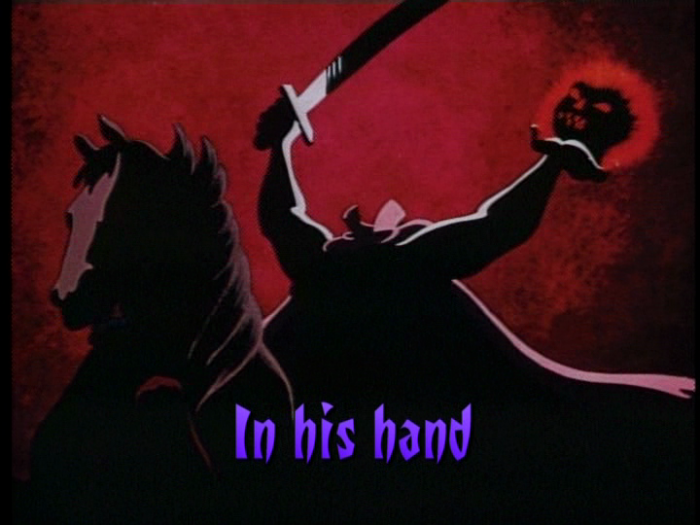 # 2 – Five Little Witches
To set up the song Five Little Witches, our three main characters are back in the same second floor hallway.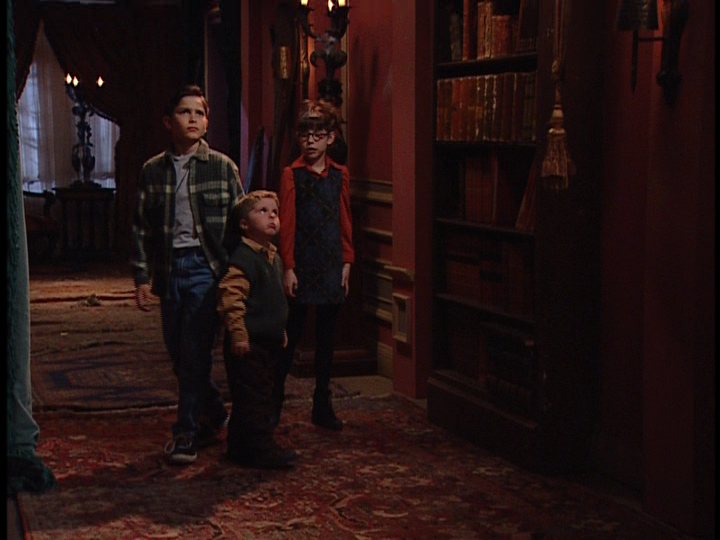 Sally pulls a rope that reveals the bookcase is a secret doorway.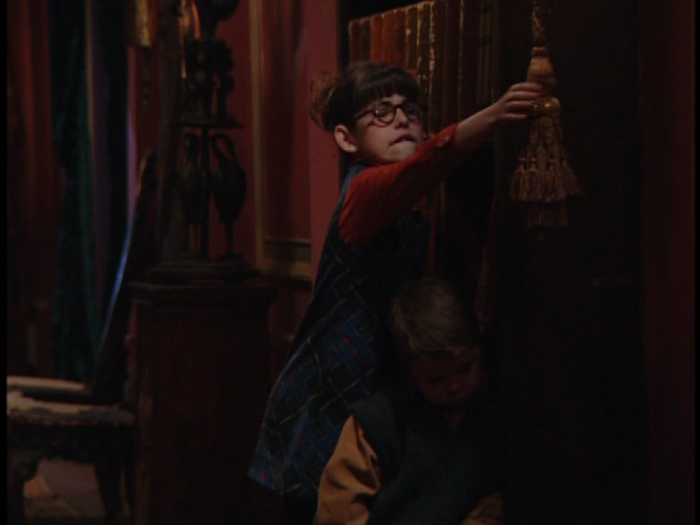 Zach is left alone, wondering where the other two went.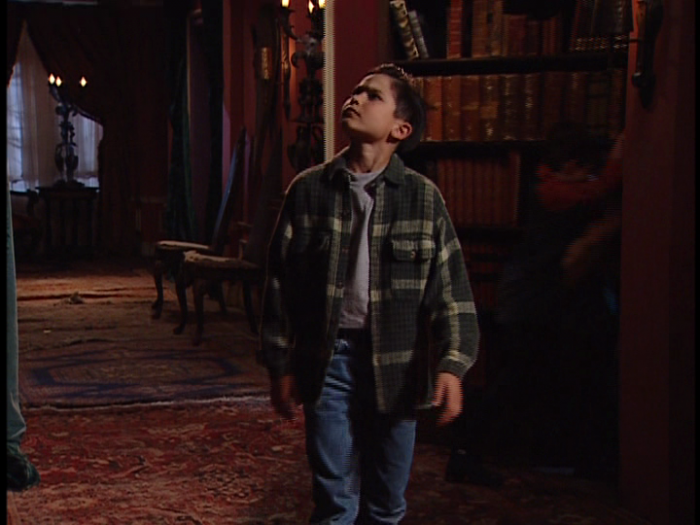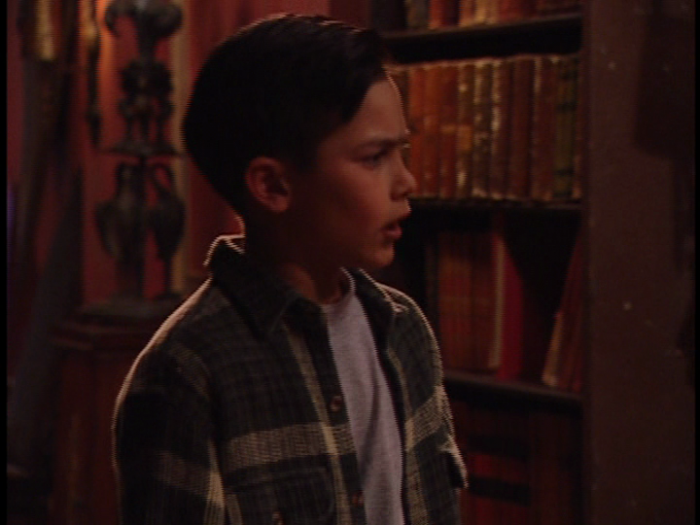 Zach, seeing the rope still slightly swinging, also pulls on it to reveal the hidden passageway. There was literally no reason for him not to go in with the first two kids other than to pad out the running time of this program by about 30 seconds.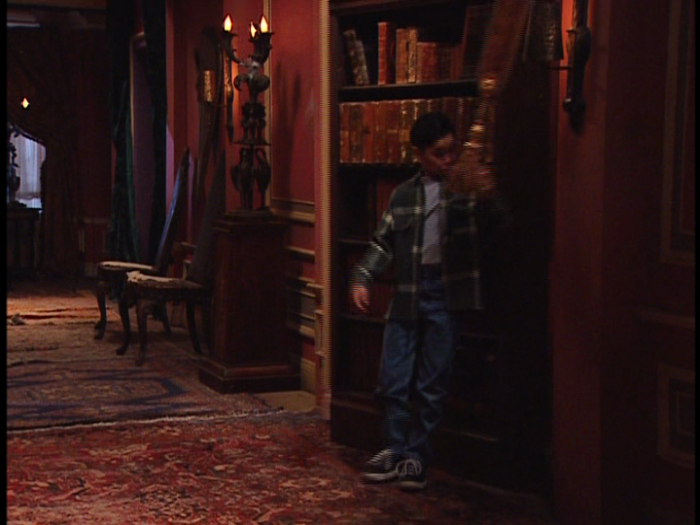 You would think that this new room would be filled with Haunted Mansion Easter eggs. You would be wrong.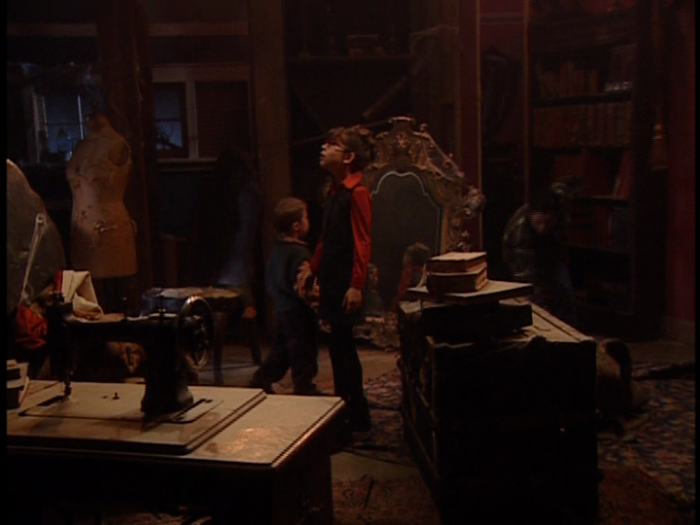 The kids do discover a mirror, and when looking into it, things get weird.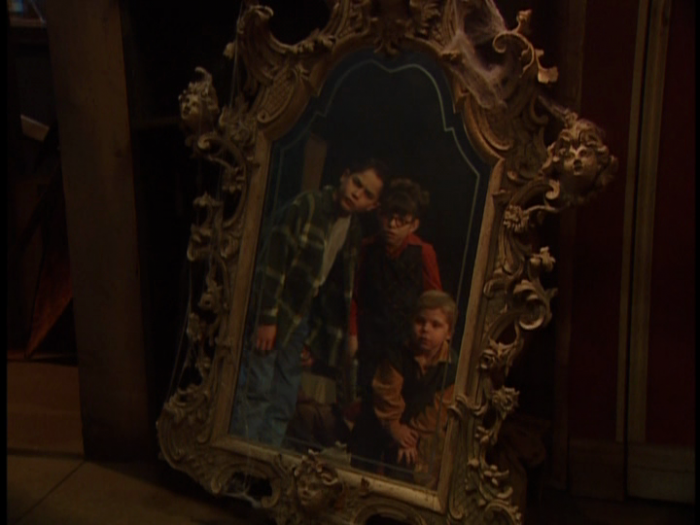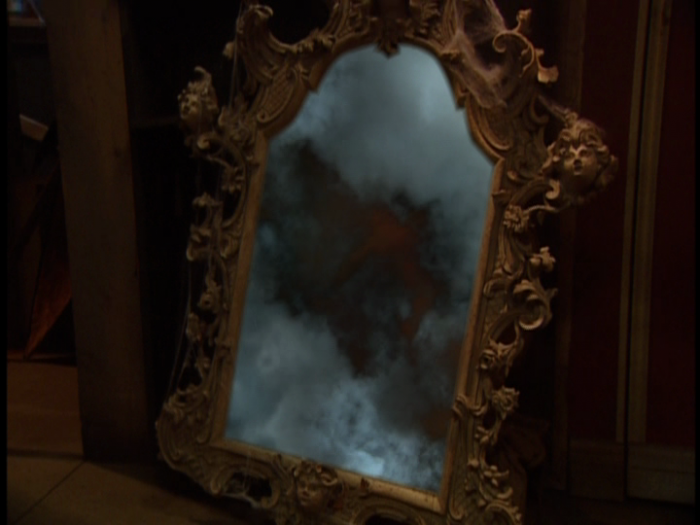 I mean REALLY WEIRD.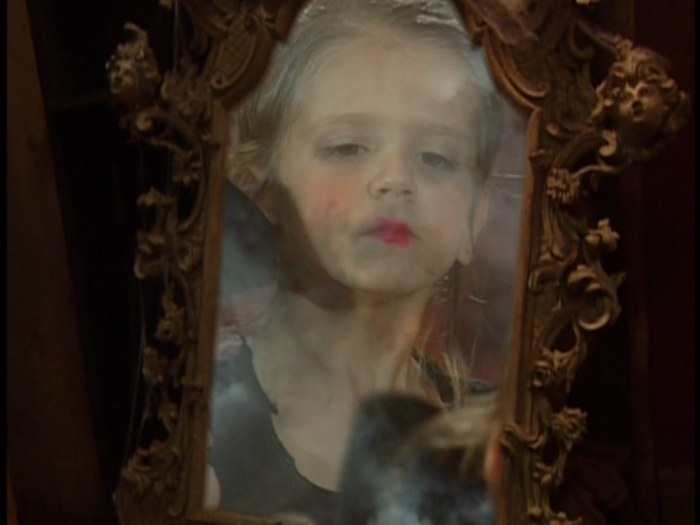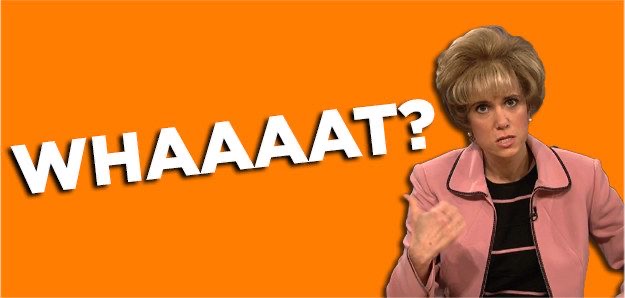 We then cut to the song Five Little Witches as all the young girls from the Halloween are in the process of putting on makeup.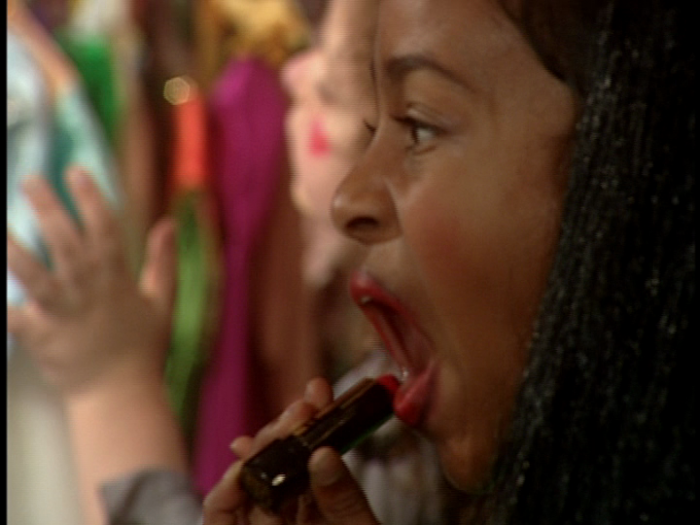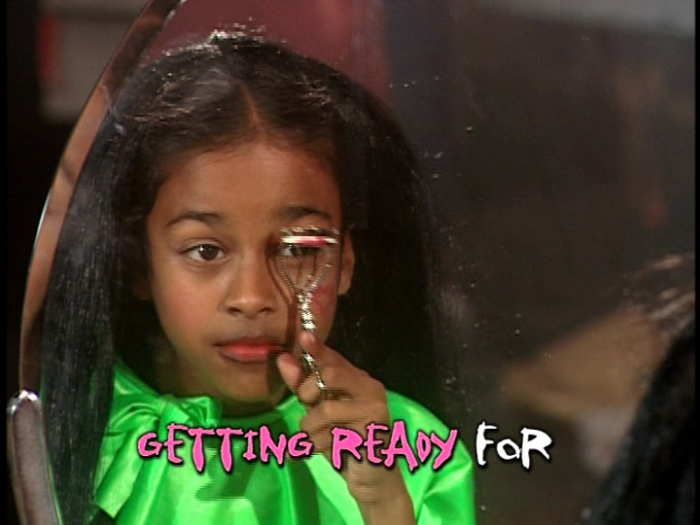 This is straight up bonkers.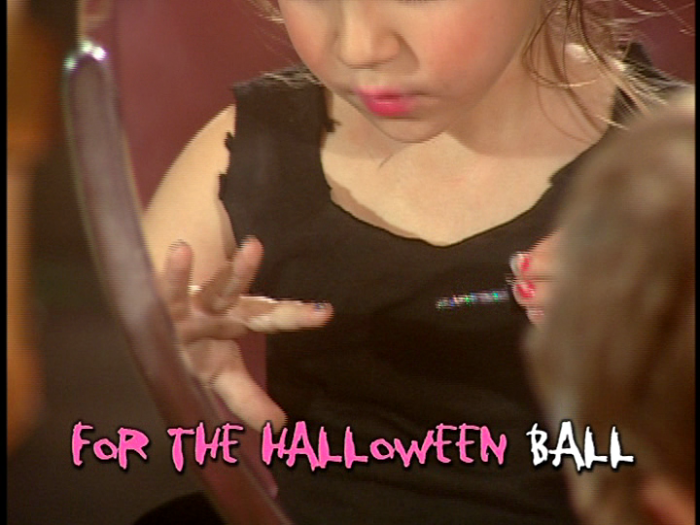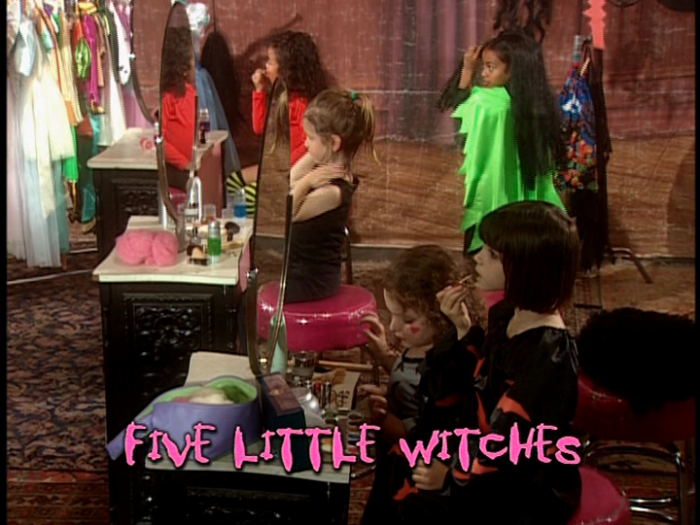 But it gets even crazier! The boys from the party are now all dressed up as old timey newspaper photographers from the 1940s.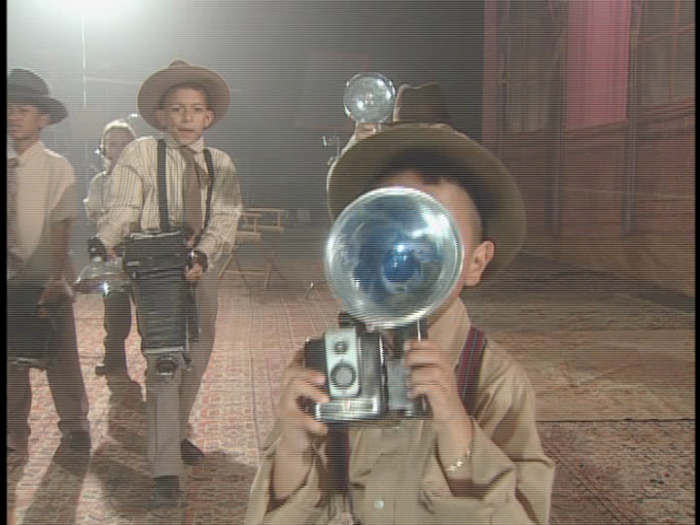 We're also now in a room in the "Haunted Mansion" where a display has been set up for a professional photo shoot. Imagine, you are taking pictures of witches. In storyline, you are in the Haunted Mansion. What do you use as a backdrop? Why, you create your own version of Olan Mills Photography with a cardboard cutout of the sky. THIS IS INSANE.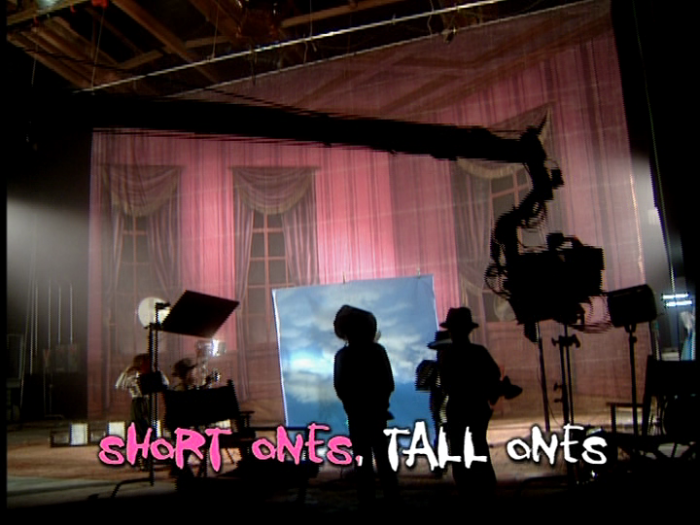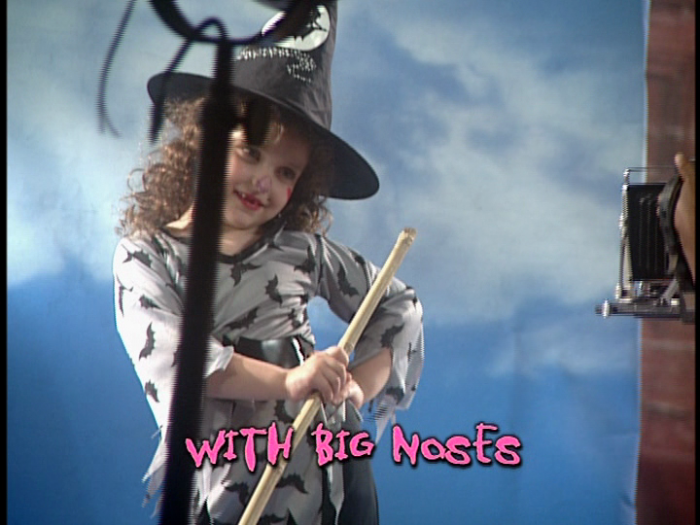 I'm not even sure if "breaking the fourth wall," is the best term for what we are seeing here. Maybe the first ever use of breaking the fifth wall. Not only is Happy Haunting revealing that everything we are seeing is taking place on a soundstage, but even within the Haunted Mansion set they created the kids built a different set.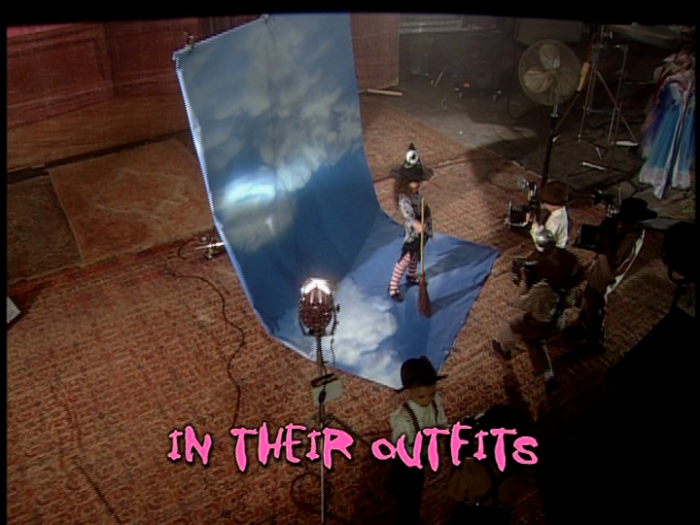 But what was even more nuts is that every second or so the screen would go bright white to simulate one of these old fashioned cameras taking a picture. If Happy Haunting was released today it would have to include one of those trigger warnings for people with epilepsy. Then it goes to reverse image for a bit and gets really bananas.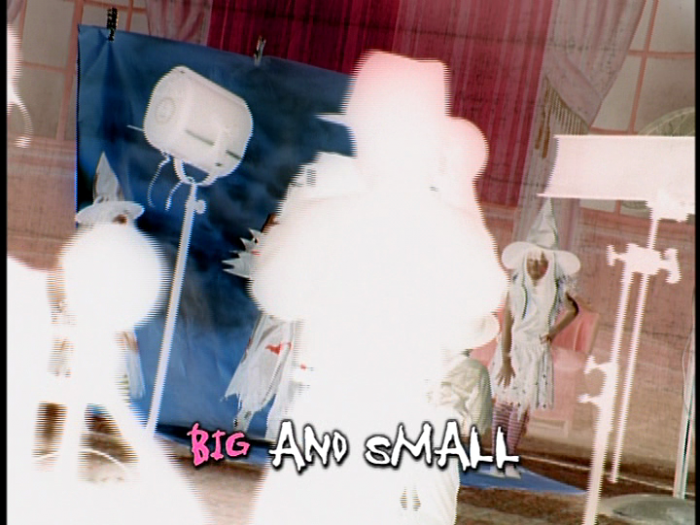 # 1 – Trick or Treating in Toontown
The kids all have their costumes, and who should show up but Merlin.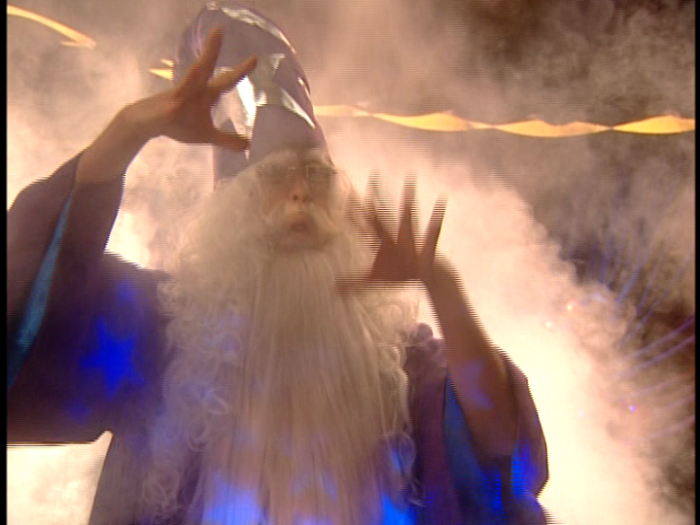 Merlin then uses his powers to transport the kids from the Haunted Mansion….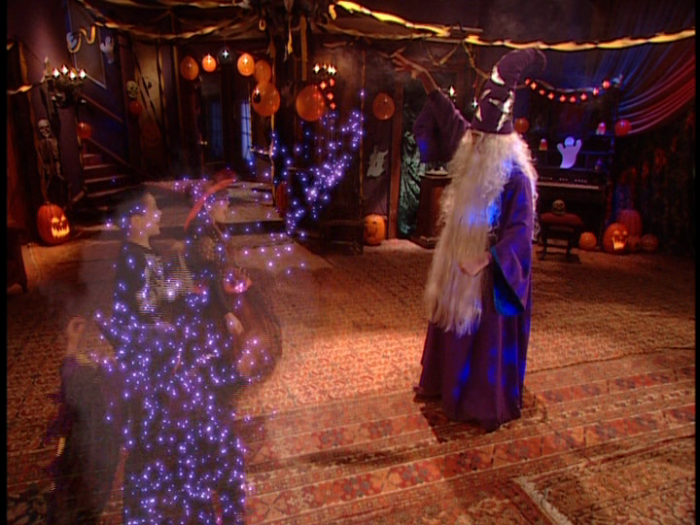 …to Mickey's Toontown in Disneyland, where all the kids are trick or treating.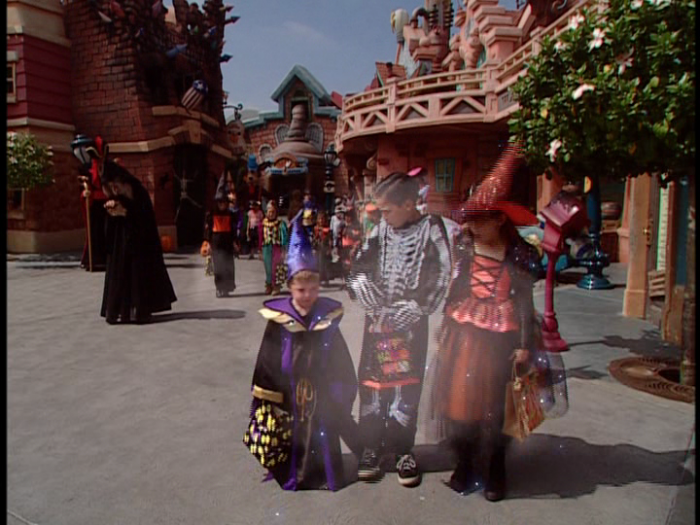 This is what I would have liked more from Happy Haunting in general, tons of details from the theme parks we love.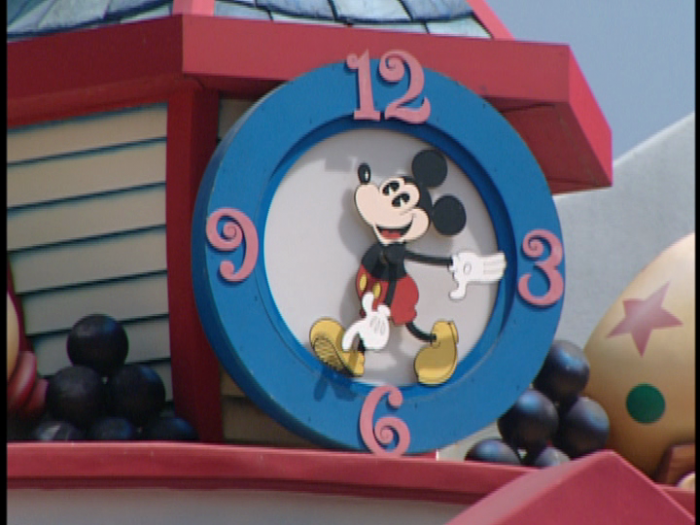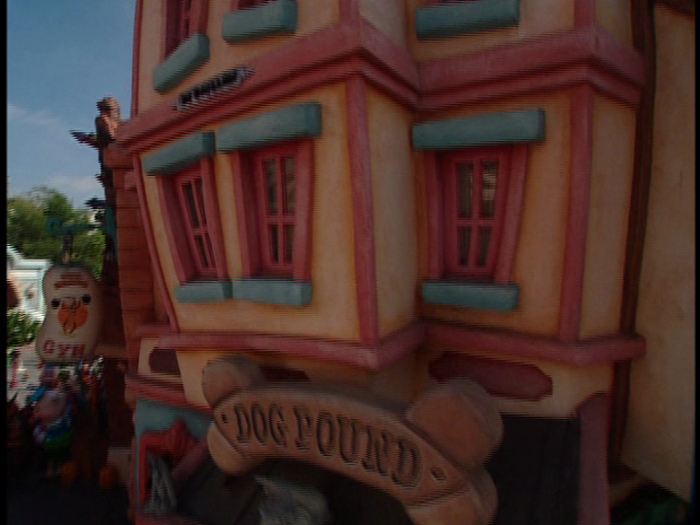 Several other characters join us for this segment as well, including the Fairy Godmother.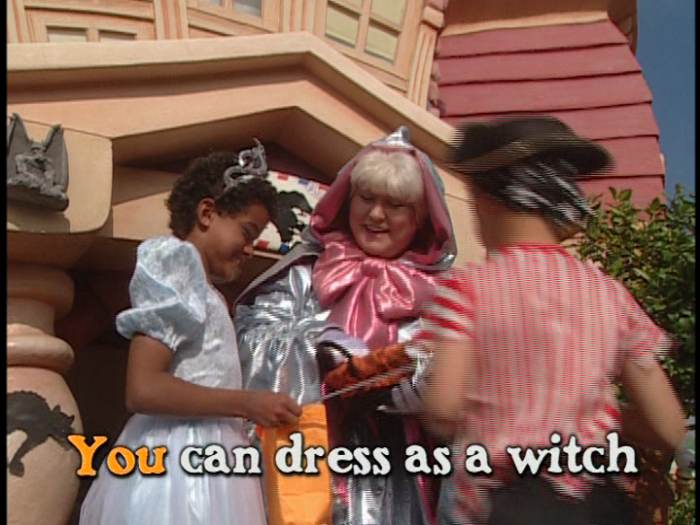 Chip and Dale.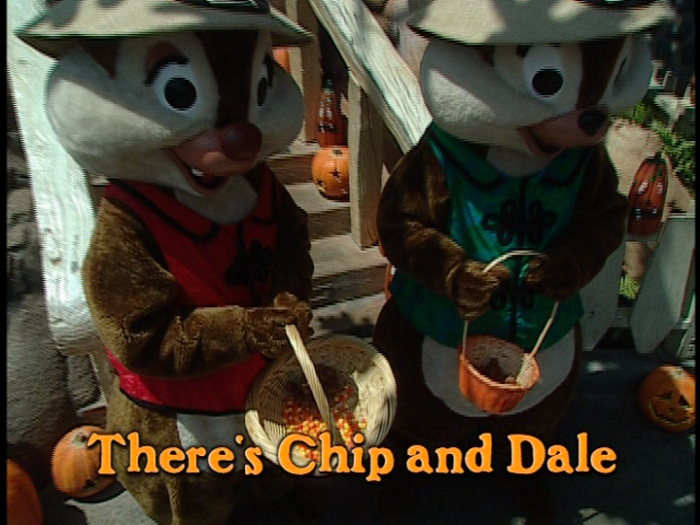 Huey, Dewey, and Louie.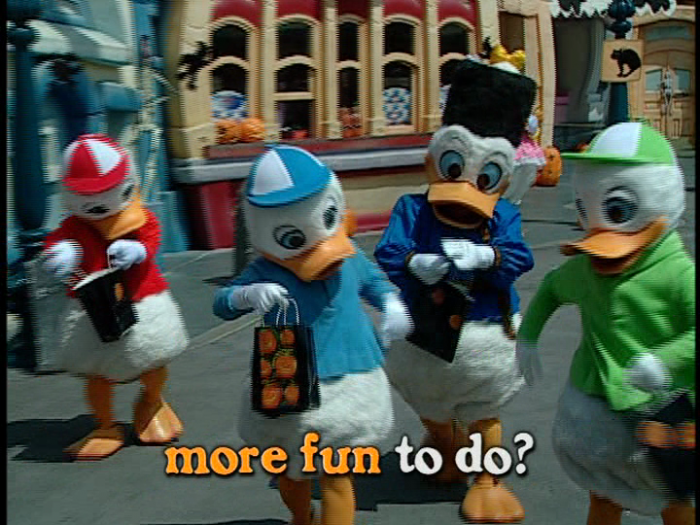 The Three Little Pigs and the Big Bad Wolf.
Mickey is giving candy out at his house.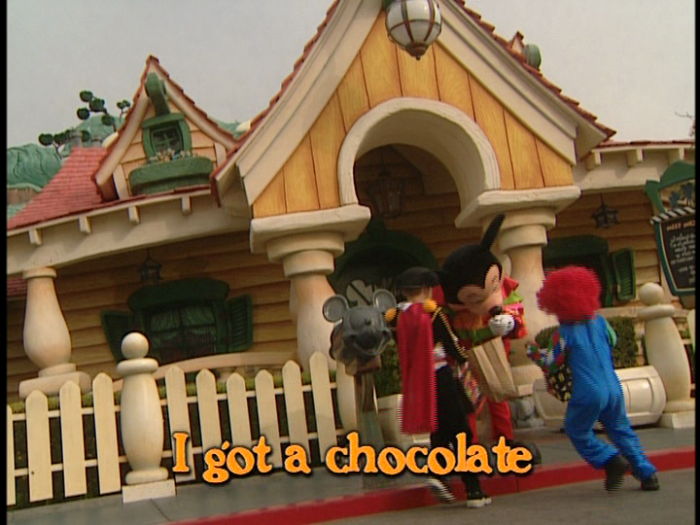 While Minnie is outside her house as well.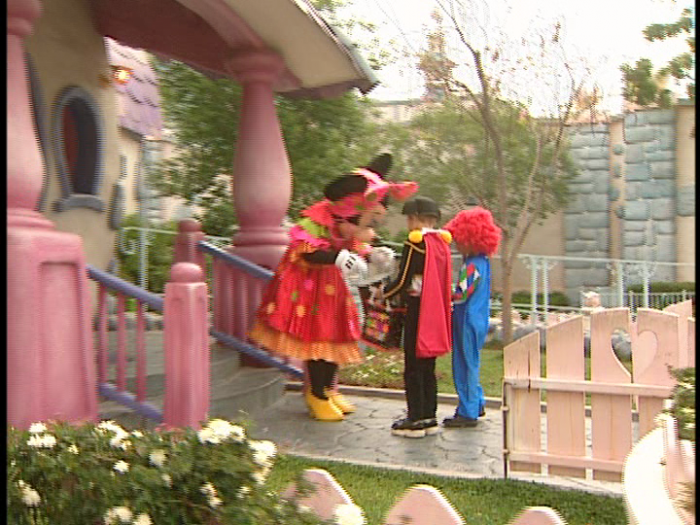 At the end of trick or treating, Merlin transports the kids back into the Haunted Mansion.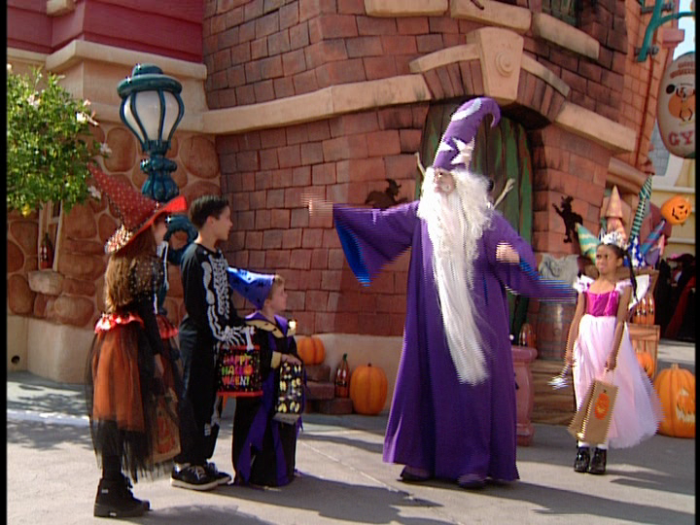 Honorable Mention – Monster Mash
Back at the Haunted Mansion, Sam says he knows who the mysterious voice talking to everyone was. He points to the mirror on the wall.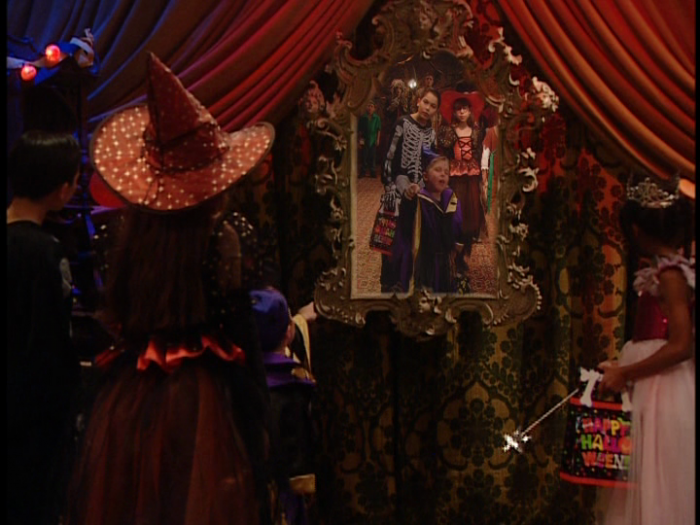 The Magic Mirror reveals that Sam was right.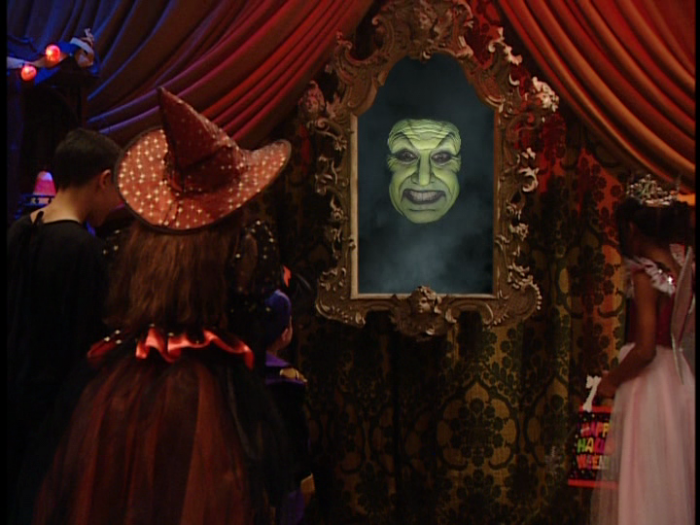 And then we go straight into the song Monster Mash. I mean straight into Monster Mash. It's impossible to describe how weird Happy Haunting can be at times.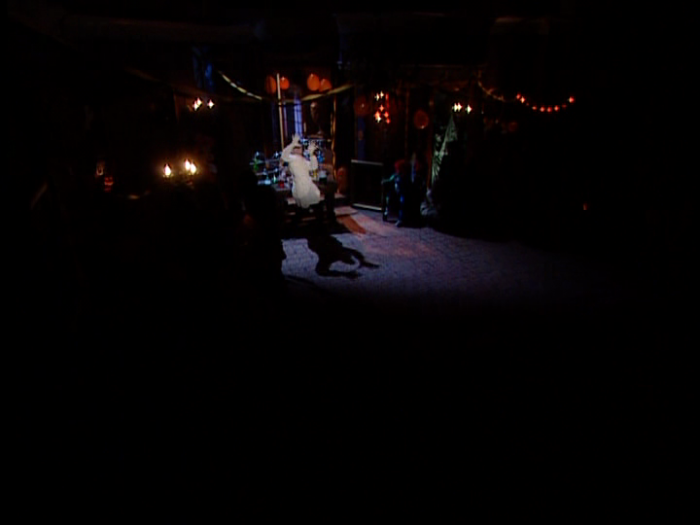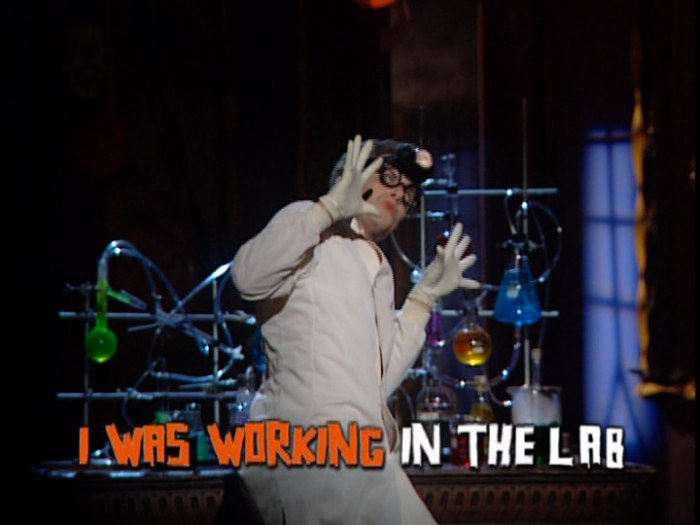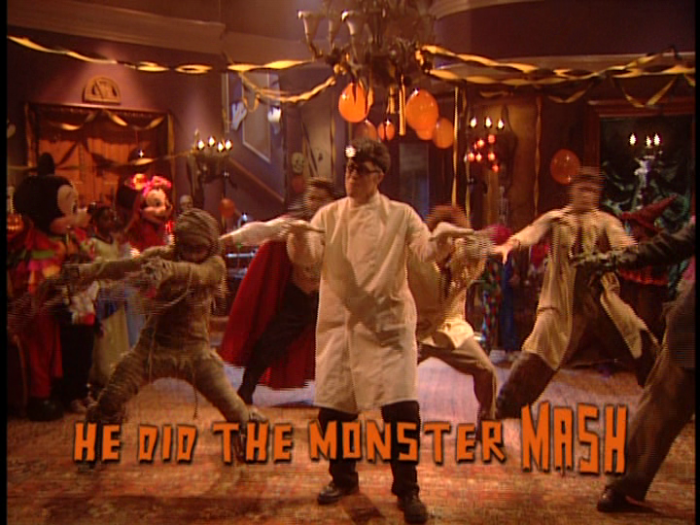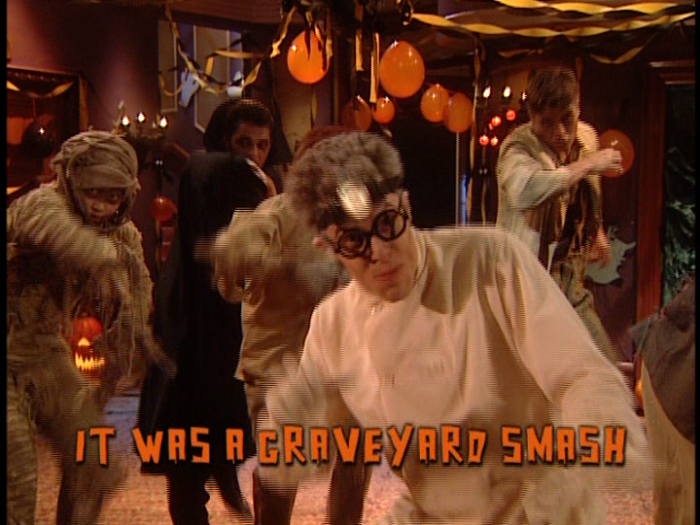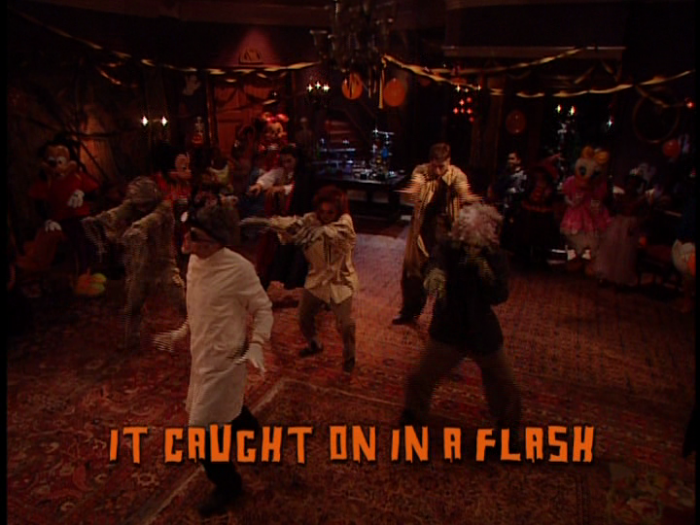 Unlike Disneyland Fun, for the most part Happy Haunting didn't do much with the "sing along" feature other than word would change to a different color when being sung. For Monster Mash, they did add vampire's teeth to one line, so that should count for something.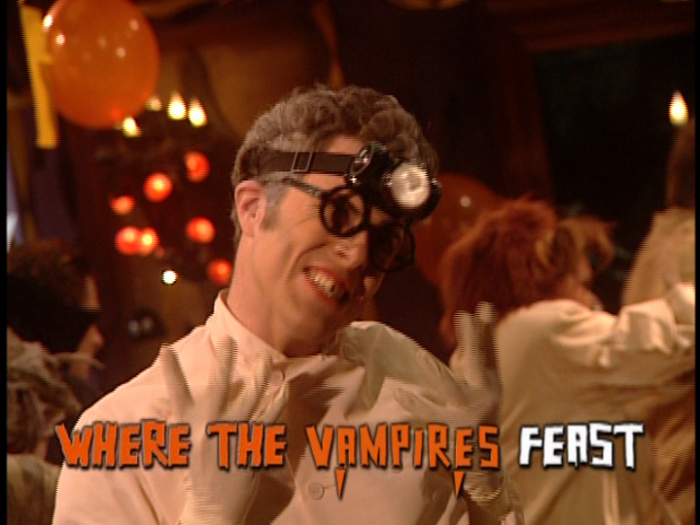 Monster Mash also included one of the only "artistic" elements of the entire program, an overhead shot of the adults doing synchronized dancing while lying on the floor.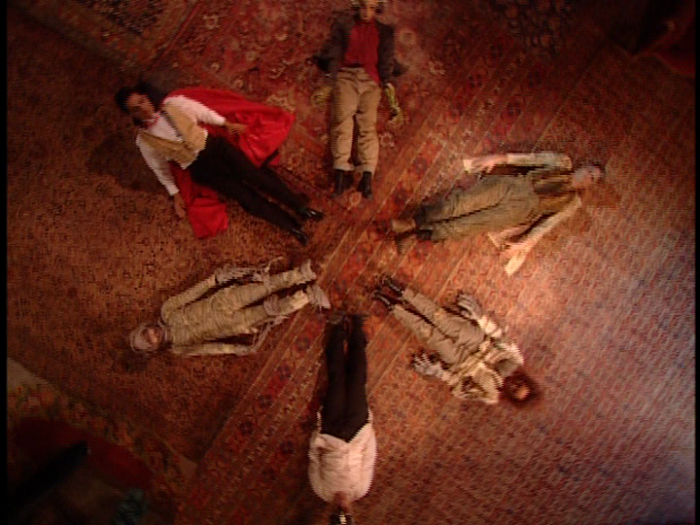 OVERALL THOUGHTS: This was a gigantic step down in quality compared to Disneyland Fun. While Disneyland Fun went above and beyond on using the theme park environment and top level songs, Happy Haunting mailed it in and made the unfathomable choice to go with recreations of iconic Disney tunes. Even at the Halloween party and during the trick or treat song in Mickey's Toontown, some of the Disney characters are dressed up and others aren't. Donald Duck is dressed up, but Daisy isn't.  Chip and Dale have costumes, but Huey, Dewey and Louie do not. Everything has the "well, it's good enough" feel about it, but Disney has shown it can do much better.
tl;dr version –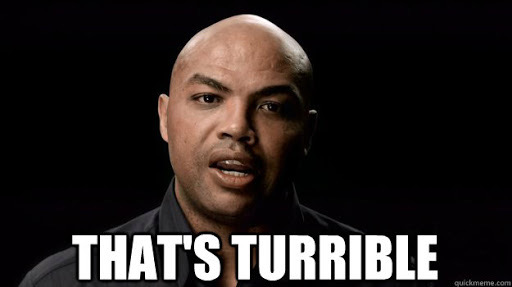 So there you have it: Six Reasons We Love Disney's Sing Along Series – HAPPY HAUNTING! See you next weekend for the latest installment of the SATURDAY SIX, where we'll look at something fun from the world of Disney and Universal. If you enjoyed yourself, be sure to check out The Magic, The Memories, and Merch! articles covering the latest from the Disney Outlet Stores. You can also follow Your Humble Author on Twitter (@derekburgan).
If you enjoyed this article, you will surely like the following: 
6 Reasons We Love Disney Sing Along Songs – DISNEYLAND FUN!
The SATURDAY SIX Looks at Walt Disney World Locations Used in Hulk Hogan's THUNDER IN PARADISE
6 Times THE SIMPSONS Totally Nailed Being a Theme Park Fan
The SATURDAY SIX Looks at Our Favorite Shows Going to Walt Disney World (Part One: Boy Meets World, Step By Step, and Sabrina the Teenage With)
The SATURDAY SIX Looks at Our Favorite Shows Going to Walt Disney World (Part Two: Family Matters, Roseanne, and Full House)
Special Thanks to The Elite Brandon Glover, the bio-est of all reconstructs @bioreconstruct, Captain Cruiseline Scott Sanders of the world famous Disney Cruise Line Blog, my personal protege Hunter "Elvey" Underwood, the SAT SIX Fun Squad of Parkscope Joe and "the Dadalorian" Nick, hot shot Michael Carelli, charter member of the Universal Four @Nitro230, and Hermione Granger's tutor Megan Stump for their invaluable assistance with this article. The SAT SIX is inspired each week by goofballs Aengus Mackenzie and LitemAndHyde and you Potterheads will  enjoy Meg's other blog work over at the Central Florida Slug Club.