The SATURDAY SIX Presents – Plastic in the Parks at Disney Springs
This week's SATURDAY SIX Presents – Plastic in the Parks at Disney Springs! Last year we introduced Plastic in the Parks, a series in which photographer Michael Carelli takes LEGO to the theme park world to create fun pictures. We've been waiting for the right time to bring the concept back when some great news happened recently. Our friend Banks Lee – formerly of Attractions Magazine – started a new job at one of our favorite parks, LEGOLAND Florida! It was time to go back into the toy chest, grab some LEGO and hit Disney Springs to get some photos…
# 6 – T-REX Cafe
No one is going to be handing out Michelin stars to T-REX Cafe any time soon, but you can't deny that it is a Must Do experience for families. With gigantic fish tanks, over the top dinosaur theming, and one of the most fun desserts at WDW with the Chocolate Extinction, T-REX is always a big hit.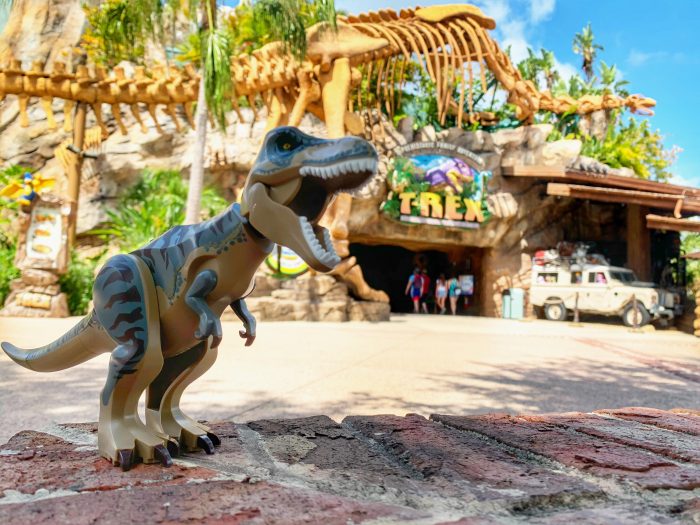 Turns out, even non-LEGO Dinosaur toys in general are pretty cool for taking photos with.
# 5 – Jock Lindsey's Hanger Bar
A bar themed to the world of Indiana Jones that is filled with references to some of our all-time favorite movies? We haven't been this excited since finding out about that Jaws-themed restaurant at Universal Studios Japan. LEGO Indy is a big fan as well.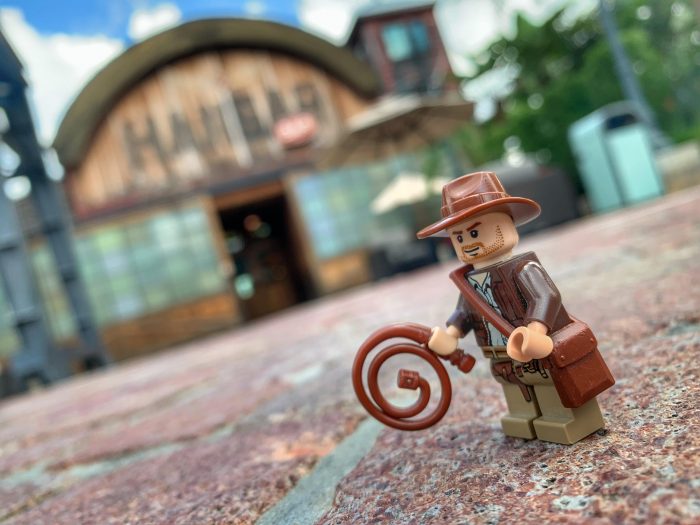 # 4 – Once Upon a Toy
Located in the Marketplace section of Disney Springs, Once Upon A Toy has two great photo-ops outside for guests with Toy Story's own Mr. Potato Head and Buzz Lightyear.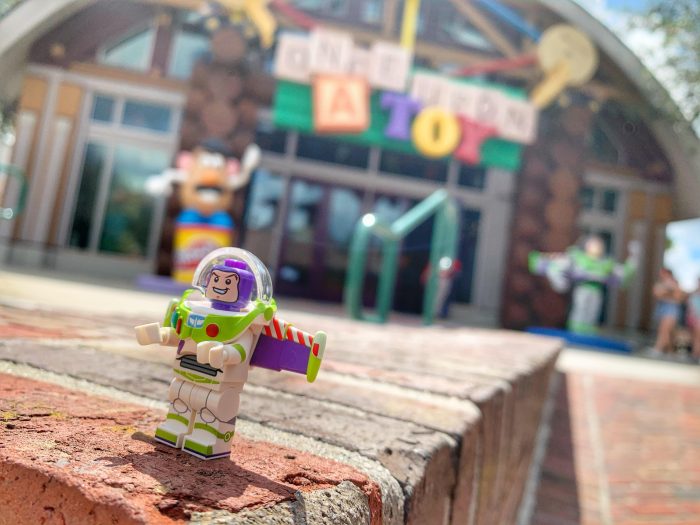 # 3 – Marvel Super Hero Headquarters
Meanwhile, over on the West Side of Disney Springs there is another store which features toys (and more.) This is one of the only places at Walt Disney World where you will see the Marvel brand advertised, as Universal has the theme park rights to many Marvel superheroes. The "Marvel Contract" is a much debated topic in the theme park world, and something which picked up a lot of steam once Disney bought Marvel back in 2009. Universal has the exclusive theme park rights to many Marvel characters, "East of the Mississippi." That's why Disneyland can have an upcoming ride based on Spider-Man, but WDW can't. Instead, WDW has to find the characters who aren't included in the contract to base attractions and meet and greets around. So instead of Captain America and Spidey, the Florida parks got a Dr. Strange meet and greet at DHS and the Awesome Mix Live! show at EPCOT featuring the Guardians of the Galaxy.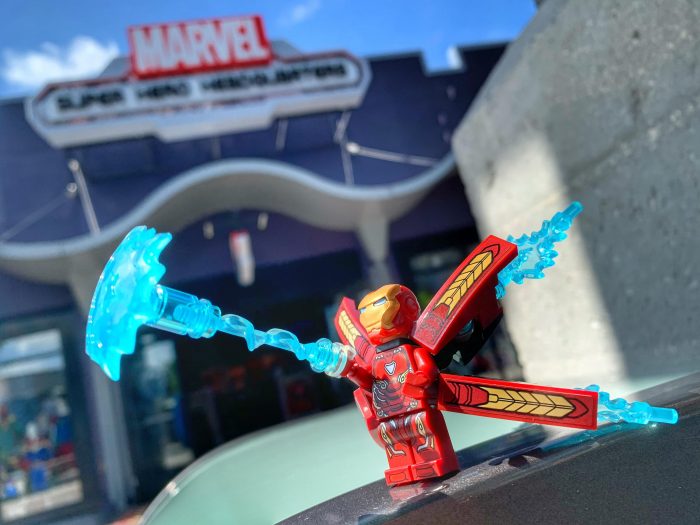 Just a couple doors down from Super Hero Headquarters is the Star Wars Galactic Outpost. Think about how crazy it is that between the years of 2009 and 2012 Disney bought both Marvel AND Star Wars! We may never see anything like that again, because how often will you find brands that made an unbelievable cultural impact worldwide spanning movies, tv shows, comic books, toys and more.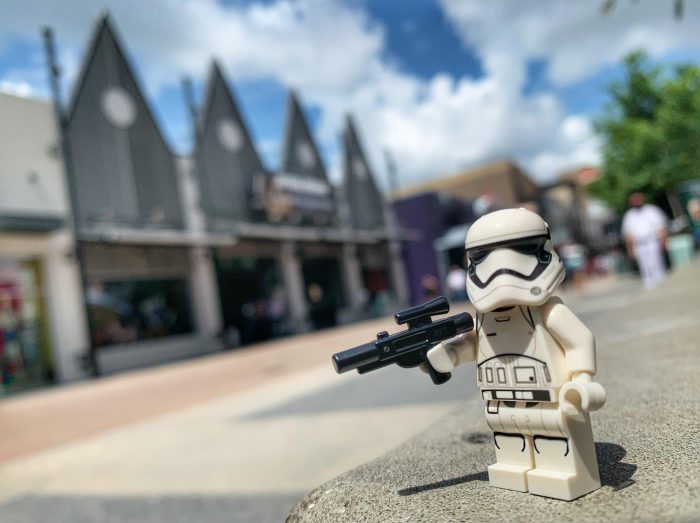 # 2 – Characters in Flight
Everyone knows that Disney Springs is a shopping and dining district, but it's also a place that has several attractions. Aside from a carousel and train ride for the kiddos, there is the Characters in Flight helium balloon experience that takes guests high up into the sky. Outside of staying at Gran Destino Tower, there are very few places at WDW which offer guests a bird's eye view of the entire property (and while you're up there, say hi to @bioreconstruct for us!)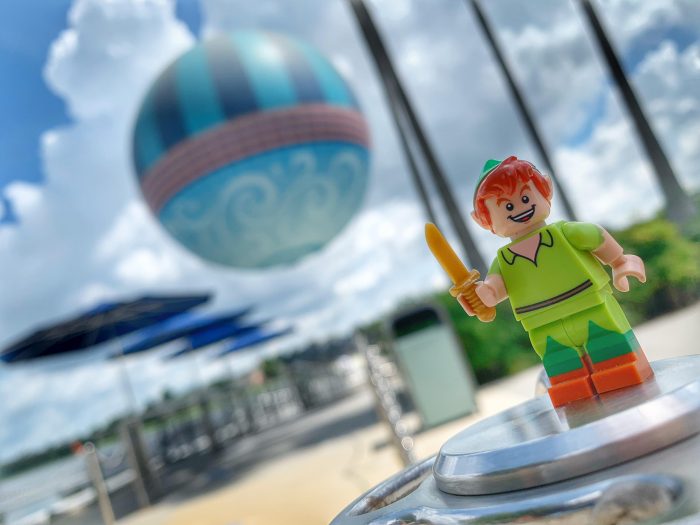 # 1 – Cookes of Dublin
Like the rest of Walt Disney World, Disney Springs was closed to guests at the end of March because of the coronavirus. And similar to the WDW theme parks which welcomed guests back this pas week, the reopening of Disney Springs came with some new rules for guests. Face coverings were required and social distancing measures were put into place. However, with all the new safety procedures, Disney forget to mention that bringing your own grill to cook hot dogs was not allowed. Gonna have to take a Mulligan on that one, because much to the chagrin of Disney security, some guests brought their own bbq. To be fair, in a year which a Jungle Cruise boat sank, guests swam in a SeaWorld lagoon, and Katy Perry dressed herself (and her dog) as Dumbo, is grilling your hot dogs at Disney Springs really that weird? Actually, yes it is, but we'll get to all of that and more later in the annual Theme Park Turkey of the Year Awards.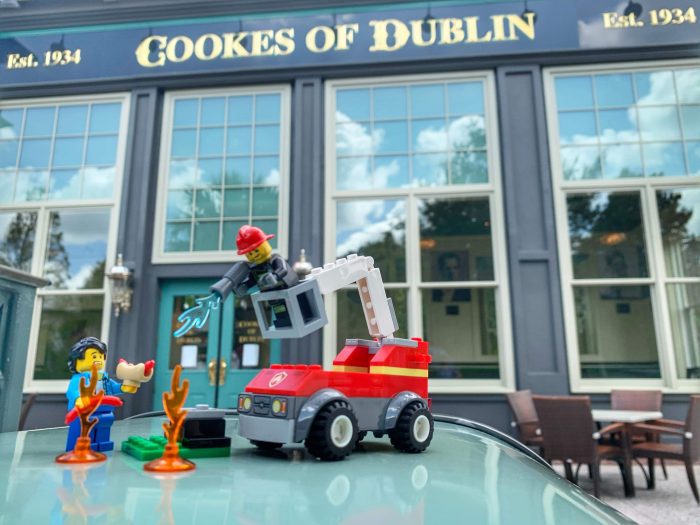 So there you have it: The SATURDAY SIX Presents -Plastic in the Parks at Disney Springs! See you next weekend for the latest installment of the SATURDAY SIX, where we'll look at something fun from the world of Disney and Universal. If you enjoyed yourself, be sure to check out The Magic, The Memories, and Merch! articles covering the latest from the Disney Outlet Stores. You can also follow Your Humble Author on Twitter (@derekburgan).
If you enjoyed this article, you will surely like the following: 
The SATURDAY SIX Presents: The Debut of PLASTIC IN THE PARKS
DAVID & DEREK: The Do's and Don'ts of COVID-19 Safety Protocols at the Theme Parks
6 Pieces of Disney Merchandise That Don't Exist (but Totally Should)
SATURDAY SIX Presents: The Disney Signage Hall of Shame
Special Thanks to The Elite Brandon Glover, the bio-est of all reconstructs @bioreconstruct, Captain Cruiseline Scott Sanders of the world famous Disney Cruise Line Blog, my personal protege Hunter "Elvey" Underwood, the SAT SIX Fun Squad of Parkscope Joe and "the Dadalorian" Nick, hot shot Michael Carelli, charter member of the Universal Four @Nitro230, and Hermione Granger's tutor Megan Stump for their invaluable assistance with this article. The SAT SIX is inspired each week by goofballs Aengus Mackenzie and LitemAndHyde and you Potterheads will  enjoy Meg's other blog work over at the Central Florida Slug Club.