The Magic, The Memories, and Merch! – Disney Outlet Store Update for October 2020
Welcome to the latest edition of The Magic, The Memories, and Merch!, the longest running monthly look at the Disney Outlet Stores in Orlando and we're here on the ground in Florida at the Outlets (addresses for both stores are at the end of every report) along with Christela "Clearance" McC out in California. Ready to see what we found?
Reminder that the Disney Outlet Stores in Florida are run by Disney themselves, with the workers inside actual Cast Members. So while many other stores in the area are under "Thunderdome" rules, they are running a much tighter ship at the Disney stores. As we have covered in previous reports, there are social distance markers on the outside of the store along with a Cast Member keeping track of how many guests are in the store at any given time. There is signage both outside and inside the store reminding guests of the new procedures, including which facial coverings are allowed.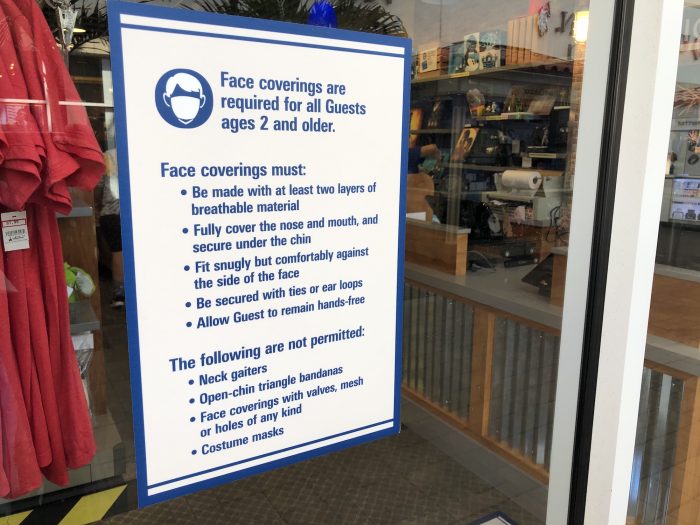 The winner of the bad timing award this year in Hollywood was Pixar's Onward. Originally released on March 6, Onward was the last Disney movie released to theaters right before the coronavirus shut down. Granted, the film had many things going against it – including what I would argue was an awful marketing campaign – but COVID made sure there was no chance for any good word of mouth to spread and turn the film into a sleeper hit. After just its second week in theaters, many chains across the country shut down. This led to the fast tracking of Onward to be released April 3 on Disney+. However, unlike Hamilton and The Mandelorian, buzz for Onward didn't skyrocket once it was available on the streaming service. It settled quickly into its spot of Just-Another-Good-Pixar-Film.
However, I personally loved Onward. That should come with a caveat that I played Dungeons & Dragons growing up and am a huge fan of the fantasy genre. There was almost no chance I wasn't going to love it. All that said, I couldn't name a single character in the movie despite enjoying it, so it comes as no surprise that this month had a whole bunch of Onward-related merchandise at the Outlets.
First up is this shirt. Originally $19.99, now $7.99.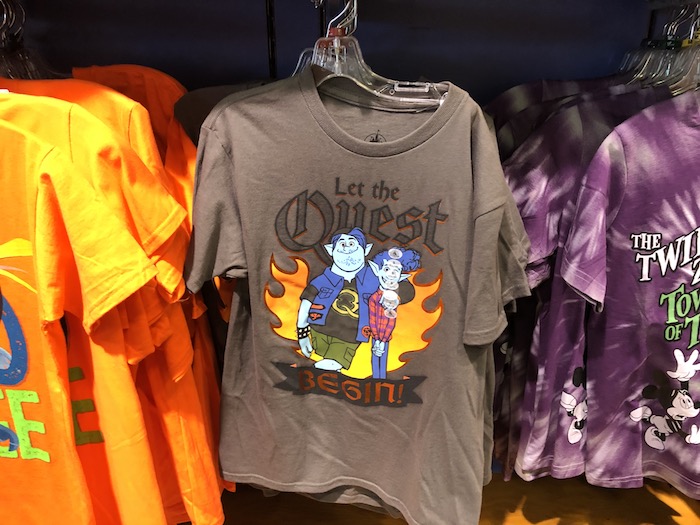 This large figure toy set was pretty neat. Originally $49.99, now $24.99.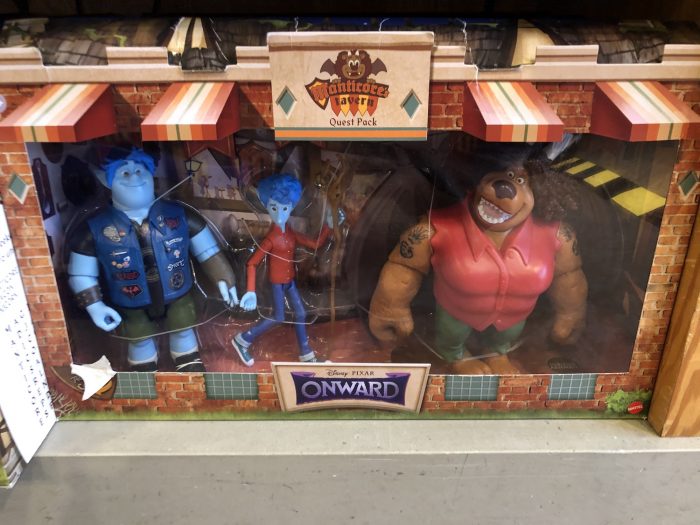 I loved that the back of the box went with the theme of Manticore's Tavern from the film, a place similar to Chuck-E-Cheese for kids.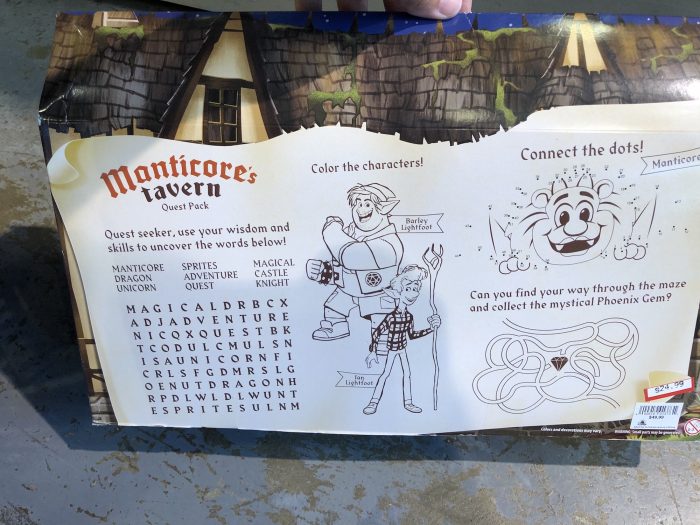 Plush for all the main characters was reduced to $9.99.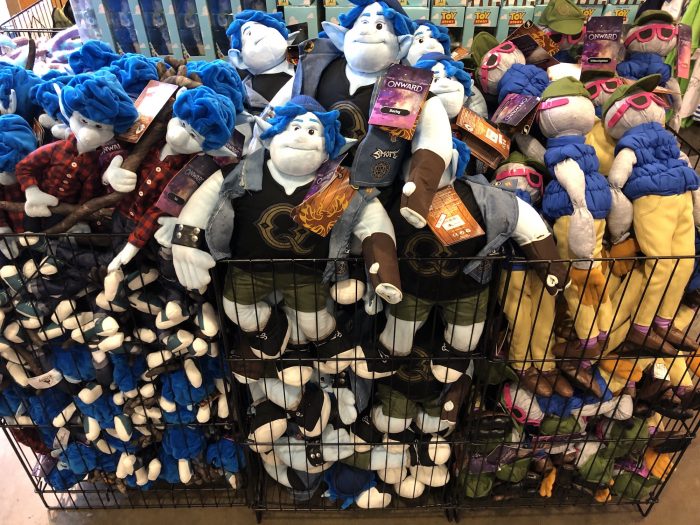 Here is the plush for two side characters of the movie. The pet dragon Blazey and the Manticore's Tavern mascot. Blazey was originally $19.99 while the mascot was $26.99. Both reduced to $9.99.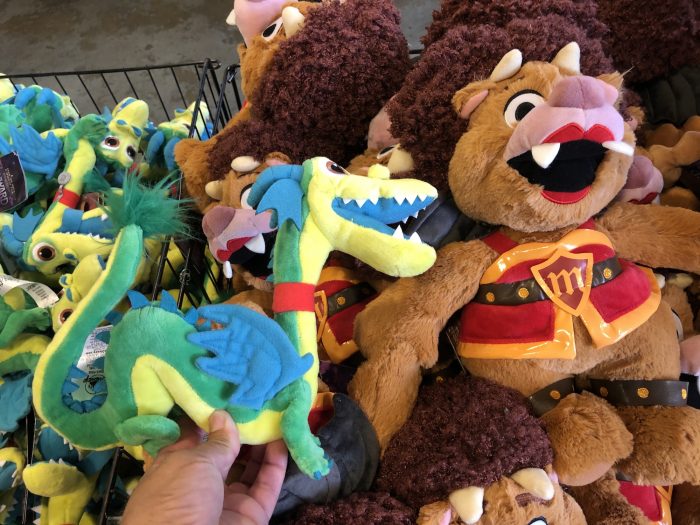 Sometimes you see things that just make you ask…
WHY?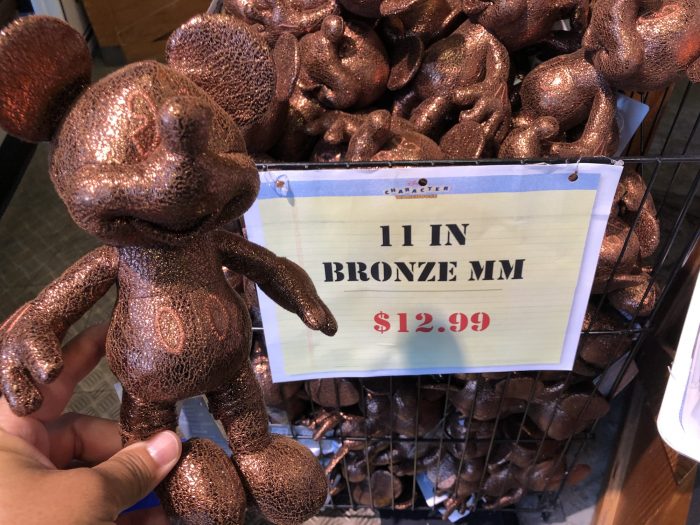 A bunch of "new to the Outlets" plush appeared this month, including Fear from Inside Out.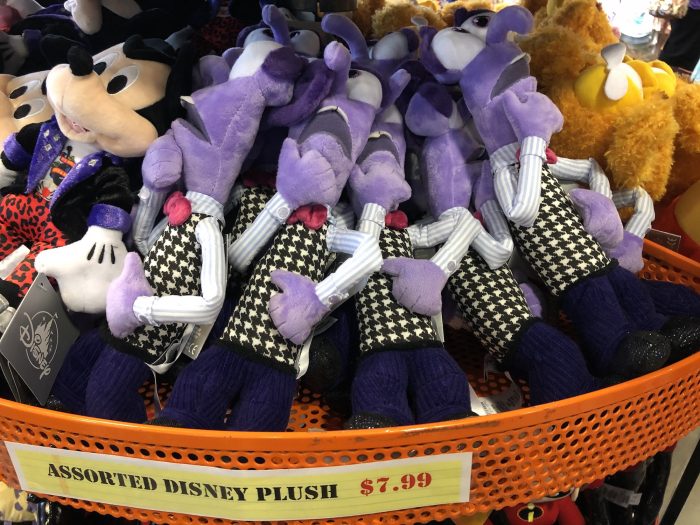 Dory and Muppet Babies' Fozzie the Bear.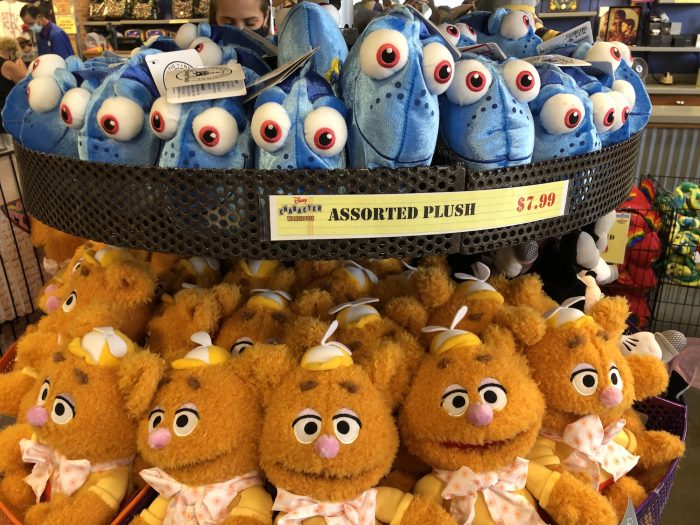 Mickey and Minnie in Easter Bunny costumes. Both were originally $21.99, now $9.99.
The history of Star Wars is filled with characters created just to make action figures, but the droid D-O seemed especially tacked onto The Rise of Skywalker. Reduced to $7.99.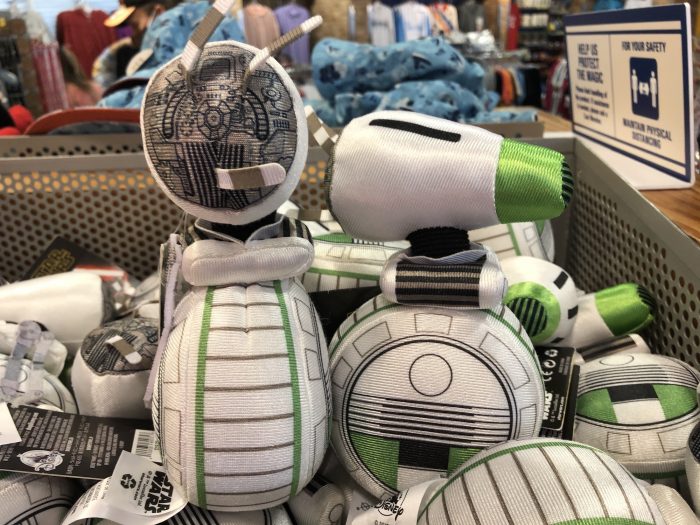 This print of young Han Solo was originally $150. Can you imagine?!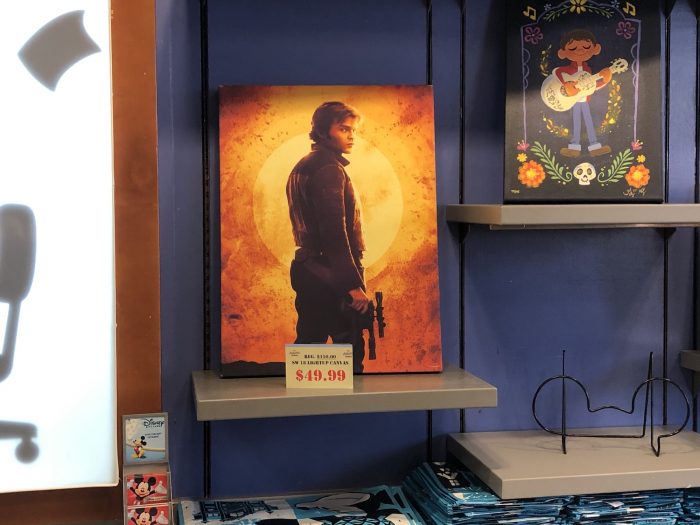 These two prints feature Chewie and Han Solo are also based off the film Solo: A Star Wars Story. Originally $39.99, now $20.99. Rogue One gave me such hope for the Star Wars franchise outside the Skywalker Saga, and then Solo came along and crushed me. I can't think of a movie which retroactively makes other – much better – films worse. You don't even have to include the laughable way they shoehorned in how Han got his name (which has to be one of the biggest eye rolling moments in the entire decade). Take for example that for 40 years people thought Han was a hot shot pilot who – while braggadocios – was such a talented guy that he took a "hunk of junk" and turned into into one of the best ships in the galaxy. Solo gave us the real answer. Nay Nay. Han took over by far and away one of the coolest spaceships in the galaxy and turned it into a hunk of junk.
I know that there are many people reading this who will defend Solo with their dying breath (thankfully taking a break from knighting up for other unwatchable movies like John Carter and Tron: Legacy) but there is a reason the Star Wars brand went from an ambitious plan of putting out multiple Star Wars films a year to immediately taking a long break after Solo. Thankfully, The Mandalorian show proves that Star Wars can be great again.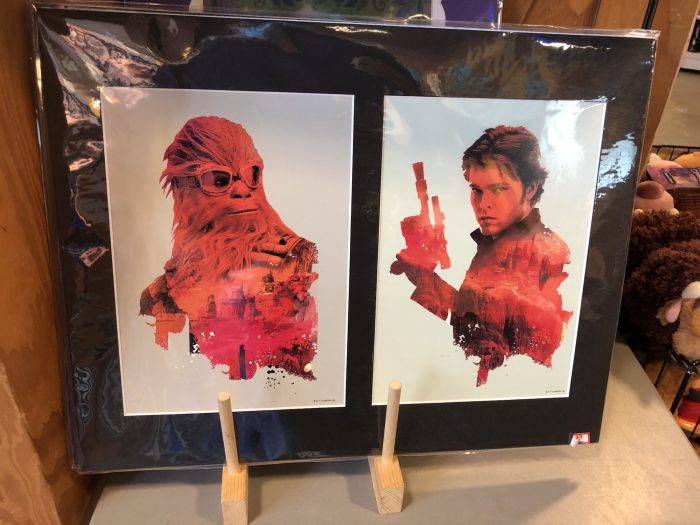 Another one of those Disney expensive pin sets that seem to be targeting a demographic of about 15 people. This set features the Knights of Ren who are absolutely amazing in still photographs, concept art, and backstory, but get destroyed in about a total of a minute and a half of screen time in The Rise of Skywalker. Reduced to $14.99.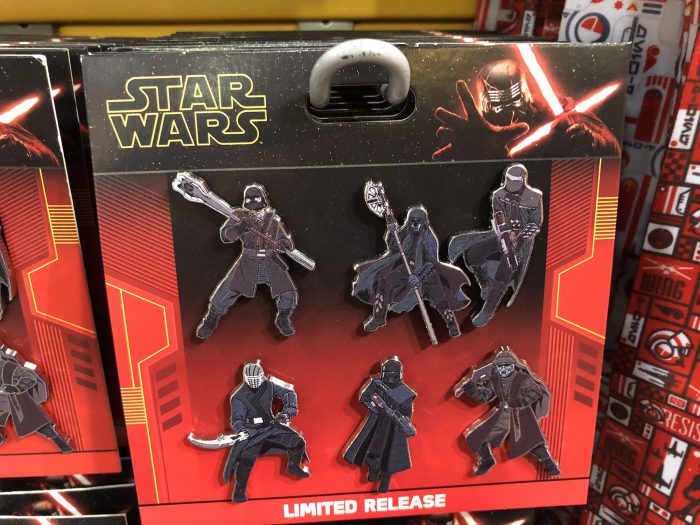 This blind box pin set was originally $19.99, now "just" $8.99. I sure hope there is more than just one pin in each box. This box features the "good guys" of Star Wars.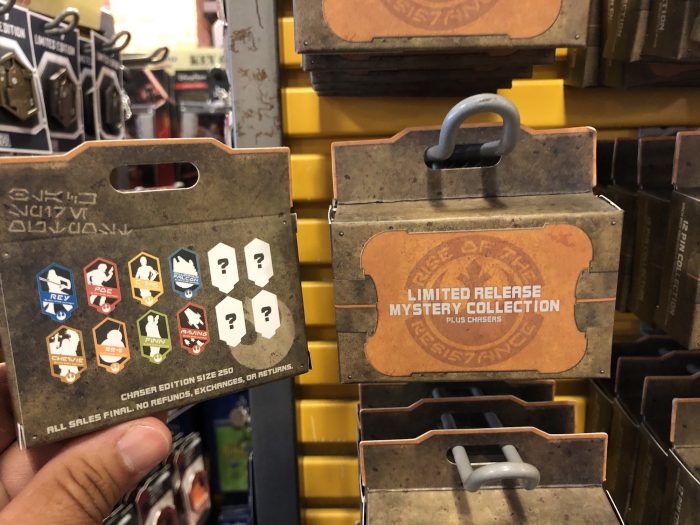 And this one features logos for the "bad guys" of Star Wars.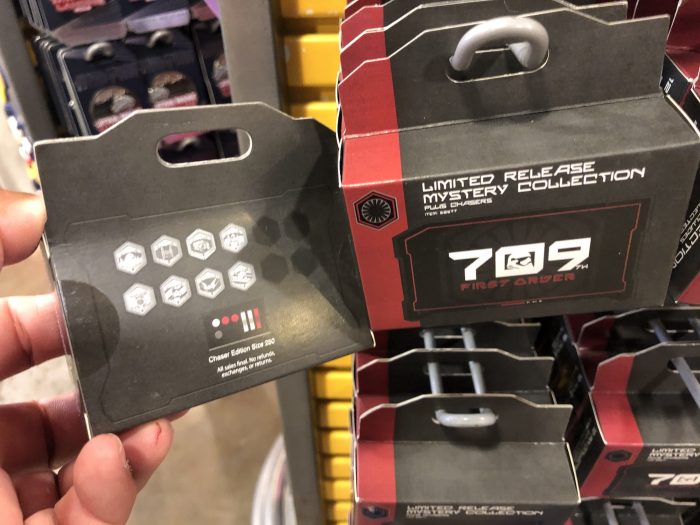 Whole bunch of Star Wars: Galaxy's Edge grand opening pins were available. Originally $15.99, now $4.99. I'm not sure how these pins ended up at the Outlets because people who insist they are very smart repeatedly told me that even if the Galaxy's Edge crowds were low, lower crowds mean "happier" guests and "happier" guests spend more money.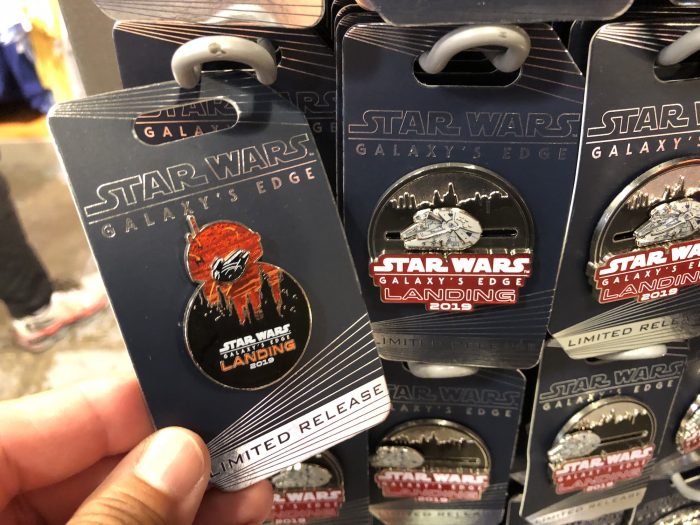 Speaking of Star Wars: Galaxy's Edge, this grand opening lanyard featuring the Falcon was originally $15.96, reduced to $7.99. Throughout the year we've seen a whole bunch of SW:GE grand opening merchandise hit the Outlets; including t-shirts, pins, lanyards, and more. What's most amazing about that is the merchandise itself was made so that it could be sold in Batuu at both Disneyland and Walt Disney World. Probably wasn't a good sign that SW:GE merch made it to the Outlets even before the land officially opened.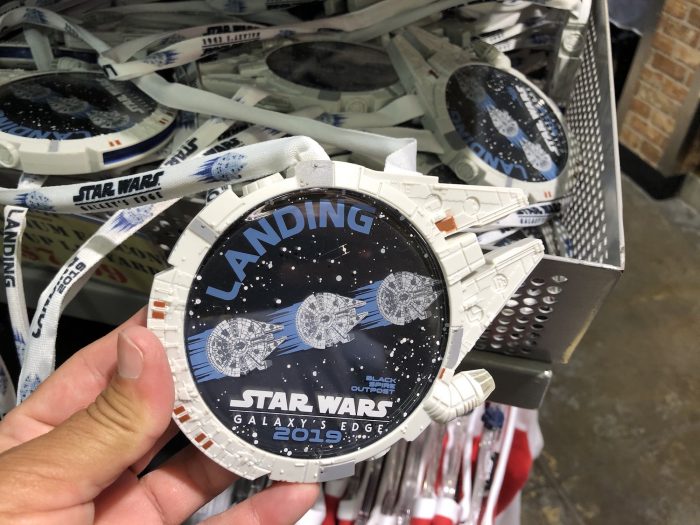 I couldn't for the life of me figure out what this Star Wars thing was. It looked like a deck of cards but the original price was $54.99. It has been reduced to $26.99. Just Google'd it and – Dear Lord – this is a jumbo PIN.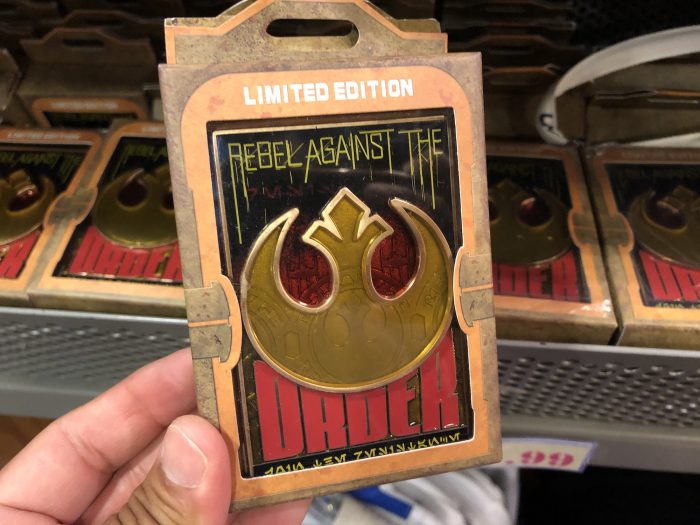 Yoda Mickey Ear hat. Originally $24.99, now $7.99.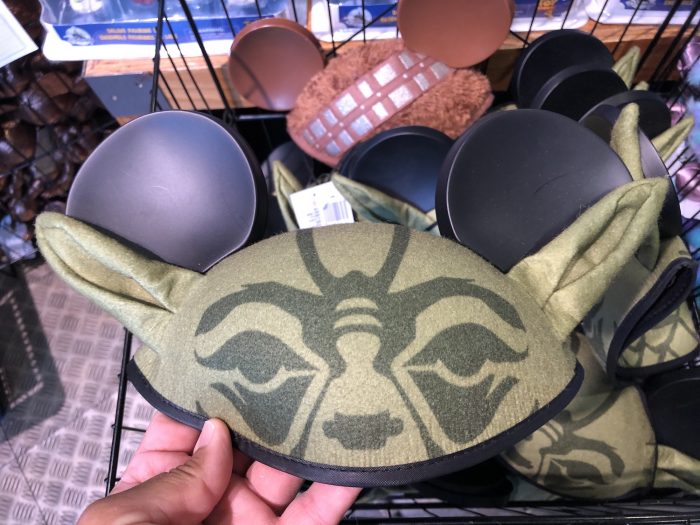 Chewbacca ears, same price.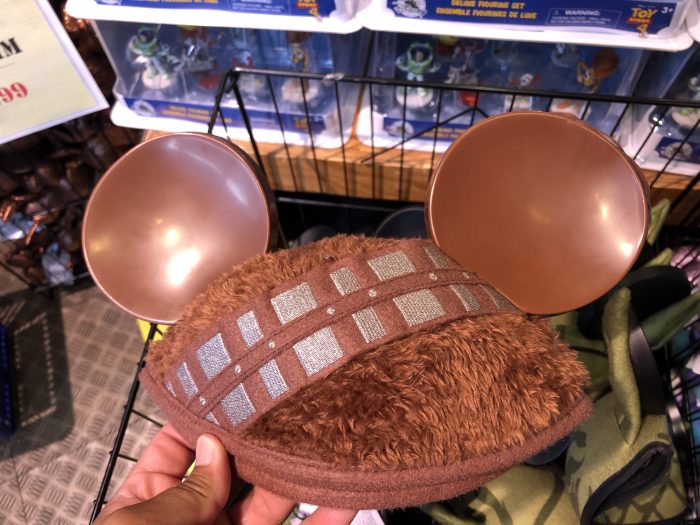 EPCOT World Showcase magnet. Wonder if we're gonna see the Morocco flag replaced with one featuring Walt Disney Imagineering. Or maybe it will just be a dollar sign "$". Price was "Red" reduced to $3.99.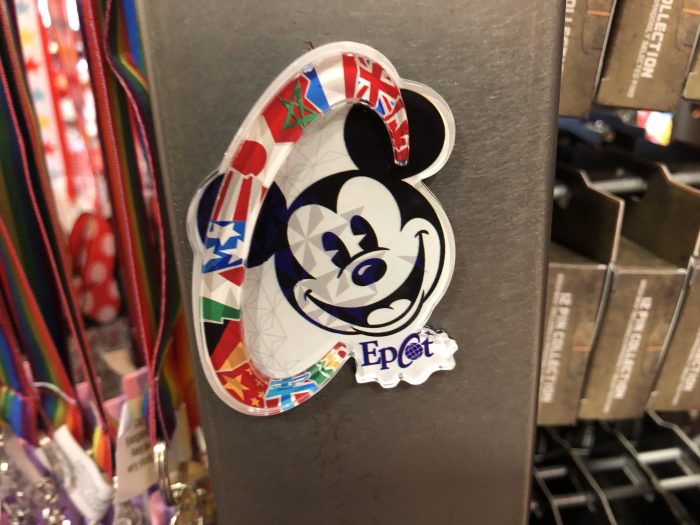 Alice in Wonderland-themed magnet. Reduced to $3.99.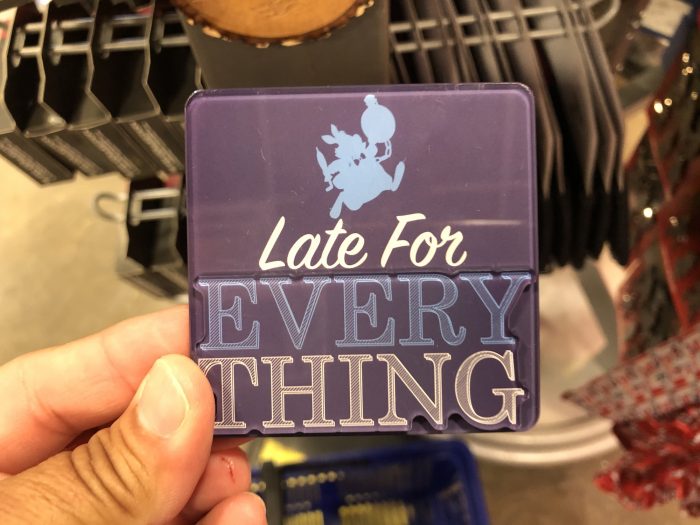 Drink holders featuring Cinderella. Does not seem "on brand" for me considering the character, but what do I know. Originally $14.99, now $7.99.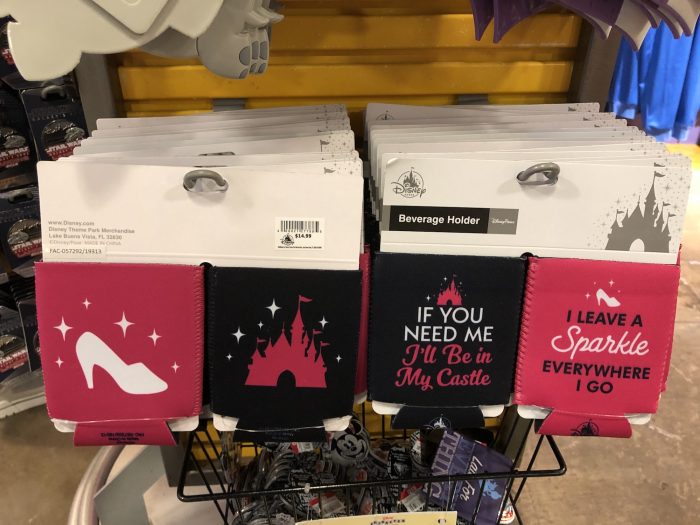 Speaking of princesses, these iPhone cases have been reduced from $29.99 to $7.99. Love these two.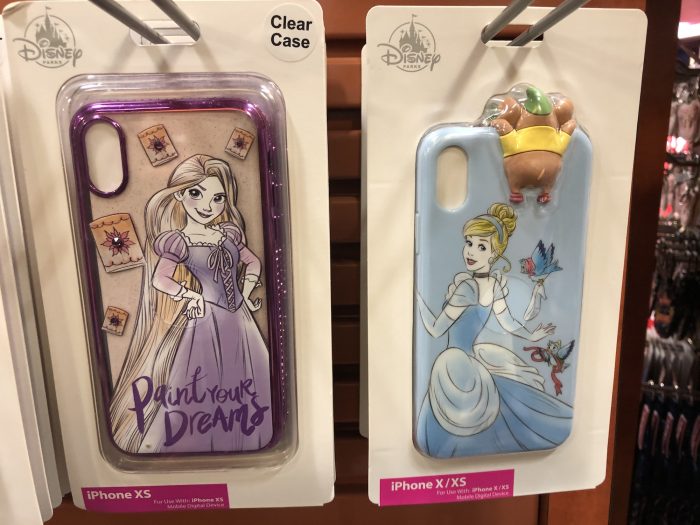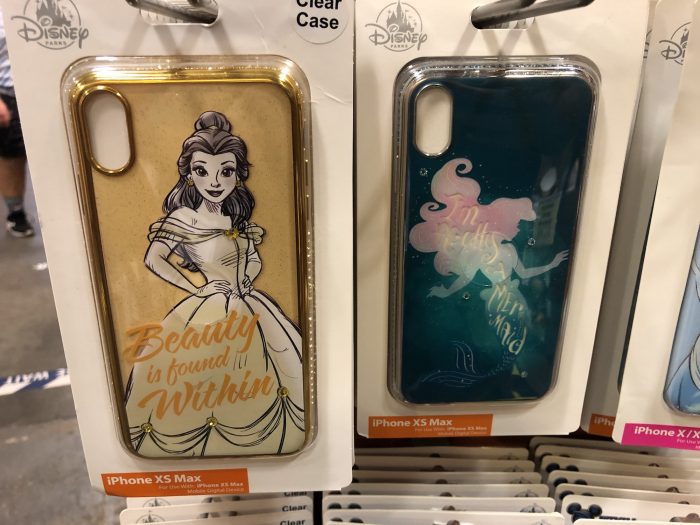 I thought I "framed" this photo perfectly at the store and am just seeing now that I cut off the "Di" in "Disney Princess." Well, back to school for more Theme Park Photography lessons!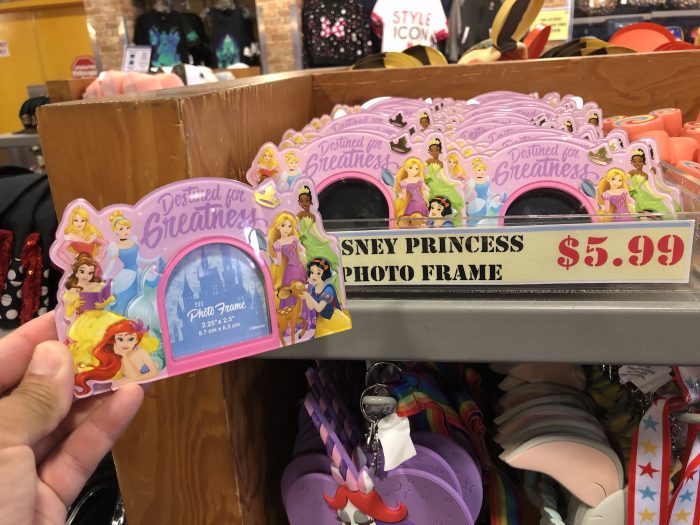 Princess-themed keychains were all reduced to $3.99. These were pretty cute.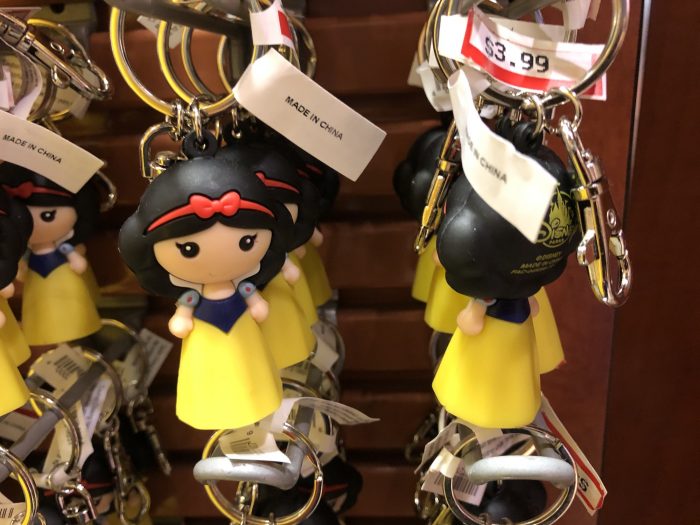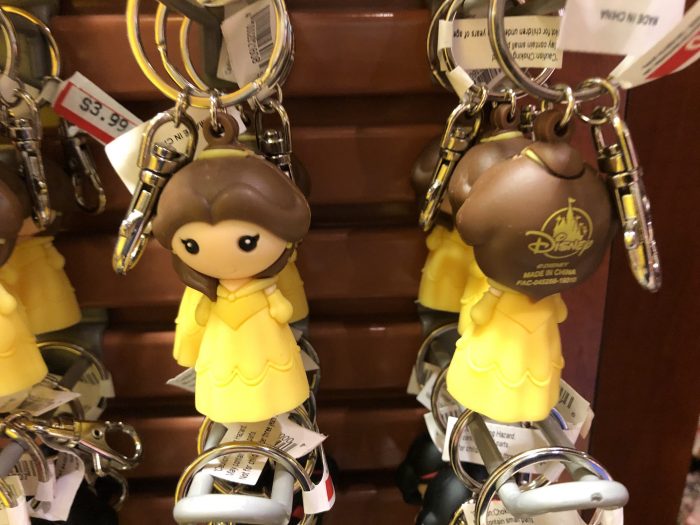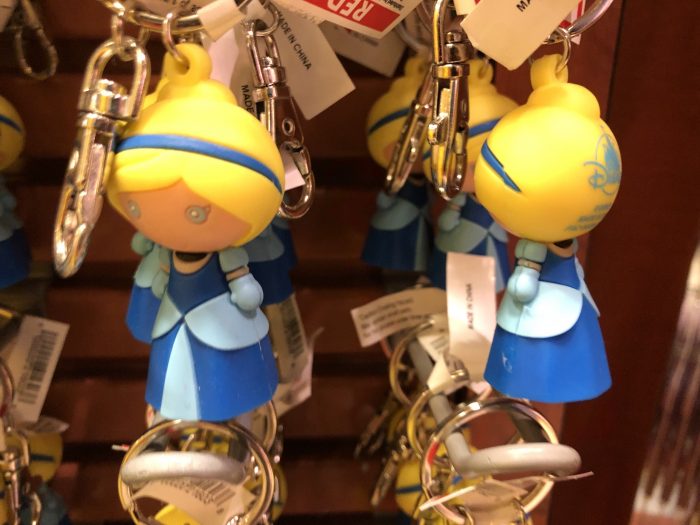 There seemed to be hundreds available for every princess except Aurora. Sleeping Beauty was down to just one left.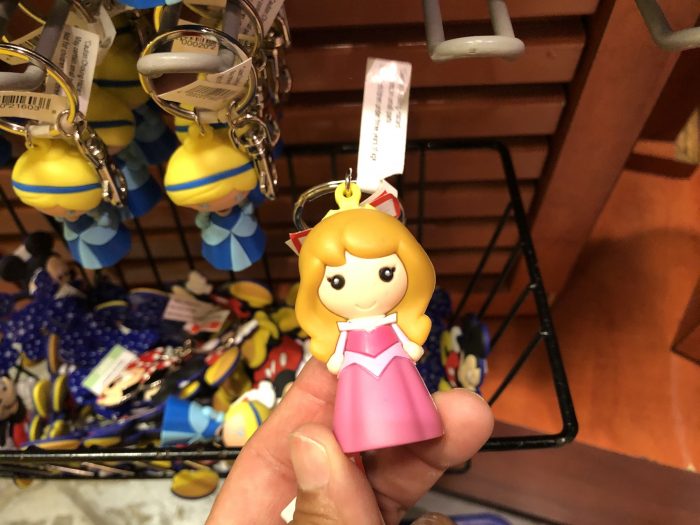 Princess themed tumbler. Originally $24.99, now $14.99.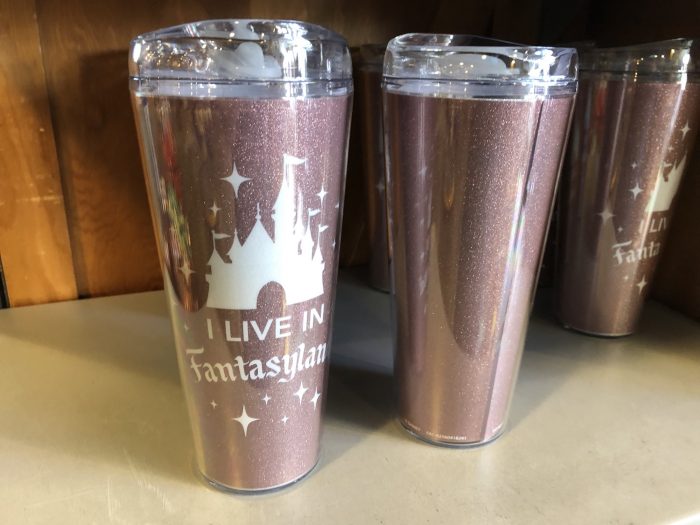 Cool Expedition Everest coffee cup. Originally $16.99, now $5.99.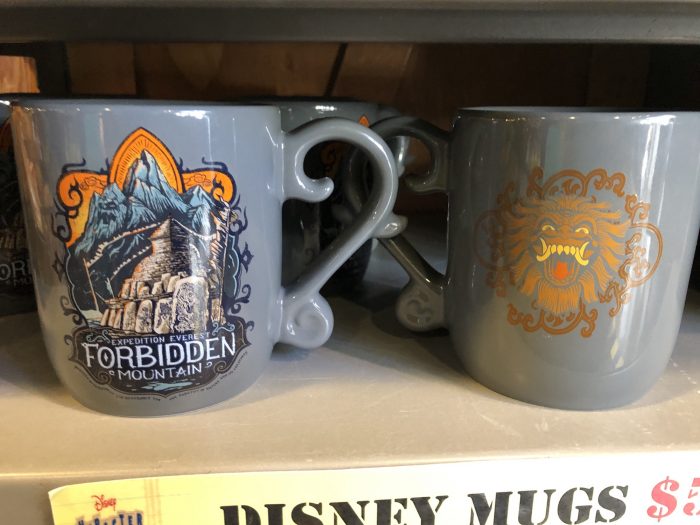 I'd say you could use this Rivers of Light cup to pour out the fanboy tears mourning its loss, but I don't think it had any fans. Reduced to $5.99.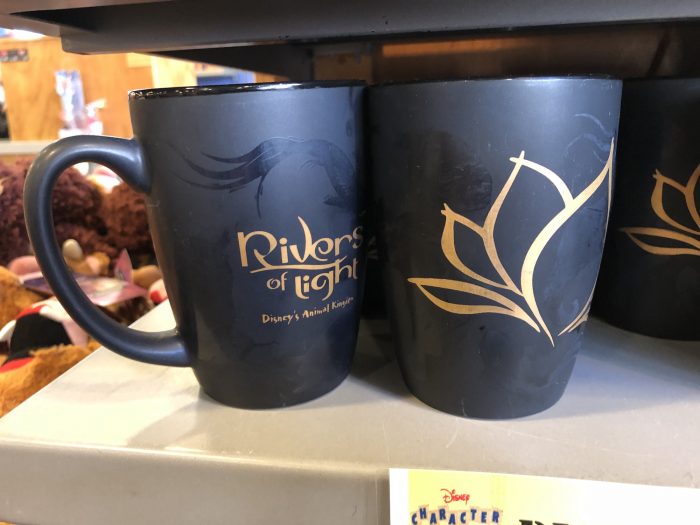 This Flying Buzz Lightyear seemed interesting. Originally $20.65, now $12.99.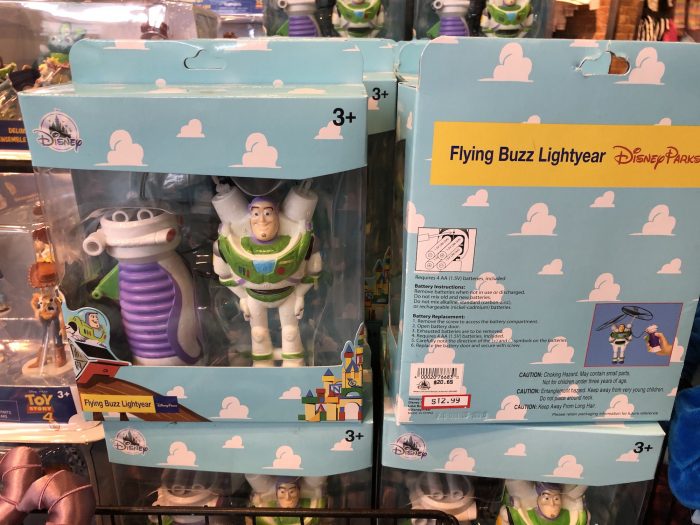 Thought this Buzz Lightyear inside a spaceship was cute. Originally $19.99, now $9.99.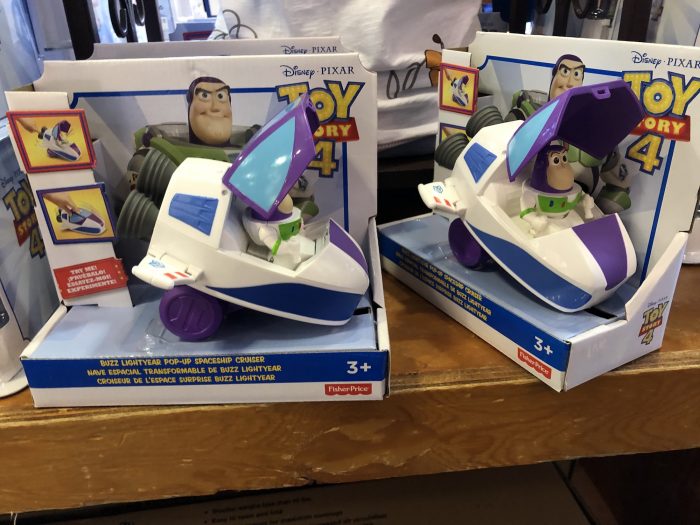 This Buzz magnet is just weird though.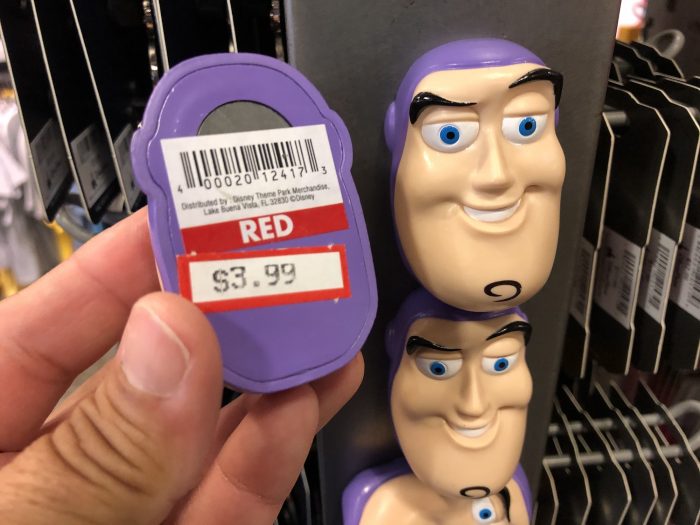 Jewelry featuring characters from Toy Story. Originally $29.99, now $11.99.
I don't understand these lanyards at all. There's one featuring Dumbo, another themed to Minnie Mouse, and a third featuring the Rainbow Unicorn from Inside Out. They are HUGE. People are supposed to be wearing them around their neck all day?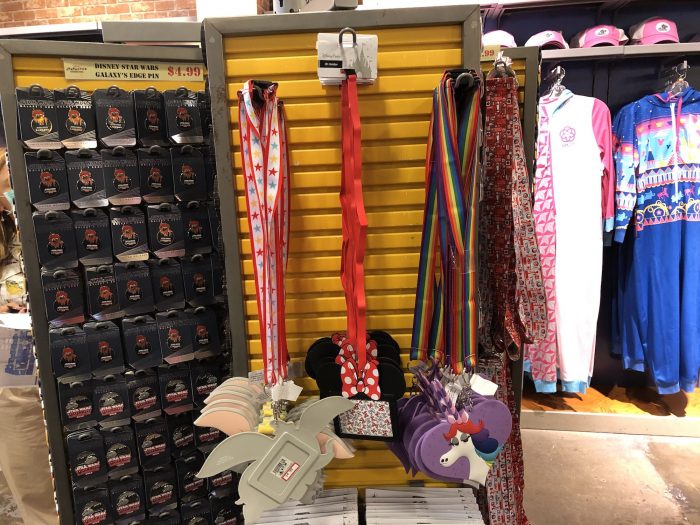 Here's the front of the Dumbo one.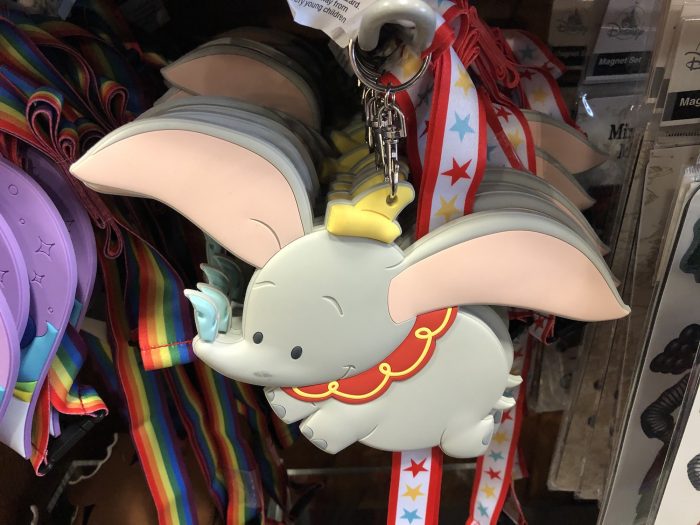 And what are you supposed to be holding in the lanyard? Your driver's license? A Disney park ticket? I don't understand anything about these.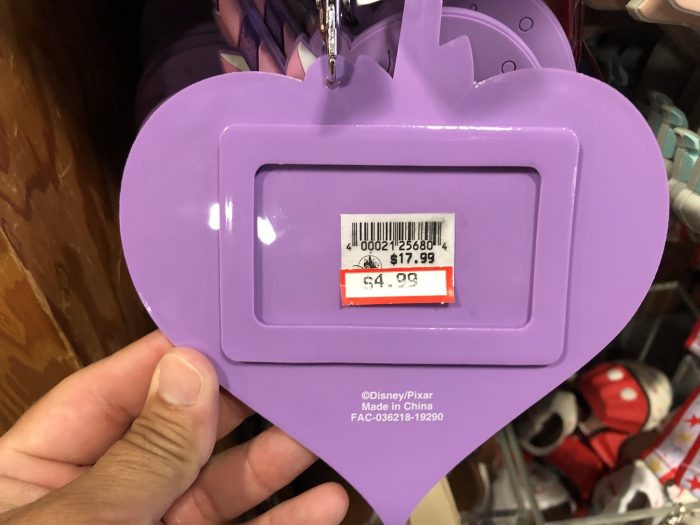 We go from lanyards I don't understand to my arch-nemesis… METAL EARTH. There has actually been some really cool pieces of Metal Earth released in the Disney Parks Collection, including this Ark of the Covenant from Indiana Jones. Originally $14.99, now $7.99.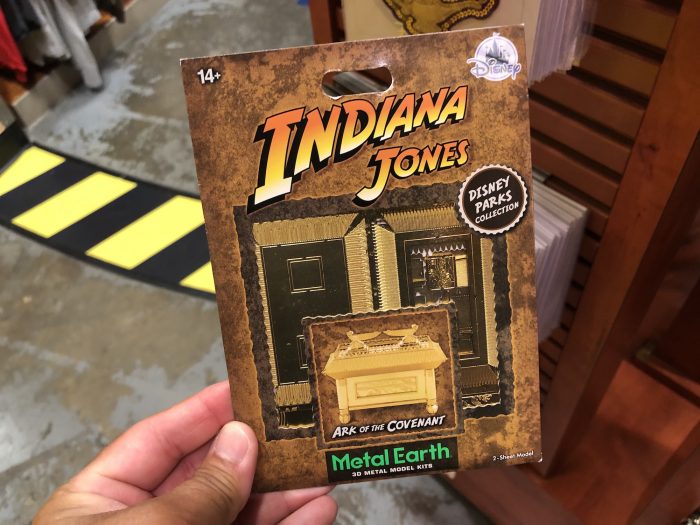 I bought one, but you know I'll never end up making it. Instead let's look at a completed one which was finished by the Metal Earth Master, Captain Cruiseline Scott Sanders of the world famous Disney Cruise Line Blog.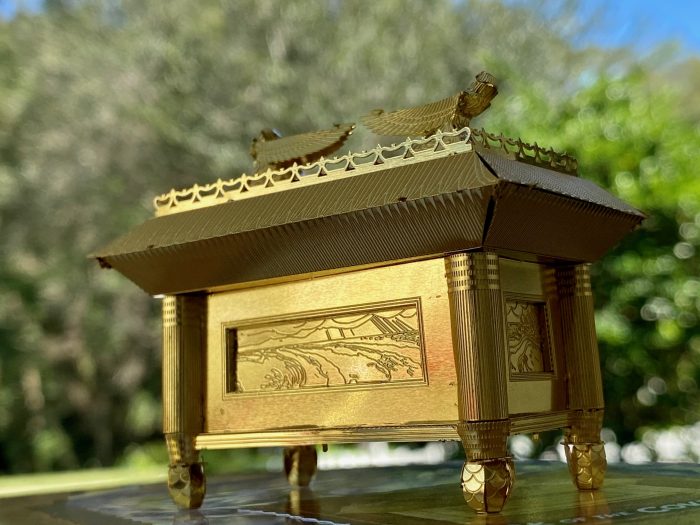 The only thing that I dislike more than putting together Metal Earth is the year 2020, so of course I bought a pair of these 2020 Glow Glasses. If it's under $1, Disney is basically daring me not to buy it.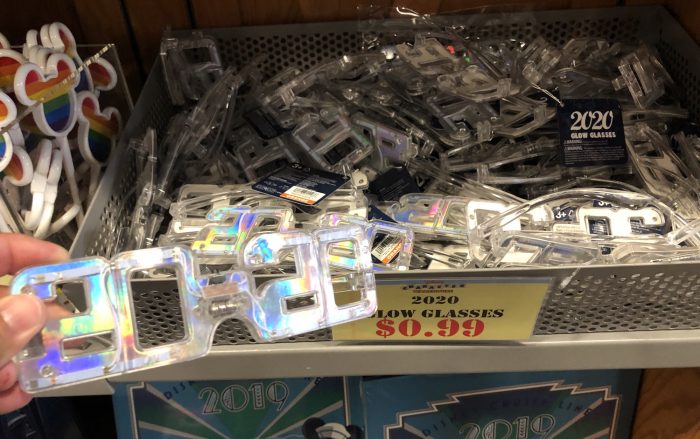 Olaf pen.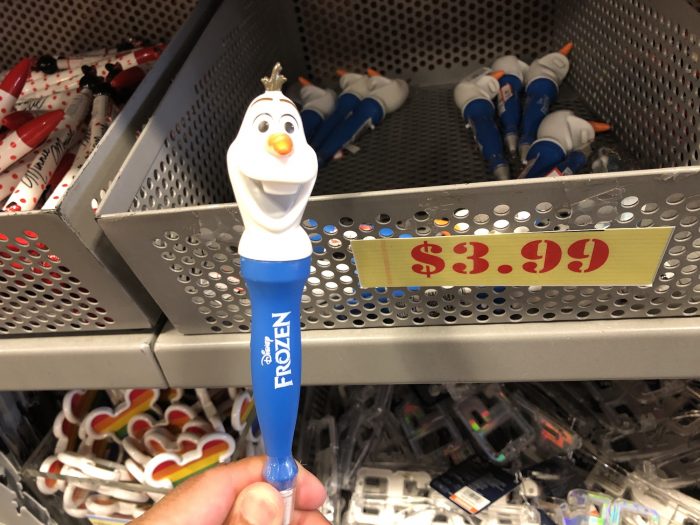 It also "lights up."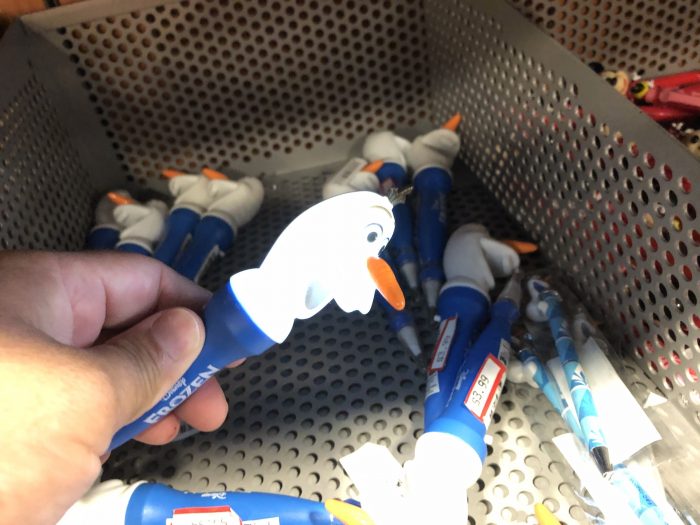 For whatever reason, a small plastic Dory toy.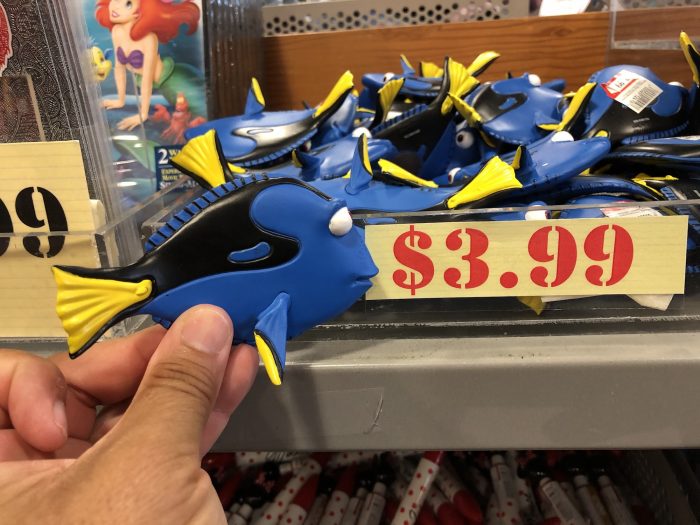 I'm not sure what the sign means when it says "pop" but this was a pen.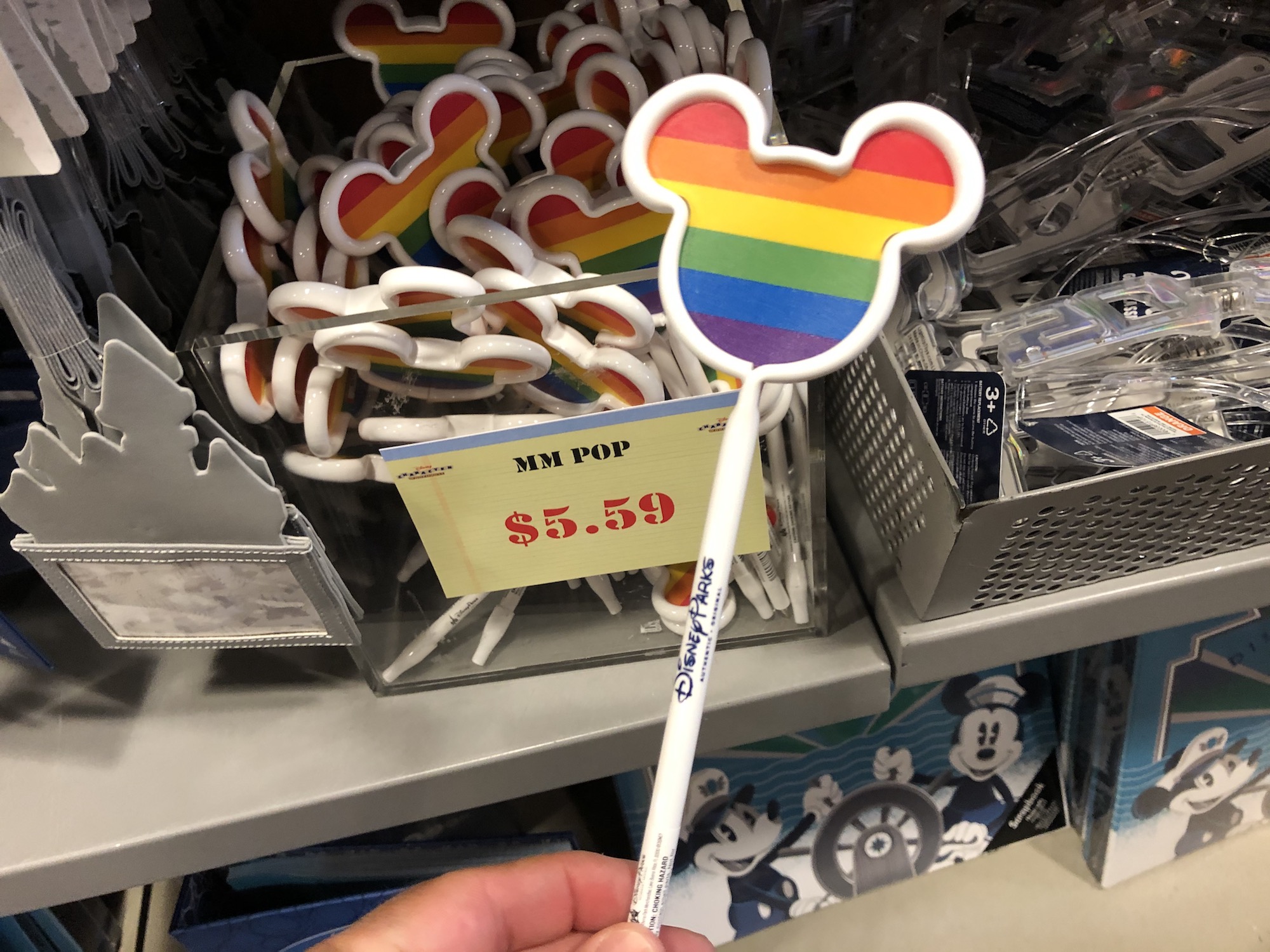 This on the other hand was literally a "pop." A lollipop you couldn't eat. I don't understand the point of it. $6? WHAAAAAAT?!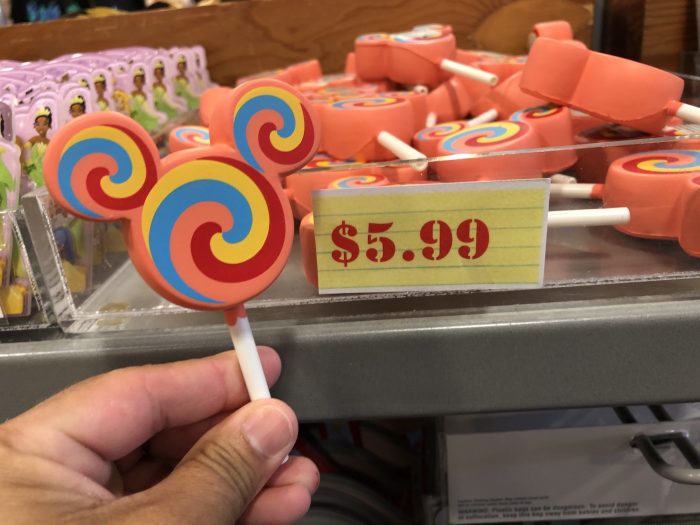 This is another one of those things that makes me think I'm living in an episode of Black Mirror. This premium Mickey bar thing is a wallet. Originally $19.99, now $7.99.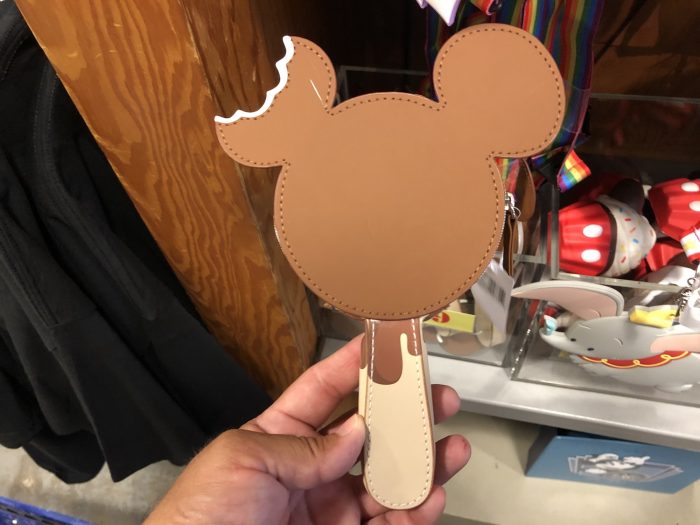 Oh, you think I'm kidding?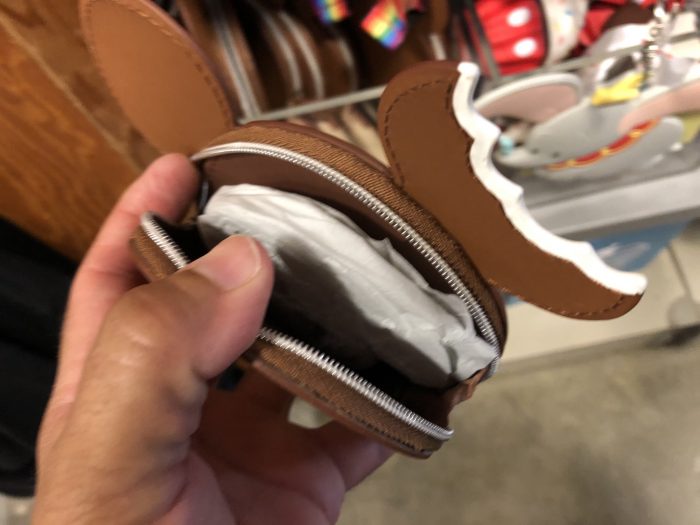 There were a TON of keychains this month. Not only did we have the thousands of princess ones we looked at earlier, but there were also seemingly a thousand of these keychains, each featuring one letter of the alphabet.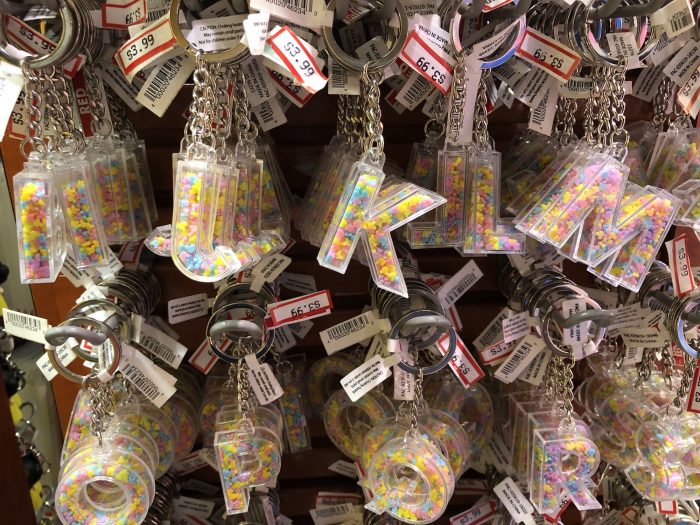 This one is designed to look like an old timey key chain for a Tower of Terror hotel room. I liked that. Reduced to $5.99.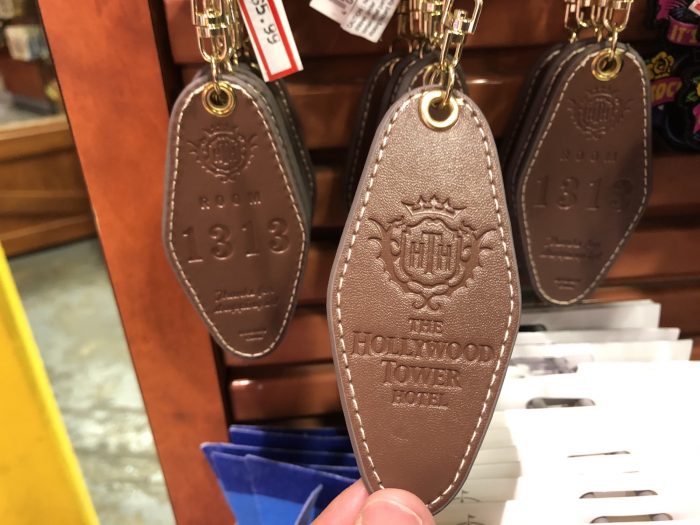 Rock 'N' Roller Coaster.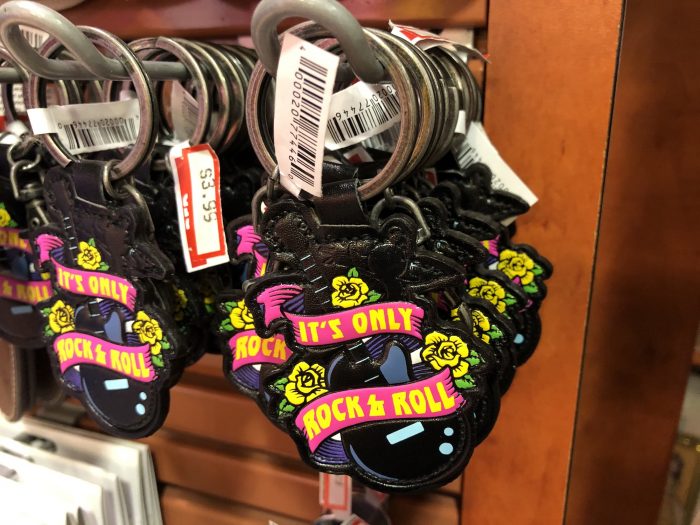 Big Head Mickey and Big Head Minnie keychains. Reduced to $3.99 each.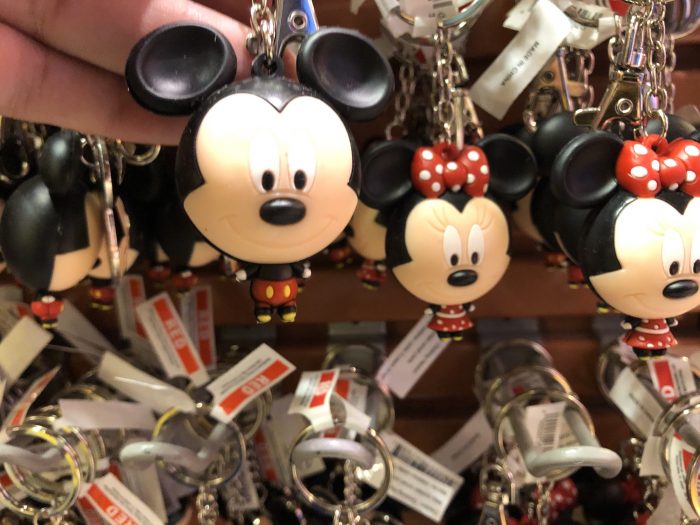 Keychains upon keychains upon keychains!!!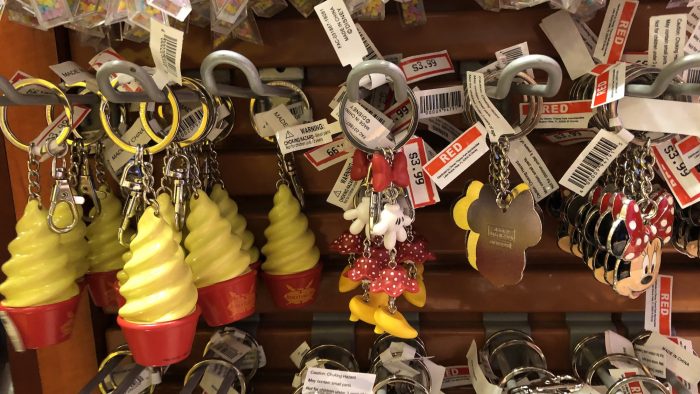 I can't take any more keychains, let's look at more stuff. Wait, what the heck is this?!!!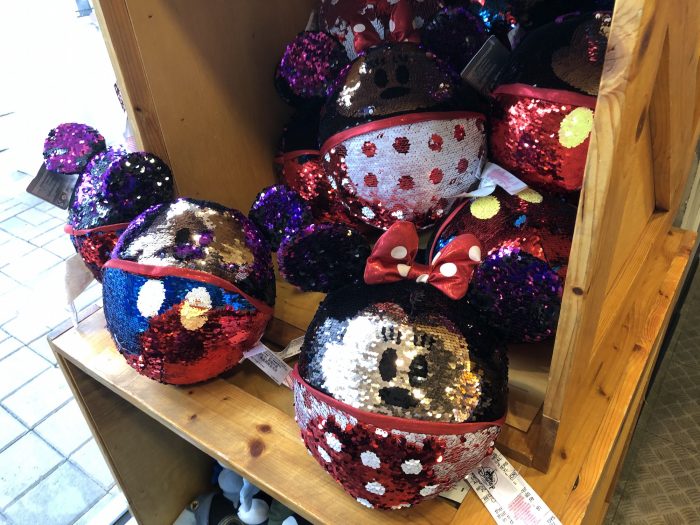 These bizarre disco-ball things were originally $29.99, now $12.99.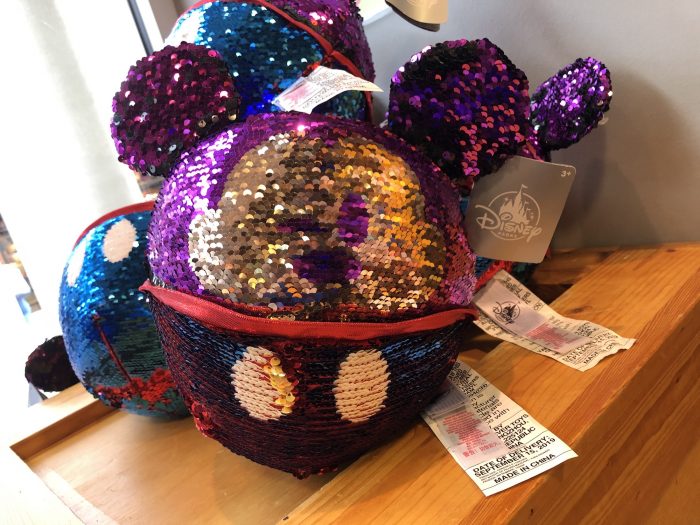 I don't know how this picture got in here, but I think it means we need to take a quick break from Florida before I lose my mind.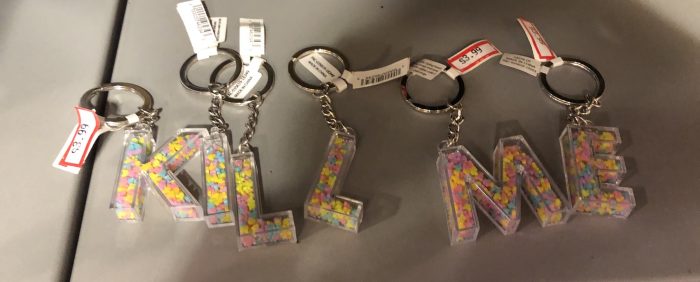 So let's head on out to CALIFORNIA where Christela McC is here to show us items from a Disney Outlet Store located closer to Disneyland. Unlike Florida, California didn't get their normal parks shipment during the month. Mostly just clothes and a few random items here and there. The amazing discounts on top of the clearance prices that we talked about last month have also gone away.
First up is one of those shirts that make you wonder what Disney is thinking. A parent has to buy this for their kid, so the parent is essentially calling themselves a troll? Originally $19.99, now $6.99.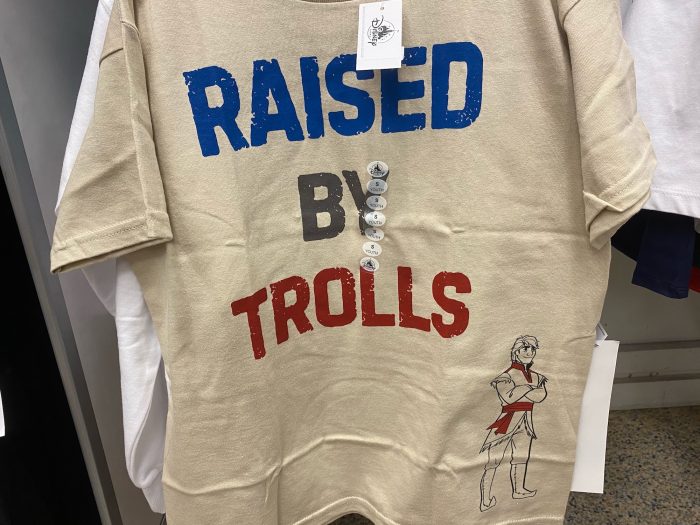 You know TouringPlans' own Guy Selga would rock this shirt. That Disneyland castle is a little too big for me though. Needs to be about 10% smaller to be truly in scale. Originally $24.99, now $9.99.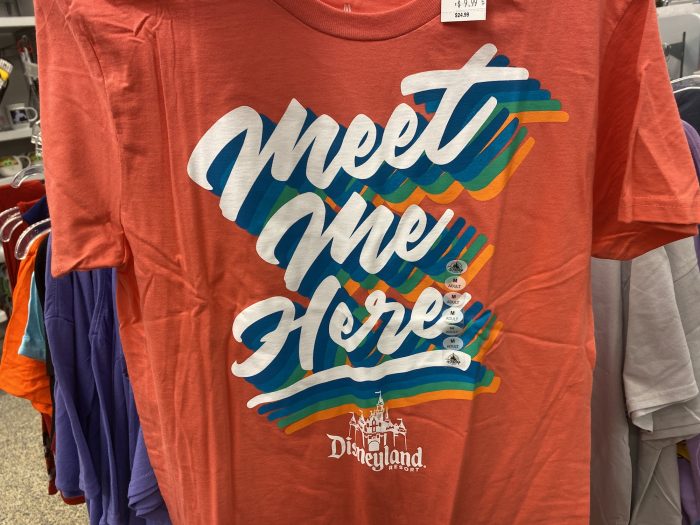 Next up we have some Star Wars: Galaxy's Edge shirts. First is this one featuring DJ Rex in Oga's Cantina. Originally $24.99, now $9.99.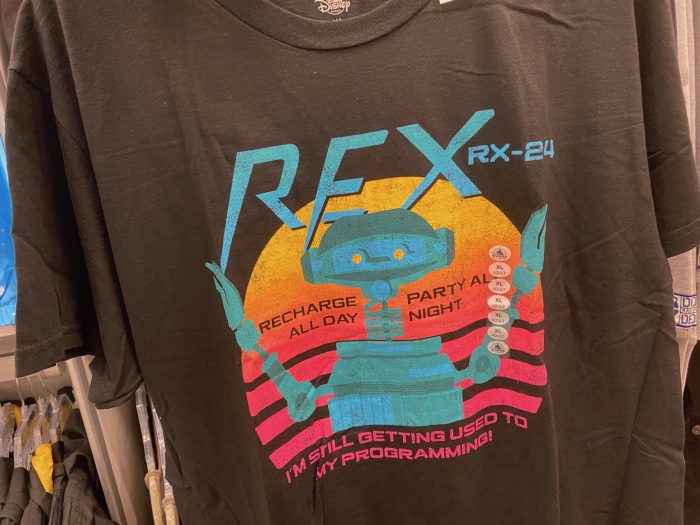 Believe it or not this sweatshirt is based around The Droid Depot. How about that bonkers strap across the chest. This looks like the shirt characters from "the future" would wear in Horizons. Originally $54.99, now $22.99.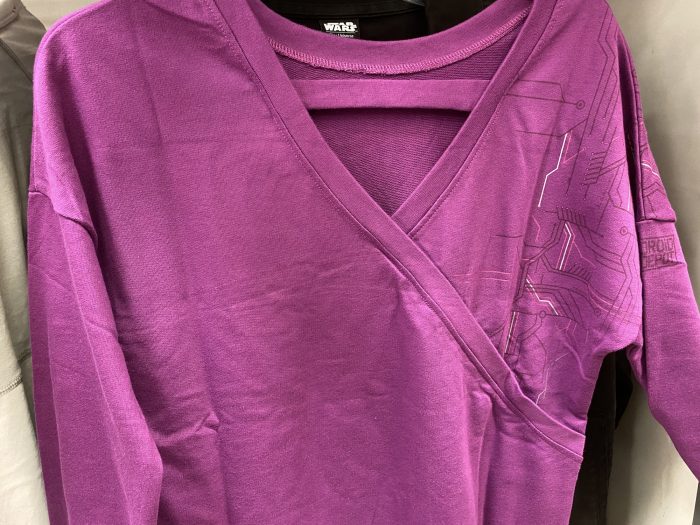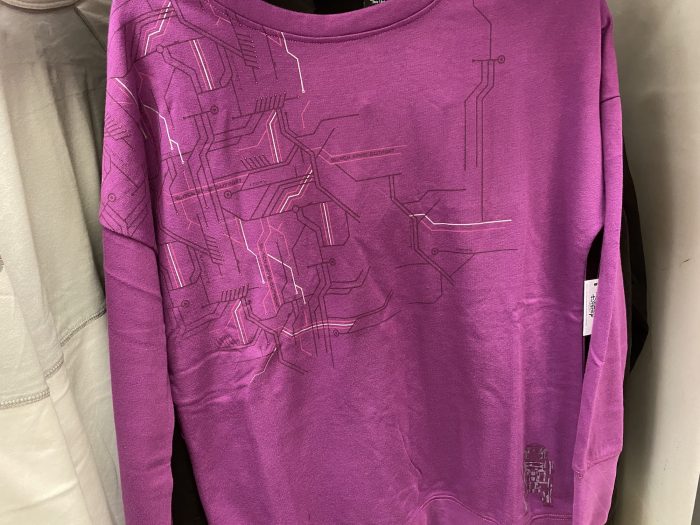 Kid's Galaxy's Edge sweater. Now this is where Disney can get confusing. Star Wars has it's own language "Aurebesh" which you will see all around Batuu. But Disney also created this hybrid font that has our alphabet written in the style of Aurebesh, and is also what you'll see on Cast Members name tags in the land. This "Without Equal" sweater, which for whatever reason features a Stormtrooper, was originally $39.99, now $17.99. Keep in mind, in the Star Wars universe, Stormtroopers are generally made fun of. In Season One of The Mandalorian, a joke was made about a former Imperial sharpshooter and he sniped back "I wasn't a Stormtrooper!" while another episode had two Stormtroopers trying to make a simple shot with their blasters. Long story short, I have no idea what this "without equal" is referring to.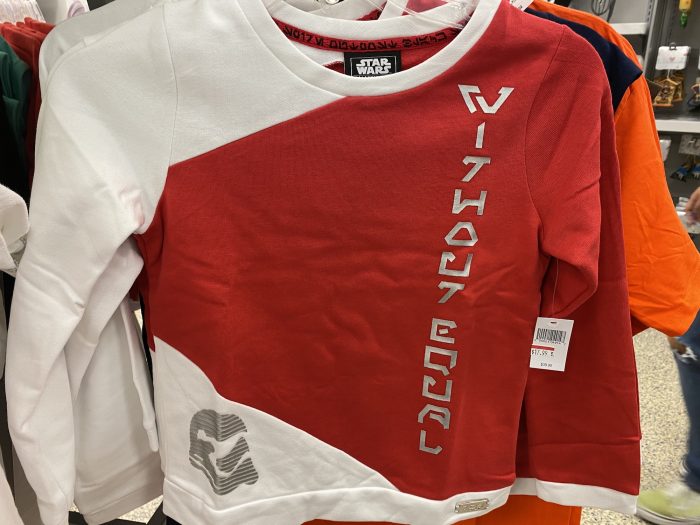 Star Wars denim jacket. I can see someone cutting the sleeves off this and turning it into a "social club" vest. Original price $79.99, now $39.99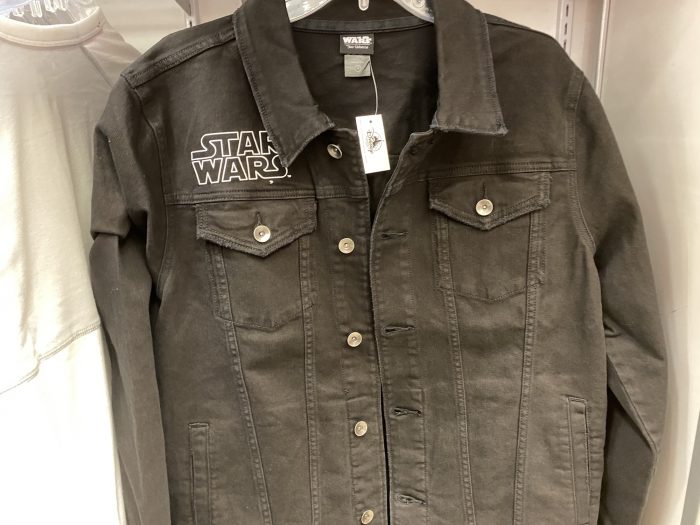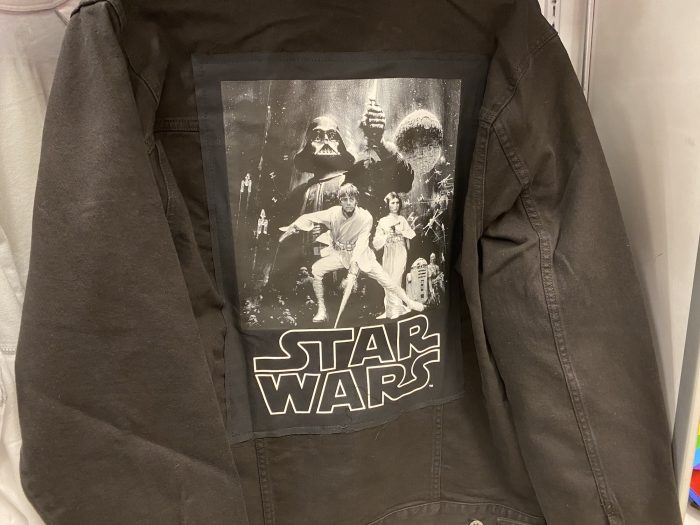 Fantasyland windbreaker jacket. Originally $49.99, now $24.99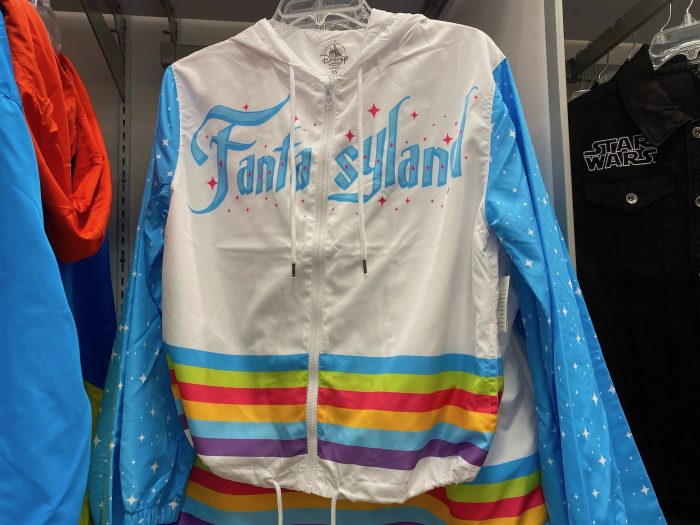 Pixar windbreaker jackets. Originally $49.99, now $24.99. I love Pixar as much as anyone but how dumb does this look?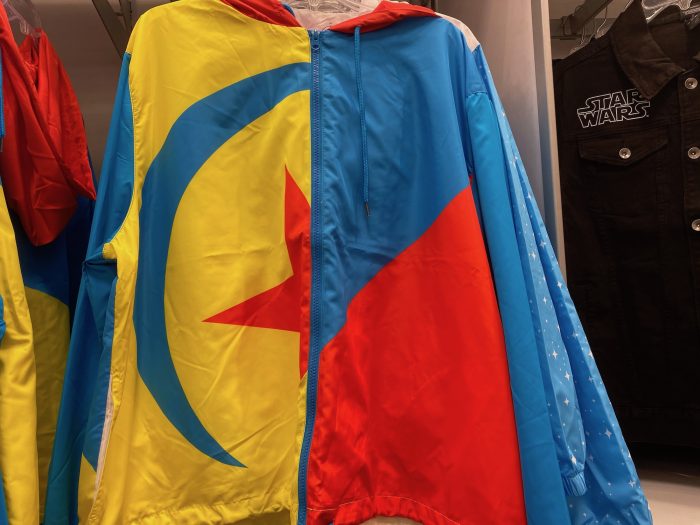 On the other hand, this Haunted Mansion zip up hoodie look pretty sharp. Originally $54.99, now $19.99.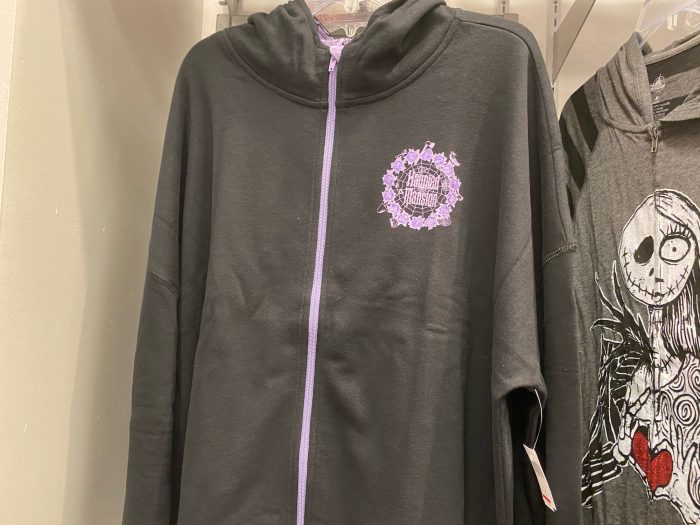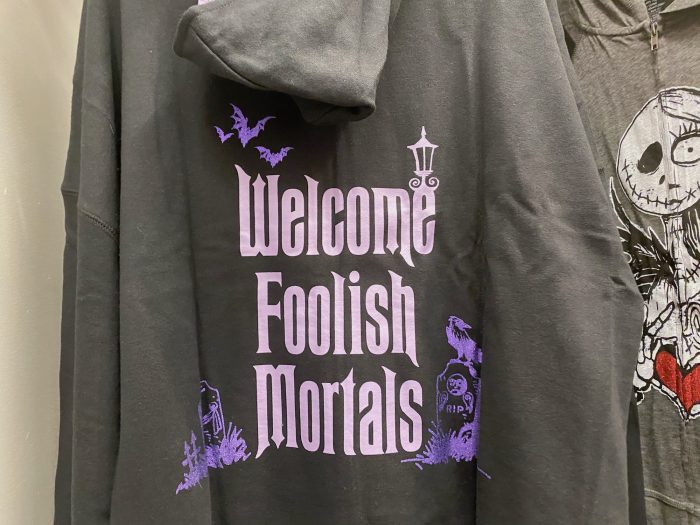 This zip up hoodie is half Jack Skellington, half Sally, all creepy. Originally $49.99, now $19.99.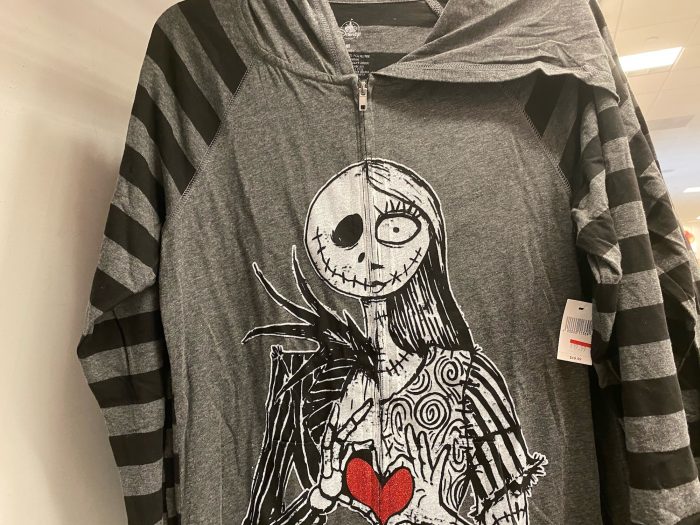 Keep in mind these Toy Story leggings are made for ADULTS. Originally $34.99, now 14.99.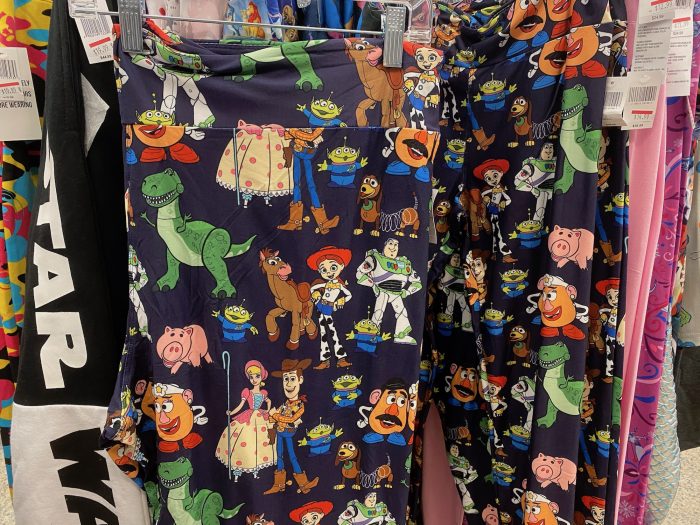 Power Line leggings were same price.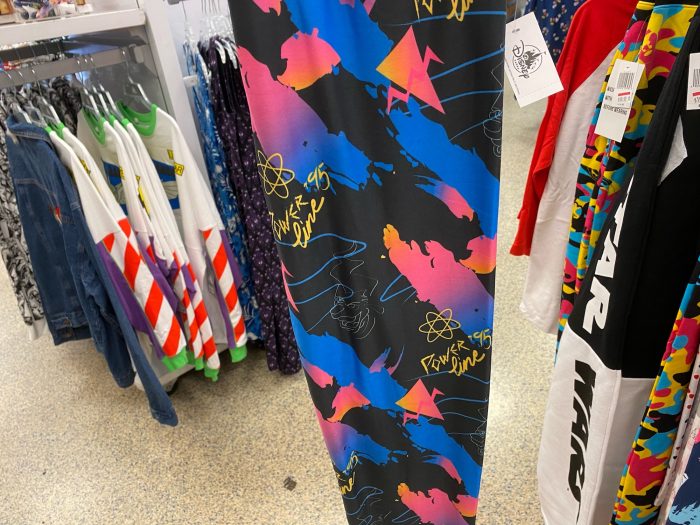 Mickey Mouse as the Easter bunny socks. Reduced to $5.99.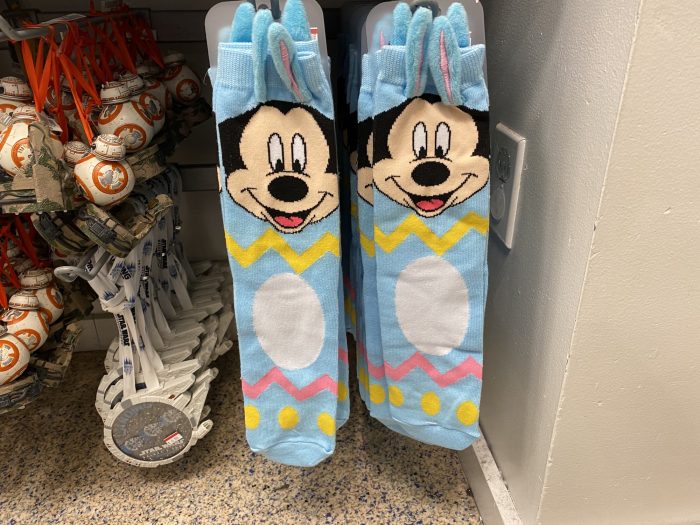 Mickey-shaped Christmas ornaments. Originally $24.99, now $15.99.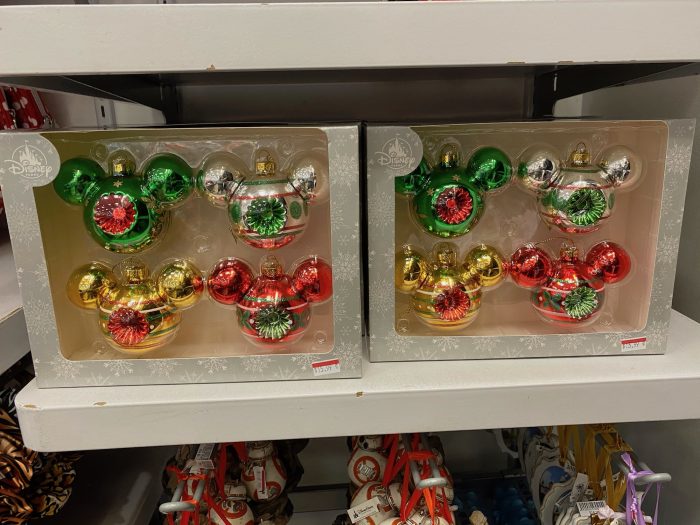 How next level bonkers is this headless Minnie toothpick holder? It's like she's TRYING TO FIND HER HEAD?!!! Reduced to $3.99.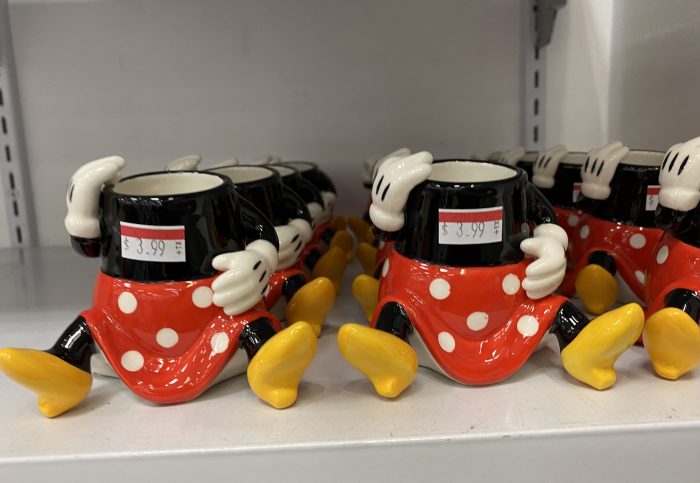 Forget what I said, California is too nuts for me. Thanks Christela, but it's time to head back to Florida.
Let's check out some clothing, and first up are items from the Villains After Hours event. This was a hard ticket party at the Magic Kingdom that was scheduled to occur on various dates from February through July, but ended up only taking place on a couple dates earlier this year before the parks were shut down. Villains After Hours had a special stage show, a few enhancements to Space Mountain and Pirates of the Caribbean, and the contractually obligated specialty food and drink component. Here are some of the special party merchandise shirts. Both were originally $29.99, reduced to $9.99.
This Villains After Hours shirt was originally $39.99, now $12.99.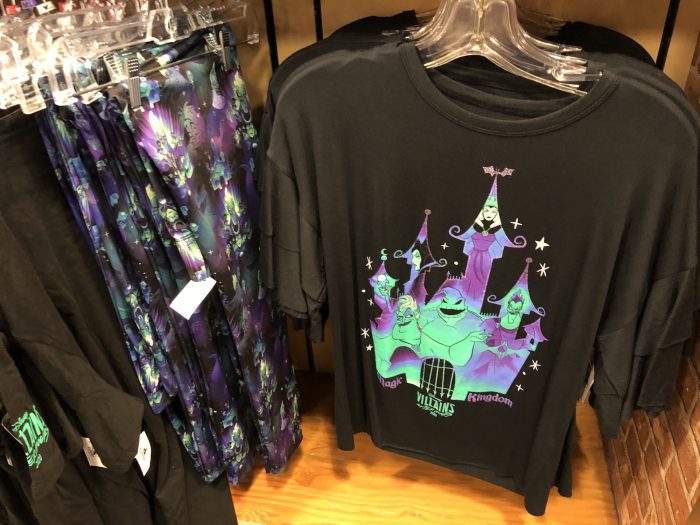 In the past, almost all of the items in the Disney Outlet Store were discounted. There were always "regularly priced items," but they were mostly snack items like Goofy Candy Co. stuff or things which had just come out at the parks. Now the Outlets have several areas dedicated to merchandise which is being sold at full retail, like these two shirts. Both are $36.99.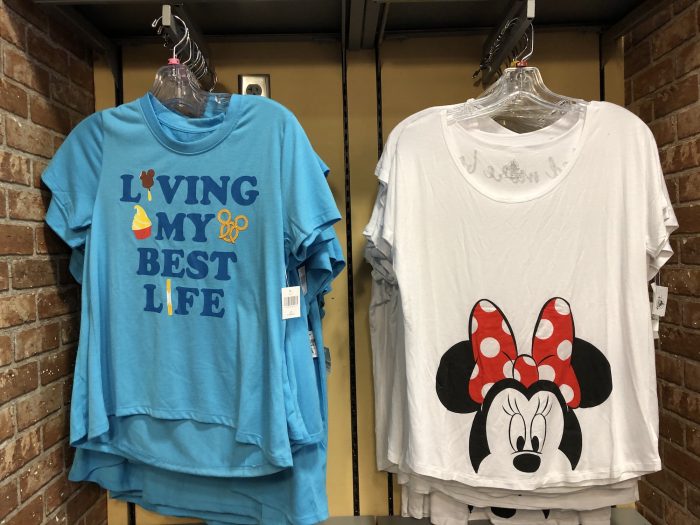 Loved this one. $29.99.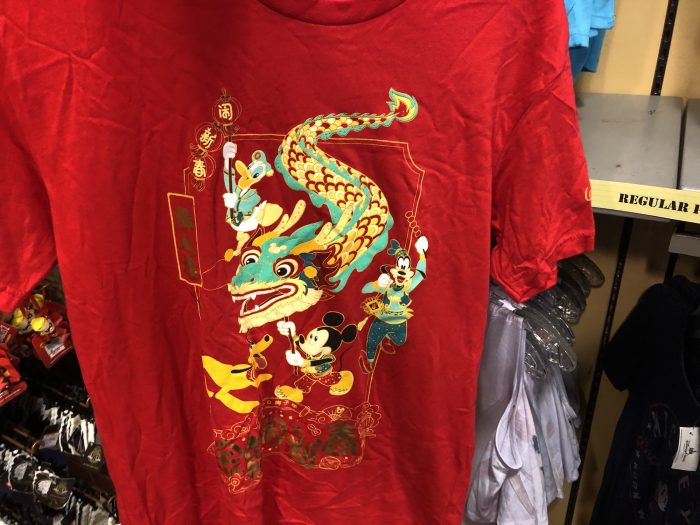 You can see the sign above this Eiffel Tower shirt that marks one of the "Regular Price" sections.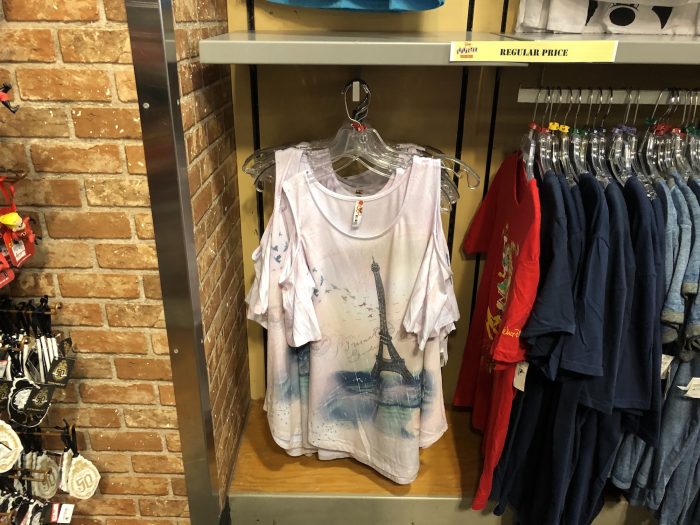 I thought the Eiffel Tower shirt perfectly summed up my thoughts of Soarin' Around the World, something also echoed in this meme which was featured in last weekend's "controversial" edition of the SATURDAY SIX.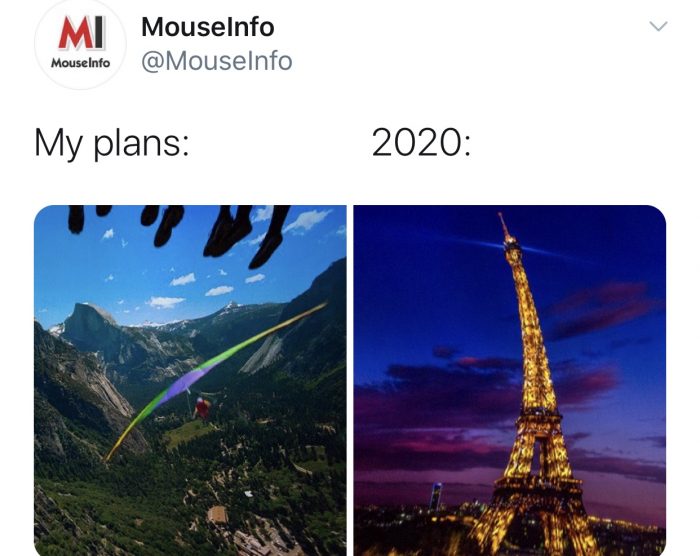 I'd tell you the price of the Paris shirt but this is the picture I had when I got home.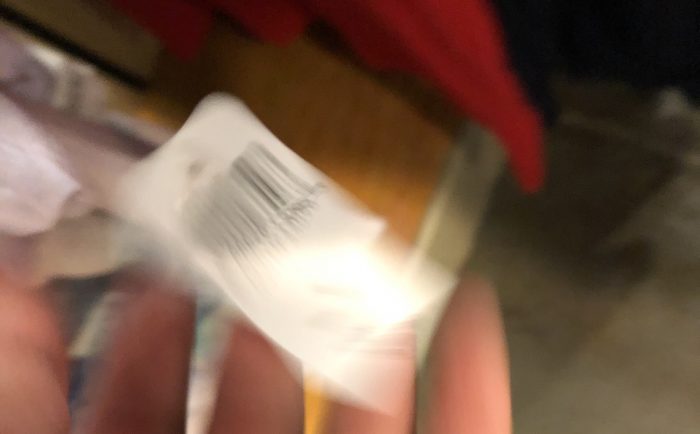 Most of the clothing was still heavily discounted though, including this Goof Troop shirt. Originally $34.99, now $12.99.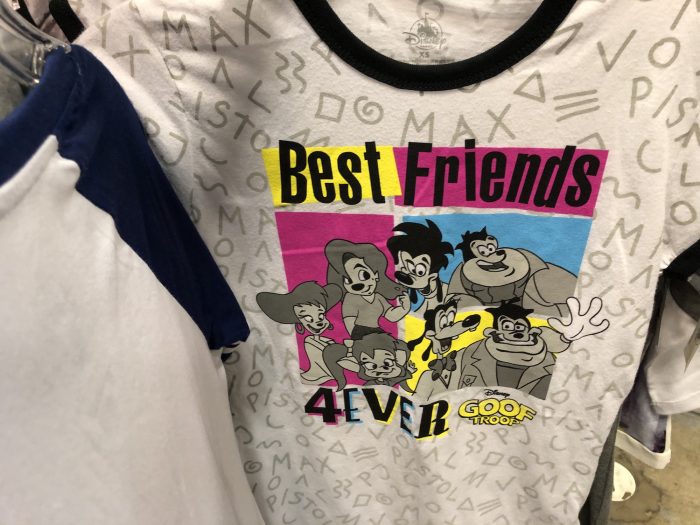 I adore this shirt of Toy Story Land and wish there was a whole line in this style. Also wish they made a toy monorail out of a milk carton like "Andy" made it, filled with little green alien toys. I'd buy it. Originally $19.99, now $9.99.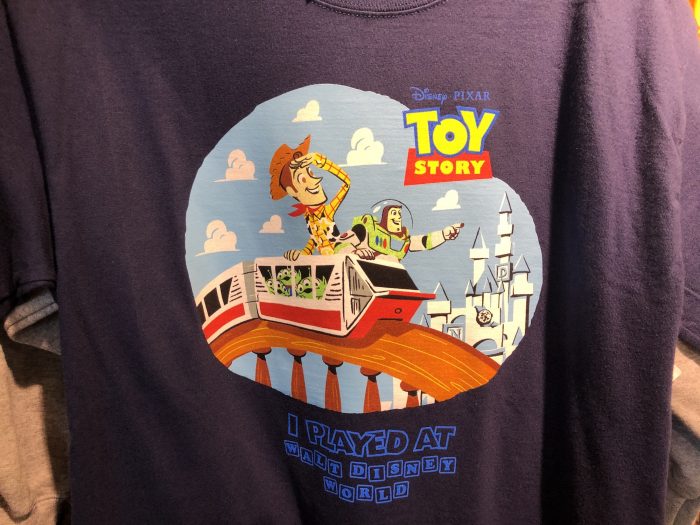 Toy Story Land sweatshirt. Originally $29.99, now $12.99.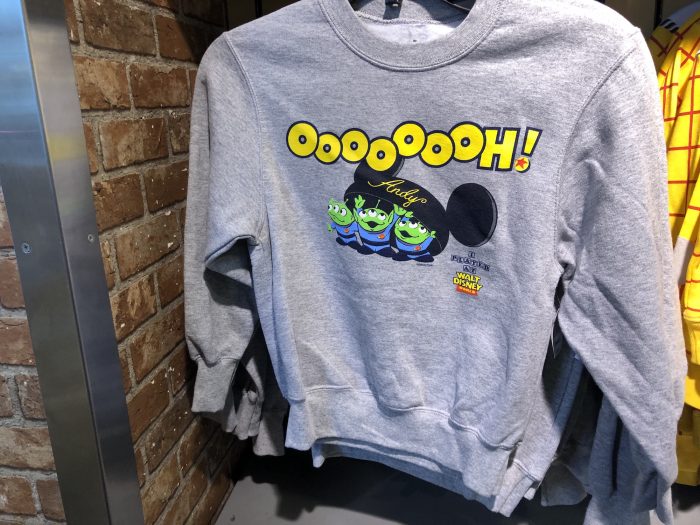 Woody hoodie. See what I did there? Originally $46.99, now $19.99.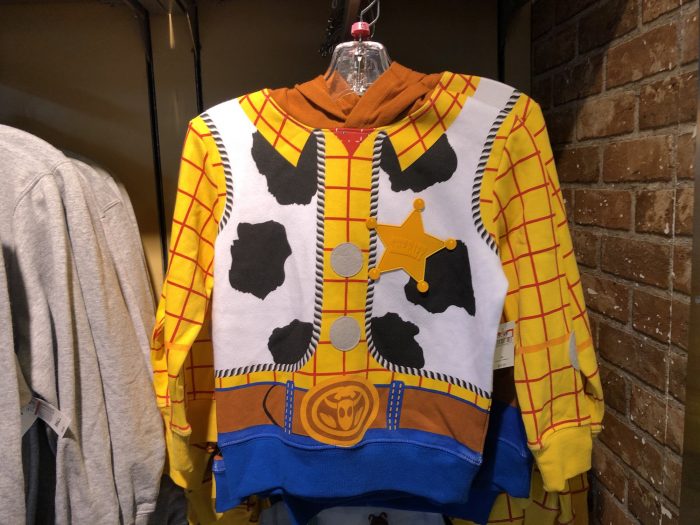 Something about this Wishables shirt is just plain wrong. Originally $24.99, now $12.99. And no, I'm not upset that they replaced my beloved Tsum Tsums!!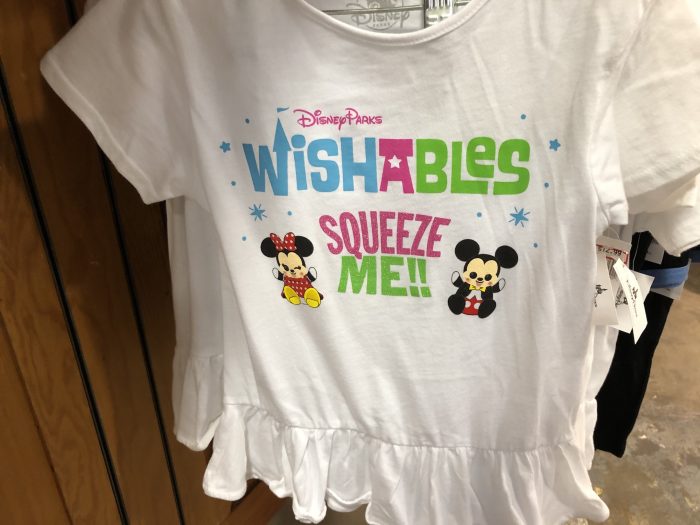 Kid's Rock 'N' Roller Coaster shirt. Originally $24.99, now $9.99. This one gets an "UGH" review from me.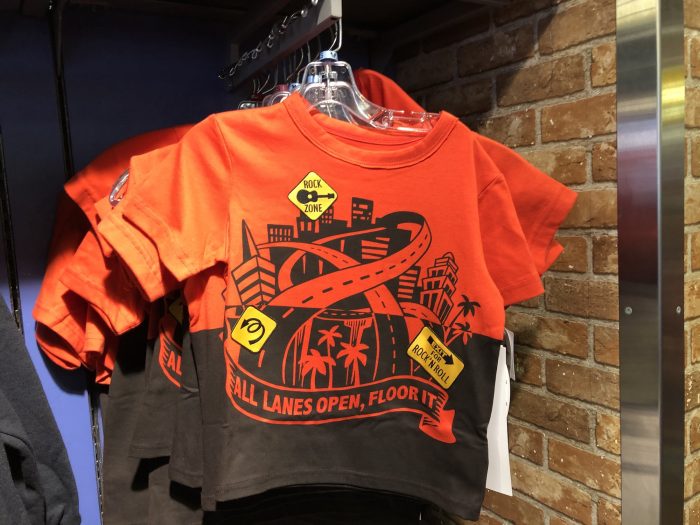 This Soarin' shirt is much better. Originally $19.99, now $9.99.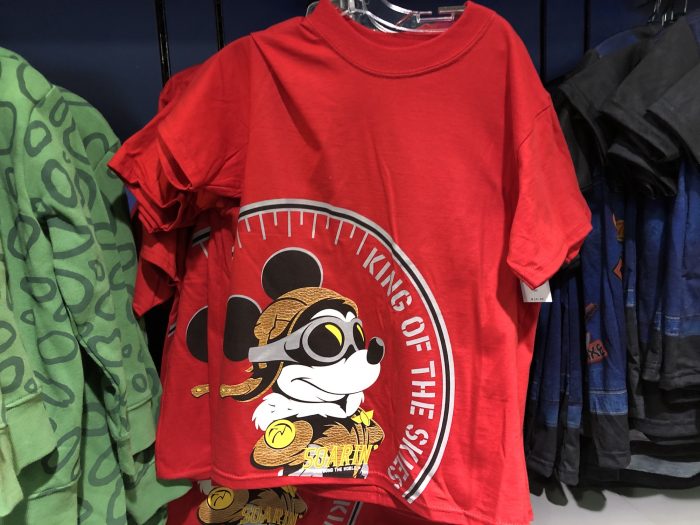 Test Track shirt ain't that bad either. Originally $19.99, now $9.99.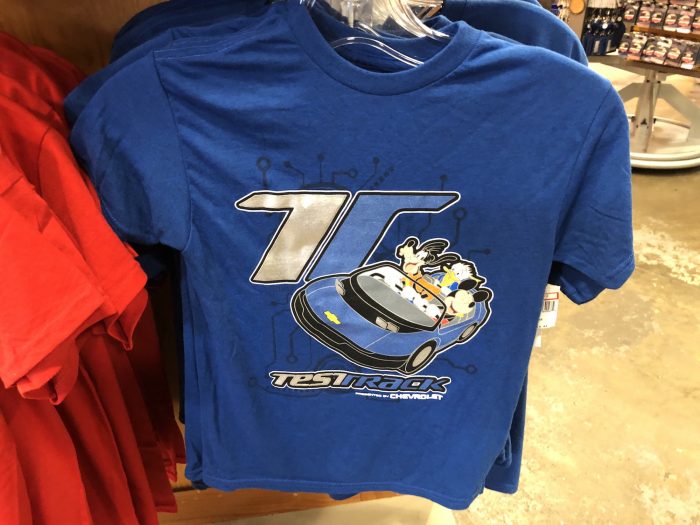 "Make sure to ADR BOG at MK for DD, DS, and DH before we have to leave for DAK but not too early as we have to travel from CSR."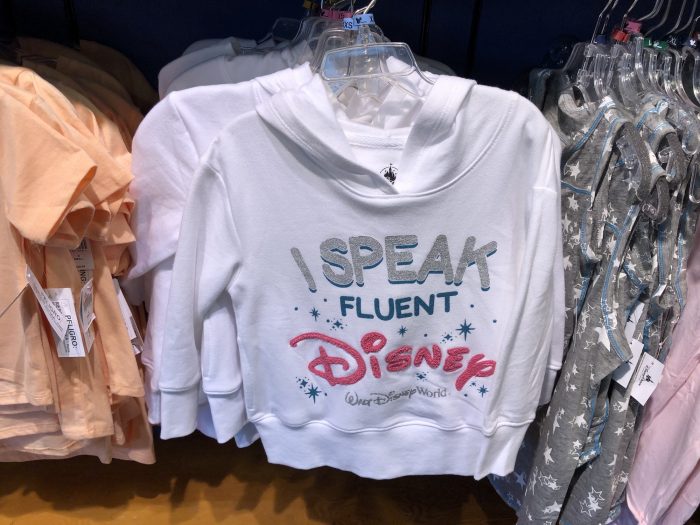 Maleficent glow wings. Reduced to $9.99.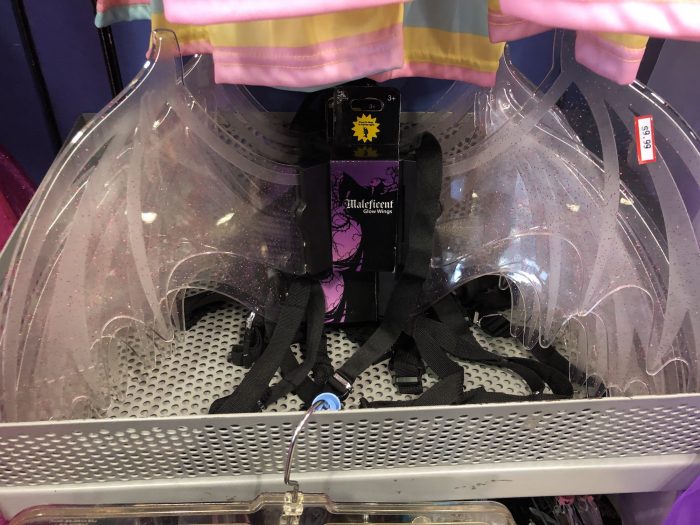 A collection of clothes for the younger set.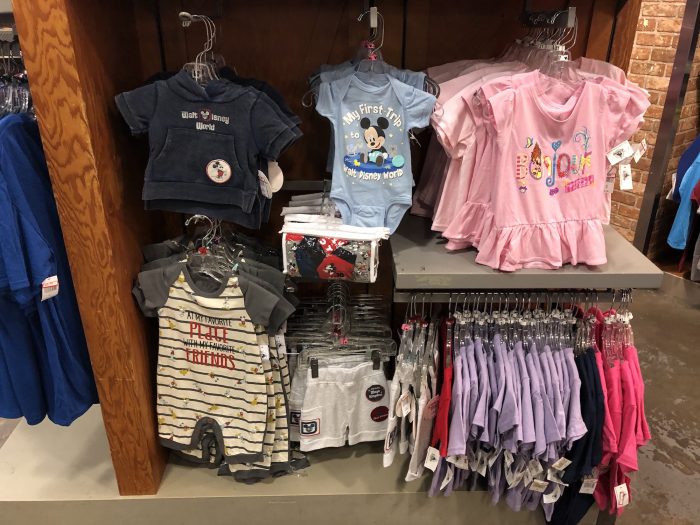 This onesie is a great one. Originally $19.99, now $9.99.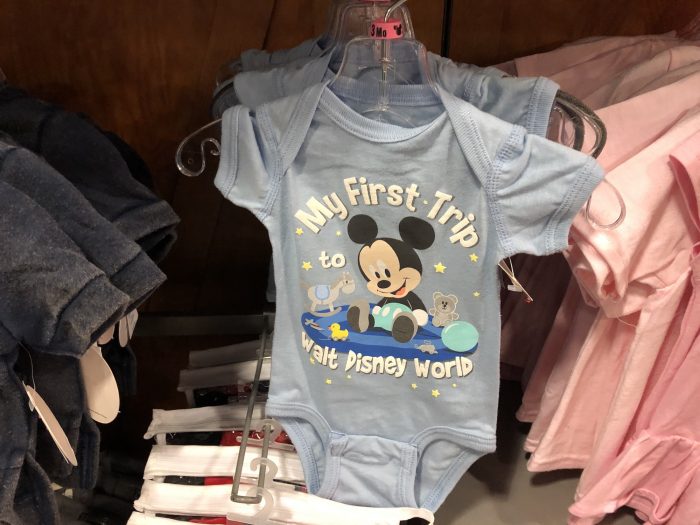 We also got some of the weird clothing from Star Wars: Galaxy's Edge. Both of these were originally $54.99, now $19.99. That's right, we were discounted 3 DOLLARS LOWER than out in California. Disney is finally fair to Florida!!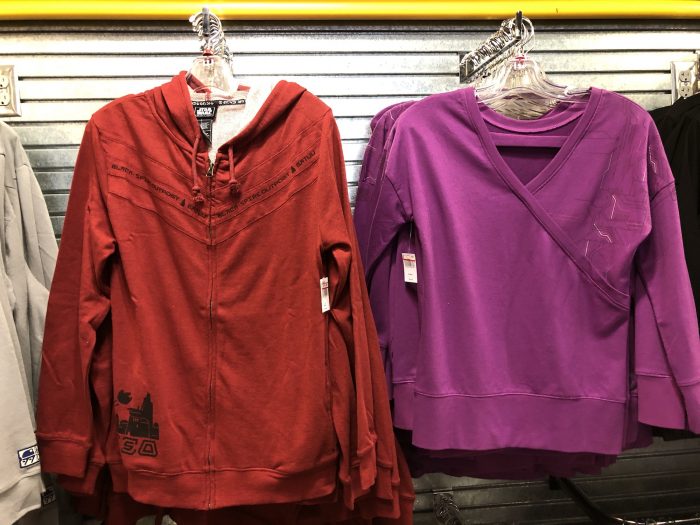 Apparently no one bought a single one of these ridiculously high priced Droid Depot garb because here's another one. Originally $49.99, now $19.99.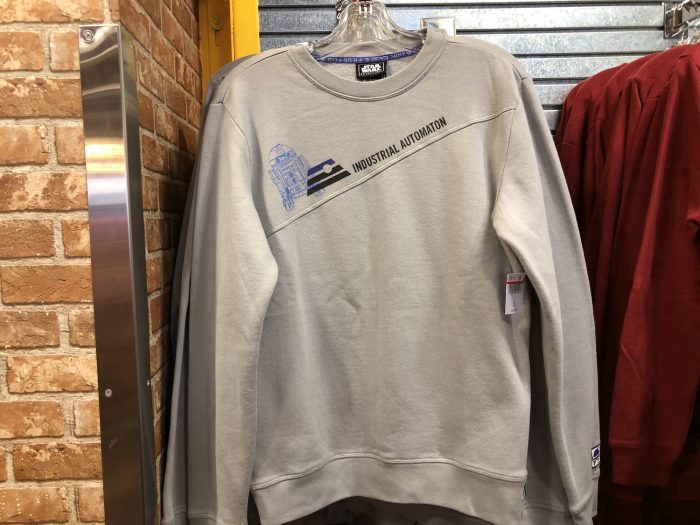 Disney Polo-like shirts. Left one was originally $70 (!!!!!) now $29.99 while the one of the right was "just" $59.99, now $19.99.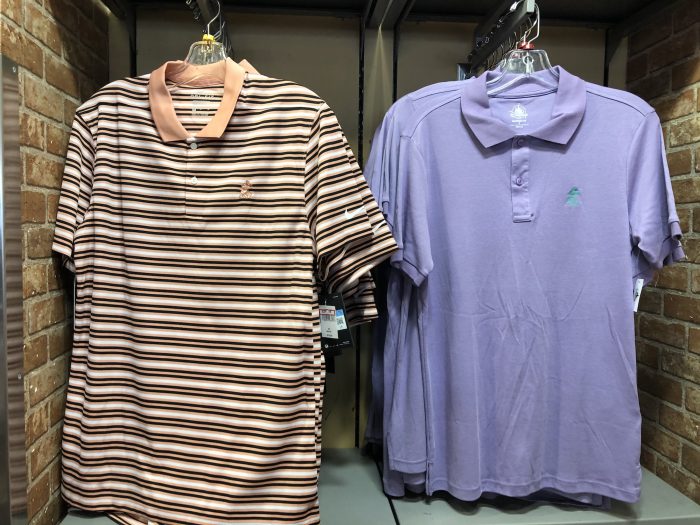 Tower of Terror shirt that glows in the dark. Originally $24.99, now $9.99.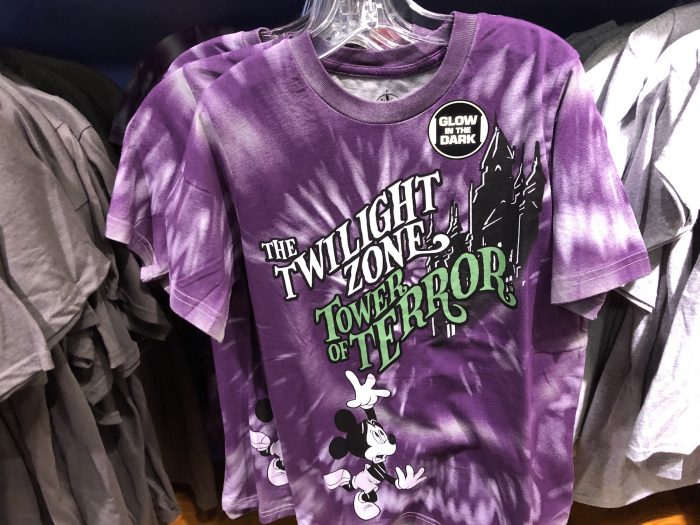 Rare to see this much Indiana Jones merchandise at the Outlets in one month. Both of these were originally $49.99, now $29.99.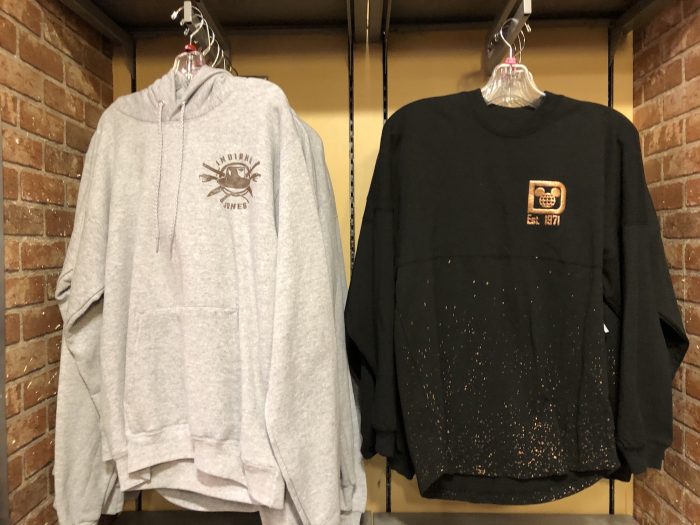 Fantasyland jacket originally $49.99, now $19.99. That's $5 less than the Outlet in California! The Animal Kingdom jacket was originally $49.99, now $14.99.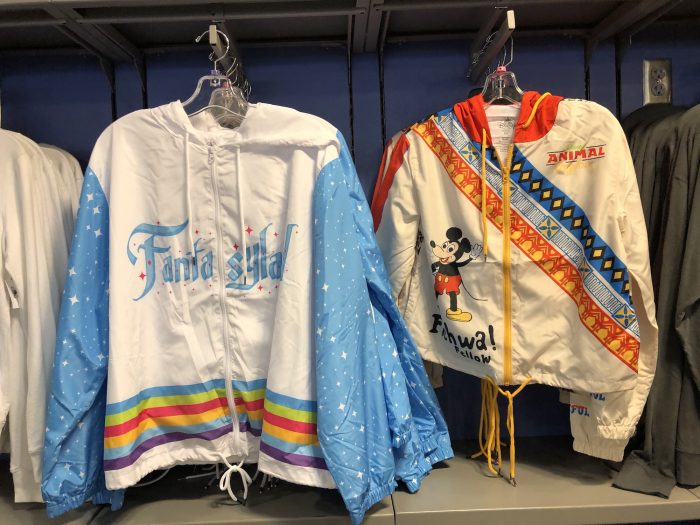 Let's check out some Christmas items, starting with this Chip & Dale shirt.  Originally $24.99, now $4.99.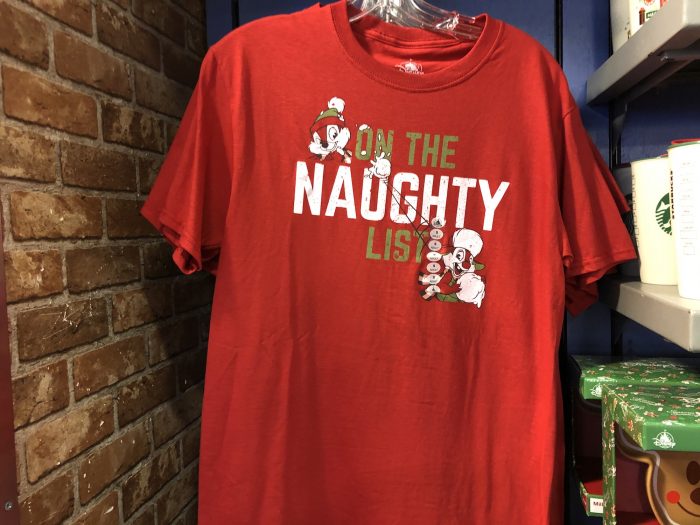 There were Christmas ornaments featuring Mr. Incredible and Dash. Both originally $21.99, now $4.99.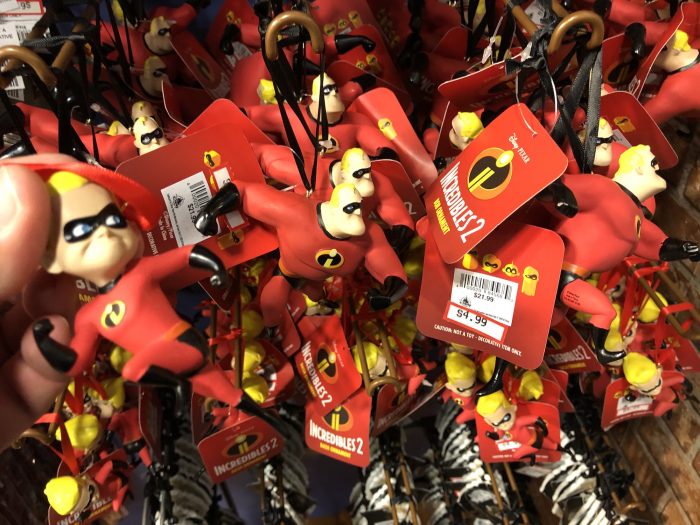 However all these ornaments weren't discounted at all.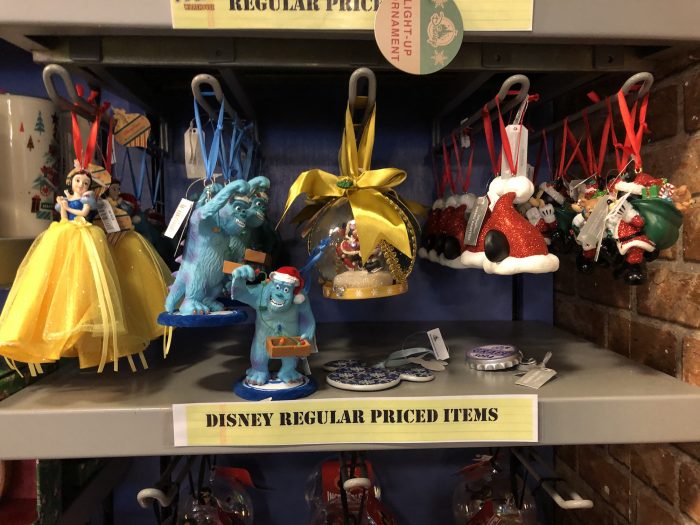 This Christmas-themed Starbucks tumbler was ceramic and had a lot of weight. Didn't see a price on any of them.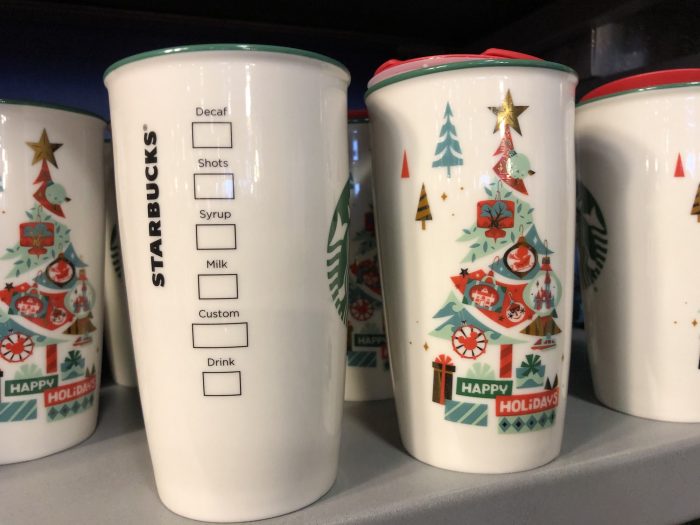 I honestly think I would have bit on this Christmas table runner if it was down to $19.99. Original price was $59.99.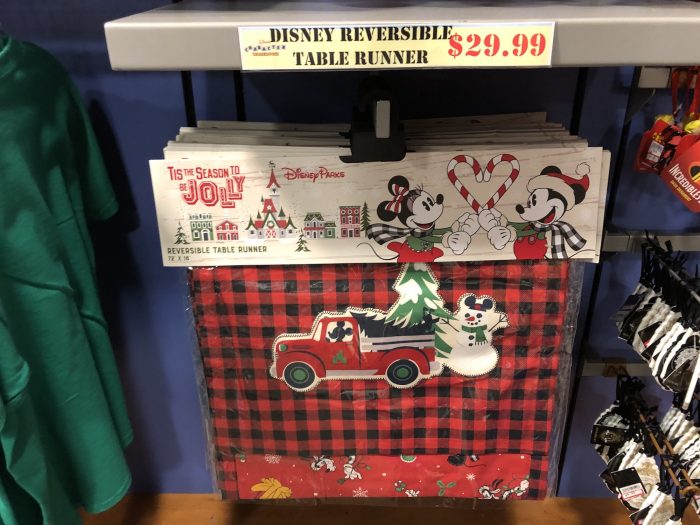 Here's the back which shows both designs.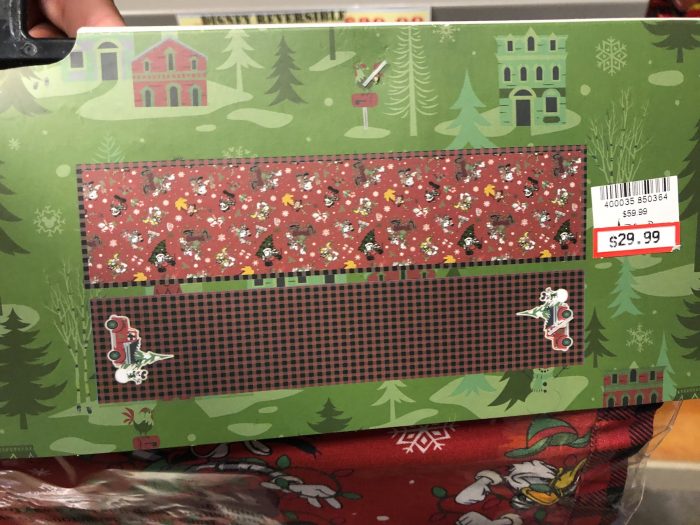 Buzz Lightyear hat. Originally $24.99, now $7.99.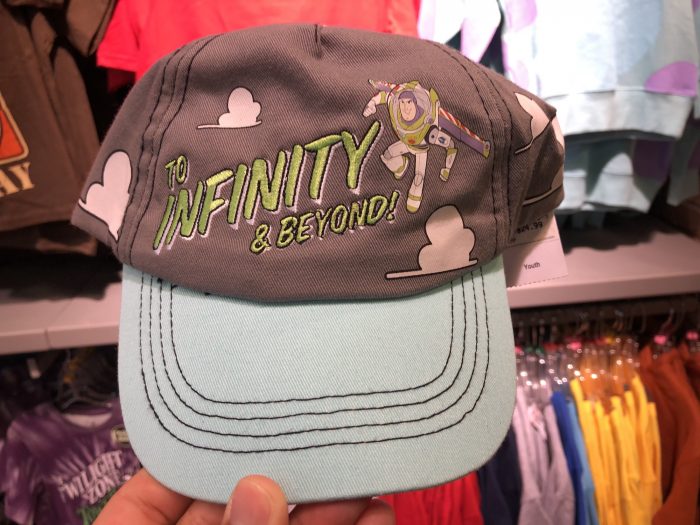 Who knows why this Pride hat is labeled "Disney Head Band."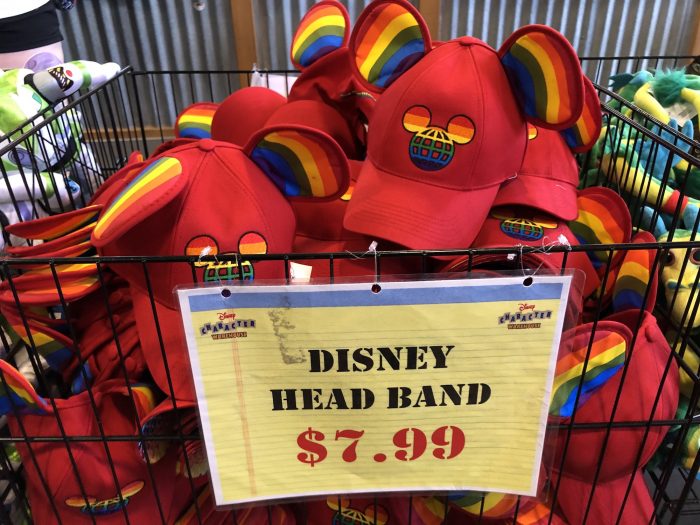 These Minnie Mouse-themed hats were originally $27.99, now $7.99.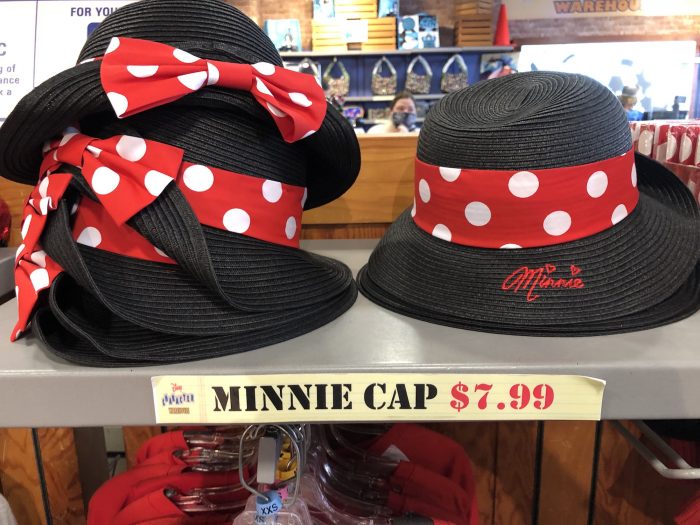 While these two were originally $24.99.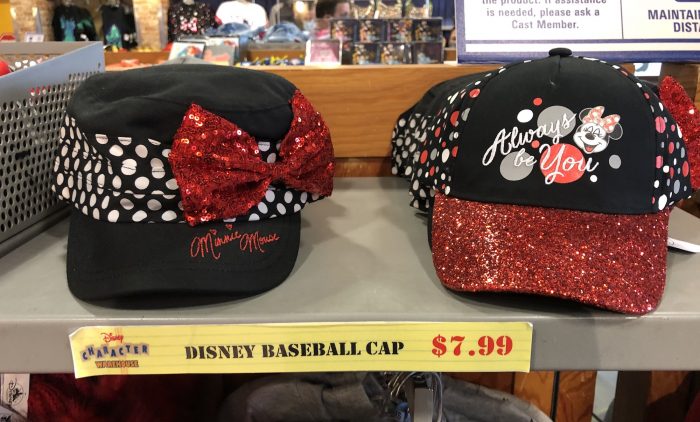 This Wilderness Explorer's Mickey ear hat was originally $24.99, marked down to $7.99.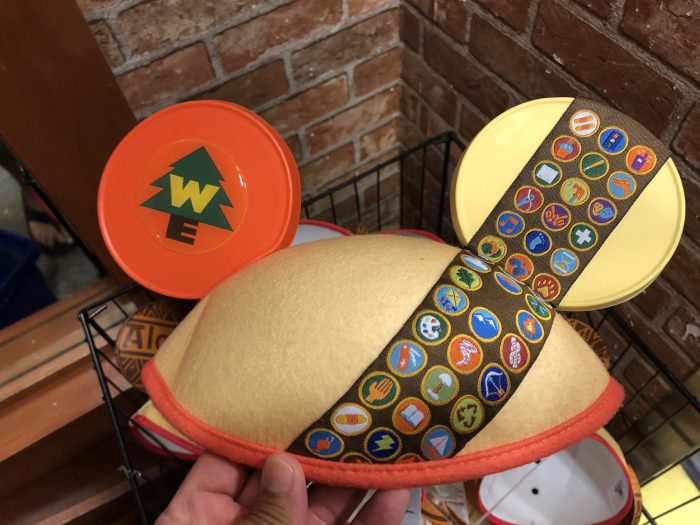 Dole Whip ear hat was reduced to $4.99.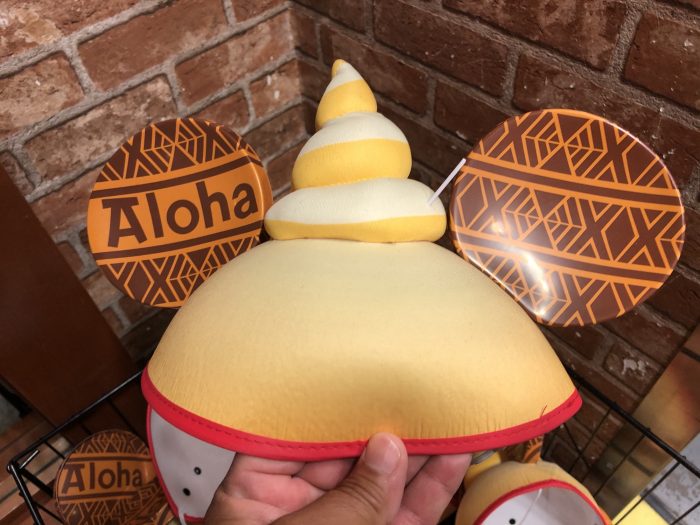 Lord, grant me the strength…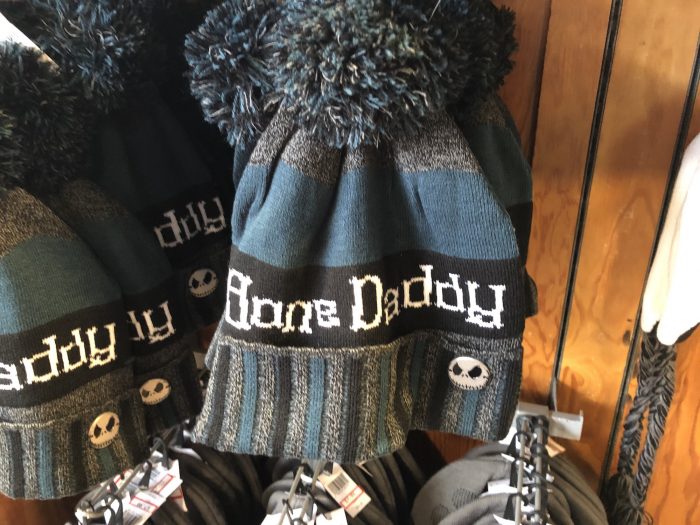 These cool poisoned apple candle holders were not discounted. $19.99.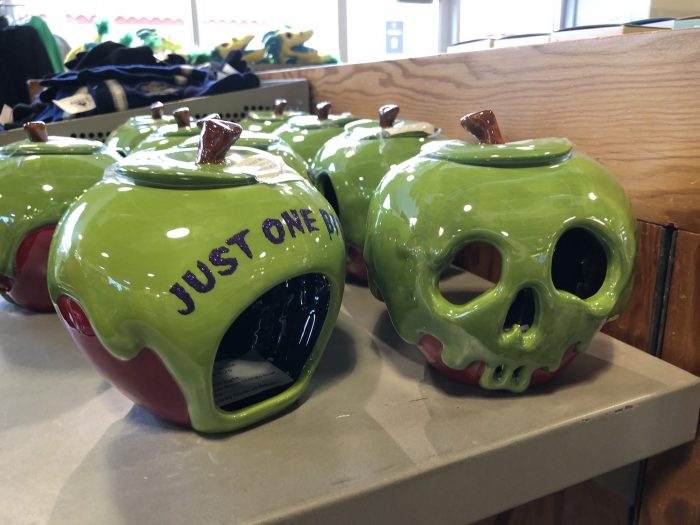 We'll close with two items from the Outlets this month which can sum up 2020 in a nutshell.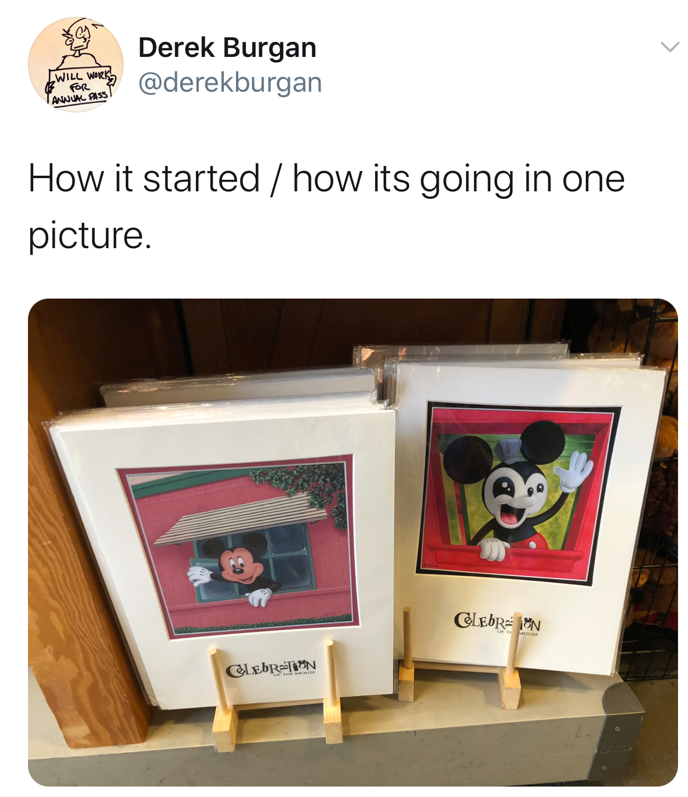 SEE YOU NEXT MONTH!
BEFORE YOU ASK: There are actually two Disney outlet stores in Orlando. Both are in Orlando Premium Outlet shopping complexes, and they are called Disney's Character Warehouse, presumably because The Land Of Misfit Toys was already trademarked. There is one Character Warehouse located on International Drive close to Universal Studios (4951 International Dr, Orlando, FL 32819), and the other is on Vineland Avenue, right across I-4 near the exits to Disney World (8200 Vineland Ave, Orlando, FL 32821). They do not ship. There are items at the Outlets that you can buy both in Disney stores along with the Shop Disney Parks app, but you will be paying full retail for the items. For our CALIFORNIA OUTLET trips, @ChristelaMcC goes to the Las Americas outlet in San Diego. It is located right off the last U.S. exit.
I often get asked "which store is better?" That depends. Vineland is close to Walt Disney World, while the I-Drive location is a hop, skip, and jump away from the Universal Orlando Resort. The Vineland Disney Outlet Store is much, MUCH bigger than the I-Drive location. However, the Vineland outlets in general are much, MUCH busier than I-Drive. Each have their pros and cons, and ultimately they carry much of the same items. For a Disney Outlet Store FAQ, check out this SATURDAY SIX Presents: Everything You Wanted To Know About The Disney Outlet Stores (But Were Afraid To Ask)

2013: July | Aug | Sept | Oct | Nov | Dec
2014: Jan | Feb | March | April | May | June | July | Aug | Sept | Oct | Nov | Dec
2015: Jan | Feb | March | April | May | June | July | Aug | Sept | Oct | Nov | Dec
2016: Jan | Feb | March | April | May | June | July | Aug | Sept | Oct | Nov | Dec
2017: Jan | Feb | March | April | May | June | July | Aug | Sept | Oct | Nov | Dec
2018: Jan | Feb | March | April | May | June | July | Aug | Sept | Oct | Nov | Dec
2019: Jan | Feb | March | April | May | June | July | Aug | Sept | Oct | Nov | Dec
2020: Jan | Feb | March | April | May | June | July | Aug | Sept
Very Special Editions & Milestones: Tribute to O.O.G.; Four Year Anniversary Special; First Pandora Items; Five Year Anniversary Special & Outlet Hall of Fame; Major Changes Come to the Outlets; Camera Hat; the Outlets Reopen after Coronavirus shut down
We also did an edition of Magic, Memories, and Junk for a non-Disney owned Outlet Store, and for you merch addicts like myself, you may also enjoy a look at the official Disney merchandise available on the Disney Cruise Line, Castaway Cay, and at the Orlando International Airport. Want to see our favorite WDW resort-specific merchandise? Well, CLICK HERE!
If you liked what you read here, you may enjoy THE SATURDAY SIX articles every week on the TouringPlans.com blog and you can follow your humble author on Twitter (@derekbugan).