SATURDAY SIX: Six Reasons We Love Disney's Caribbean Beach Resort
This week's SATURDAY SIX takes a look at the Six Reasons We Love Disney's Disney's Caribbean Beach Resort. With 26 on-site resorts at Walt Disney World, there is a wide variety of choices for families coming down. We've covered many here on the SATURDAY SIX including Value Resorts (Art of Animation and Pop Century), Moderates (Port Orleans French Quarter and Riverside), and Deluxe (Contemporary, Animal Kingdom Lodge, and BoardWalk Inn & Villas). We also can't forget the Disney Vacation Club resorts such as Old Key West. Today we are going to take a look at WDW's largest resort, Disney's Caribbean Beach.

Like with Old Key West, the sprawling size of Caribbean Beach does come with some downsides. There are many rooms quite far away from the check-in area (The Custom House) and several of the resort's amenities located at Old Port Royale. Everything is walkable, and there is both an internal bus system and water transportation for those who don't want to hoof it. The TouringPlans Hotel Room Request can also help make getting a room closer to Old Port Royale easier, which is something to consider. The Custom House is the only check-in area at WDW that is completely separated from anything else at the resort, so you may want to consider on-line check in (although they do have free swords and star wands for kids at the front desk).
All that said, the size of Caribbean Beach is also a positive, as it is a wonderful place at WDW to spend time at outside of the parks because there is so many amenities and is an absolutely gorgeous place to relax in. So sit back, rest your sea legs ye scurvy bilge rat, and let's begin counting down our top six reasons we love Caribbean Beach starting with…
# 6 – 
Fuentes del Morro Pool
If you are anything like our family, a resort's main pool can have a major impact on where you stay. Right now pools with a slide are the biggest determining factor on where we stay, and the Caribbean Beach pool has a great slide and then some. Based around the 400 year old El Morro Fort in San Juan, Carribean Beach's Fuentes del Morro pool looks incredible. The theme of a Spanish fort is complete with cannons, two water slides (one over 100 feet long), and has a zero depth entry. This area includes two hot tubs around the main pool, a fantastic kid's play area that is a giant pirate ship, and the Banana Cabana bar for adults to get their fill of rum.
There are also six leisure pools located across property (near each of the main guest buildings).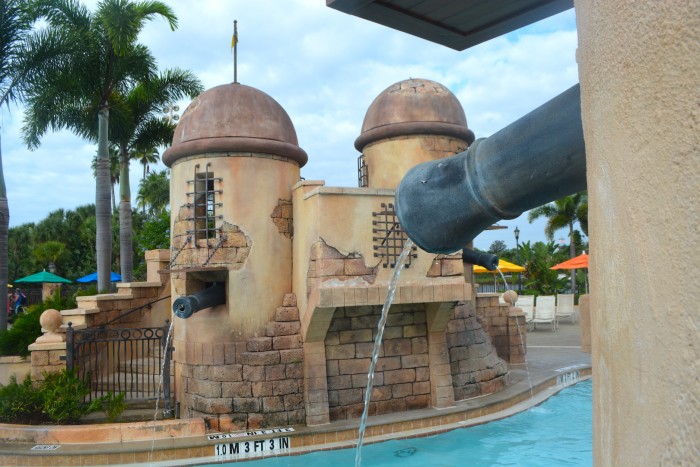 –
# 5 – Caribbean Cay
Caribbean Cay is a area located right in the middle of the large Barefoot Bay water area the resort surrounds. There is a walkway leading to it from Old Port Royale and another from the Jamaica guest buildings. Caribbean Cay is a shockingly large area with several play areas for kids, along with a whole bunch of walkways and covered swings for adults to relax in. At sunset this is one of the most enjoyable places to be at Caribbean Beach. You can see every area of the resort from here and is one of the true Best Kept Secrets at WDW.
–
# 4 – The Marina
The Marina at Caribbean Beach is a hub for many activities that the resort has to offer. Surrey bike rentals, regular bikes, and catch-and-release fishing excursions are some of the amenities here along with boat rides to other parts of Caribbean Beach. Several times per week there is also the Islands of the Caribbean Pirate Cruise, where kids 4-12 years old can board a small pirate ship and sail around the resort with special props installed just for that experience. It is a bit pricey at $39 per child, but it does last two hours and the kids are given some pirate swag.
–
# 3 – Barefoot Bay
The large body of water that Caribbean Beach surrounds is Barefoot Bay. With a walking path/jogging trail around the resort, this is a great place to unwind or get some exercise in. Throughout the resort there are beaches where you can lay out on the sand, rest in a hammock, or play games like volleyball. One of the strengths of a large resort like this – especially for someone like me who isn't a huge fan of crowded areas – is how well it spreads people out. We went during an extremely busy week and it always seemed like it was an episode of the Walking Dead when taking leisurely strolls around the resort. That's my kind of vacation.
Guests at buildings farther away from Old Port Royale have access to complimentary boat transportation.
–
When walking around Barefoot Bay, you'll notice the colorful buildings signifying each "village" (Barbados, Aruba, Jamaica, Martinique, Trinidad North and Trinidad South). We enjoyed exploring each one and seeing the unique details in each.
–
# 2 – Old Port Royale
Old Port Royale is a main hub of Caribbean Beach and contains the food court, the arcade, the gift shop, and table service restaurant Shutters. Open 6AM to midnight, the food court has several different stations, all set up like a Caribbean port town market. The stations include a Grab-and-Go section, which includes bakery items, and assorted snacks and drinks. The Royale Pizza and Pasta Shop, Old Port Royale Hamburger Shop, Montego's Deli and Bridgetown Broiler. Each area has a separate menu for breakfast and lunch/dinner. Your standard Disney food items are available, like Mickey waffles, hamburgers, and pizza but also things you don't find at many Disney food courts like Cuban sandwiches, breakfast quesadillas, and a terrific fried chicken sandwich.
There is a lot of indoor and outdoor seating (along with a kids area that plays Mickey Mouse cartoons on a flat screen), but it can certainly get extremely busy during your peak breakfast and dinner times. There are tables by the main pool area, along with some in the courtyard right next to the pool, so you can always bring your food over there as well.
The Calypso Trading Post is a rather large gift shop at Caribbean Beach that features your standard Disney items and snacks. There is a huge amount of pirate items, the largest anywhere on property outside of the Pirates of the Caribbean gift shop at Magic Kingdom. There is a mix of Caribbean Beach branded merchandise, but it looks exactly like the items found at other resorts (such as Beach Club). It's almost like Disney has some sort of deal with Zazzle and just makes everything interchangeable.
Goombay Games, the arcade at Caribbean Beach, is good sized one with plenty of games. This is also where you'll find the the pressed coin design featuring Caribbean Beach. There is another machine at the Custom House, but it features standard Disney designs.
–
# 1 – Pirate Rooms
Along with the pool, the Pirate Rooms at Caribbean Beach were another big determining factor for us. We love the fully themed rooms at Art of Animation, and having Jake and the Neverland Pirates obsessed kids made this one a no-brainer. The pirate rooms are all located in Trinidad South, which is the set of buildings the farthest away from everything at Caribbean Beach, but you're always a short walk/bus/boat ride away from it all. The theming inside the room is impressive. The pirate beds are amazing, but keep in mind they are two full size beds, while the standard rooms at Caribbean Beach have two queen size beds. Just like the rooms at AOA, everything in the room is themed. The fridge being inside a barrel was genius. The flat screen TVs in the pirate rooms are also much larger than the ones in the standard rooms. The pirate rooms will in general cost you about $25-$50 more than a standard room, but for us it was well worth it.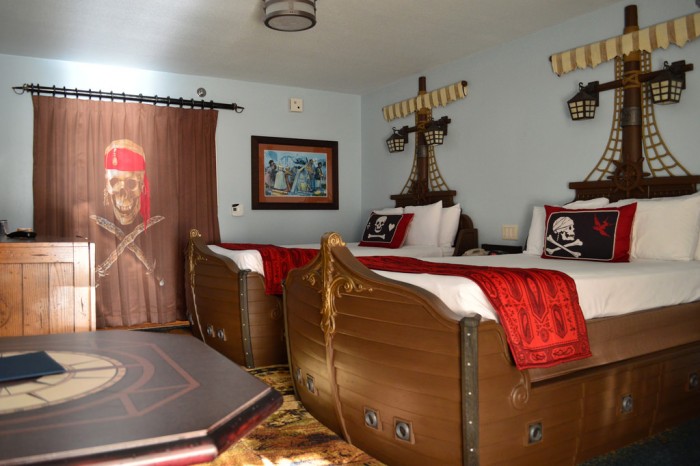 –
Trinidad South is the village farthest away from Old Port Royale and the food court, but while we were staying there (on two different occasions) they had the ESPN Wide World of Sports food truck or a small food vehicle located near the bus stop. I would love to see more of this at Walt Disney World.
–
OVERALL THOUGHTS:
I have to admit that I put off staying at Caribbean Beach for a long time. I thought that there wasn't going to be much there to enjoy, a feeling that only got stronger once I moved to Florida almost a decade ago. I'm happy to report that I was wrong. Caribbean Beach was one of our favorite places to stay at Walt Disney World. I may be beating a dead horse at this point, but I want to get across how relaxing the resort is. The pool area is one of the best on property, and it was so great going for strolls on property in the early morning and at night.
We had a car, but as someone who is not a fan of Disney bus transportation, I can say that throughout our stays I saw more buses at Caribbean Beach than I have seen at any other Disney resort. The only resort in Orlando that I even consider using bus transportation is at Universal's Cabana Bay Beach Resort because there is always a bus waiting to take you to the parks. Caribbean Beach was the first WDW resort where I would consider using the bus system. Because we had a car, we also ate a lot of dinners outside of Caribbean Beach (including my WDW favorite 'Ohana and the new venues at Disney Springs), so I can't speak for the quality of Shutters. The food court was more than perfectly acceptable though, with a lot of options for several picky eaters in the family (myself being one of them).
–
HONORABLE MENTION – The Rocks
We have traveled to several countries in the Caribbean, including Aruba, and these large rocks certainly reminded us of those trips. This rocks are throughout Caribbean Beach. I have absolutely no idea if they were actually brought to Florida from the islands, but there are a nice touch. Hopefully I can get a hold of Jim Hill and find find out some next level bananas backstory the Imagineers created for the rocks.
–
DOUBLE SECRET HONORABLE MENTION – Sunset Palm
Available at the small bar located outside the Fuentes del Morro pool, Sunset Palm is a beer found exclusively at Caribbean Beach. Tastes a lot like a Safari Amber from the Animal Kingdom Lodge. One thing is for sure, we are all for more exclusive brews at Walt Disney World.
So there you have it: Six Reasons We Love Disney's Caribbean Beach Resort. See you next weekend for the latest installment of the SATURDAY SIX, where we'll look at something fun from the world of Disney and Universal. If you enjoyed yourself, be sure to check out The Magic, The Memories, and Merch! articles. You can also follow Your Humble Author on Twitter (@derekburgan).
If you enjoyed this article, you will surely like the following:
Six Reasons to Check Out Disney's Pop Century Resort
Six Reasons We Love Disney's Contemporary Resort
Six "Secrets" of Disney's Art of Animation Resort
Six Reasons We Love Disney's Old Key West Resort
Special Thanks to crack staff photographer Brandon Glover, photo wunderkind Mike Sperduto, and Megan Stump for their invaluable assistance with this article. Be sure to also check out Brandon on The Park Blogger podcast with co-hosts Aengus Mackenzie and Brian Carey. 
FINAL PLUG! Did you know The Unofficial Guide to Universal Orlando has a special edition of the SATURDAY SIX in it? Finally, someone came up with an actual reason to read a book. ORDER this baby now! (For every copy sold, a percentage of the profits* go towards buying a DVD of the Seven Dwarfs Mine Train rap video.)