SATURDAY SIX: 6 Reasons You Need to Check Out Universal's VOLCANO BAY
This week's SATURDAY SIX puts on a pair of swim trunks, applies some SPF 30, and heads on over to Universal's VOLCANO BAY!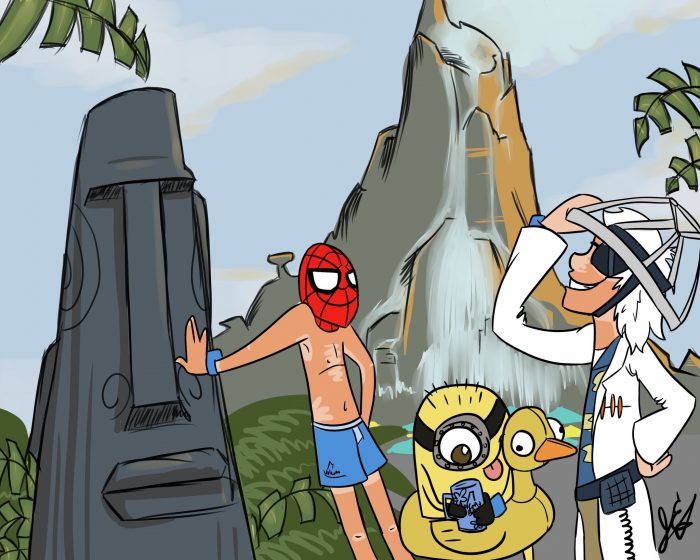 A quick backstory. I have never considered myself a "water park guy." Living in Florida, I never saw the point of them. We are blessed by a lot of incredible beaches. Despite going to Walt Disney World my whole life, I never once even considered going to Typhoon Lagoon or Blizzard Beach. No interest. Last year we had a family trip to LEGOLAND Florida, and the price of an annual pass that included their water park was actually cheaper than two one-day tickets to just their theme park. We had a lot of fun, and I decided it was time to start checking out other water parks in Florida.
Volcano Bay opened in 2017, replacing an iconic part of Central Florida in Wet 'n Wild. When you're replacing something that is just about beloved, you better be good replacement (we're looking in your direction MISSION: Space…).
Later this month Volcano Bay will be celebrating its two-year anniversary; and the two years have been filled with capacity sell outs, having an immediate impact on the attendance of Disney water parks, and plenty of rave reviews. So this week we're taking the whole family to the Volcano Bay to see if there truly is something for everyone.
# 6 – Tapu Tapu
The first thing you get when you enter Volcano Bay is your Tapu Tapu. This band is effectively your "MagicBand" for those used to Disney vacations, except it also has a screen. You use Tapu Tapu to "check into" rides, allowing you to do something else if the line is long. If the line is short, the check in area will say "ride now" and not give you the ability to reserve a time. Tapu Tapu is very intuitive to use, and in a nice touch the band has a "countdown" to your experience. For example on one ride we "checked in" with our Tapu Tapu and it said there would be about a 15 minute wait. We walked away to get a drink, while our Tapu Tapu gave us reminders at 5 minute intervals that we were getting closer to our ride time. When it was time, the Tapu Tapu "buzzed."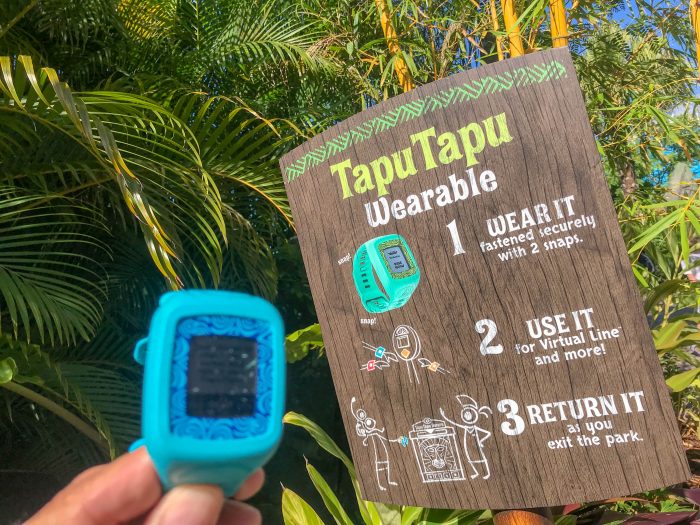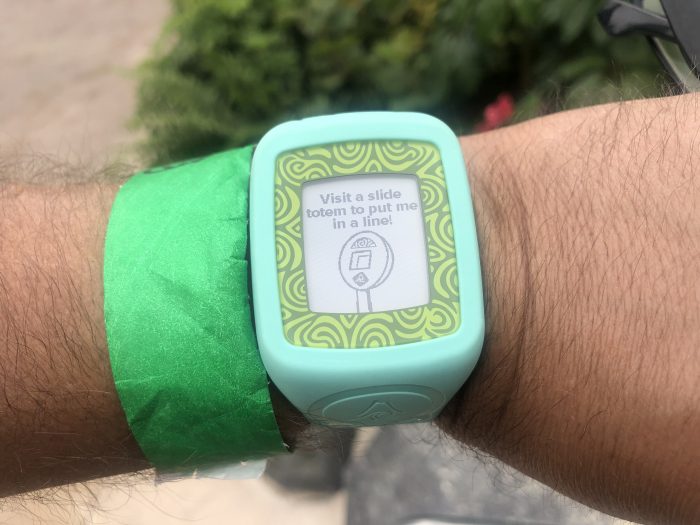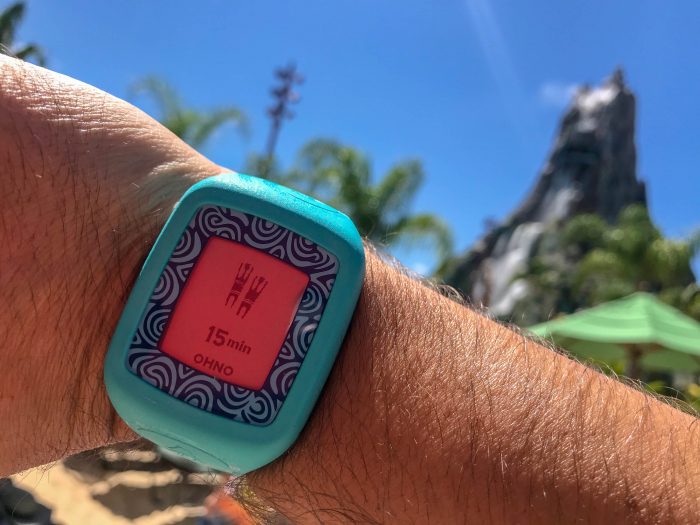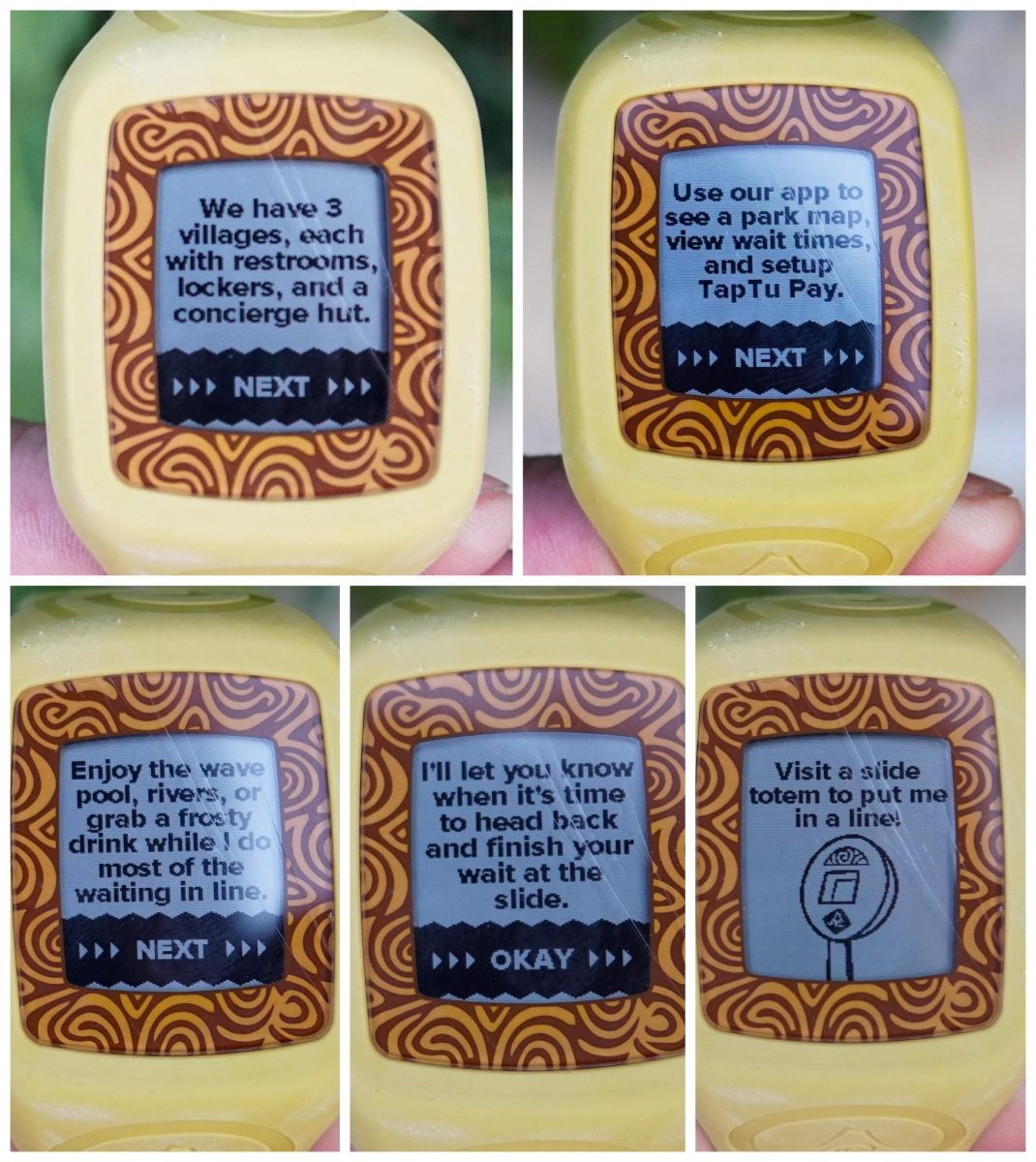 There are also a TON of interactive features across the entire park which are accessed by your Tapu Tapu, so keep your eyes open and your head on a swivel when exploring the park.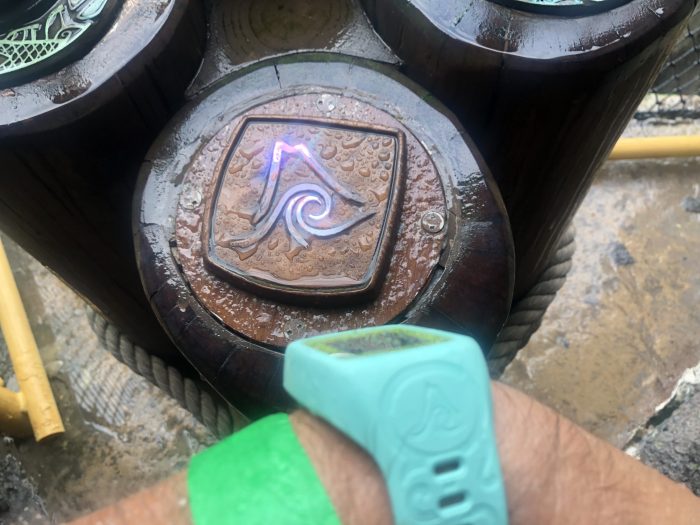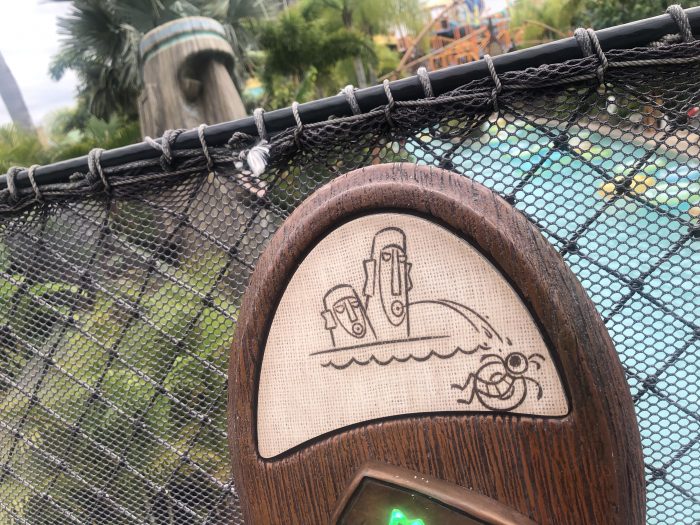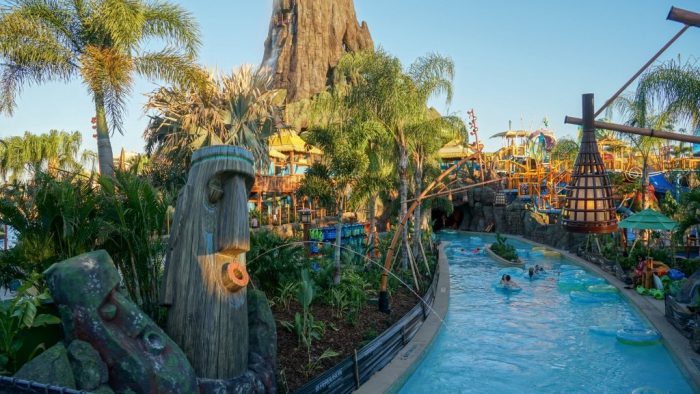 This picture below shows a Tapu Tapu-enable experience in the middle of the stone tiki, but using your hand to press other buttons will also activate some features. There are many interactive elements all over Volcano Bay that can be played with that do not require the Tapu Tapu.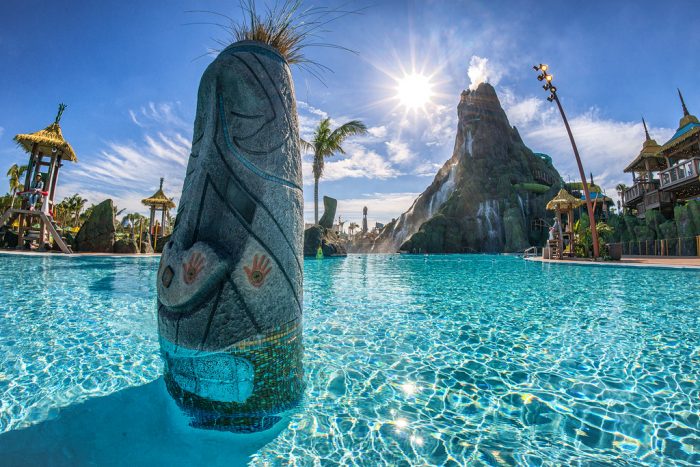 # 5 – The Food and Drink
Be sure to bring your appetite when you come to Volcano Bay, because the park is filled with some unique options that you wouldn't expect. Tacos, ribs, mahi mahi sandwiches, pizza (that actually tastes good), and pulled pork are just a few of the park's culinary highlights. We often travel with a vegan and were surprised to find a decent amount of options for that dietary restriction as well, including the Impossible Burger.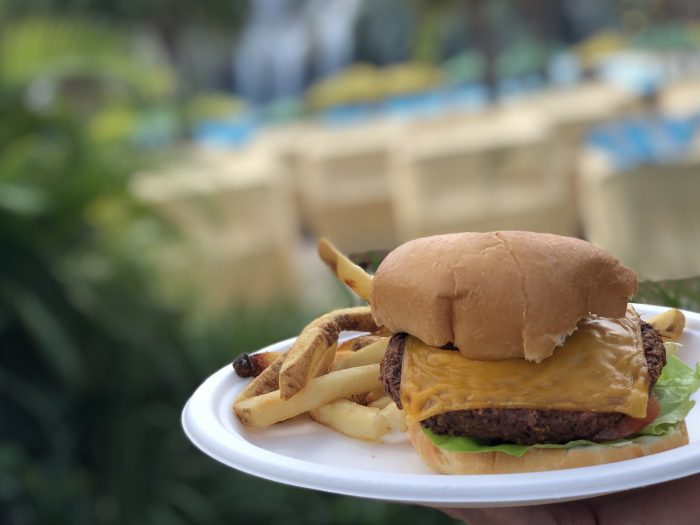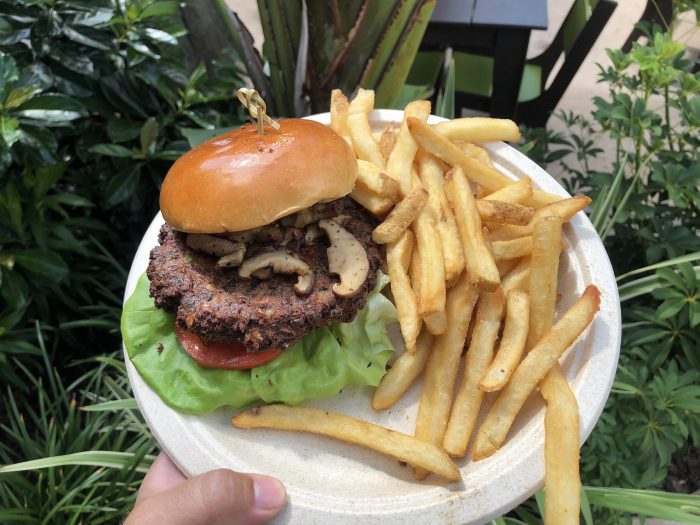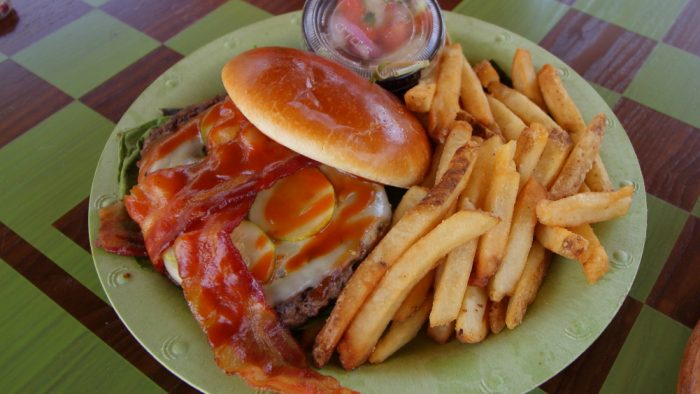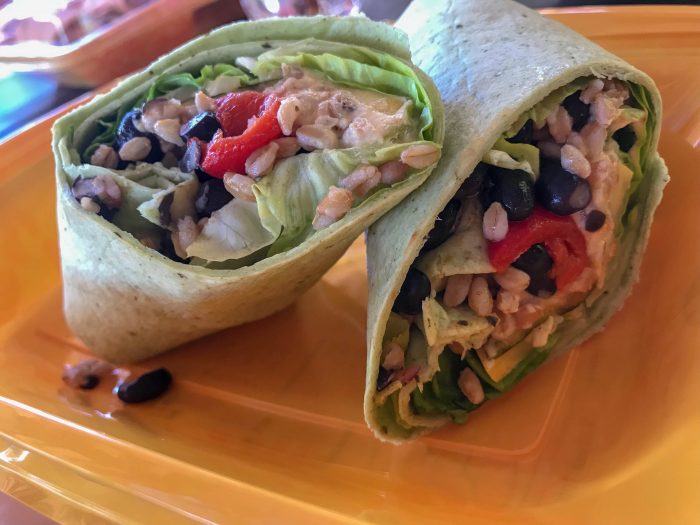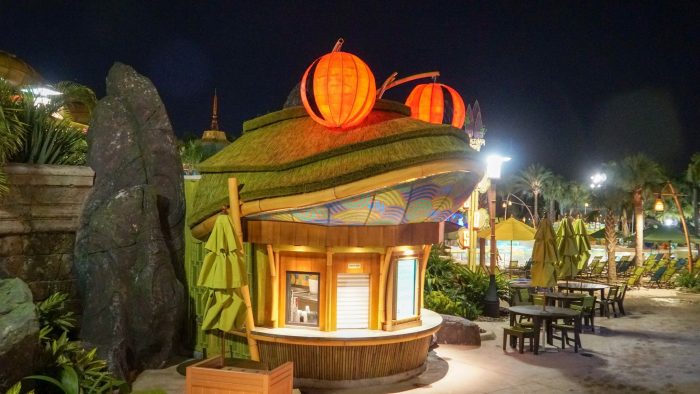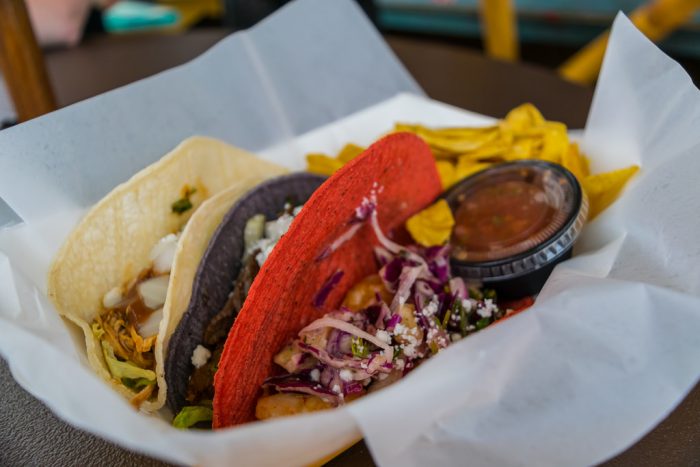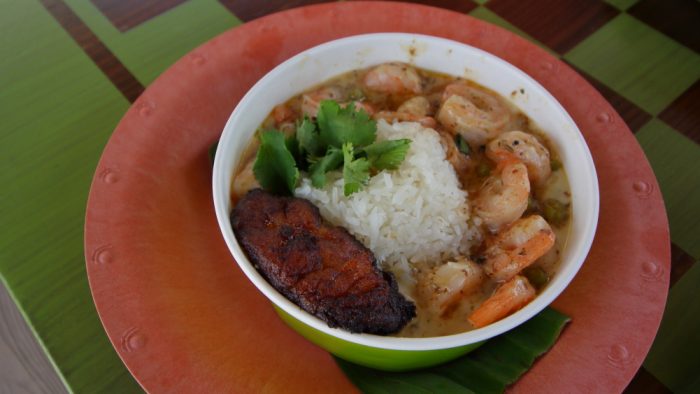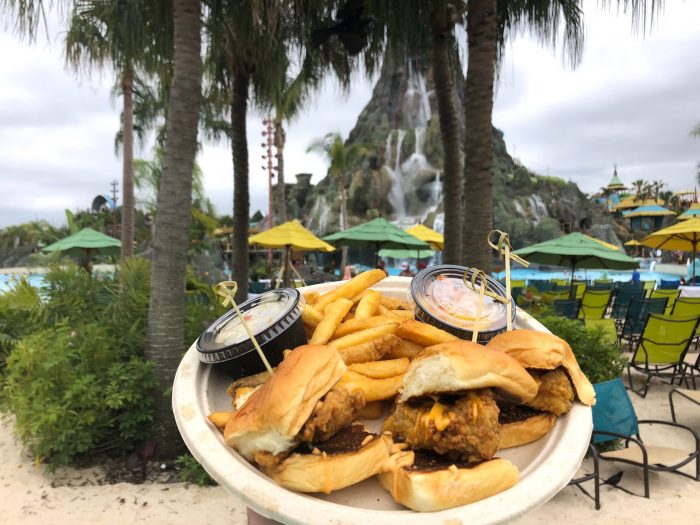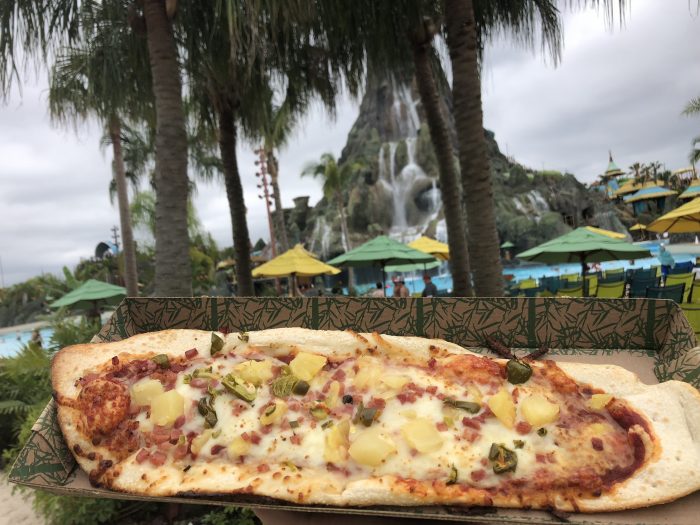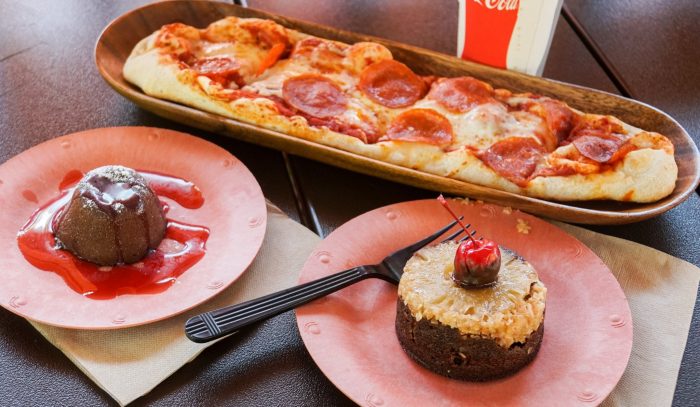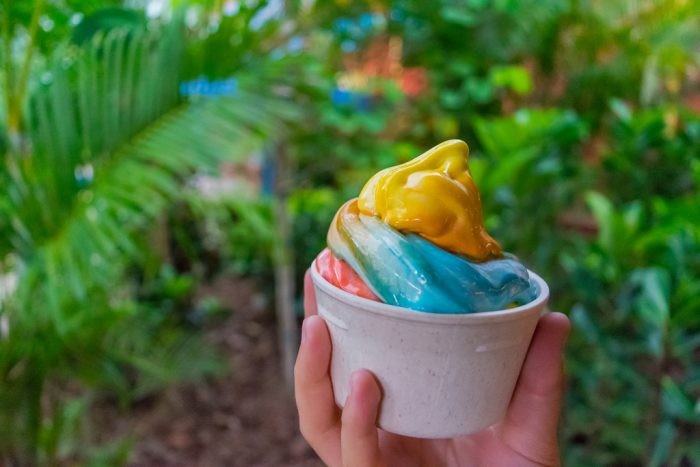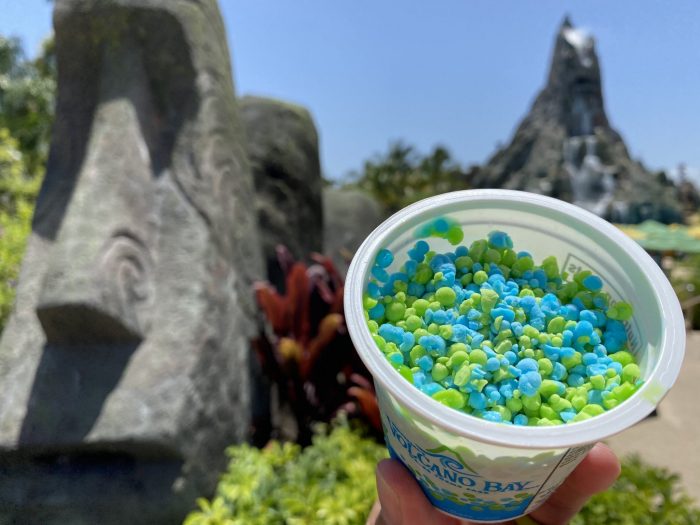 If you get to Volcano Bay early early in the morning, there are breakfast options available, such as this apple oatmeal flan.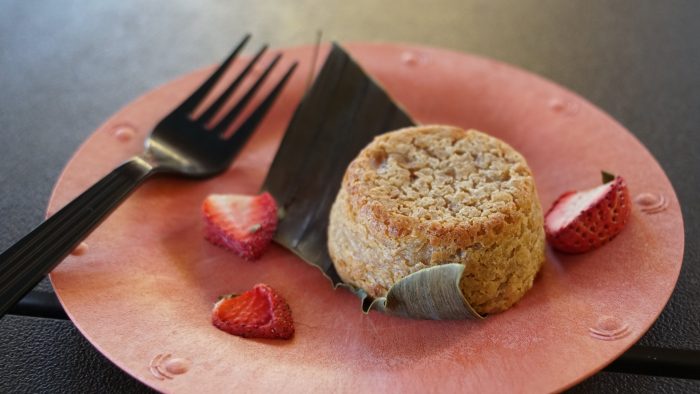 Like the Universal theme parks, there are a good amount of Coke Freestyle machines located all across Volcano Bay. There are also single use fountain soda options as well as 20 oz bottles of soda available, but considering the Coke Freestyle unlimited refills plan also includes Icees, it's a pretty good value.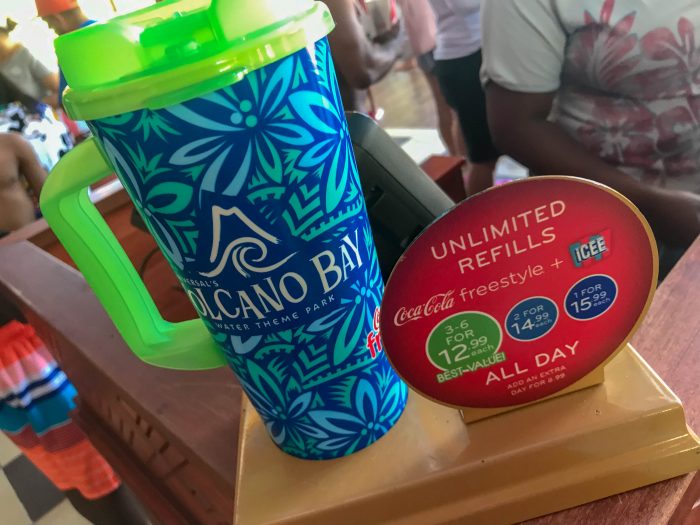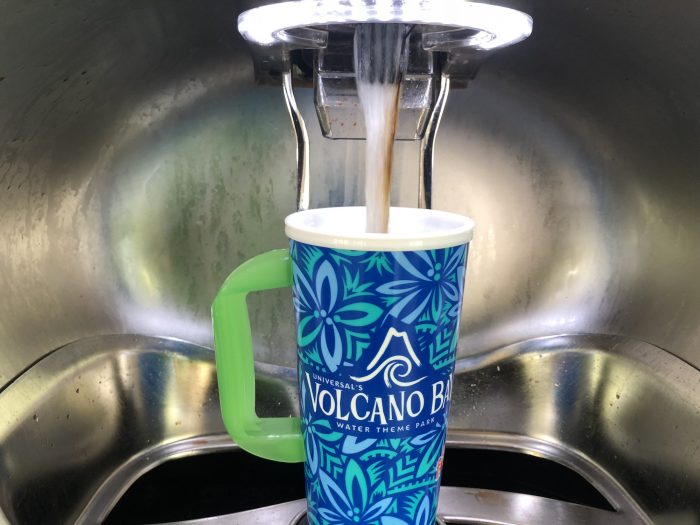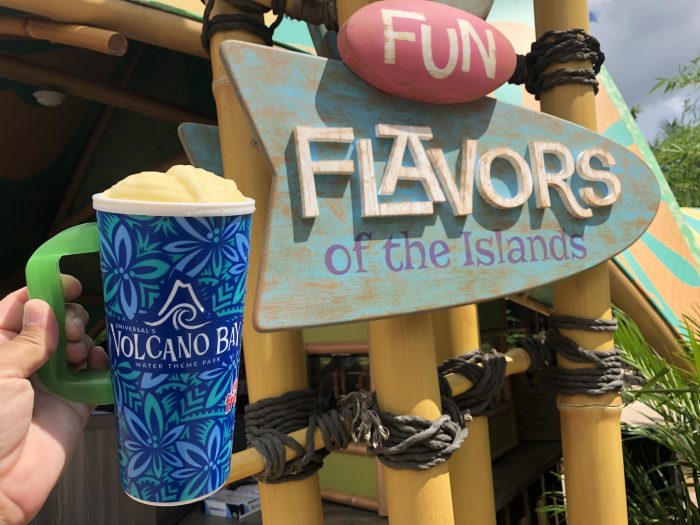 Kids are also going to love the fun tiki-themed sippers available. These were $15.99 and included one drink fill up. For a while they have also been selling for "Buy One Get One at 50% Off."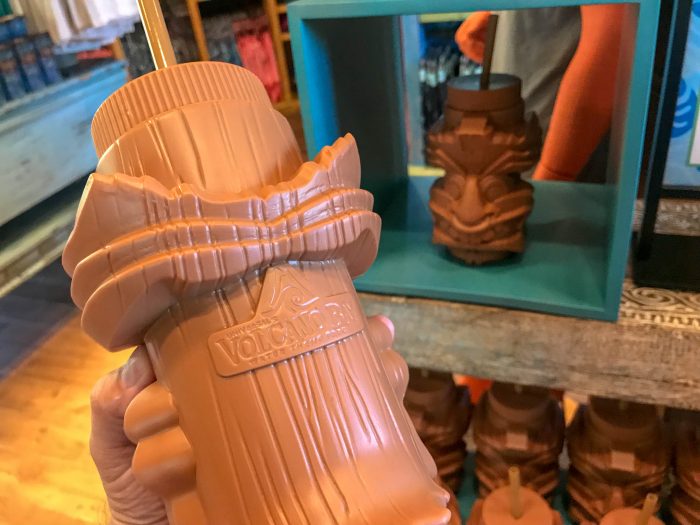 Those looking for adult beverage are going to find many options at the various themed bars throughout Volcano Bay.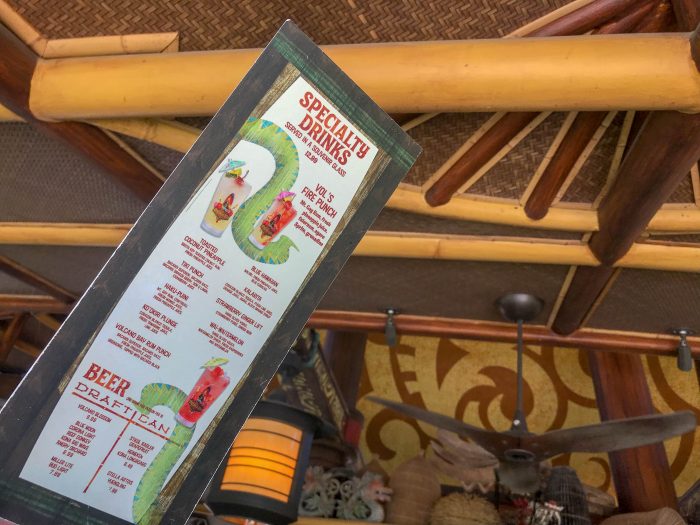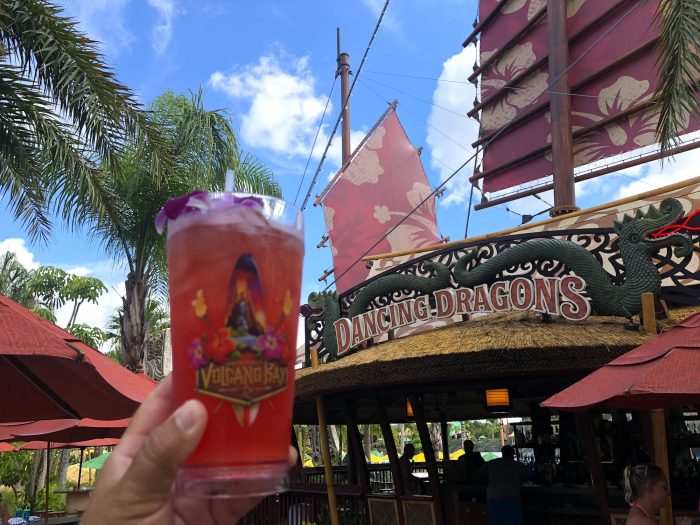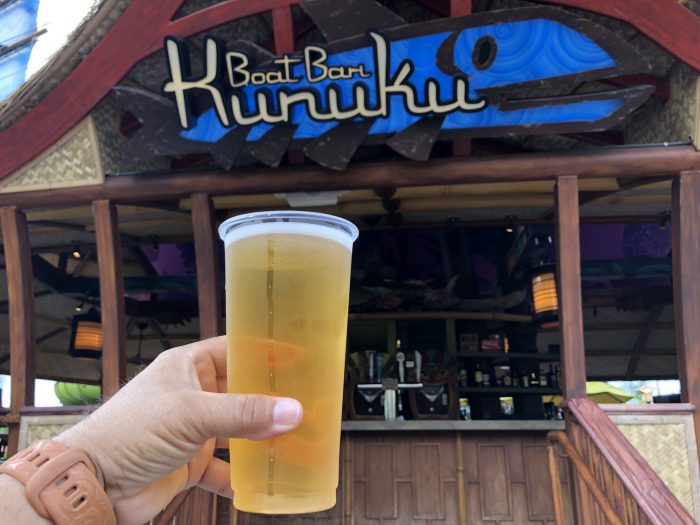 Volcano Bay also offers an exclusive brew called Volcano Blossom. This beer is made by Orange Blossom Brewing Co based out of Orlando. A bit sweet for a pilsner, but overall a nice option.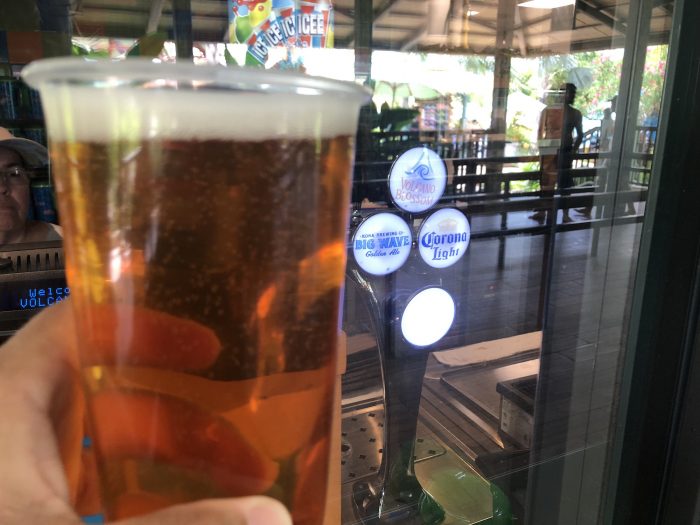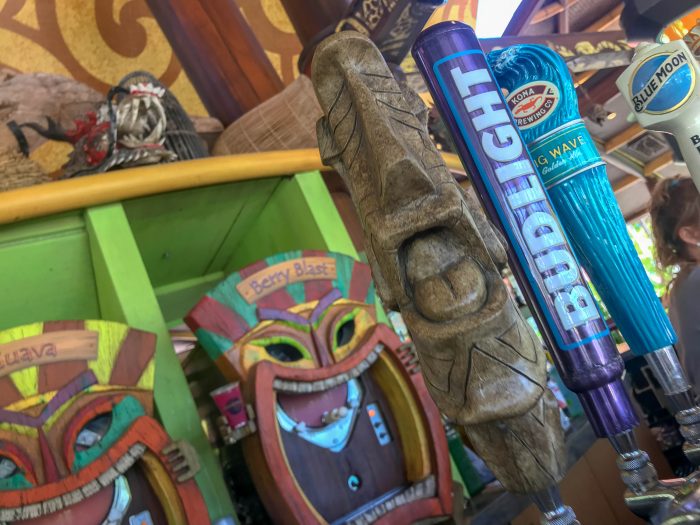 # 4 – Seating
One thing you don't have to be afraid of is finding a place to sit at Volcano Bay. There are more than enough lounge chairs for everyone. If you can get to the park relatively early, there is also a whole bunch of covered seating that even have overhead fans to keep you cool. For those used to the finer things in life, there are plenty of cabanas throughout Volcano Bay, and these come with some pretty cool amenities. While the rest of us ham 'n eggers need to bring our own towel or rent one at the park, cabana guests have towels waiting for them. The cabanas also have snacks, a dedicated server to bring food and drinks, and the ability to make Tapu Tapu reservations in the actual cabana. It's a pretty sweet deal. I was going to book a cabana and then I saw the price. After the smelling salts revived me, I settled on Premium Seating. For the day we went, Premium Seating was $75 and this included two covered seats, a lock box, and a dedicated server for food and drinks. I liked having the lock box right at our seats to put our phones and wallets into, although to be fair there are plenty of lockers available to rent for the day throughout the park that are much cheaper than the price we paid for Premium Seating. You can also use my standard Pro Tip "beach locker" tip and just put all your valuables in your sneaker, because no one's ever gonna check there.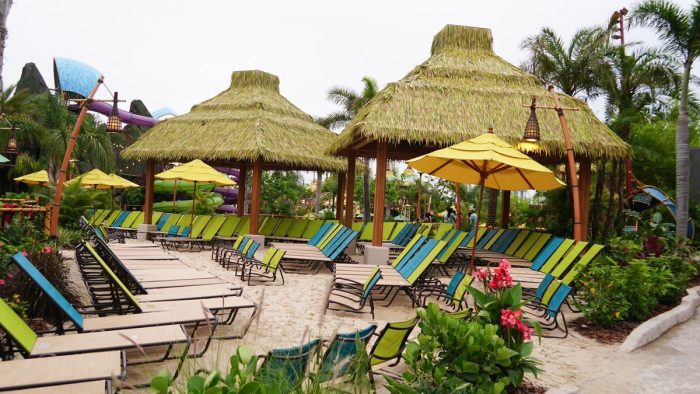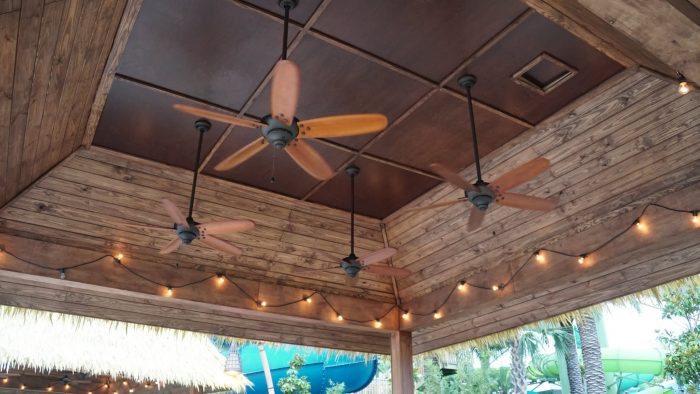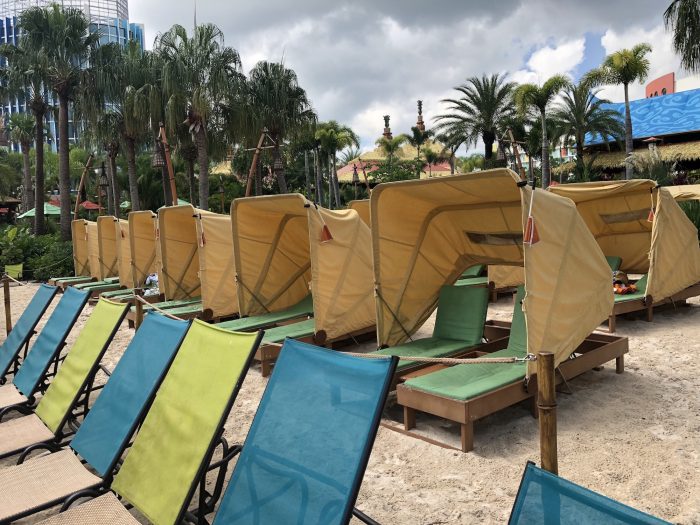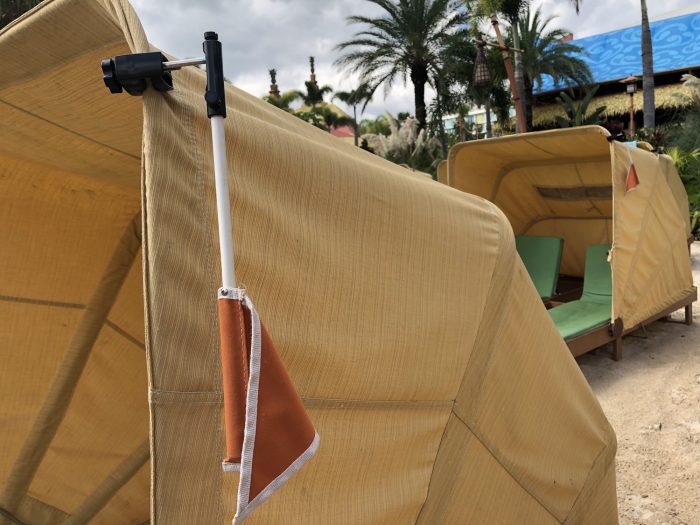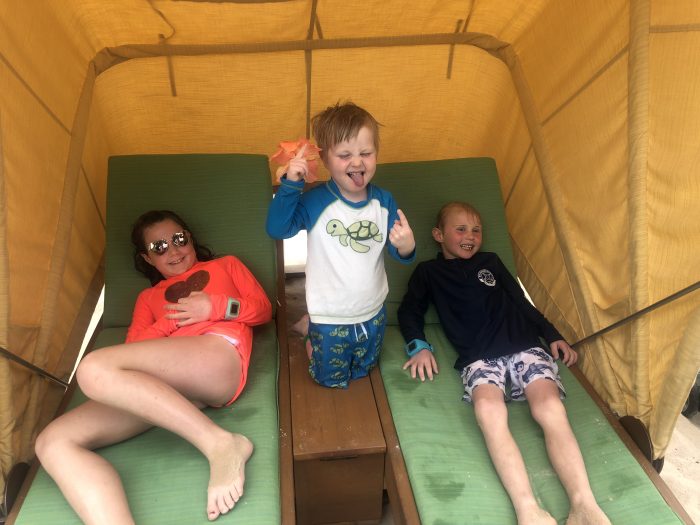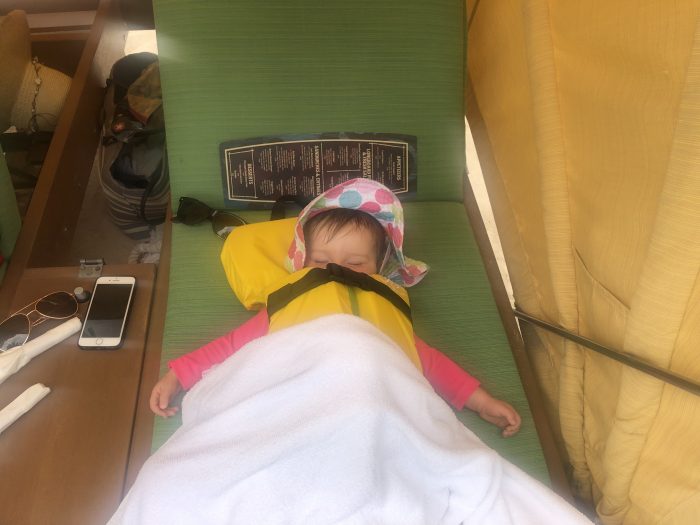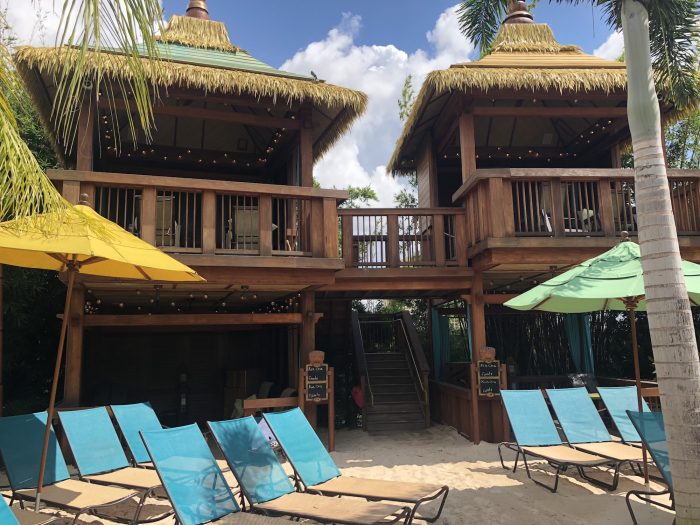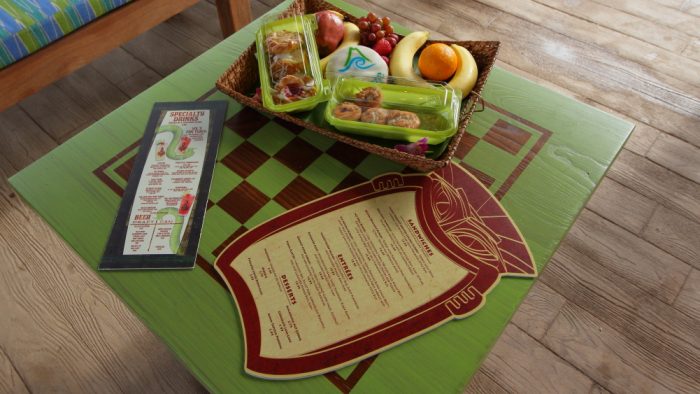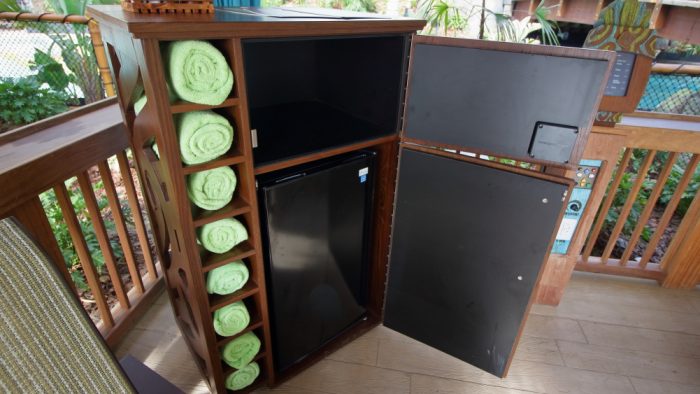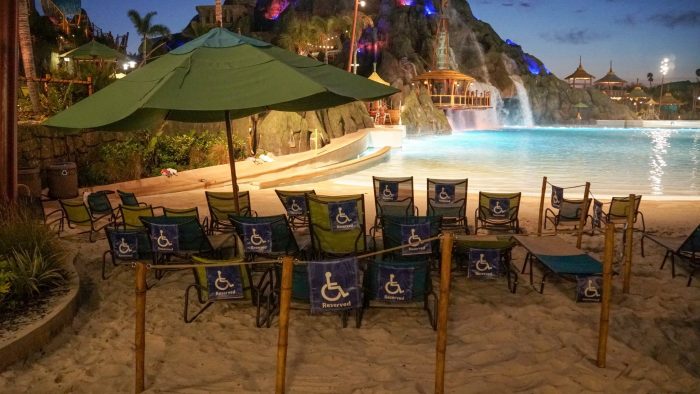 # 3 – Volcano Bay is Kid Friendly
For our most recent trip to Volcano Bay we traveled with four kids (ages 9, 6, 4, and 10 months.) Each attraction in the park has a height requirement, with many of them being 42″ and the drop slides being 48″.  The 9 year old could ride anything in the park, while thee 6 year old could ride most of the attractions in the park, except the various drop slides. The 4 year old was too small for any of the slides. Before we went to Volcano Bay, we were a little worried there wouldn't be enough for the little kids to do, but it turned out ALL the kids loved the play areas.
Volcano Bay has Tot Tiki Reef and Runamukka Reef, located directly next to each other. I had walked by the whimsical Runamukla Reef on previous visits to the park – and it looked cool – but it wasn't until I actually went inside the area that I discovered it was so large and filled with things to do. There are several slides in this area, caves to explore, water guns and more. Despite being able to do most if not almost all of the attractions in the park, the 9 and 6 year old had to be dragged out of this area because they loved it so much.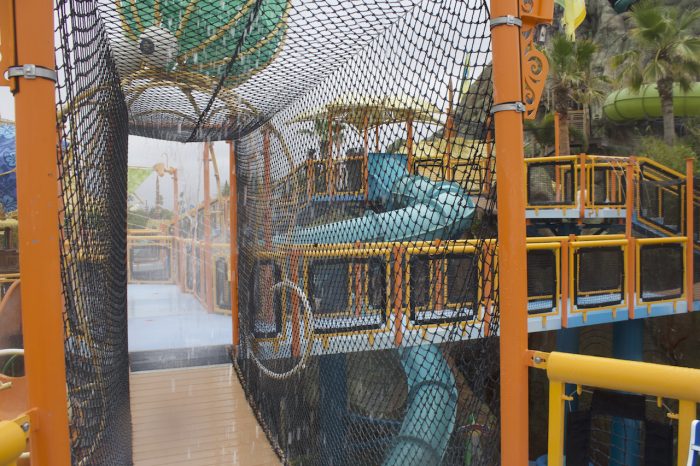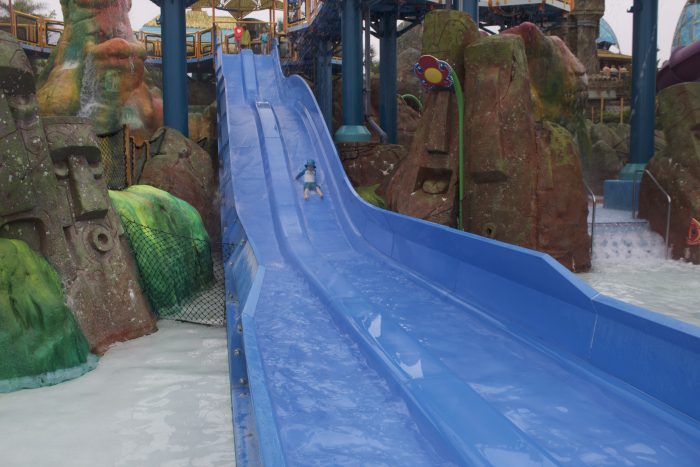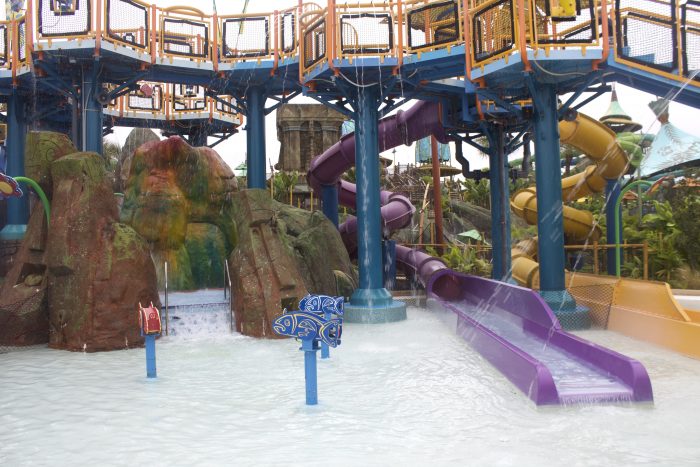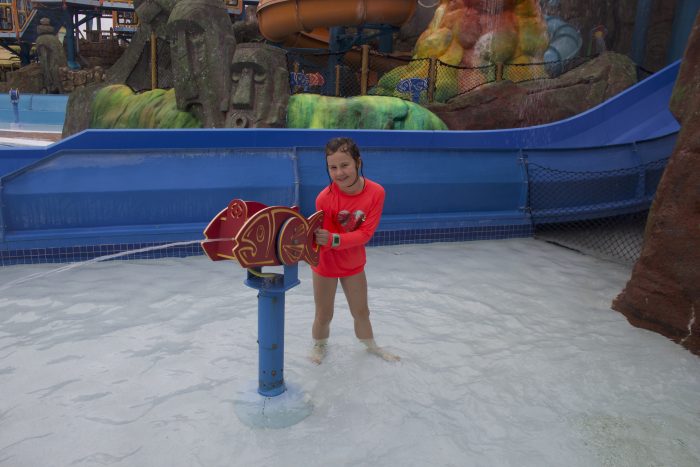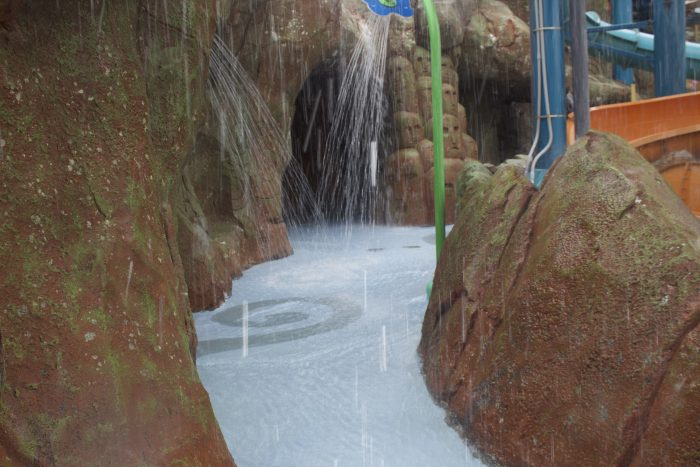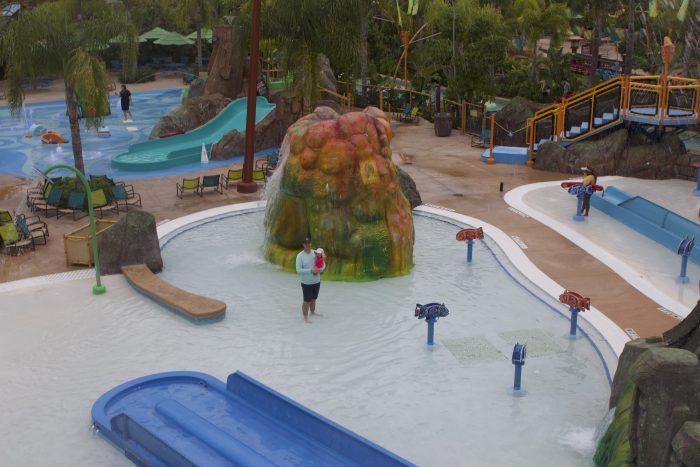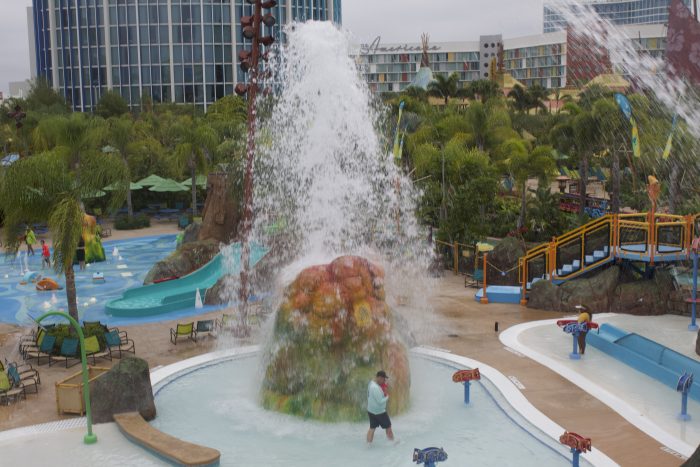 The Tot Tiki Reef was a similar play designed for little kids.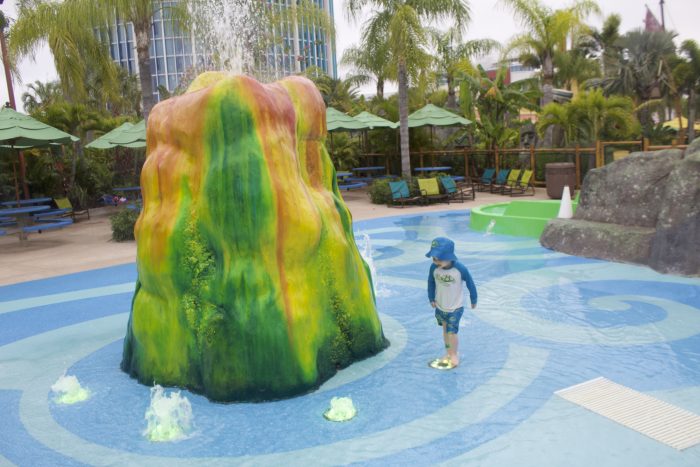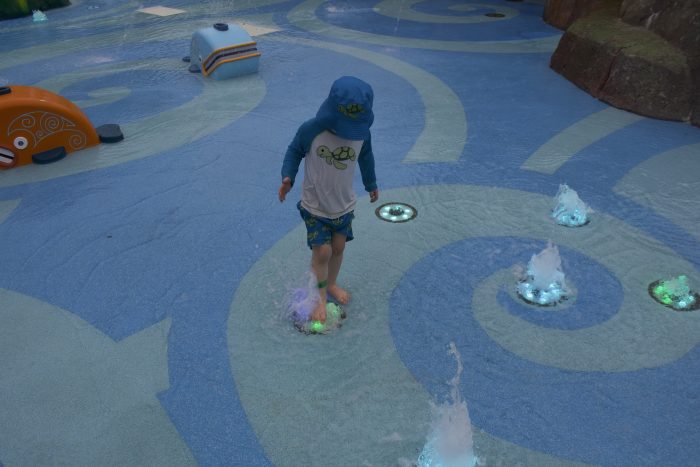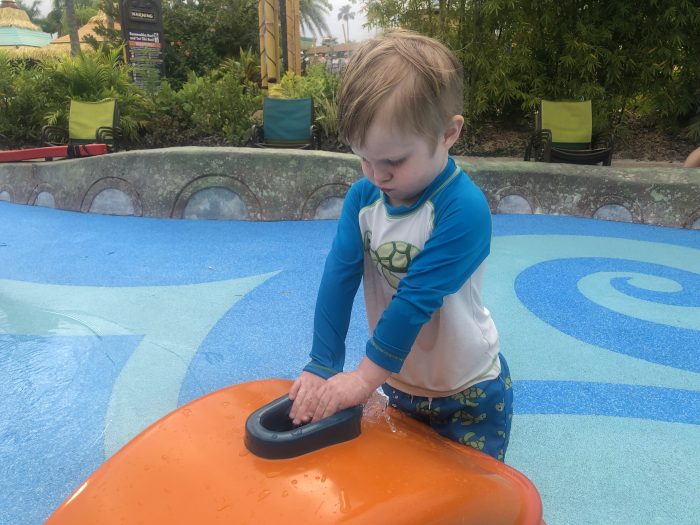 One thing that we really enjoyed at Tot Tiki Reef was that the lifeguards allowed parents to go down the slides with kids. This allowed even the 10 month old baby to enjoy their first slide.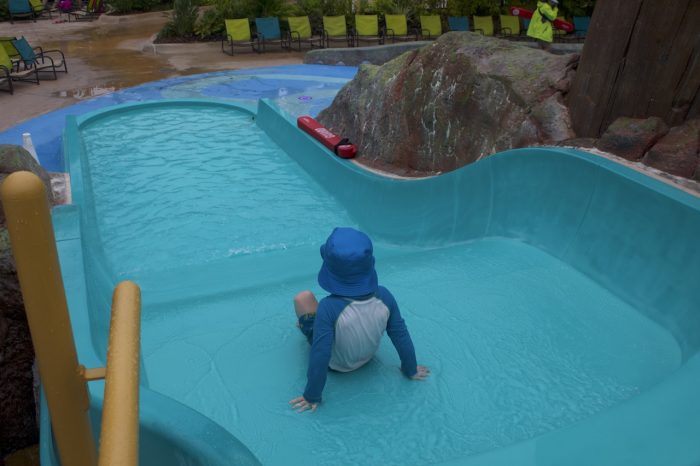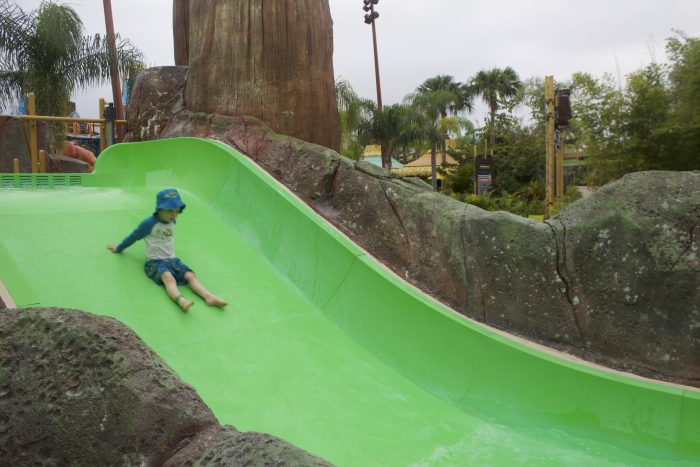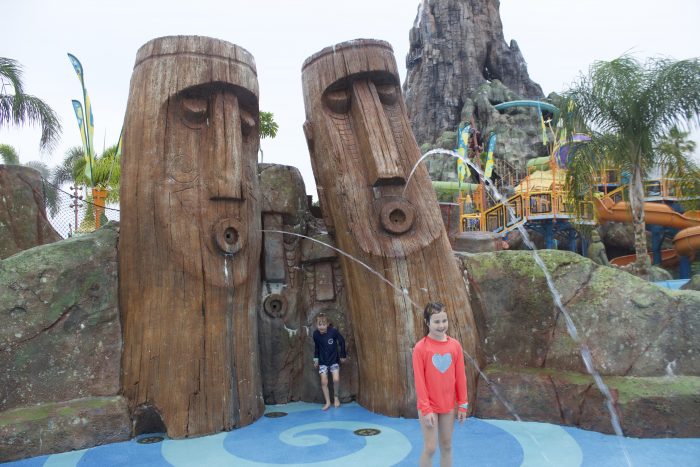 The Reef is another area younger kids can enjoy with the family. It is a quiet pool that also gives you a neat view of the guests doing the Ko'okiri Body Plunge as they pass through a clear plexi-glass tube on the left hand side. There are also  more caves to explore in the back of this area.
We're about to get to the Volcano Bay attractions, but one of the most kid friendly is Punga Racers. Here, guests get a mat and "race" down through four tubes.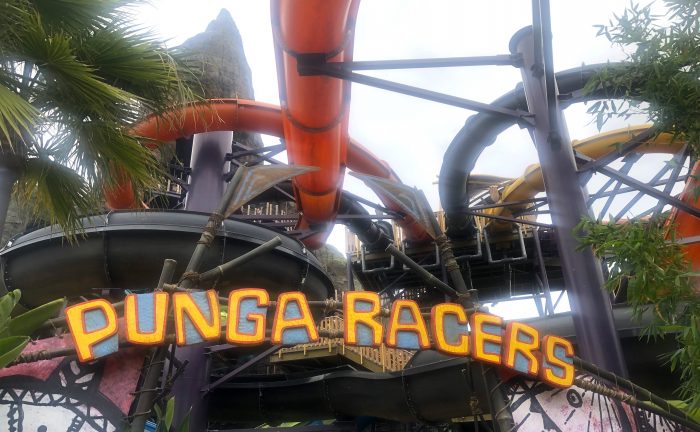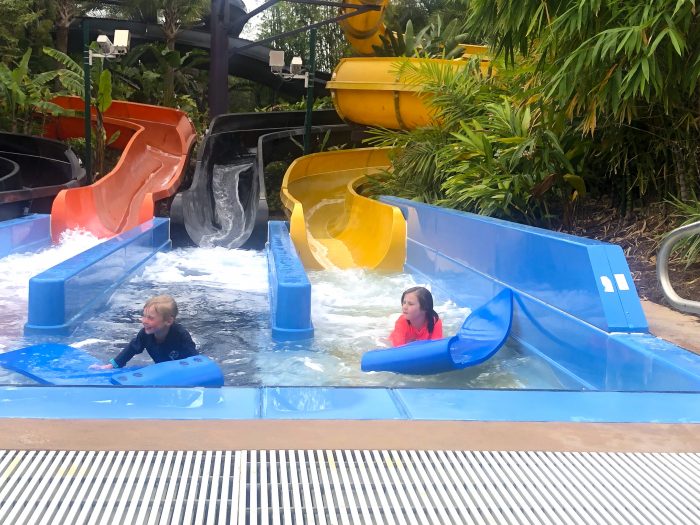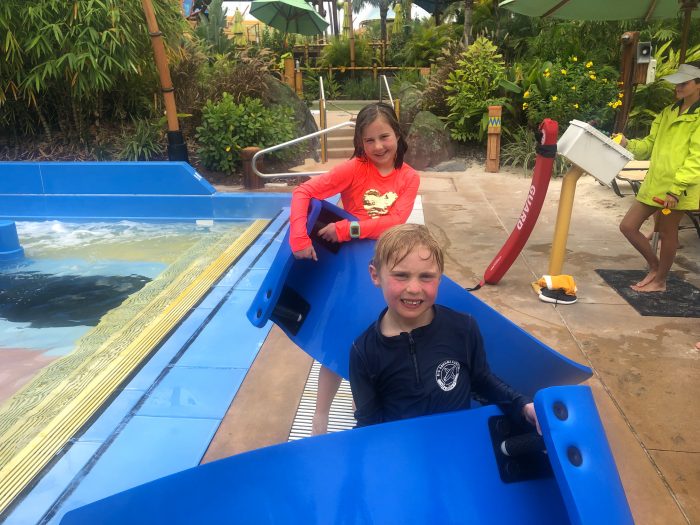 # 2 – The Rides and Slides
The Krakatau Aqua Coaster is a legit E-Ticket ride inside a water park. I have never done anything like it and is the true headliner of the park. You sit front to back – like Space Mountain – in a canoe before rocketing all around and up and down through mists and waterfalls in and out of the volcano. It's absolutely crazy in the best way possible. We were so glad we knew nothing about this attraction going in because we were blown away.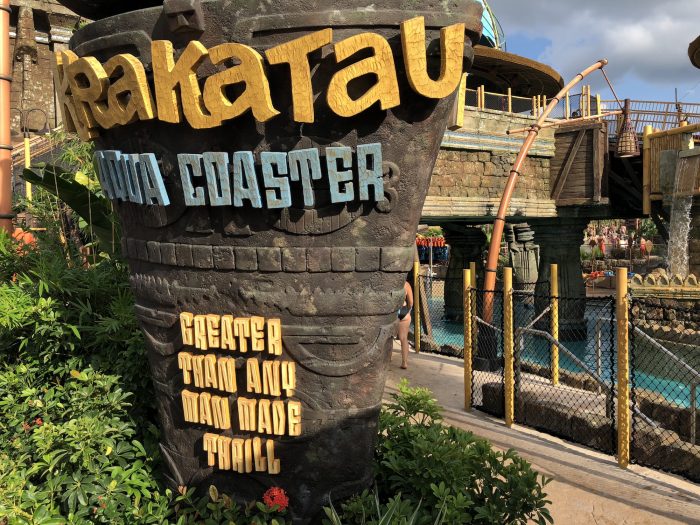 I had bought a water proof phone protector for my iPhone ahead of the trip to Volcano Bay, but when it came time to actually put my phone near water I chickened out. Here's a video of the aqua coaster by Attractions 360 (who are a great follow on Twitter for you theme park fanatics as they go everywhere).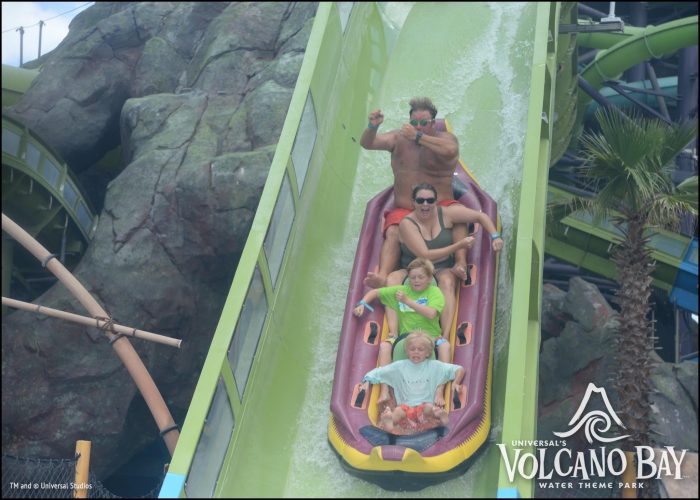 One of the slides you'll see the most in Volcano Bay marketing is Honu. It lives up to the hype as the multi-person raft gives you a real thrill as you rocket up the walls of the slide.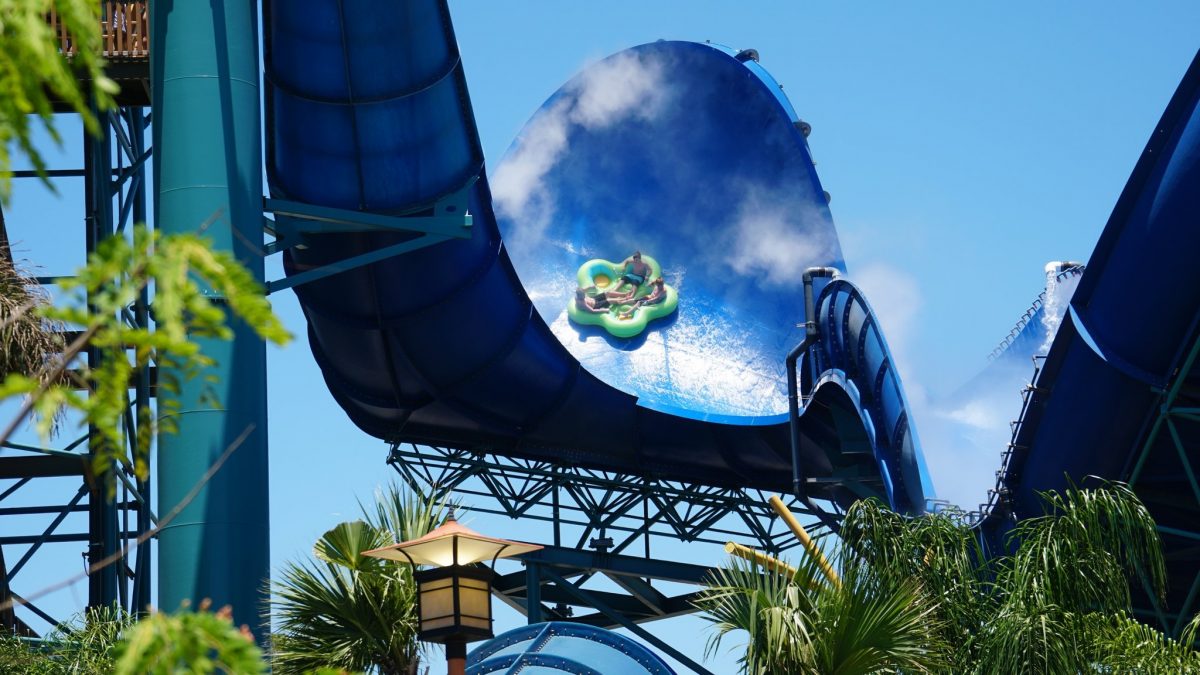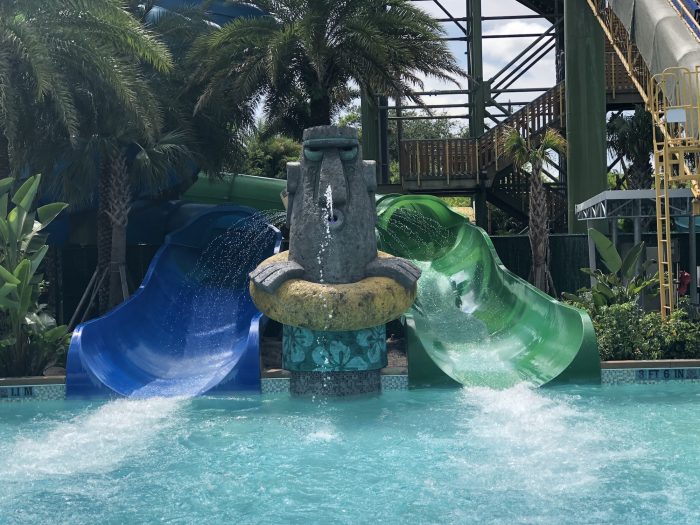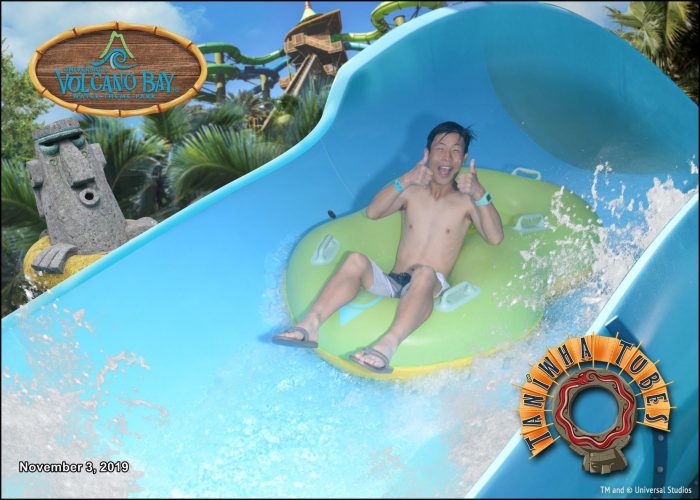 Maku Puihi is another fantastic multi-person tube attraction with many twists and turns.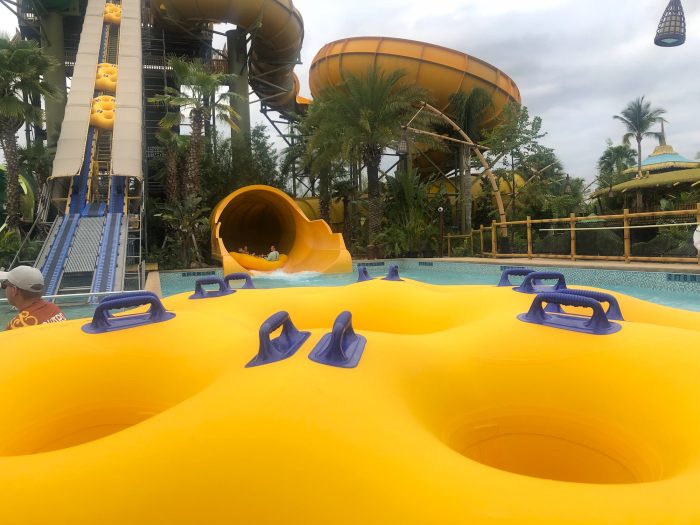 The Taniwha Tubes were a pair of serpentine slides that allowed two guests to ride together. For whatever reason, the kids LOVED these because they got to sit in the front and it essentially gives the thrill of a coaster as you're flying down.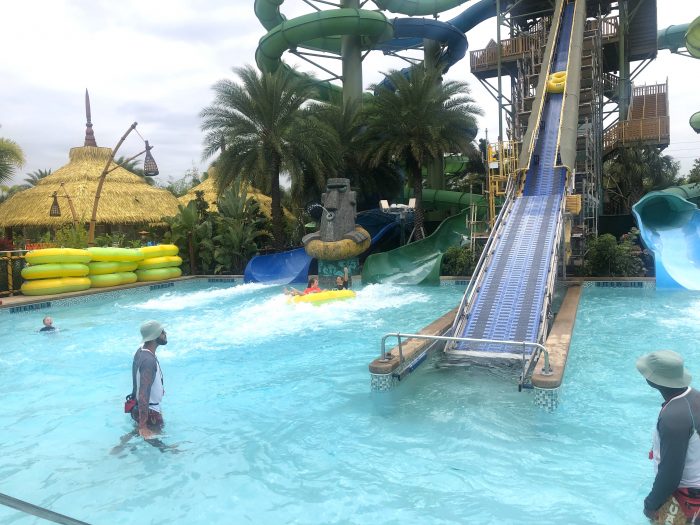 One of my favorite experiences at Volcano Bay is this particular pair of slides, which are called OhYah and OhNo. The actual serpetine slide experience wasn't anything out of the ordinary, but you come of the slide and then drop down into a 10-12 foot pool. The OhYah side has a four foot drop while OhNo has a six foot drop. Going to so many theme park and hotel pools, I can't even remember the last time I've been in a regular pool that was really deep. Not being able to touch the bottom of the pool, even when being dropped by six feet, was just an amazing experience. I loved it! Total exhilaration.
Located directly next to OhYah and OhNo is the Puka Uli Lagoon. This is a leisure pool where people can watch guests coming off OhYah and OhNo, so it's perfect for those not tall enough for the attraction or have no interest in it.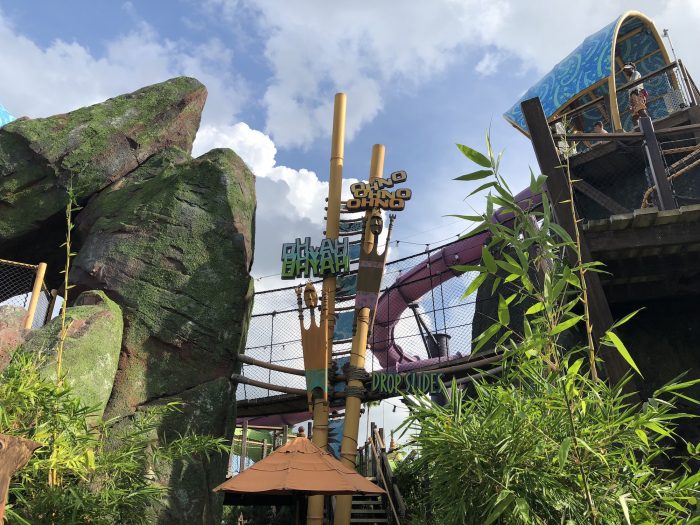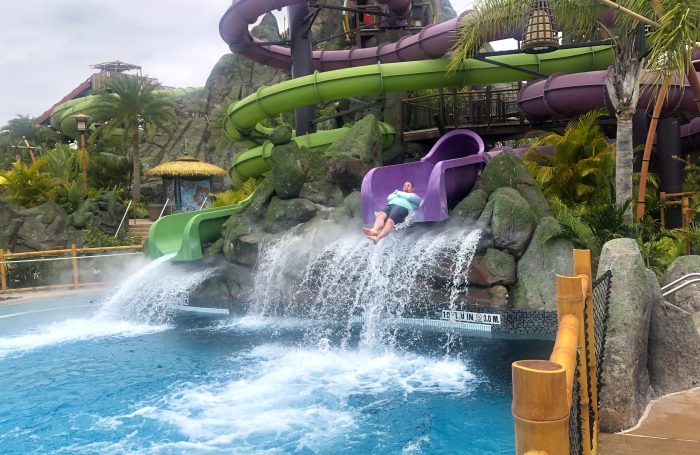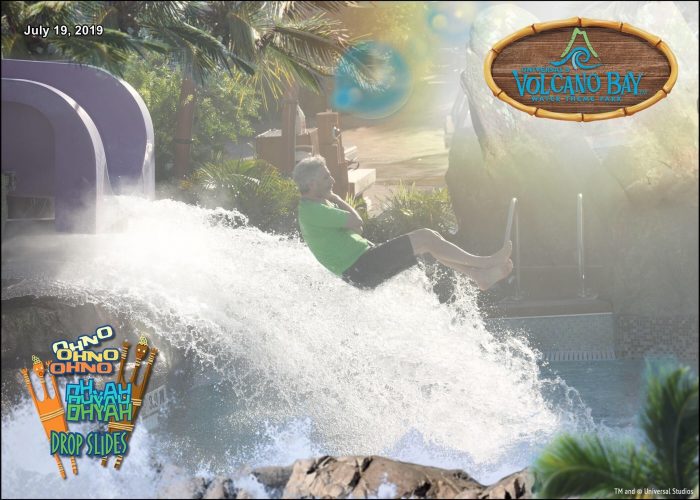 The 9 year old loved it as well.
While I'm not sure I will ever work up the courage to try the Ko'oriki Body Plunge from the top of the volcano, there are two other drop slides located on the side of Krakatau called Kala and Tai Nui. Like the Body Plunge, these are trap door slides, and you definitely get into the mood with a drum beating sound before the trap door opens, sending you immediately down a serpentine tube.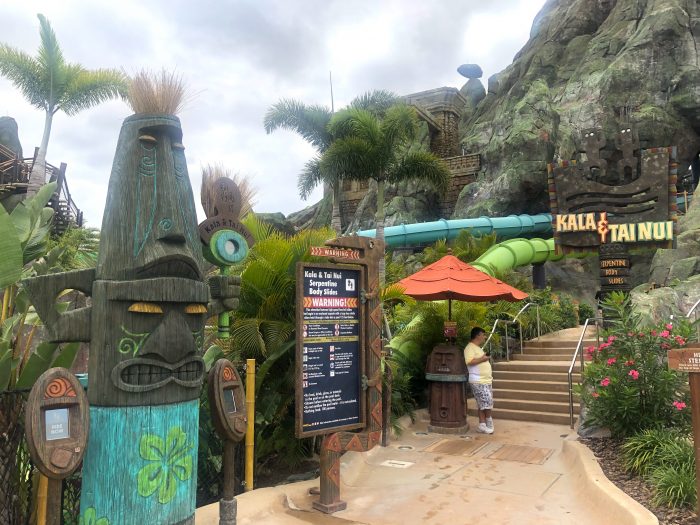 Volcano Bay has a lazy river, but it also has a "fearless river." I'm having a hard time ranking my favorite attractions at Volcano Bay, but the fearless river is right up there because almost anytime we were thinking of what to do I suggested we go into the fearless river and think it over.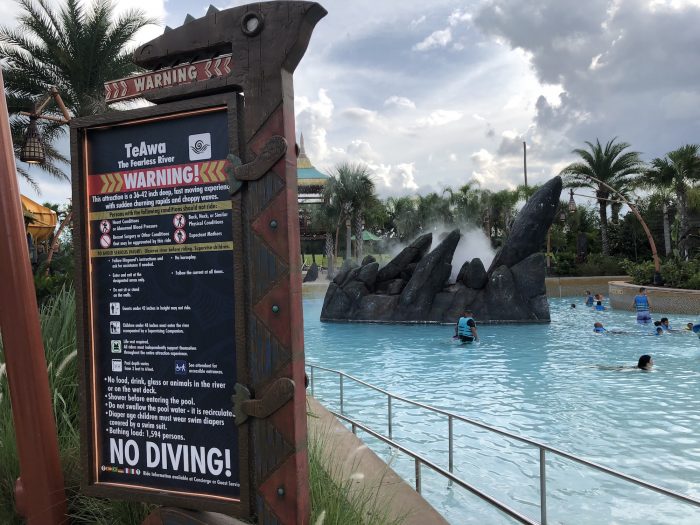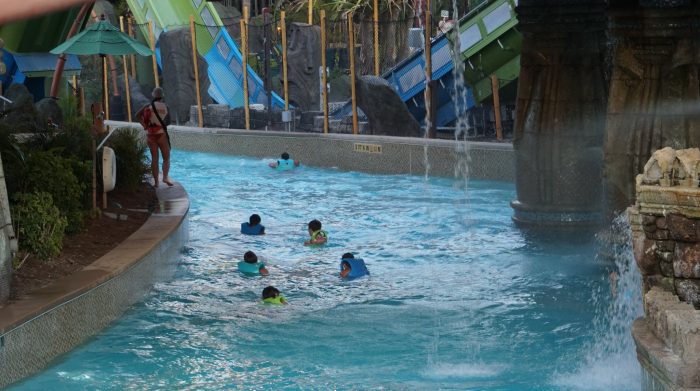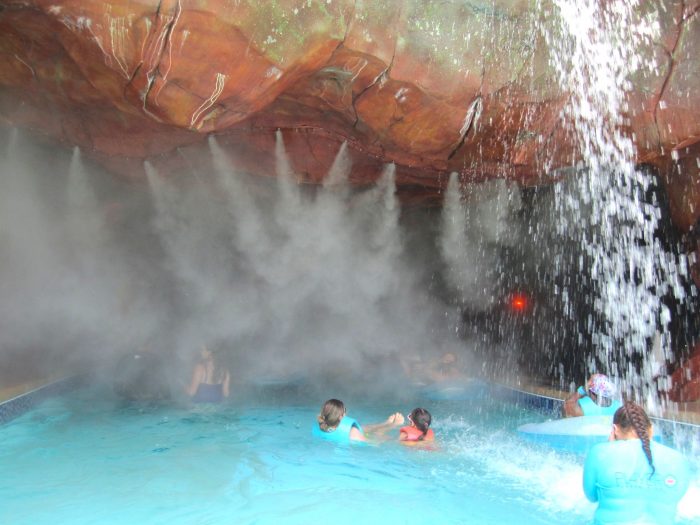 There is also a traditional Lazy River with plenty of tubes.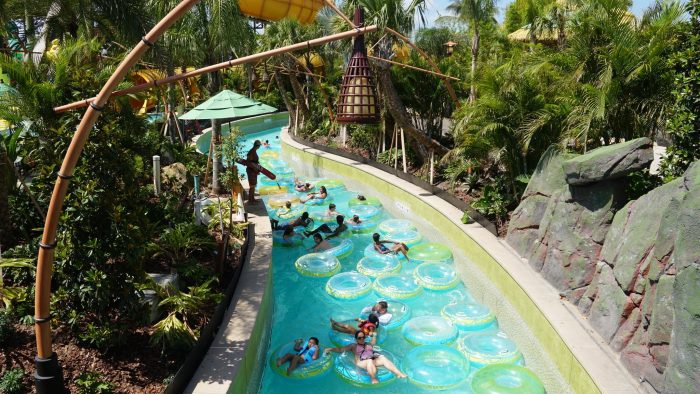 Another favorite? The Waturi Beach wave pool at the front of the park. Words can not describe what it is like to be in the pool looking up at the massive volcano. It's amazing.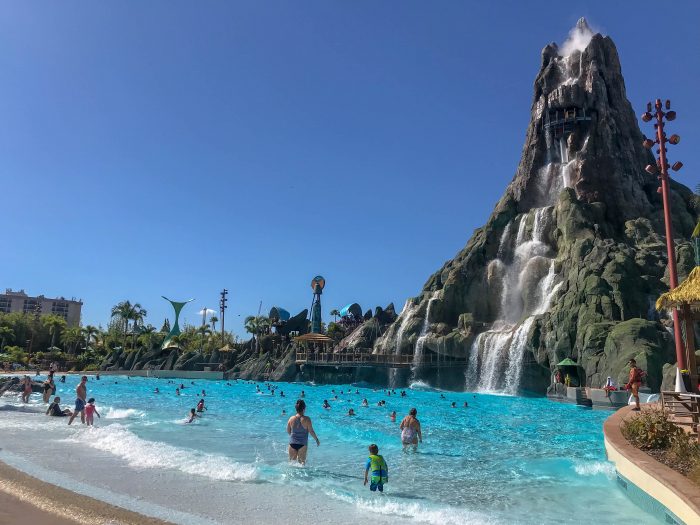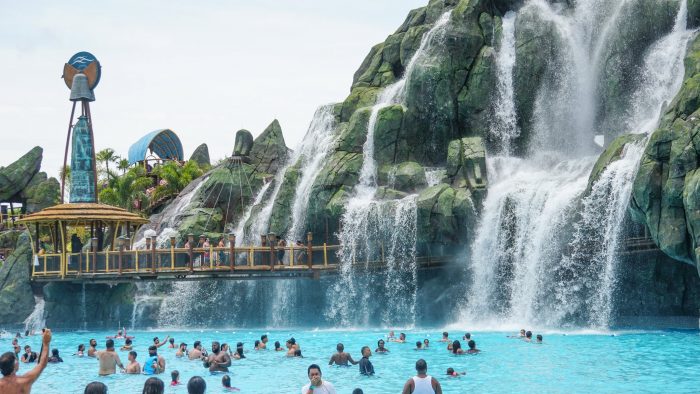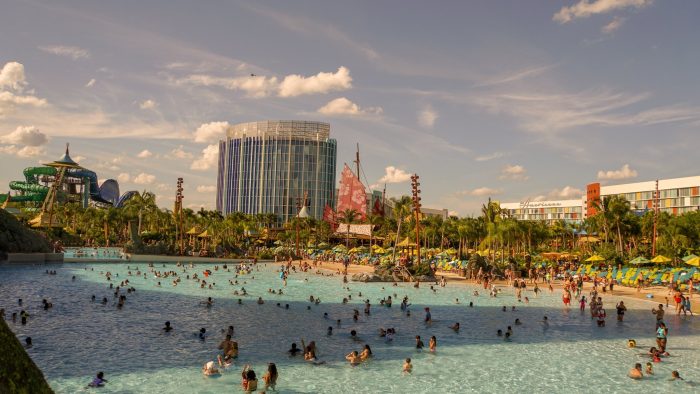 Going inside the volcano is a lot of fun too. Not only is it a quick way to traverse the park, but there are many interactive features located inside as well as the opportunity to take some pretty unique views.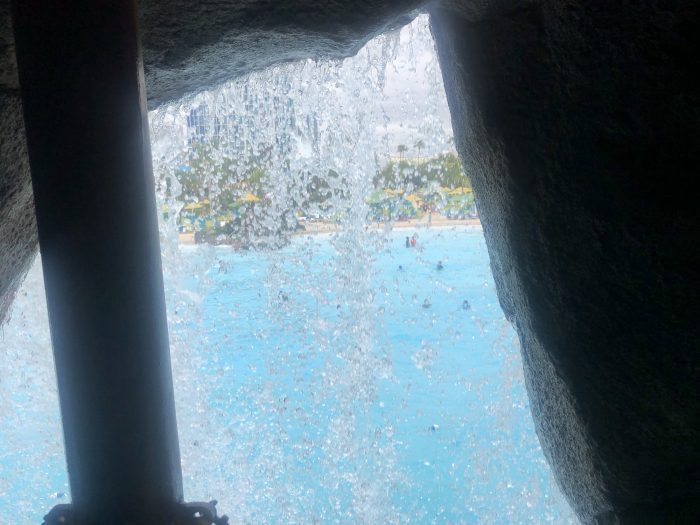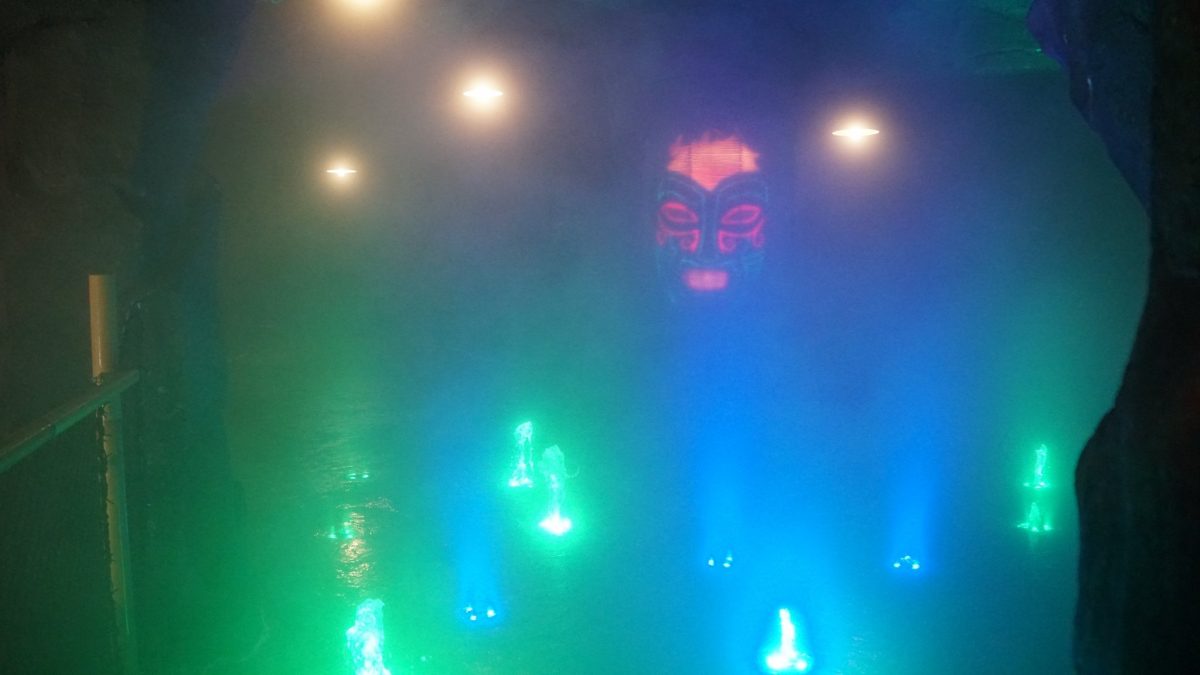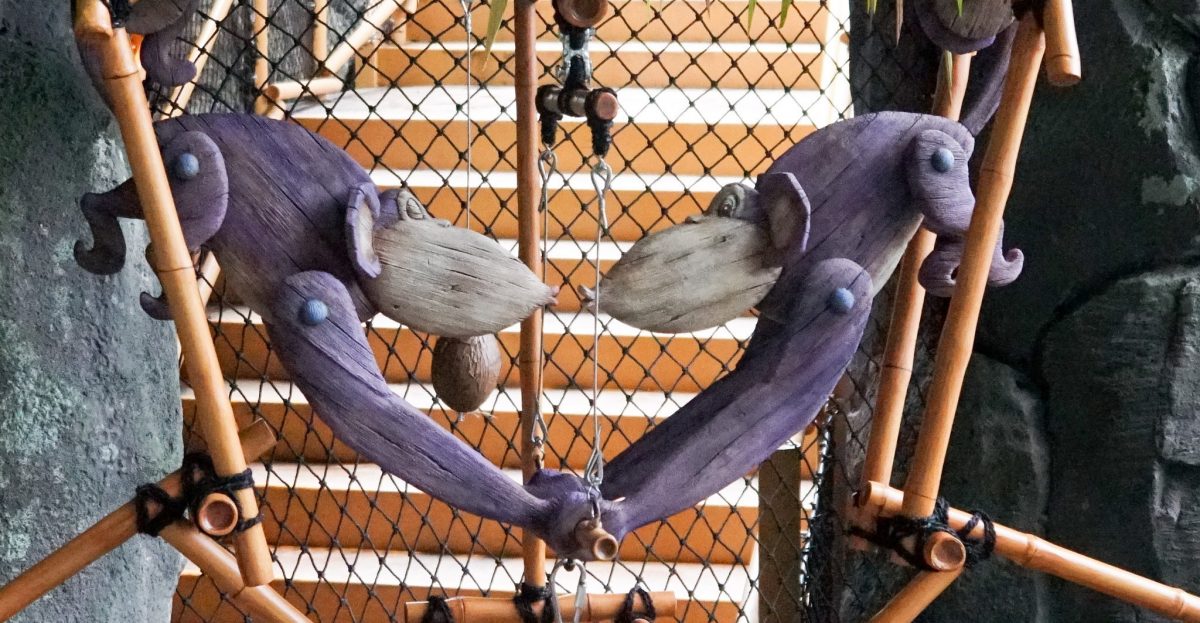 # 1 – Volcano Bay is "Indescribably Beautiful"
In an Instagram World, Volcano Bay is what we can call "picture perfect." Each time of the day presents different opportunities for some great photos, with many involving the park's iconic volcano, Krakatau. Whether it is early in the  morning, afternoon, sunset or especially if you can get the rare opportunity to be in the park after dark, there are some breathtaking views. Like the Universal parks, Volcano Bay is basically surrounded by The Real World, but once you are inside it is easy to escape that reality and just be immersed by the tropical theming.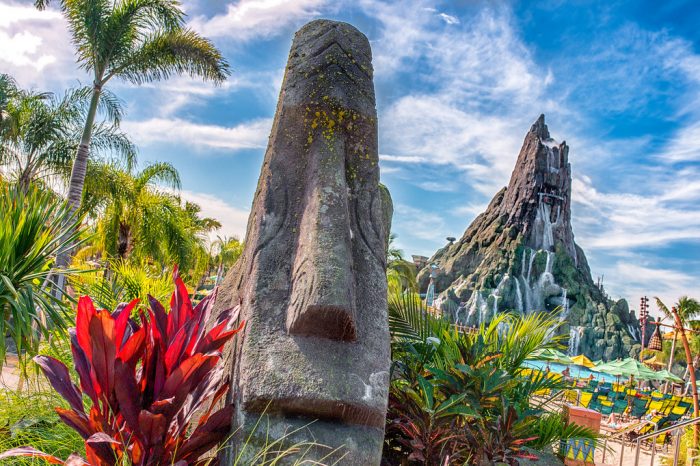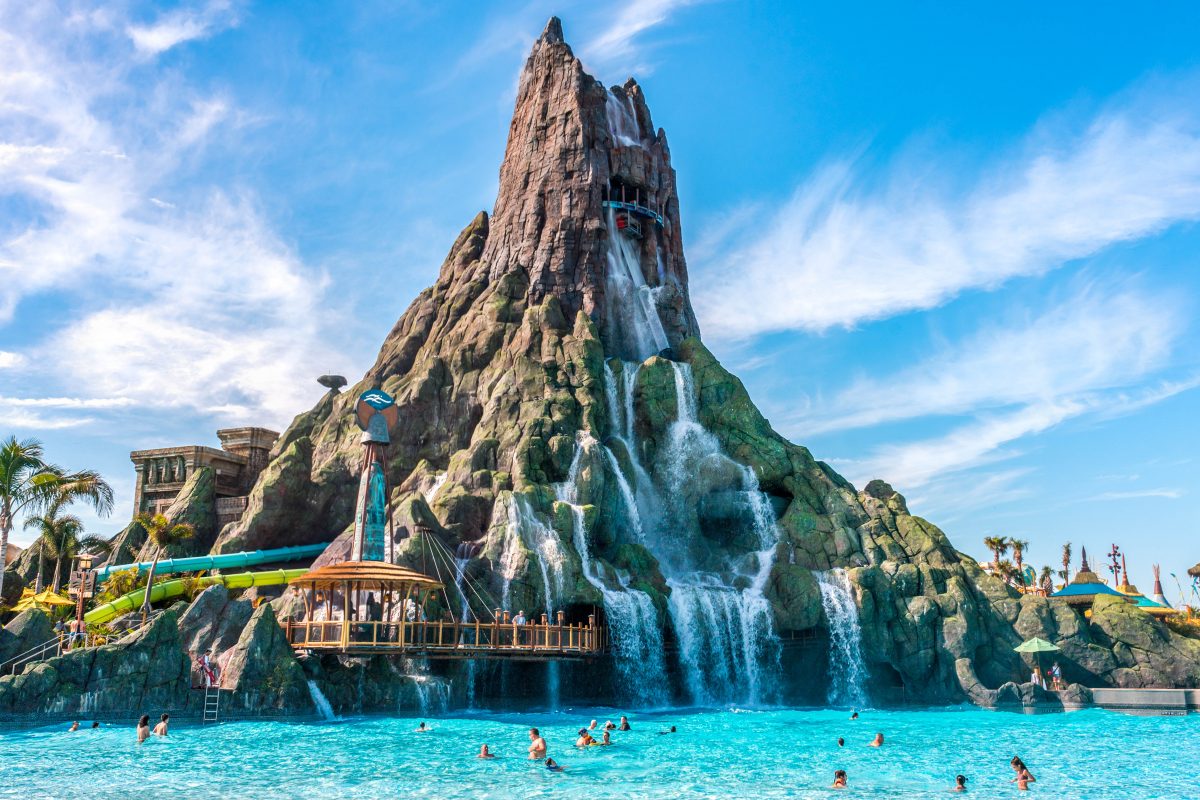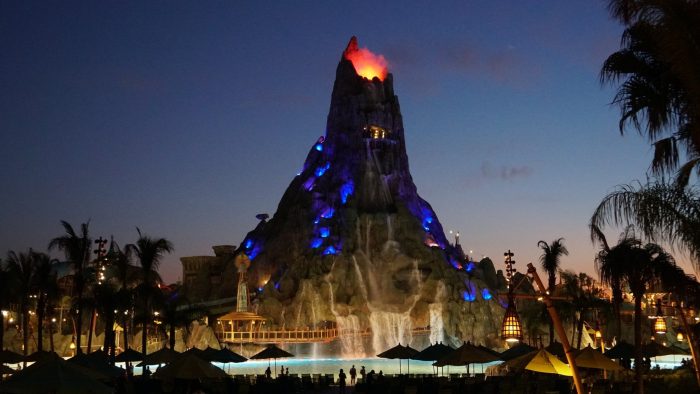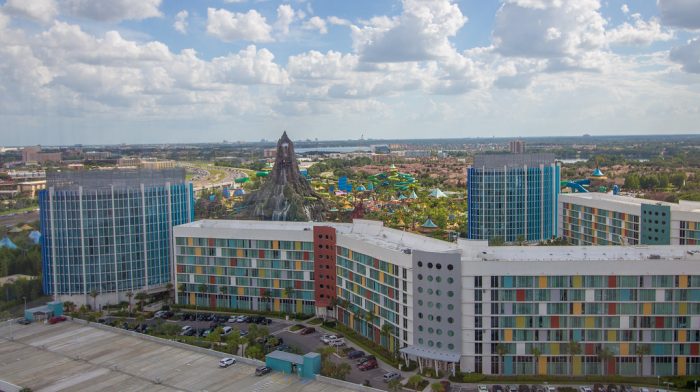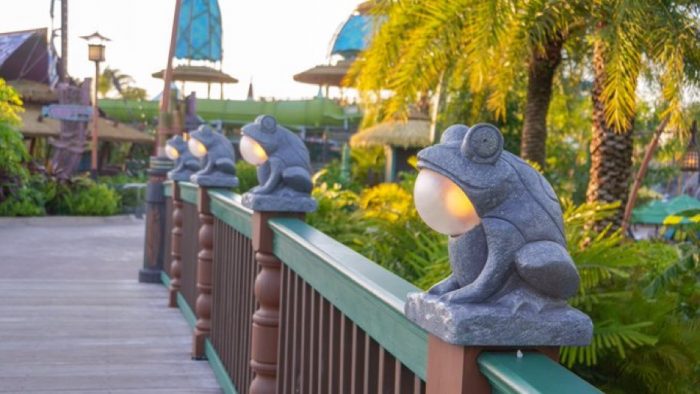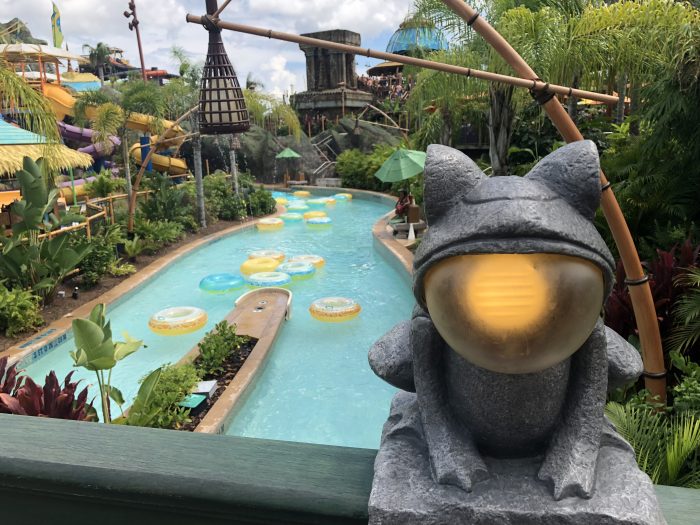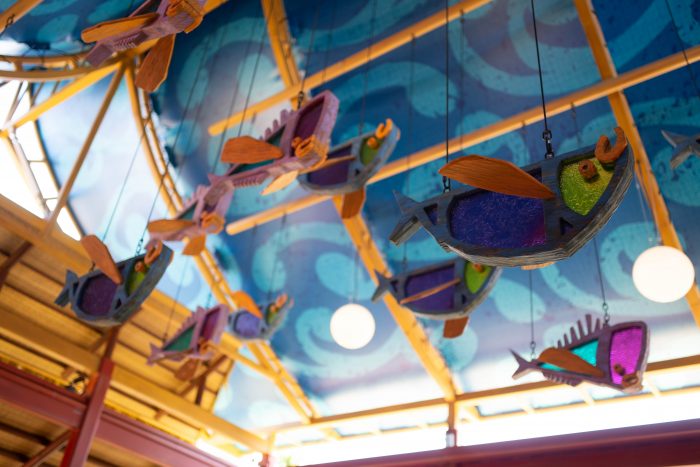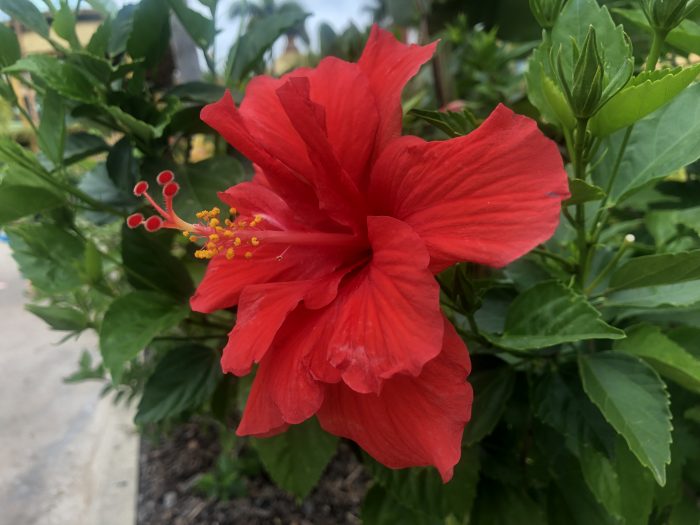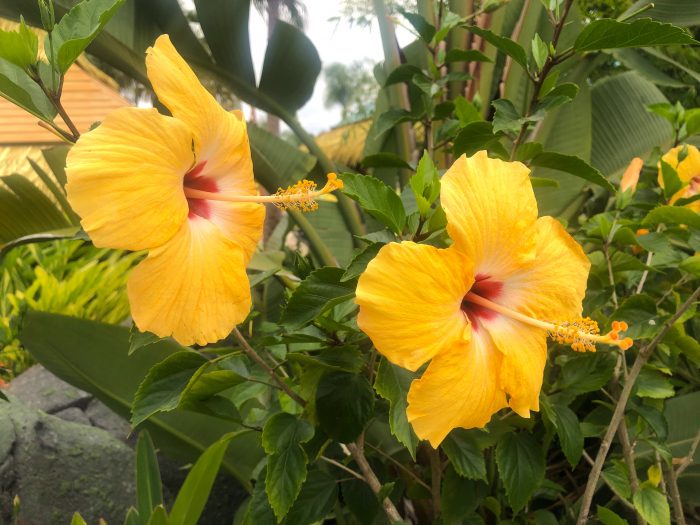 Honorable Mention – Location! Location! Location!
In my mind, there is nothing better than being able to walk to a park. I love how close The Contemporary is to Disney's Magic Kingdom. When we stayed at the Boardwalk, the walk to our room from the lobby was probably farther than the walk to EPCOT. It's just so refreshing to not have to drive, bus, or even monorail to a park (how about that for the ultimate first world problem?). Volcano Bay is literally right next to Universal's Cabana Bay and Aventura hotels. "Next to" doesn't even do the phrase justice, as the short walk from The Contemporary to MK seems like a half marathon compared to how close Volcano Bay is to these resorts.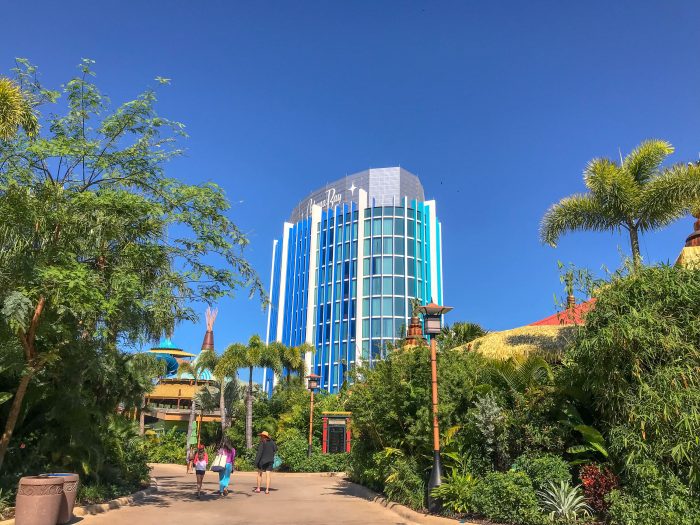 The views you can get from some rooms at Cabana Bay are among the best that any onsite resort can offer at Universal or Disney.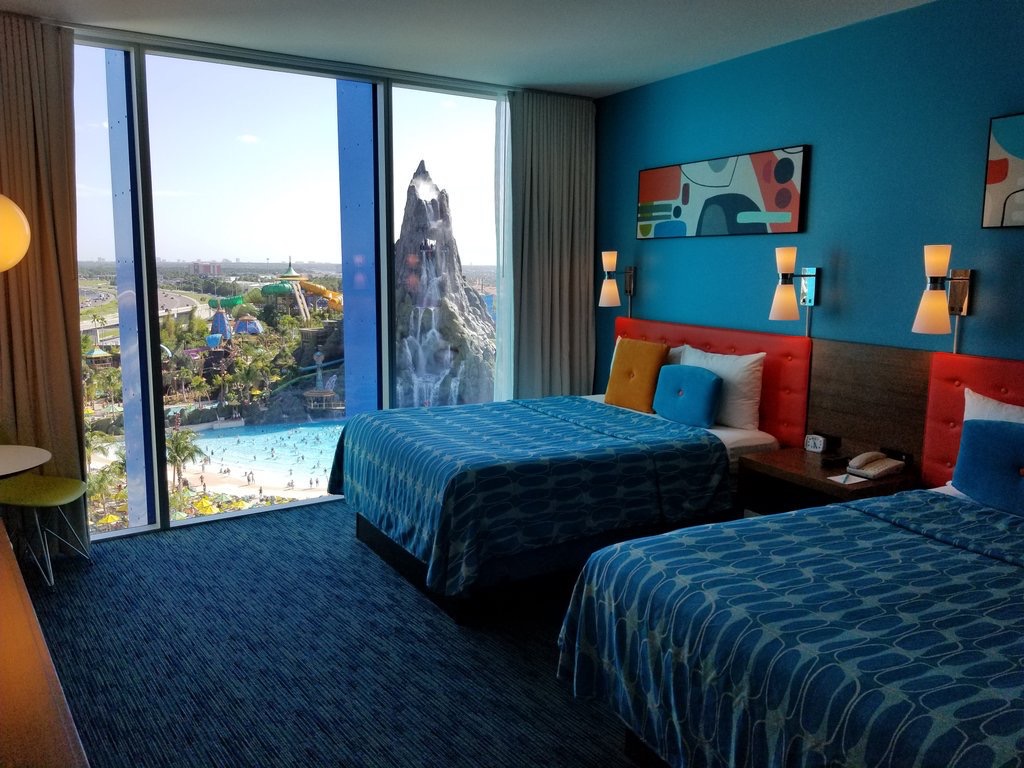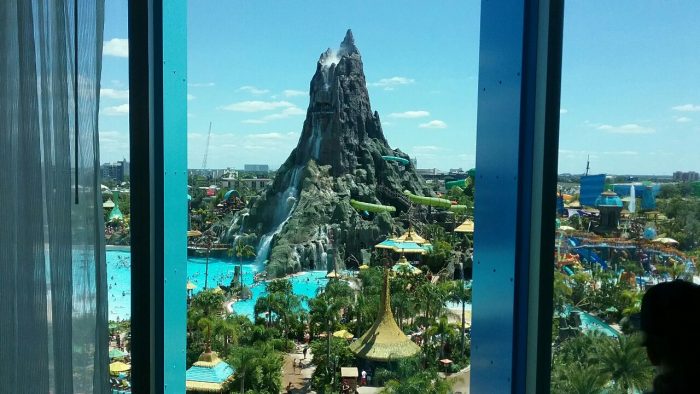 Guests at Cabana Bay have their own walkway over to Volcano Bay.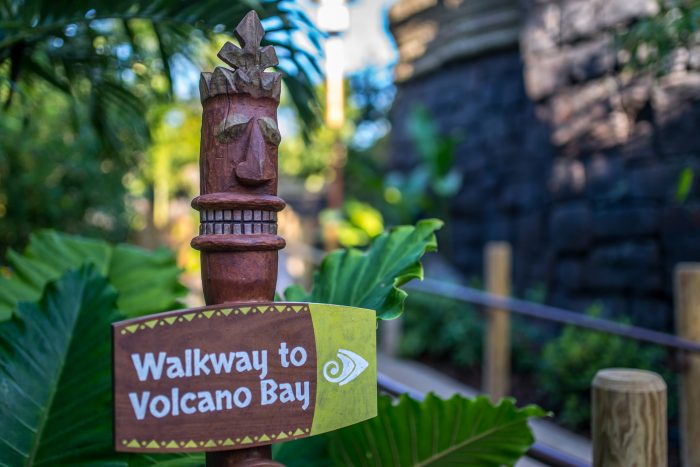 When I first stayed at Aventura, I like to always be early for things and give myself plenty of time. I gave myself 15 minutes to get from my room to the front of Volcano Bay. It took us three minutes. Keep in mind, that's going through security as well. I can not recommend it highly enough to book a stay at either of these two resorts if you want to plan the ultimate Volcano Bay trip, as it makes life so much easier. Keep in your back pocket that walking from Sapphire Falls would only be a couple minutes longer than the one from Aventura.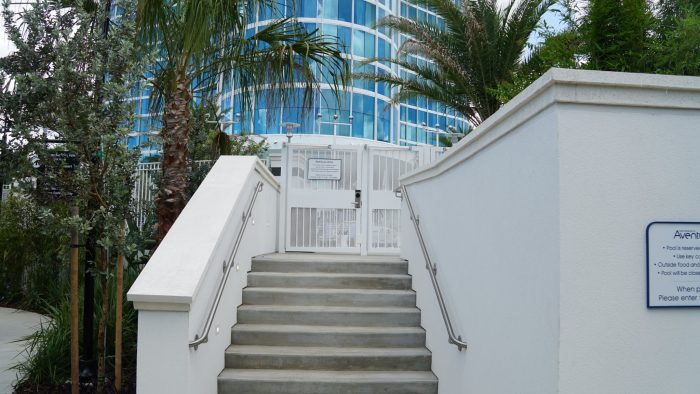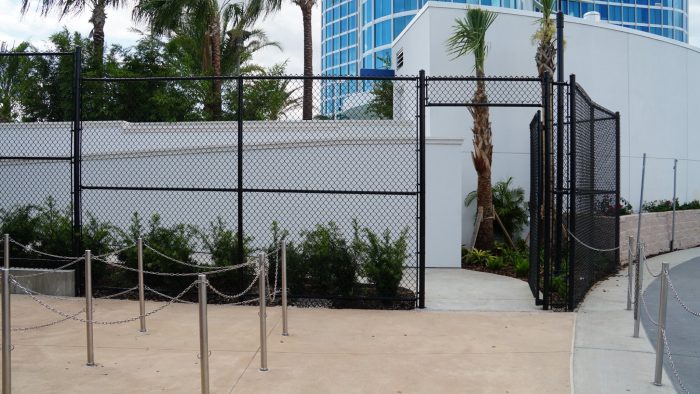 tl;dr summary.
I now consider myself a "water park guy."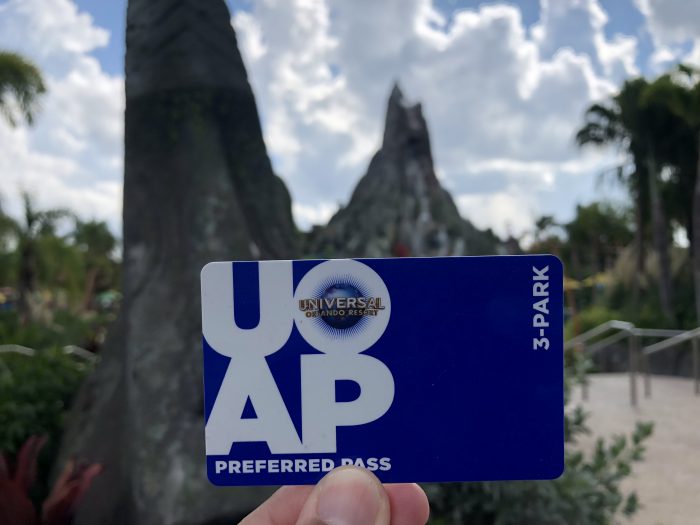 So there you have it: Six Reasons You Have to Check Out Universal's VOLCANO BAY! See you next weekend for the latest installment of the SATURDAY SIX, where we'll look at something fun from the world of Disney and Universal. If you enjoyed yourself, be sure to check out The Magic, The Memories, and Merch! articles, or, for your listening pleasure, check out the E-Ticket Report podcast. You can also follow Your Humble Author on Twitter (@derekburgan).
If you enjoyed this article, you will surely like the following: 
SATURDAY SIX SPECIAL INVESTIGATION: An in-depth look at theme park photography
6 Pieces of Disney Merchandise That Don't Exists (But Totally Should)
Are Disney's Hotels Going To The Dogs? A Review.
SATURDAY SIX Investigative Report: Disney PET PEEVES
The 5th Annual Theme Park TURKEYS of the Year
6 Reasons We'll NEVER FORGET 2018 (No Matter How Hard We Try!)
Special Thanks to The Elite Brandon "Mr MBA" Glover, Captain Cruiseline Scott Sanders of the world famous Disney Cruise Line Blog, my personal protege Hunter "Elvey" Underwood, the bio-est of all reconstructs @bioreconstruct, photo wunderkind Mike Sperduto, Mr. 'Ohana Tim Grassey, the SAT SIX Fun Squad of Parkscope Joe and Nick, hot shot Michael Carelli, putting "digital" pen to "digital" paper Juliette Elton, crazy cat lady – and our Fearless Leader – Laurel Stewart, and Hermione Granger's tutor Megan Stump for their invaluable assistance with this article. The SAT SIX is inspired each week by goofballs Aengus Mackenzie and LitemAndHyde and you Potterheads will  enjoy Meg's other blog work over at the Central Florida Slug Club.
FINAL PLUG! Did you know The 2019 Unofficial Guide to Universal Orlando has a special edition of the SATURDAY SIX in it?That's right, ANOTHER NEW ONE EXCLUSIVE TO THIS EDITION!Finally, someone came up with an actual reason to read a book. ORDER this baby now!