SATURDAY SIX: 6 Disneyland Rides BETTER Than Their Disney World Counterparts
This week's SATURDAY SIX takes a look at Six Disneyland Rides That Are BETTER Than Their Disney World Counterparts! In previous editions of the SATURDAY SIX we have reached out to our all-star blue ribbon panel made up of theme park experts to vote on their favorite attractions at Walt Disney World and the Universal Orlando Resort. This week we reached out again – while also including the unwashed masses of DisTwitter – to give their thoughts on which rides at Disneyland are better than their Disney World counterparts. 
One interesting thing about the voting process is that there was a clear favorite after the first day of voting, but spots two through six were close enough that they were all up for grabs. However, when all the votes were counted, the rides ranked 1-6 after the first day each held their position, so it seems clear there is a pretty strong consensus among people who have been to both Orlando and Anaheim. Today we're going to take a look at six rides which were voted as being BETTER than their Disney World counterparts, and let's kickoff the countdown with…
# 6 – Big Thunder Mountain Railroad
Big Thunder makes the list in part because of a fantastic refurb the ride went through a couple years ago which added a thrilling finale sequence as well as recontructing the ramshackle Rainbow Ridge mining town. Rainbow Ridge doesn't exist in Walt Disney World, but has been in Disneyland since 1956 as part of the Rainbow Caverns Mine Train attraction. The finale now includes an amazing lift hill experience where guests are surrounded by projection map technology and real props to give the sensation of the mine about to explode (with a blast of smoke amping up the sensory level.)
# 5 – its a small world
The first thing guests will notice about it's a small world in Disneyland compared to the Orlando version is the unbelievable facade designed by imaginer Rolly Crump that completely stays true to the Mary Blair style found inside the attraction. With whimsical nods to the Eiffel Tower, the Taj Mahal and the Leaning Tower of Pisa, the design gets more impressive the more you look at it. Guests queue outdoors for Disneyland's iasw, and pass by fun topiaries before being loaded into the ride's boats. Being able to enjoy part of the iasw journey outside adds a completely different element that does not exist at Disney World.
A controversial element was added to Disneyland's iasw in 2008 when almost 30 Disney character dolls were added to the attraction. While Disney World still has the original non-specific dolls representing various countries around the world, Disneyland has beloved characters from Alice in Wonderland, the Lion King, and Toy Story. If those differences weren't enough, iasw completely transforms during the Christmas season with a jaw-dropping overlay that needs to be seen to be believed.
–
# 4 – Disneyland Railroad
Any Disney fan worth their salt knows that Walt Disney the man loved trains. One major difference between the Disney World Railroad and Disneyland's Railroad is that the latter has Walt's trains. Disneyland also features the elaborately decorated Lilly Belle Presidential Train Car, along with passing through two giant dioramas that let guests look out onto the Grand Canyon and peek back in time to the age of dinosaurs.
–
# 3 – Enchanted Tiki Room
Disneyland's Enchanted Tiki Room has been a beloved attraction for many years, and thankfully didn't have to suffer through the "Under New Management" version that its Orlando counterpart did. While the differences between the two attractions are relatively minor compared to the rides already listed, voters were extremely passionate behind this version of the Tiki Room. One thing is for certain, guests don't mind the more blatant synergy between the attraction and its sponsor Dole. No doubt, it's helped by the fact that for years Disneyland guests have been getting their beloved Dole Whips nearby and bringing them into the air conditioned building to enjoy, while only recently has that been practical for those of us in Florida (when Aloha Isle moved across Adventureland.)
–
# 2 – Space Mountain
Space Mountain is a pretty cool ride in Florida, but it is a GREAT ride in Anaheim. Every complaint you could have with the Disney World version has been fixed and improved upon out in Disneyland. Instead of the awkward single file seating like WDW, Disneyland has guests sitting comfortably two-by-two, like they would on Rock 'n' Roller Coaster or Expedition Everest. There is on-board audio, which makes any coaster better. The track is smoother. However, the one thing that guests really enjoy are the various overlays the attraction gets including Hyperspace Mountain and Ghost Galaxy. Hyperspace Mountain will have you listening to classic Star Wars music while seeing Tie Fighters and X-Wings battle it out, while Ghost Galaxy is a Halloween overlay that delivers an actual creepy version of the normal Space Mountain.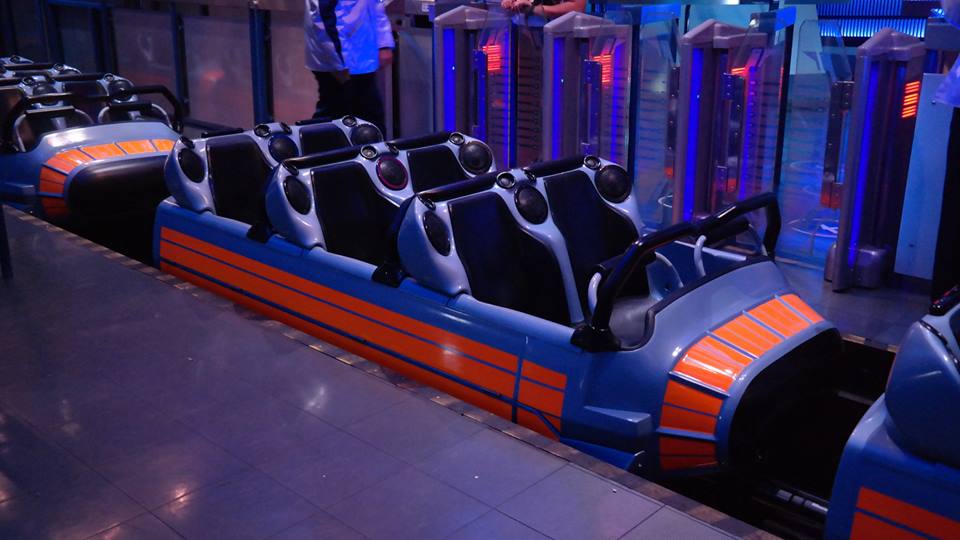 –
# 1 – Pirates of the Caribbean
Pirates of the Caribbean was a CLEAR #1 in the voting with only about 10 voters not having as their #1 choice (the 2 or 3 voters who did not have Pirates on their ballot at all are being tested for illegal substance abuse.) The facade of Disneyland's Pirates fits wonderfully in the New Orleans Square area of the park, and the actual attraction has some major scenes that the Orlando version does not. In Disneyland, Pirates starts off with guests floating in the Louisiana bayou, passing by a tranquil setting before going down two waterfalls. In total, the ride is seven minutes longer than its Florida counterpart with a longer town scene and an extended ending which has guests traveling back up a waterfall. Diners in the Blue Bayou Restaurant get to see guests in Pirates pass by them while dining, providing a very unique dining experience.
–
HONORABLE MENTION – Autopia
While Orlando's Tomorrowland Speedway received plenty of votes in the Worst Attraction at Walt Disney World poll, Disneyland's version of the ride is a clear audience favorite. It has the same slow moving cars and a track which doesn't allow the driver much to do, but at least Disneyland has a unique visual element throughout that is completely missing in the barren WDW ride.
Runners up (in order of most votes received to least): Peter Pan, Buzz Lightyear Astro Blasters, Haunted Mansion, Winnie the Pooh, the Jungle Cruise, Fantasmic!*, Soarin' Around the World, and Toy Story Midway Mania.
*While not a ride, I should have included Fantasmic! in the original list of attractions to choose from. People who voted on Day One did not have Fantasmic! listed among the choices to think about, while voters in following days did see it to consider. While I don't think it would have cracked the top six even if put in originally, I would have liked to see the results if it had been because it certainly is a much different experience than the one in DHS.
So there you have it: Six Attractions at Disneyland That Are BETTER Than Their Disney World Counterpart! See you next weekend for the latest installment of the SATURDAY SIX, where we'll look at something fun from the world of Disney and Universal. If you enjoyed yourself, be sure to check out The Magic, The Memories, and Merch! articles, or, for your listening pleasure, check out the E-Ticket Report podcast. You can also follow Your Humble Author on Twitter (@derekburgan).
If you enjoyed this article, you will surely like the following:
Six Reasons This WDW Annual Passholder Can't Wait To Go Back To Disneyland
The Six Best Theme Park Related Comic Books (including Walt Disney's Vacation in Disneyland)
Six Reasons We Love Main Street Electrical Parade's Return to Disneyland
Six Disneyland Snacks You Gotta Try!
Six Most Unique Dining Experiences at Walt Disney World
Special Thanks to crack staff photographer Brandon Glover, the "Brandon Glover of Disneyland" Brian Pinsky, the admiral of arts & culture Seth Kubersky, and blogger to the stars Megan Stump for their invaluable assistance with this article. Be sure to also check out Brandon on The Park Blogger podcast with goofballs co-hosts Aengus Mackenzie and LitemAndHyde , while fellow Potterheads may enjoy Meg's work on the Central Florida Slug Club.
FINAL PLUG! Did you know The 2017 Unofficial Guide to Universal Orlando has a special edition of the SATURDAY SIX in it? Finally, someone came up with an actual reason to read a book. ORDER this baby now!