The SATURDAY SIX Looks at the NBA Bubble at Walt Disney World
This week's SATURDAY SIX takes a look at the NBA Bubble at WDW! When future generations look back at 2020 there will be a lot of things that will make them shake their head in disbelief. With most movie theaters shut down for the majority of the year, Sonic the Hedgehog will end up being the third highest grossing film in America, a fact which would definitely earn a "whaaaaaaaaat?!" from resident movie critic Aunt Linda. Anyone reading this knows that all of our favorite theme parks shut down, with some yet to re-open (we're looking in your direction Disneyland…) and sports fans saw the NBA, MLB, and NHL suspend their seasons in March.
During the summer, something truly remarkable happened. The NBA announced they would resume their season inside a "bubble" at Walt Disney World. Twenty-two NBA teams came to Florida. The teams would be placed in various Disney resorts across WDW and kept completely isolated from the outside world. Many doubted this ambitious plan could work, with expectations that the season would once again have to be scrapped shortly after it began.
NAY NAY.
To date not a single player inside the NBA Bubble has tested positive for the coronavirus, a remarkable feat considering the logistics of everything involved. With the NBA Finals about to begin this week – and thus, the end of this incredible experiment – we thought it was time to spend a little time looking at the Bubble and some of its unique offerings, starting with…
# 6 – The Grand Floridian Barbershop
Disney's Grand Floridian Resort was host to the hometown Orlando Magic, as well as the Brooklyn Nets, Dallas Mavericks, Houston Rockets, Indiana Pacers, Memphis Grizzlies, Oklahoma City Thunder, and the Philadelphia 76ers. The Grand Flo was the only resort players stayed at which would also be used by DVC members and, eventually, regular WDW guests. Because of this, large walls were constructed at the Grand Flo separating the NBA area from the rest of the resort.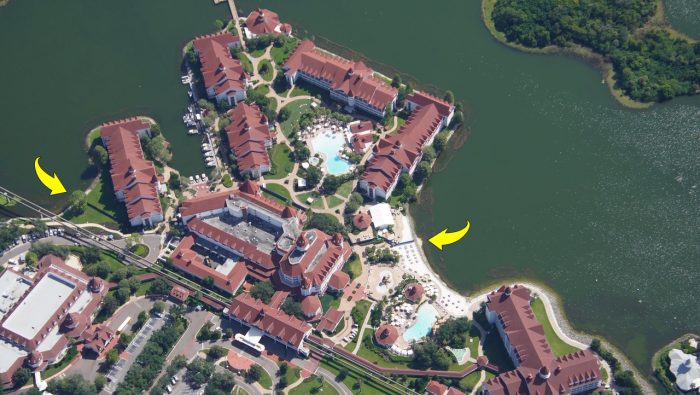 Just as theme park fans love to see things rising above construction walls as our favorite attractions are built, NBA Bubble fans got to see an on-site barbershop be built at the Grand Flo.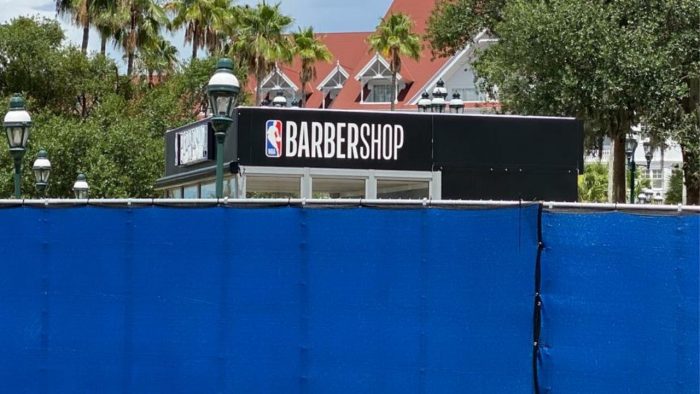 Professional grooming can be considered an essential business when it comes to the NBA, and there have been several barbershops opened up within the bubble for players to use. At its peak, the bubble employed 7 full-time barbers, 3 hair braiders, and 3 manicurists on-site.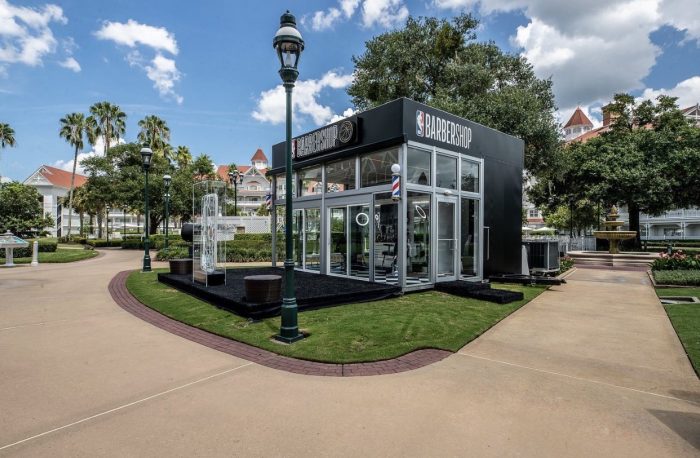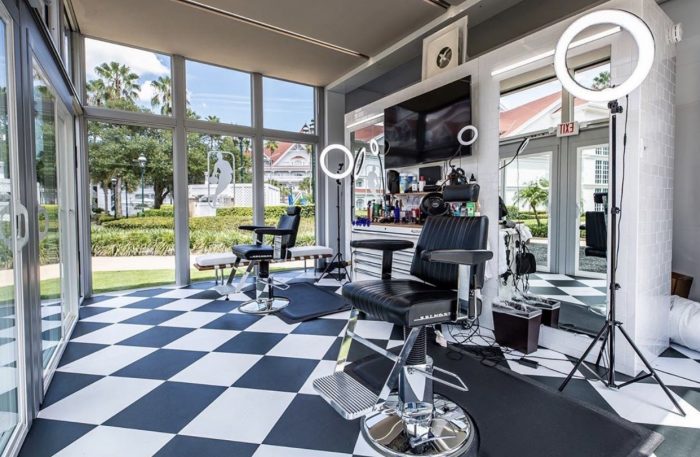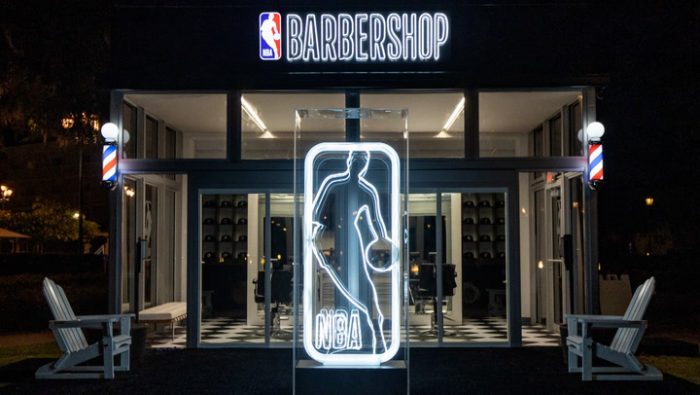 # 5 – Yacht Club's Basketball Globe
Disney's Yacht Club was host to the New Orleans Pelicans, Phoenix Suns,  Portland Trail Blazers,  Sacramento Kings, San Antonio Spurs, and Washington Wizards. One of my personal favorite images of the entire Bubble season was seeing the iconic globe from the Yacht Club's Lobby transformed into a giant basketball.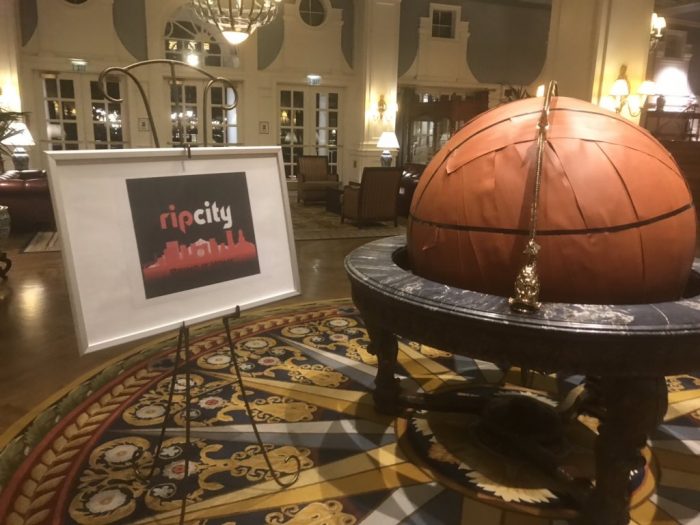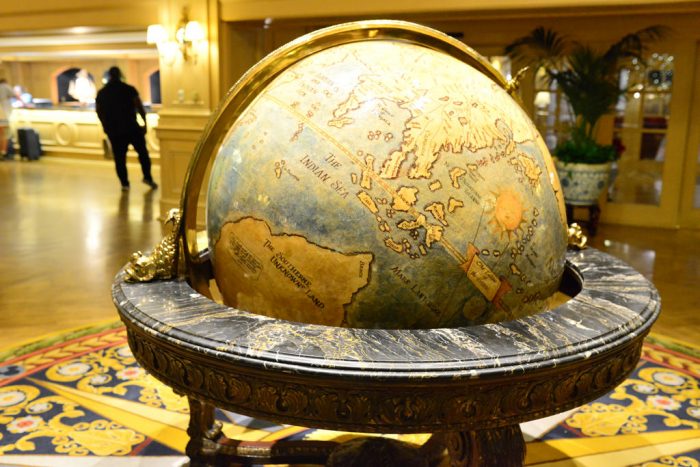 After the season is over, some NBA players may make a side hustle out of WDW dining reviews. One of the true "best kept secrets" at Disney World is the breakfast offering at Yacht Club's Ale & Compass. The pancake stack is ::chef's kiss::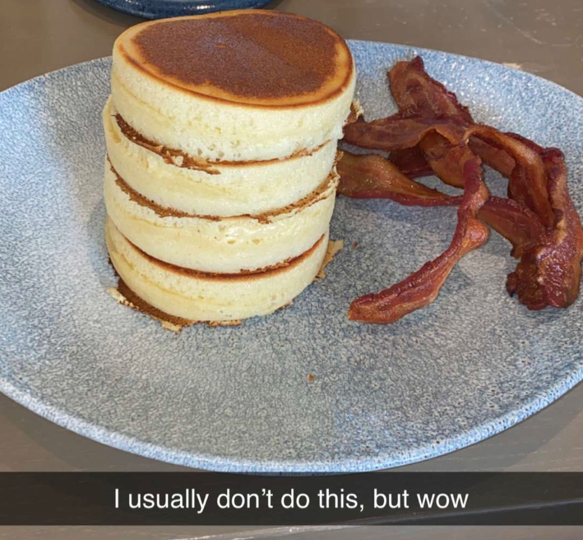 # 4 – Coronado Springs
Coronado Springs hosted the Boston Celtics, Denver Nuggets, Los Angeles Clippers, Los Angeles Lakers, Miami Heat, Milwaukee Bucks, Toronto Raptors, and the Utah Jazz. The players stayed at Gran Destino Tower. Every teams' practice courts were located inside Coronado's convention center.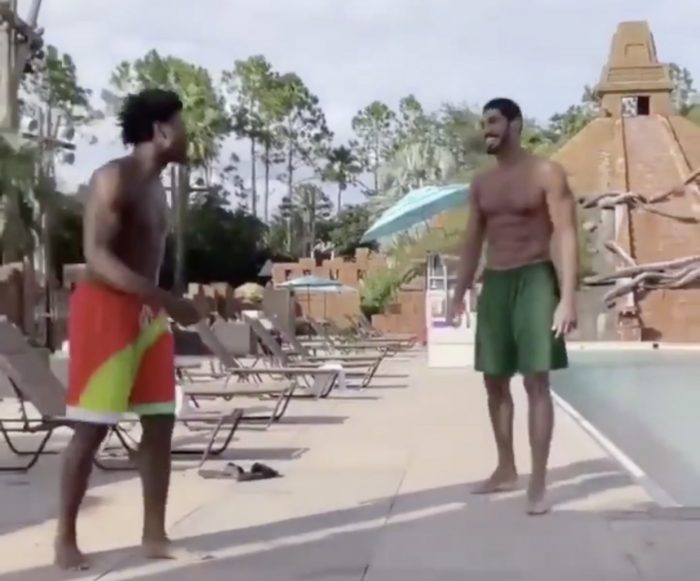 The top floor of Gran Destino Tower was converted over to a giant lounge for NBA Players.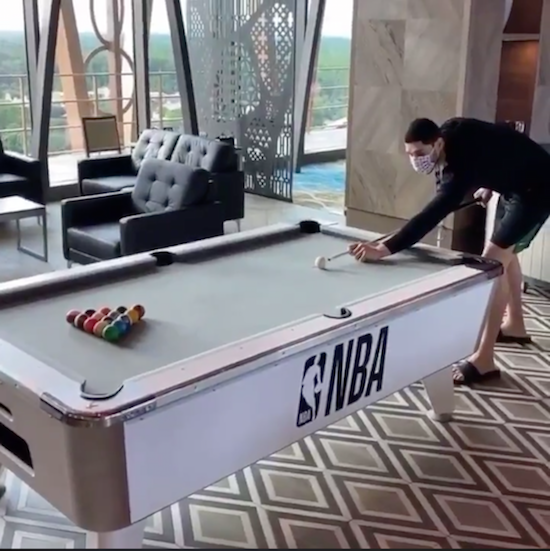 TouringPlans' own basketball guru Brian McNichols had a hard time wrapping his head around seeing all the teams practicing at Coronado.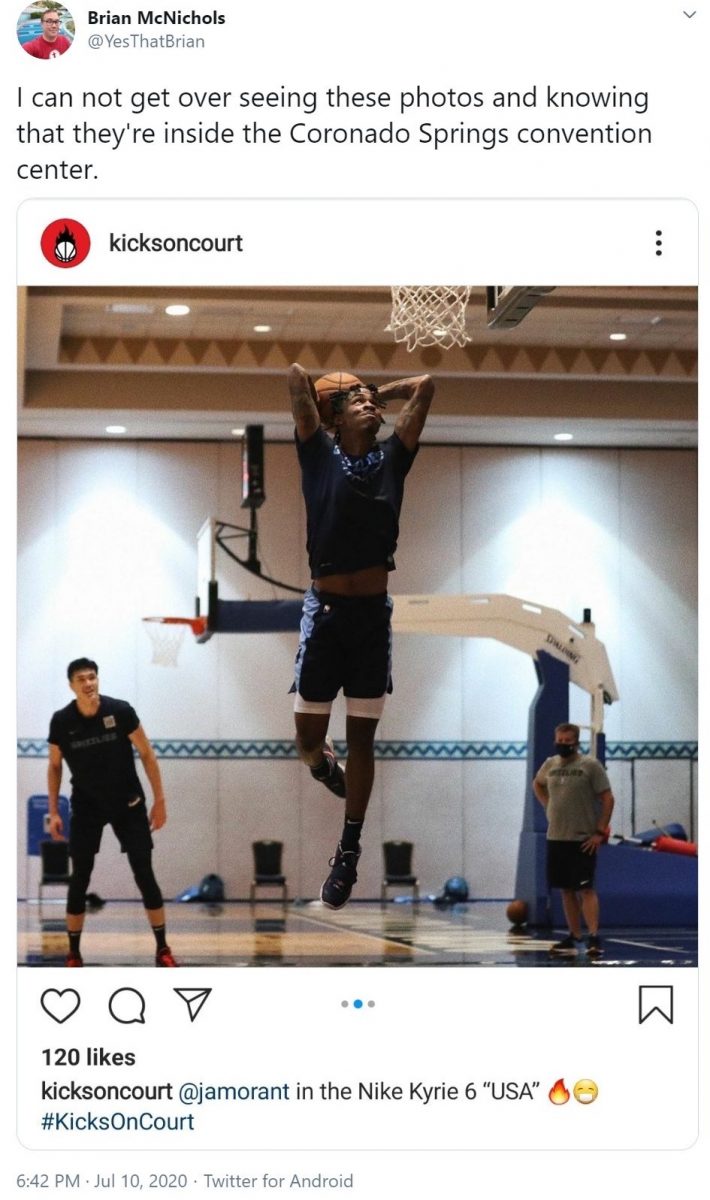 While the players were at Gran Destino Tower, other areas of Coronado Springs were used for other purposes, including a classroom for visiting children.
Before the bubble, a question was posed: when players' kids start visiting, what about school? Thus, the NBPA's "Bubble School," which opened Monday, was born. One NBPA official calls it "probably the safest classroom in the country right now."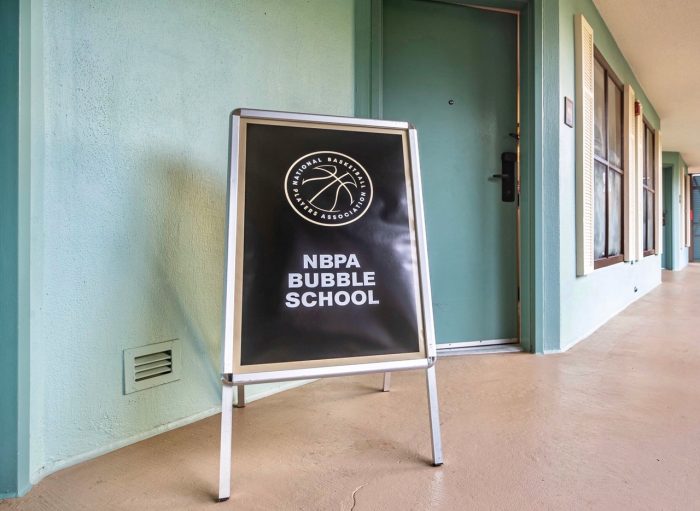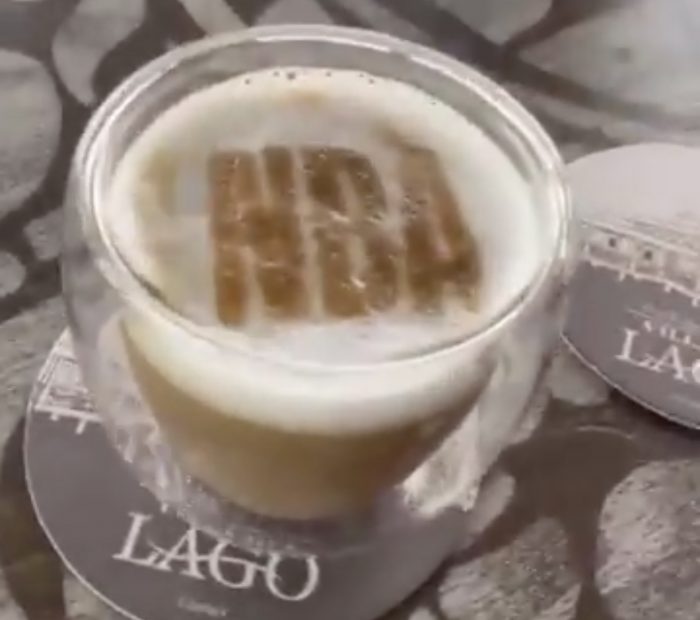 While every team practiced at Coronado Springs, all the actual games were held at the ESPN Wide World of Sports complex at WDW.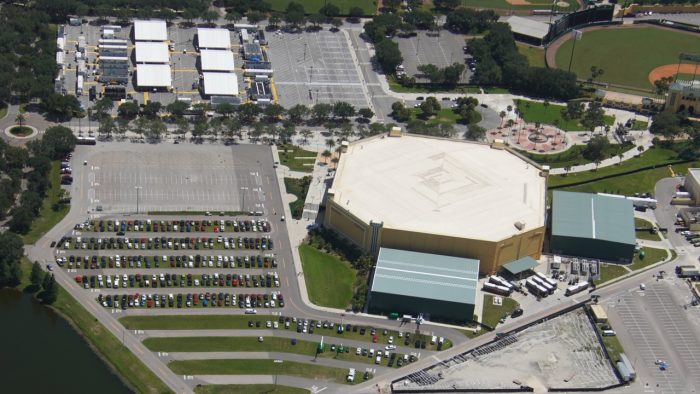 # 3 – So much room for activities!
NBA players had a lot of time on their hands over the summer as they quarantined inside the Bubble. However that allowed them to enjoy all the WDW amenities we all enjoy on vacation! Players enjoyed access to a 24-hour concierge, movie screenings, golf courses, video game arcades, fishing excursions, bowling, and more.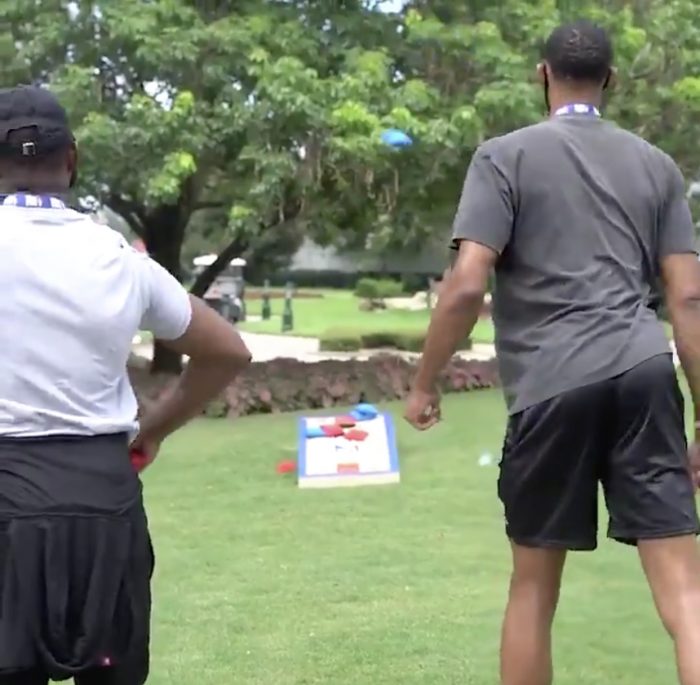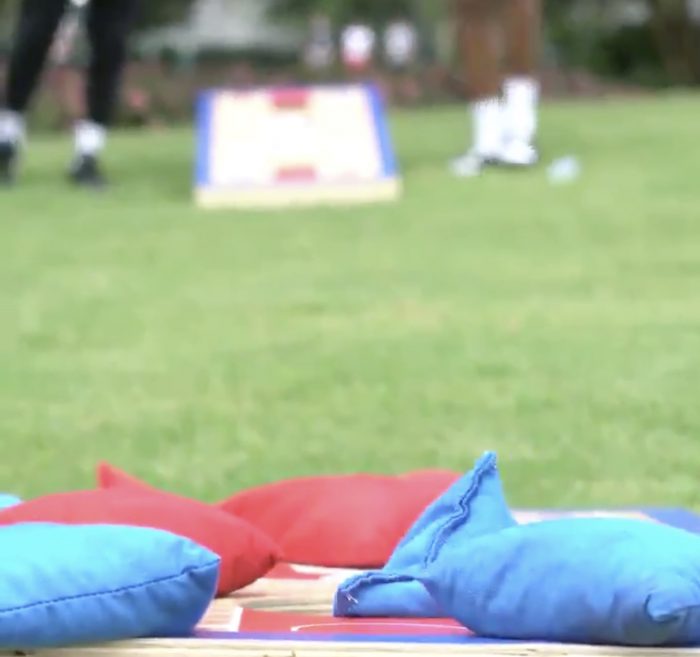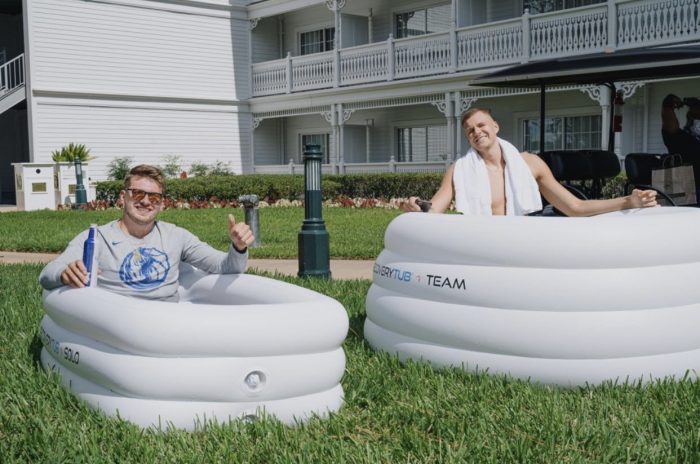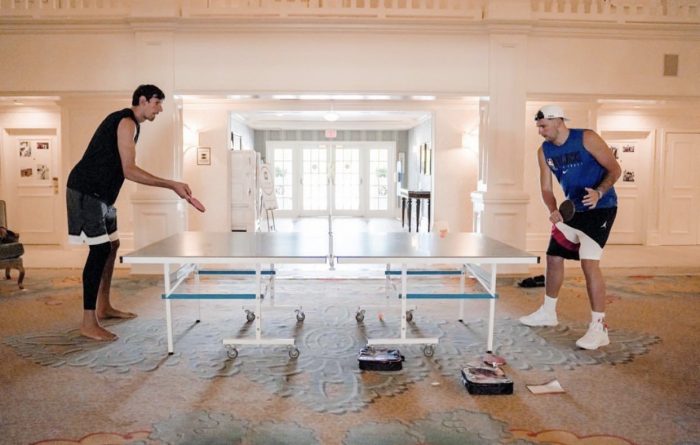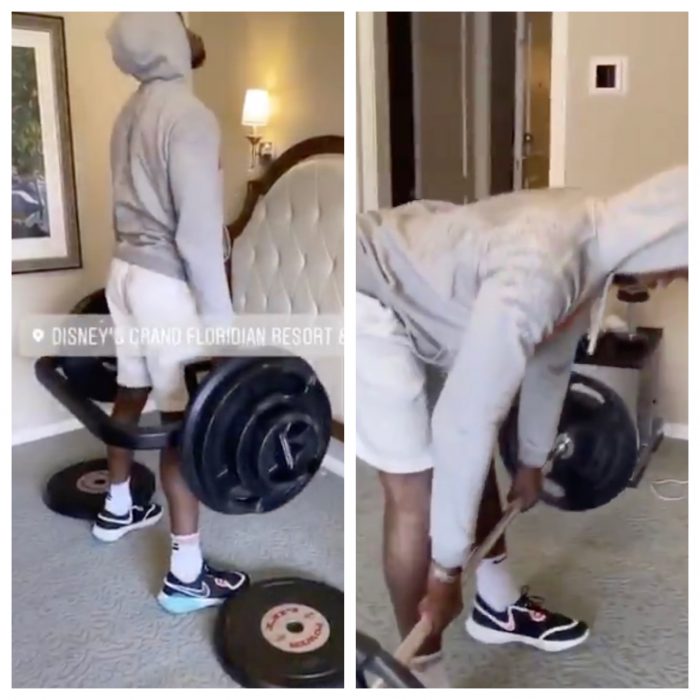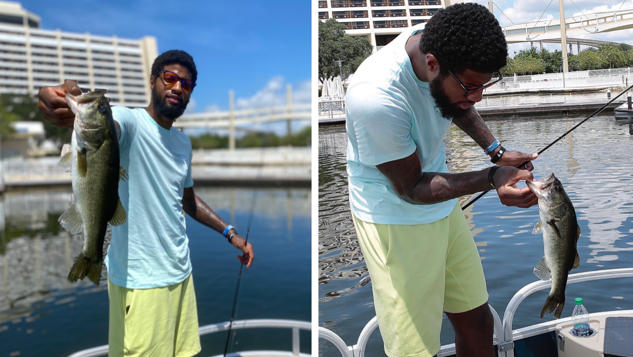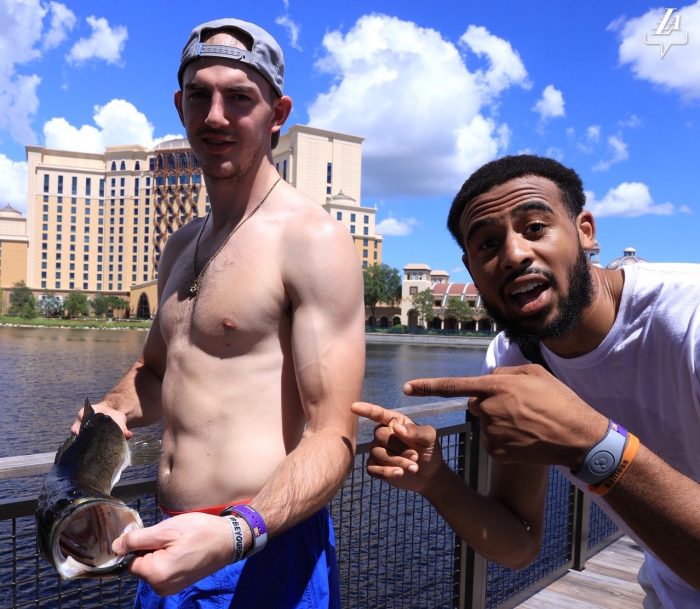 Half of the NBA seemed to be playing golf every day at Disney. Check out the Twitter feed of @NBABubbleLife to see a lot of video of players enjoying the links.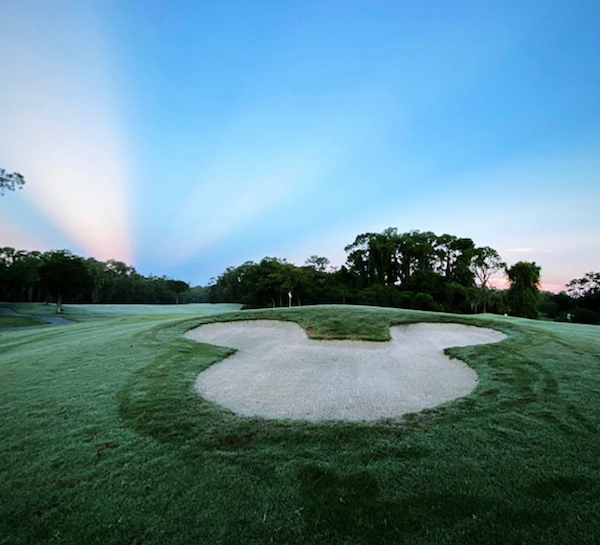 # 2 – MagicBands and Mascots
"It's made of plastic, or maybe rubber, and is embossed with the silhouette of Mickey Mouse's face like everything else around here. It's a wristband because it looks like one. Or a handcuff because you figuratively cannot take it off. Let's call it a wristcuff." – Shaun Powell, NBA.com
Before the season started, we knew that players would be required to wear a Disney MagicBand to enter hotel rooms, at security checkpoints, and to check in to coronavirus testing and medical screenings. What we didn't know is that Disney would have specific MagicBands not just for each individual team, but also a general NBA MagicBand for media and other support personnel.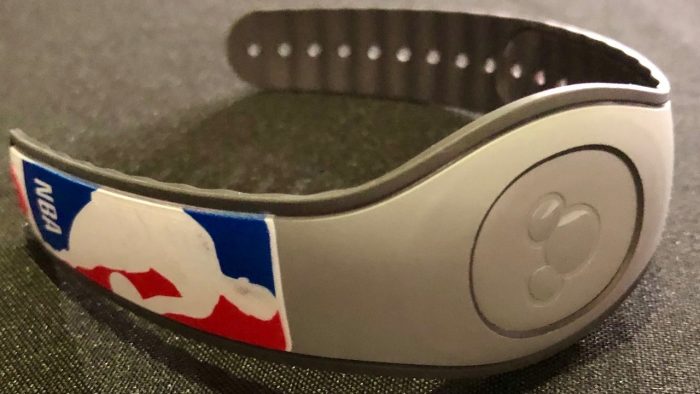 Not to be outdone, over at ShopDisney you can currently pre-order an entire collection of NBA MagicBands for the low price of just $595 (or you can just wait for them to show up at the recently reopened Disney Outlet Stores).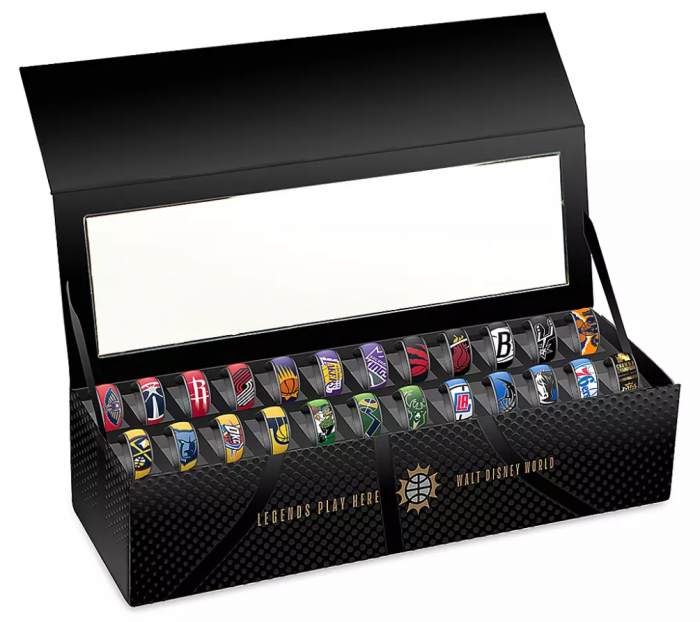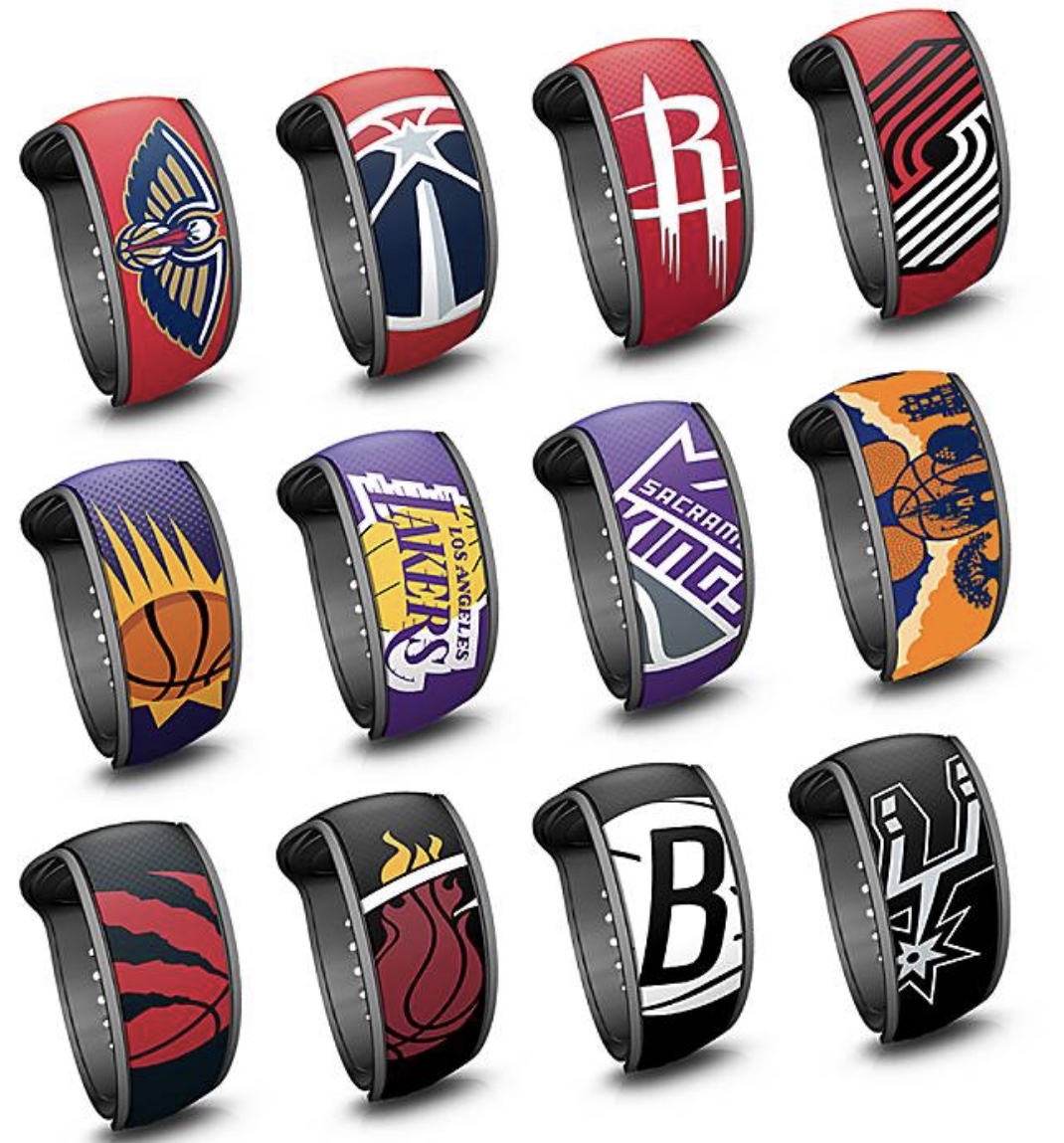 While the NBA playoffs have been extraordinary so far with some fantastic games, my absolute favorite thing to come out of the entire Bubble experience are these awesome NBA/Dinsey mash-up mascots drawn by artist Ava Buric.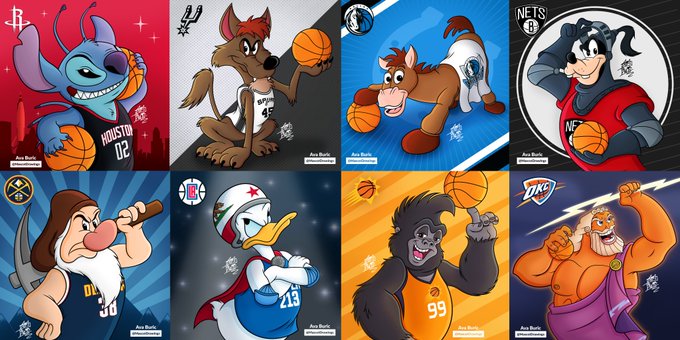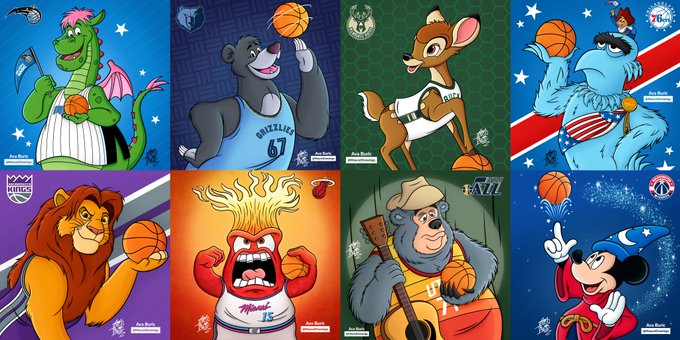 Be sure to check Ava's work on on Instagram @MascotDrawings to see some more incredible work featuring mascots from a wide variety of sports; including the Phillie Phanatic, the UCF Knight, and…Guy Fieri?
# 1 – NBA Player Robin Lopez is one of us!
2020 marks the second year in a row that NBA player Robin Lopez has prominently appeared the Universe of Disney fandom. You may remember last year when Lopez unwittingly purchased items from Patrick Spikes that were stolen from Walt Disney World. A longtime Disney fan, Lopez has also been seen at events such as Disneyland's 65th anniversary and the last day of operation for Ellen's Energy Adventure at EPCOT. Lopez was at these events not as a VIP with a plaid tour guide taking him around the park, but as a regular fan like you and me. Lopez "gets it," and if there were any doubt, just check out his Twitter feed since entering the NBA Bubble at WDW…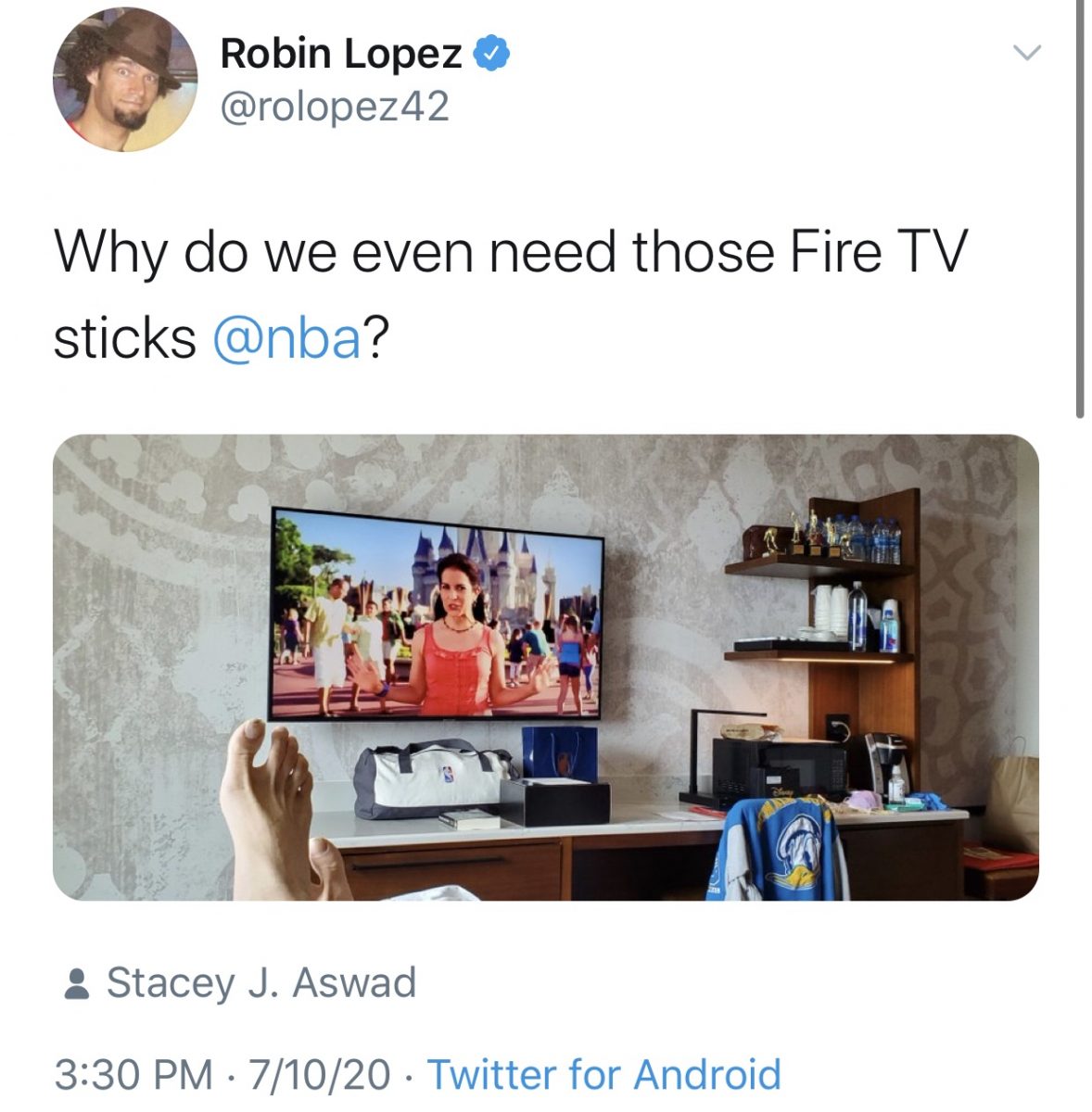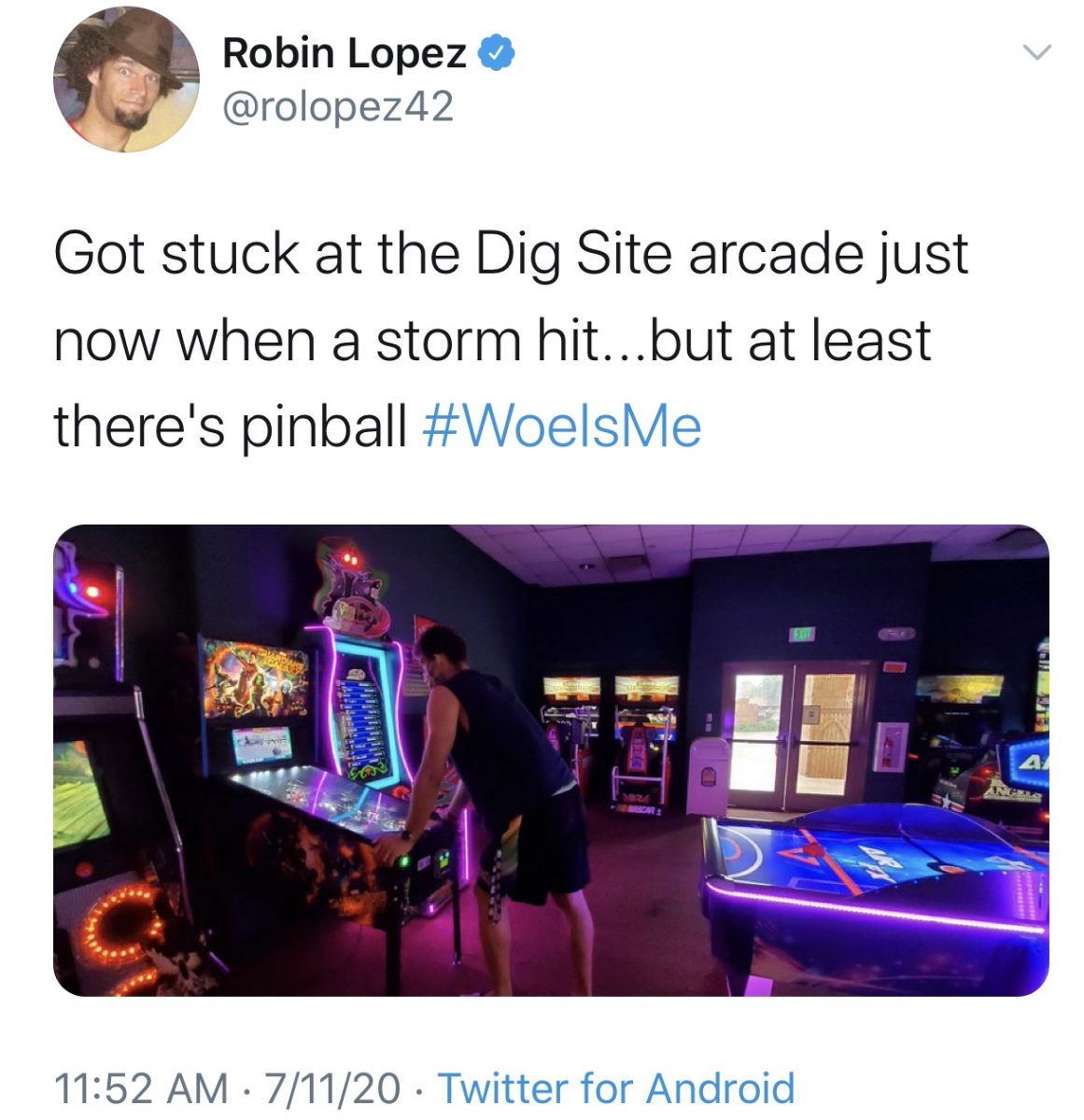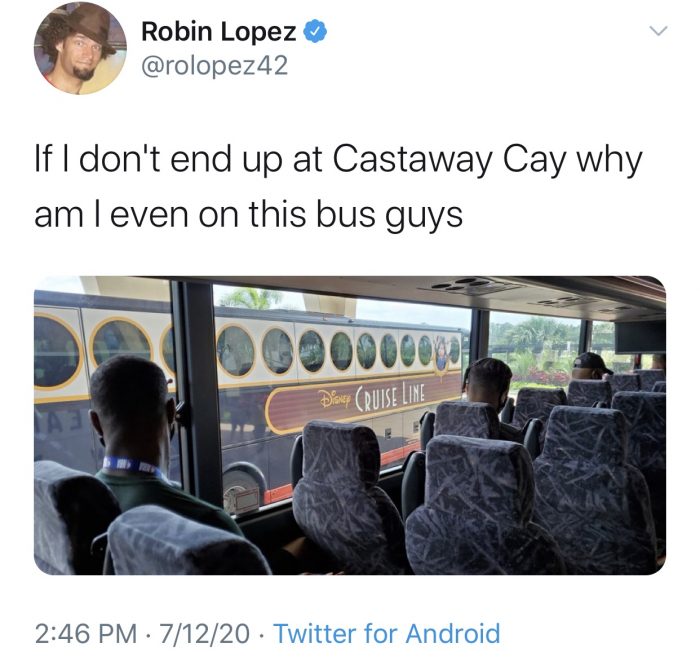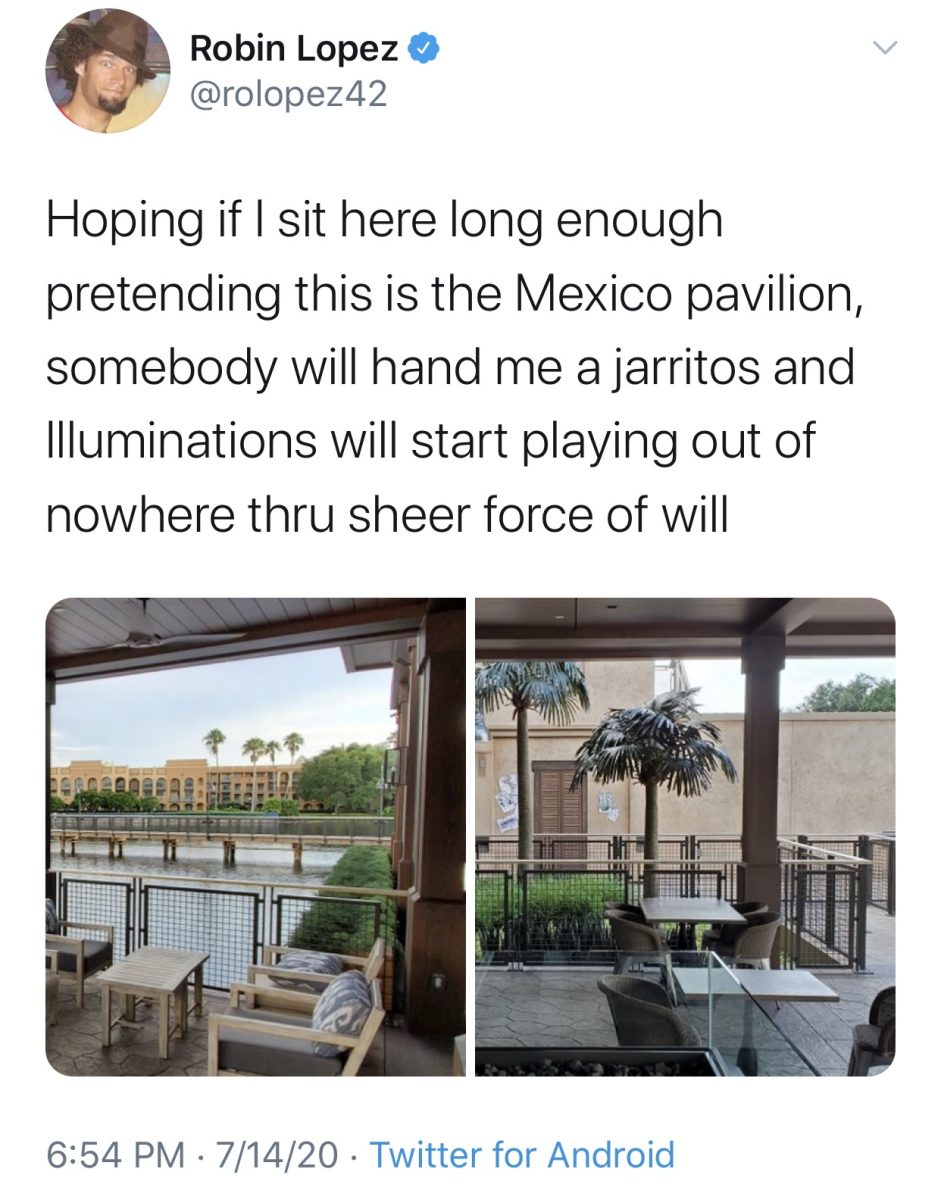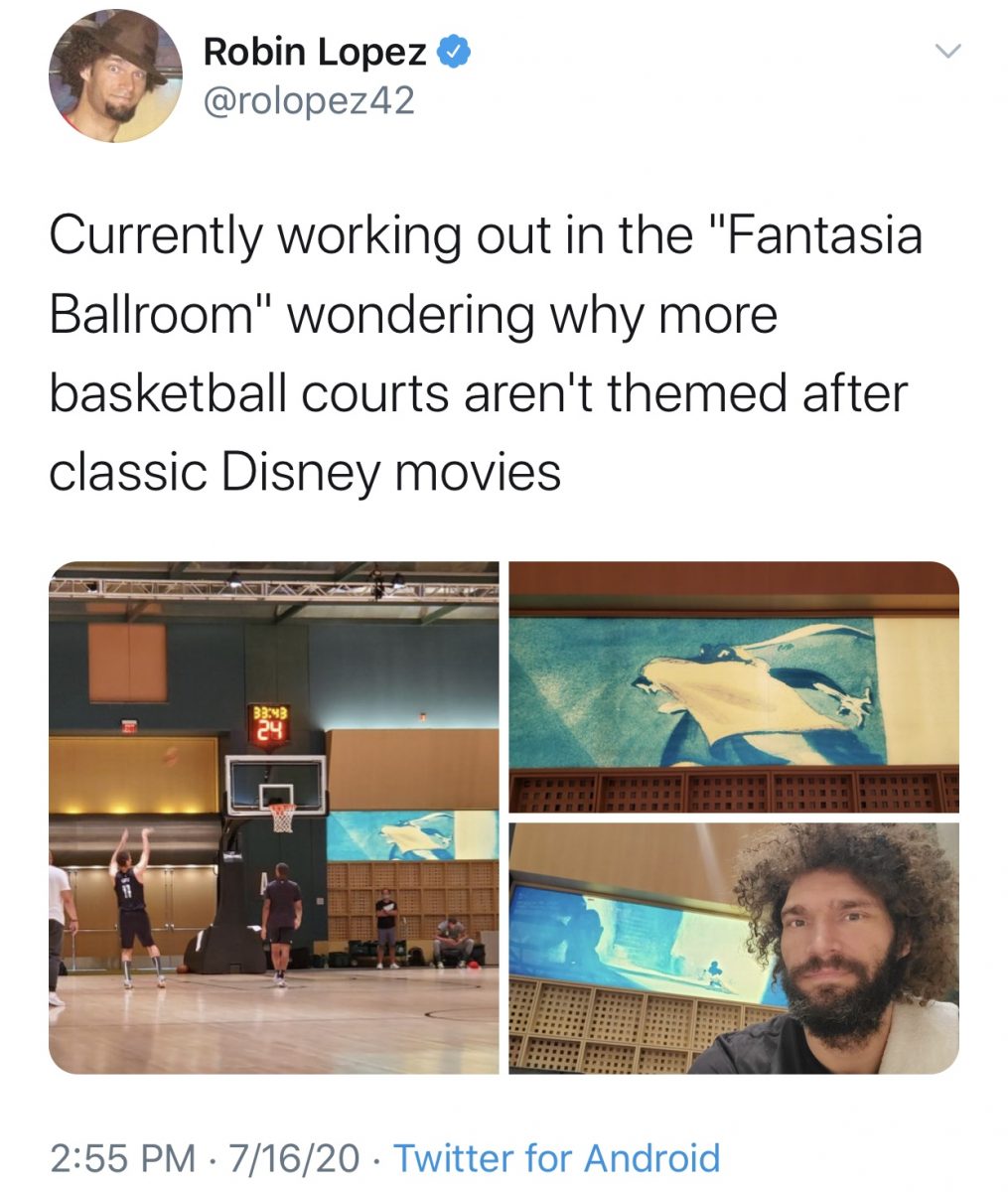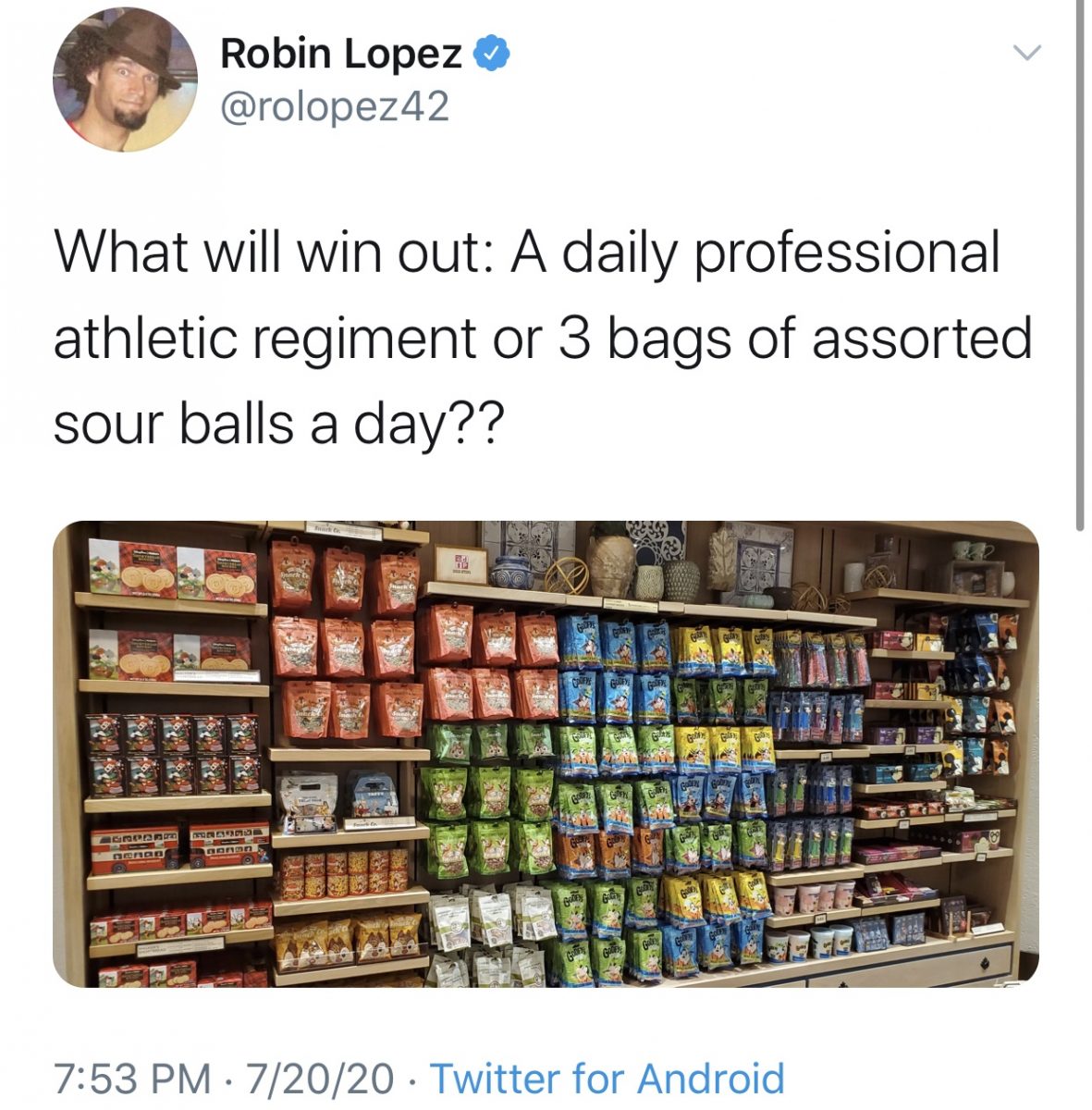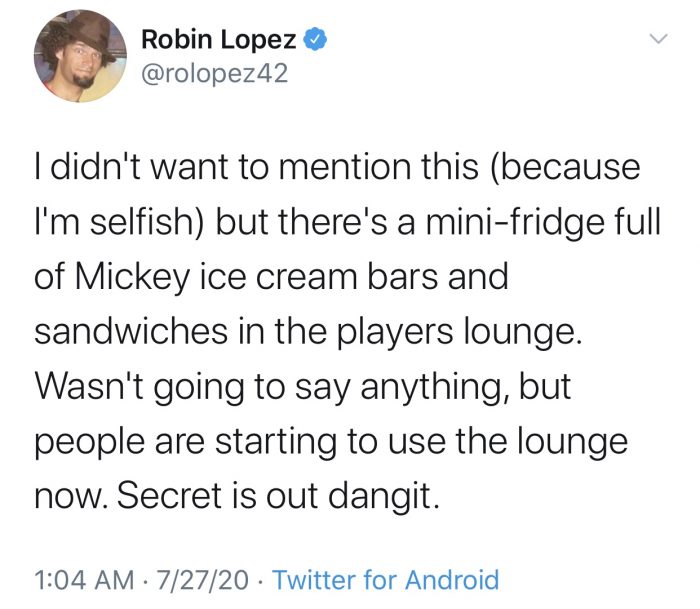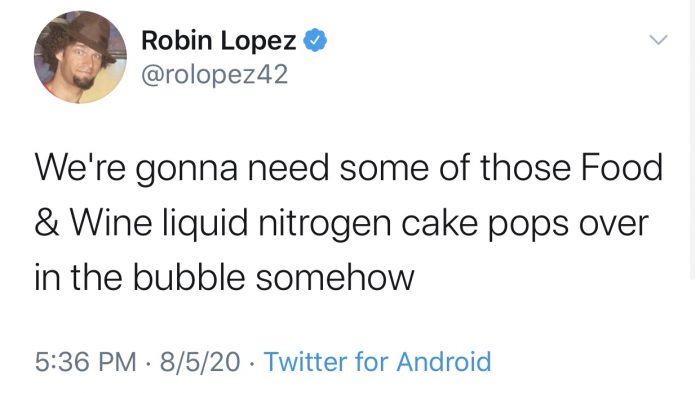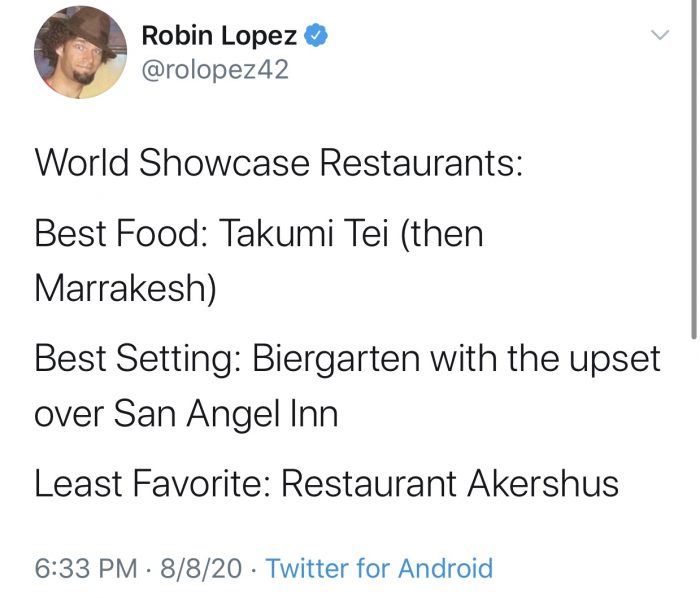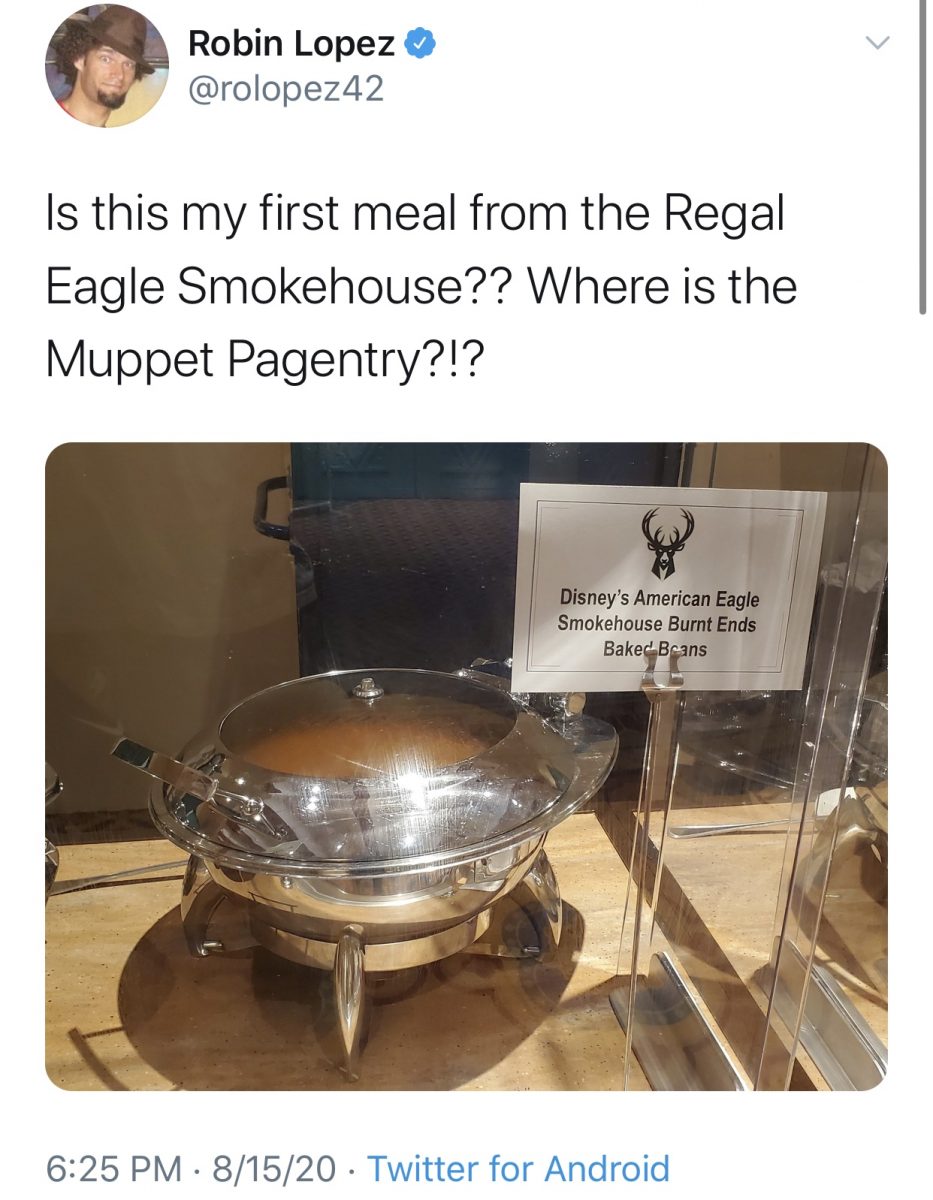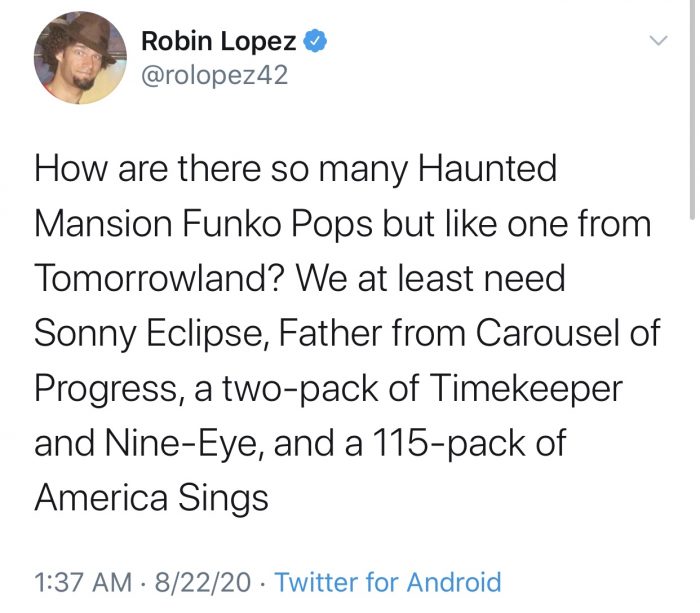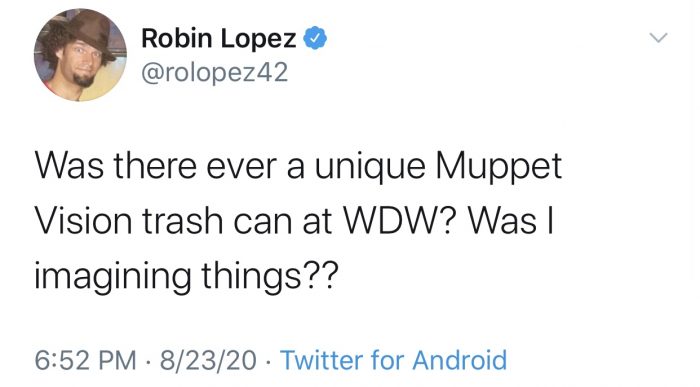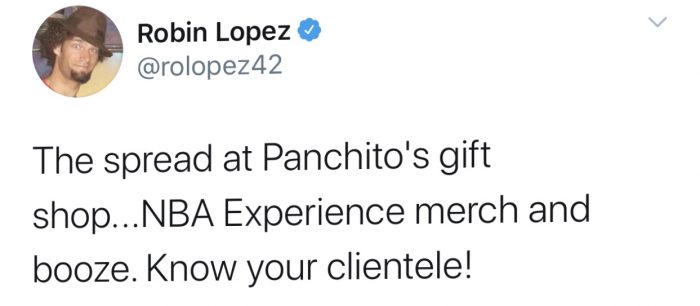 Honorable Mention – Just How Serious is Disney and the NBA with "the Bubble"?
NBA Players were tested regularly for the coronavirus and needed to adhere to physical distancing and mask-wearing policies at WDW. While the NBA had zero positive cases of coronavirus, their testing and contact tracing was no joke. Before players came down, they were informed that anyone who was within six feet of a positive-test person for at least 15 minutes will also be immediately tested.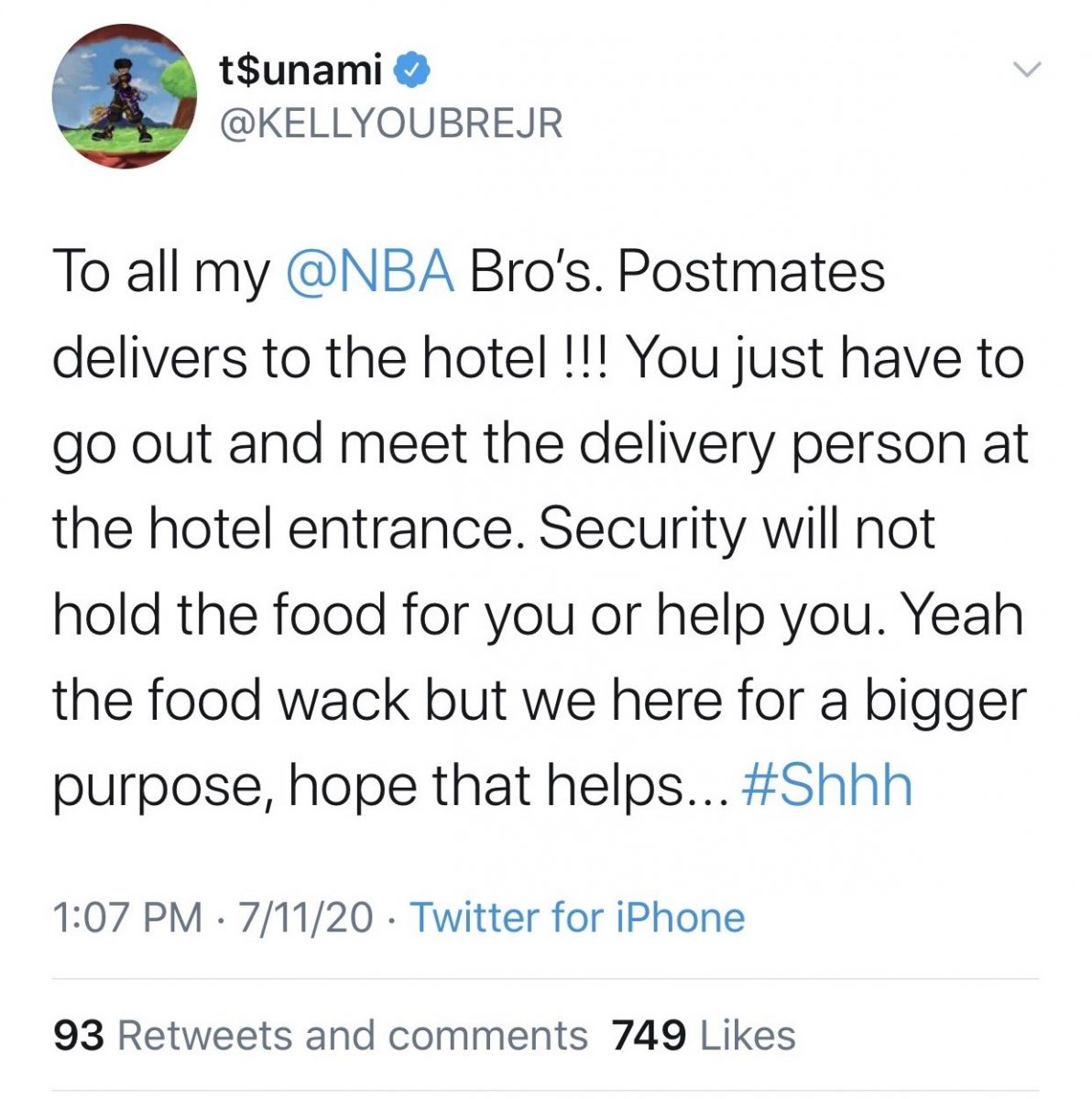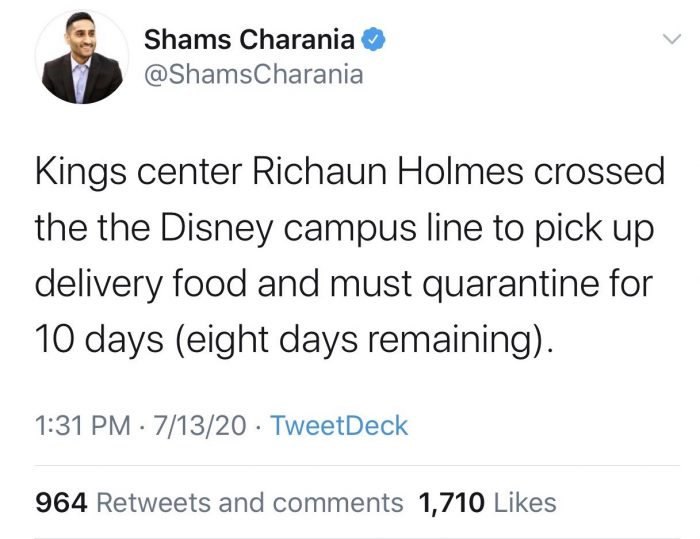 So there you have it: The SATURDAY SIX Looks at the NBA Bubble at WDW! See you next weekend for the latest installment of the SATURDAY SIX, where we'll look at something fun from the world of Disney and Universal. If you enjoyed yourself, be sure to check out The Magic, The Memories, and Merch! articles covering the latest from the Disney Outlet Stores. You can also follow Your Humble Author on Twitter (@derekburgan).
If you enjoyed this article, you will surely like the following: 
DAVID & DEREK: The Do's and Don'ts of COVID-19 Safety Protocols at the Theme Parks
6 Pieces of Disney Merchandise That Don't Exist (but Totally Should)
SATURDAY SIX Presents: The Disney Signage Hall of Shame
Special Thanks to The Elite Brandon Glover, the bio-est of all reconstructs @bioreconstruct, Captain Cruiseline Scott Sanders of the world famous Disney Cruise Line Blog, my personal protege Hunter "Elvey" Underwood, the SAT SIX Fun Squad of Parkscope Joe and "the Dadalorian" Nick, hot shot Michael Carelli, charter member of the Universal Four @Nitro230, and Hermione Granger's tutor Megan Stump for their invaluable assistance with this article. The SAT SIX is inspired each week by goofballs Aengus Mackenzie and LitemAndHyde and you Potterheads will  enjoy Meg's other blog work over at the Central Florida Slug Club.