SATURDAY SIX: Six Disneyland Snacks You Gotta Try
This week's SATURDAY SIX takes a look at Six Disneyland Snacks You Gotta Try! Longtime readers of the SATURDAY SIX know that we have a big case of the munchies going on 24/7. In fact, because of the articles on The 10 Gallon Challenge at Whispering Canyon and the E-Ticket milkshakes at Universal's Toothsome Chocolate Emporium, this fine blog series is now the third leading cause of adult onset diabetes in America (and look out soda, we're coming for you!) This week however we are gonna head across the country over to Guy Selga's neck of the woods and check out the tasty treats at the Happiest Place on Earth, Disneyland. Despite having only two parks compared to our four here in Florida, the Disneyland resort is chock full of incredibly unique and delicious items that you can only get out in California. This week we are going to look at six of our absolute favorite snacks, so sit back, loosen your belt a couple notches, and let's begin our list with…
# 6 Matterhorn Macaroon
–
If you go to Disneyland and don't stop by the Jolly Holiday Bakery to get a Matterhorn Macaroon, you're doing it wrong. A coconut macaroon shaped like the iconic Disney mountain, topped with white chocolate, and sprinkled with powdered sugar on top for an awesome snow-like appearance, the Matterhorn Macaroon is ultimate in synergy between theme park attractions and snacks. Oh, and it just so happens to taste GREAT.
–
# 5 – Mickey Beignets
–
Eventually we'll be doing a blog on our favorite Mickey shaped food items, but one of our favorites is the sugary concoction found at the Mint Julep Bar or Cafe Orleans in New Orleans Square (the latter of which serves them with dipping sauces.) We often find ourselves stopping by Port Orleans French Quarter just to grab some beignets here in Florida, so seeing them in the classic Mickey shape in Anaheim brings two of our favorite things together in one. Now that's synergy we can get behind. Even better, Disneyland also offers flavored beignets such as pumpkin spice during Halloween and peppermint for the Christmas season.
–
# 4 – Exotic Churros
While we haven't scientifically proven this to be true, many people know the long held "fact" that in Walt Disney World there are trash cans are located no more than 30 steps apart from each other. A lesser known fact is that churros are available no more than 20 steps away from each other. They're everywhere, and we love them! However, it turns out we in Florida have only been shown the boring old cinnamon sugar churro, while those at the Disneyland Resort have a whole bunch of churro options to choose from, thanks to the California Churro Company in Downtown Disney. Cherry flavored churros! Grape flavored churros! There's even salted caramel flavored churros! It's like those of us in WDW are in the black & white Kansas part of Dorthy's life, and Disneylanders get see the full color world of Oz. It's not fair!
–
Turns out the "colorful" churros that you see in the first picture are more of a visual aid to picture what the churro will taste like. The actual churros arrive looking pretty much like the regular ones we are all used to, but they are covered in "flavor crystals" (trademarking that before Guy Fieri steals it from us). The taste was "ok," and seemed like grape Kool-aid on fried dough, but the king of the hill here is the CHURRO ICE CREAM SANDWICH.
–
The Churro Ice Cream Sandwich is an interactive dessert (trademarking that one too) in which you get the churro "buns" along with a cup of ice cream to put in the middle. This was absolutely as awesome as it sounds.
–
# 3 –  Make Your Own Ice Cream Bar
Speaking of interactive desserts, Clarabelle's Hand-Scooped Ice Cream Parlor in Disney California Adventure has a neat treat in the form of hand-dipped ice cream bars which guests can customize to their liking. First you pick the type of bar (vanilla bean, milk chocolate, dark chocolate, or mixed berry sorbet.) Then you choose the chocolate coating (milk or dark chocolate.) Finally you finish it off with a variety of topping options including colorful Mickey confetti, chocolate chips, white sugar pearls, blue raspberry bursts (pop rocks,) and rainbow sprinkles. True pros asked for "the whole herd" which gives you a little bit of everything.
–
# 2 – Basically ANYTHING at Bengal Barbecue
Bengal Barbecue in Adventureland may be our absolute favorite quick service in any Disney park. While serving sizes have shrunk over the years, that shouldn't surprise any of us who visit the EPCOT International Food & Wine Festival. The prices for almost all the items are under $5, and many of the snacks are served on a stick which has been proven time and time again to be the best possible vehicle in which to deliver meat. The Safari Skewer, offering bacon wrapped asparagus, is a crowd favorite, but you can't go wrong with the Banyon Beef or Chieftan Chicken skewers either. While we were on our most recent visit there was even a new skewer with a theme to Disney's latest movie Moana. This tasty skewer had grilled shrimp, sausage, and pineapple. Pro tip: order the Tiger Tails breasticks and then use the excess sauce from your skewer to dip it in.
–
# 1 – Hand-dipped Corn Dog (Little Red Wagon Corn Dogs)
A while back we took a look at the iconic snacks at the Magic Kingdom, but there is no snack in Florida that is as iconic – or beloved – as Disneyland's hand-dipped corn dog at the Little Red Wagon on Main Street USA. As the name says, these dogs are hand-dipped into a mouthwatering sweet cornbread batter and then fried to a crispy dark brown. Take a a minute and watch Gary Maggetti, a former Disneyland food and beverage director, tell the History of the Disneyland Corn Dog. We all owe a debt of gratitude who the unnamed Disneyland executive chef who took it upon himself to "make a better corn dog for the guests." In our new world of $650 cabanas in Tomorrowland and up-charge dessert parties as far as the eyes can see, at times we forget the Disney Difference and why we all fall in love with these parks in first place. The hand-dipped corn dog is not just a great snack at Disneyland, it is THE greatest snack at Disneyland.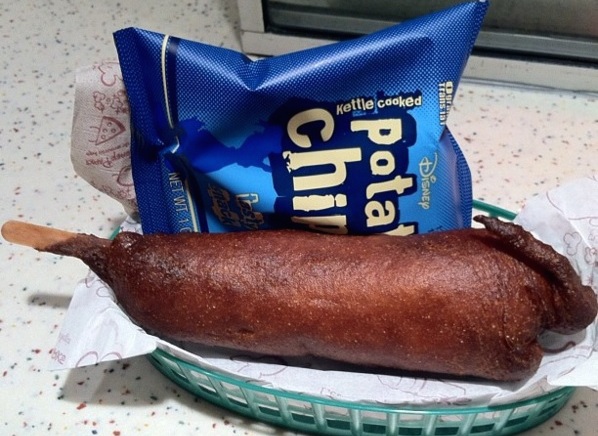 –
HONORABLE MENTION – Funnel Cakes
If this Pineapple Upside Down Funnel Cake doesn't get you over to the Hungry Bear Restaurant in Critter Country, I don't know what will.
Actually, maybe I do know something that will get you to go. This CHURRO FUNNEL CAKE!
–
DOUBLE SECRET HONORABLE MENTION – Mickey Pancakes!
While not technically a snack, the Mickey pancakes at Rancho del Zocalo in Frontierland just may be better than the Mickey waffles we adore here in Florida. How cute is that?!
–
WHATCHU TALKIN' 'BOUT WILLIS? INDUCTION: Tower Drop Hotdog
At Award Weiners in Disney California Adventure is a hotdog that would give the next level bonkers dogs we have at the Grand Floridian a run for their money. Despite the looks of this monstrosity, Disneyland celebrity blogger Guy Selga swears that it is actually tasty.
So there you have it: Six Disneyland Snacks You Got To Try! See you next weekend for the latest installment of the SATURDAY SIX, where we'll look at something fun from the world of Disney and Universal. If you enjoyed yourself, be sure to check out The Magic, The Memories, and Merch! articles (which we just celebrated our THREE YEAR ANNIVERSARY), or, for your listening pleasure, check out the E-Ticket Report podcast. You can also follow Your Humble Author on Twitter (@derekburgan)
If you enjoyed this article, you will surely like the following:
The Six Best Kept SECRETS at Walt Disney World's EPCOT
FATHER'S DAY SPECIAL: Celebrating Dads at Walt Disney World and Universal
The Six Best Souvenir Cups at Walt Disney World
Six Of Our Favorite Shows That Went to Walt Disney World
You Need a Disneyland Corn Dog Right Now
Special Thanks to crack staff photographer Brandon Glover, DVC magnate Morgan Crutchfield,the Bio-est of all Reconstructs @bioreconstuct, alleged Disneyland gang member Guy Selga, celebrity Disney "hacker" James Rosemergy, and blogger to the stars Megan Stump for their invaluable assistance with this article. Be sure to also check out Brandon on The Park Blogger podcast with co-host Aengus Mackenzie and fellow Potterheads may enjoy Meg's work on the Central Florida Slug Club.