SATURDAY SIX: 6 Surprises of GRAN DESTINO TOWER at Disney's Coronado Springs Resort
This week's SATURDAY SIX takes a look at GRAN DESTINO TOWER! This past week Disney officially opened Gran Destino Tower at Coronado Springs Resort, and we were there for opening day.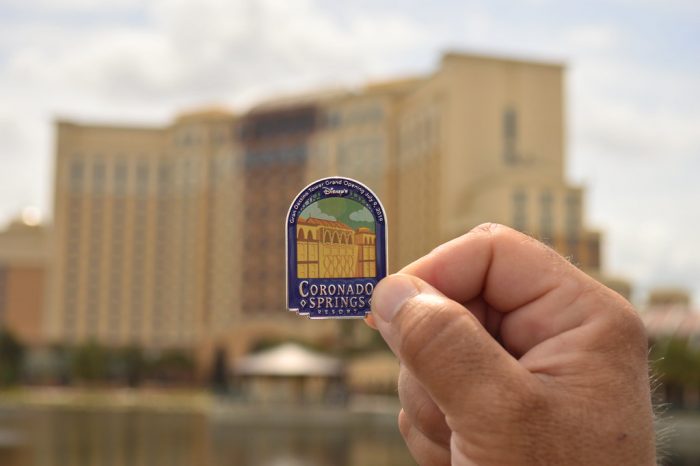 Now, we are still getting used to a gigantic tower at the very front of one of our favorite Disney moderate resorts (especially since the large building has more than a passing resemblance to Biff Tannen's Pleasure Palace Casino & Hotel from Back to the Future II), but as they say, you can't stop the wheels of progress. For a resort that caters to conventioneers, Disney is well served by offering them a tower with a variety of executive suites, an elegant dining room, and a rooftop bar where they can pad their expense account. But how is Gran Destino for the Disney fan?
Surprisingly enjoyable. In fact, this week's SATURDAY SIX is going to look at some of our favorite surprises of the new tower, starting with…
# 6 – Destino
Many Disney fans may not realize that the name Gran Destino is a tribute to a project that Walt Disney himself was a part of. Destino is an animated short film that was originally a collaboration between Walt and artist Salvador Dali back in the 1940s. Due to World War II, production of the film was halted, and it wasn't completed until Walt's nephew – Roy E. Disney – helped get the short finished and finally released in 2003. Throughout the hotel you will find nods to Walt Disney, Salavor Dali, the film Destino as well as its two main characters, Chronos and Dahlia. In the check-in area of the lobby there are even TVs playing Destino.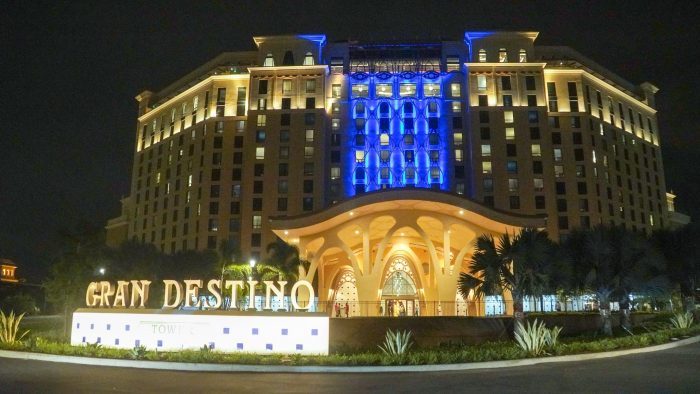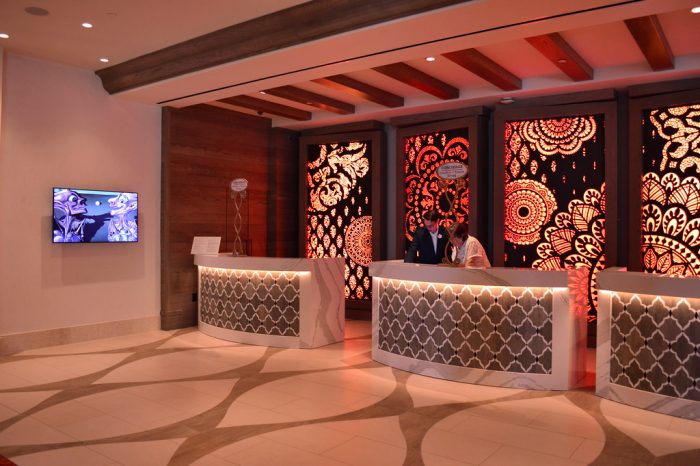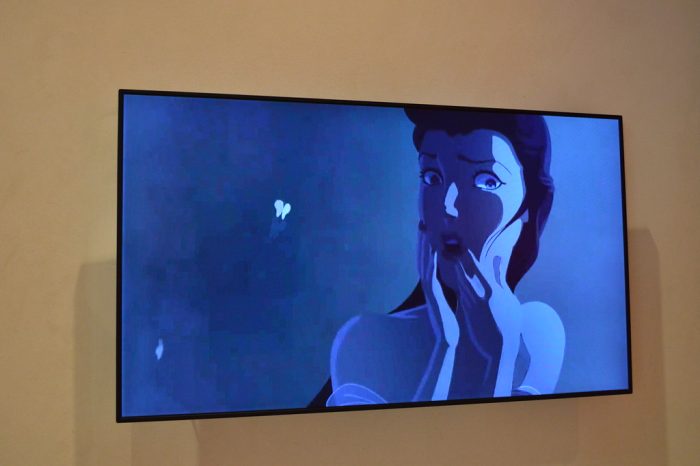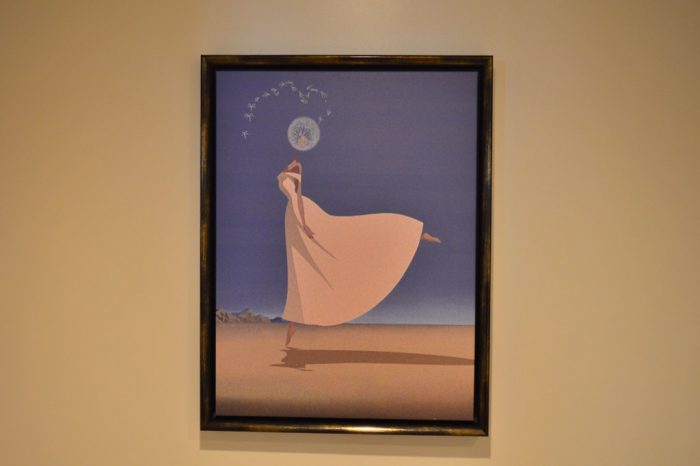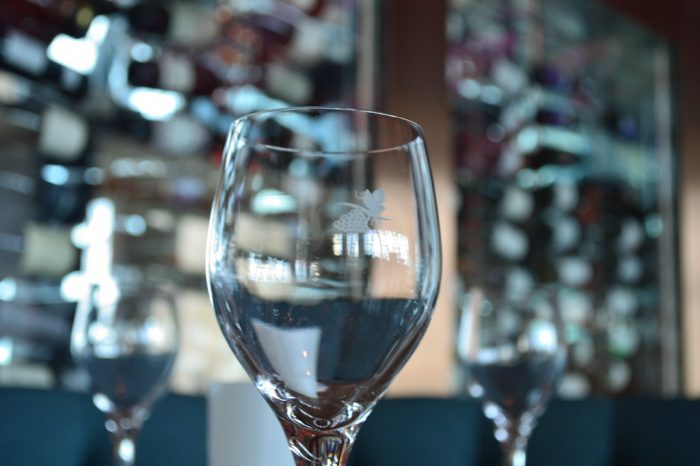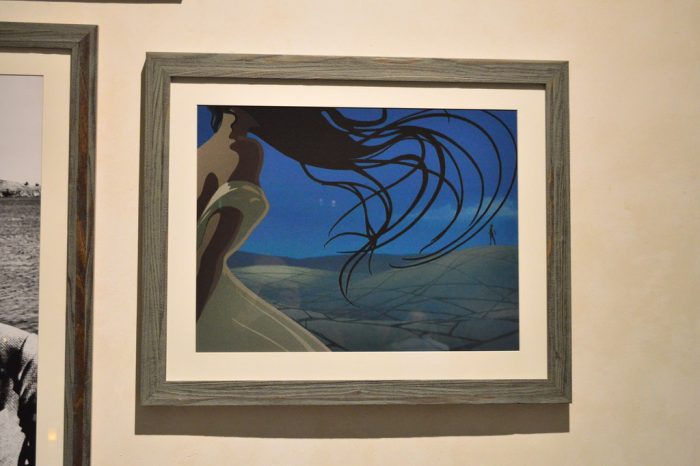 #  5 – Walt and Mickey references
It's always nice to see homages to Walt inside a Disney resort. An icon of American pop culture, the man Walt Disney deserves more references in the vacation capital of the world bearing his name. We also enjoy seeing the ubiquitous Hidden Mickeys across property, and Gran Destino has its fair share of them!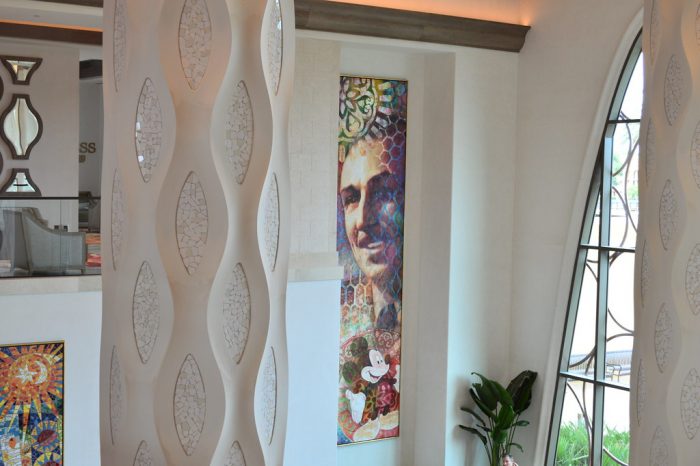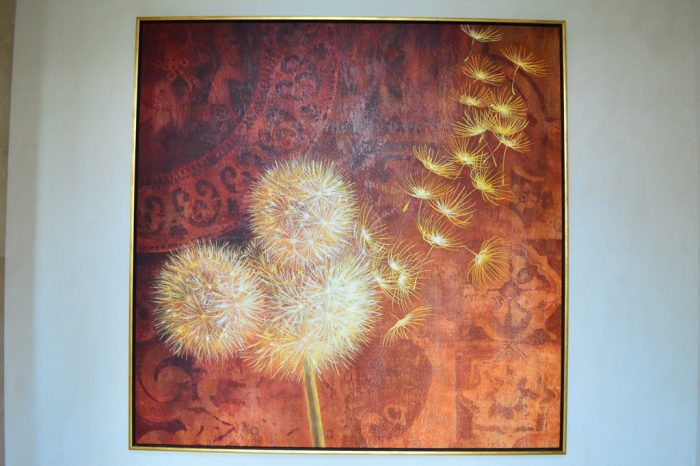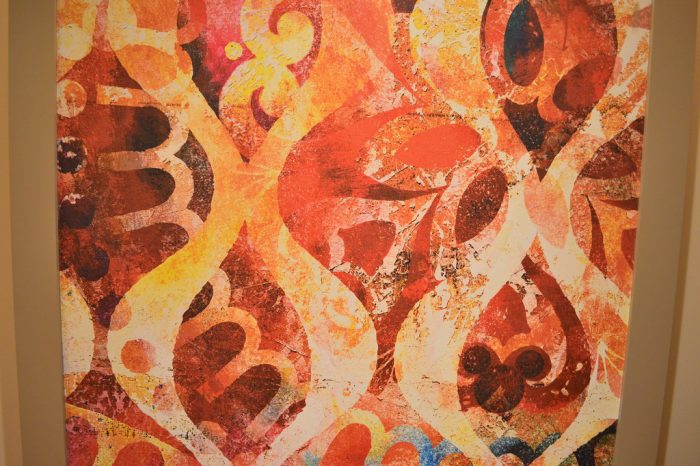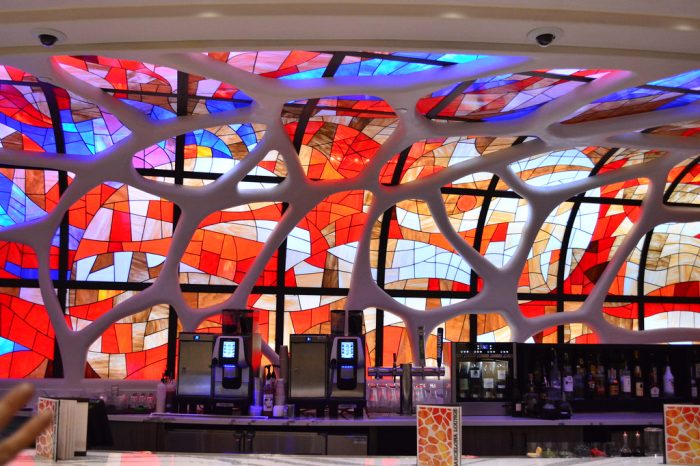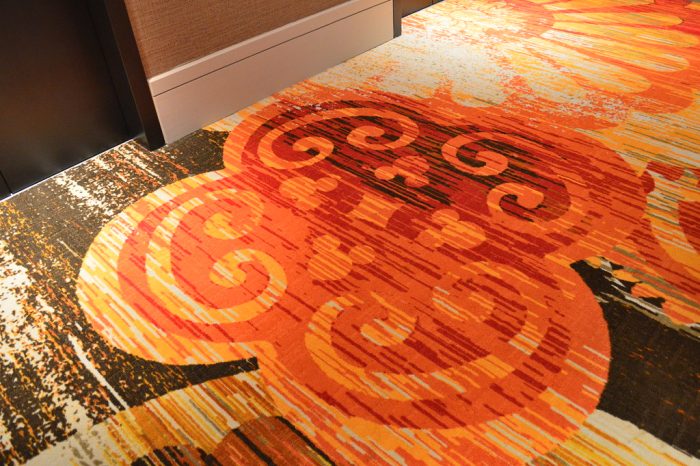 # 4 – Elevators
After checking in, cast members will generally escort guests over to the elevators to explain how they work. Unlike traditional elevator banks, where you press a button and take the next elevator, Gran Destino elevators have a touch screen where you choose your floor.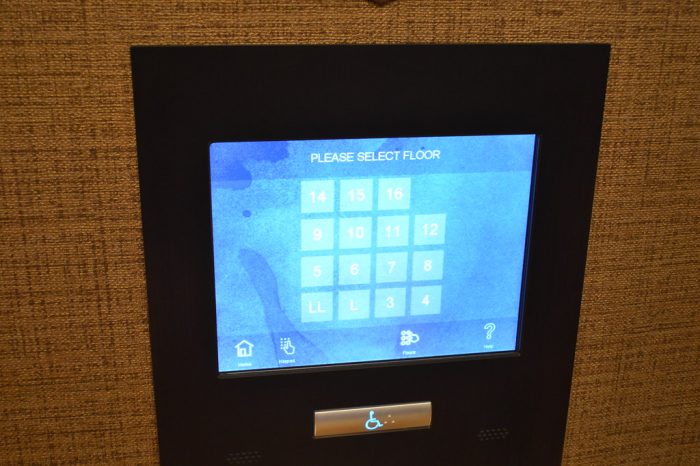 Once you choose which floor you'd like to go to, the screen will display which elevator you will take. There are no buttons inside the elevators. The only way to choose which floor you want to go to is on this screen outside the elevators. That means racing to jump into an elevator just as it's about to go up is – most likely – a waste of your time. While I personally have never seen this type of set up for elevators, apparently it is used out in California at Disney's Paradise Pier Hotel. While the guests I talked to weren't impressed with how it is used out in California, I can say that it worked INCREDIBLY for us throughout our stay at Gran Destino.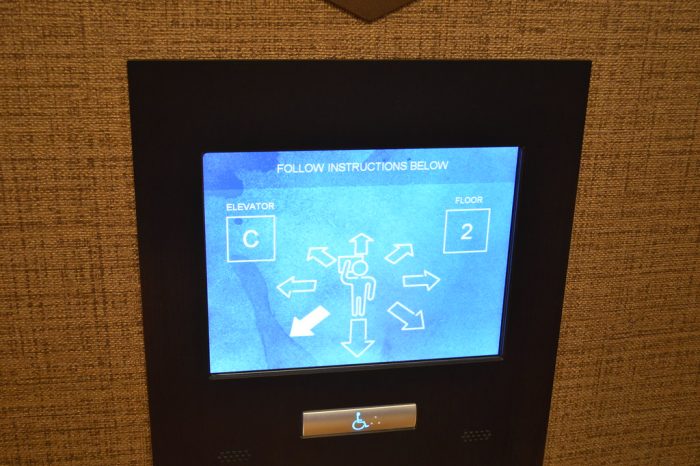 When your elevator arrives there is the normal "ding" of the elevator, and it lights up (in this case, the area in-between the two Cs is lit.) Granted, it may be the first world problem of all first world problems, but this system completely removes the aggravation and stress that comes with waiting for a hotel elevator. Instead of being the third person pressing the "up" button and trying to guess how many people are going to try and squeeze into the next elevator that opens up, you know ahead of time which one is specifically for you. Loved it.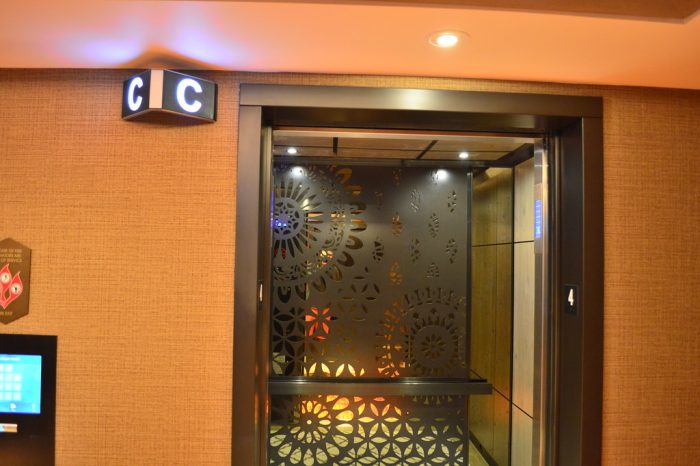 Once inside, the elevator displays the floors it will be stopping at. In the picture below, it shows that the elevator will only be stopping at the 16th floor.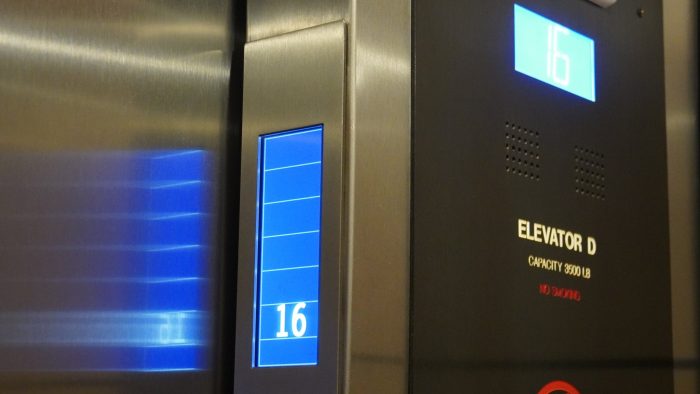 # 3 – Interactive Television with Disney On Demand
Next stop was our room, and we fell in love with the options available on the interactive TV.  The "screen saver" for the TV gave all the relevant info you would need, including date, time, and weather. The main screen also included a great shot of Gran Destino Tower, and while you can't see it in the still photo below, the ducks would float across the water with ambient noise. Using the remote, you could access regular TV, Disney on Demand, and various hotel services.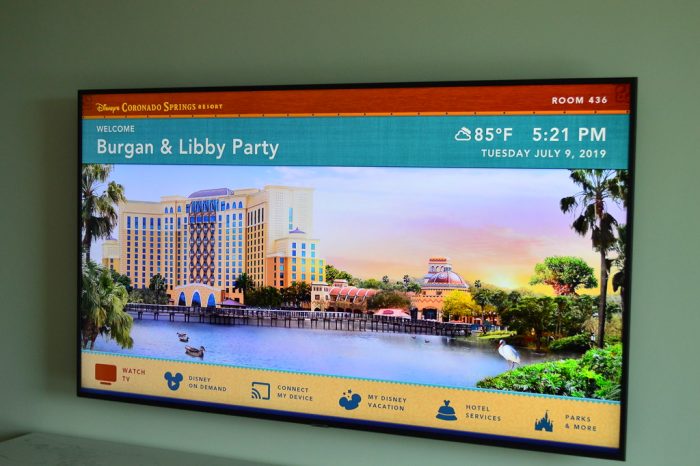 While browsing through the available TV stations, we came across the Disney Parks Music channel. This played music direct from the theme parks 24 hours a day and was awesome.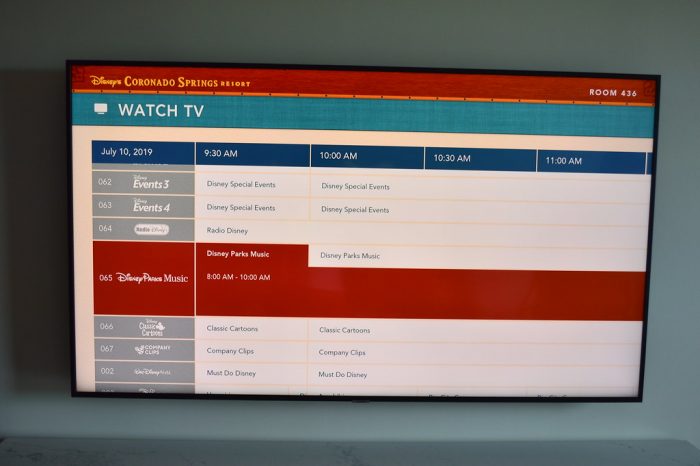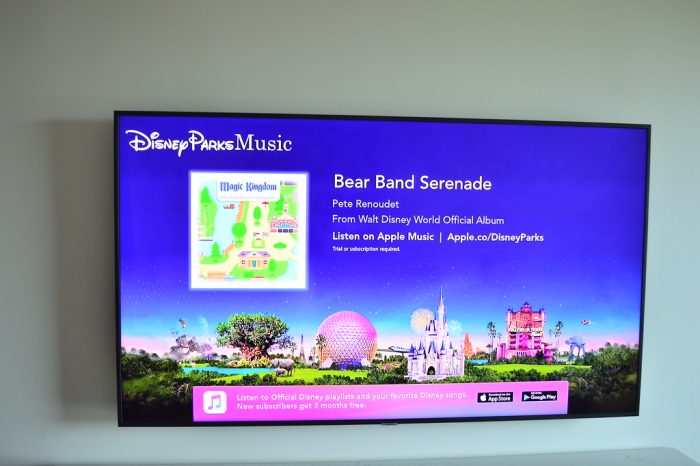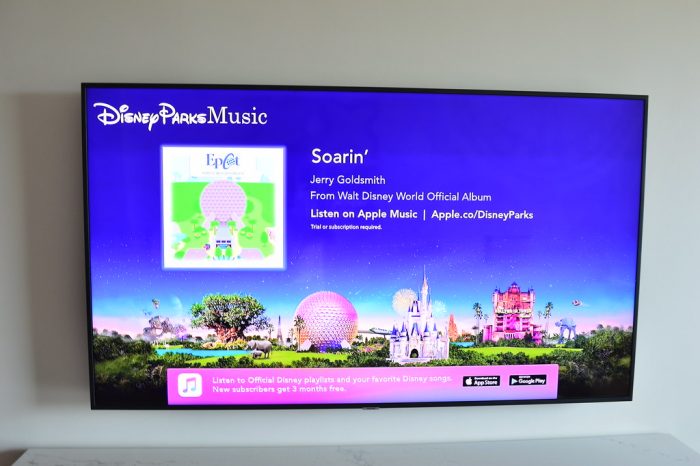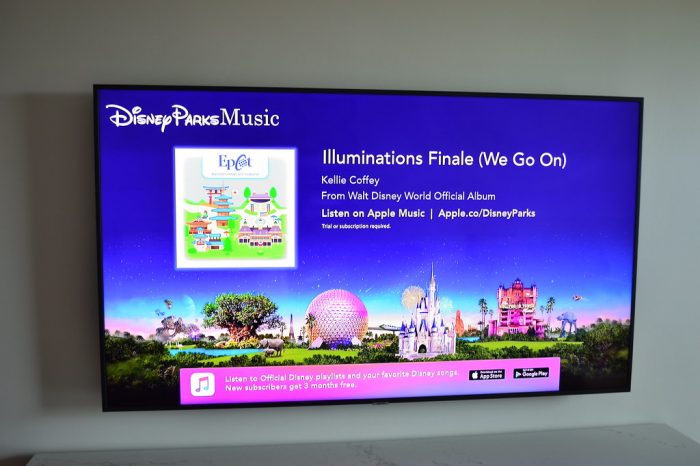 Next up was Disney On Demand, giving us our first taste of what Disney+ will be like. Seeing that we could just watch Ratatouille any time we wanted was just what the doctor ordered. As of right now Gran Destino Tower is the only place at WDW with this interactive TV, but will roll out to the rest of Coronado Springs by the end of the year. After that it will start making its way across property.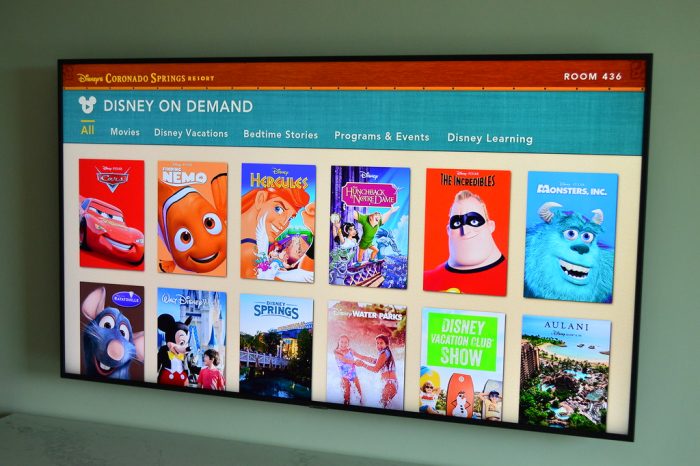 For those who want to watch informercials on various Disney brands.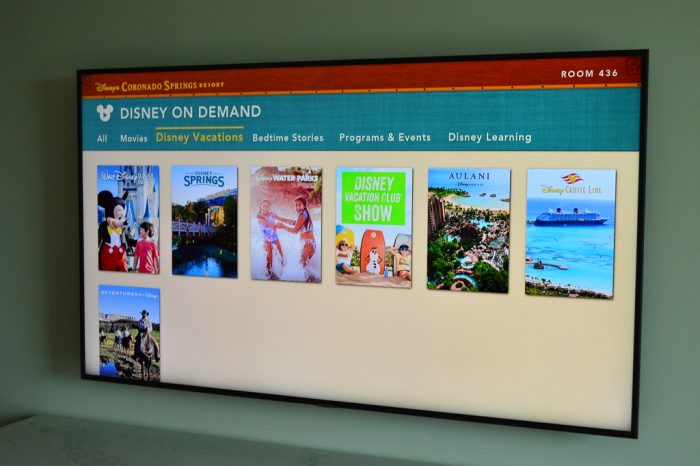 The Bedtime Stories option has several animated cartoons about 10-12 minutes long.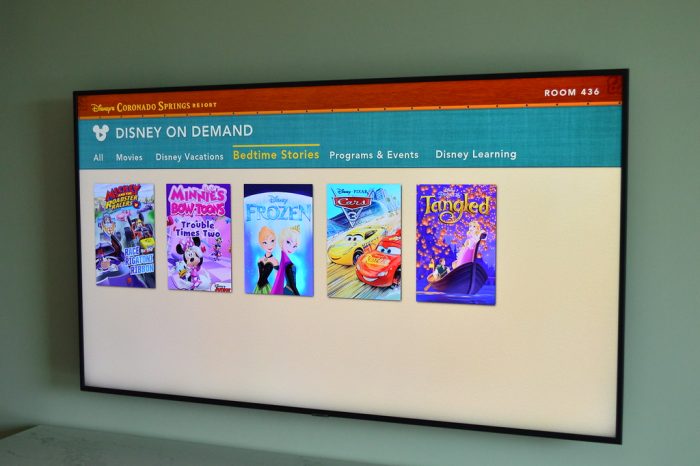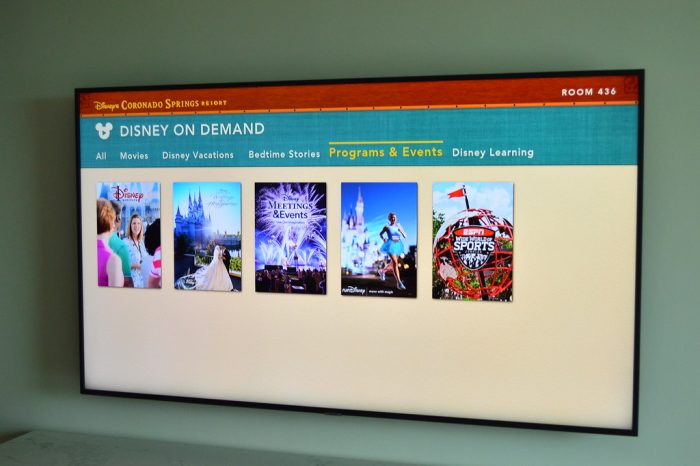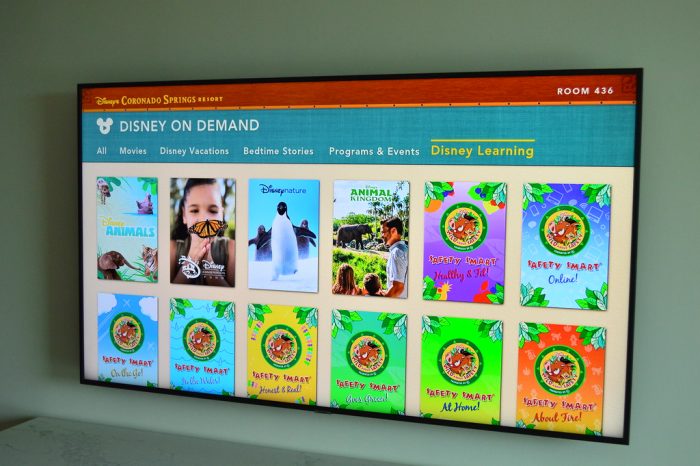 Other neat details in the room included lights built into the headboard. The pillows and Sealy pillowtop mattress made for one of the most comfortable sleeps we've ever had at a Disney hotel.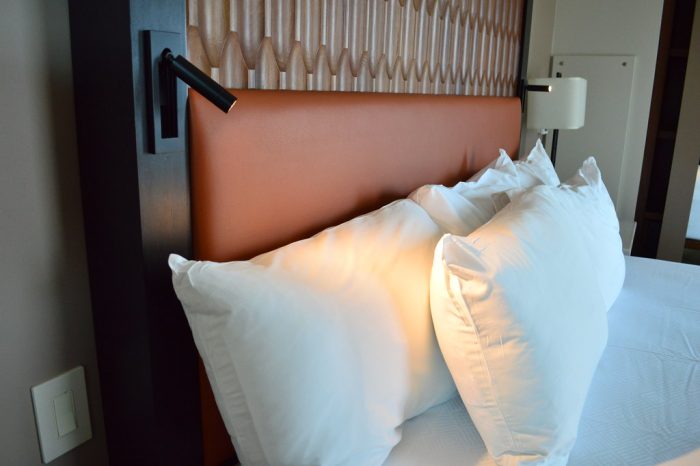 The bed itself is also on platforms, meaning you could store things like your luggage underneath (similar to a Disney Cruise Line cabin).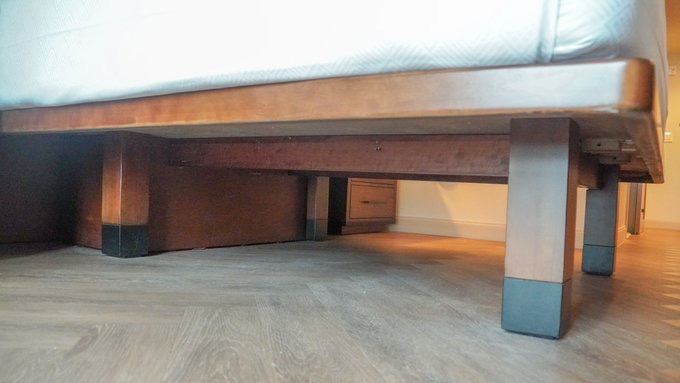 Still searching for another hotel that has branded toilet paper like the Grand Floridian. Gran Destino had regular toilet paper – but did offer a fun take on the tissue box.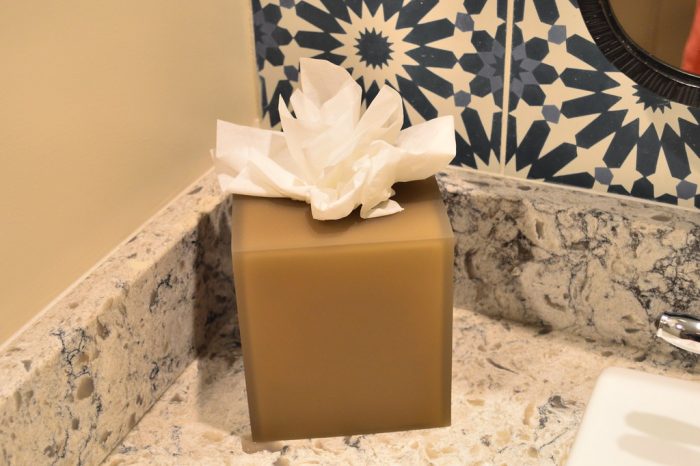 I can't recall EVER being in a hotel that had a scale in the bathroom.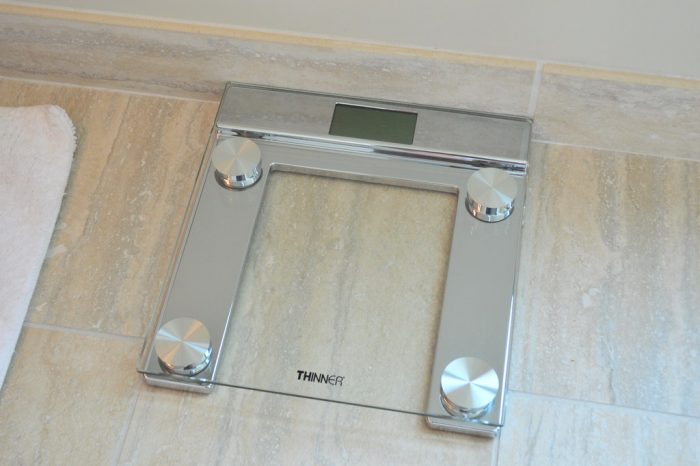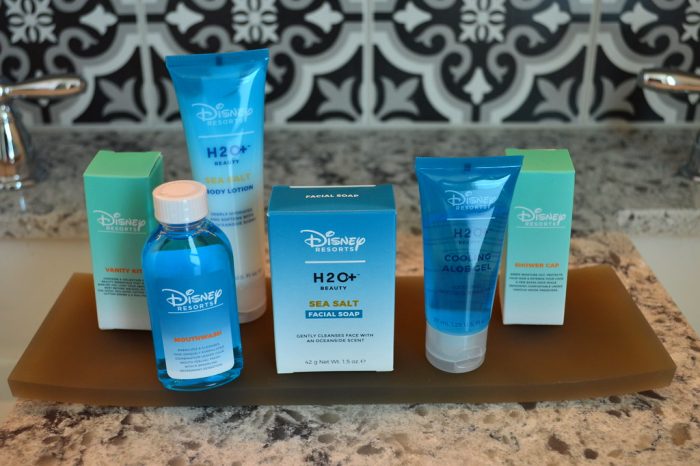 # 2 – Chronos Club Level Sugar
While our room was located on the 4th floor, it was a deluxe suite which offered access to the club level lounge on the 15th floor. Regular readers of the SATURDAY SIX know how much I love the themed butter over at Universal. Recently Universal debuted themed ice cubes at Bigfire. The club level at Gran Destino showed me something in a major way with not only having Mickey Mouse butter, but Mickey shaped sugar cubes!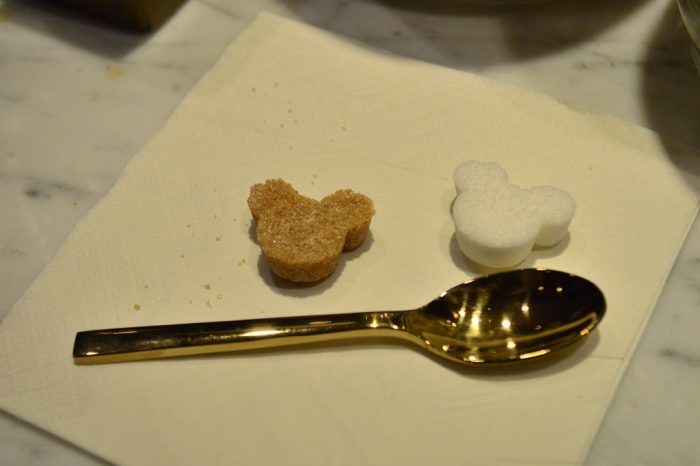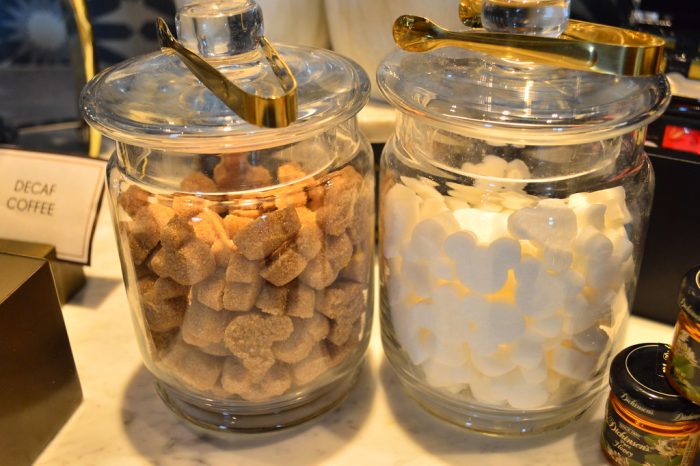 The club level is named the Chronos Lounge, and has a brief description on the wall for the character in Destino it is named after.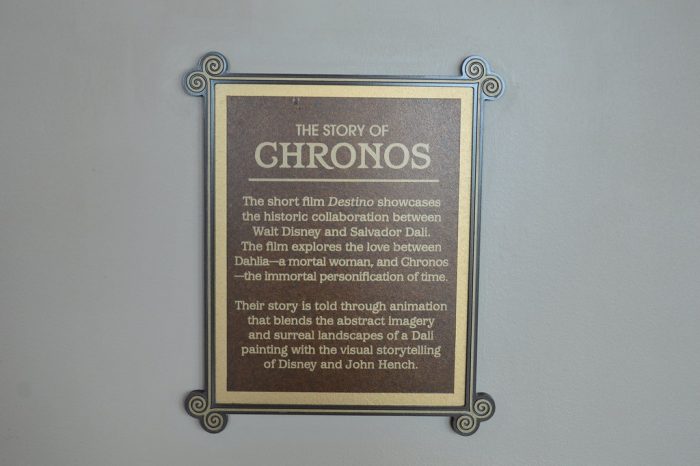 Inside there is a generous amount of seating.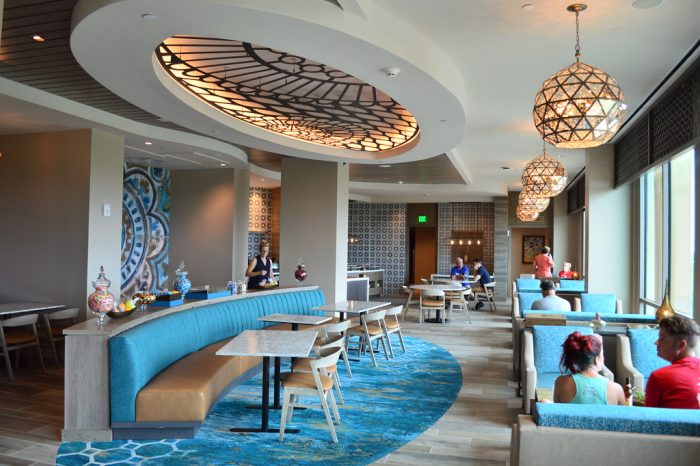 There are some incredible views that you can see while in the lounge.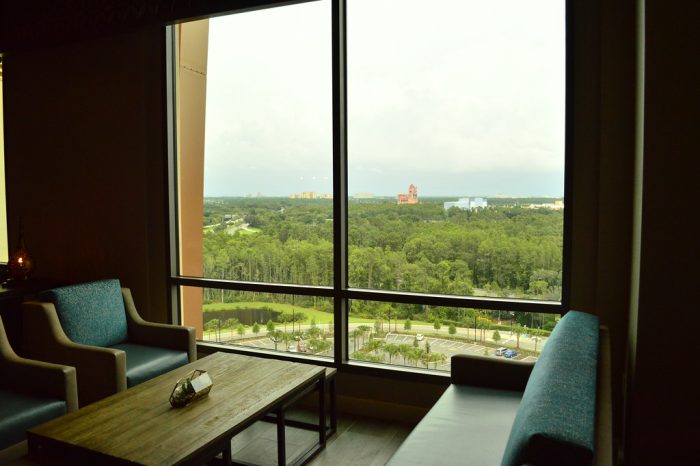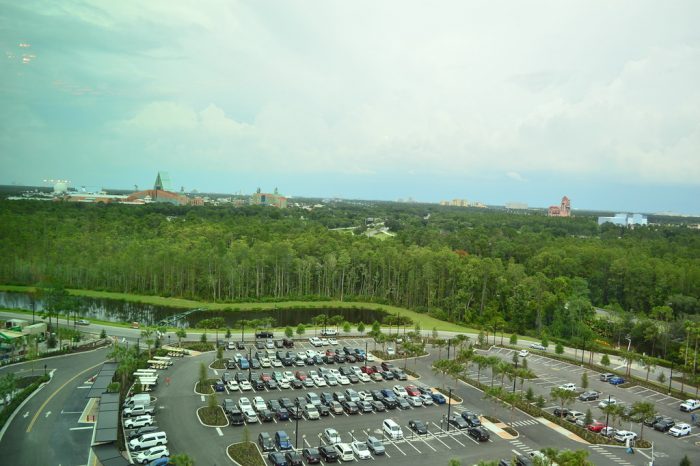 There were lots of snack and drink selections in the lounge.  I often get asked if club level is "worth it" and I hate to pass the buck and say "it depends on the person," but it really does. For places like The Contemporary  and Gran Destino, you're paying for an amazing view.  You can't go into Chronos thinking you'll save money by just eating meals there, because the food options aren't as filling as what you'd find at places like the club level at Universal's Royal Pacific Resort. There are small snacks available throughout the day, and more substantial food options available during breakfast, lunch, and dinner hours. That said, the panoramic views at both Contemporary and Gran Destino blow away anything you'd find at Universal though, and there is something to be said for enjoying drinks with friends and family in a gorgeous atmosphere.
One nice thing was that beer and wine were available to get yourself instead of having to ask a Cast Member to serve you. This allows you to skip the awkward conversation of "yes, this is my fifth beer, but who's counting?" (Maybe that's just us.)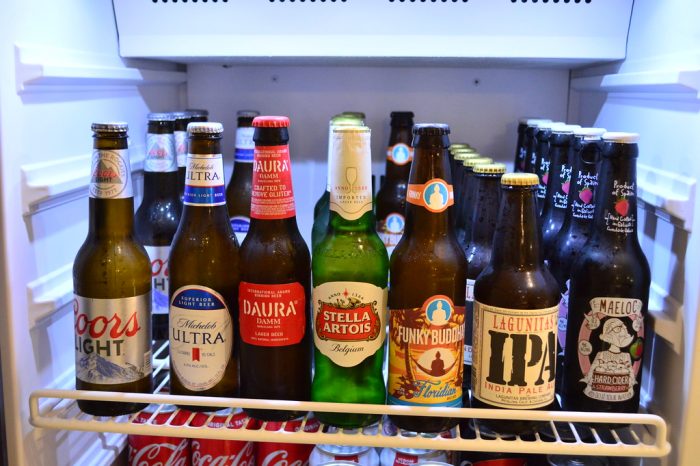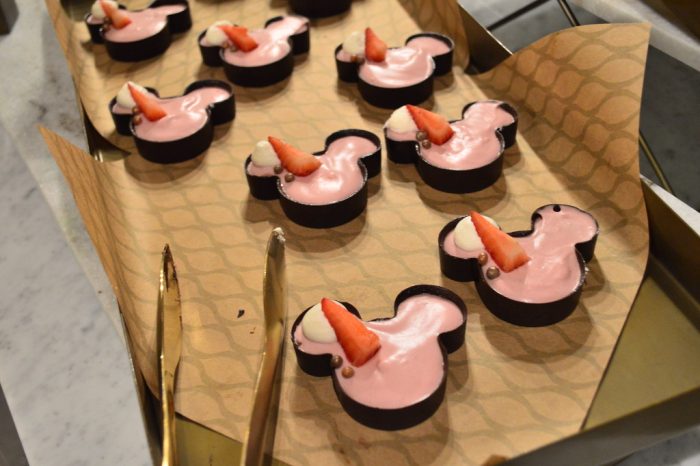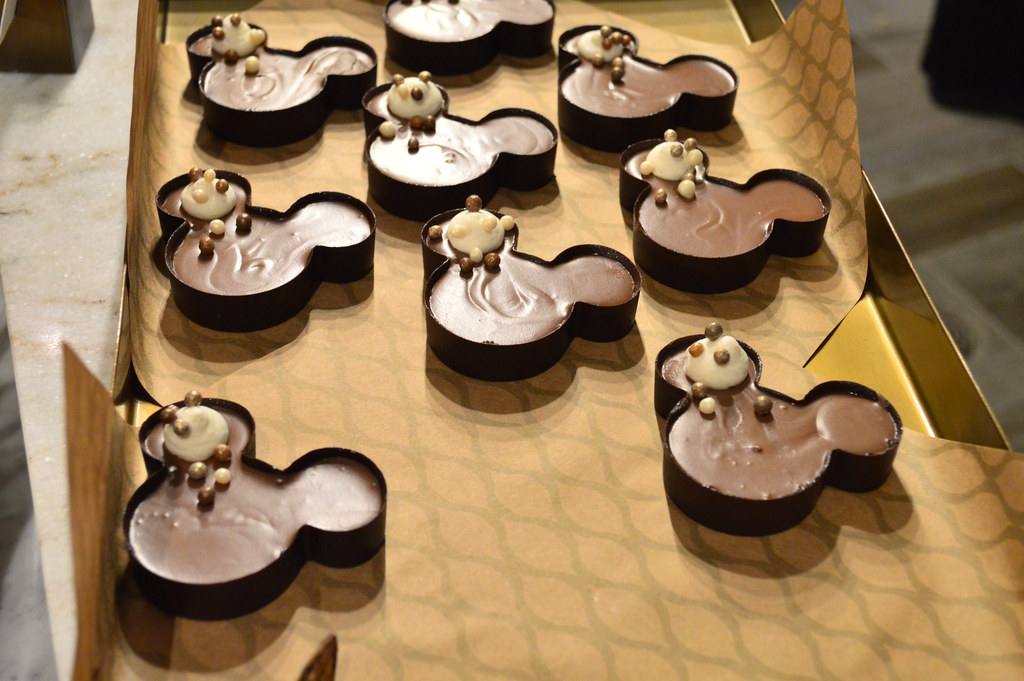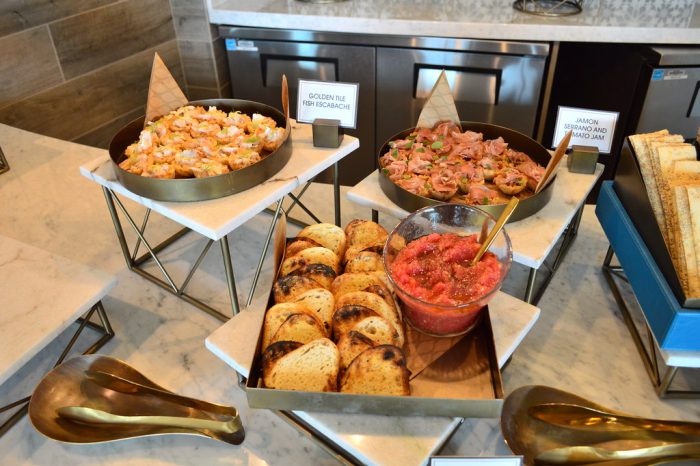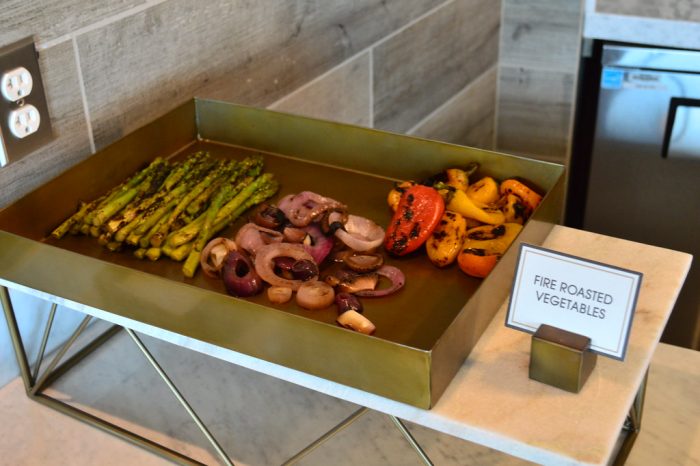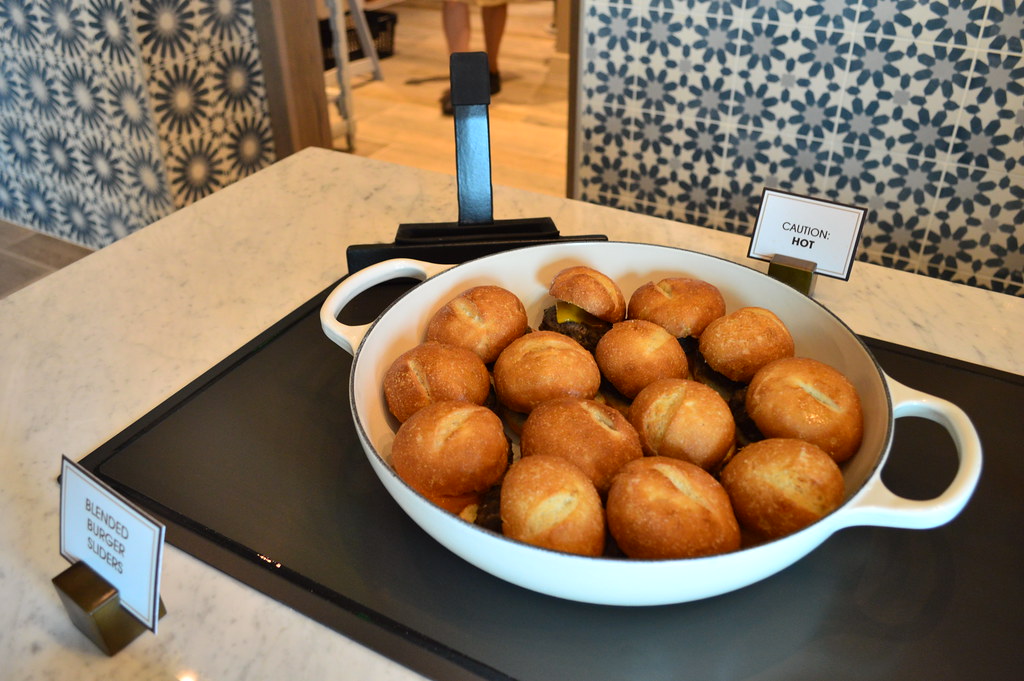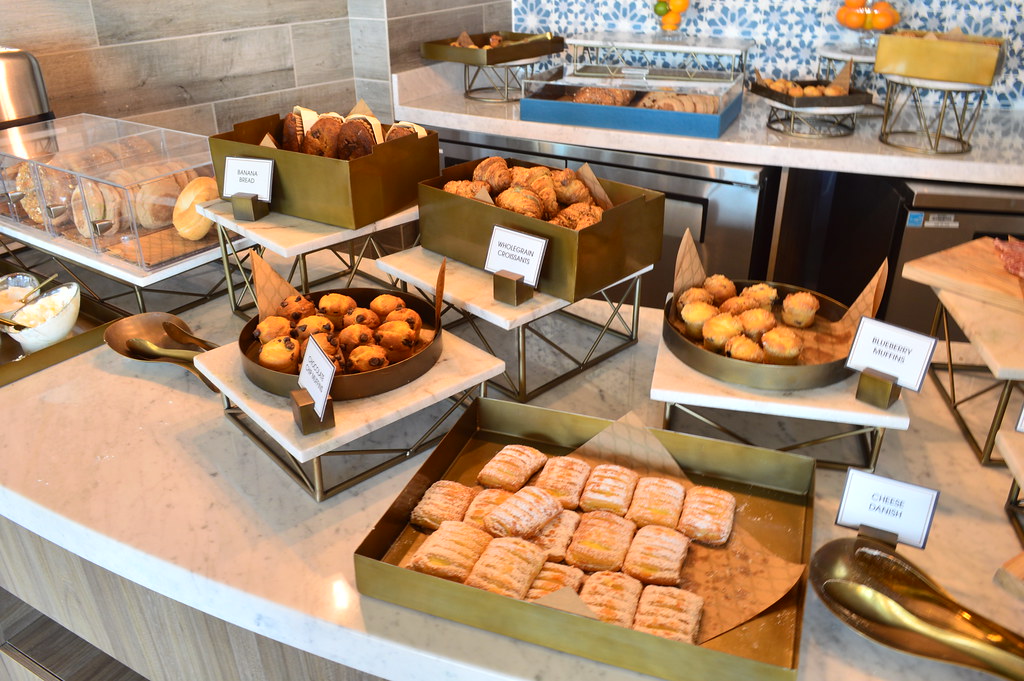 # 1 – View From Dahlia Bar
The Dahlia Bar is located on the 16th floor of Gran Destino, and the outdoor seating has a similar view that is offered in the Chronos Lounge except you're even higher up and are completely outside. Being able to see so much of Disney property from this unique angle is a real treat, and it also allows guests to have an interesting view of the nighttime fireworks shows at Epcot and DHS.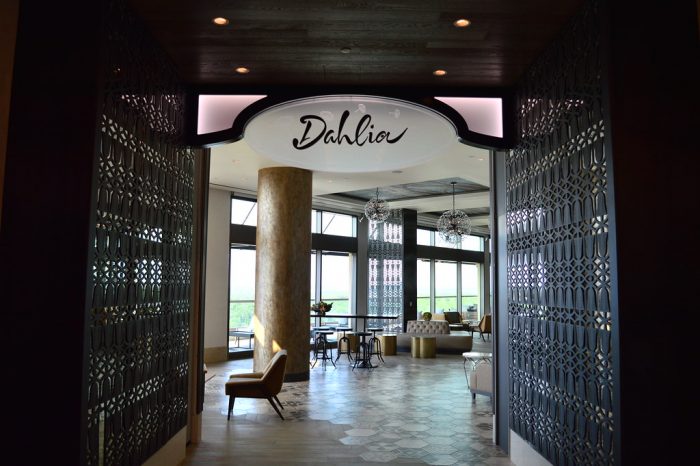 The Dahlia bar offers a back side look at Star Wars: Galaxy's Edge where you can truly understand how large the area is in a perspective you just can't get from the ground. It also shows you that Disney Imagineering only fully themes areas that guests are intended to see, much like how an actual movie set on Hollywood would look.


The view from Dahlia bar gives a look at almost the entire Disney Skyliner transportation system, and it was neat seeing them being tested during our stay. There are definitely a lot of gondolas on the line.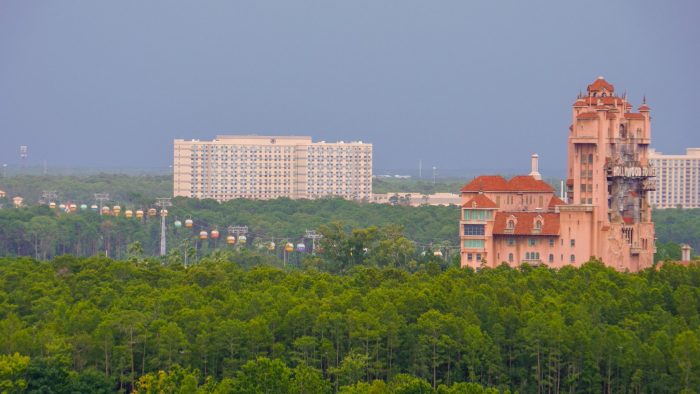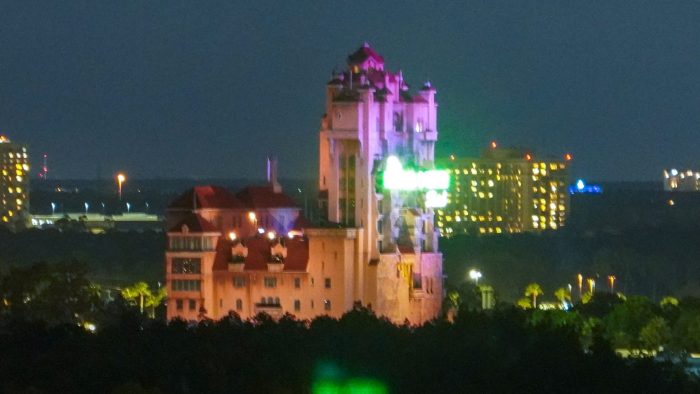 Here's a shot taken from the Dahlia outdoor area that shows you what the human eye would see when looking out at Blizzard Beach.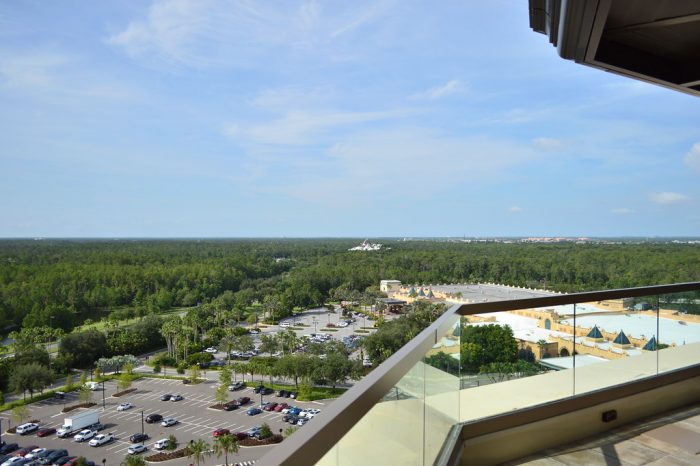 Here's a closeup of that same area.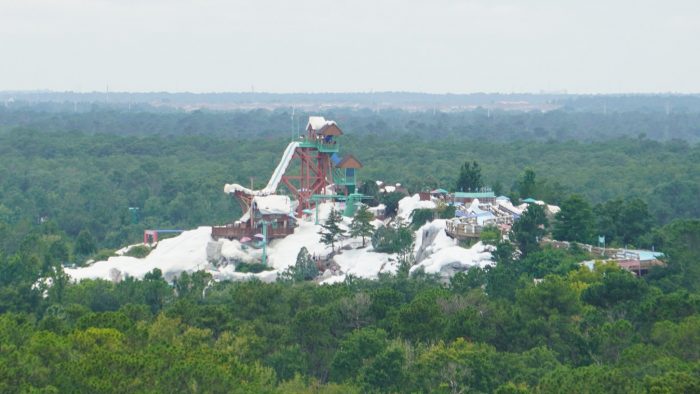 A little more to the right and you'll see Animal Kingdom's Expedition Everest and the Tree of Life.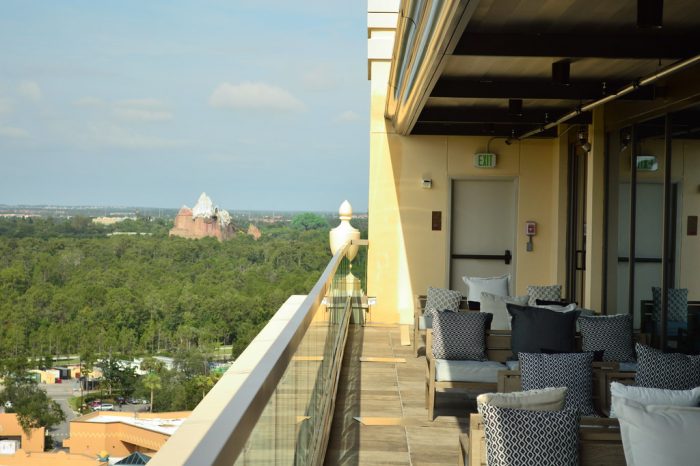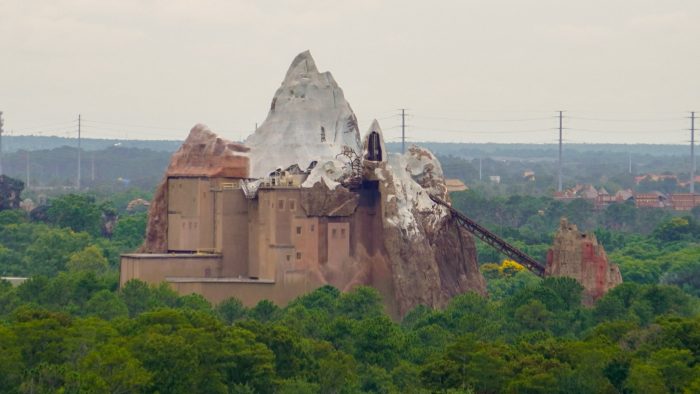 Now here's what many people are going to come for, the view of IllumiNations.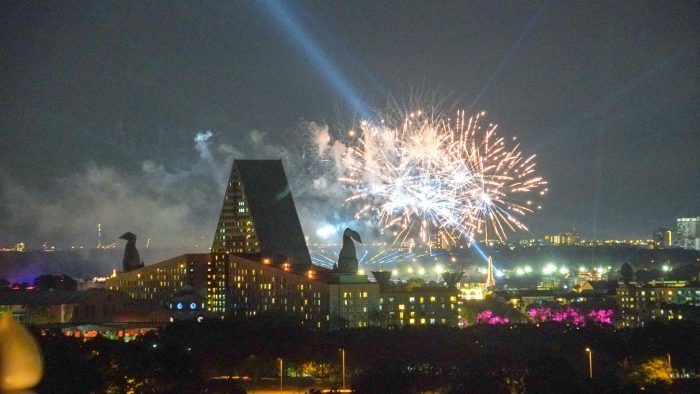 Yes, you will not be the only one watching the show from this area.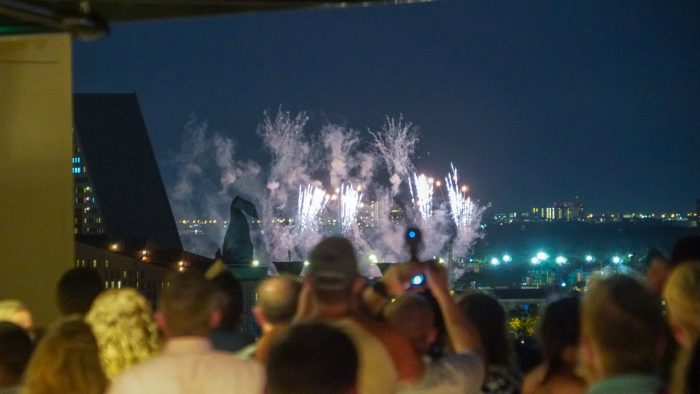 Here's a shot from below looking up at guests at Dahlia bar looking out onto Epcot.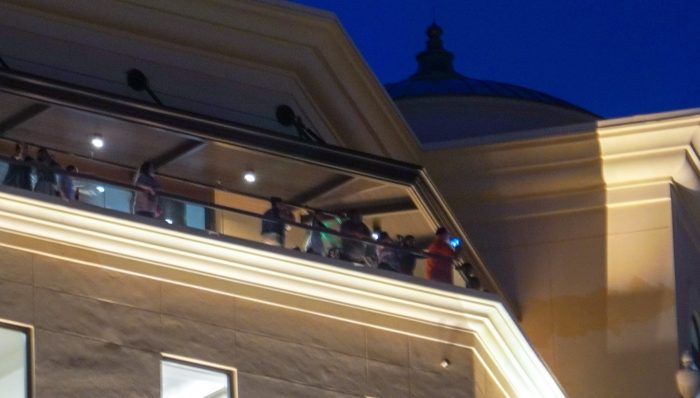 Here is a view from Dahlia bar looking out at the Star Wars: A Galactic Spectacular fireworks at DHS.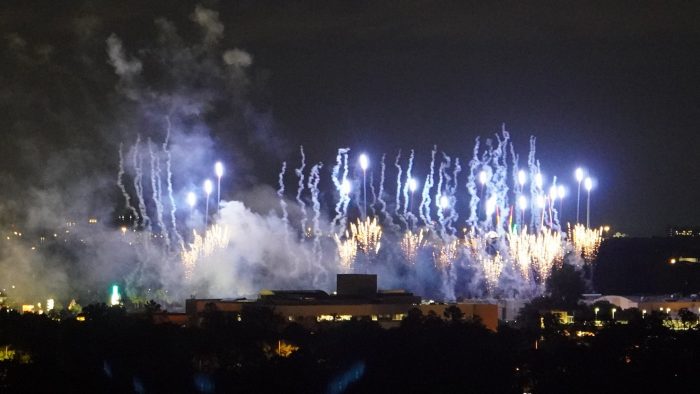 Another fun shot of fireworks at DHS that highlight Star Wars: Galaxy's Edge in the foreground.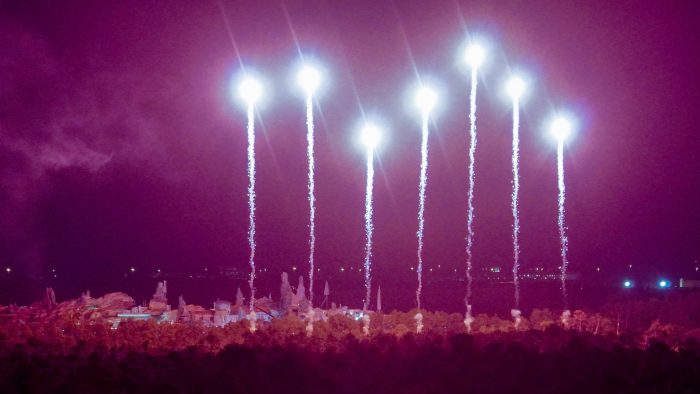 So there you have it: Six Surprises of Gran Destino Tower! See you next weekend for the latest installment of the SATURDAY SIX, where we'll look at something fun from the world of Disney and Universal. If you enjoyed yourself, be sure to check out The Magic, The Memories, and Merch! articles, or, for your listening pleasure, check out the E-Ticket Report podcast. You can also follow Your Humble Author on Twitter (@derekburgan).
If you enjoyed this article, you will surely like the following: 
First Impressions of Gran Destino Tower (by TouringPlans own grand poohbah, Len Testa)
Priceline Express deals at Disney's Coronado Springs Resort
Special Thanks to The Elite Brandon Glover, the bio-est of all reconstructs @bioreconstruct, the SAT SIX Fun Squad of Parkscope Joe and Nick, and Hermione Granger's tutor Megan Stump for their invaluable assistance with this article. The SAT SIX is inspired each week by goofballs Aengus Mackenzie and LitemAndHyde and you Potterheads will  enjoy Meg's other blog work over at the Central Florida Slug Club.
FINAL PLUG! Did you know The 2019 Unofficial Guide to Universal Orlando has a special edition of the SATURDAY SIX in it? That's right, ANOTHER NEW ONE EXCLUSIVE TO THIS EDITION! Finally, someone came up with an actual reason to read a book. ORDER this baby now!