SATURDAY SIX: Six Reasons We Love Universal's Halloween Horror Nights 25
This week's SATURDAY SIX takes a look at the Six Reasons We Love Universal's Halloween Horror Nights 25. While Mickey's Not So Scary Halloween Party is WDW's best hard ticket event, the premier Halloween party in Florida takes place down the road at Universal Studios Florida. Halloween Horror Nights (HHN), which is celebrating its silver anniversary, transforms the entire park after day guests leave. When HHN begins, out come elaborate street experiences throughout the entire park, 9 insanely detailed haunted houses, and two incredible stage shows. After 25 years HHN is still going strong and this year is one of the best ever. Today we are going to look at six reasons we absolutely love HHN 25. So sit back, don't answer the phone (because they are probably calling from inside the house), and let's begin our countdown starting with…
# 6 – JACK'S BACK
Jack Schmidt made his debut back in the year 2000 for HHN X. He was created after a survey by Universal revealed that one of the things guests are most afraid of is clowns. He was the first icon given a detailed backstory and paved the way for later icons such as the Storyteller, the Usher, and the Director. Hands down the most popular icon of all, Jack has made several appearances at subsequent HHNs, but was last seen at HHN XX
This year Jack is back in a major way. He is the key figure in advertisements, point of display ticket offers at Publix, tons of merchandise (including his own Uni-Mini), a stage show, and one of the best houses of the event – Jack Presents: 25 Years of Monsters and Mayhem. Welcome back Jack, we missed you.
–
# 5 – The Merch
One area both Disney and Universal are lacking in for their Halloween parties is unique merchandise, but for this year's HHN Uni picked up their game in that department. From high end collectibles like the the HHN Icon Spike set (which even at $550 I've had to talk myself out of buying, twice), to sharp looking lanyards, pins, glasses, and shirts, this year's merchandise selection should be the benchmark which all future events try to equal. In a nice touch, the gift shop for TWISTER was converted over to the main shop for HHN and is filled with wonderful props from previous years, including Lady Luck's wheel from HHN 21.
–
# 4 – The Scare Zones
The Scare Zones for HHN 25 are pound for pound the best ever. When you first walk into the park you will run into Scary Tales – Screampunk which combines some classic fairy tales with horror and steampunk elements to provide must-see characters. In the Psychoscareapy – Unleashed zone, the scareactors "kill" to obtain costumes and then end up having a best costume contest. The Icons of HHN scare zone feature several of our favorite characters in great photo ops including the Storyteller and the Caretaker. Be sure to stick around when each character has their own "story time" that explains their backstory. Evil's Roots in Central Park is perfectly creepy and includes some terrifying scarecrows. Last, but certainly not least, All Nite Die-In – Double Feature includes many of the all time best horror characters including the Invisible Man, Jason Vorhees, Frankenstein, the Wolfman, and Freddy Krueger. This scarezone also has a five star gimmick in that the cast rotates from black & white designs to being in color, a great throwback to the history of Universal monster movies. If we have one request for HHN 26, maybe we can have one less character wielding a chainsaw next year (or maybe 100 less, your call.)
–
# 3 – Bill & Ted's Excellent Halloween Adventure
Your Humble Author's absolute favorite part of HHN every year is Bill & Ted's Excellent Halloween Adventure. The only good thing to take place inside the Fear Factor stage show set, Bill & Ted is a hilarious take down of the year's best (worst?) of pop-culture mixed in with dancing by what you would call conventionally attractive people. While no photos or videos are allowed during the show, the storyline of this year's adventure is Kayne and Kim Kardashian being able to change the course of history thanks to a certain Time machine courtesy of Doc Brown. The jokes come fast and furious with jabs taken at The Avengers, Melissa McCarthy in Spy, Netflix's Daredevil, that insane Shia LaBeouf "DO IT!" video, Game of Thrones and more. Theme park fans will also appreciate a couple Disney inspired quips including the running gag of Avatarland still not being open and a joke-of-the-show featuring Han Solo.
–
# 2 – The Houses!
The calling card for HHN is its haunted houses, and this year has one of the strongest lineups ever. Freddy vs. Jason, Jack Presents: 25 Years of Monsters and Mayhem, Insidious, and Body Collectors are a murderer's row of houses if there ever was one. All fantastic. You also have a complete recreation of one of the best houses in HHN history with American Werewolf in London with only one major change, the wolves are looking even better than before. Asylum in Wonderland 3D is one of the best 3D houses Your Humble Author has been through. 3D houses have a high potential to be a disaster, but this was a fun take on the Alice in Wonderland story with some strong visuals. The Walking Dead is what it is, a controversial house to be sure, but it brings people through the gates and allows Universal to do some amazing stuff elsewhere in HHN. Hard to complain about that.
–
# 1 – The Carnage Returns
The Carnage Returns is a show you are going to love, or you are going to hate (and we mean hate with a capital H, just ask Disney photo icons Tom Bricker or Mark Willard). It's intense. As intense as anything I have ever seen inside a theme park. The set itself is gorgeous and there is some serious production values in the show opening video. The Carnage Returns shows exactly why Jack Schmidt is main event talent. He looks awesome and the character has personality and charisma at an "11." His sidekick Chance isn't too hard on the eyes either. The show is gruesome, and I would be the first person to argue that Universal should make HHN an experience for only those aged 14 and up, but taking just the show itself, this is what separates HHN from the pack. I love Howl-O-Scream at Busch Gardens and I love MNSSHP at Disney, but HHN is in a league by itself.
Here is a video of the show from our friends at The DIS Universal. Do not, UNDER ANY CIRCUMSTANCES, watch this show if you are easily offended. Also understand it contains (very) graphic violence and language.
–
HONORABLE MENTION – The On-Site Hotels Get In On the Fun
Guests at Universal's on-site hotels Portofino Bay, Hard Rock and – my personal favorite – the Royal Pacific Resort can have HHN brought directly to their room via room service with a dedicated menu featuring broken fingers (mozzarella sticks), flesh and bones (chicken wings) and zombie dip (tortilla chips and dip) but the MUST DOS are the desserts including the cupcake slaughter and haunted berries. We here at the SATURDAY SIX have a little fun with all the "exclusive" cupcakes that Disney keeps bringing out, but if they looked as cool as the HHN ones by Loews hotels, we'd stop with all the jokes and start eating. And haunted berries? Who knew you could make fruit worth eating on vacation? Is there anything HHN can't do?
–
DISHONORABLE MENTION – PIZZADOG
In an apparent tribute to Frankenstein's Monster, Universal has unveiled a new food monstrosity  for HHN in the form of PIZZADOG. It's a full size hot dog baked into the crust of a slice of pizza. And in Universal's defense, Pizzadog is a million times better than Pizza Hut's version of mini-hot dogs in the crust. That said, please Universal, PLEASE BRING BACK THE FRIED PEANUT BUTTER JELLY AND BANANA SANDWICH FOR HHN 26. Pretty please, with sugar on top.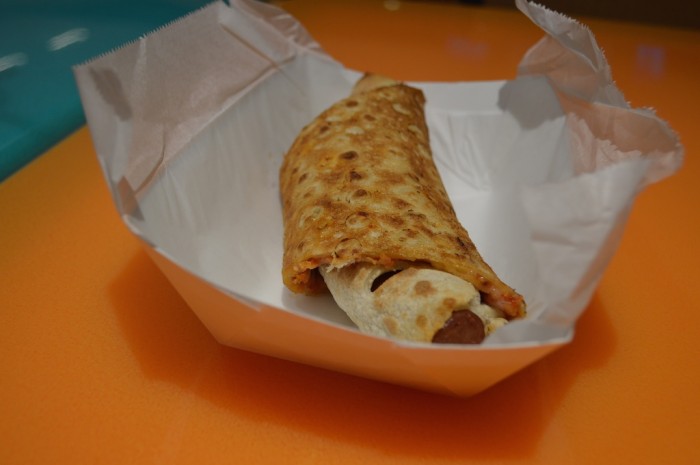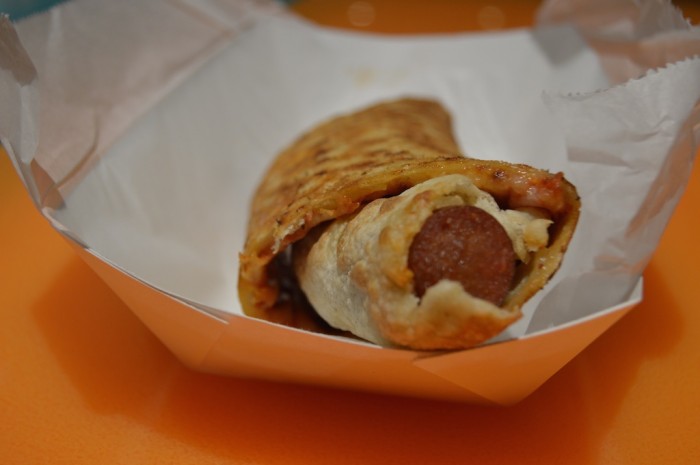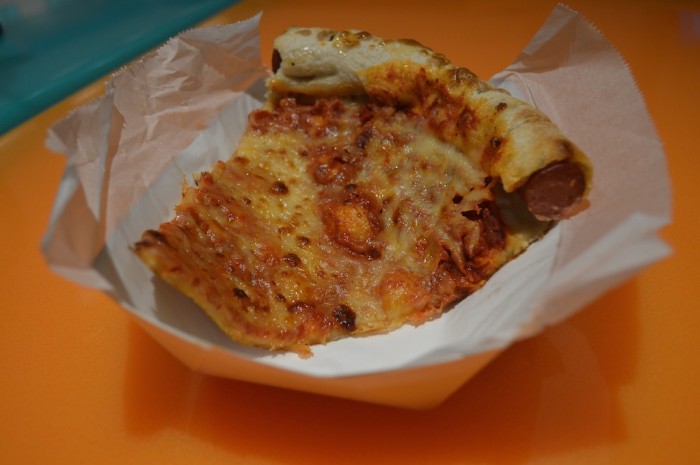 –
Halloween Horror Nights 25 runs on selected nights from Sept 18 – Nov 1. CLICK HERE for more info.
So there you have it: the Six Reasons We Love Universal's Halloween Horror Nights 25. See you next weekend for the latest installment of the SATURDAY SIX, where we'll look at something fun from the world of Disney and Universal. If you enjoyed yourself, be sure to check out The Magic, The Memories, and Merch! articles, or, for your listening pleasure, check out the Pardon the Pixie Dust podcast. You can also follow Your Humble Author on Twitter (@derekburgan)
If you enjoyed this article, you will surely like the following:
Six Reasons HHN is Better Than MNSSHP
A First Timer's Guide to Surviving HHN
How To Enjoy HHN When You Are Scared Of Everything
Special Thanks to crack staff photographer Brandon Glover, photo wunderkind Mike Sperduto, the Iron Stomach @AmusementBuzz, The Future of Blogging @elvey, and blogger to the stars Megan Stump for their invaluable assistance with this article. Be sure to also check out Brandon on The Park Blogger podcast with co-hosts Aengus Mackenzie and Brian Carey.
FINAL PLUG! Did you know The Unofficial Guide to Universal Orlando has a special edition of the SATURDAY SIX in it? Finally, someone came up with an actual reason to read a book. ORDER this baby out now and support SIX NATION (boy do we need a better name than that.)