SATURDAY SIX – 6 Reasons We Love Universal's 2019 HALLOWEEN HORROR NIGHTS
This week's SATURDAY SIX takes a look at HALLOWEEN HORROR NIGHTS 29 at Universal Studios Florida!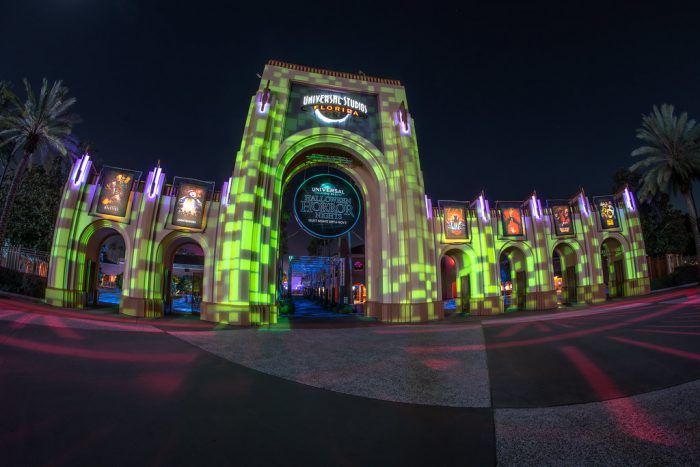 The theme park calendar is filled with special events that fans treasure. For some, it's the Christmas season, with things such things as Disney's Very Merry Christmas Party, elaborately decorated hotels, and Universal's Grinchmas. Some enjoy the spring, with pleasant weather and the bloom of Disney's Flower & Garden festival. Generally speaking, the summer brings the debut of new E-Ticket rides and experiences, such as Toy Story Land in 2018 or Star Wars: Galaxy's Edge this year. However, for many of us, the season we look forward to most hands down is HALLOWEEN SEASON.
Disney has upped their game in a major way with Mickey's Not So Scary Halloween Party, but the premier spooky event in Orlando – in fact, THE WORLD – is down the street at Universal Studios Florida's Halloween Horror Nights (HHN). For each night of HHN, the theme park completely transforms itself through the combination of original concepts and well-known IPs to produce and unforgettable event. Today we're going to take a look at some of our favorite parts of this year's HHN, and let's kick off the countdown with…
# 6 – The Food
The SATURDAY SIX has long considered HHN to be the "International Food & Wine Festival for the workin' man." While Epcot may offer frou frou plates along with wine pairings where you need to hold your pinkie out when drinking, Universal offers items such as pizza fries, deep fried Twinkies, and a doughnut in the shape of Dracula filled with Oreo flavored Bavarian cream.
In fact, let's start off with the HHN-themed offerings from our beloved Voodoo Doughnuts. Last year Voodoo had one exclusive doughnut offered during HHN season, but this year they have three. We mentioned the Dracula donut, but they also have two more tasty treats themed to Stranger Things. One of the cool parts of HHN is that the event isn't contained to just USF, with CityWalk restaurants and even the onsite hotels offering unique food offerings. For example, at Bread Box you'll find a Stranger Things-inspired chicken and waffle sandwich, while guests staying at Lowes Sapphire Falls Resort can have haunted desserts – such as ghostly chocolate covered strawberries – delivered via room service.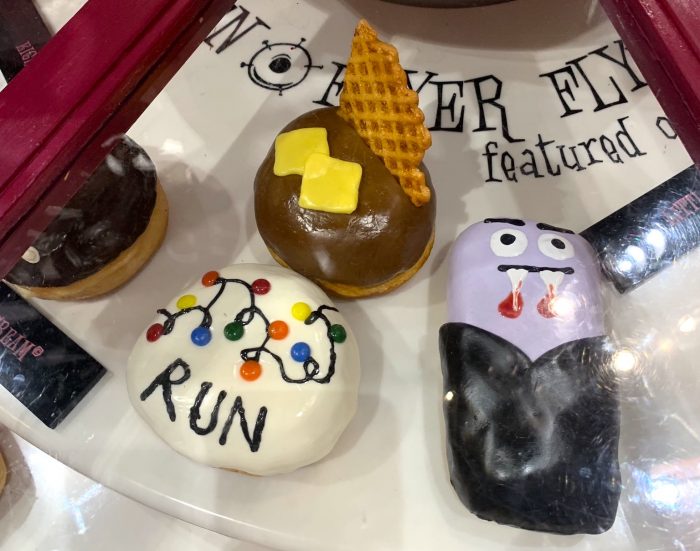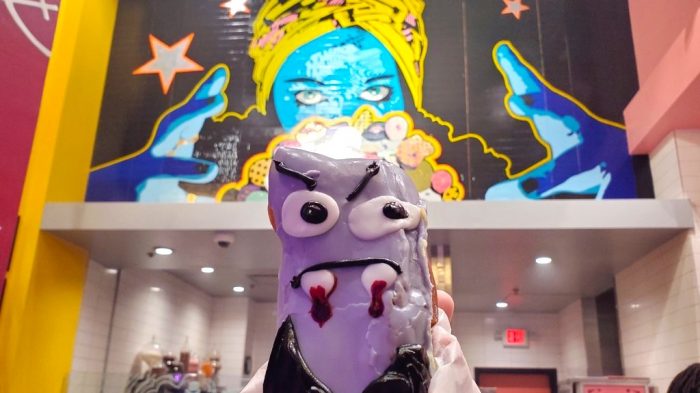 The wheel. Electricity. The personal computer. All mere child's play compared to mankind's greatest invention: pizza fries.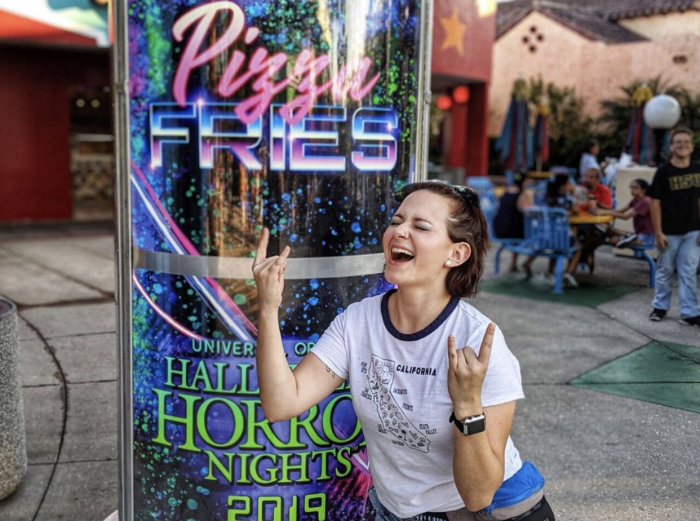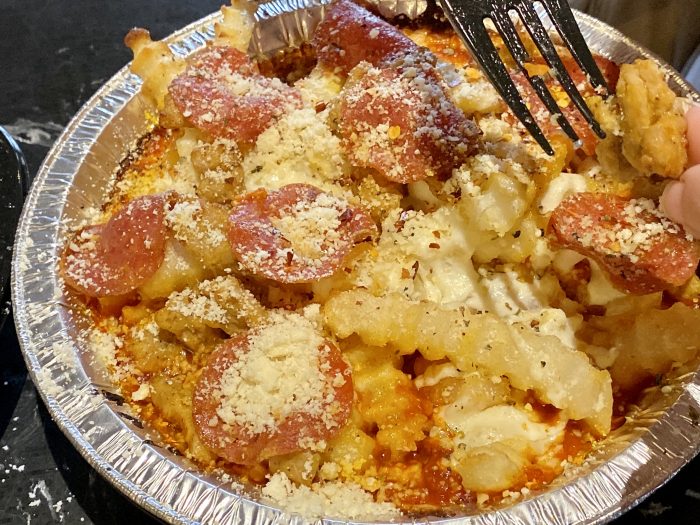 This year we have the addition of a new fries platter joining our culinary rotation with S'mores Fries (sweet potato fries, marshmallow, chocolate chips and cracker crumbs).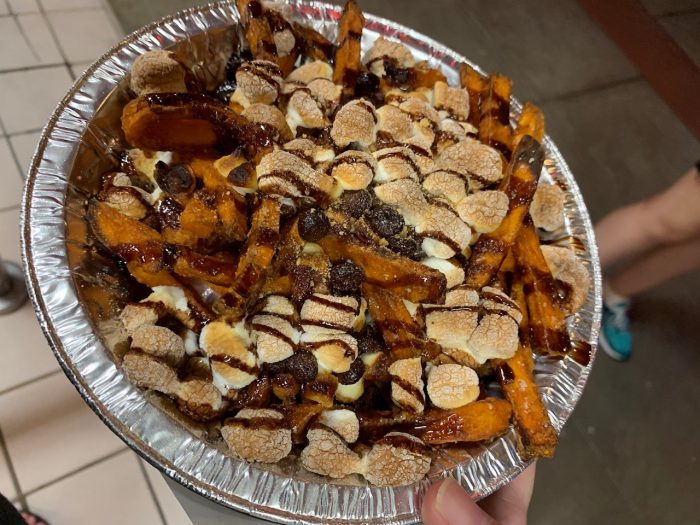 The grilled street corn is an E-Ticket, and may be the overall winner of the new food items introduced this year.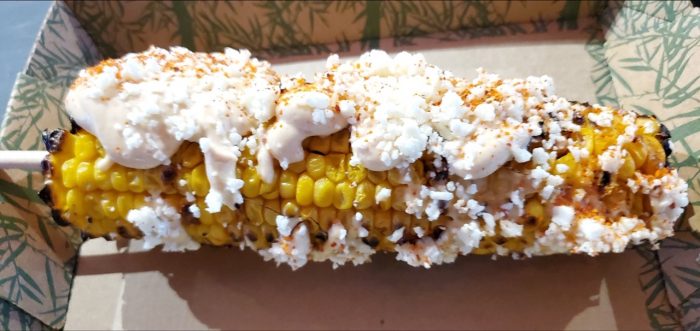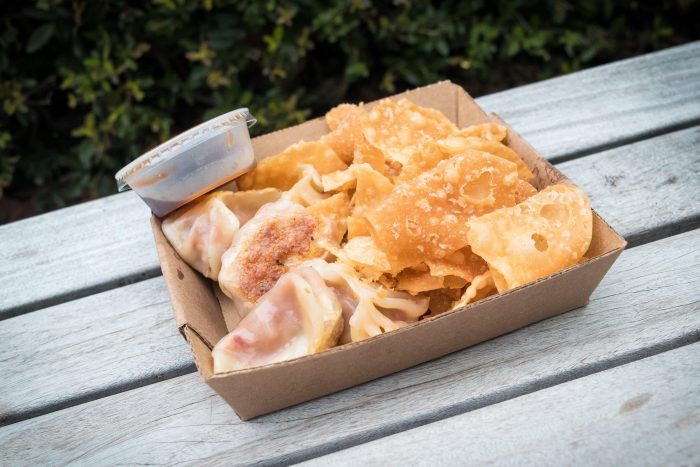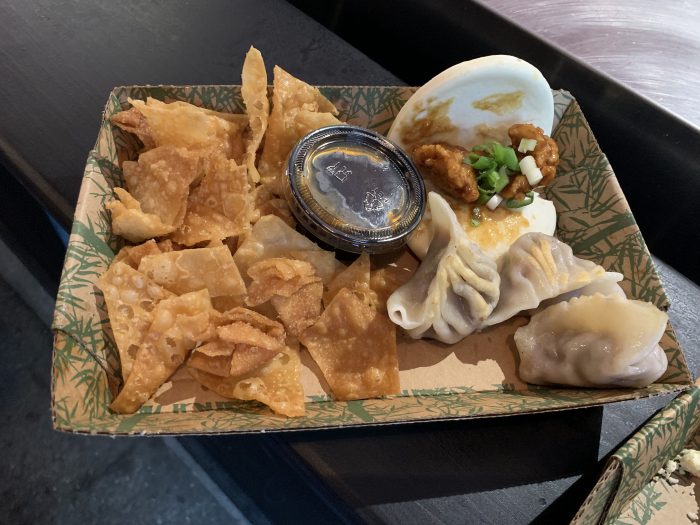 Of course there were returning favorites as well, including the Stranger Things inspired Triple Decker Extravaganza.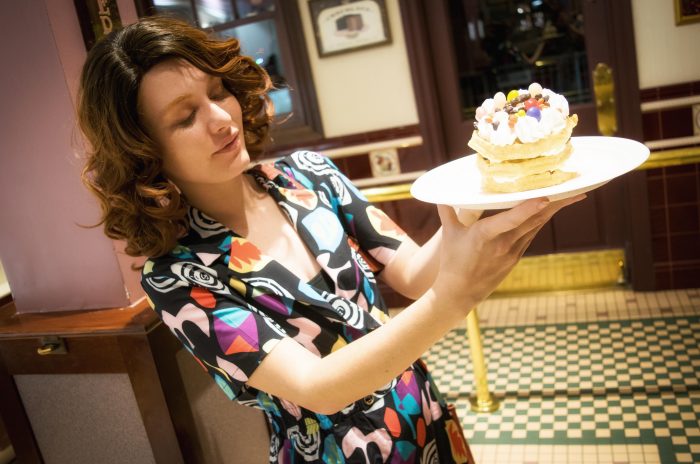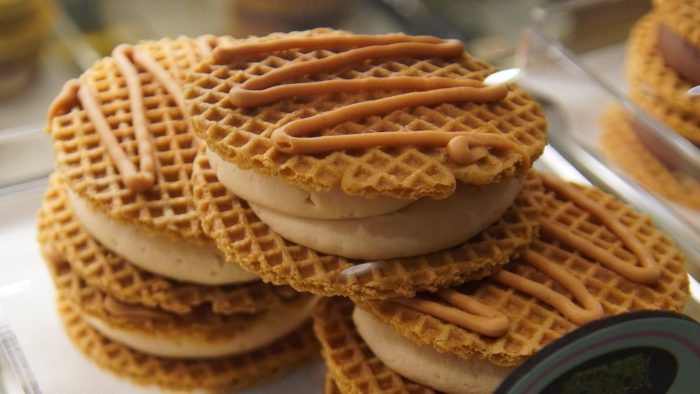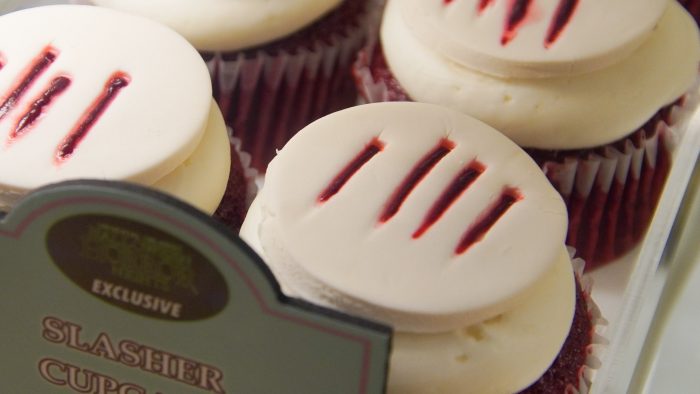 Aside from the massively popular Stranger Things, several other HHN IPs have snacks based around them, including the cult classic Killer Klowns from Outer Space.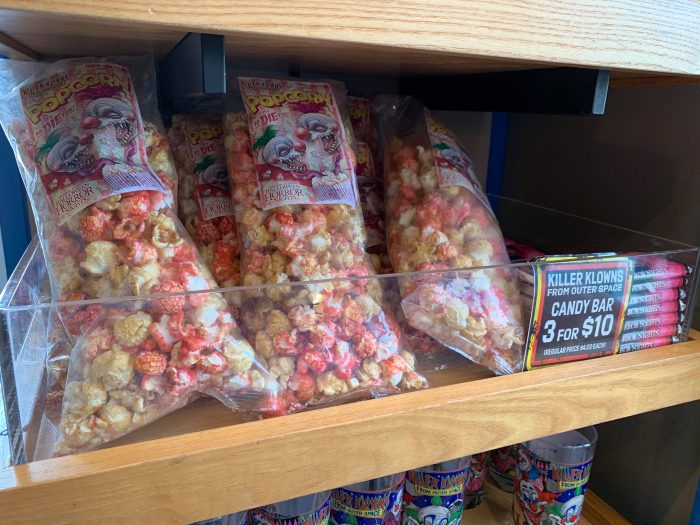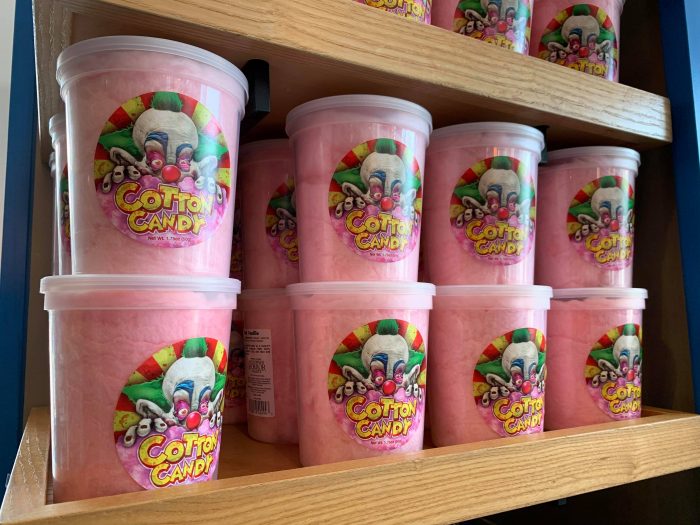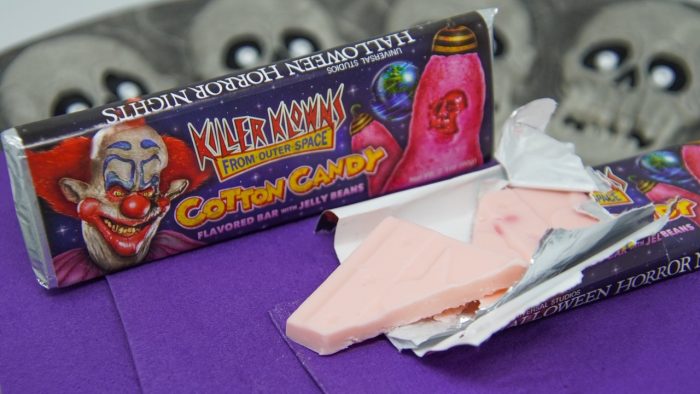 If this Ghostbusters popcorn box had been made out of plastic instead of cardboard, it may have been the best item of 2019.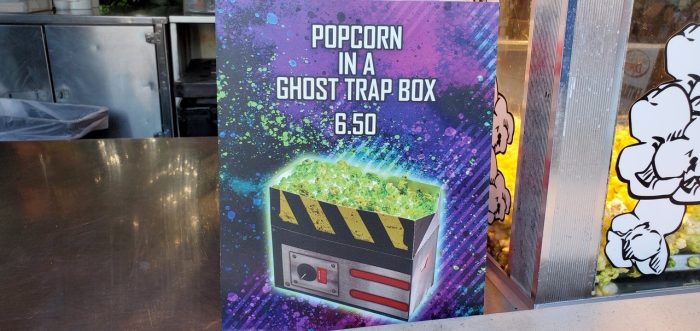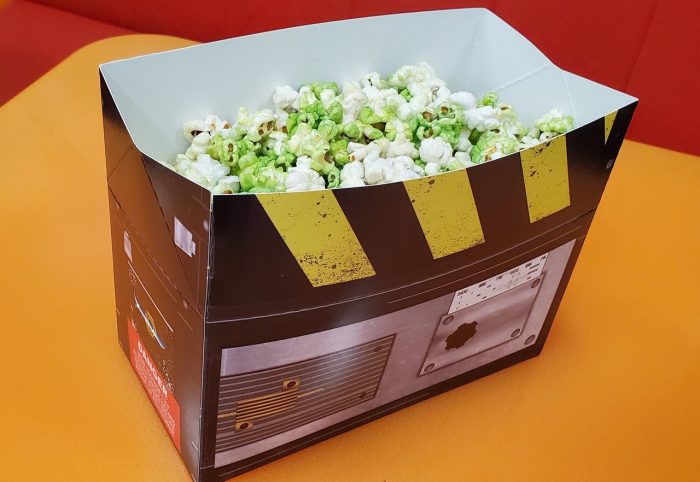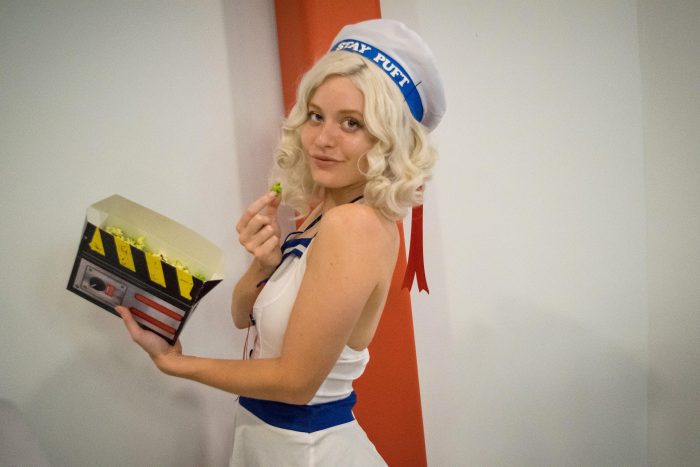 Universal often has unique flavors in their Coke Freestyle machines, and for HHN guests can get a taste of the Stranger Things world with Coke and Coke Zero from "the upside down."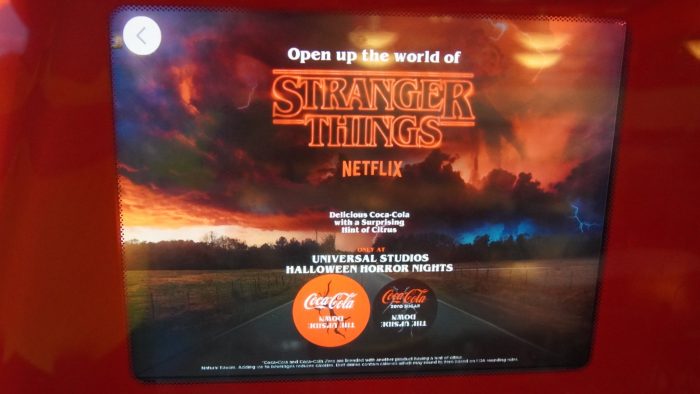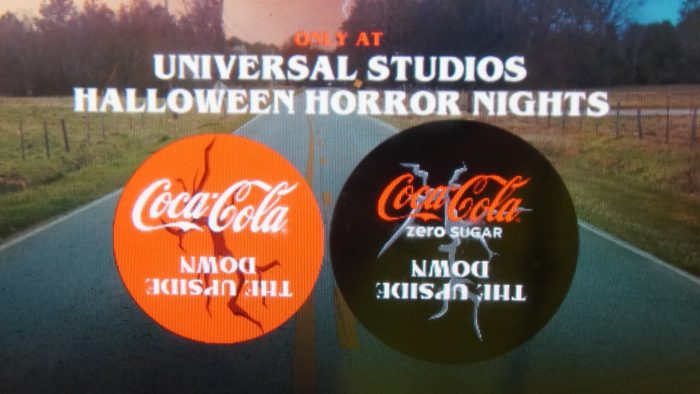 # 5 – The Merch
For many years, one of the only weak links in HHN's armor was the event's selection of merchandise. Not anymore. In fact, not only has merchandise become a strength of the annual Halloween event, but the shopping experience itself has become elevated. There are some wonderful photo ops available to guests, including this great display using the Universal Classic Monsters.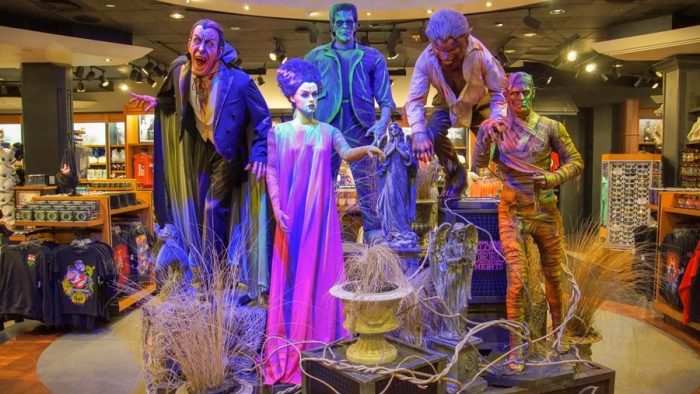 Starting last year, Universal introduced some classic video games into the park as a tie-in to the Stranger Things franchise. One of the more memorable moments early on in Season 2  of the hit NETFLIX show is the main cast playing video games in an arcade. One game they are shown playing is Dragon's Lair, and another game – Dig Dug – gets a spotlight when the boys discover someone has beaten their high score. In the main gift shop near the entrance of USF, Universal set up a miniature arcade featuring both these games along with several other classics that were in the background of Stranger Things (including Ms. Pac-Man, Space Invaders, and Defender). As a person who spent way too many quarters in arcades growing up, this was a wonderful bit of nostalgia come to life. To take it up a notch, Universal allows guests to play the games by buying a special token, which also in-turn creates an instant souvenir. The tokens themselves were also updated for 2019.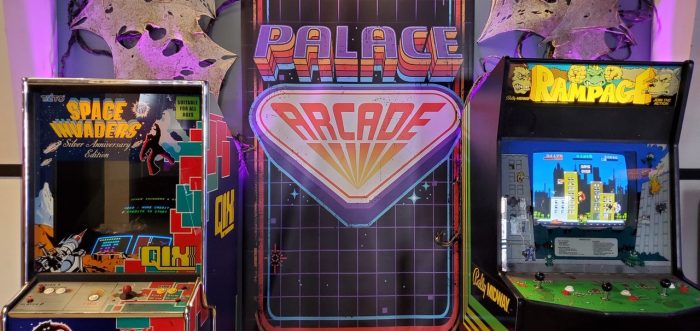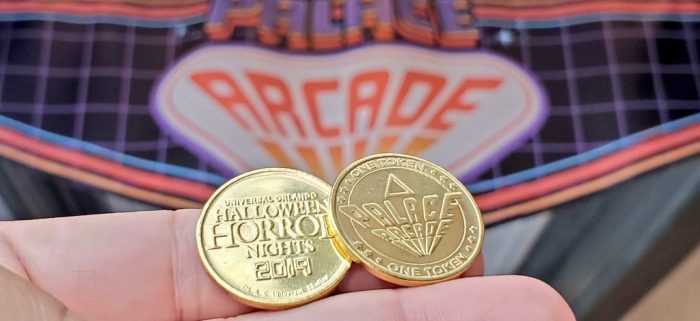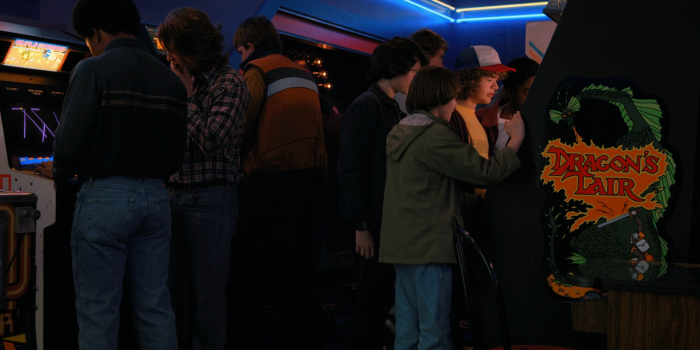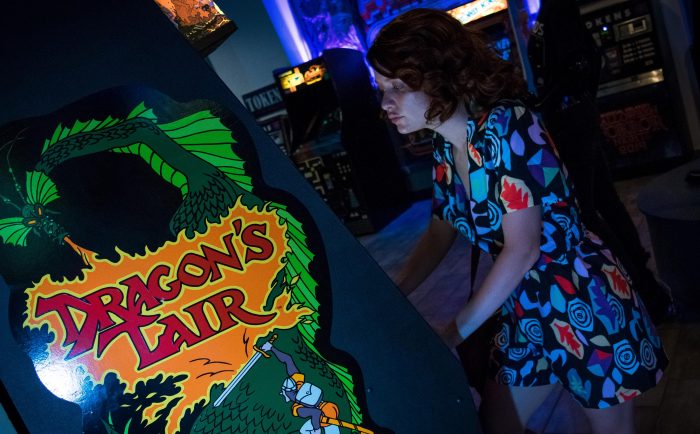 Even better, there is a dedicated HHN Tribute Store that is filled with great merchandise and a bunch of amazing photo ops with elements from Stranger Things and Ghostbusters.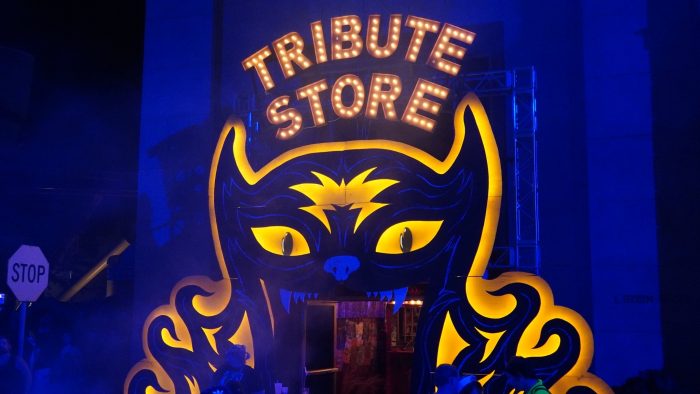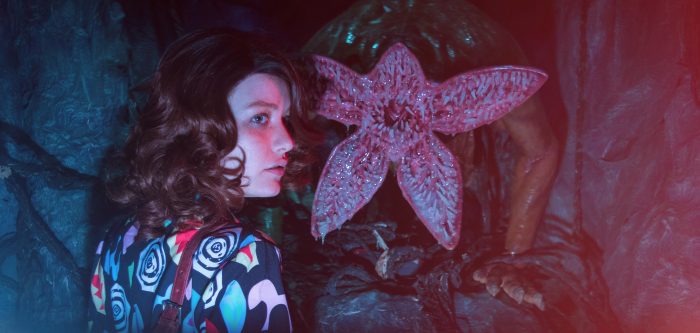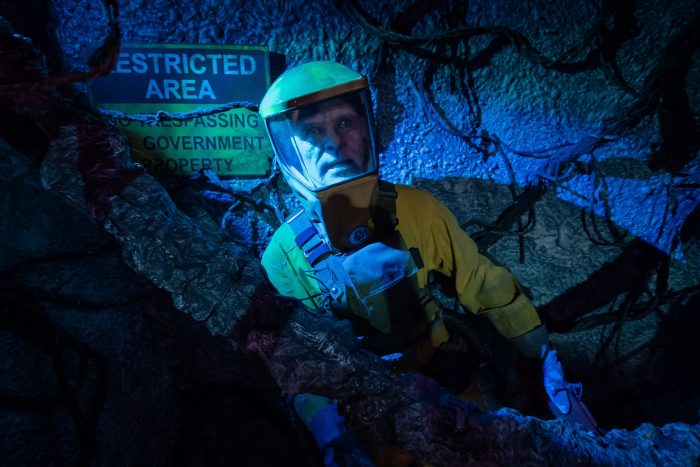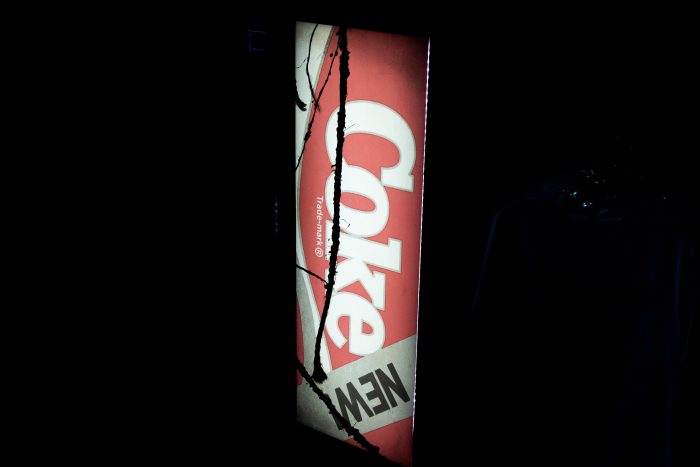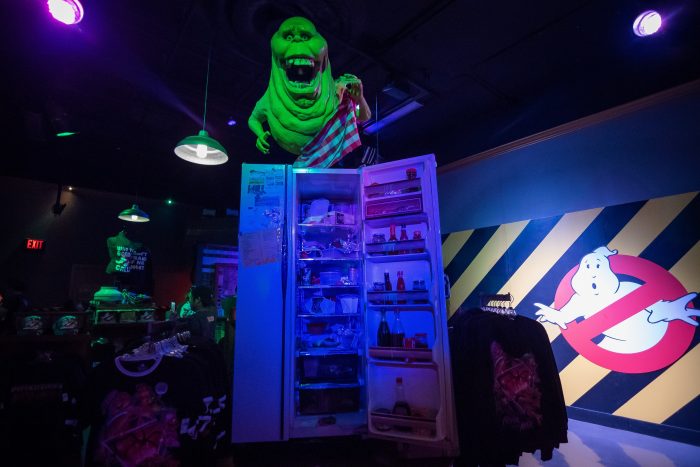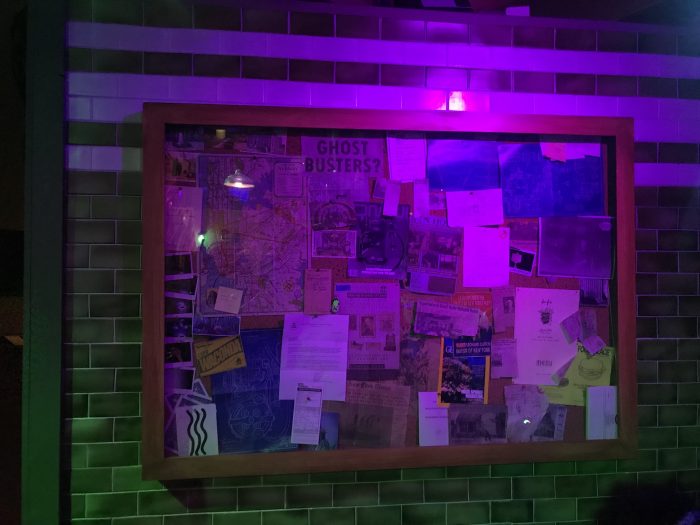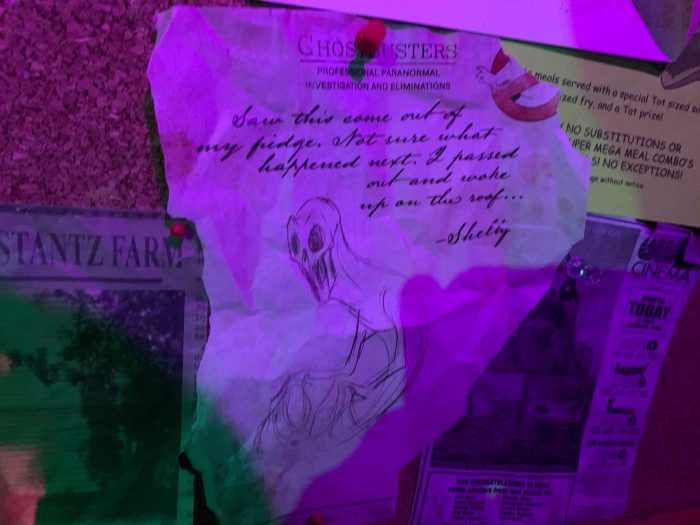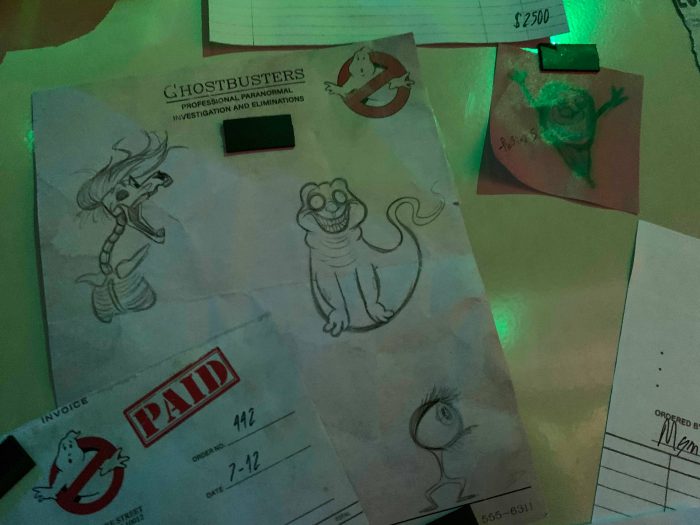 It wouldn't be HHN without a "blinky cup" and this year the cups were themed, including this one to Ghostbusters.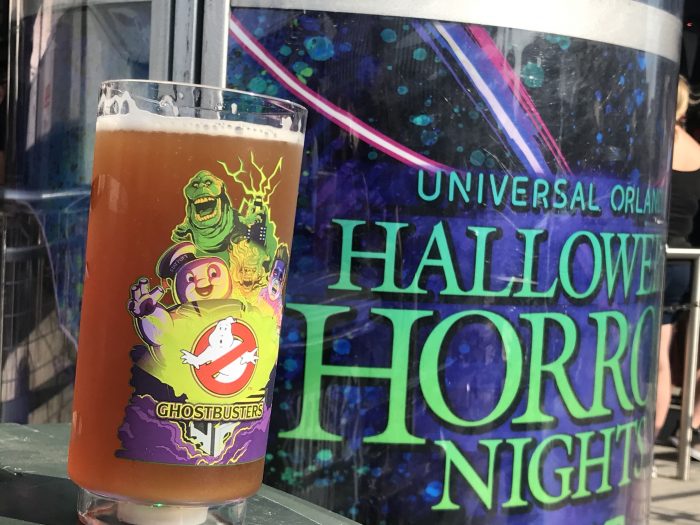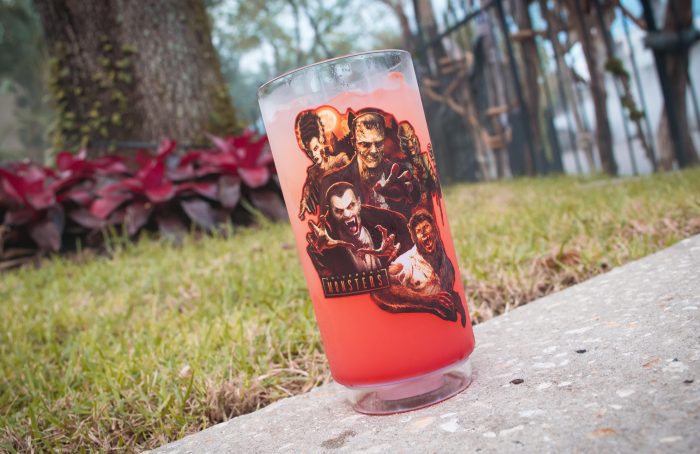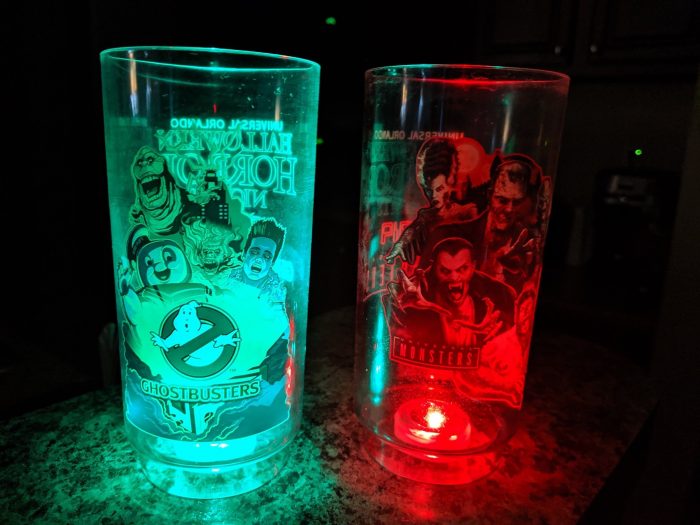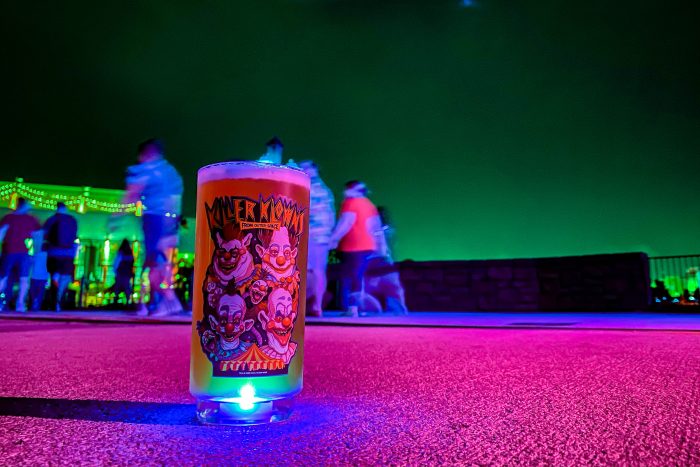 Those of us a certain age remember when fast food places like Burger King would release glasses based around movies like Star Wars: Return of the Jedi. HHN brought a bit of that nostalgia back with similar style glasses.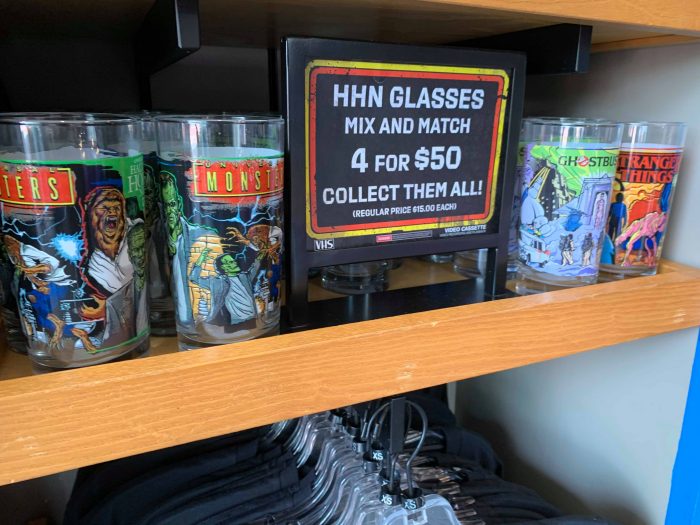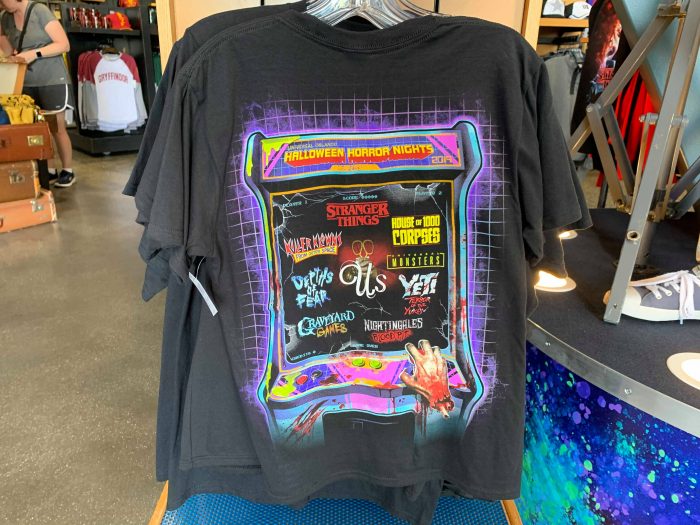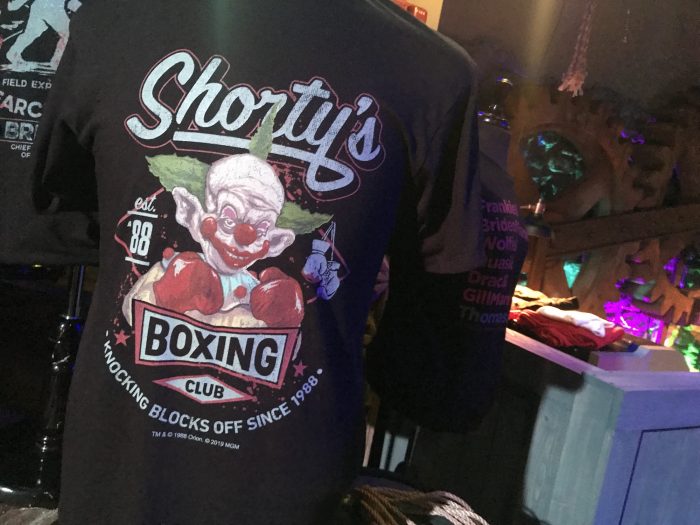 One item this year was a neat Ghostbusters fleece that converts into a backpack.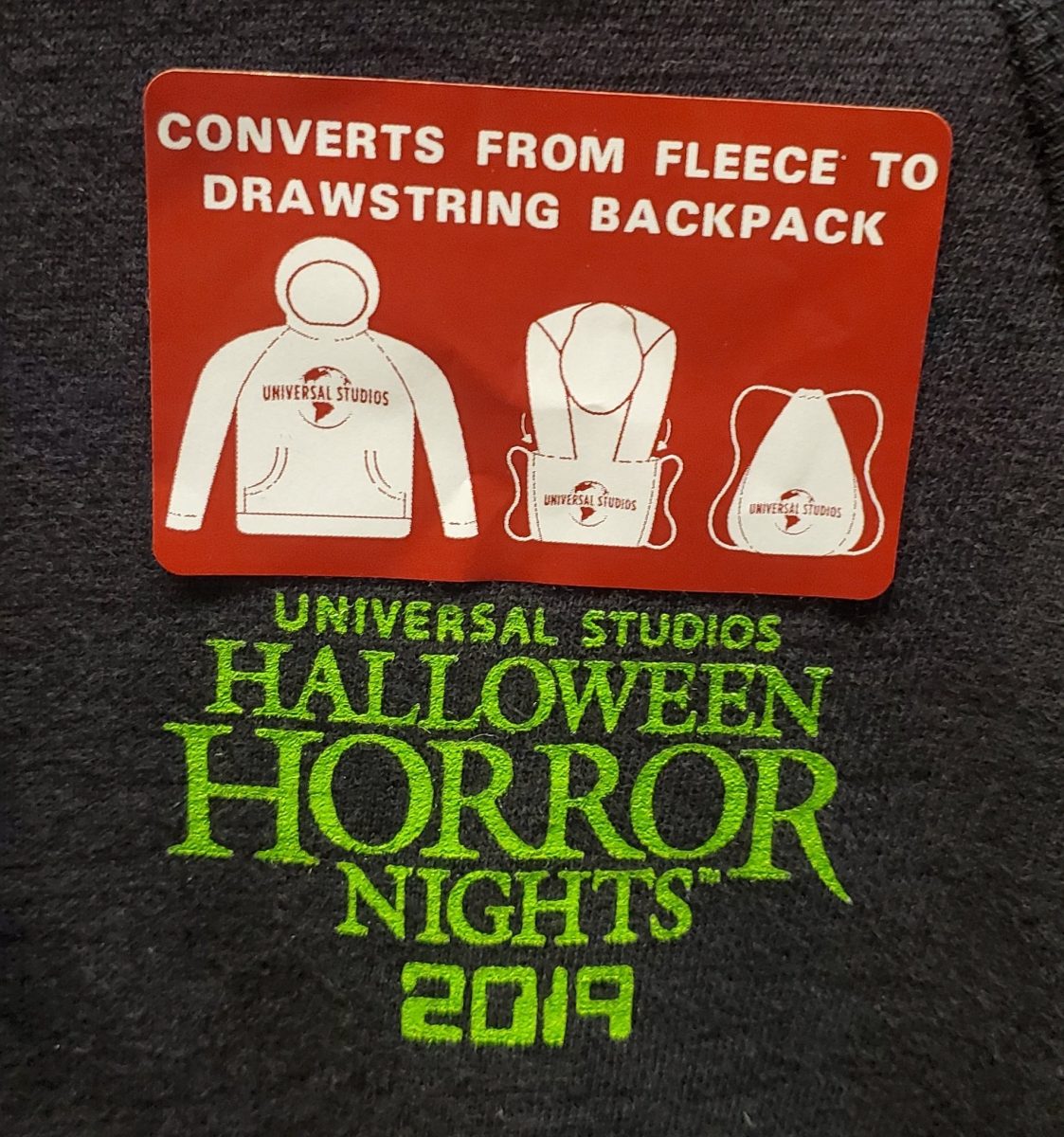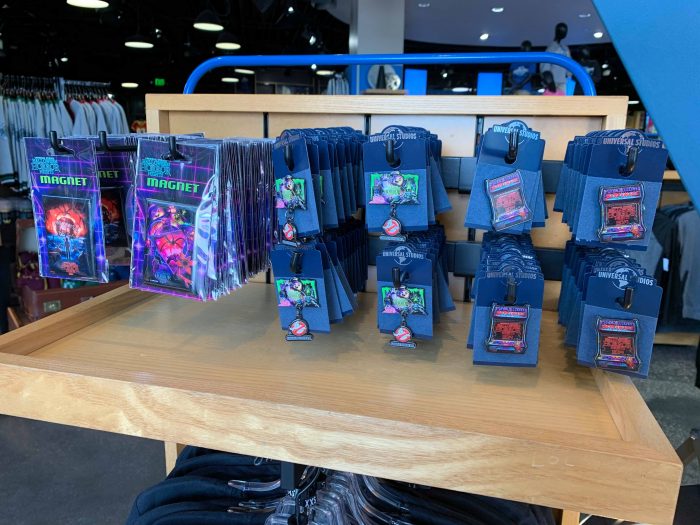 Ghostbusters themed socks came in this retro style VHS tape packaging.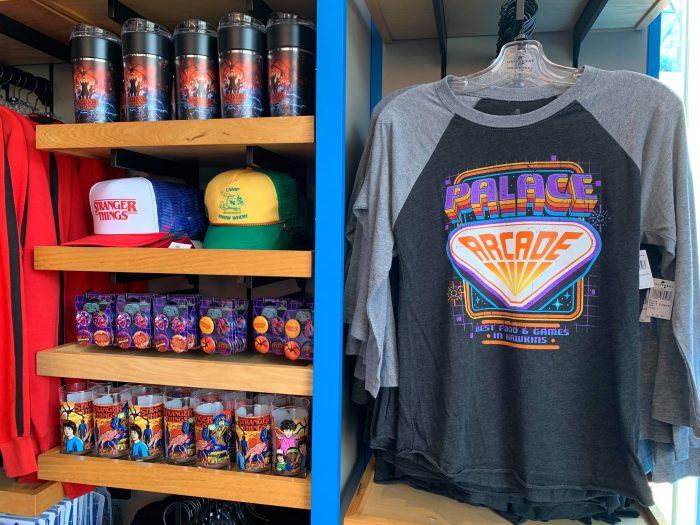 One item that made its debut at last year's HHN was this light up skull. It has returned with a much lower price point.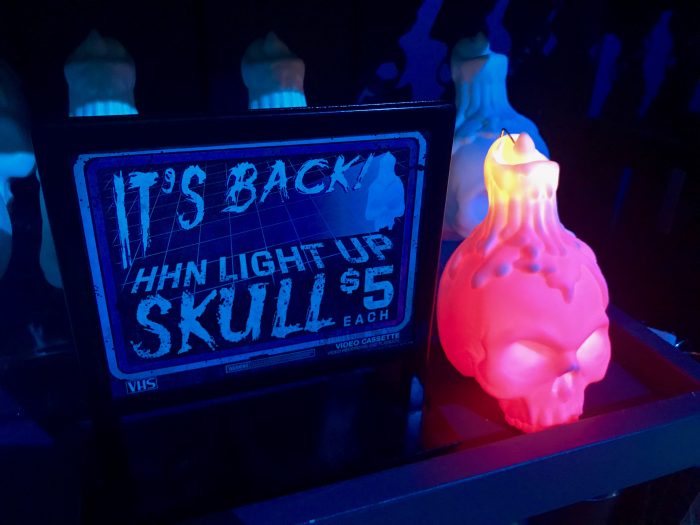 The skull is just one of the many "light up" items you can buy, many of which look great at night.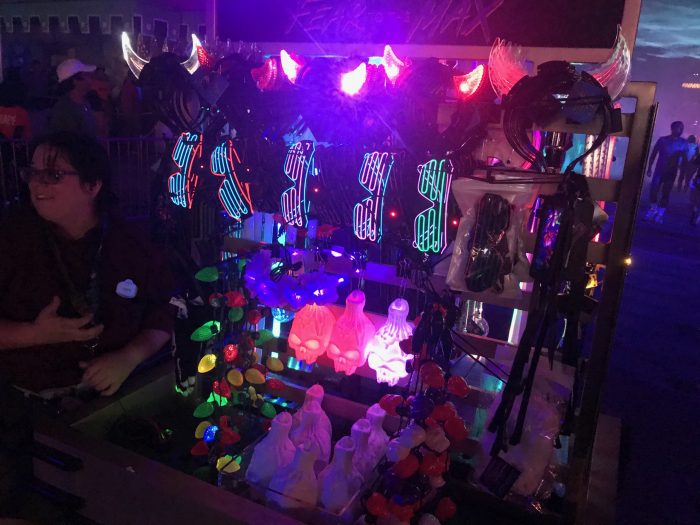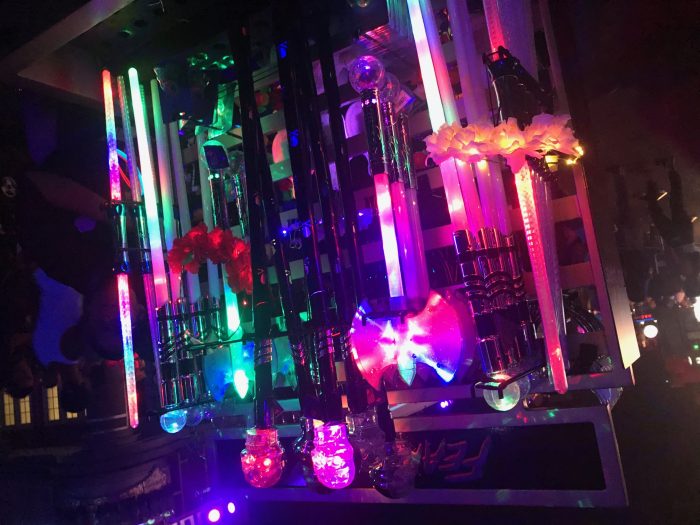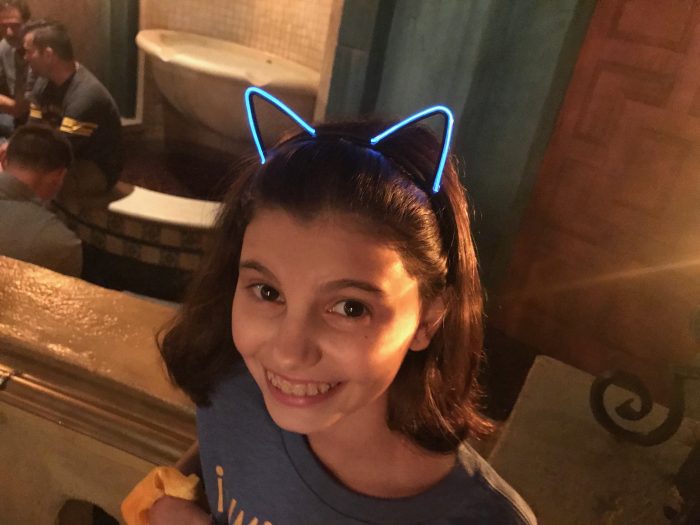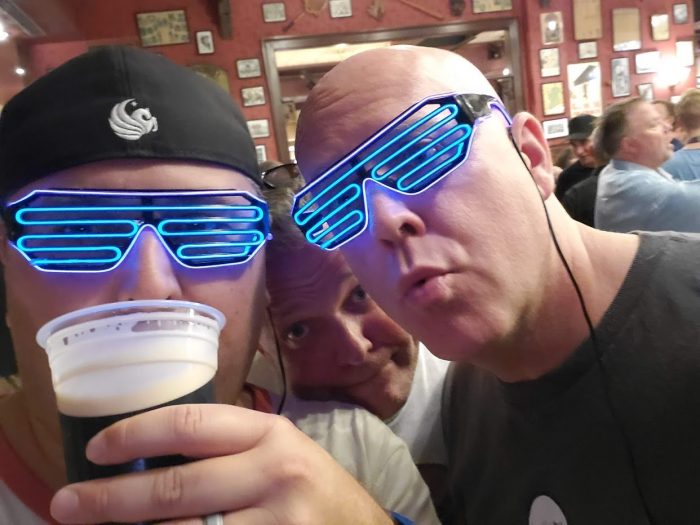 You should know by now that one of the hills I will die on when it comes to theme parks is Carnival Games. When done right, such as the games in Springfield USA or out in California at Pixar Pier, they are a great addition to theme parks featuring something both adults and kids can enjoy. When they are done wrong, they are called the Fossil Fun Games in Animal Kingdom. Universal brings out a separate set of games for HHN, and generally has really fun prizes based on horror films, such as these Ghostbusters plush.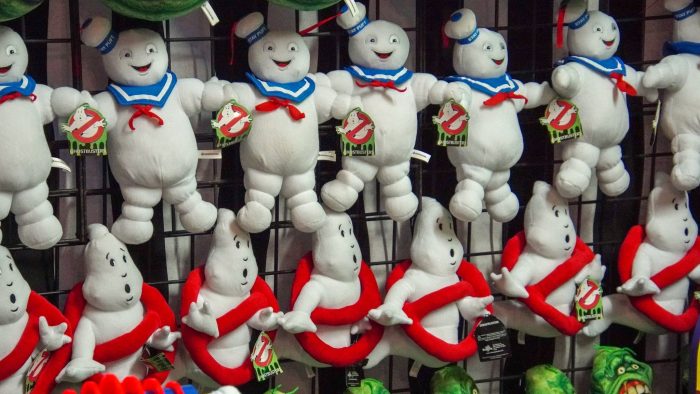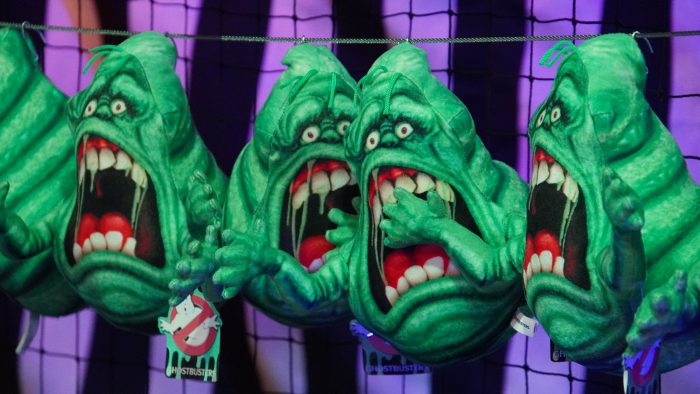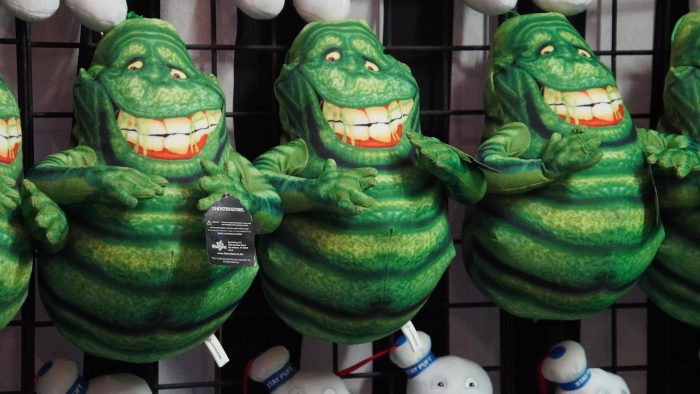 Of course some merchandise is absolutely free, so remember to stop by the ticket booths or guest services for a UOR button.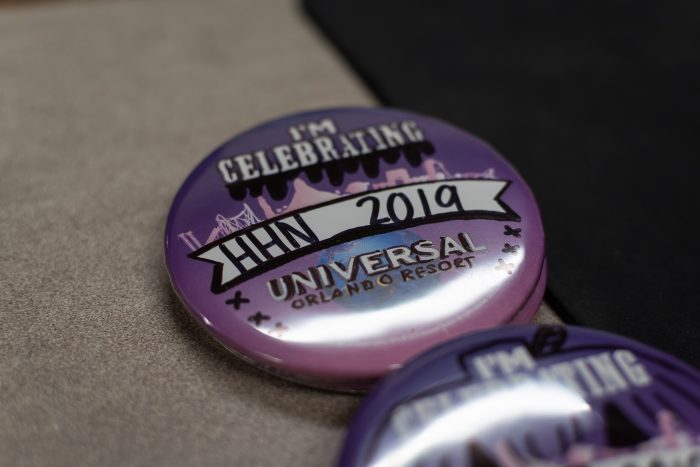 # 4 –  Academy of Villains
Taking place on the Fear Factor Live stage, The Academy of Villains returns with a new show that offers a unique combination of horror, hard rock, and hip hop along with a pinch of Cirque du Soleil added on top. I miss Bill & Ted's Excellent Halloween Adventure as much as anyone, but the AOV troupe offers a mesmerizing show filled with some top-notch performers.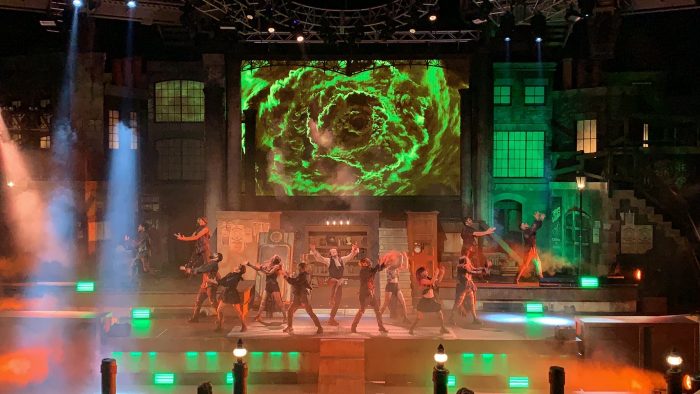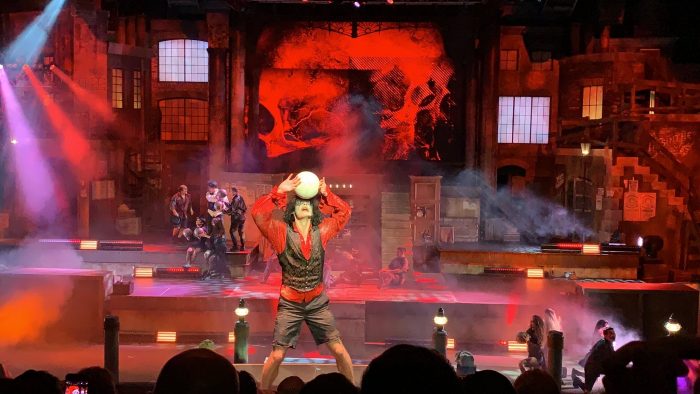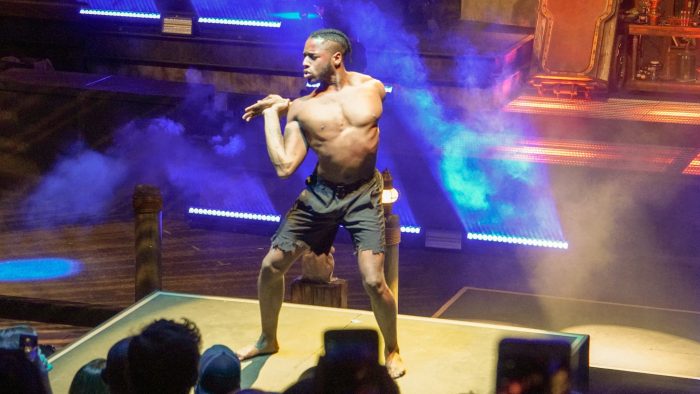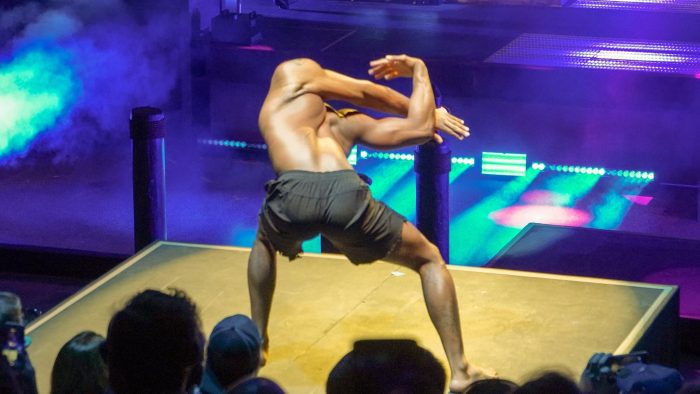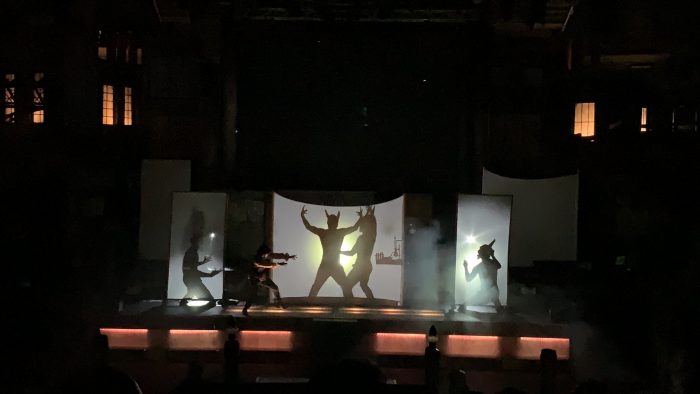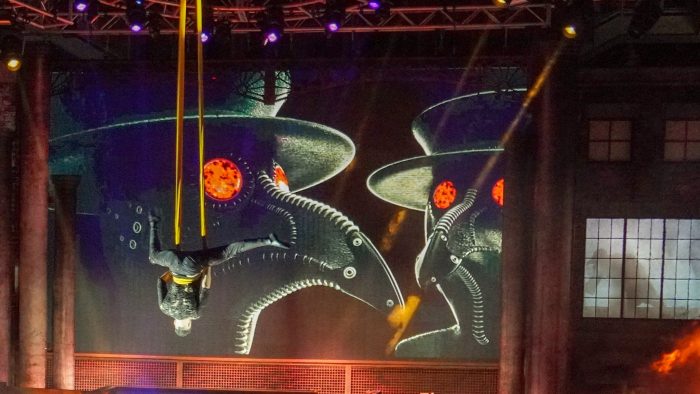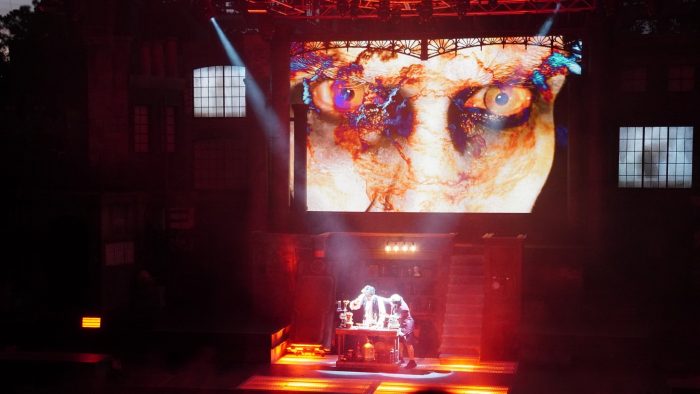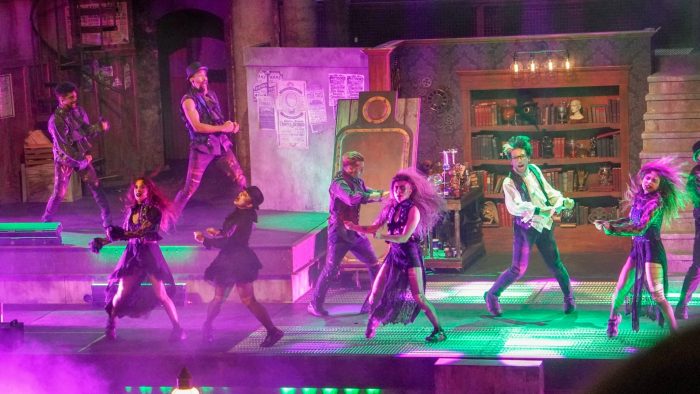 # 3 – Marathon of Mayhem
The huge surprise of HHN 29 was the debut of the Marathon of Mayhem show located on the lagoon, with many saying it is their favorite part of the event. Using the water mist screens, fountains, and projection technology that are regularly seen in Universal's awesome Cinematic Celebration show, Marathon of Mayhem involves moments from HHN properties such as Ghostbusters, Killer Klowns, and Stranger Things. This show is Not To Be Missed.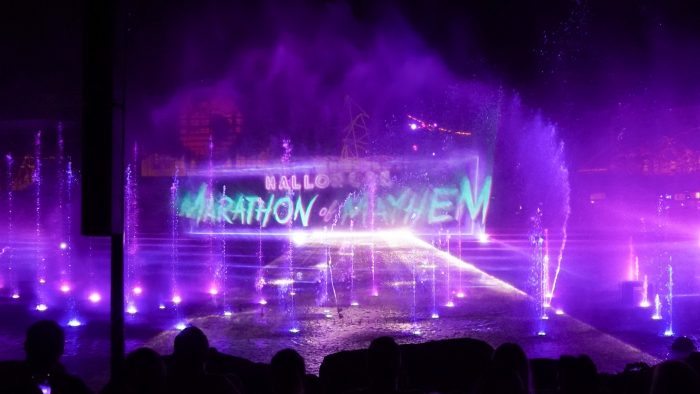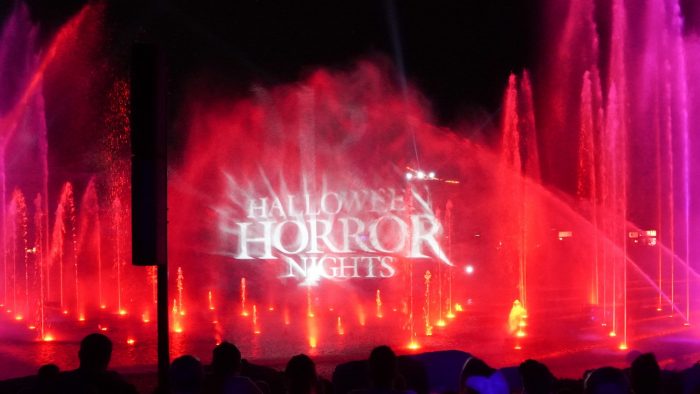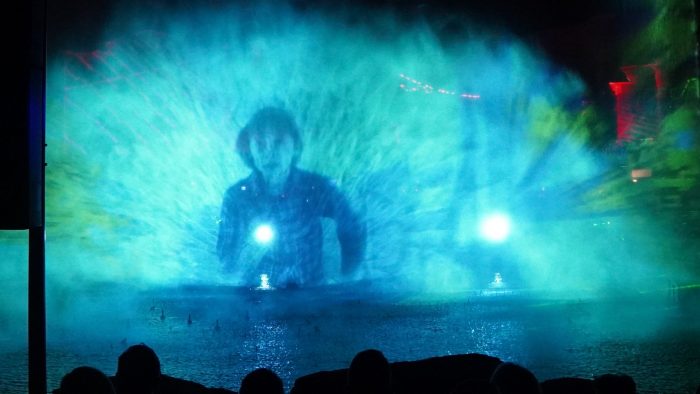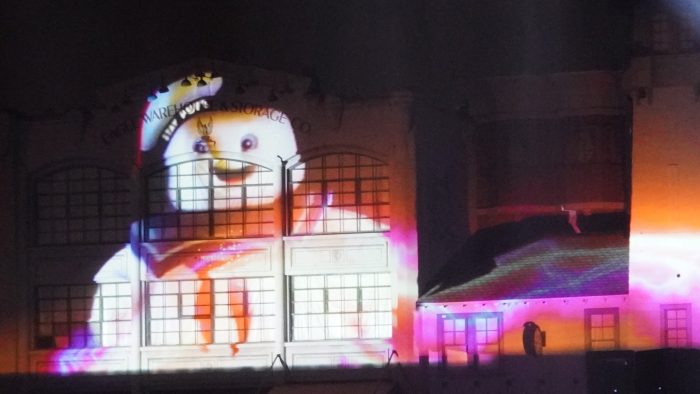 # 2 – The Scare Zones
Even over just the last several years, the Scare Zones located throughout HHN have become a bigger part of my personal experience. Previously, my TouringPlan consisted of "gotta get to a house, then another house, then another house," etc, but now I enjoy taking my time and just walking around. Taking it all in. People watching. During one of our Unmasking the Horror tours, we walked backstage and saw the area where scareactors were getting ready. It was amazing just to see the process, along with how many moving parts there are to HHN. It made me truly appreciate the scareactors and the people behind the scenes who help them get ready every night. It's also fun just to see people get the daylights scared out of them, and that can happen right into front of your eyes in a scare zone.
This years scare zones include Vanity Ball, Vikings Undead, Zombieland Double Tap, Rob Zombie Hellbilly Deluxe, and the drop dead amazing Anarch-cade. Each of the zones has show elements and some wonderful performances by scareactors.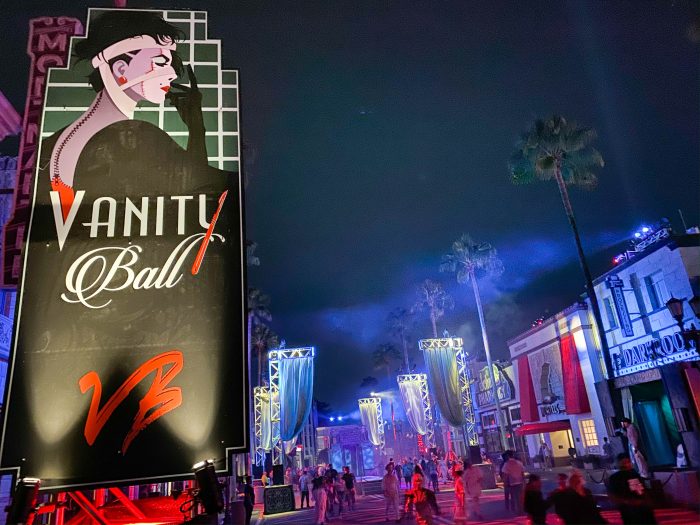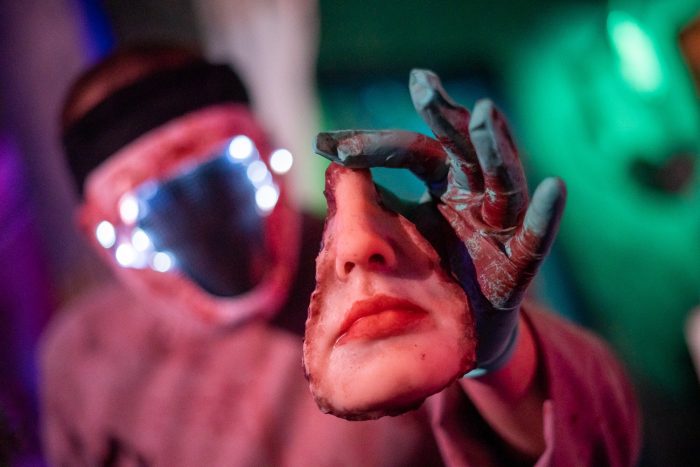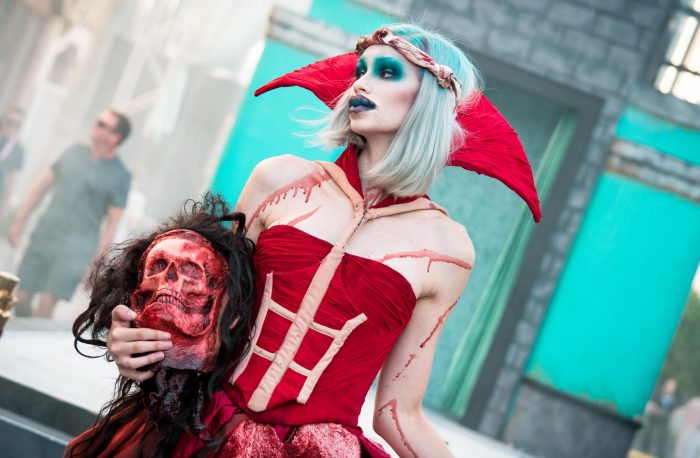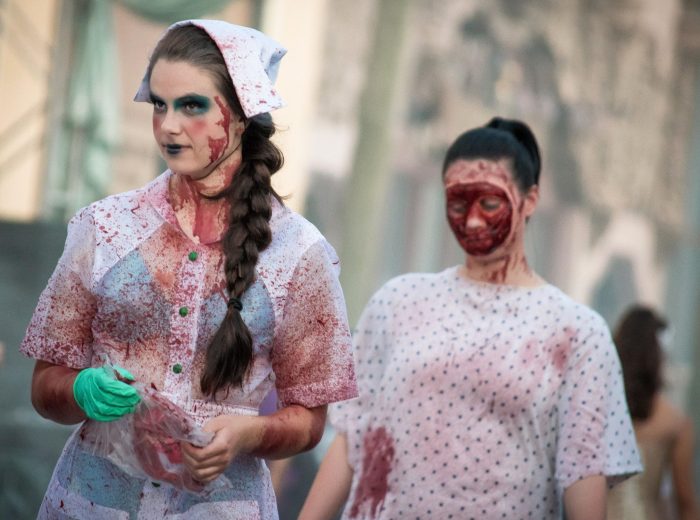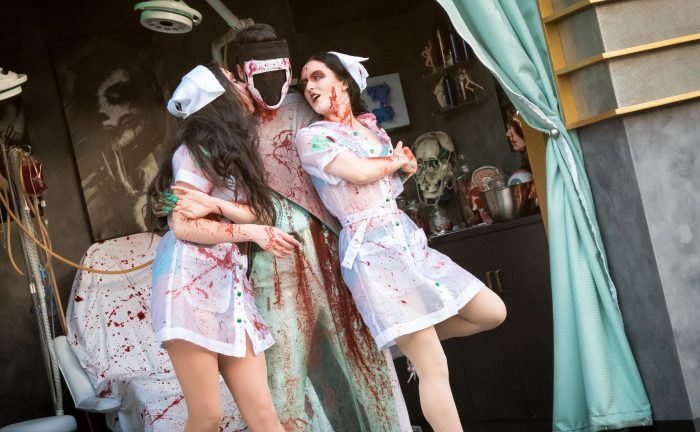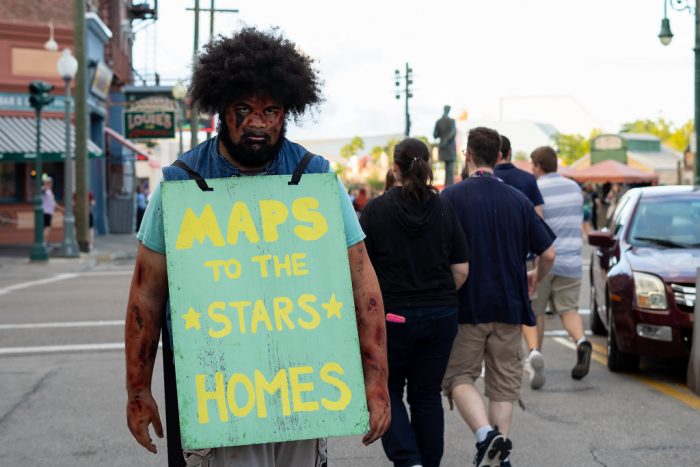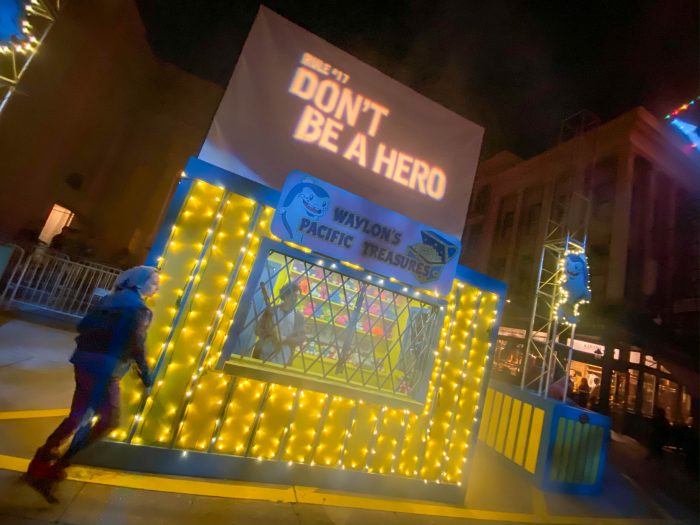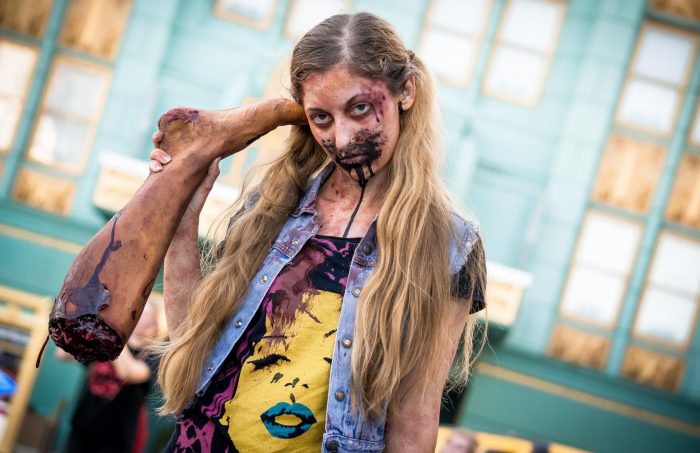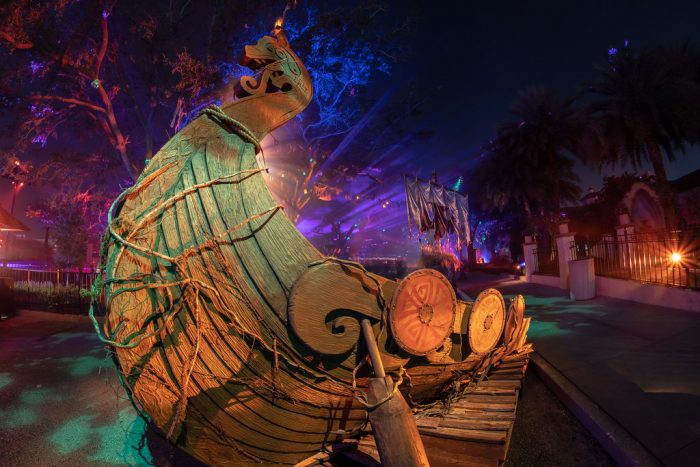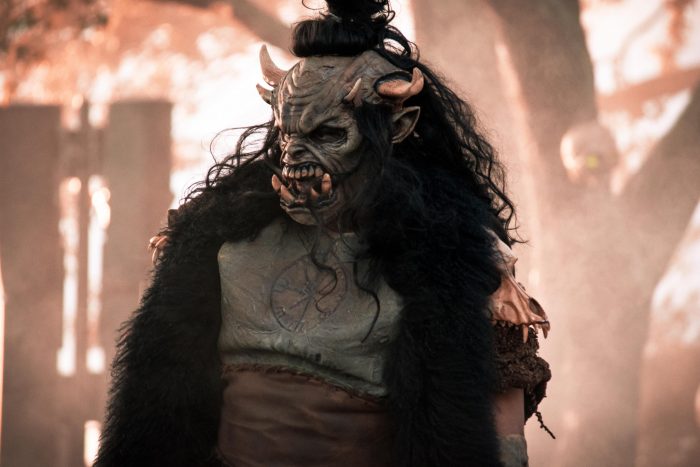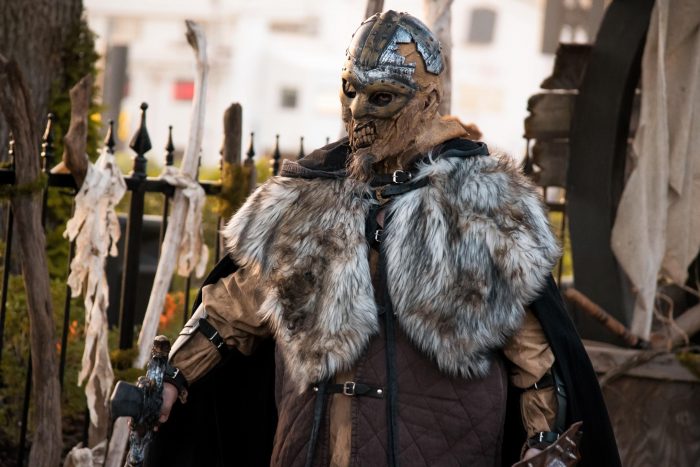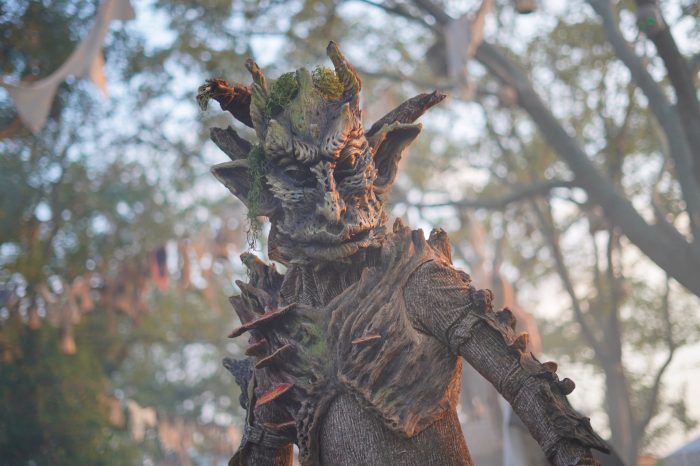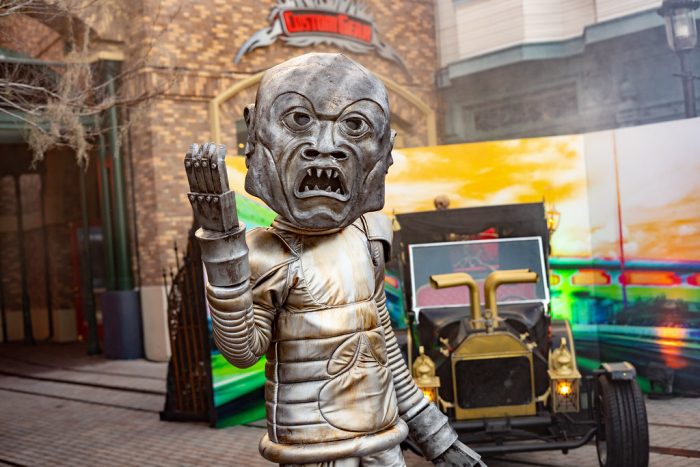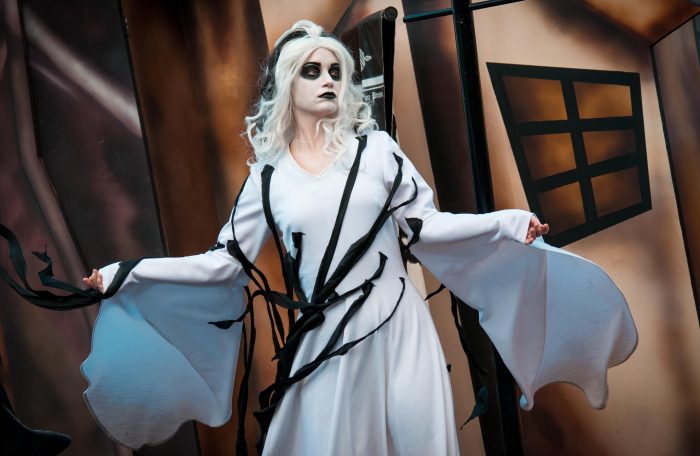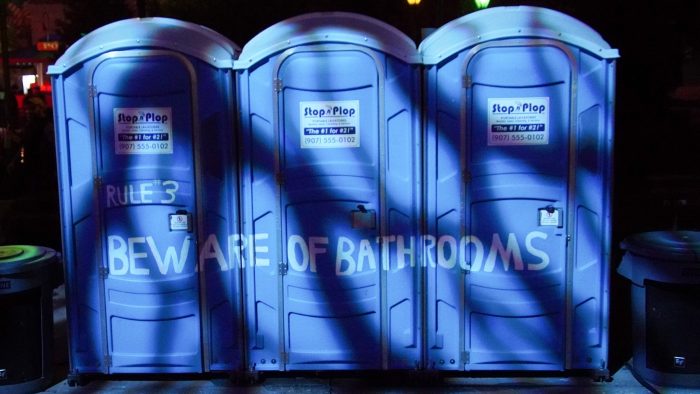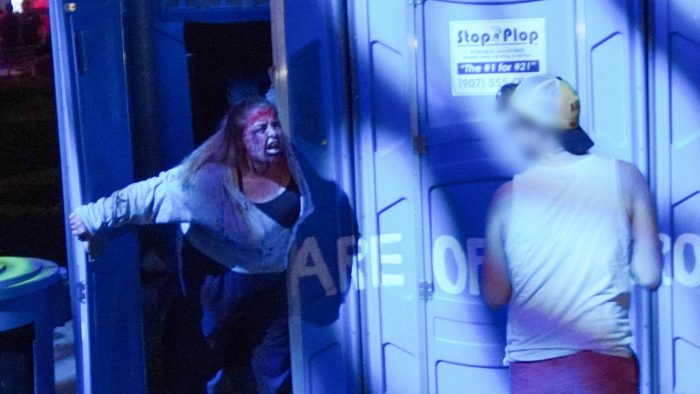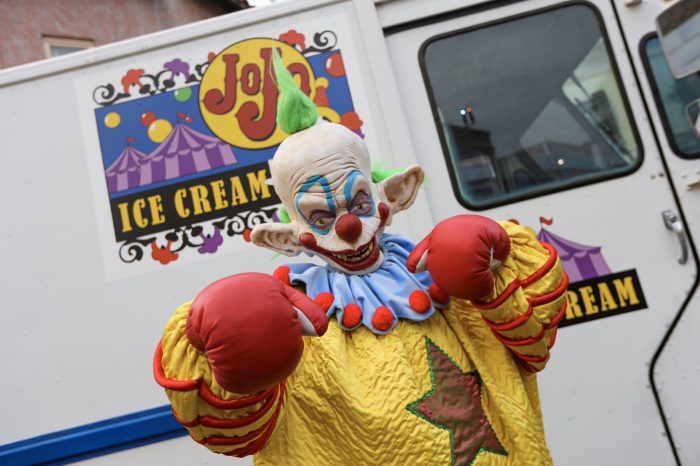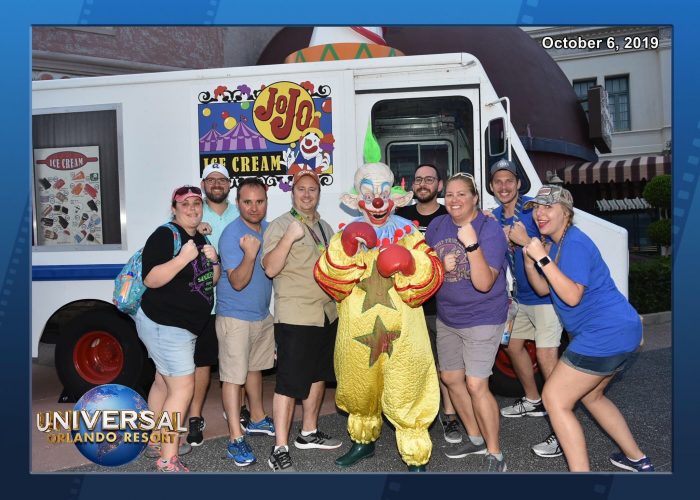 We'll close with some shots of my personal favorite scare zone, Anarch-cade. You can't go wrong with neon and larger than life arcade games!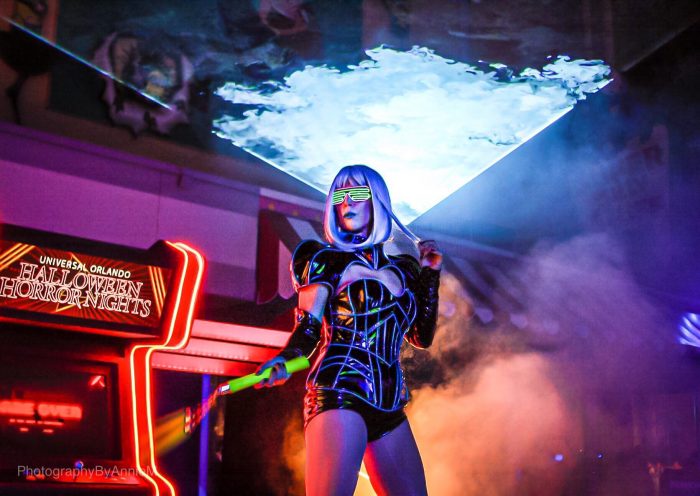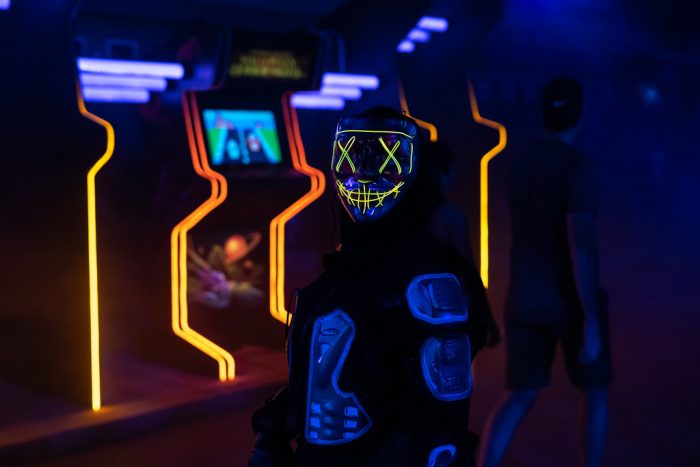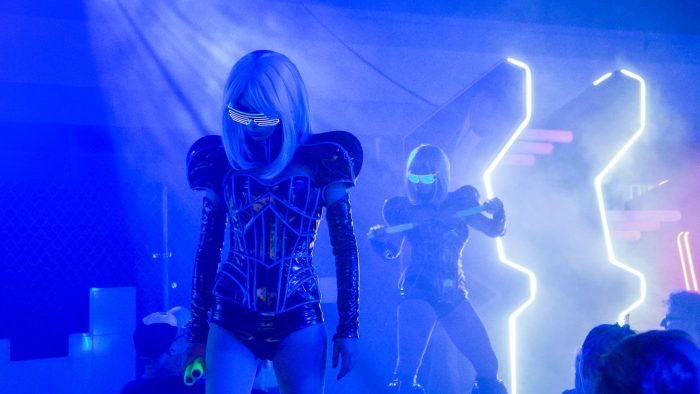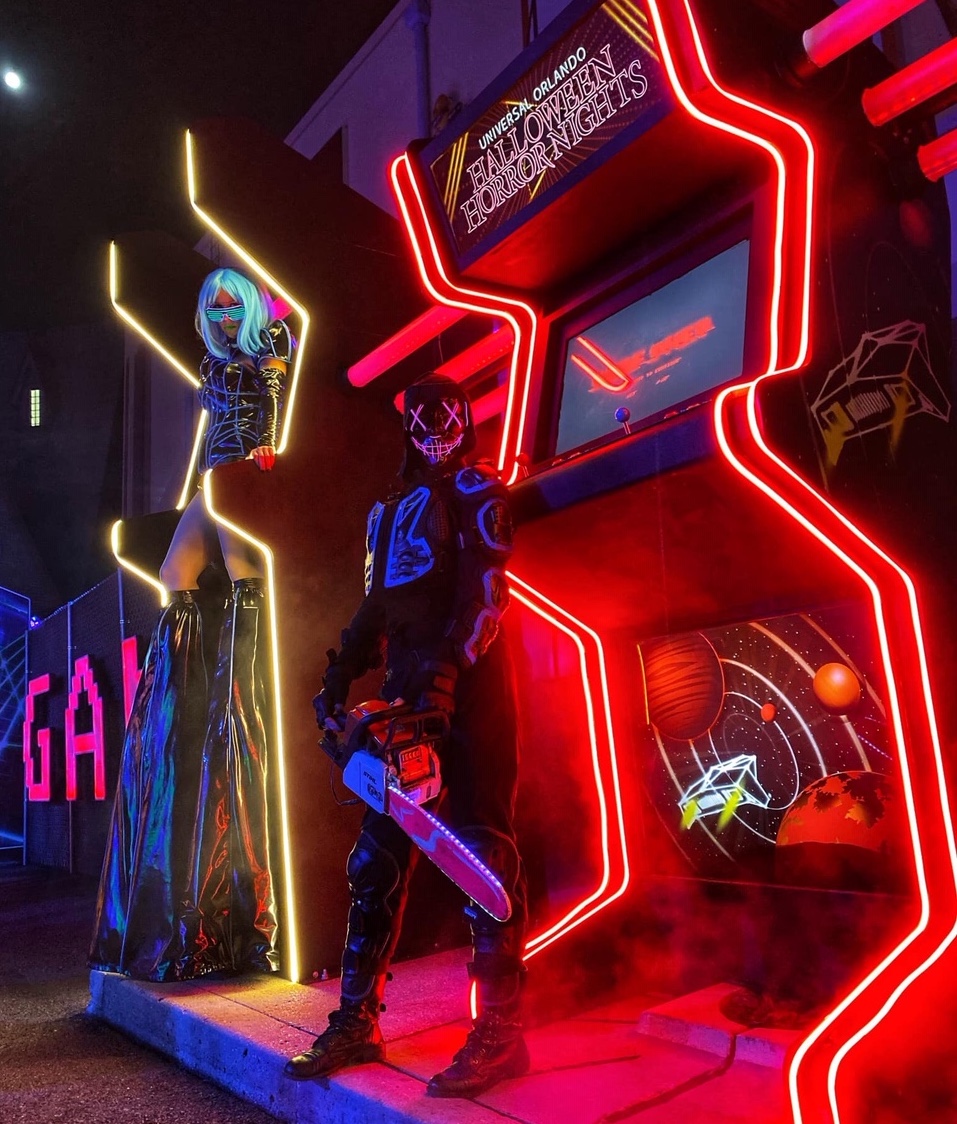 # 1 – The Houses
The signature part of any HHN are the haunted house experiences. Like many, I always avoided HHN because I wouldn't consider myself a "horror fan." I finally decided to get my feet wet when Universal first got the license for AMC's The Walking Dead, because I was such a huge fan of the TV show and Walking Dead comic book. I immediately realized how much different HHN actually was from what I imagined it to be in my mind. While I wasn't a fan of some of the movies used for the haunted houses, I could appreciate the design of each house from an artistic standpoint. It was also just fun being "scared" by the scareactors inside,  and even more fun watching other people get scared. Where I thought Universal really shined was in their original houses that weren't tied to an IP, but even I had to admit it was an IP that got me personally into the door.
This year's IP houses include Stranger Things, Jordan Peele's Us, House of 1,000 Corpses, Killer Klowns from Outer Space (graduating from just a scare zone last year) and one of the most anticipated houses in HHN history: Ghostbusters. When it comes to the IP houses, delivering on iconic moments and places is key, and Universal Creative does that and then some. Original houses include Yeti: Terror of the Yukon, Depths of Fear, Nightingales: Blood Pit, and Graveyard Games. The cherry on top of the sundae is a house dedicated to the Universal Classic Monsters.
(NOTE: it is basically impossible to film anything inside a house during an HHN event. Most of the pictures you will see below were taking during an Unmasking The Horror tour. These tours are given during the day, as small groups of guests are given a "lights on" tour while having a Team Member given a lot of behind the scenes info. In my book this is an absolute MUST DO as you not only get to see a ton of things you will probably miss during the actual event, but you also get a fascinating look into how HHN is put together.)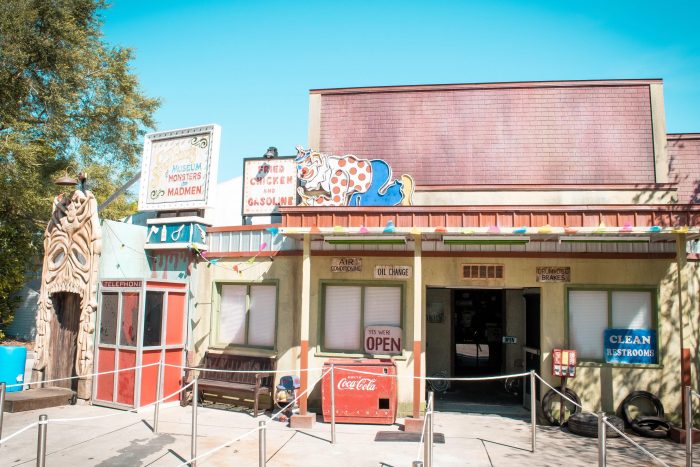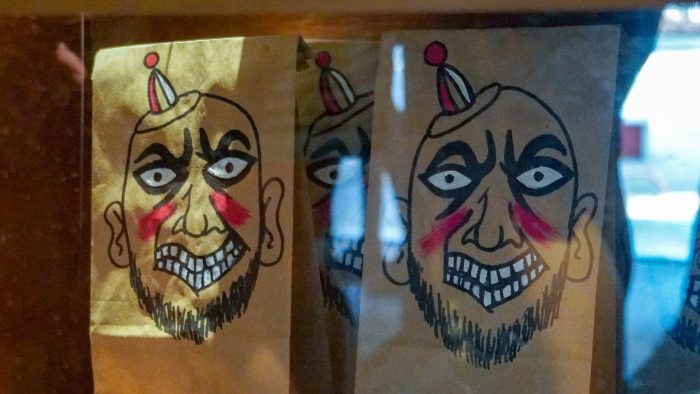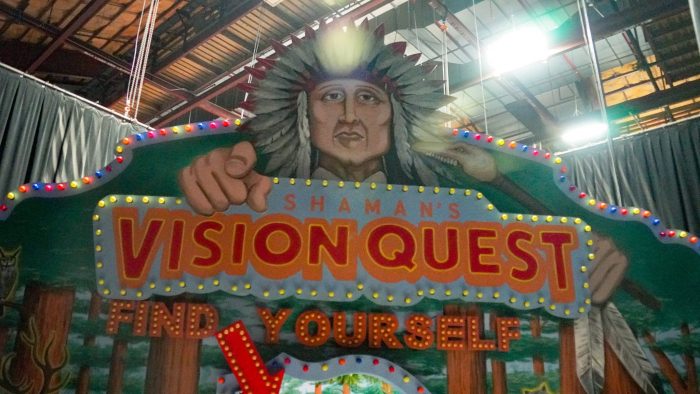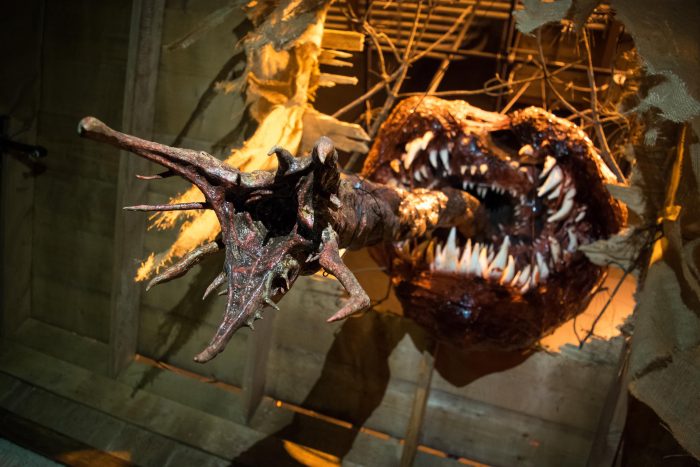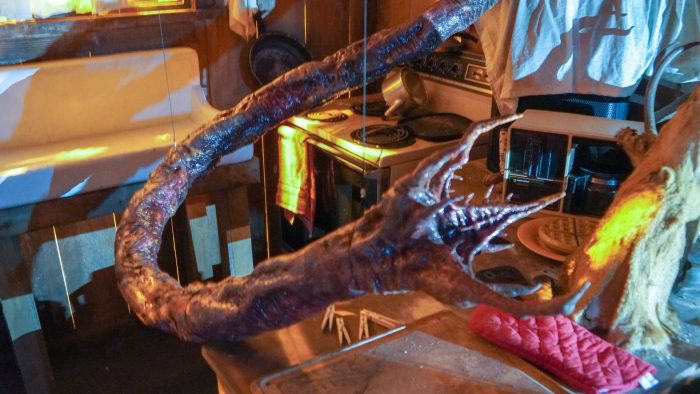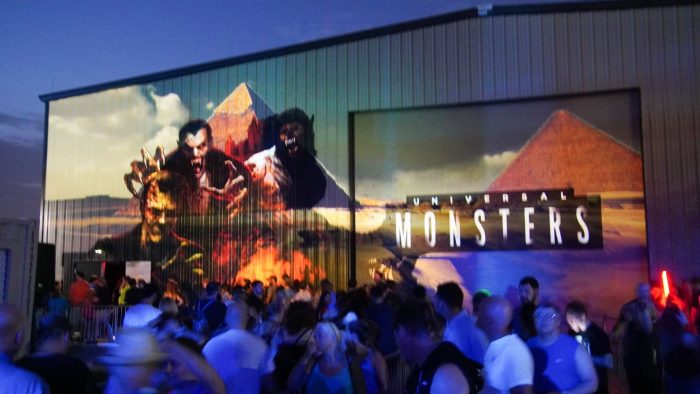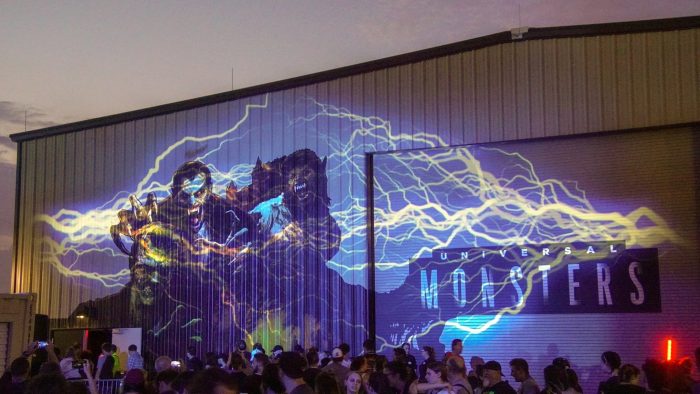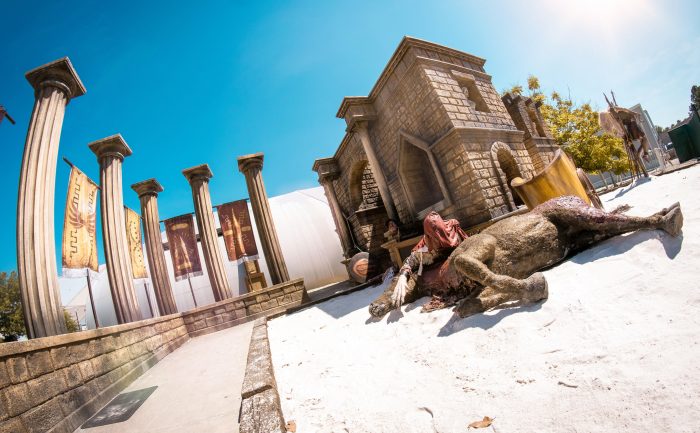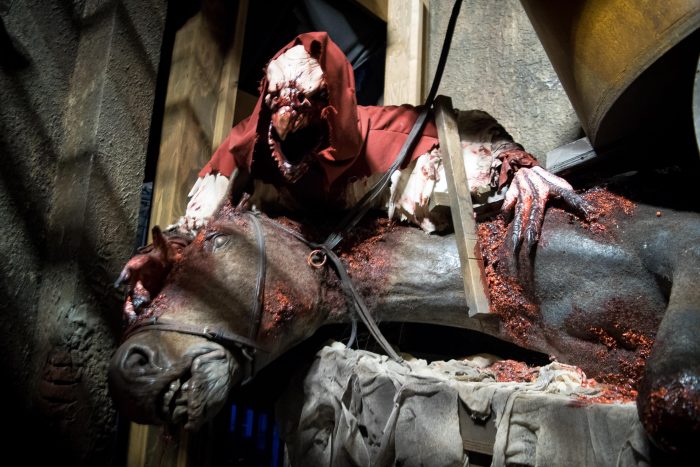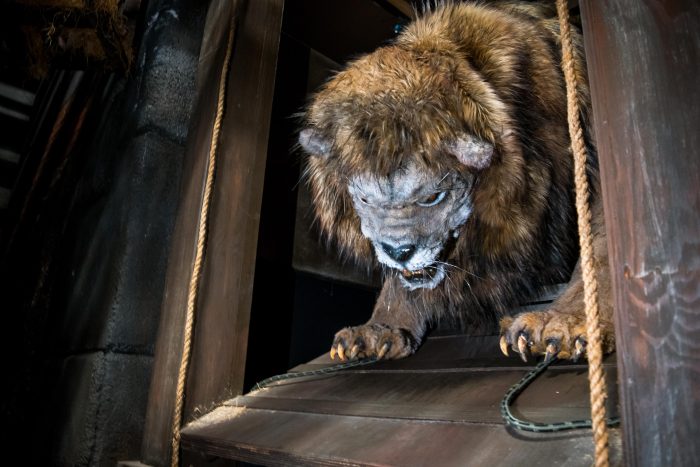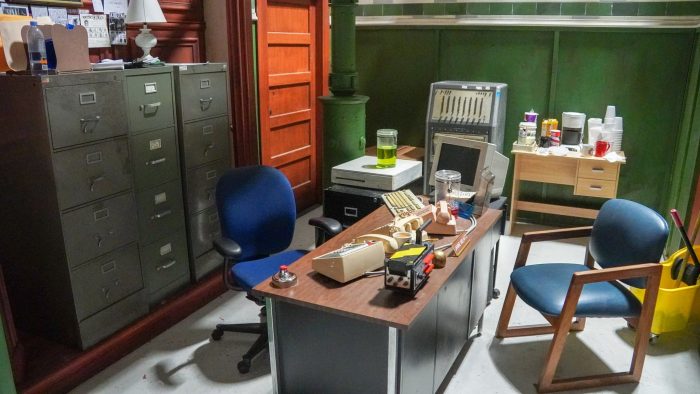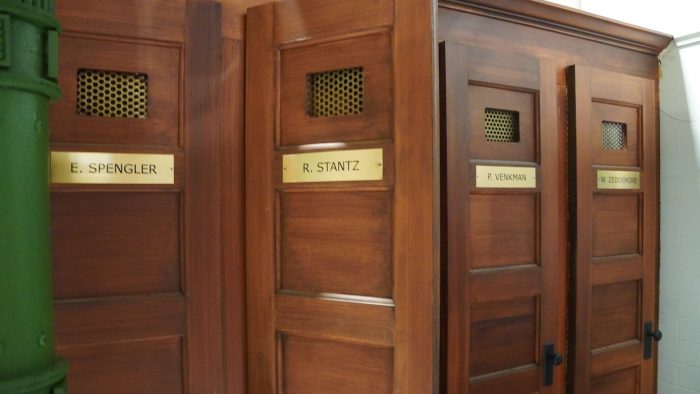 Some of the details in these houses you will only see during a lights-on tour. It's mindblowing how much time is spent on set design that 99.99% of the guests will never actually see. However it's the little things like that which gives these house's "life" and makes you feel like you're stepping straight into the story.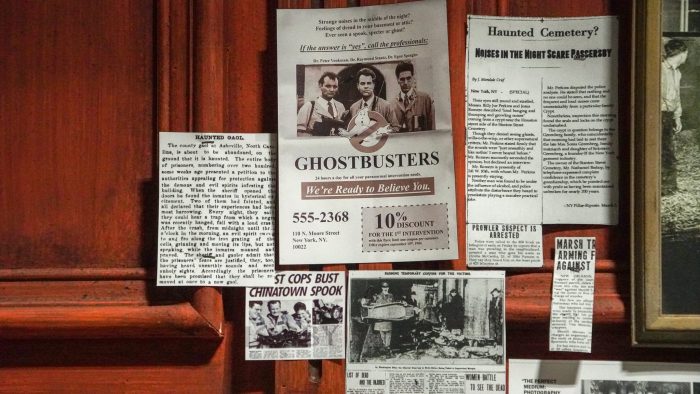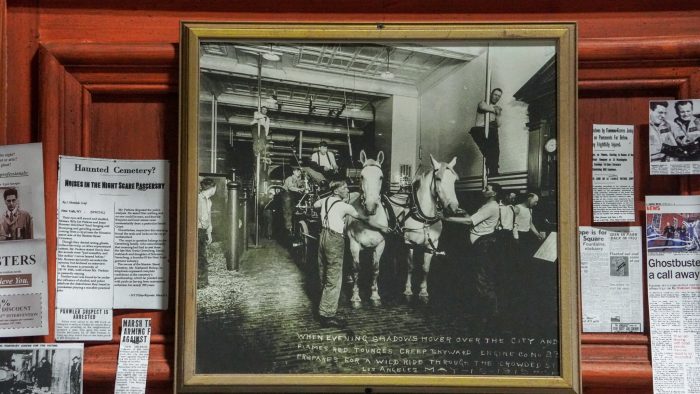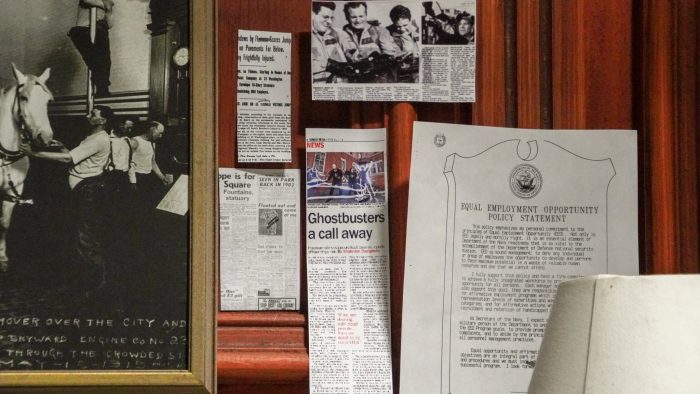 Honorable Mention – The Art of SHELBY DENHAM
We are blessed in the theme park community to have a wide variety of talented artists of various genres (including SuperWeenie's "Disney Wall" shirt, @CraftyAshley's pressed penny jewelry,  and Rob Yeo's pins). One of my personal favorite artists is Shelby Denham, in fact I commissioned her for a drawing in 2017's Turkey of the Year Awards. Universal commissioned Shelby to create artwork which guests could buy prints of based on houses and scare zones. This year Universal is offering both prints and magnets. Supporting local artists is a good thing for anyone to do, let alone a major theme park, and I could not be more proud of Shelby seeing her work displayed inside Universal (and now on my fridge too!).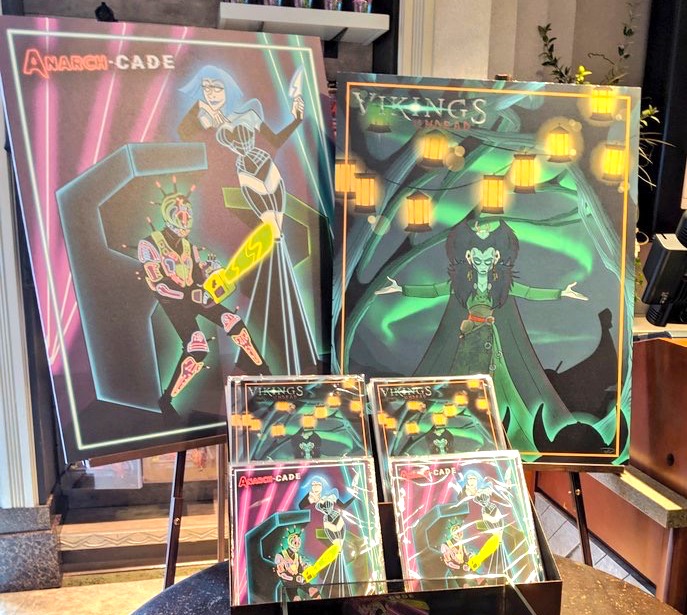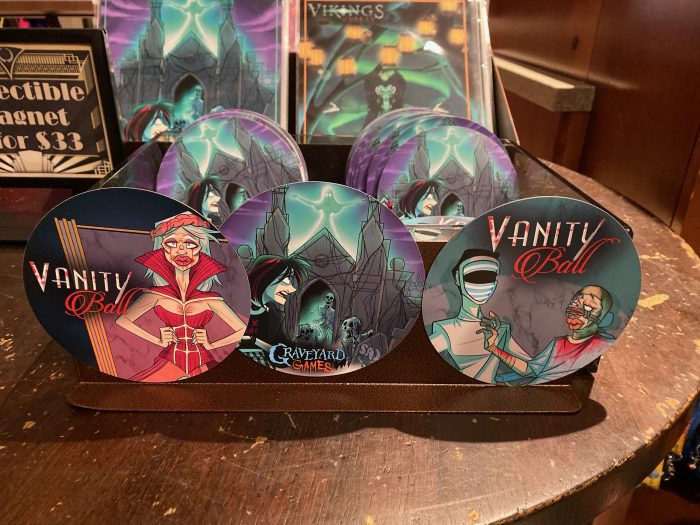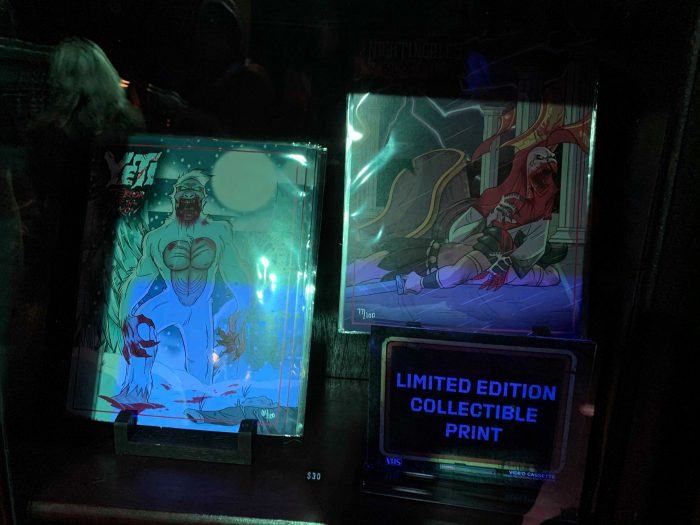 If you didn't take a picture of Mel's Die-In, did you REALLY go to Halloween Horror Nights?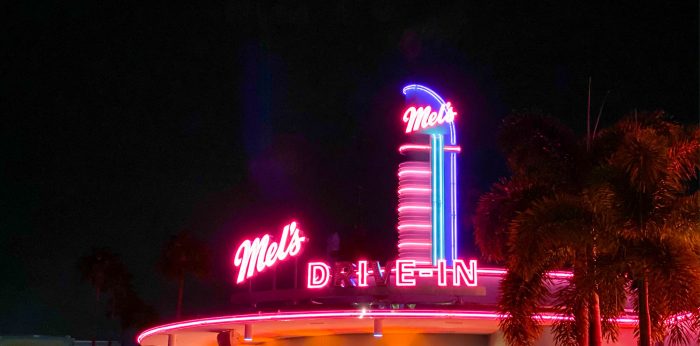 So there you have it: Six Reasons We Love Universal's 2019 HALLOWEEN HORROR NIGHTS! See you next weekend for the latest installment of the SATURDAY SIX, where we'll look at something fun from the world of Disney and Universal. If you enjoyed yourself, be sure to check out The Magic, The Memories, and Merch! articles, or, for your listening pleasure, check out the E-Ticket Report podcast. You can also follow Your Humble Author on Twitter (@derekburgan).
If you enjoyed this article, you will surely like the following: 
SATURDAY SIX SPECIAL INVESTIGATION: An in-depth look at theme park photography
6 Surprising Secrets of the Universal Orlando Resort
6 Reasons We Love TRANSFORMERS: The Ride 3D
Special Thanks to The Elite Brandon Glover, the bio-est of all reconstructs @bioreconstruct, Captain Cruiseline Scott Sanders of the world famous Disney Cruise Line Blog, my personal protege Hunter "Elvey" Underwood,the mistress of merchandise @hedgehogscorner, photo wunderkind Mike Sperduto, the SAT SIX Fun Squad of Parkscope Joe and Nick, hot shot Michael Carelli, and Hermione Granger's tutor Megan Stump for their invaluable assistance with this article. The SAT SIX is inspired each week by goofballs Aengus Mackenzie and LitemAndHyde and you Potterheads will  enjoy Meg's other blog work over at the Central Florida Slug Club.