SATURDAY SIX: IN MEMORIAM Part 2 – A Look Back at Even More Things the Theme Parks Lost in 2017
This week's SATURDAY SIX takes a look at Six MORE Things We Lost From the Theme Park World in 2017. Last week on the SAT SIX we took our annual look at what the theme park world lost in 2017. This year was unlike most though, as we lost even MORE things that just couldn't go unmentioned as several have played a huge role in our collective Disney and Universal vacations over the years. So grab a box of Kleenex and get ready to pour out a 40 for some dear old friends, starting with…
# 6 – Old Port Royale
Old Port Royale was the main hub of Caribbean Beach and contained a food court, arcade, large gift shop, and the table service restaurant Shutters. The food court had several different stations, all set up like a Caribbean port town market. The entire food court, including the large seating area across the way, was very colorful. The nearby Shutters restaurant offered Caribbean fare, and while it wasn't destination dining for your average Disney guest, it was more than acceptable for those staying at the resort.
Currently Caribbean Beach is going through a massive renovation that will include a DVC building that will allow guests a view of Epcot's IllumiNations nighttime spectacular. Old Port Royale will be returning during the summer of 2018, and when it does it will be the area where guests also check into the resort (which was formerly done at the resort's Custom House.) The reimagined Shutters will be coming back as well, this time with waterside dining.
–
# 5 – Muppet*Vision 3D Balloon
DHS has taken some big hits over the past few years as it continues the transition from the park which offered a "Hollywood that never was, and always will be," into one which offers a collection of the biggest money making intellectual properties in the Disney catalog. Aside from losing attractions such as the Great Movie Ride and the Studio Backlot Tour, the park has removed legitimate icons with the Sorcerer's Hat and the Earful Tower over the past few years. This year another "icon" was removed as we lost the giant balloon featuring Kermit the Frog that sat atop Muppet*Vision 3D. It is gone because you would be able to see it once inside the immersive Star Wars: Galaxies Edge land currently being built nearby.
–
# 4 – Animal Kingdom Stinkbug Sign
Some may scoff, but there are several pieces of signage which have become synonymous*  with a Disney vacation, first and foremost being the large archway where Mickey and friends welcome you onto property. Another sign that has seemingly been around forever features the Tower of Terror, including a moving elevator car that "shakes" to look like it is falling. One of our favorites was removed in 2017, and it featured an ad for It's Tough To Be a Bug at Animal Kingdom. The sign was memorable not only because it's one of the few times anywhere you'll see an ad featuring characters from A Bug's Life (one of our favorite Pixar films along with Up, Ratatouille, and The Incredibles,) but because the stink bug on the ad actually had smoke blowing out of its butt. The ad is making a specific callback to an extremely memorable moment in the attraction.
*can we trademark "synonymouse" for Disney related items?
–
# 3 – Wolfgang Puck Grand Cafe
Like the TV show The Jeffersons, Wolfgang Puck is "moving on up" at the new and improved Disney Springs. The Wolfgang Puck Grand Cafe, a mainstay on the West Side area along with Bongo's Cuban Cafe and House of Blues, closed on August 1st. A new Wolfgang Puck restaurant is in the process of being built near the center of Disney Springs, right next to large Coca Cola building and conveniently close to Disney Bus Loop. From the outhouse of Disney Springs to the penthouse, just like that.
The Wolfgang Puck Grand Cafe was a building that looked like the 1990s threw up, but all you have to do is watch shows like 90210 or Saved By The Bell to see that's just how we were back then. Inside there were actually three different experiences. The first was "Wolfgang Puck Express" and its extremely limited Quick Service-like menu. The Wolfgang Puck Grand Cafe had two areas, both table service.  The main area was on the ground floor, and an unofficial "formal" dining area on the second floor. There's only so formal you can be at an outdoor mall location designed for families with kids, something The Edison is going to find out in 2018.
Disney is well known for its awful pizza, but – for a time – Wolfgang Puck offered the best at WDW. In recent years Via Napoli took the top spot for pizza pies on property, but Wolfgang Puck remained in the top two or three (you can still get Wolfgang Puck pizzas on the other side of Disney Springs at an Express location near the Days of Christmas store.) From all accounts, dining was perfectly acceptable at the Grand Cafe, the only problem came when a whole bunch of great restaurants moved into the neighborhood. With Morimoto Asia, The BOATHOUSE, and Art Smith's Homecomin' located not that far away (and much closer for guests parking at the new garages) the competition for diner's dollars is harder than it has ever been.
–
# 2 – Dragon Challenge
Dueling Dragons is one of the all time great roller coasters in Orlando. When everything is taken into consideration (the facade, the queue, and ride experience itself,) it may be the best coaster ever at Universal or Disney. THAT said, Dueling Dragons didn't close in 2017, Dragon Challenge did. For all intents and purposes, Dueling Dragons closed in 2010, when the Wizarding World of Harry Potter opened and rebranded it as Dragon Challenge. Muggles may have a hard time understanding why there is such a long queue set up for Dragon Challenge, which rarely saw a wait go past 20 minutes. It may be impossible to believe for someone who has only been going to Universal after Potter opened, but there was a time when The Ride Formerly Known As Dueling Dragons had by far the longest wait in the park.
When Islands of Adventure opened back in 1999, Dueling Dragons was amazing. Guests walked into the ride past an amazing logo of two dragons battling each other. Then you would make your way up to a giant castle, which inside housed a bunch of incredible story elements. When you finally made it to the actual ride, you picked one of two dragons to board. The two coasters would leave the station at the same time before going separate directions, each with different types of drops and loops. What made the ride spectacular was that at several points during the ride the two coasters appeared like they were in an actual duel. At one point the two dragons headed straight for each other before taking a last second turn straight up, and if you were sitting in the front row of either coaster it was one of the coolest experiences you'll ever have in a theme park.
By the time Dragon Challenge closed this year, everything that made the ride special was gone. The awesome logo you walked in was replaced by a generic one that all but hid the crazy experience you were about to have. Universal did everything it could to de-emphasize the castle element of Dragon Challenge, because you already had the signature Hogwarts Castle literally next door. The outdoor queue had some fun elements for Harry Potter fans – including the Ford Anglia – while inside had a few references to Harry Potter and the Goblet of Fire. In 2011 – presumably due to safety concerns – the two coasters began to dispatch separately and no longer appeared to "duel" while riding. Then in 2015, for good measure, metal detectors were installed making even getting to the ride a hassle. For those who know the movie One Flew Over the Cuckoo's Nest, this is the point when Chief mercifully put the pillow over McMurphy's head.
While it is sad to lose one of the all time great thrill experiences in Orlando, the good news is that the large footprint of Dragon Challenge offers Universal the opportunity to really wow people with the upcoming replacement.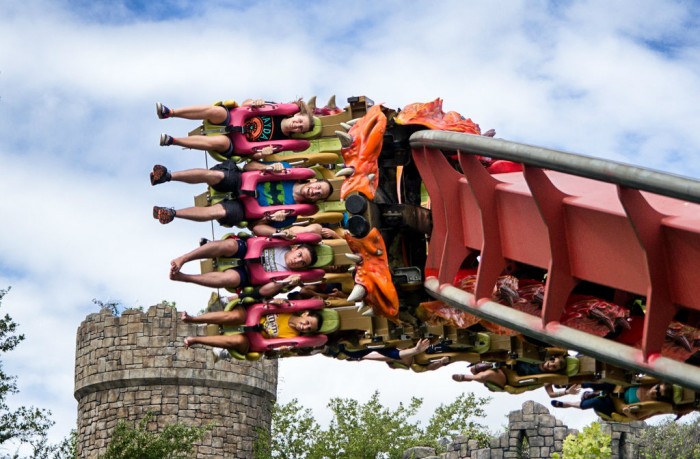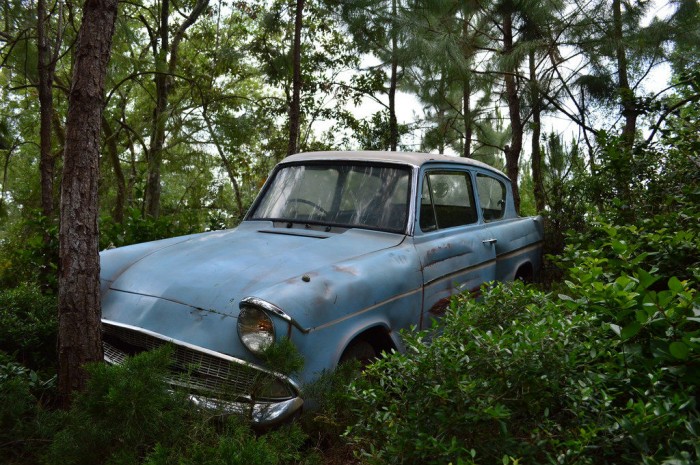 –
# 1 – Bill & Ted's Excellent Halloween Adventure
My absolute favorite part of Universal's Halloween Horror Nights every year – without exception – was Bill & Ted's Excellent Halloween Adventure. The only good thing to ever take place inside the Fear Factor stage show set, Bill & Ted was a hilarious take down of the year's best (worst?) of pop-culture mixed in with dancing by what you would call conventionally attractive people. Having no problem making fun of Disney (or even Universal for that matter) Bill & Ted had that sharp wit mixed with humor that we as theme park fans usually only see with The Simpsons. The Team Members who played Bill S. Preston, Esq. and Ted "Theodore" Logan over the years consistently delivered on these quirky characters, giving us a show that twenty years from now many won't believe actually existed in a theme park. Cheers to Universal Creative for the 25+ years of Bill & Ted shows, along with another toast to all the Team Members playing various roles that brought uproarious laughter during an event designed to make you scream in terror.
–
Honorable Mention –  Tomorrowland Kingdom Cabanas
Speaking of things we won't believe existed in theme parks. On February 17th we said goodbye to the FEMA Shanty Town Tomorrowland Kingdom Cabanas. While its hard to believe these $700 a day cabanas didn't explode in popularity, it's even harder to believe that Disney won't try this again (we're looking in your direction Disney After Hours…) With these lavish cabanas, guests also got the opportunity to have food from Cosmic Ray's delivered, and how can you say no to that?!
While the tents literally popped up in November 2016, they were removed from Tomorrowland in February, proving once and for all that the brightest candles burn twice as fast. I'm sure we'll see you again cabanas, this time with a Deadpool/X-Force/Star Wars logo slapped on your side, flatbread delivery from Pinocchio Village Haus, and a price point of $1,000.
–
Double Secret Honorable Mention – The "G" in Art Smith's Homecoming
Presented without commentary.
–
So there you have it: In Memoriam 2017… See you next weekend for the latest installment of the SATURDAY SIX, where we'll look at something fun from the world of Disney and Universal. If you enjoyed yourself, be sure to check out The Magic, The Memories, and Merch! articles, or, for your listening pleasure, check out the E-Ticket Report podcast. You can also follow Your Humble Author on Twitter (@derekburgan).
If you enjoyed this article, you will surely like the following:
6 Pieces of Disney Merchandise That Don't Exists (But Totally Should)
6 Times The Simpsons Nailed Being A Theme Park Fan
Walt Disney World Locations Used in Hulk Hogan's THUNDER IN PARADISE
SATURDAY SIX Looks At Ways Disney Can Introduce MARVEL Into The Parks
The SATURDAY SIX Uses Disney Villains To Explain Theme Park Blogging
6 Times Our Favorite TV Shows Went To Walt Disney World
Special Thanks to crack staff photographer Brandon Glover, photo wunderkind Mike Sperduto, Hot Shot Michael Carelli, Blog Minnie's better half Blog Mickey, the Parkscope and Inside Universal boys, and blogger to the stars Megan Stump for their invaluable assistance with this article. Be sure to also check out Brandon on The Park Blogger podcast with goofballs co-hosts Aengus Mackenzie and LitemAndHyde , while fellow Potterheads may enjoy Meg's work on the Central Florida Slug Club.
FINAL PLUG! Did you know The 2018 Unofficial Guide to Universal Orlando has a special edition of the SATURDAY SIX in it? Finally, someone came up with an actual reason to read a book. ORDER this baby now!