SATURDAY SIX: 6 Reasons We Love Universal CITYWALK (Voodoo Doughnut, Mini Golf, Shopping and MORE!)
This week's SATURDAY SIX takes a look at Universal CityWalk! Back in 1999, Universal made a huge push to turn itself from one single theme park – Universal Studios Florida – into a resort destination like Walt Disney World. A second theme park was added, along with three hotels and CityWalk – a shopping and entertainment district. The Universal Orlando Resort was born. Unfortunately, for several reasons, the expected crowds didn't arrive as anticipated. In fact, it took until the debut of the Wizarding World of Harry Potter – Hogsmeade Village before Universal saw the results they desperately wanted for the previous decade. However, once The Boy Who Live arrived, Universal went all in. A third park was added with Volcano Bay and five more hotels were built (Cabana Bay, Aventura, Sapphire Falls, Surfside, and Dockside.) However, one of the biggest changes in the this era of Universal is the direction they went with a New and Improved version of CityWalk.
With the change of Downtown Disney to Disney Springs, Walt Disney World moved more toward third parties taking over their shopping and entertainment district. Surprisingly, Universal went in the complete opposite direction with their transformation of CityWalk. Universal began replacing many third party vendors with restaurants and shops created and run by Universal themselves. It turns out, both ways worked tremendously. Over at Disney Springs, we can dine at incredible restaurants like Art Smith's Homecomin' and The BOATHOUSE while shopping at well known stores such as Anthropolgie and Coach. What do we like about CityWalk? Well, let's check it out…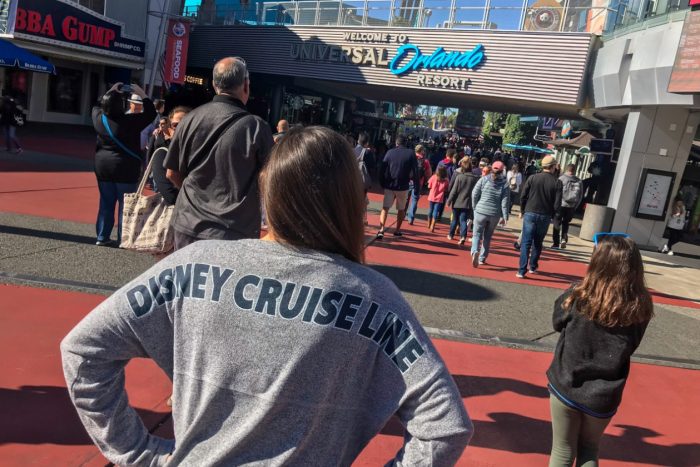 # 6 – Hollywood Drive-In Golf
While Disney World is "blessed with size," the Universal Orlando Resort finds itself in the position many cruise ships do: maximizing the most of the limited space you have. When Universal announced they were adding a 36 hole mini-golf experience in CityWalk, at the time it was hard to understand how they would accomplish this. They were already out of space. "NAY NAY," said Universal, as they created space in an unconventional area. The result? Possibly the best mini-golf experience in all of Orlando (and we have some great putt putt down here!).
Hollywood Drive-In Golf offers two separate mini-golf courses: The Haunting of Ghostly Greens and Invaders from Planet Putt. Guests walking to CityWalk from the Universal parking garages will see some of the huge themed elements from these courses, such as the haunted house, the monstrous worm, or even a giant robot.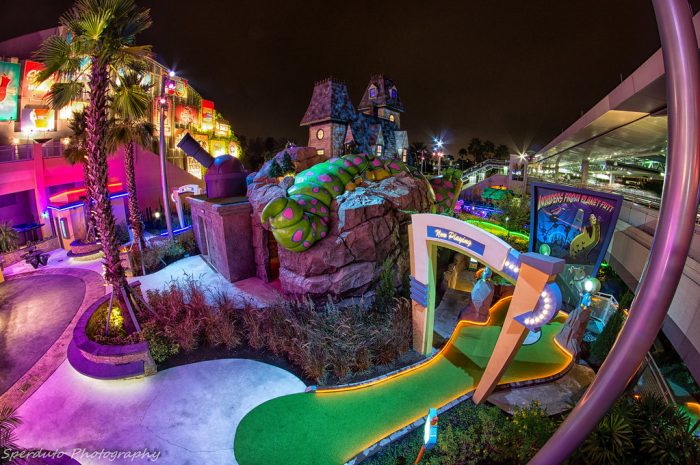 Now, one of the best things about both Universal and Disney is their use of music throughout the parks. A lot of the time the music is so subtle you hardly know it's there, but it provides a level of depth that you just won't find in any other amusement parks. Whether it's the background music on Main Street, U.S.A., at the Magic Kingdom, or the incredible industrial-type sounds Universal plays outside Transformers: The Ride-3D, what we hear as guests can completely immerse us in our surroundings.
Hollywood Drive-In Golf has two separate dedicated soundtracks, one for each course. Invaders from Planet Putt, the alien themed course, has theme songs from TV shows like The Jetsons and movies such as Men In Black, combined with popular music such as "Spirits in the Material World" by The Police and "It's the End of the World" by R.E.M. Meanwhile, the Haunting of Ghostly Greens, the horror themed course, has theme songs from shows such as The Munsters and The Addams Family, along with songs such as Michael Jackson's "Thriller" and the Halloween staple "Monster Mash." There's just something special about playing mini golf at Universal and hearing the theme song from Ghostbusters in the background that truly slaps.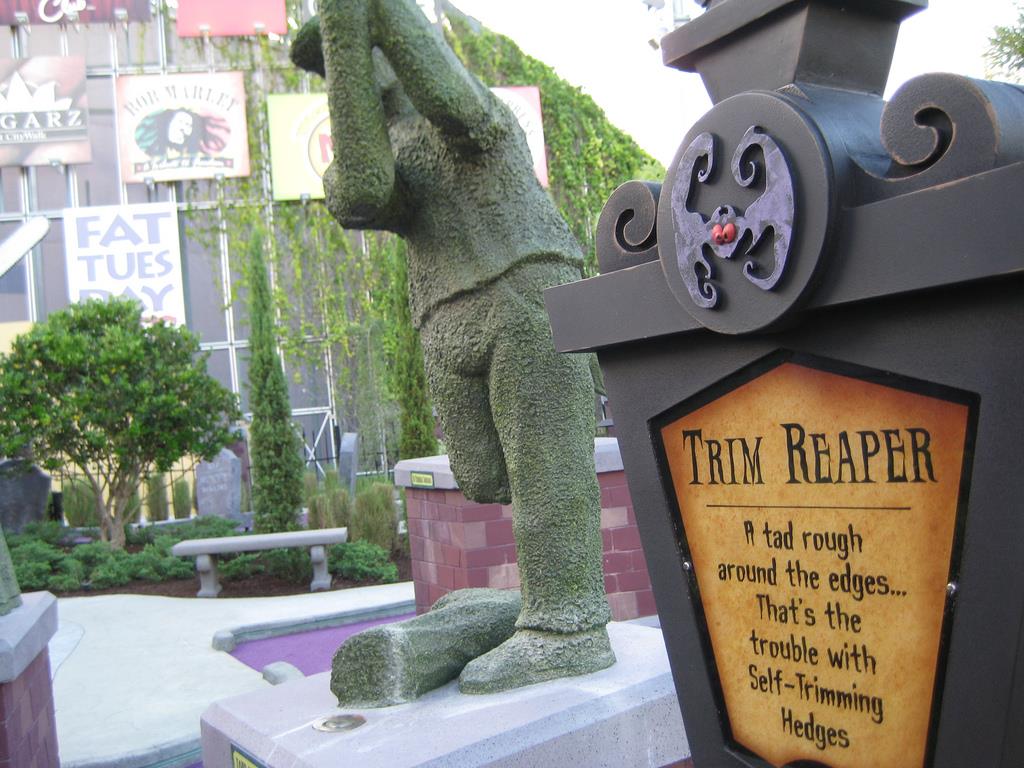 Most mini golf courses only have elaborately themed holes on the 18th hole to end the game, but Hollywood Drive-In Golf is filled with unique hole designs. One hole has the Creature From the Black Lagoon spitting water over the walkway you need to pass through. Another hole has a huge alien ship that you need to walk through and actually press a button so that a door opens, Star Trek-style, to let you out. Many holes have an element you need to knock your ball through in order to trigger a special sound effect. It's a non-stop barrage of clever in-jokes, insanely well designed holes, and unique lighting elements.
The 18th hole on each course is something to behold, as one side uses a Rube Goldberg-esque contraption to move your ball along, while the other side has the actual hole, itself, on a turntable moving the entire time. My favorite hole is on the Haunting of Ghostly Greens side, and it is a hedged maze you must play through that reminded me of the third Tri-Wizard task in Harry Potter and the Goblet of Fire or the end of The Shining with Jack Nicholson. It's a hole that's relatively simple but completely unique.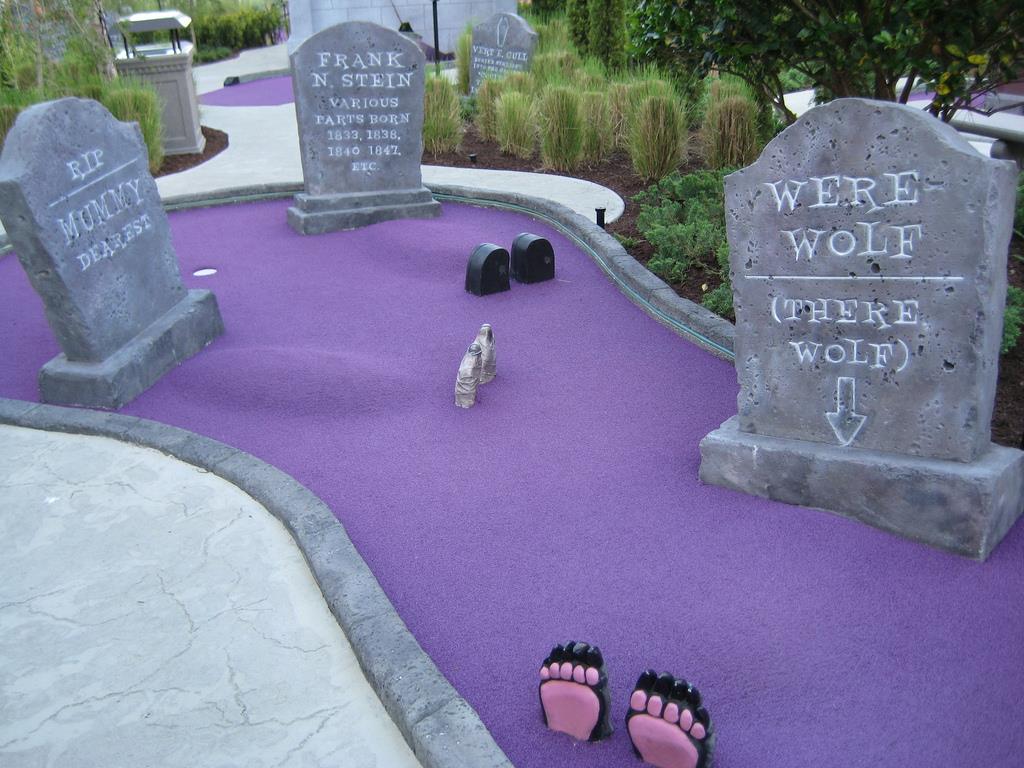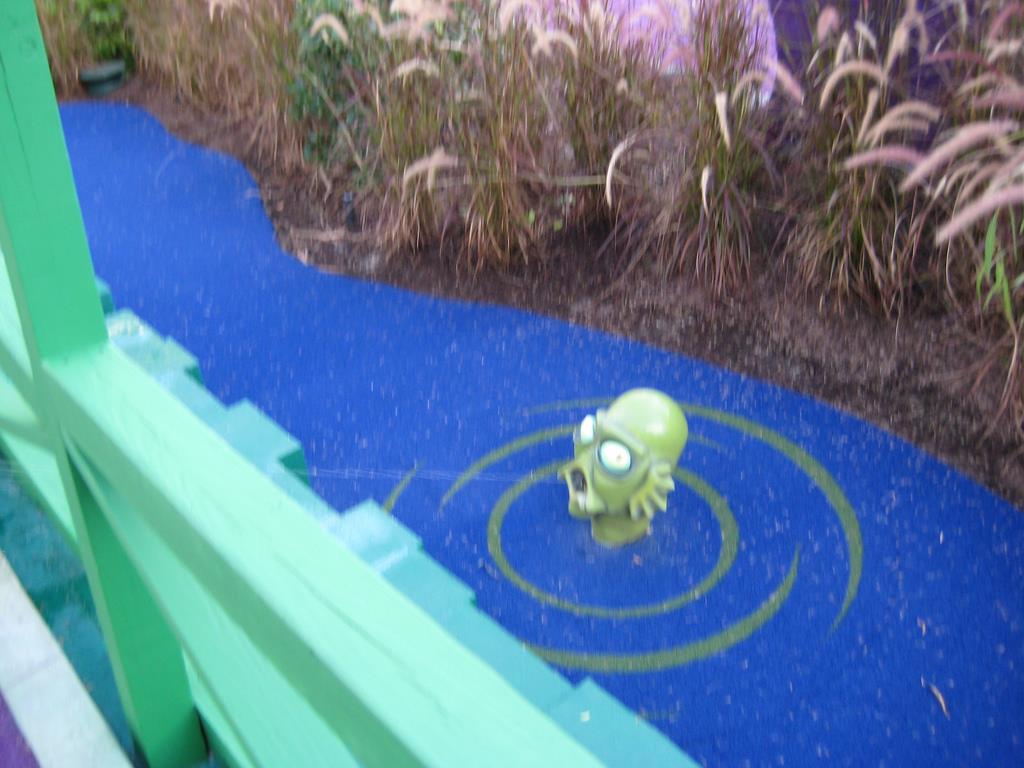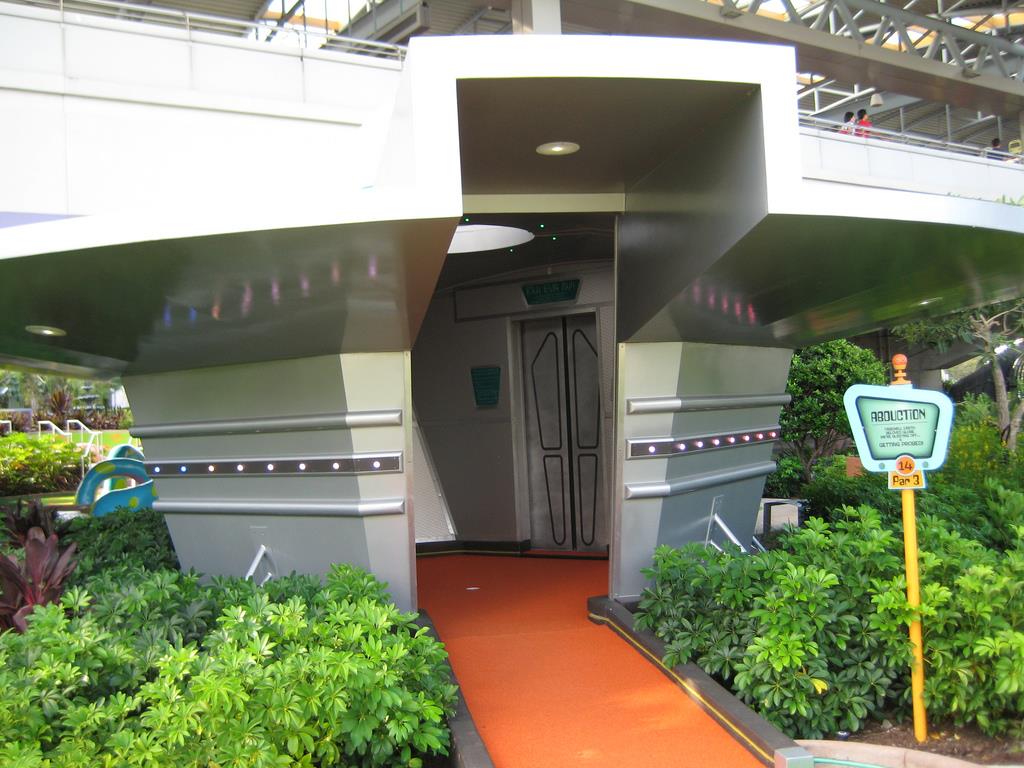 # 5 – The Photo Ops
Readers of this fine blog series should know that our sanity is already on the precipice. We are this close to absolutely losing it and one of our triggers is "wall photos." We understand that, thanks to smart phone apps like Instagram, photos have become almost a big a part of the theme park vacation experience as attractions and restaurants. At some point in 2016, probably after the five minutes they spent obsessing over Pokemon GO in the parks, #millennials decided to fill up our social media feeds with pictures of themselves in front of a blue wall out in DCA, and a purple wall over here in Walt Disney World. We here at SATURDAY SIX headquarters commissioned an all-star blue ribbon panel who worked exhaustively to find out the answer to one simple question…
WHY?!
The answer? Inconclusive. There is no reason, other than the fact that youth of America – and possibly The World – just may be 100% certifiably nuts. Since that time, Walt Disney World has doubled down on "investing" in "themed walls" at the parks, including several at EPCOT. At CityWalk, there are less themed walls and more themed elements to take your fun photos with, including a golf cart outside of Hollywood Drive-In Golf.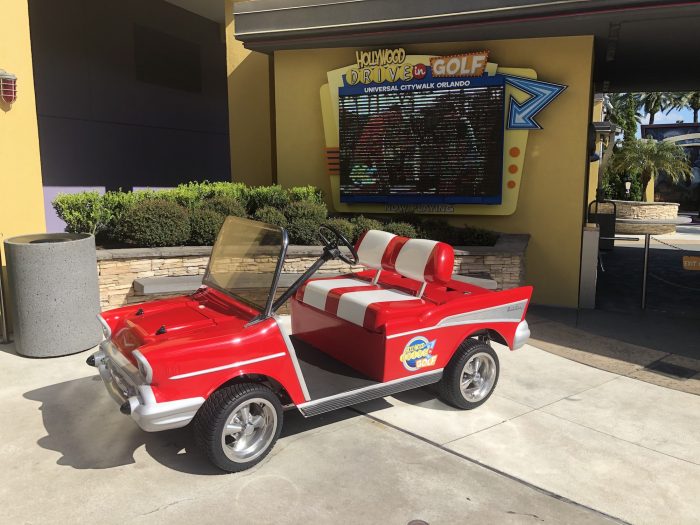 Red Oven Pizza Bakery has several motorbikes for photos, including one which reminds me of the scooter Mickey Mouse rides in one of the new Mickey Mouse shorts.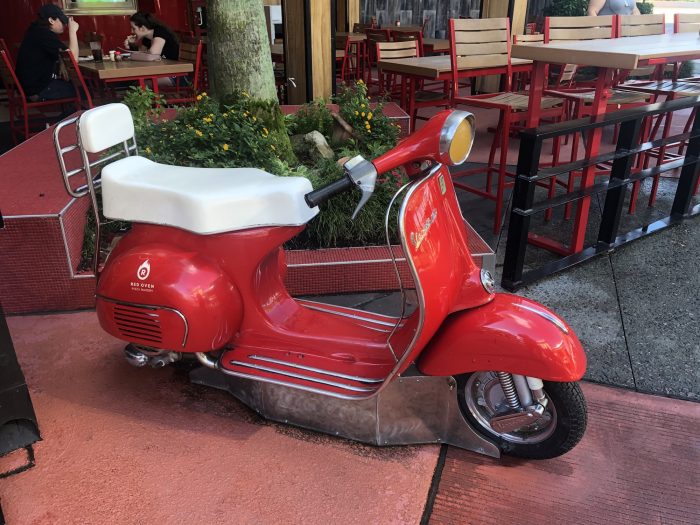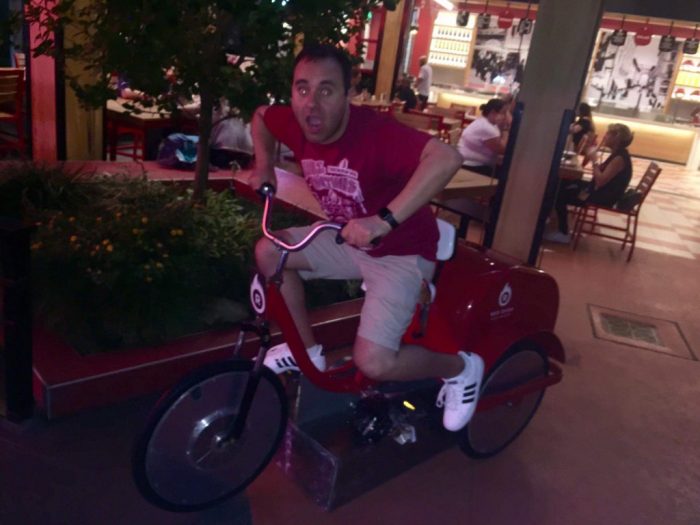 The Cowfish restaurant has a saddled cowfish.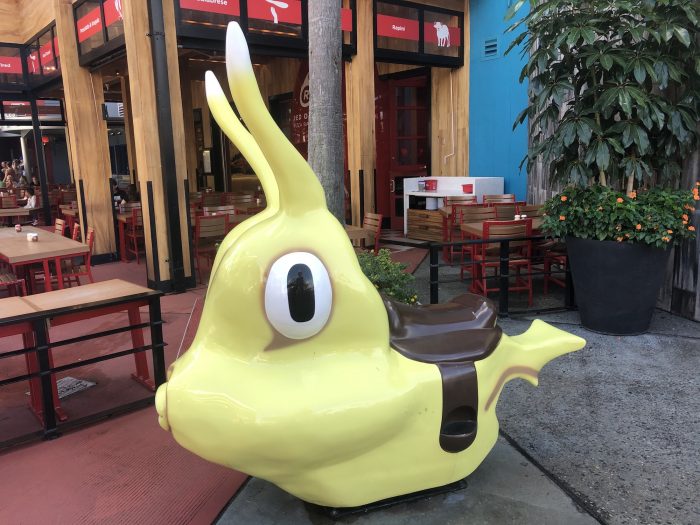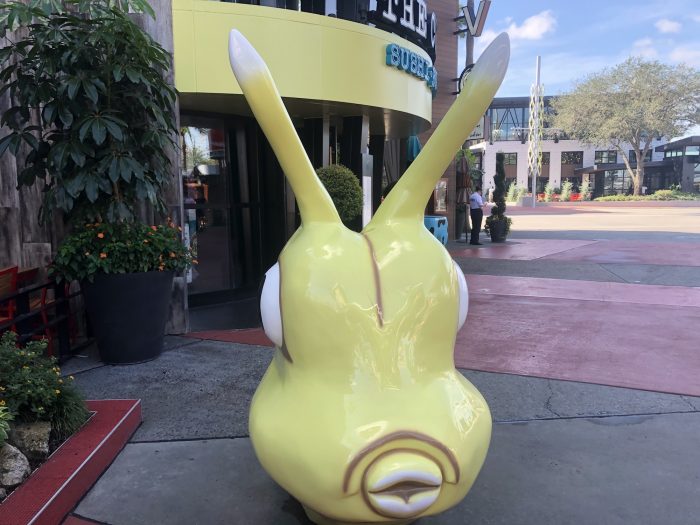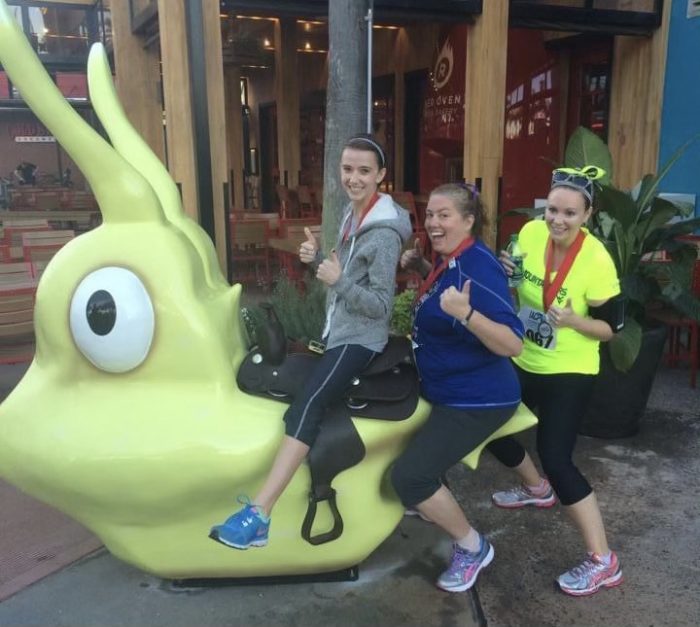 The donut throne outside Voodoo Doughnut is a huge hit with guests and a nice reminder that Winter Sugar Is Coming.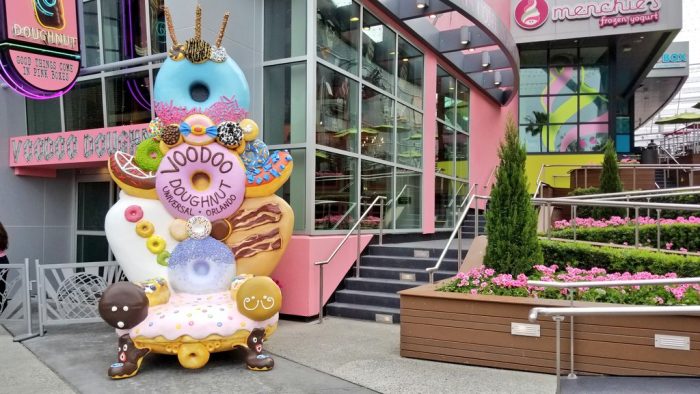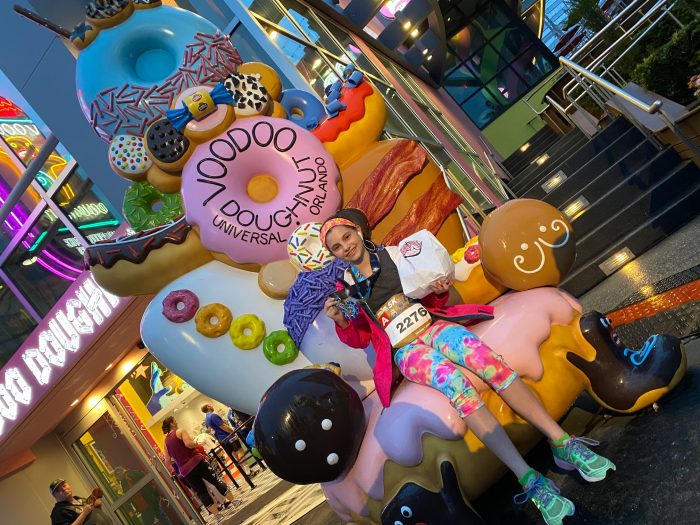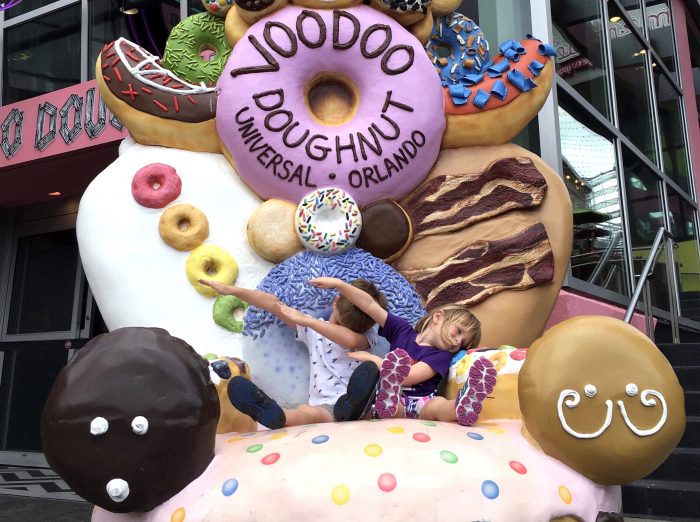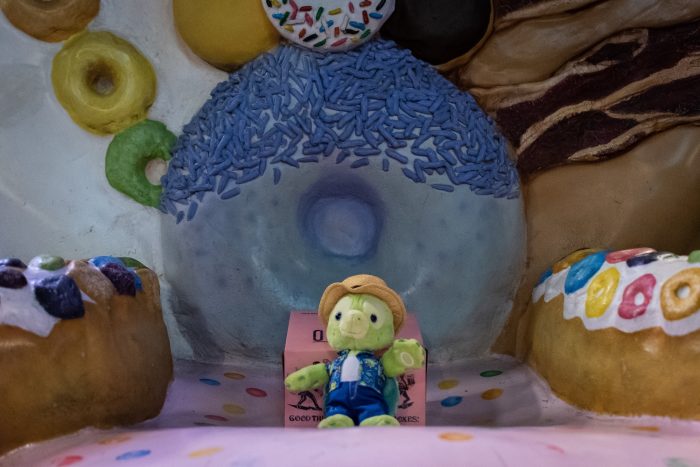 Maybe the most popular photo-op at CityWalk is also the oldest. Right outside Cinnabon sits a large wave and surfboard for you to "Hang 10" on.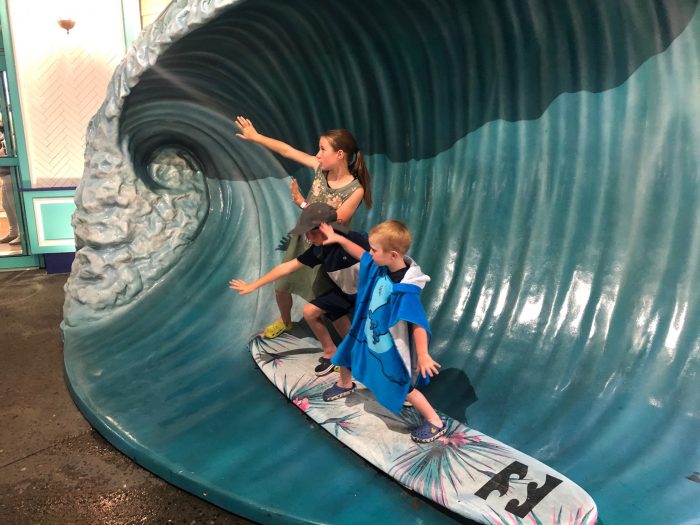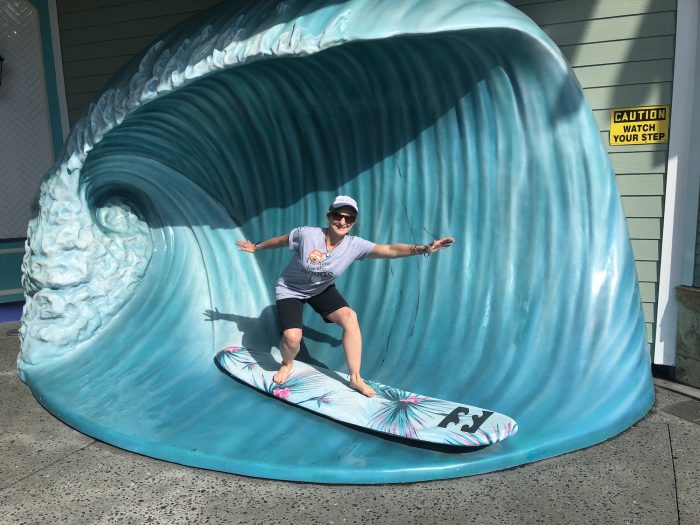 # 4 – The Shopping
While Disney Springs has been killing it with shopping, for the most part this is the one specific area at CityWalk which Universal was lacking in. Recently the area has had a huge remodeling as several third party retail stores were removed (such as Fresh Produce, Fossil, and PiQ) and in their place is one GIANT Universal Studios Store. As someone who loves going to the World of Disney store in Disney Springs, I didn't understand how much CityWalk needed an experience like this until visiting the store myself last week.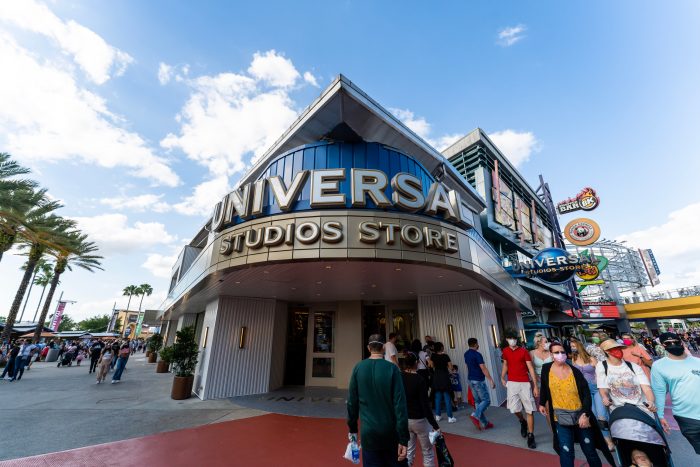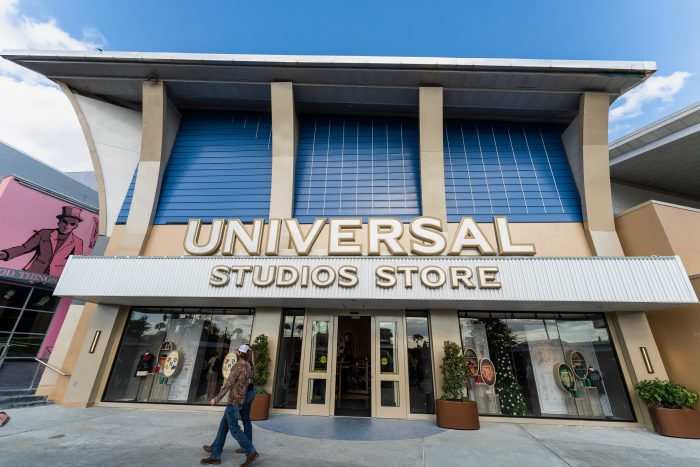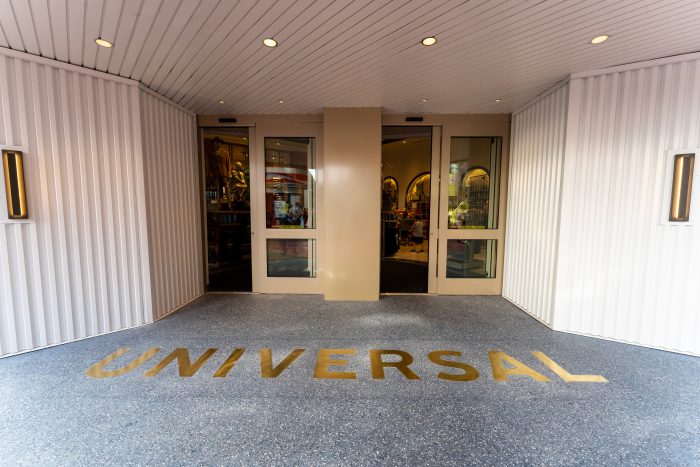 There are some great details throughout the store, including what look like blueprints for attraction show buildings, park icons, and even ride vehicles from the nearby theme parks.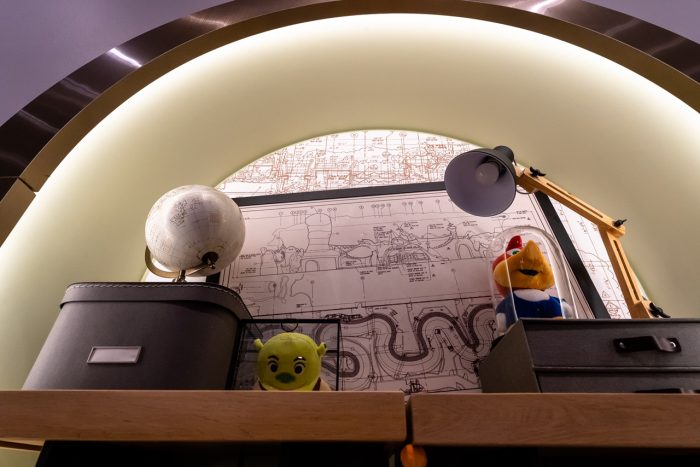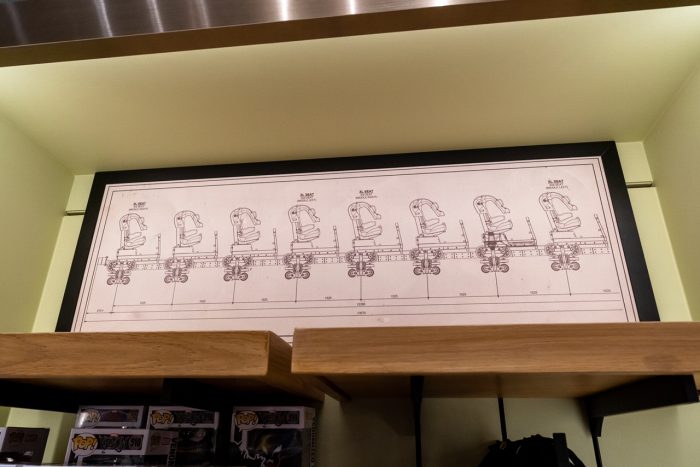 For your average guest, the huge Studios Store will be a one stop shop for any of their merchandise needs. You'll find all the various Universal park brands represented; such as Jurassic Park, Despicable Me's Minions, and Harry Potter)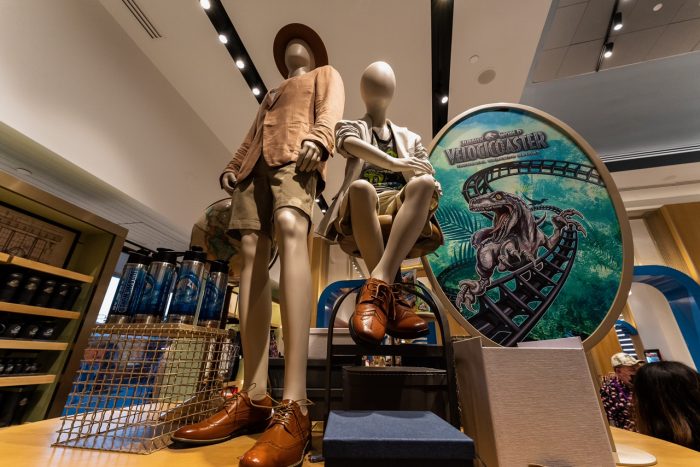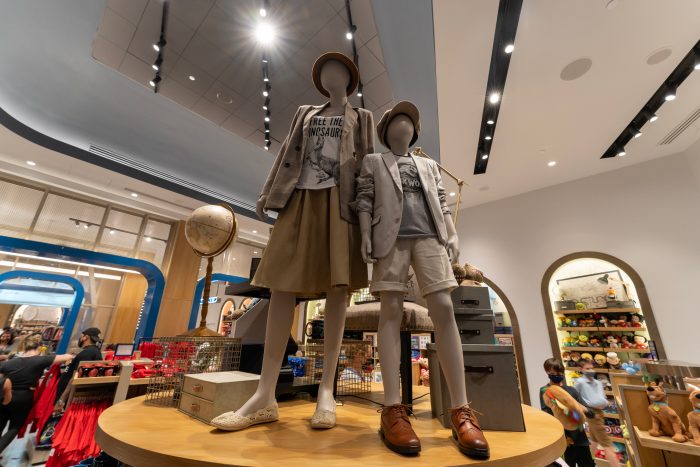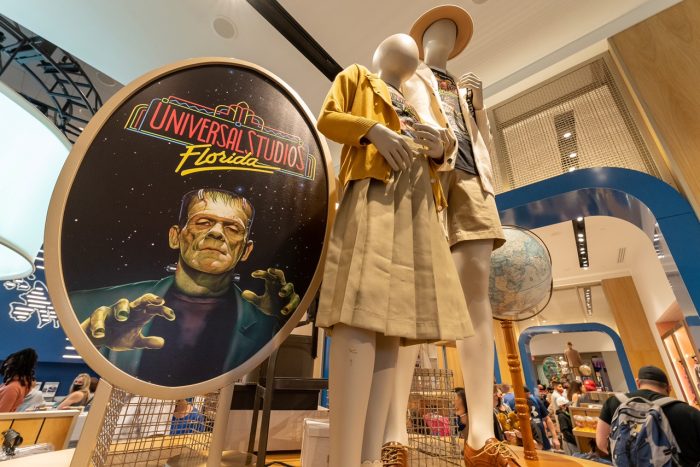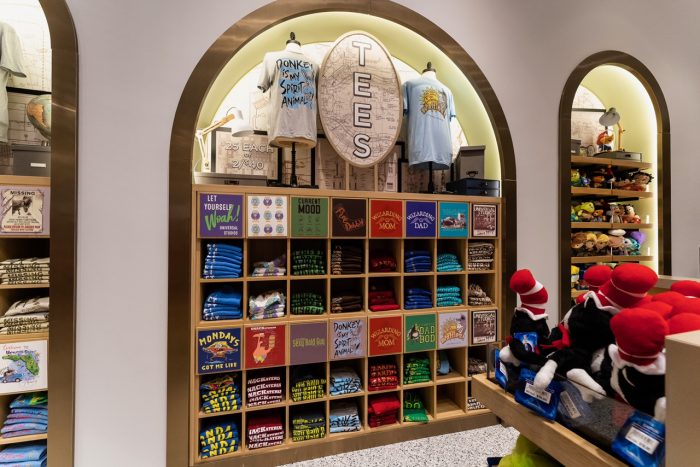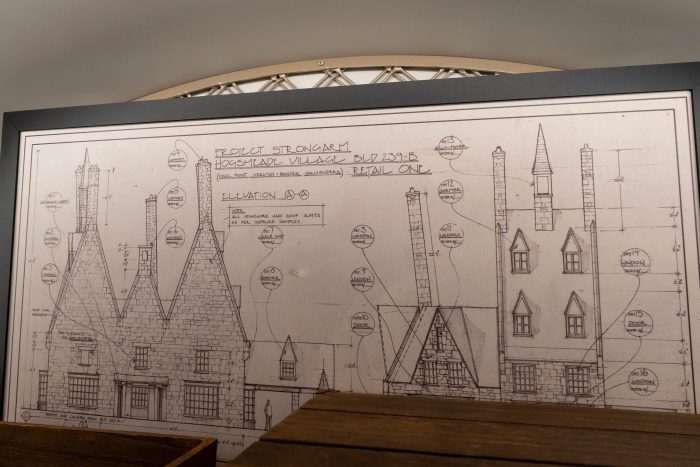 Need a wand for the witch or wizard in your family? You'll find all the character wands at the Studios Store along with several of the limited edition wands put out for special events.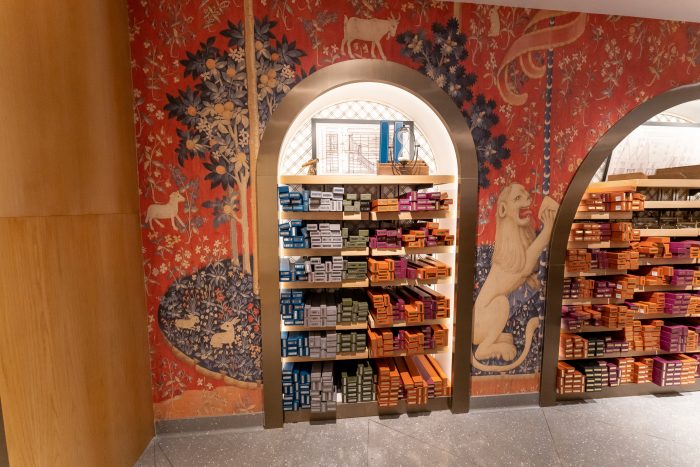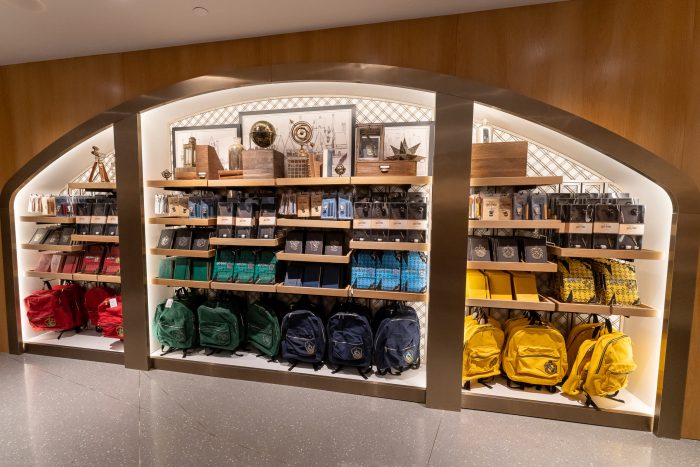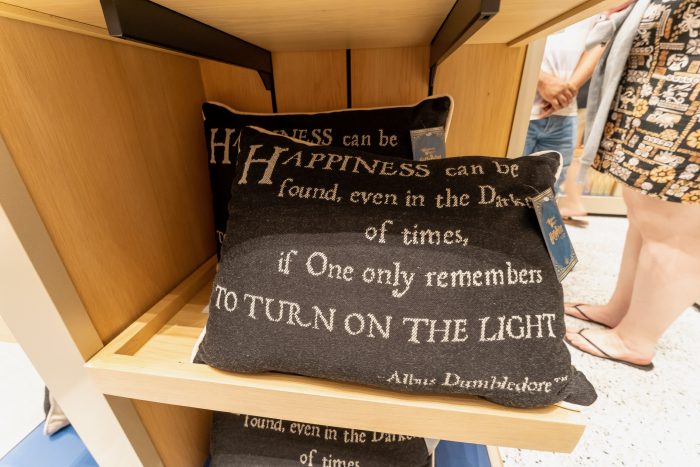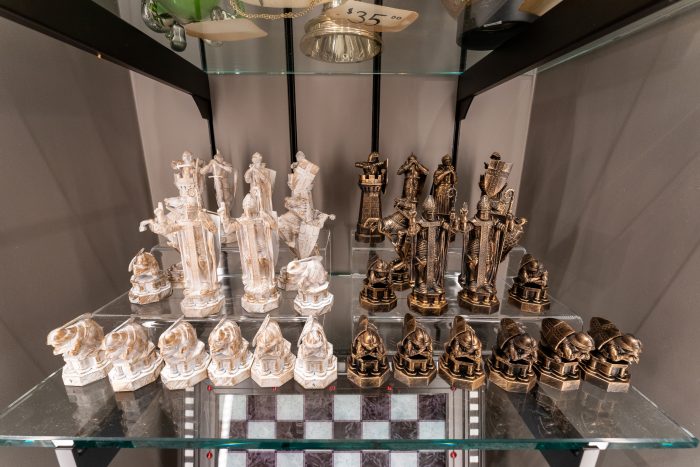 The next largest store in CityWalk is also run by Universal. Whereas the Universal Studios Store is perfect for your average day guest, the Universal Legacy Store is filled with props and references to the history of Universal which will appeal to the more dedicated fanbase.  We recently did an article looking at some of the amazing details in the Universal Legacy Store, which you can read by CLICKING HERE.
# 3 – Voodoo Doughnut
Featured on TV shows such as Anthony Bourdain's No Reservations, Man vs. Food and The Amazing Race, Voodoo Doughnuts has developed a cult-like following. Their unique approach to doughnuts is one filled with humor, a natural fit for Universal Orlando considering all the gags in the parks (not to mention The Simpsons area.) The Voodoo Doughnuts location at Universal opened in 2018, yet guests continue to queue up for these doughnuts at almost shocking rate, including after midnight during peak times. Many "hot" locations in the theme parks experience a huge wave of influencers and vloggers who have to be "first," but then see lines dwindle away or become nonexistent, but that has not been the case with Voodoo as it has connected with Universal guests in a way that few places do. A certified hit from day one, it's rare not to see guests walking back to the parking garage or the onsite hotels with the iconic pink Voodoo Doughnut box.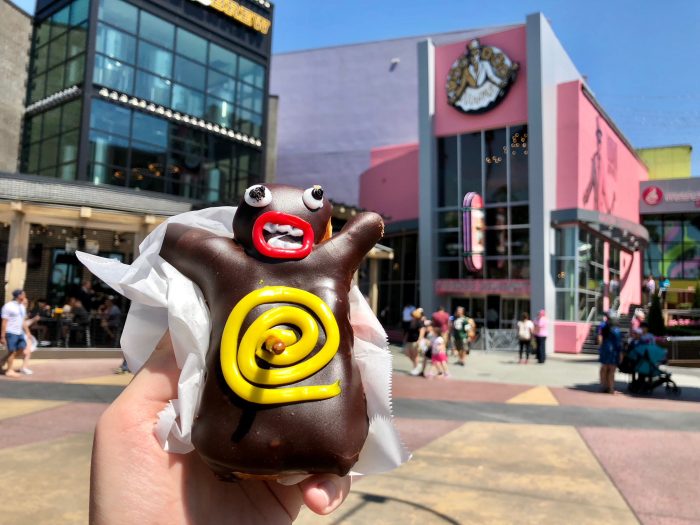 All Voodoo Doughnut locations  – including Portland and Eugene (OR), Denver (CO), Austin (TX), and the Universal Orlando Resort – incorporate stained glass windows into their design. At CityWalk, one series of windows features Tres Shannon and Kenneth "Cat Daddy" Pogson – the original founders of Voodoo – along with Robin Ludwig. Another set of designs spotlight some of the chain's most popular offerings, including the Maple Bacon Bar, Portland Cream, Voodoo Doll, and Oh Captain, My Captain.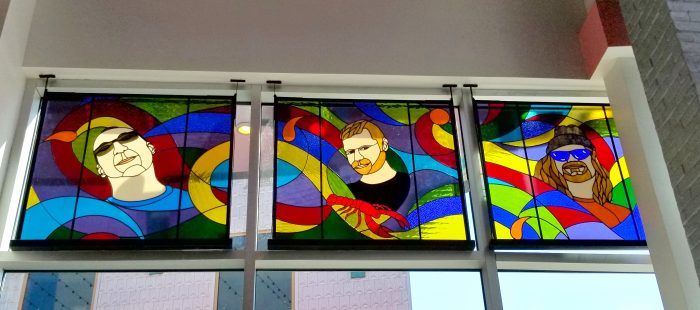 Another Voodoo Doughnuts legacy that continues in Orlando is a piece of artwork made completely out of duct tape. That's right, Mona Superhero is an artist from the Portland, OR area whose work is comprised entirely of duct tape and masking tape. For the CityWalk location, Mona's artwork features a Voodoo queen.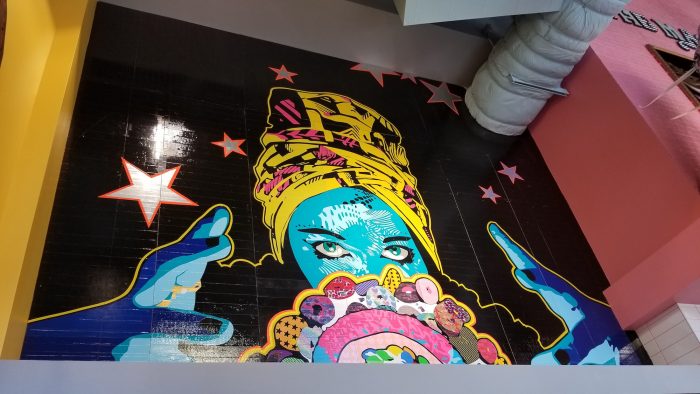 Walking into Voodoo Doughnuts, guests are hit with a smell that is pure bliss. You are completely surrounded by the heavenly aroma of sugar. While in line, you'll be able to see a carousel of donuts with all the various offerings available.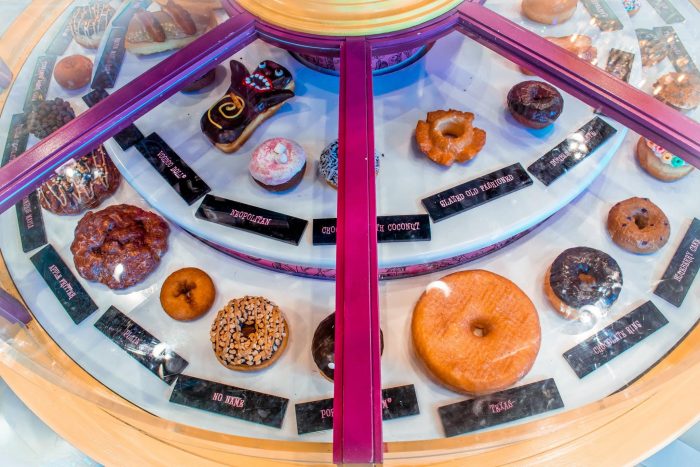 It's hard to pick just one. Along with their normal array of donuts, what really takes Voodoo Doughnut to the next level is the unbelievable amount of specialty donuts they make exclusively for the CityWalk location. In my box of donuts below you'll see a Grinch-themed donut sitting directly in the middle of some of our Voodoo favorites (apple fritters, buttermilk bar, Portland cream, blueberry, and classic glazed.)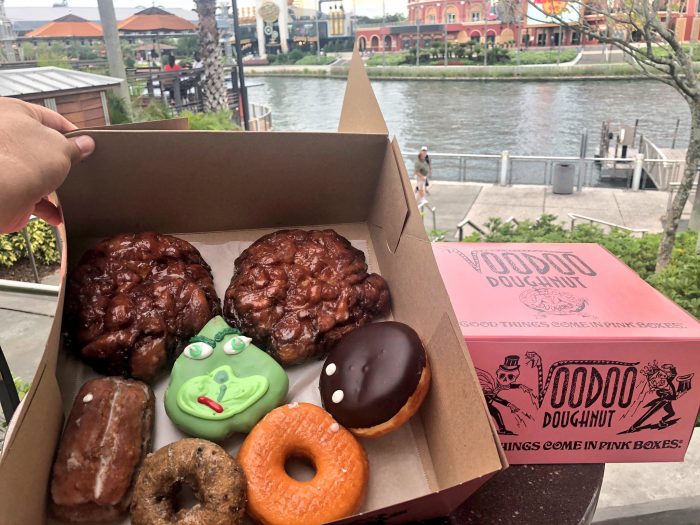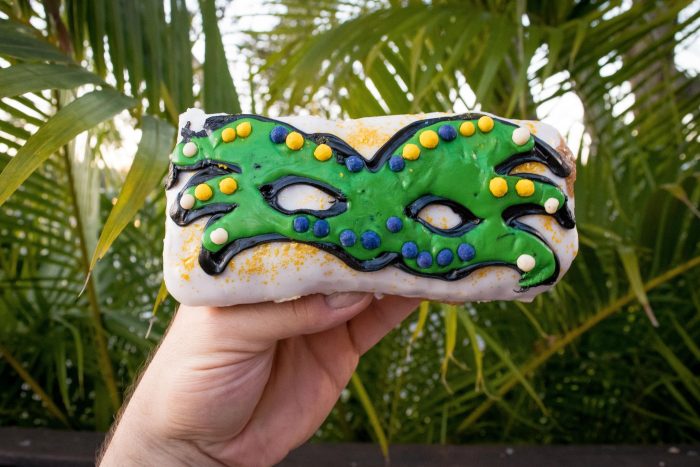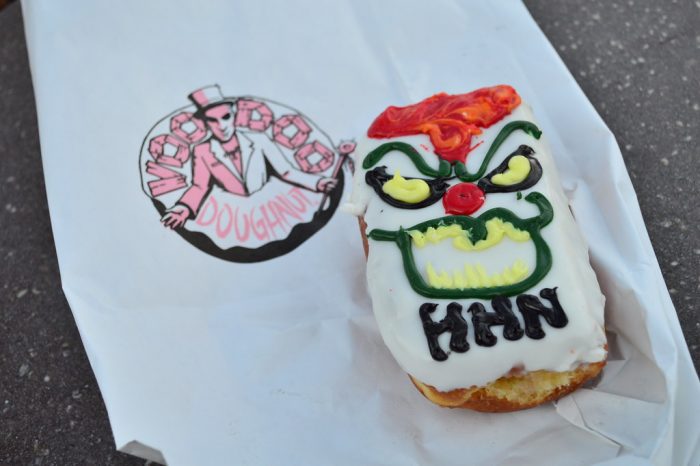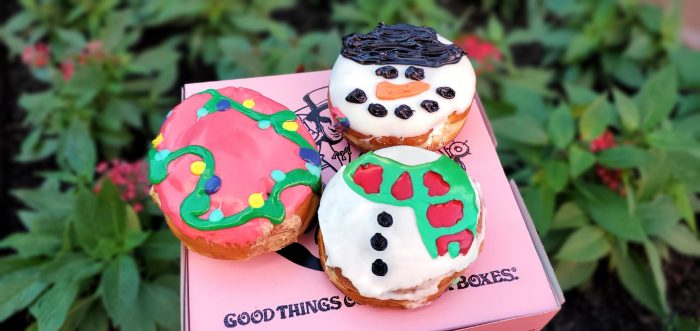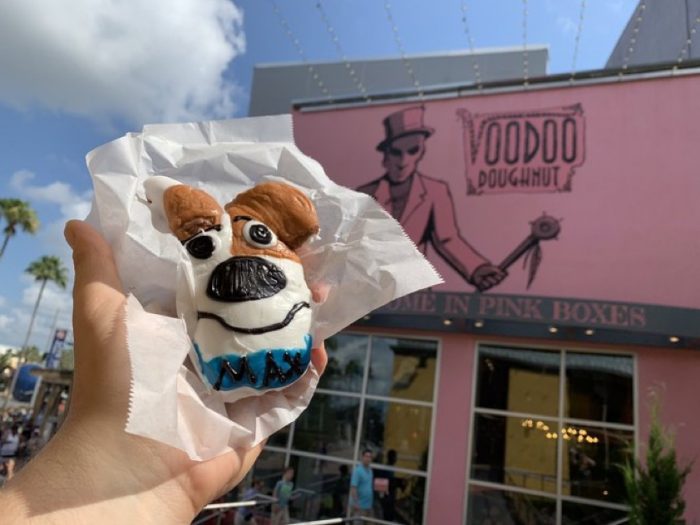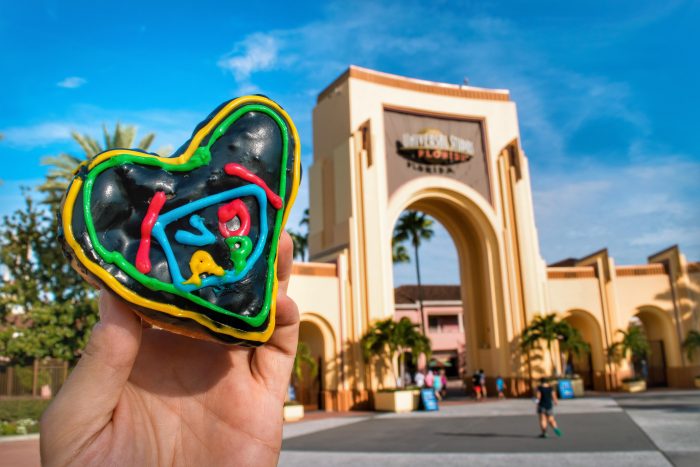 # 2 – The New Restaurants
We have been truly blessed with the sheer amount of awesome dining experiences that have come to Disney Springs and CityWalk over the last several years. The lineup of celebrity chefs which Disney has brought into Disney Springs is second to none, and you can't go wrong at Jaleo by José Andrés, Frontera Cocina by Rick Bayless, or even Guy Fieri's Chicken Guy! Meanwhile over at CityWalk, Universal themselves have taken over many of the dining experiences with spectacular results. From quick service to sit down table service restaurants there hasn't been a miss yet.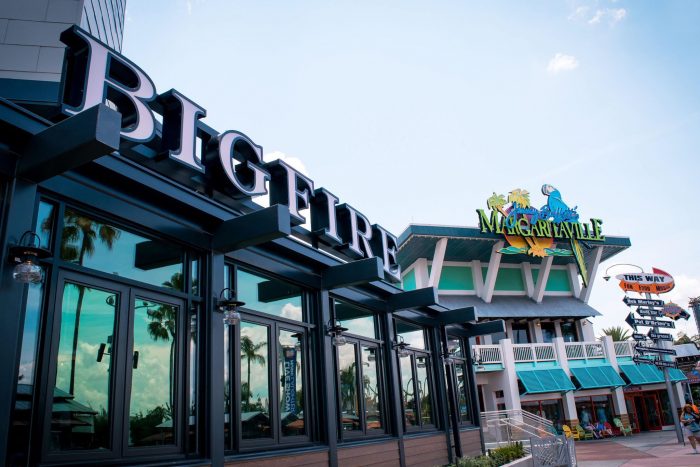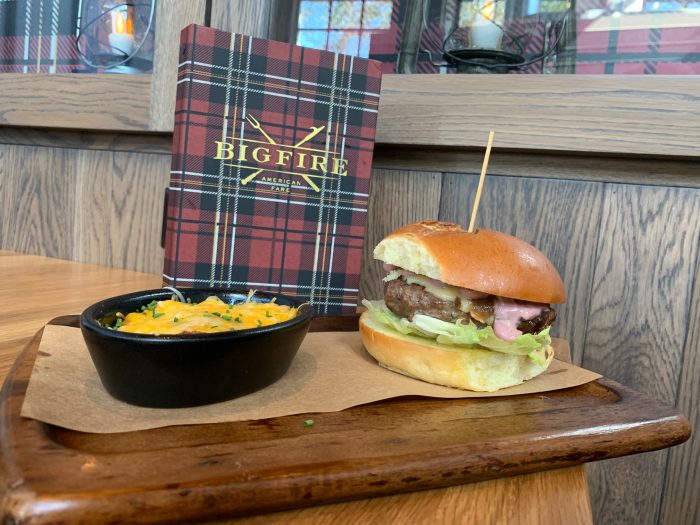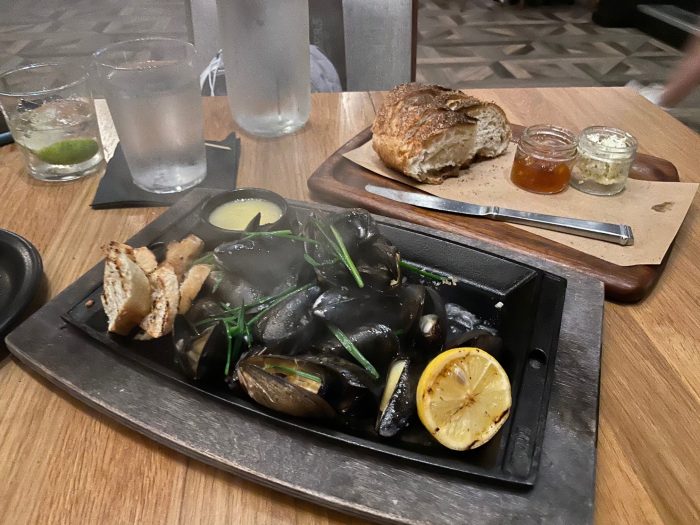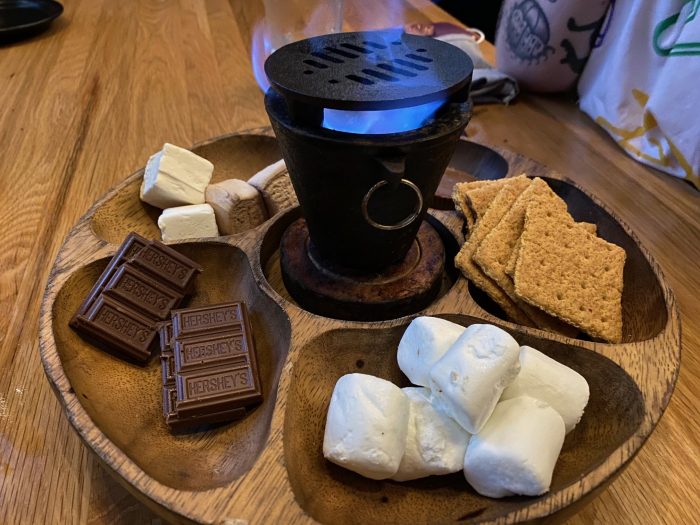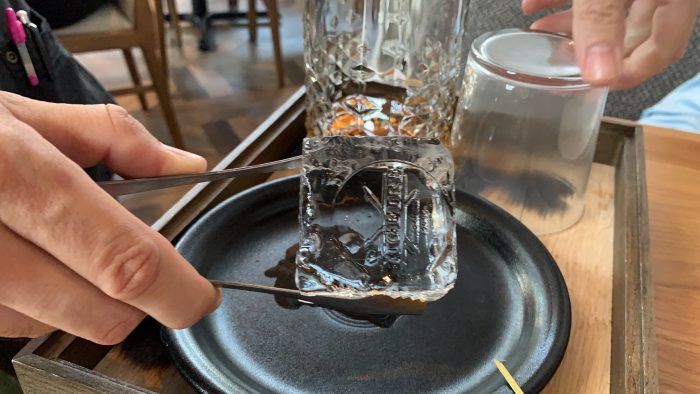 If you've eaten your fare share of theme park pizza like I have, you'll immediately taste the difference in quality when trying Red Oven Pizza Bakery.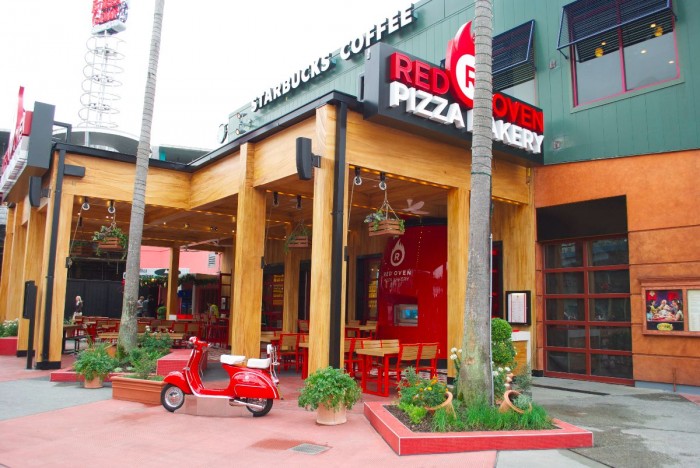 I like Via Napoli as much as the next person, but Red Oven delivers on a great tasting pizza for a reasonable price.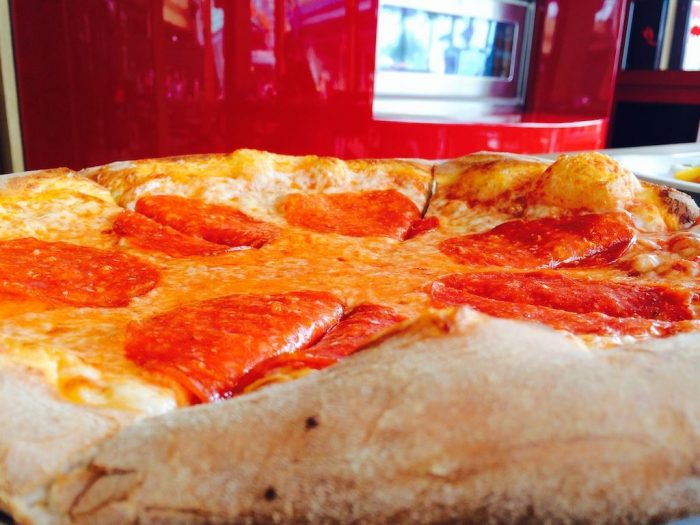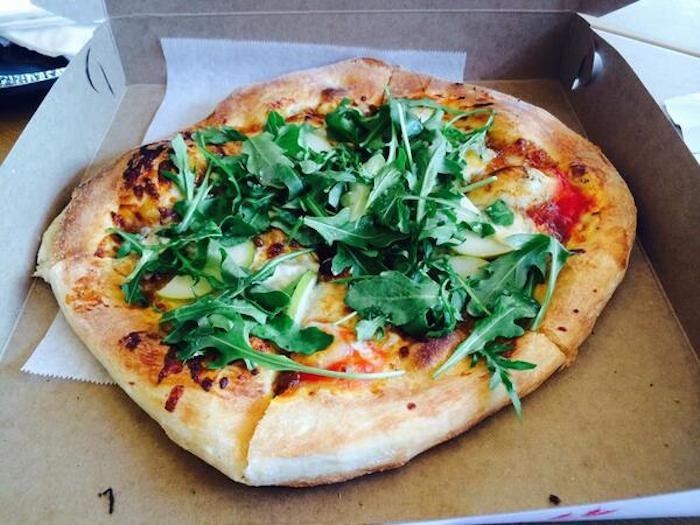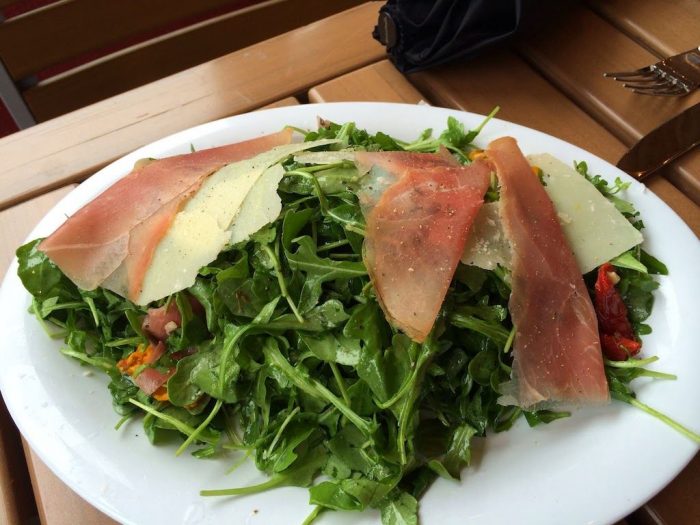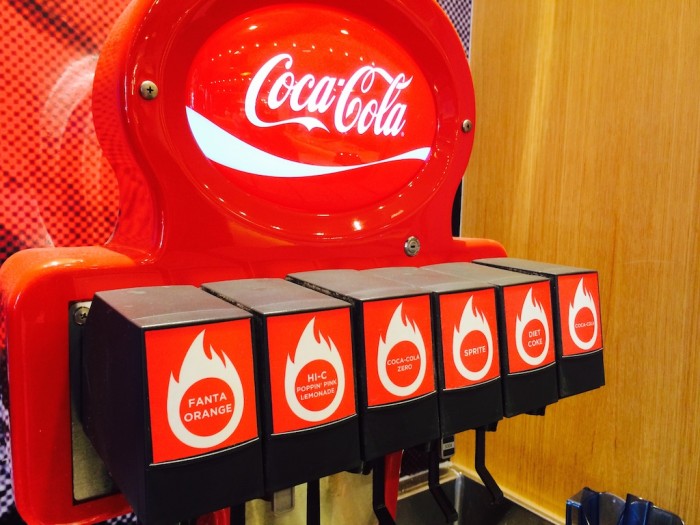 For reasons unknown to me, Earl of Sandwich is a huge hit with many guests at Disney Springs. I admit I may be biased in not seeing why Earl of Sandwich is special, as we have Earl of Sandwich at our turnpike rest stops on the drive up to Orlando. Like Earl, Bread Box brings to CityWalk "your favorite street corner deli" through their use of quality meats, vegetables, fresh bread, and simple preparation. That sure sounds good, and the menu indeed has a wide selection of grilled cheeses (stuffed with everything from bacon to pastrami to smoked brisket) along with house-made soups and various sandwiches that are made fresh to order. The Nutella milkshake for dessert is ::chef's kiss::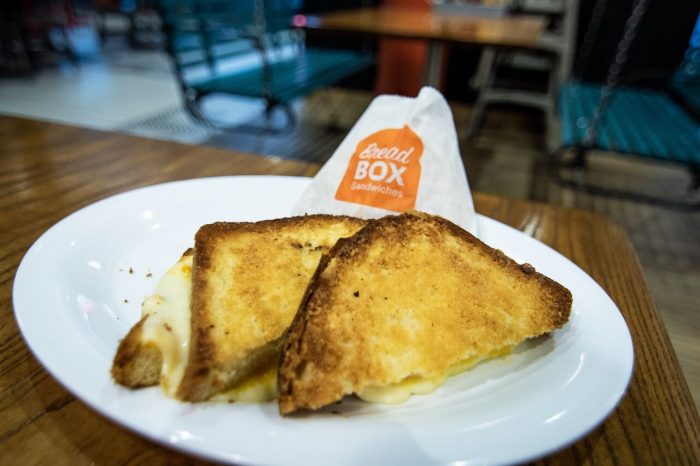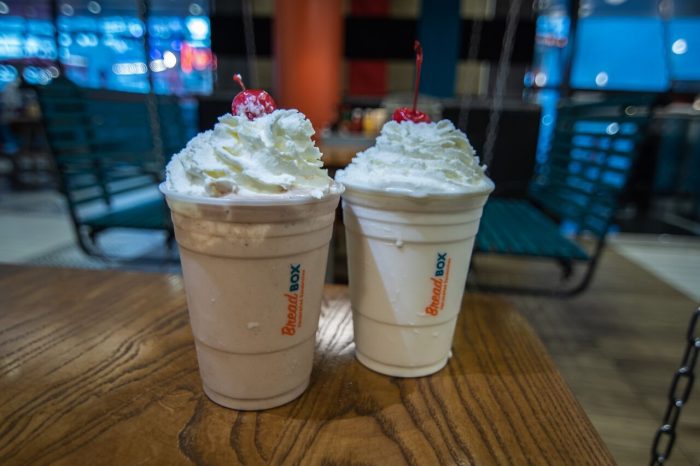 Antojitos Authentic Mexican Food is a postmodern tribute to Mexican street culture featuring a large open kitchen framed by graffiti graphics and eye-catching neon. The downstairs area has a central bar with surrounding booths fashioned from reclaimed wood and metal. This area can get very noisy, so if you want a quieter meal, ask for one of the private rooms upstairs. Or, grab a seat on the patio or balcony to watch the CityWalk crowds go by. With the best selection of tequila this side of La Cava del Tequila, Antojitos is at it's best while sipping on a strong margarita and enjoying house made guacamole. The restaurant has several features that are pretty much unforgettable; several tables which look like giant bird cages, a wall of tattooed plastic baby dolls, and a multi-colored mission-style facade. While I was apprehensive about that vibrant color scheme when seeing the original concept art, I find myself drawn to this area because of the eye catching colors and the gigantic weather vane sitting at the top. One of the most fun parts of the restaurant is the mariachi band that will alternate between traditional Mexican music and covering popular songs from today. It's fantastic! Antojitos was the very first restaurant in CityWalk to be a Universal creation and they nailed it.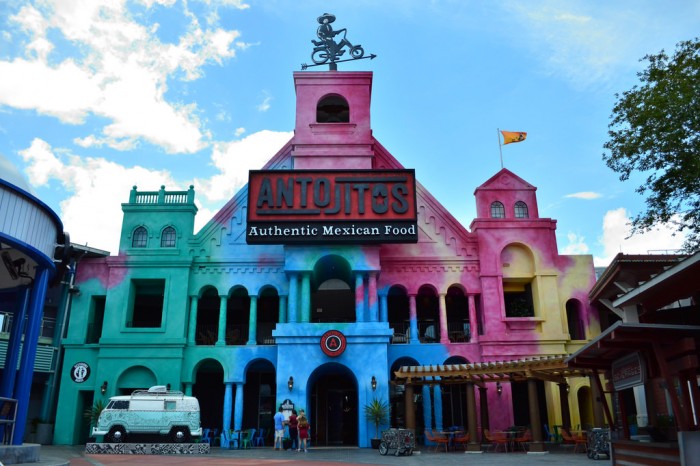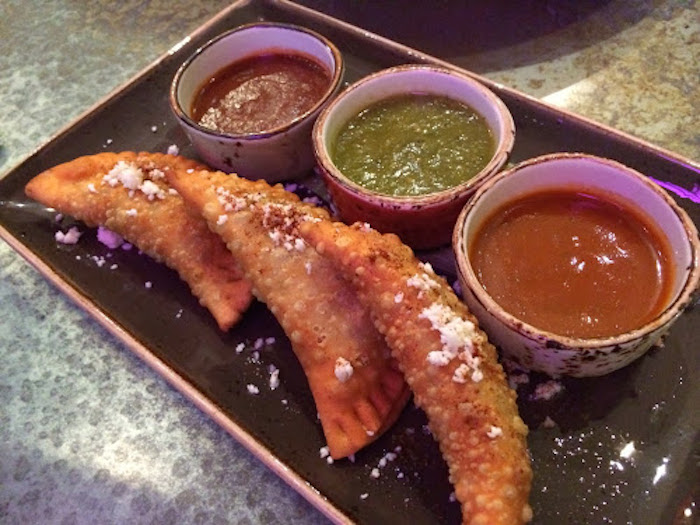 Developed by Steven Schussler, the creative force behind Rainforest Cafe and T-REX, Hot Dog Hall of Fame is a tribute to the iconic baseball-park food. Unfortunately, one of the most unique touches— the mustard bar curated by the National Mustard Museum —fell by the wayside during the pandemic. Let's hope for a comeback similar to how the menu of dogs from various ballparks across the US has returned. The outdoor venue still features large-screen TVs and bleacher-type seating (from actual Major League Baseball parks) for those interested in catching a game.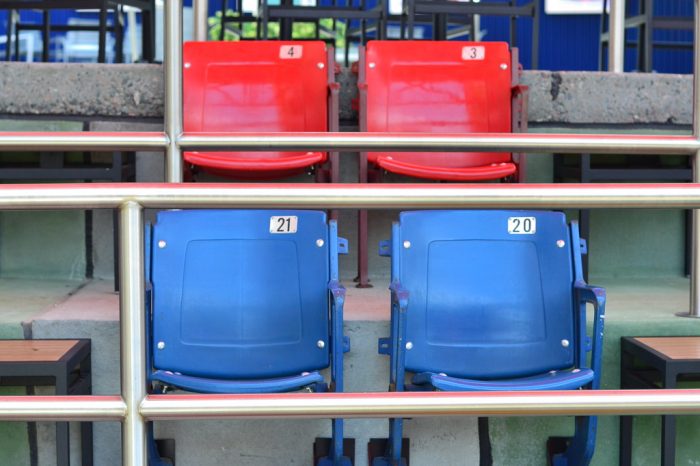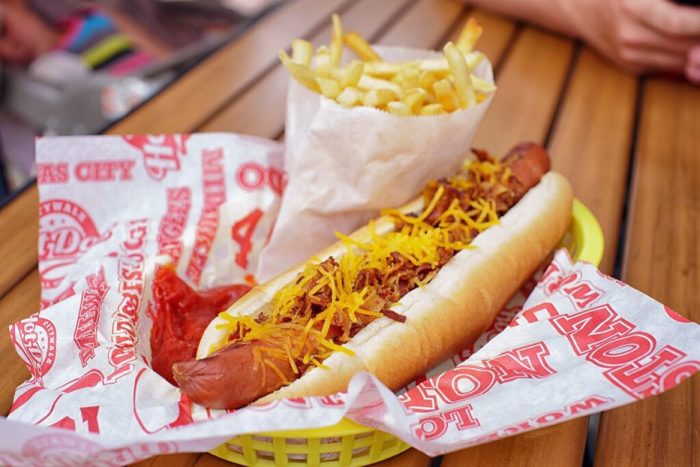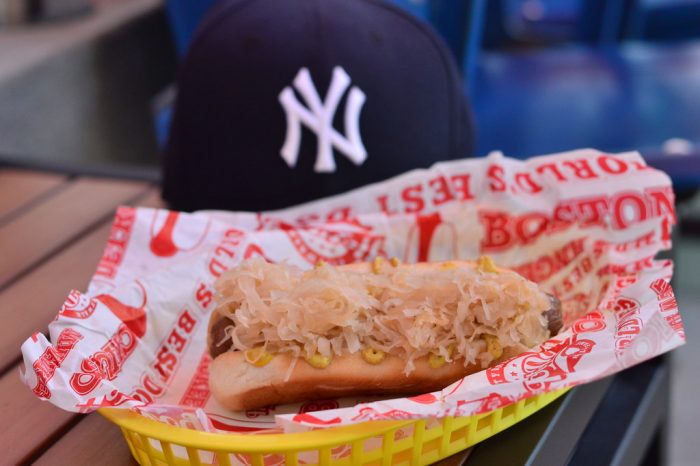 We've all been to a million Italian restaurants, but how does VIVO hold up to the rest? Upper tier. A solid top-to-bottom menu combined with a great value make a powerful mix in the theme park world. Sleek and contemporary without being stuffy, VIVO brings a touch of casual class to CityWalk's central crossroads. There are outdoor tables (with embedded chessboards) and a well-lit bar, along with plush semicircular booths surrounded by sinuous steel cages. But the real action is around the open kitchen; request a seat at the food bar in front of the "tree" where fresh pasta is hung. Between the various appetizers, entrees, and desserts, it's almost impossible to pick a favorite because so much of the menu is wonderful. Hand Pulled Mozzarella, Carbonara Pizza, House Made Meatballs, Squid Ink Seafood, Grilled Ribeye, Zeppole and Nonna cake are all highly recommended. But you could blindfold yourself, point at the menu; and still end up having something great.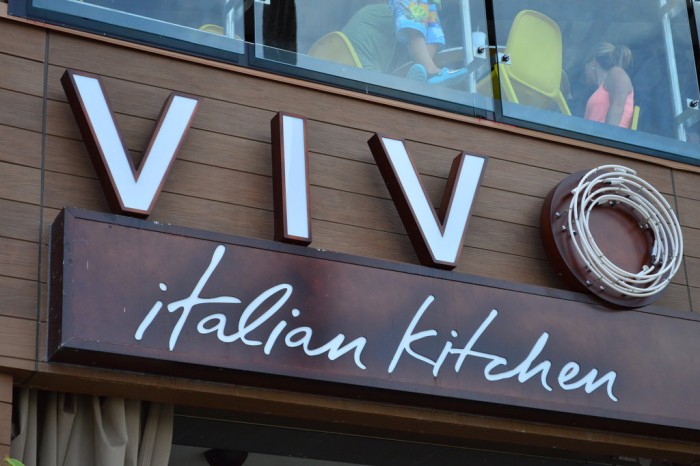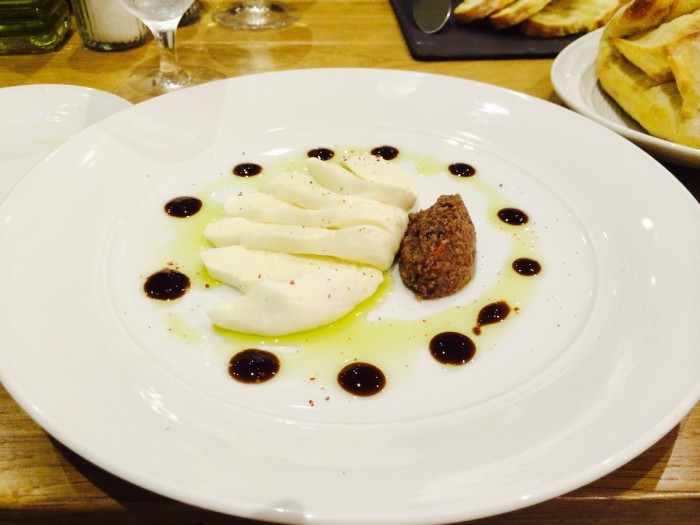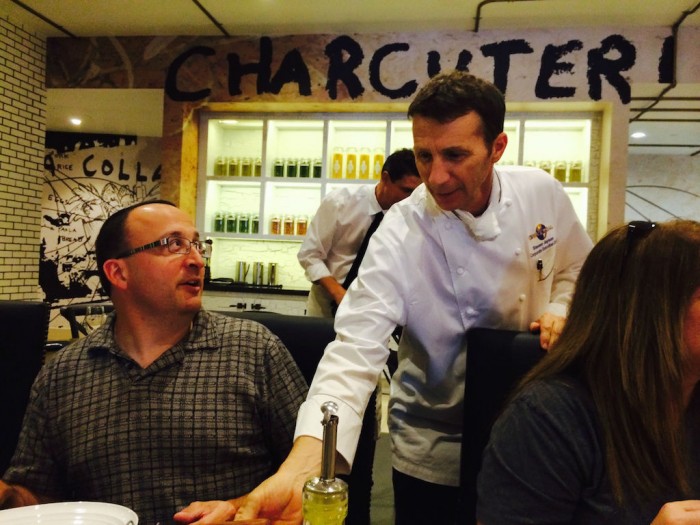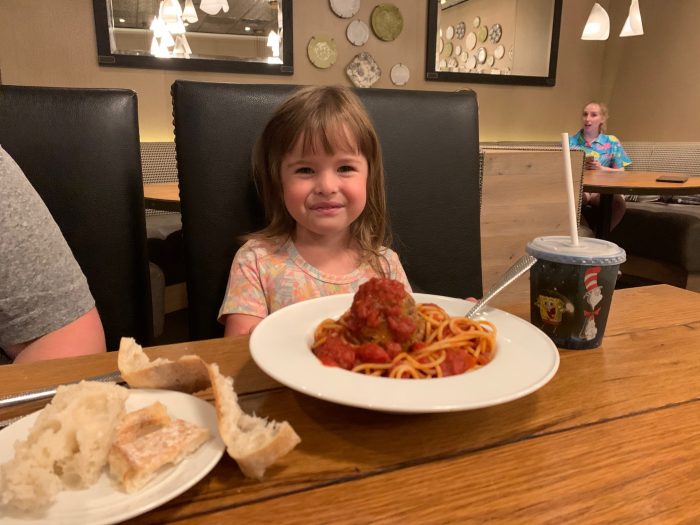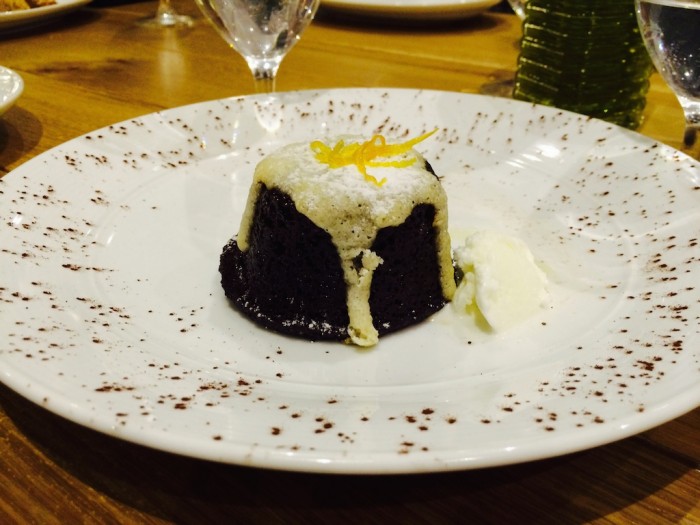 A one-of-kind dining concept that melds pan-Asian cuisine with the good ol' American burger, The Cowfish brings a wildly innovative menu and a terrific sense of humor to CityWalk. We were initially nervous about the fusion of a burger joint and a sushi place, because it just seemed too out there. But it turns out that the folks behind this tiny North Carolina-based chain are really on to something: like peanut butter and chocolate, The Cowfish's burgers and sushi both taste great, but also taste great together. The restaurant's Bento Boxes contain components from burgers as well as sushi and are a must get. You also have to try one of the hand-spun milkshakes, including our favorite the Marshmallow Crisp (Rice Krispies and mallow cream with vanilla ice cream. Topped with crispy toasted marshmallows.) You've never been to a place like Cowfish before, but we guarantee you'll be looking forward to going back.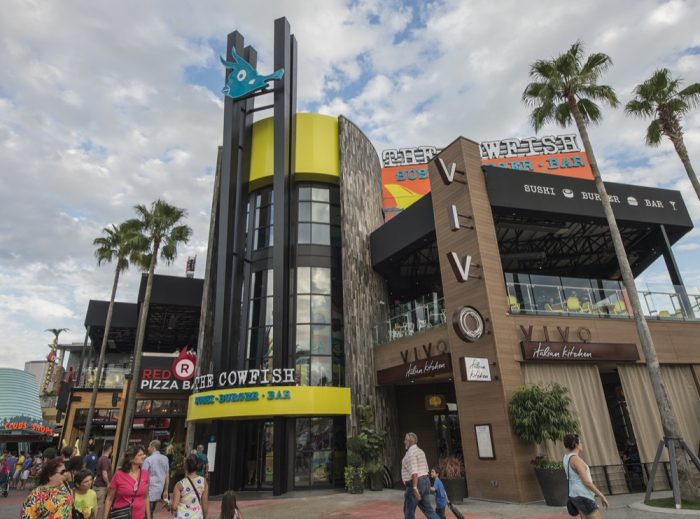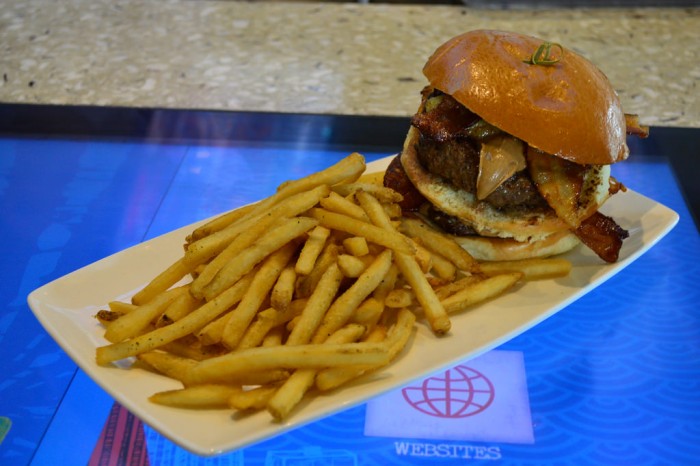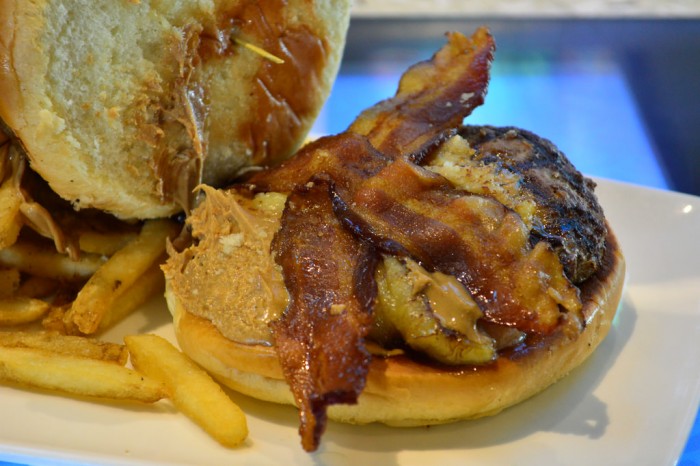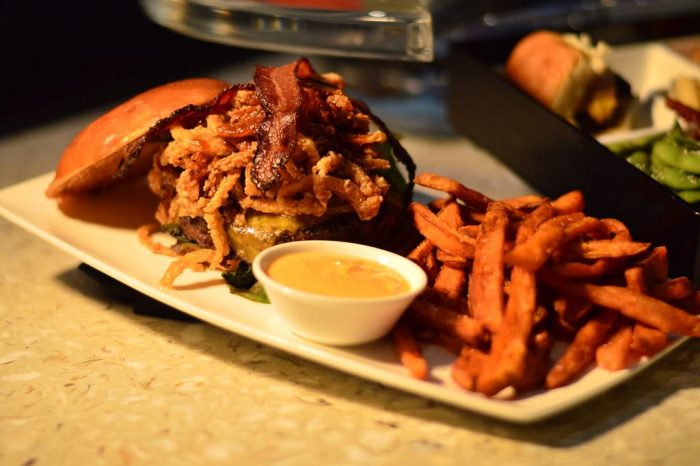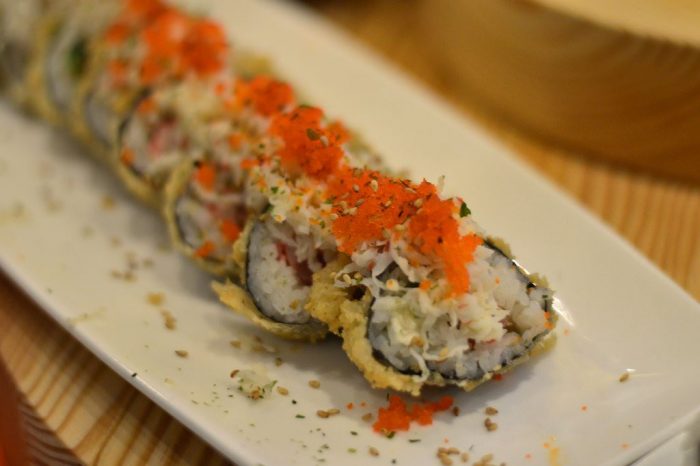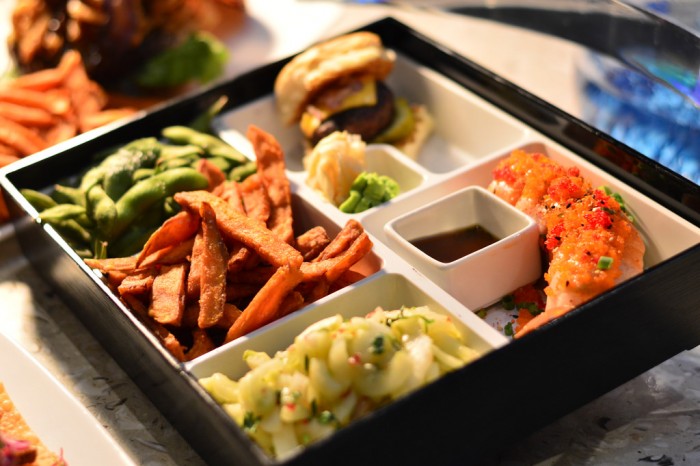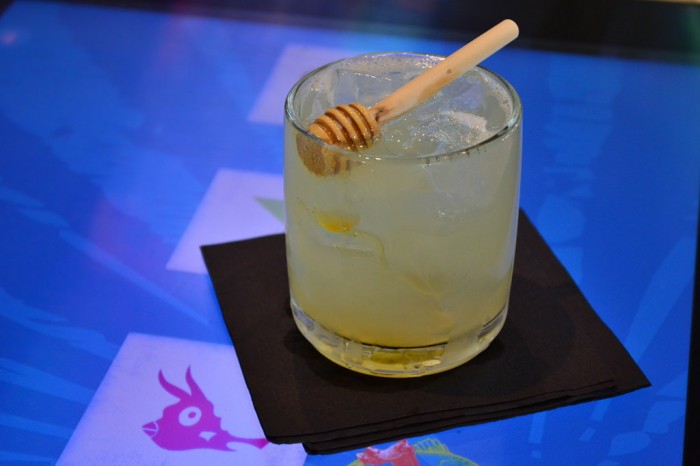 I'm still more than a little bitter than NBC Sports Grill & Brew replaced my beloved NASCAR Grille, but I can't deny that for a "sports bar/restaurant" it hits all the notes it needs to hit. With a large selection of burgers and beers, NBC Sports Grill & Brew is the go-to place at Universal to catch the latest game. The menu is surprisingly deep, and the open kitchen concept allows you to see the chefs in action. Beer lovers will be drawn to the large variety of selections (more than 100), including two brewed exclusively for the restaurant by Florida Beer Company, and a fresh firkin-contained ale that's handpumped from the cask.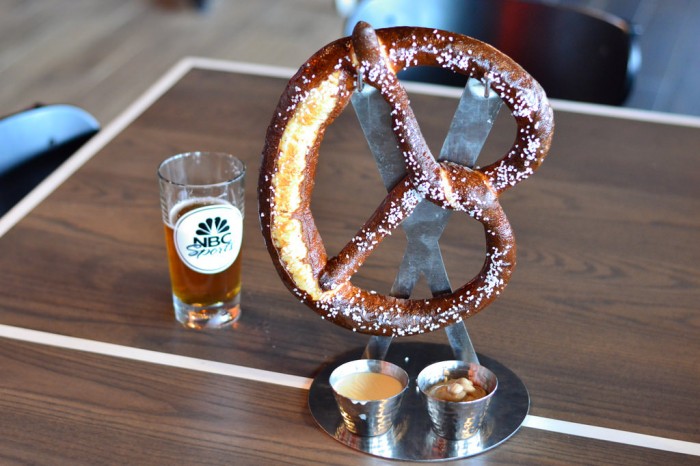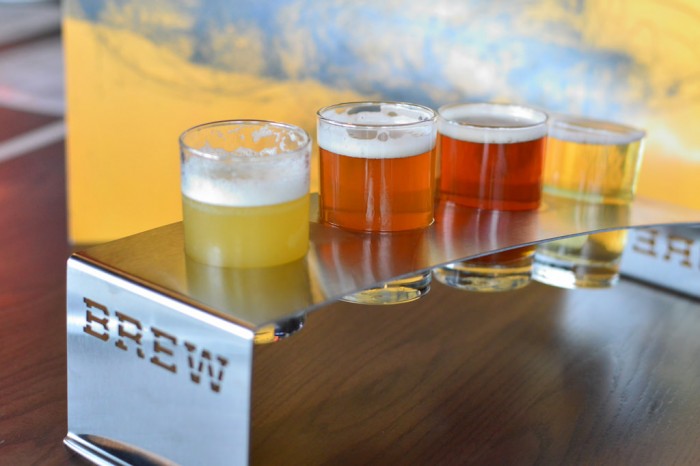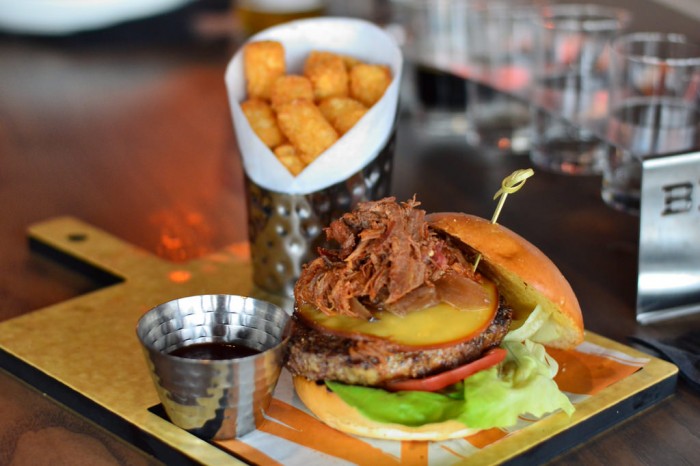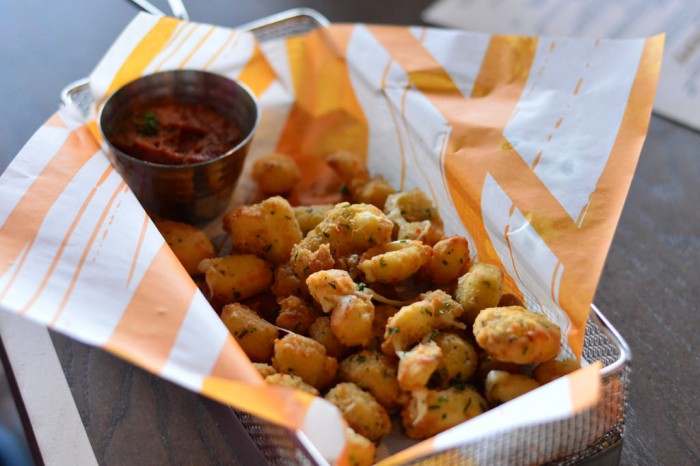 Toothsome Chocolate Emporium has so many bells and whistles that you would think it would be inside of a theme park. Huge menu. Gift shop. Confectionary. Walk around characters. Larger than life milkshakes. Getting a meal at Toothsome is an experience.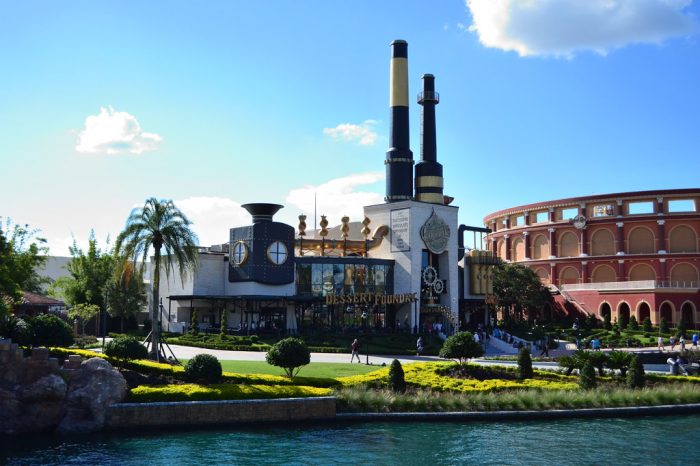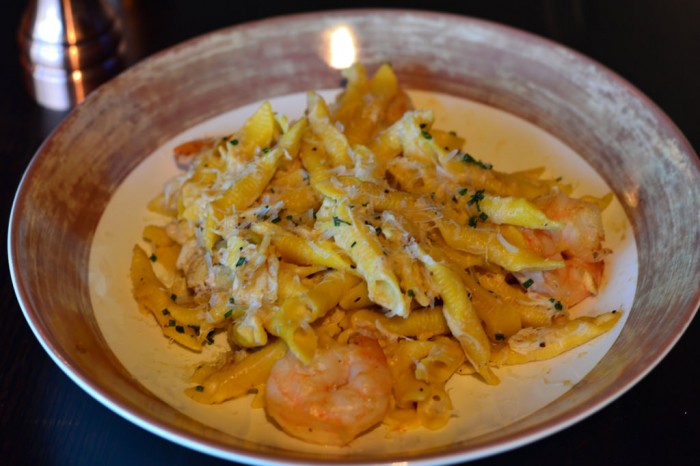 With a menu so big it would make the Cheesecake Factory blush, you're probably won't be surprised to learn that there are multiple pages dedicated just to appetizers (which Toothsome refers to as Temptations.) We at the SATURDAY SIX headquarters consider ourselves bread connoisseurs, and look forward to various bread services at restaurants like alcoholics look forward to the bar menu. In Orlando, there is the untouchable Sanaa bread service leading the pack, but Toothsome's Warm Chocolate Almond Bread makes a very good showing. Served with salted caramel butter, the bread isn't as heavy as you would think and is a great value at less than $3. The standout app was the sure to be popular Totchos. This was fried tater tots, spicy green chili, crispy pork belly, andouille sausage, and cheese sauce. Most places that serve totchos just dump sauce on the top, so many of the tater tots end up with no sauce. Toothsome looks to have tossed their tots with the sauce and meat, so everything has a nice taste throughout.
We were  huge fans of the Pork Belly Sliders (caramelized onions, mustard aioli, arugula, chocolate dipped bacon, served on a pretzel bun) and you pretty much have to order the Black & Tan Onion Rings just to experience the cocoa ranch dipping sauce. That's right, cocoa ranch. Just as drinking a Beverly was a right of passage in EPCOT, tasting cocoa ranch is an experience at Toothsome. It is something you will never forget (no matter how hard you try).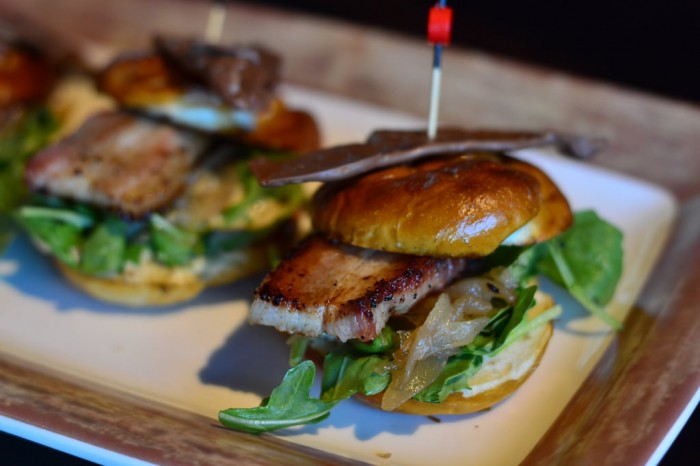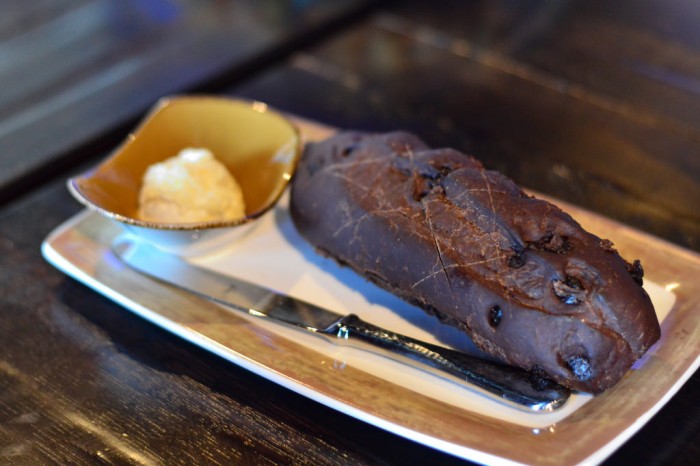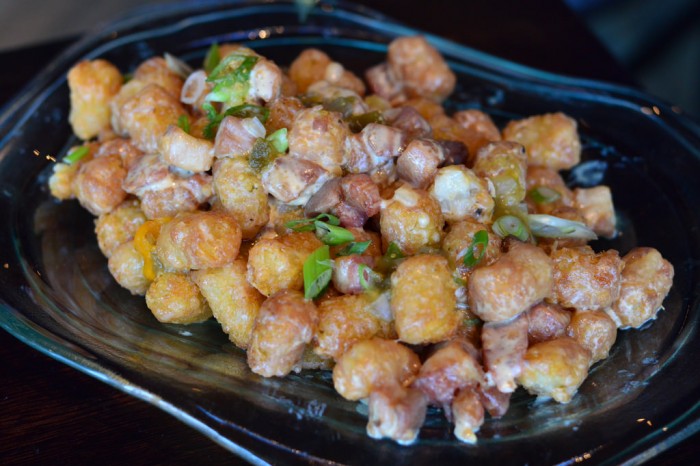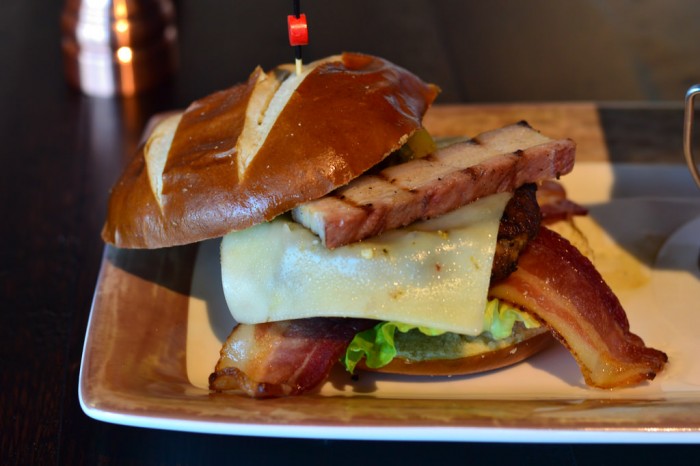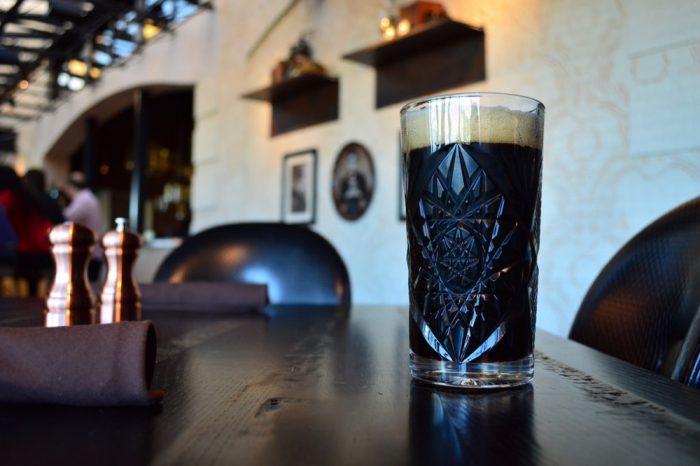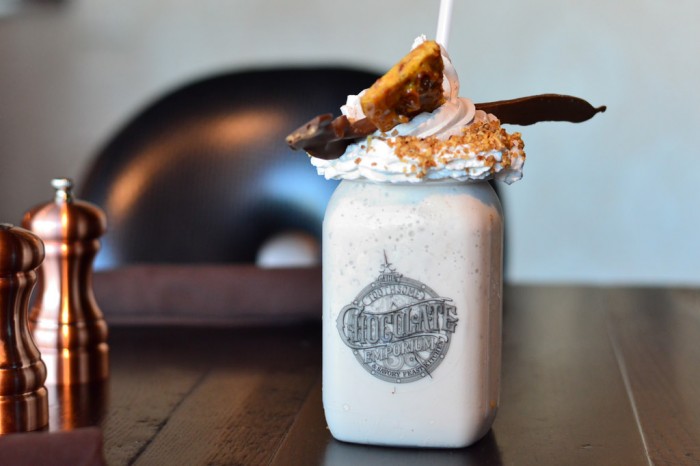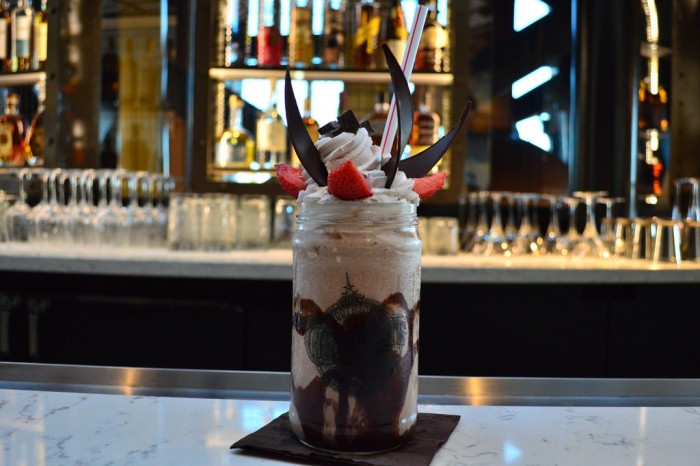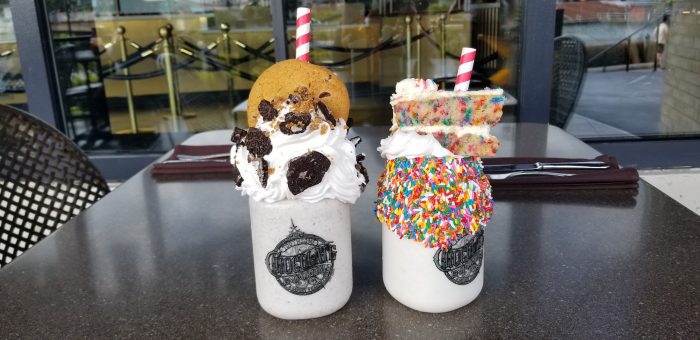 Talk about bucking the trend. In a theme park world where getting rid of the human element seems to be a priority, Universal has added walk around characters in the parks and at Toothsome. The restaurant has a lengthy backstory (which can be found inside the menu), and it revolves around Professor Doctor Penelope Tibeaux-Tinker Toothsome. In Penelope's exotic trips around the world, she discovered ways to infuse chocolate into extraordinary recipes. When Penelope returned home from her travels, she discovered that her parents had set out to join her ("Surely the world isn't so big that we can't find you.") Penelope decided she would use her chocolate knowledge to create an emporium, and would share her dishes with the world until reunited with her family. 
Penelope  can be seen walking about Toothsome, occasionally with her robot companion Jacques. Just as with the best Disney meet and greets at the Magic Kingdom, Penelope stays completely in character, is filled with charm and as they would describe her in the 19th Century: is a bricky gal.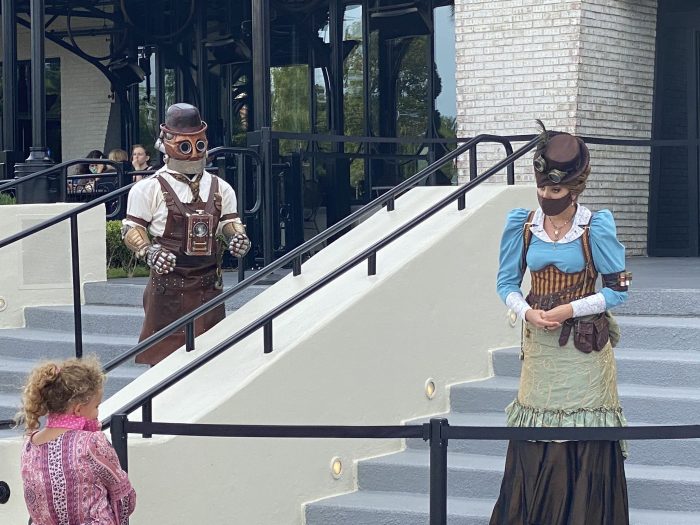 # 1 – You're in the Middle of the Action at the UNIVERSAL ORLANDO RESORT
CityWalk is the hub of the Universal Orlando Resort., so if you are at the parks, or at any of the nearby hotels, you are a stone's skip away. There's something to be said about starting your day at Islands of Adventure, leaving to enjoy a lunch at CityWalk, and then finishing your day at Universal Studios Florida.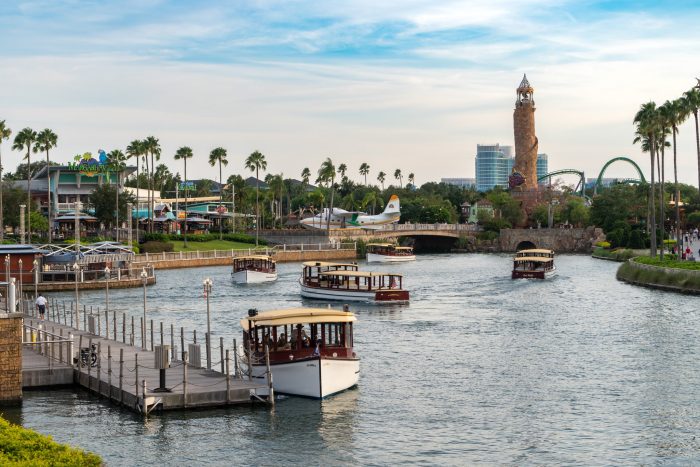 This aerial photo below shows the entirety of CityWalk and its relationship to the Universal theme parks. In fact, CityWalk's Toothsome and the Hard Rock Cafe Orlando sit inbetween the entrances to Islands of Adventure and Universal Studios Florida.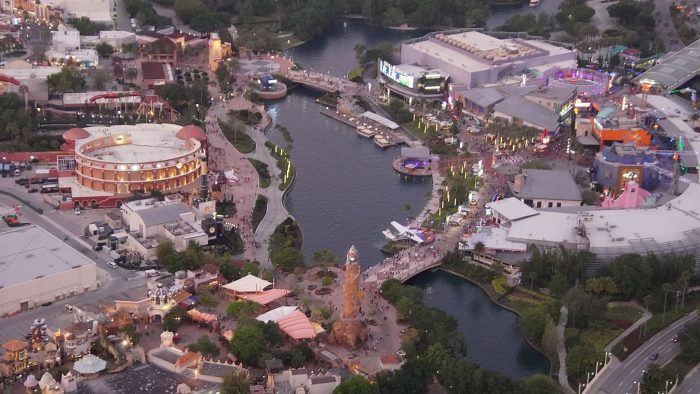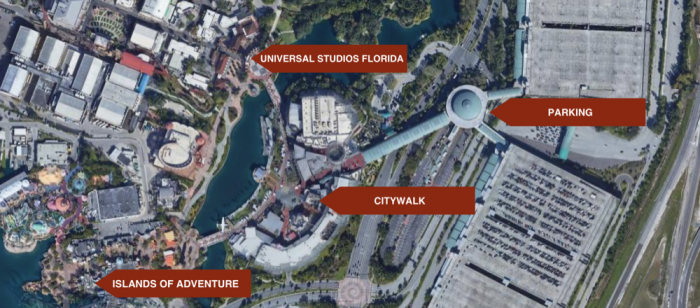 HONORABLE MENTION – The Best Walk Around Character in Orlando
You haven't lived until taking a picture with a 6'5″ shrimp outside Bubba Gump Shrimp Company.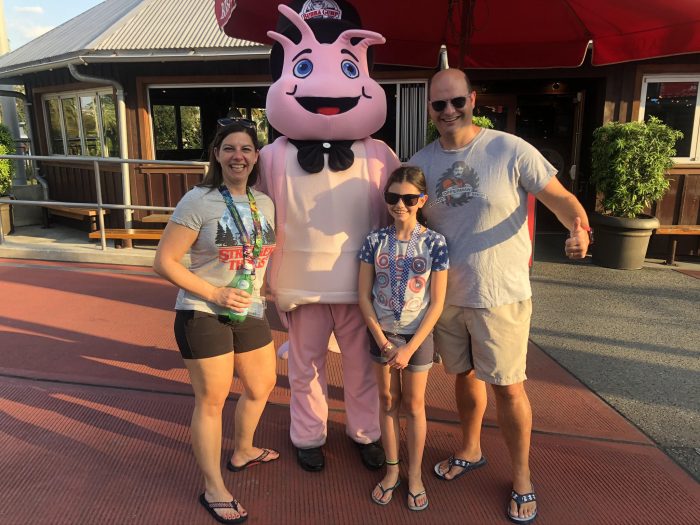 So there you have it: Six Reasons we LOVE Universal CITYWALK! See you next weekend for the latest installment of the SATURDAY SIX, where we'll look at something fun from the world of Disney and Universal. If you enjoyed yourself, be sure to check out The Magic, The Memories, and Merch! articles covering the latest from the Disney Outlet Stores. You can also follow Your Humble Author on Twitter (@derekburgan).
If you enjoyed this article, you will surely like the following: 
Universal Orlando For Newbies – Getting to Know CITYWALK
DAVID & DEREK: The Do's and Don'ts of COVID-19 Safety Protocols at the Theme Parks
6 Pieces of Disney Merchandise That Don't Exist (but Totally Should)
SATURDAY SIX Presents: The Disney Signage Hall of Shame
Special Thanks to The Elite Brandon Glover, the bio-est of all reconstructs @bioreconstruct, Captain Cruiseline Scott Sanders of the world famous Disney Cruise Line Blog, my personal protege Hunter "Elvey" Underwood, artist @SonderQuest, the SAT SIX Fun Squad of Parkscope Joe and "the Dadalorian" Nick, hot shot Michael Carelli, charter member of the Universal Four @Nitro230, and Hermione Granger's tutor Megan Stump for their invaluable assistance with this article. The SAT SIX is inspired each week by goofballs Aengus Mackenzie and LitemAndHyde and you Potterheads will  enjoy Meg's other blog work over at the Central Florida Slug Club.