Universal Orlando for Non-Thrill Seekers: The Relaxing Way
A few weeks ago our blog wrangler, Julia, pinged me about what there is to do beyond the big rides and shows at Universal Orlando. See, Julia likes taking it slow; she enjoys people watching, sampling snacks, and soaking in the atmosphere. She really enjoys the "park" in "theme park".
With this article, I will highlight some of the less talked about, quiet options in the parks – the "Julia rules" touring plan. These are attractions of a different sort, with a focus on the smaller experiences. Here are the rules I set:
No rides, at all
Shows with walk-up availability
Interactive elements are okay
Focus on unique shopping and dining
Resort hopping and CityWalk is allowed
Since this is a laid black plan, steps can be taken in any order at any time of day. Pick and choose what sounds right for you.
COVID-19 NOTE: Some attractions and experiences listed below may be closed due to COVID-19 protocols. Refer to Universal Orlando's website for attraction operation updates.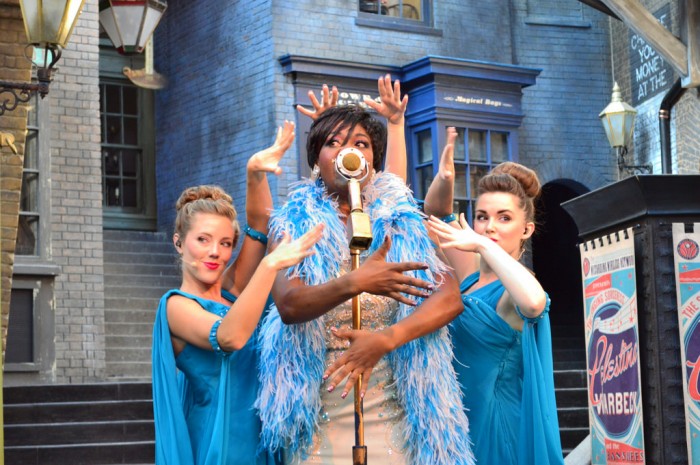 Universal Studios Florida
Go to Today Cafe, pick up breakfast and coffee (or lunch), and sit outside and people watch.
Watch the daytime fountain shows from Central Park or the viewing area across from Transformers.
See the cute dogs and cats in Animal Actors on Location. (I'm partial to the corgis.)
Got kids? Let them loose in Curious George Goes to Town and Fievel's Playland.
Stop and enjoy the Marlyn Monroe & The Diamond Bellas (Hollywood), Blues Brothers (New York), and Beat Builders (San Francisco) shows.
Grab a drink and relax at Chez Alcatraz in San Francisco.
Partake in a game of skill in Krustyland.
When in Hollywood head to Williams of Hollywood which sells old Universal Orlando Resort props, costumes, and signs.
In the park during a holiday event? Make sure to wander over to the Tribute Store in New York – it's a themed walkthrough retail experience.
The Wizarding World of Harry Potter – Diagon Alley

Explore the half dozen shops including Weasley's Wizard Wheezes, Borgan & Burk's, and Magical Menagerie.
Hang out inside Knockturn Alley and enjoy the air conditioning.
Watch Tales of Beedle the Bard and Celestina Warbeck shows in Diagon Alley, performed every half hour.
If you own a wand, test your magic at the interactive wand stations.
Sample Butterbeers! Find the Cold, Frozen, and Hot drink varieties plus the fudge, ice cream, and potted cream.
Sit outside of Hopping Pot and watch unsuspecting people get sprayed with water at the water fountain wand location.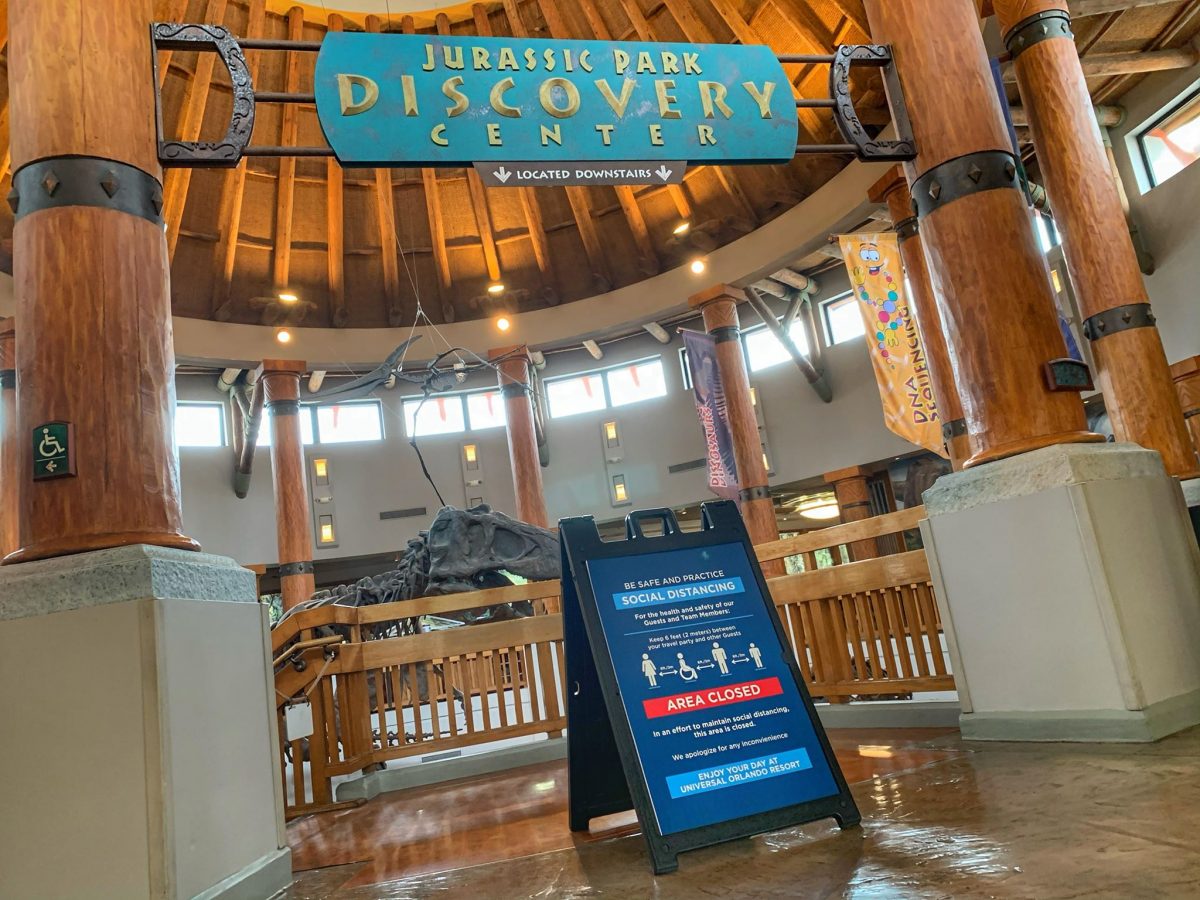 Islands of Adventure
Snag a beer, cocktail, or appetizer at Backwater Bar and people watch inside of Port of Entry.
Browse the stores in Port of Entry including the Christmas store.
Search out the fun details around Marvel Super Hero Island including the interactive phone, impact crater, Dr. Doom's throne, and more.
Walk the waterfront piers in Toon Lagoon to watch Popeye Bilge-Rat Barges, VelociCoaster, and Seuss Landing.
Head into the Me Ship, The Olive to explore and shoot water at guests on Popeye.
Have a meal and sit at a window seat at Thunder Falls Terrace and watch the final drop on Jurassic Park River Adventure.
Let the kids loose in Camp Jurassic, one of the best playgrounds and relaxation areas in any theme park.
The Jurassic Park Discovery Center is host to half a dozen exhibits and fossils to explore.
Meet a Velociraptor at the Raptor Encounter exhibit.
Meet your favorite Seuss Characters in Seuss Landing, or explore the If I Ran the Zoo playground.
The Wizarding World of Harry Potter – Hogsmeade

More wand interactive stations are located in Hogsmeade! Use your map to find them all.
The Triwizard Spirit Rally and Frog Choir perform every half hour outside of Hogwarts Castle.
Enjoy a Butterbeer (or real beer) from the Hogshead Pub on the back patio of The Three Broomsticks.
On select days watch the Nighttime Lights at Hogwarts Castle nighttime show.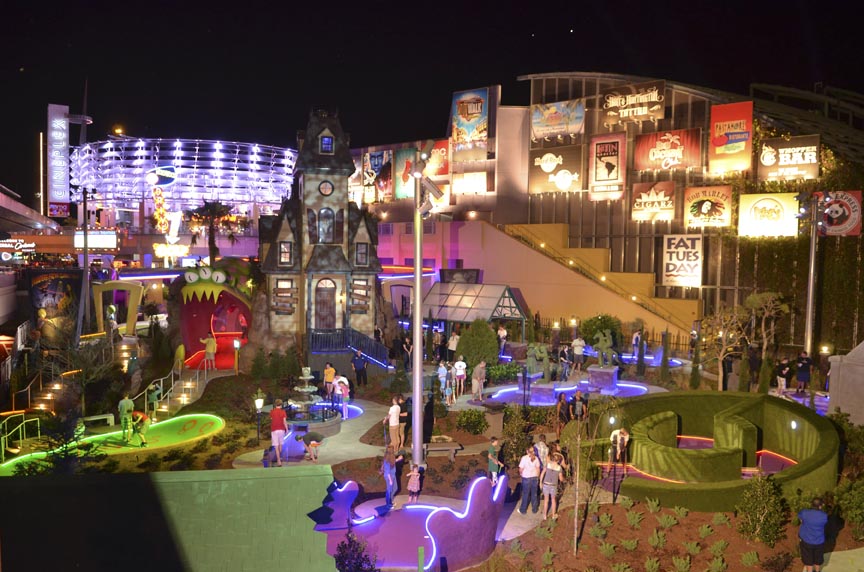 CityWalk & Resorts
Enjoy the restaurants! Antojitos and Margaritaville offer live music, NBC Sports Grill & Brew has hundreds of TVs showing sports, and Toothsome features walk-around characters.
Shop at the Universal Legacy Store featuring dozens of historical objects from the parks (in addition to cool retro merch).
Sip a drink in a lounge chair at the Lone Palm Airport outside of Margaritaville (look for the giant sea plane outside).
Explore the rock artifacts and memorabilia with a free tour of the Hard Rock Cafe.
See a show at Hard Rock.
Catch a movie at the Cinemark theater.
Play a round or two of mini-golf at the kitchy Hollywood Drive-In Golf.
Take the boat to Loews Portofino Bay hotel to walk the streets and bask in the ambiance of the courtyard.
Enjoy a freshly made cocktail at Strong Water Tavern in Loews Sapphire Falls hotel, easily the best bar in Universal Orlando.
Like your drinks with a view? Bar 17 Bistro at Aventura Hotel is all the way on the top of the hotel and includes fantastic views of Volcano Bay, Universal Orlando, and the future site of Epic Universe.
Pick up that split at Cabana Bay's Galaxy Bowl bowling alley (which is inspired by the bowling alley from The Big Lebowski).
What are your favorite non-ride attractions at Universal Orlando? Leave them in the comments below.