SATURDAY SIX: 6 Reasons We LOVE Disney's Fort Wilderness Resort & Campground
This week's SATURDAY SIX takes a look at Six Reasons We LOVE Disney's Fort Wilderness Resort & Campground. With 26 on-site resorts at Walt Disney World, there is a wide variety of choices for families coming down. We've covered many here on the SATURDAY SIX including Value Resorts (Art of Animation and Pop Century), Moderates (Port Orleans Riverside and Coronado Springs), and Deluxe (Contemporary and Animal Kingdom Lodge). We also can't forget the Disney Vacation Club resorts such as Old Key West. Today we are going to take a look at one of WDW's original resorts, Disney's Fort Wilderness Resort & Campground.
Overlooked by many Disney guests because it is not a traditional hotel, Fort Wilderness is one of the oldest resorts at WDW opening about a month after the Magic Kingdom all the way back in 1971. Since that time, the entire area has gone through a lot of changes and is really one of the most special places on property. Today we're going to take a look at some of our favorite parts of Fort Wilderness, and let's kickoff the countdown with…
# 6 – Tri-Circle-D Ranch
Talk about a "hidden gem" at Walt Disney World, and one that is hidden in plain sight. Located directly next to Pioneer Hall – and Disney's legendary Hoop Dee Doo Musical Revue (we'll get to that later) – is Tri-Circle-D Ranch, home to all the horses at WDW. That's right, from the horses you'll see pulling the trolley on Main Street USA to the Headless Horseman's steed at MNSSHP, they all spend their off time here at the Ranch. Aside from just walking around and admiring their beautiful animals, the Ranch also offers pony rides for children and horseback rides for those aged 9 and up (while walking around the Ranch is free, there is a charge for rides.)
At the back of the Ranch there is a giant barn, and inside you'll find a wonderful tribute to the history of horses and the Walt Disney Company (including some fantastic pictures of Walt himself with horses.) Here you can also see many horses hanging out in their stalls, and outside of each there is a placard giving some information about each horse. I highly recommend taking a trip to the Tri-Circle-D Ranch on your next WDW visit. There are so many types of breeds that call the Ranch home including Arabian, Clydesdale, Belgian, and Shetland ponies.
–
# 5 – The Chuck Wagon and Chip 'N Dale's Campfire Sing-A-Long
While Disney was certainly late to the Food Truck craze (although we are huge fans of the Food Truck Park at Disney Springs) they came up with an E-Ticket food truck at Fort Wilderness with The Chuck Wagon. Themed like an RV, the food truck fits in perfectly at the Meadows part of Fort Wilderness and is located directly next to the area for Chip 'n Dale's Campfire Sing-A-Long. There are a bunch of awesome Disney stickers all over the RV that are worth checking out, especially for fans of Old School Disney. I personally loved the newer stickers representing areas at Fort Wilderness and Wilderness Lodge.
The Chuck Wagon offers a limited menu of sandwiches, salads, and hot dogs. There is alcohol available along with the usual assortment of soft drinks. Because the camper is parked next to the Chip 'n Dale's Campfire area, it's also your go to place to pick up snacks for that, including S'mores kits (you'll also find cotton candy, pretzels, popcorn, ice cream and more.)
–
Wait, you've never heard of Chip 'n Dale's Campfire Sing-A-Long? Talk about another underrated gem on property, this is one of the only meet and greets outside of the parks that you don't need a reservation for and is FREE. There is a ton of seating, and two fire pits at the front to roast your marshmallows. For our family, roasting marshmallows is right up on the kids' favorite things to do along with pool swimming and trying to get us to buy them every toy they see. A cowboy takes the stage, and after he introduces Chip 'n Dale a small sing-a-long show takes place (don't expect any tunes from The Little Mermaid or Moana, this is mostly nursery rhyme stuff.) Chip n' Dale will walk around to take pictures and sign autographs for everyone. When the show is over, a Disney movie will be shown on a giant screen in the area so you can really make a night of this. Again, everything is absolutely free and no ADRs are required (although if you don't bring your own S'mores kit expect to buy one from the Chuck Wagon because you don't want to be That Guy.)
–
# 4 – The Cabins
More power to anyone who actually spend a Disney vacation with their family in an RV or tent at the Fort Wilderness Campgrounds. My family tried that and to this day half of us still won't talk to each other. Thankfully there's another alternative for those of us who consider "roughing it" to be going to a Value Resort: The Fort Wilderness Cabins. To quote Len Testa, "think of log cabins at any resort mountain town around the country, except have them sanitized by Disney and insert 4 world-class theme parks, that's the Fort Wilderness experience. It's perfect if you want to give your vacation a rustic-but-not-too-rustic feeling."
The cabins are equipped with HDTV, air-conditioning, Wi-Fi, and a fully equipped kitchen, just like the pioneers had. There is a queen size bed, bunk beds, and double-size sleeper sofa. With Mousekeeping and H2O branded bathroom products, you have all the amenities of a Disney hotel room but they are nothing like the rooms you'll find at equivalently priced accommodations on property. The sticking point for us is just one bathroom per cabin (we love the Art of Animation suites that have two,) but there are several "convenience stations" across Fort Wilderness which offer bathrooms which have showers and next level bonkers art on the walls.
–
# 3 – Trail's End
When it comes to dining at Disney, you had us at "all you care to eat." From 'Ohana to Tusker House to Whispering Canyon and pretty  much everywhere in between, if there's a buffet or buffet-style restaurant, we love eating there. Trail's End at Fort Wilderness is up there with the best of them. The amount of quality food items available is just incredible, and we go crazy for their signature fried chicken and pork ribs. There is something for literally everyone, including pizza and fish dishes. You want dessert? How about strawberry shortcake, ice cream, cake, apple cobbler, bread pudding and more. Oh, and don't forget to get a piece of cornbread too (or if you're like us, ten pieces.)
One major plus at Trails End is how accommodating they are for vegan diners. The buffet itself is a carnivores dream, but vegans can take solace that they can be prepared items off menu. In fact, one of the chefs at Trail's End is basically a superstar to many guests with dietary restrictions: Chef TJ. We've seen some truly fantastic meals made by Chef TJ that have made the vegan in our party feel very special. Chef TJ always goes above and beyond and makes every meal magical.
Check out this review of Trail's End by noted theme park foodie Tom Bricker and make your ADR ASAP!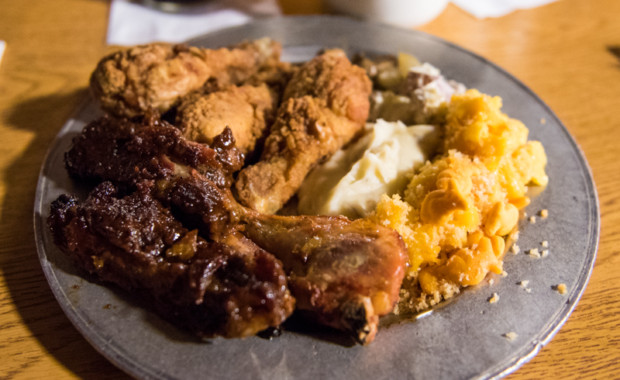 –
# 2 – All the Activities
Some resorts at WDW have more to offer than others. For instance, if you had to spend an entire week at the All-Star Resorts without leaving the area, you might – in fact – lose your mind. At Fort Wilderness, you could spend an entire week at the resort and not even feel the need to to go the theme parks because there is so much to do and see. Like all other WDW resorts, Fort Wilderness has a pool to swim in, and similar to resorts near a large body of water (like the Grand Flo) it features a marina with many options. While other Disney resorts offer bicycle riding as an activity, Fort Wilderness is the only one with the amount of room – and view – to really enjoy yourself. Guests can fish or get a canoe and go out into the water for some relaxation. Aside from just visiting Tri-Circle-D Ranch, you can also get private carriage rides or a group wagon ride through the trails.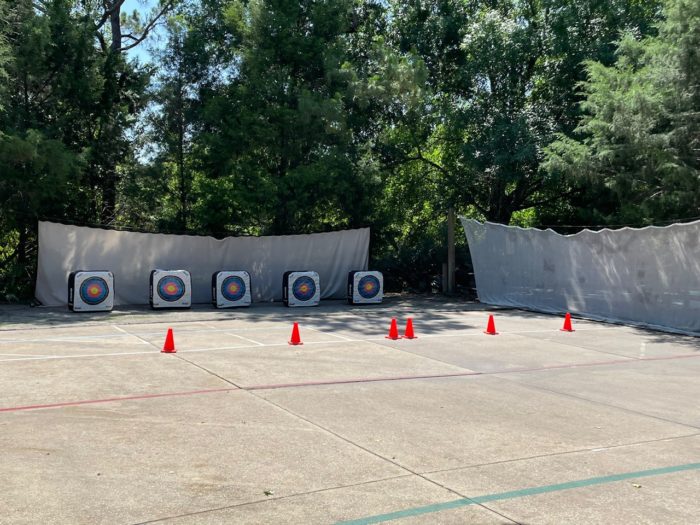 # 1 – Hoop-Dee-Doo Musical Revue
For us here at the SATURDAY SIX, the Hoop-Dee-Doo Musical Revue is not just the best thing at Fort Wilderness, it is the best thing in all of Walt Disney World. It is the longest running show at WDW and is a family favorite for many generations of guests. Hoop-Dee-Doo is a dinner show featuring an Old Timey vaudeville act whose corny jokes and interaction with the audience work just as well in 2017 as they did 30 years ago. The food is served all you care to eat (music to our ears) and features several of the Must Get items at Trail's End, including fried chicken, ribs, and cornbread. The drinks are all bottomless as well, including alcohol. The finale of the show is based around the strawberry shortcake and the dessert delivers in the main event spot it gets. There is no ifs, ands, or buts, if Hoop-Dee-Doo is sitting there on your Disney Bucket List you need to check it off immediately.
–
HONORABLE MENTION  – The Merch!
This is almost impossible to believe, but Fort Wilderness has hands-down the best selection of resort specific merchandise at WDW. Who'da thunk it?! The shirts are great, the pins are unique, and even the "resort art" is cool. There are two Trading Posts at Fort Wilderness, and keep your eyes open for the pressed penny designs too!
–
So there you have it: Six Reasons We LOVE Disney's Fort Wilderness Resort & Campground! See you next weekend for the latest installment of the SATURDAY SIX, where we'll look at something fun from the world of Disney and Universal. If you enjoyed yourself, be sure to check out The Magic, The Memories, and Merch! articles, or, for your listening pleasure, check out the E-Ticket Report podcast. You can also follow Your Humble Author on Twitter (@derekburgan).
If you enjoyed this article, you will surely like the following:
Six Reasons We Love Disney's BOARDWALK Resort
Six Reasons We Love Disney's POP CENTURY Resort
Six Reasons We Love Disney's Animal Kingdom Lodge
Six Reasons We Love Disney's OLD KEY WEST Resort
Six Reasons We Love Disney's CORONADO SPRINGS Resort
Six Amazing CARS Details at Disney's ART OF ANIMATION Resort
Hidden Gems of Disney: Chip 'n Dale's Campfire Sing-A-Long
Special Thanks to crack staff photographer Brandon Glover, Outlet Intern Jammin' Julia Mascardo, World Traveler Daisy Lauren, DVC Central magnate Morgan Crutchfield, and blogger to the stars Megan Stump for their invaluable assistance with this article. Be sure to also check out Brandon on The Park Blogger podcast with co-hosts Aengus Mackenzie, while fellow Potterheads may enjoy Meg's work on the Central Florida Slug Club.
FINAL PLUG! Did you know The 2017 Unofficial Guide to Universal Orlando has a special edition of the SATURDAY SIX in it? Finally, someone came up with an actual reason to read a book. ORDER this baby now!