The SATURDAY SIX Spends a Night in a Cabin at Disney's FORT WILDERNESS RESORT & CAMPGROUND
This week's SATURDAY SIX takes a look at a Fort Wilderness cabin! While we here at SATURDAY SIX headquarters have been to Disney's Fort Wilderness many times over the years in order to take in Hoop Dee Doo Revue or eat at Trail's End, we've never actually stayed there. In our defense, our idea of "roughing it" is watching regular TV and not a streaming service. However, we have heard a lot of great things about the cabins at Fort Wilderness, and Disney has been very aggressive with hotel discounts for Florida residents and Annual Passholders. So we decided on a quick Disney vacation, and because Fort Wilderness is one of the only dog-friendly resorts at WDW we brought along the official dog of DisTwitter, Bacini.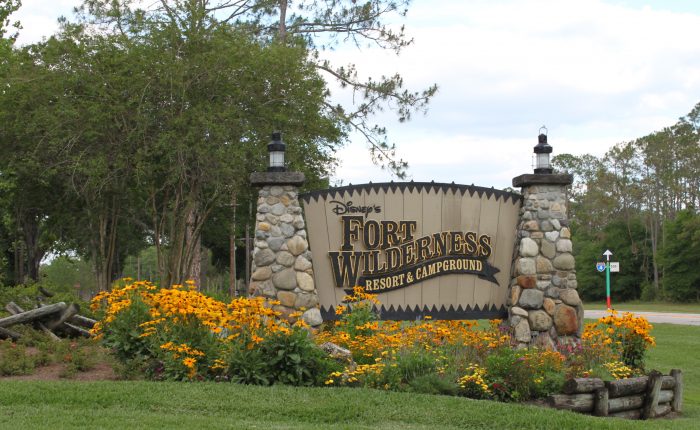 Let's take a quick overview of the entire resort. As you can see, Fort Wilderness is massive. The very bottom left of the photo is the check-in parking, main bus depot, and the Tri-Circle-D horse ranch. The large clearing of land at the top right of the photo is land that is/was being prepared for the DVC property Reflections – A Disney Lakeside Lodge.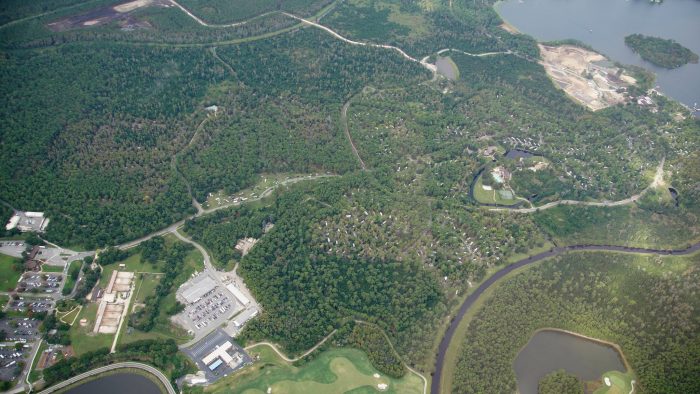 # 6 – The Cabin
I had several surprises right away after checking into the resort. For years, I always assumed that the cabins at Fort Wilderness were like the Bora Bora bungalows at the Poly or the newer Copper Creek cabins at Wilderness Lodge. Something really cool, but pretty exclusive. Maybe a couple dozen or so on property. Nay Nay. There are over 400 cabins at Fort Wilderness! I also thought that Fort Wilderness would be like all the other onsite resorts I have been to this summer, mostly empty. Nay Nay. I have no idea what the occupancy level was, but almost all the cabins in my loop had guests. When I made several trips around the resort over the course of my stay, it was rare to see a campsite or cabin that was empty.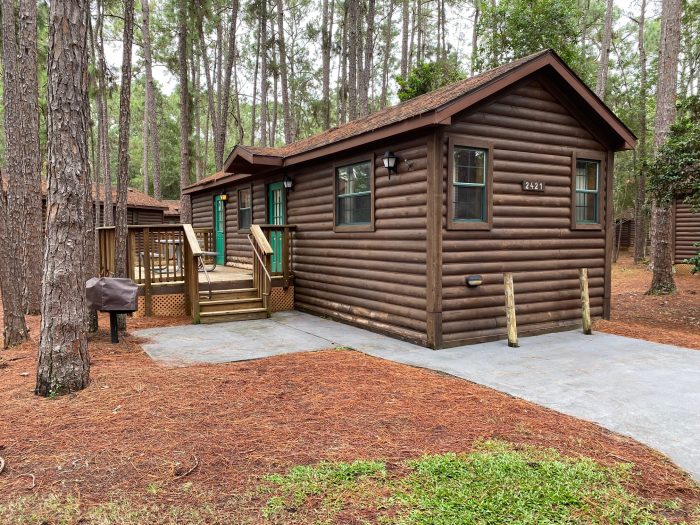 The amount of details throughout Fort Wilderness really make the stay special. Something simple like a "hitching post" design in the driveway is just a great touch.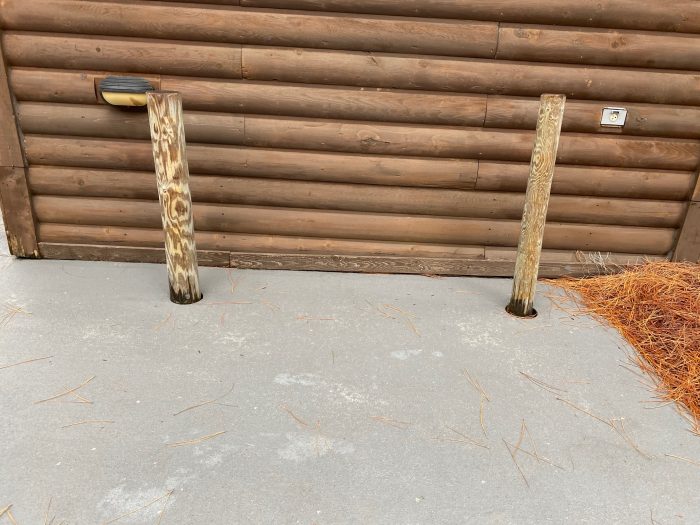 The entire cabin had wonderful design elements.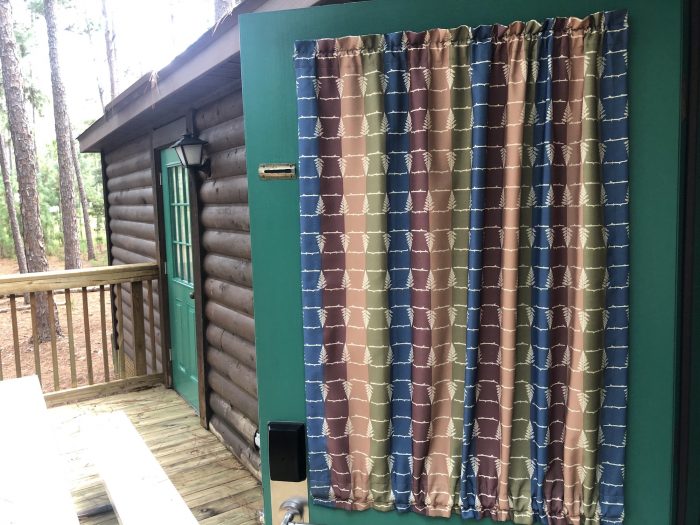 The only thing which seemed "out of place" was the sleeper sofa. The chairs, ottoman, and other furniture looked like they came straight out of another era, whittled by someone with a knife. I loved it.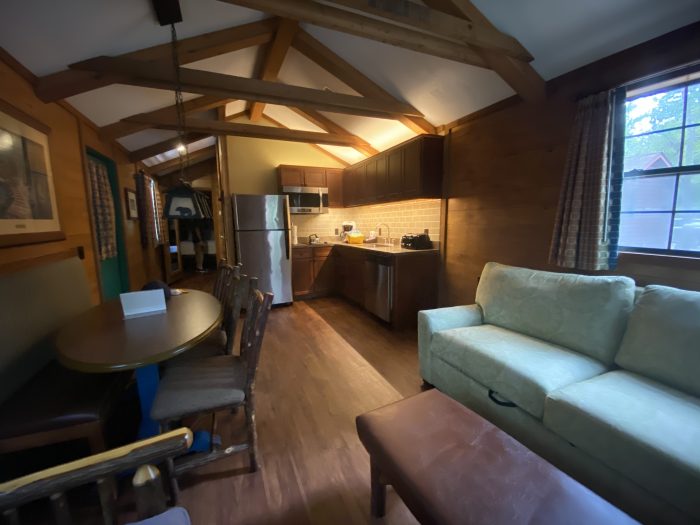 The lighting fixtures were terrific.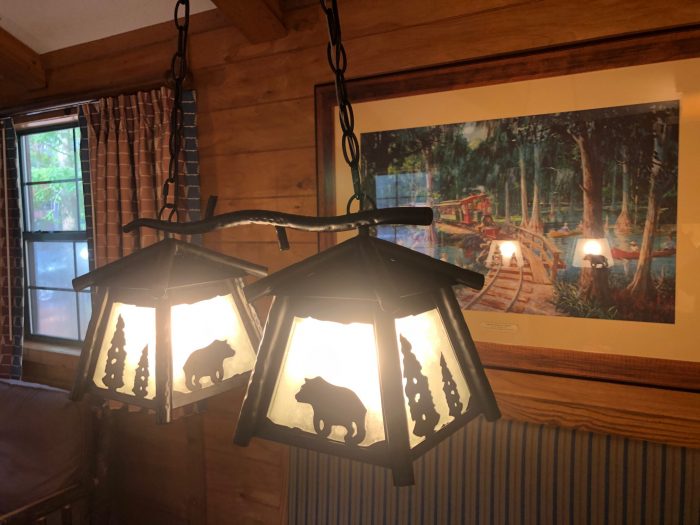 Surprisingly, there are very few nods to Disney characters in the cabin, but I did like this print featuring Bambi and Thumper.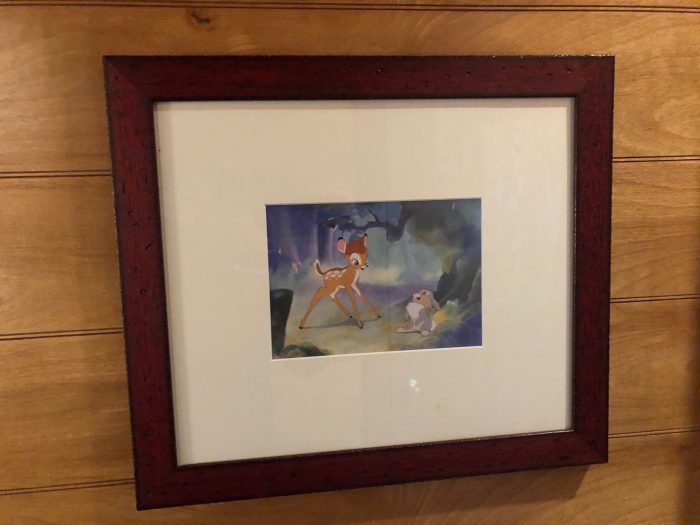 I appreciated that several of the lighting fixtures were designed like they were "hand sewn."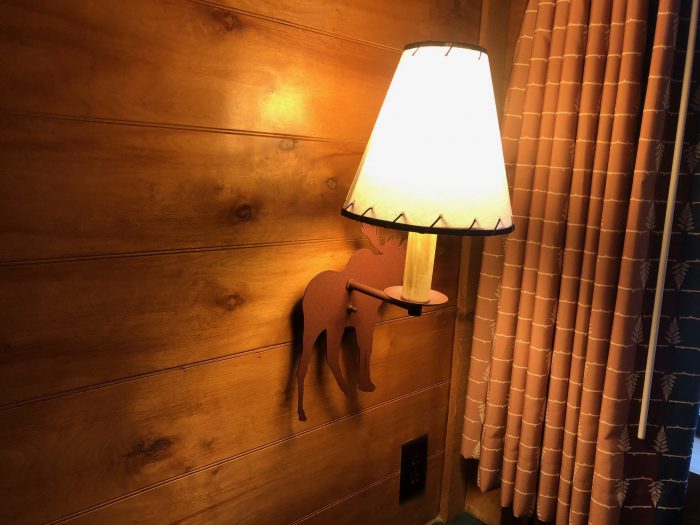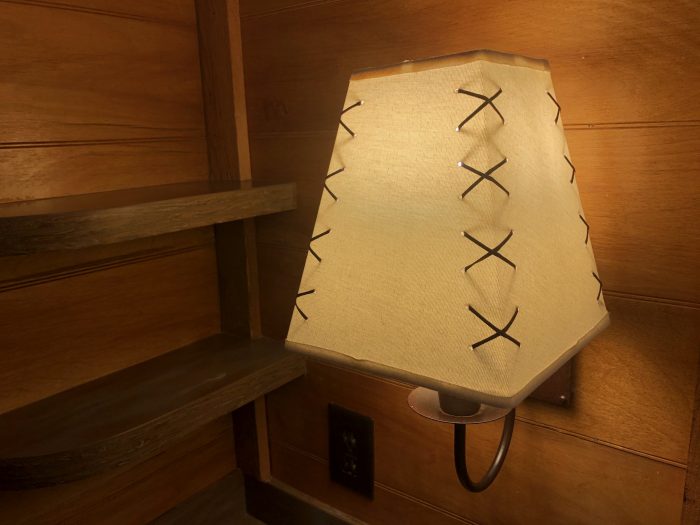 Like a DVC room, the kitchen area was stocked with everything you could need. Absolutely loved the mason jar glassware.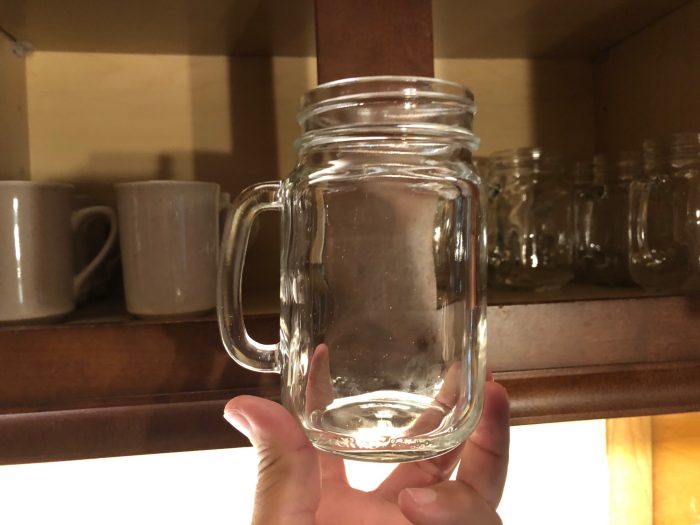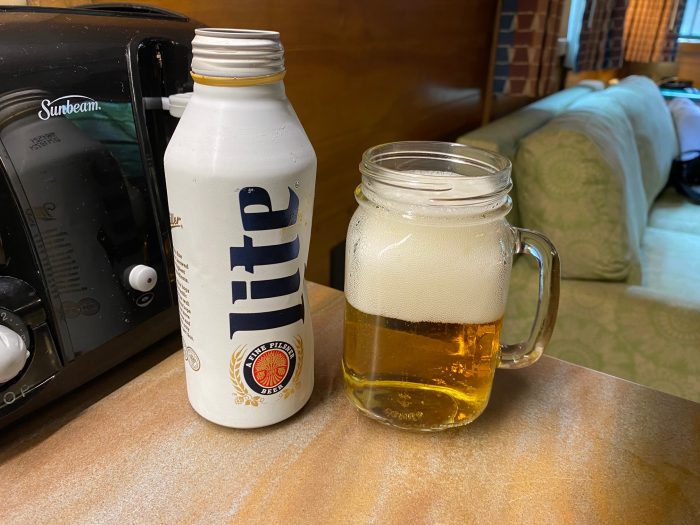 My only suggestion would be for the plates in the cupboards to be the old timey metal ones that they used at Hoop Dee Doo Revue. To me, that would be perfect.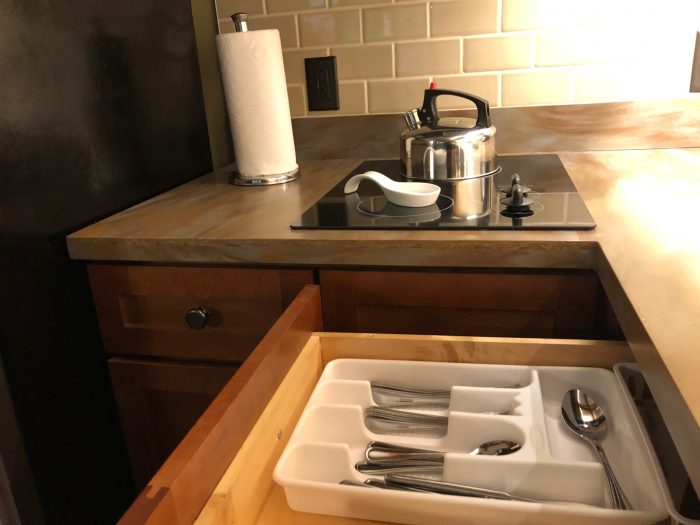 Double rolls of toilet paper in the bathroom, along with a toilet that has possibly the strongest flush in all of WDW? That makes for an E-Ticket bathroom in my book.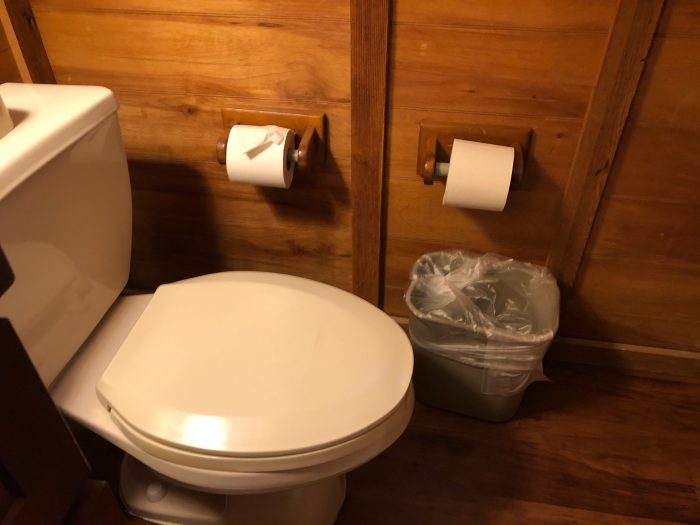 Everything was just fantastic. We spent the entire first day of our trip at the cabin, and right before we went to bed my girlfriend said that we will probably only stay in a cabin for our future trips. It had everything she wanted, a ton of space, and we were already mentally planning out trips with family members for the future.
However, to quote the popular podcast Something To Wrestle, "…and then the bell rang."
To say she did not like the Queen bed was an understatement. She pretty much got no sleep the first night. The next night she tried both the pull out couch and the bunk beds. None of them were comfortable either. The fact that the cabins had a huge refurbishment in 2016 and the mattresses were surely all changed out then is not a good sign.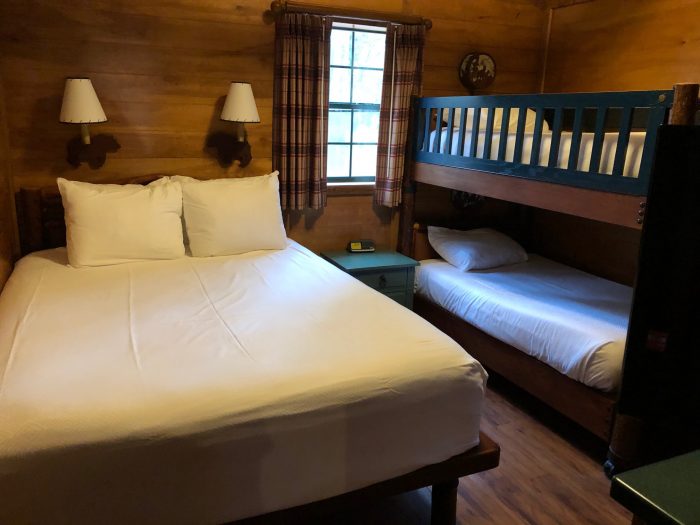 Outside the cabins there were plenty of areas to dispose of your trash and recyclables.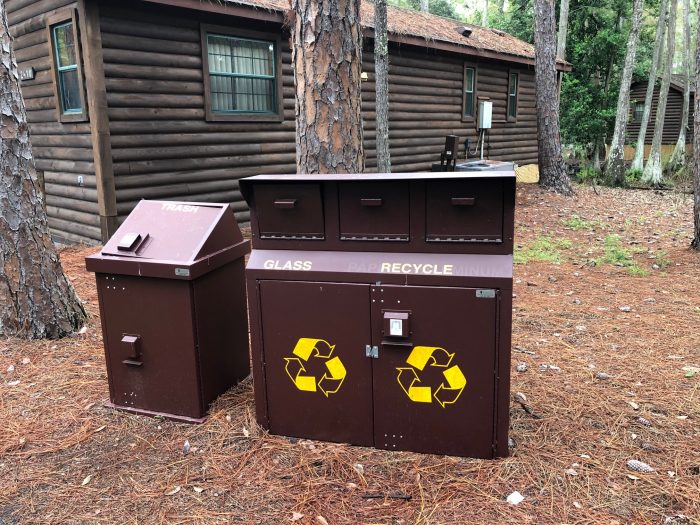 In another loop, there were cabins that were handicap accessible as well.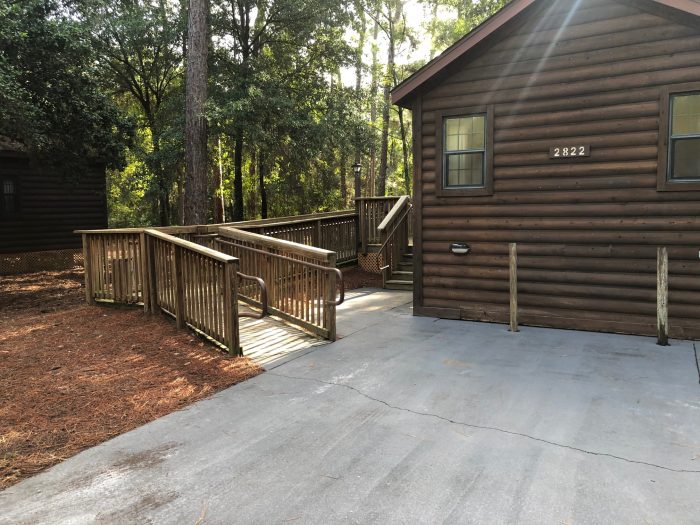 # 5 – Fort Wilderness is Dog Friendly
Being the owners of a high-maintenance dog is no joke, but we made sure Bacini was ready for his first trip to Fort Wilderness.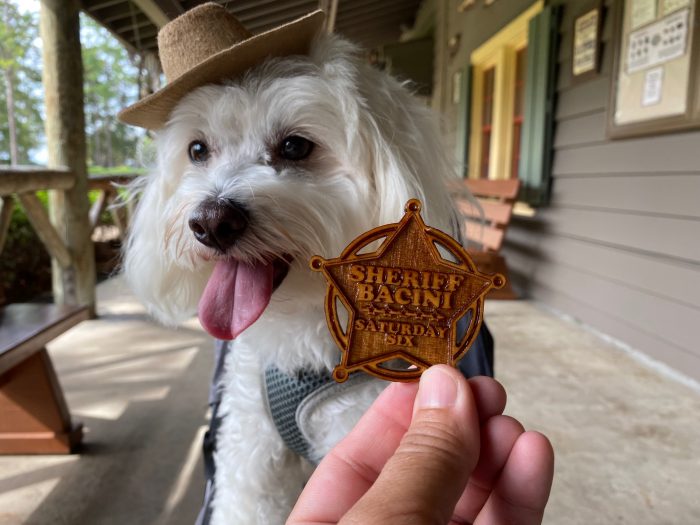 Upon check-in, Disney gave us this – pardon the pun – doggy bag.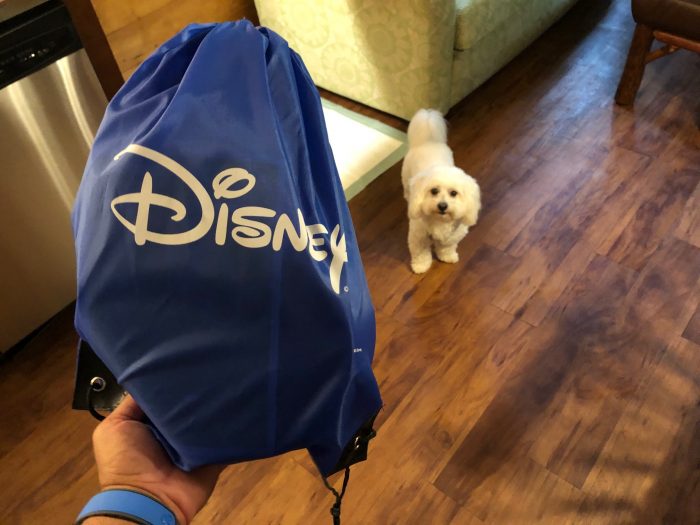 Here's a look at what came inside the bag.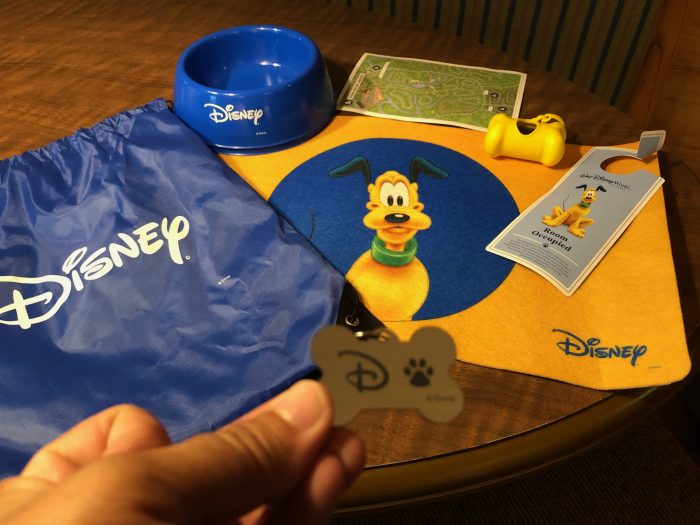 Two bowls came with the bag, and as you can see from the picture below, Bacini likes eating out of them back at home.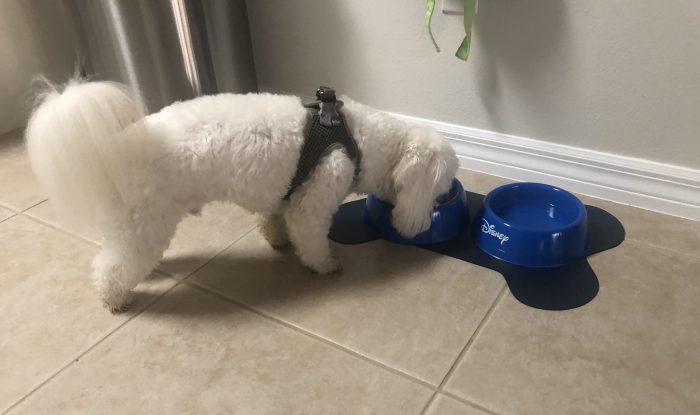 The room itself had a "room occupied" door hanger, but the bag came with one alerting Cast Members to a pet being present. Another major surprise I saw was the amount of Mousekeeping CMs out and about at the various cabin loops.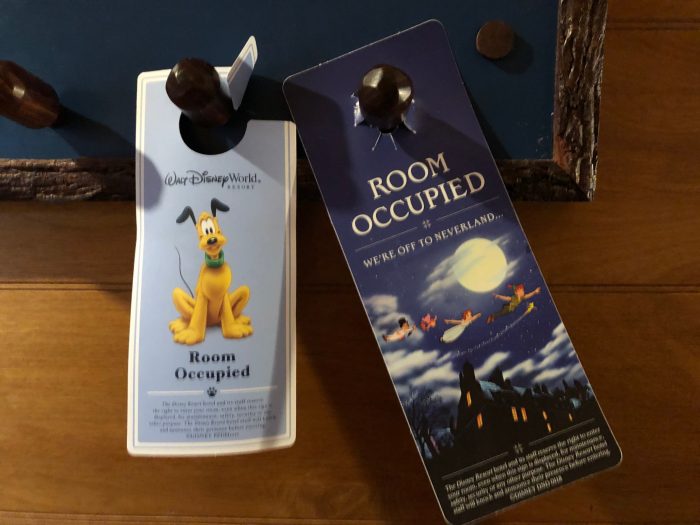 The dog relief area map was fascinating. It showed two specific dog relief areas, one of which being in the exact loop we were staying in. I didn't see anything different in our loop than any other the other loops I walked around in. Turned out it didn't matter. There's an old rhetorical question that goes "Does a bear crap in the woods?" I can't answer that question, but I can say for certain that a dog does.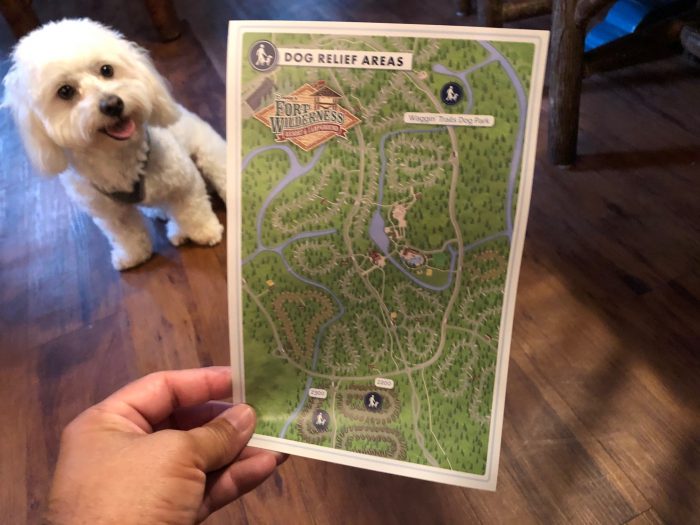 Maybe the dog waste bag holder is what the relief map was referring to. If so, that's next level bonkers.
Here we go with another surprise; there were a ton of other dogs at Fort Wildereness! Both at the cabins and at the various campsites, there were always other people out walking their four-legged friends. This made a lot of sense because even though Disney has other dog-friendly hotels, I've never seen any other pets there. It's a stark difference being at, say Disney's Yacht Club, and never seeing another dog during your stay, and being at a pet friendly Universal hotel and always seeing other animals.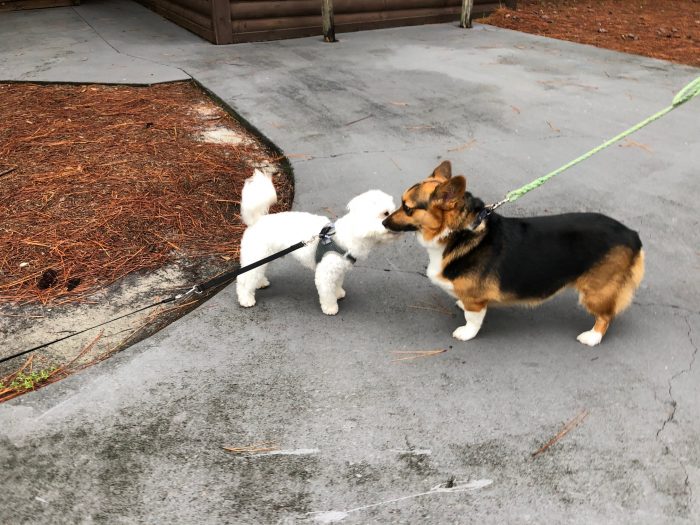 Here we have Spencer, who got to enjoy his stay at a Fort Wilderness cabin earlier this year.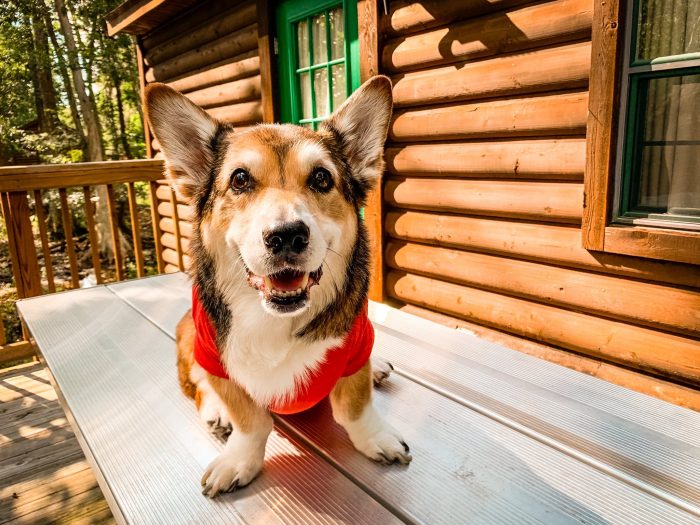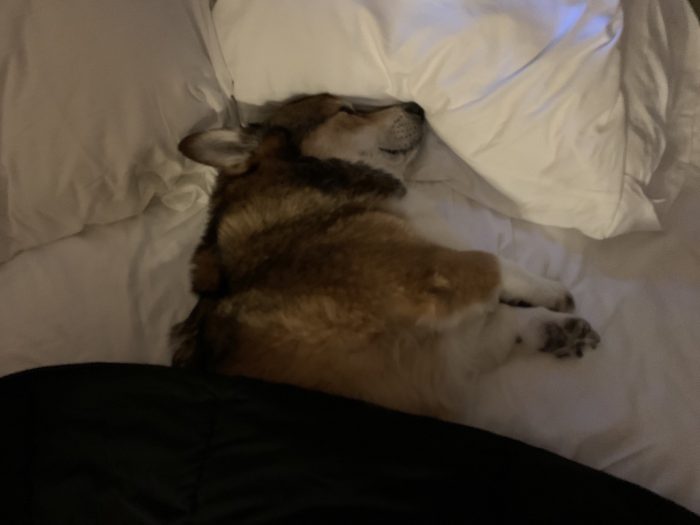 As you can see, the pups don't mind the cabin mattresses at all. Here we have Bacini sprawled out watching his guilty pleasure, 90 Day Fiancé.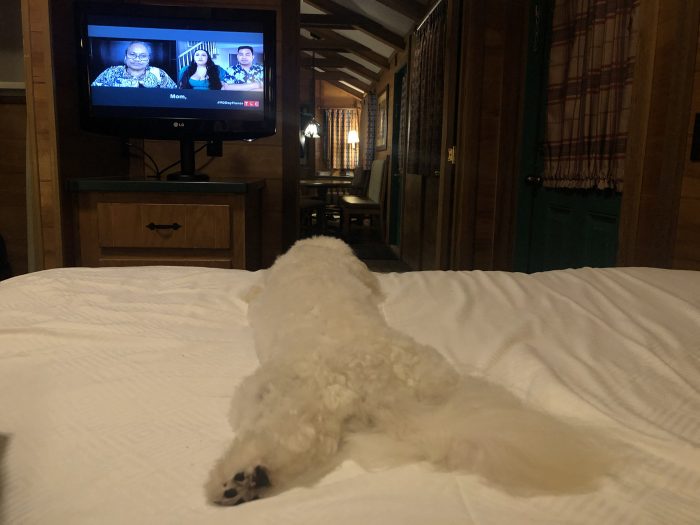 While the other dog-friendly resorts have almost no space to enjoy with your pet, Fort Wilderness is full of areas to walk around in.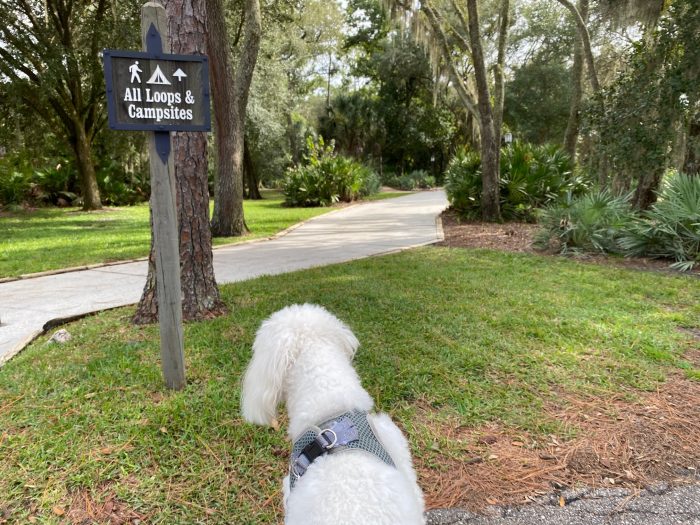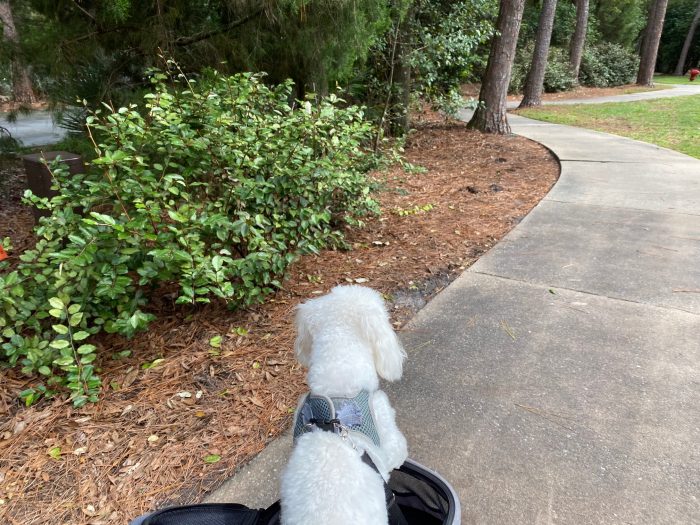 Turns Out, There Are More Animals Than Just Dogs at Fort Wilderness …
Okay, I wasn't expecting to wake up and see wild turkeys roaming outside our cabin.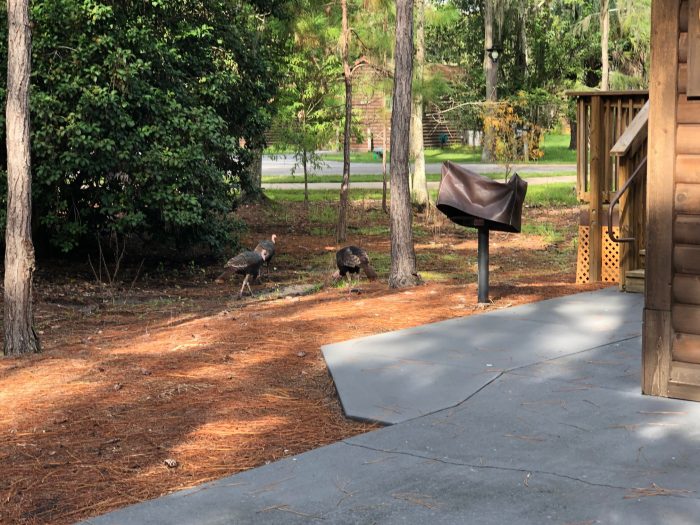 Having lived most of my life in New Hampshire and Florida, I've seen this road sign for deer since I was born.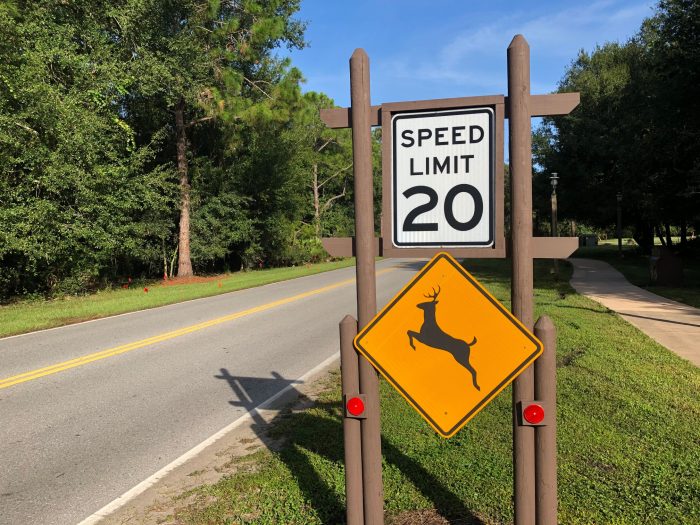 However it wasn't until this trip to Fort Wilderness that a deer actually went out on the road in front of my car!!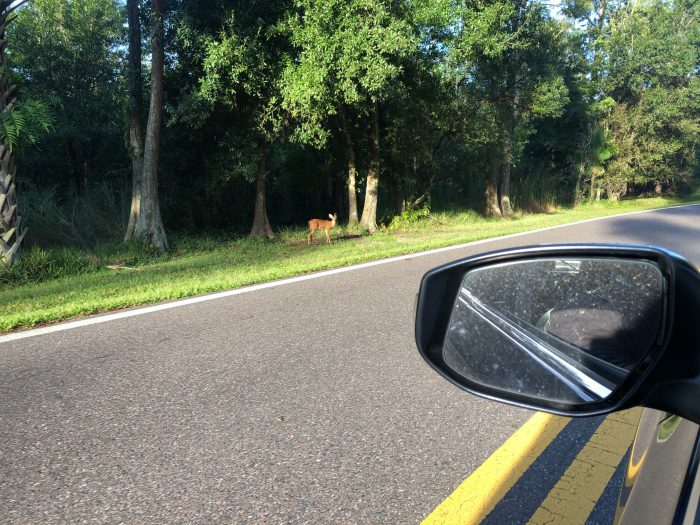 We saw deer at several points during our stay, including this mother and fawn pair.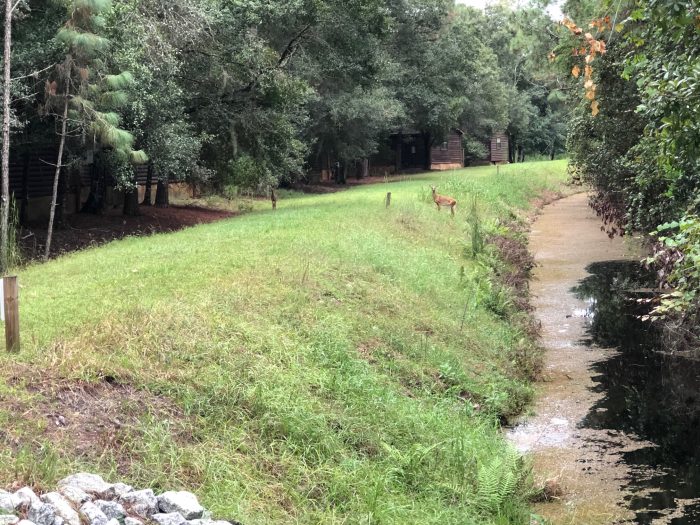 We also saw something else related to deer on our walks across the property. Gave me an idea in which Disney can bring back something like the Animal Kingdom Poop Snacks from a couple years ago. Sell boxes of Raisinets rebranded to Fort Wilderness Deer Poop.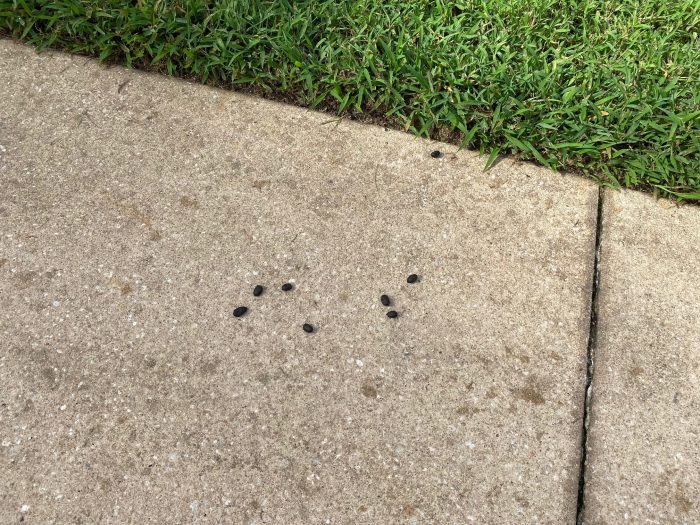 As always, this is one of the most important signs anywhere on Disney property, whether the parks or a resort.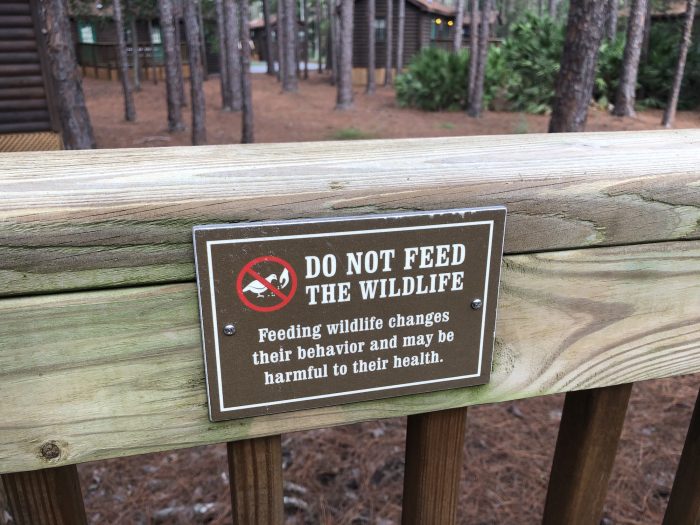 # 4 – Safety First
Like the theme parks, Disney was serious when it came to letting guests know about the new safety procedures and guidelines at Fort Wildereness.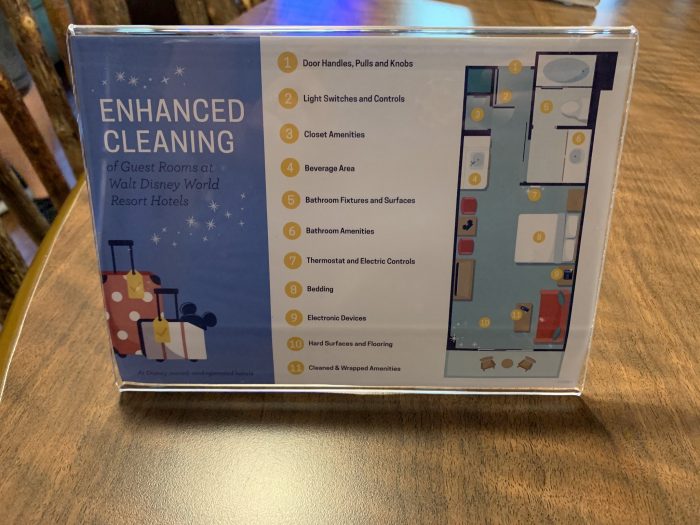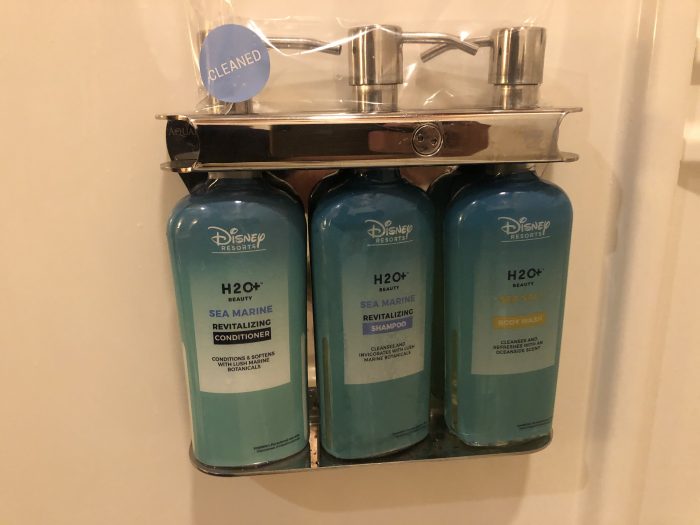 The back side of this bag holding the TV remote also had a "cleaned" sticker on it.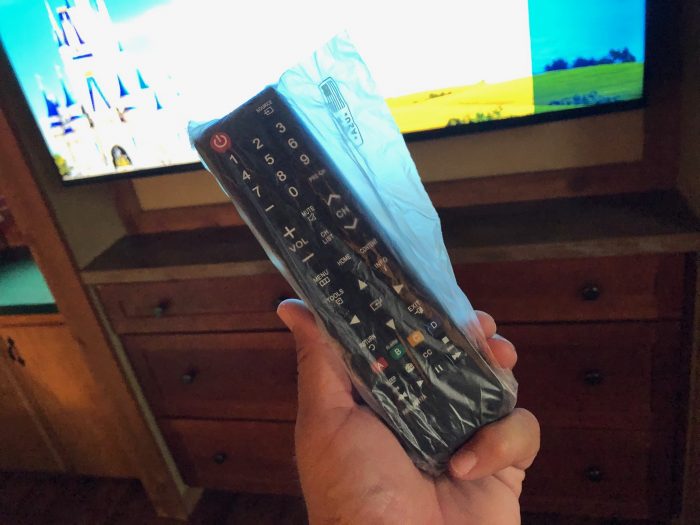 The extra pillow and blanket bag was zip tied together like a Disney Skyliner Emergency Kit.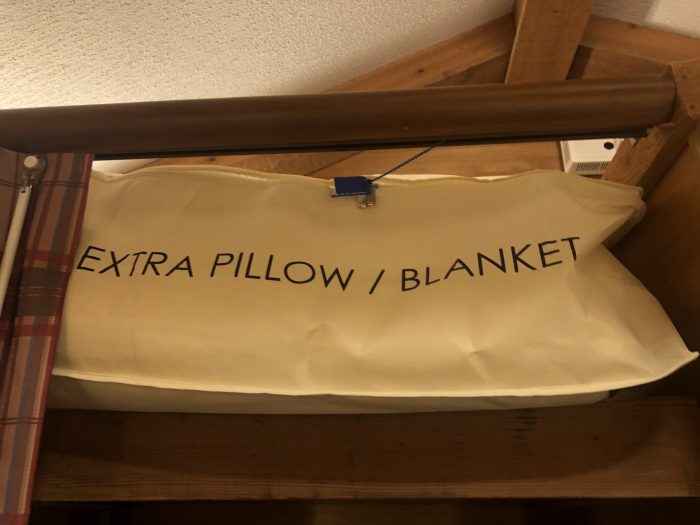 This way Mousekeeping would know if a guest had used them.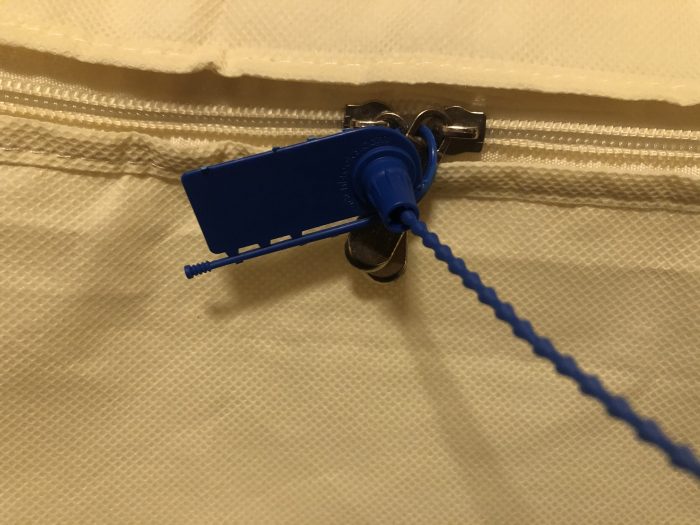 Throughout Fort Wilderness there were hand sanitizer stations, including at the bus stops and outside every store.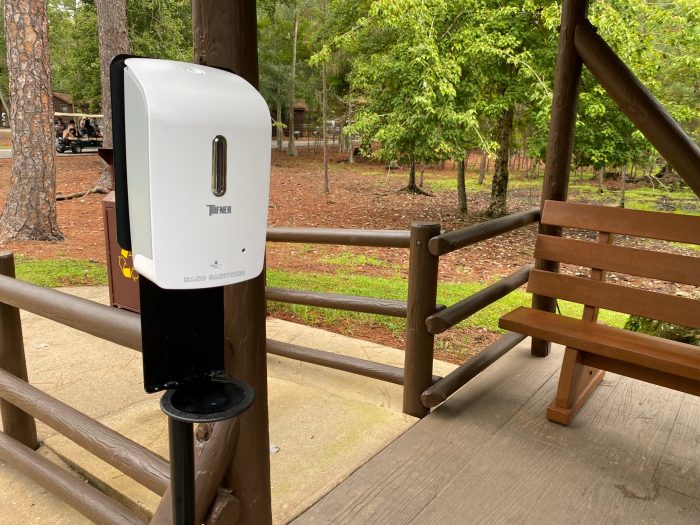 Even the vending machines had reminders of safety guidelines such as face coverings and social distancing.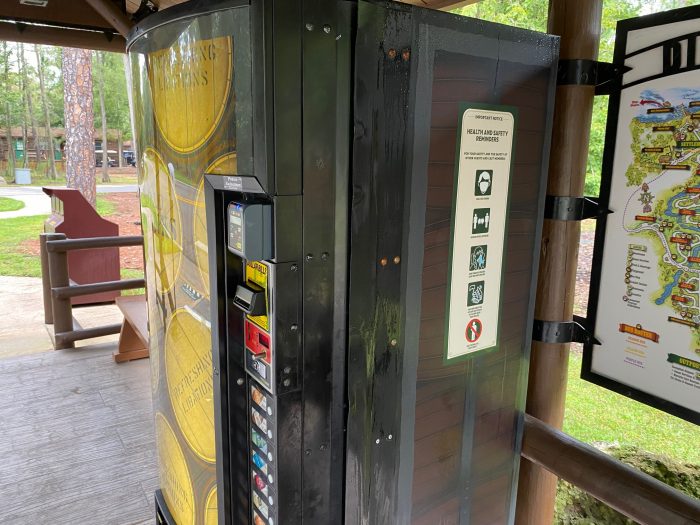 A lot of people will see the picture below, and if on social media would decry the loss of American civilization. That "people are horrible," and make some sort of ridiculous statement mocking Disney like "bUt ThEy SaiD iT's SaFeR tHaN A SuPerMaRkEt!"
To that I say, Nay Nay.
To me, this picture gives me hope. Why? Because I walked pretty much the entirety of Fort Wilderness Resort & Campgrounds over the course of several days. I went everywhere. Through the various cabin loops, through the regular camping loops, the front of the resort, the back of the resort, and everywhere in between. This was the ONLY discarded mask I saw the entire time I was at Fort Wilderness. Meanwhile, mask compliance was 100%. Every single person I was around was wearing a mask. If they were wearing it incorrectly, a Cast Member would remind them to adjust it. Now I have no idea how busy Fort Wilderness was "pre-coronavirus," but I would consider it pretty busy for the time I was there. My entire loop of cabins were booked, and it seemed like most of the others were too. It was rare to see an empty spot in the regular camping areas. ALL of these people were wearing masks; we can presume that many of the guests did not want to wear masks, and some even despise the very idea of wearing them. Even so, only one solitary mask was found lying on the ground over a huge distance.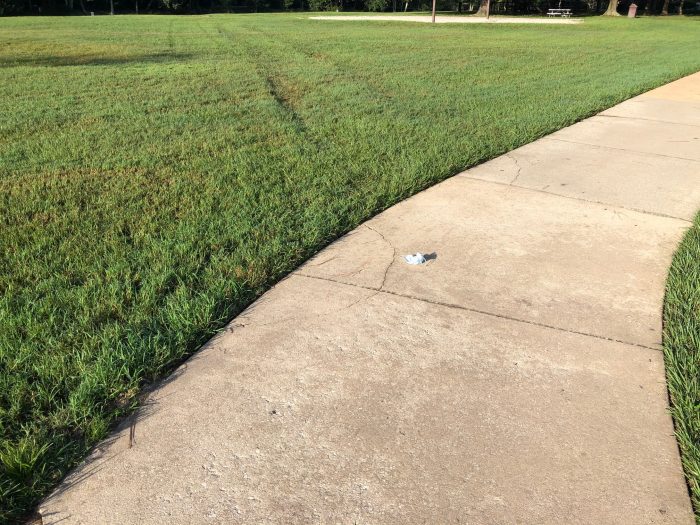 To me, that means – for the most part – guests are listening. That gives me hope. Because we saw this very week from the White House that a relatively small grouping of people can spread the virus to a lot of people very fast. This type of outbreak hasn't been traced back to Universal or Disney despite them dealing with much larger crowds on a daily basis since earlier this Summer. Why? Because they are taking the new safety procedures seriously. Last month my local supermarket, Publix, removed directional signage in their aisles and will now only "suggest" that shoppers wear masks. The reasoning? The previous rules were too much of a hassle. In contrast, Disney put up new signage yesterday alerting guests that if they weren't wearing masks, they would be asked to leave. Whether or not you come to Orlando for a theme park vacation right now is a personal decision, but rest assured these parks have more safety protocols in place (and more importantly, enforce them) than your local supermarket and probably anywhere else you go back at home.
# 3 – Fort Wilderness Merchandise
Over the years, Fort Wilderness has consistently had the best resort-specific merchandise available in all of Walt Disney World. I'm happy to report that the tradition continues through today. There are two gift shops at Fort Wilderness, one located at The Settlement (where you would find Pioneer Hall for Hoop Dee Doo) and another at The Meadow (where much of the recreation of the resort is based, such as the main pool).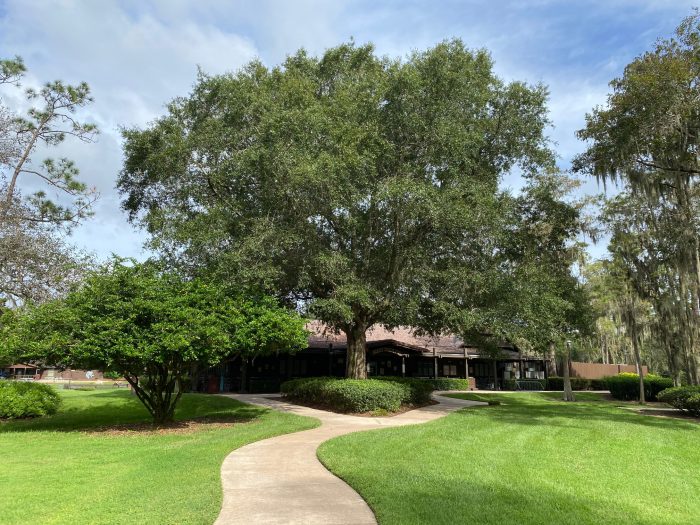 How cute is this "hiking Mickey" figurine? What I also liked about it is that it could be displayed in several different ways, including as a Christmas ornament.
This Fort Wilderness magnet is fantastic.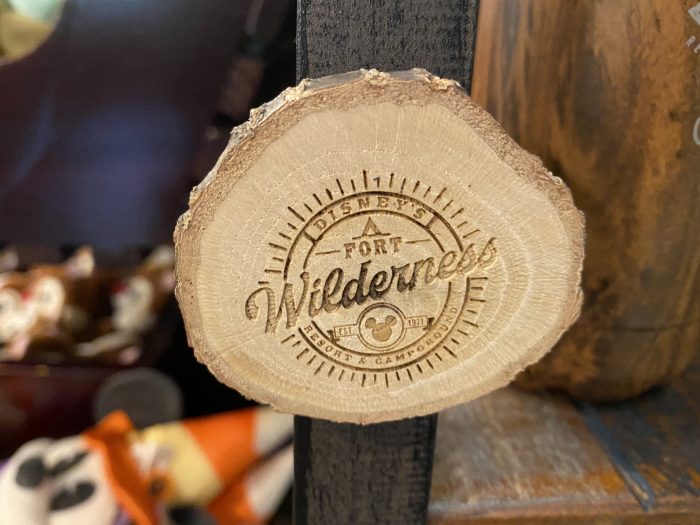 Love the "hiking Goofy" on the Fort Wilderness car magnet.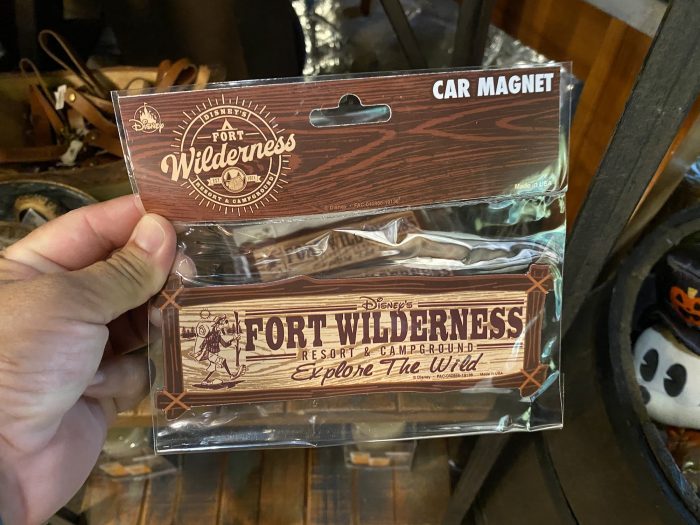 The Fort Wilderness shirt selection was on point.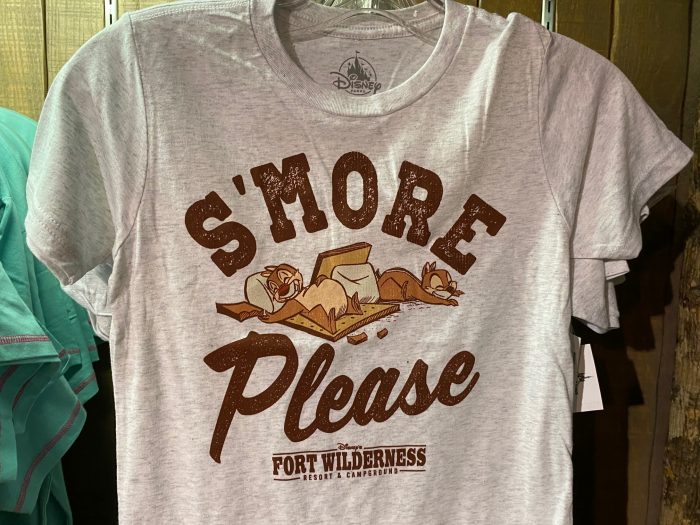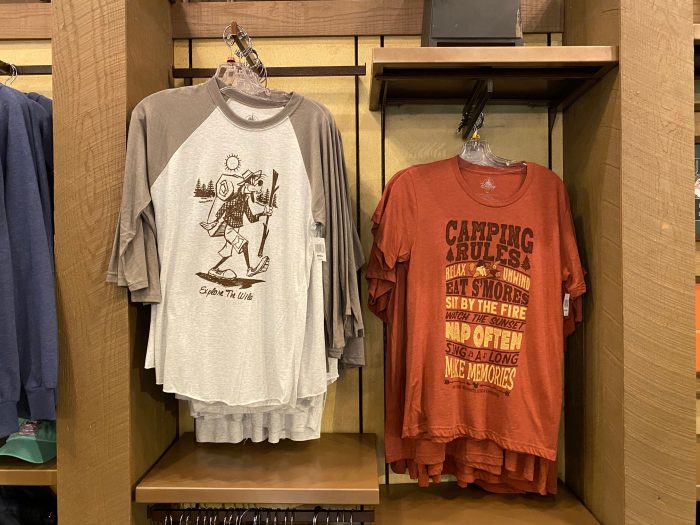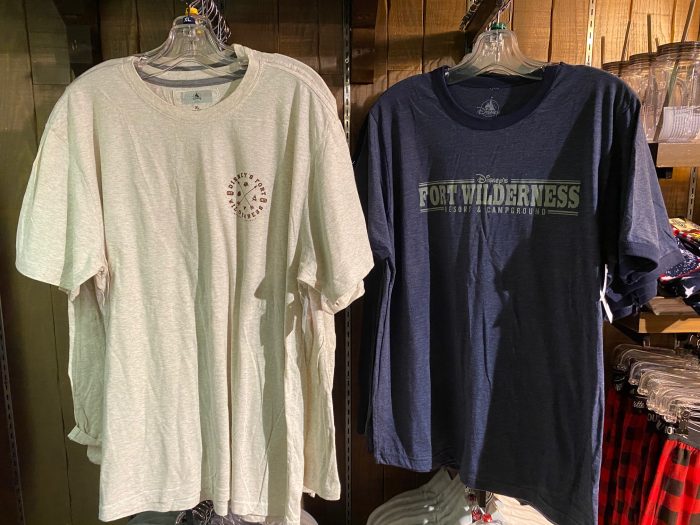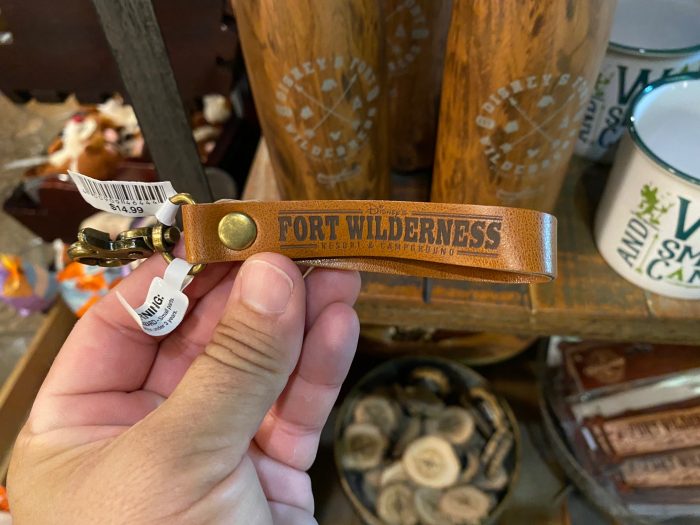 These mason jar cups had a Fort Wilderness logo imprinted on them, but were plastic instead of glass. Definitely would have bought a couple if they were the latter.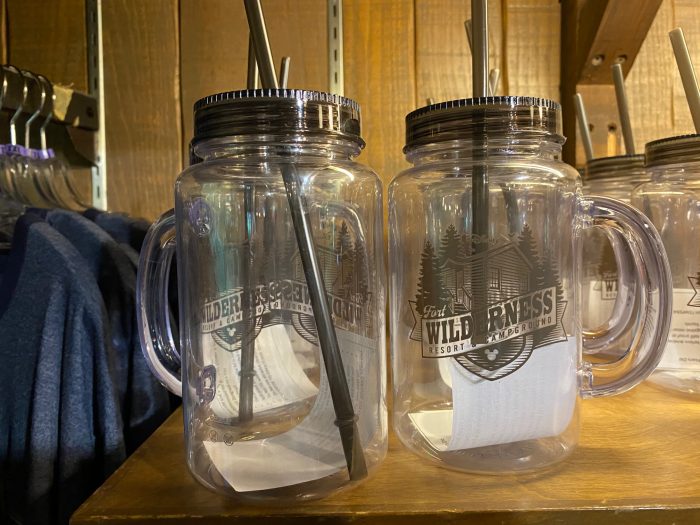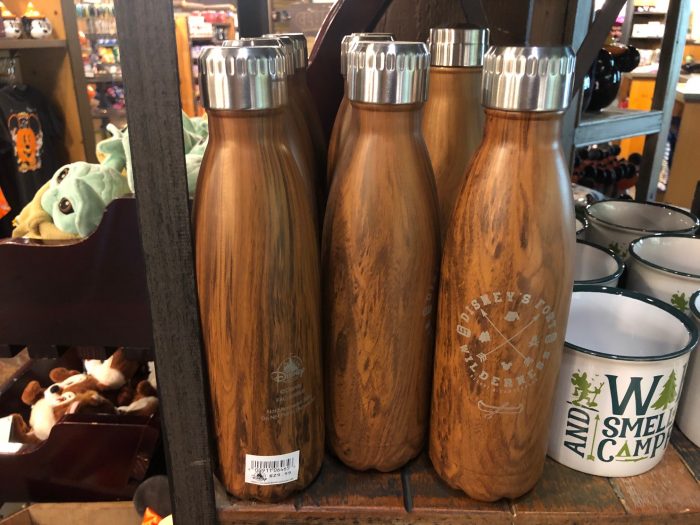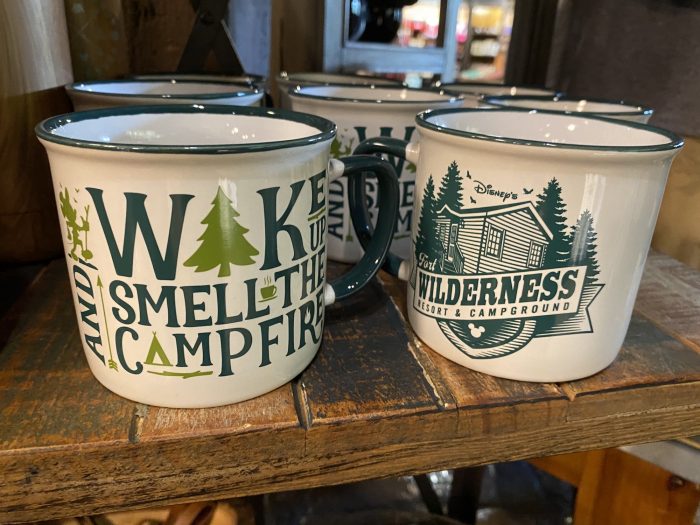 We had to get the coffee cup.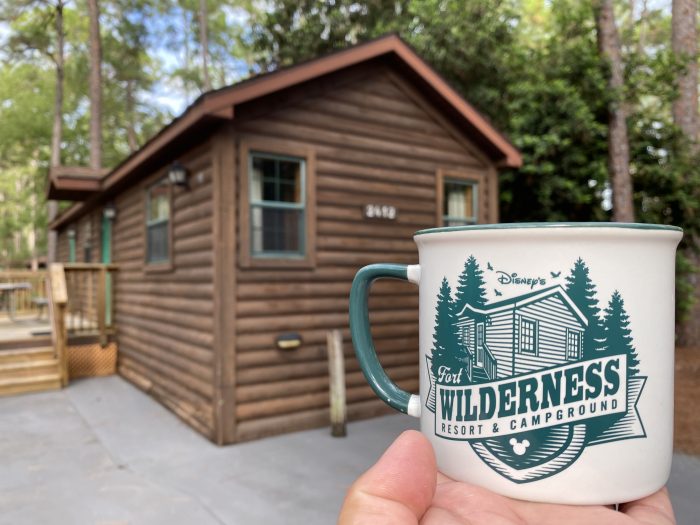 The gift shops at Fort Wilderness are also among the best on Disney property to browse in as they generally have items you won't find anywhere else.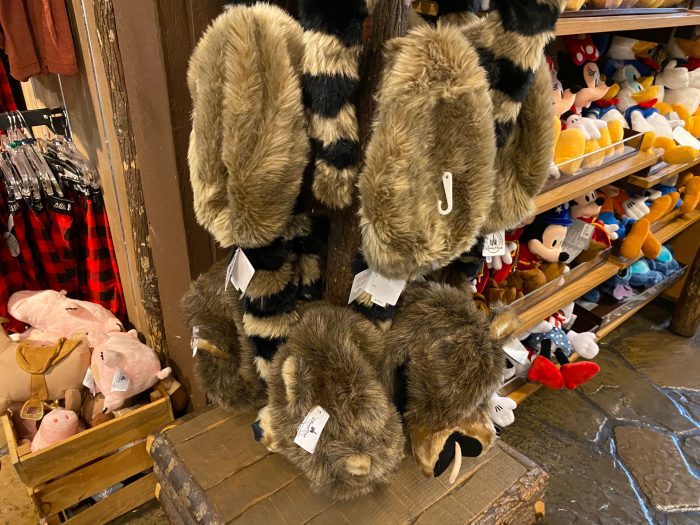 This stand of mostly-themed plush is a reminder that The Mandalorian season two streams later this month on Disney+.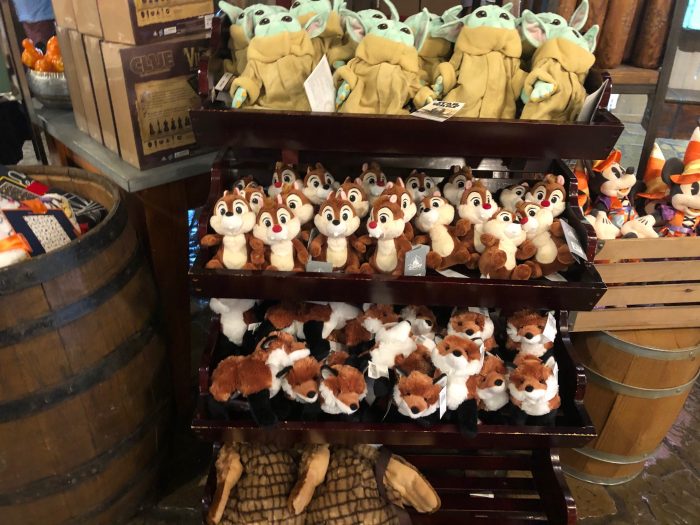 I've never seen such a large selection of pet supplies at a Disney resort shop.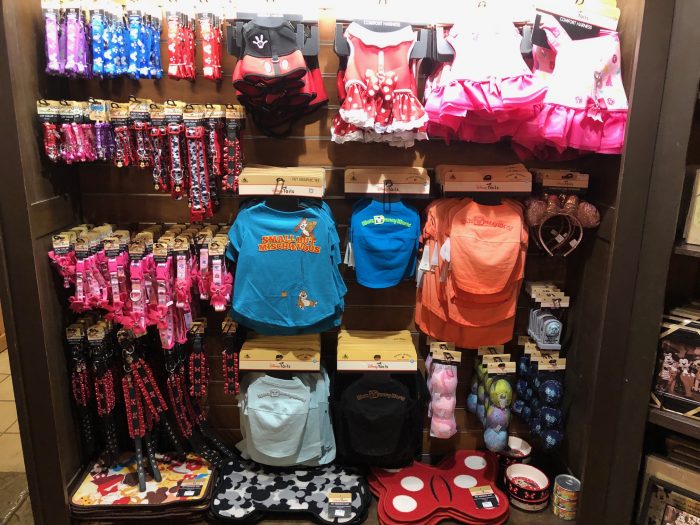 While the Fort Wilderness stores also carry your normal Disney gift shop items like Goofy's Candy Co. snacks along with grab and go food, these are the only stores on property I know of that are a mini-Home Depot where you can buy an extension cord or a hose clamp.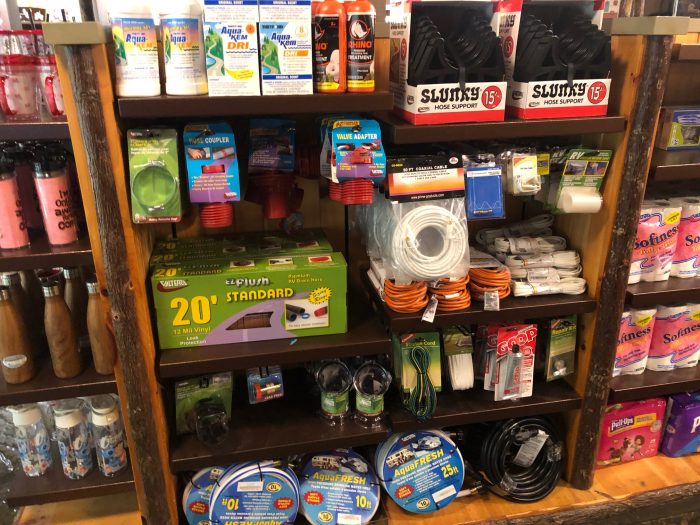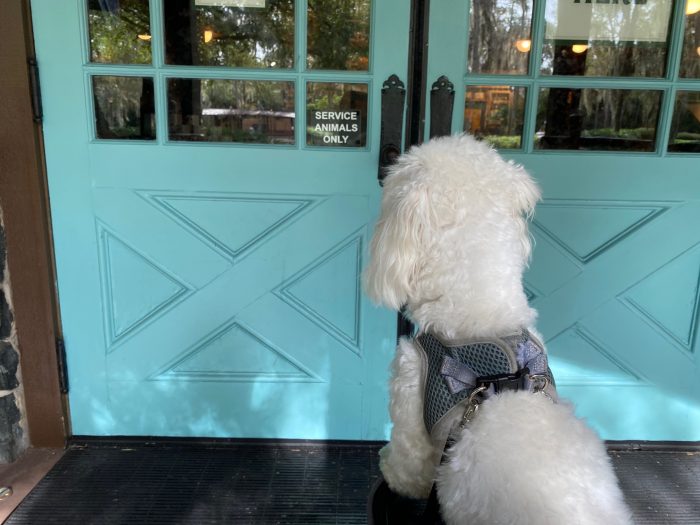 # 2 – P & J's Southern Takeout and Crockett's Tavern
We mentioned earlier that the only reasons we came to Fort Wilderness in the past was for Hoop Dee Doo and Trail's End. Well, both of those venues are currently closed and there are no table service restaurants currently available at the resort. However, P & J's Southern Takeout is the renamed Trail's End To Go, and is the counter service location at Trail's End. The menu offers many of the staples which guests enjoyed at both Hoop Dee Doo and Trail's End. Guests are encouraged to mobile order, but on both our trips to the restaurant we ordered in person. After ordering you are given a buzzer that alerts you when to pick up your order.
Tables have been social distanced at Trail's End, so you can take your order to a table and eat there. For one of our meals we chose to get back on a bus and eat it at the cabin.
Bacini had the same look I did when seeing the spread of food.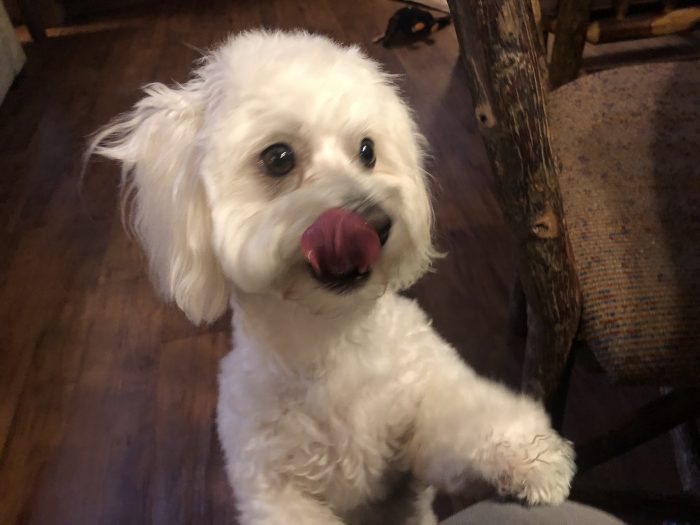 The ribs come with a side of BBQ sauce to use at your discretion.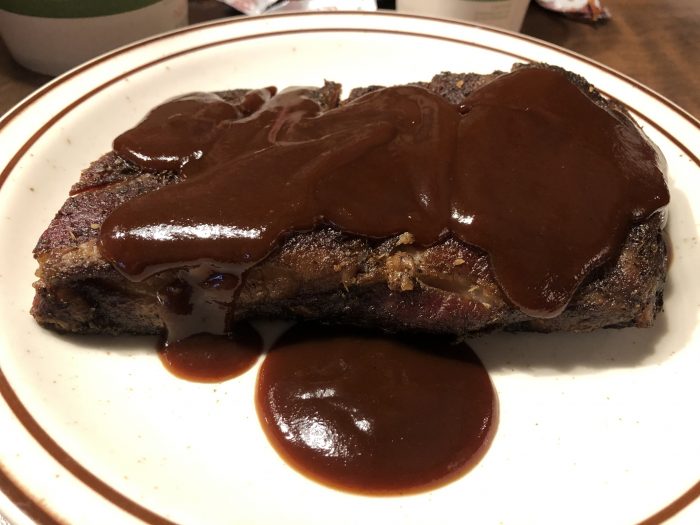 Love me some Fort Wilderness cornbread!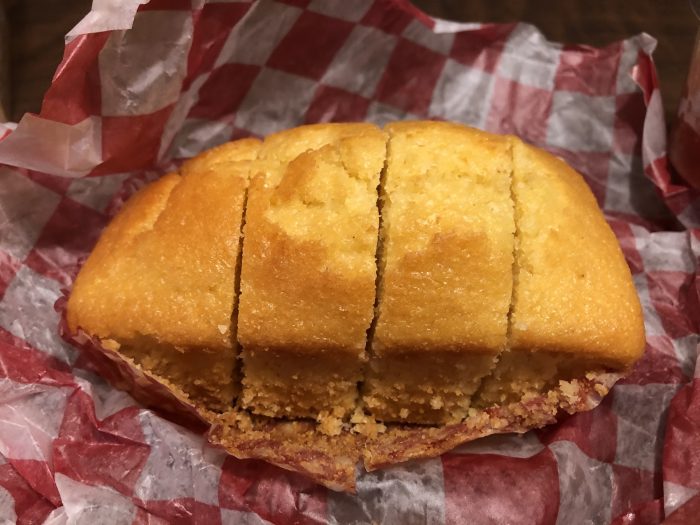 These were billed on the menu as "Cowboy Beans." I have no idea what cowboy beans are, but it did seem like this side was made with some sort of chicken as well.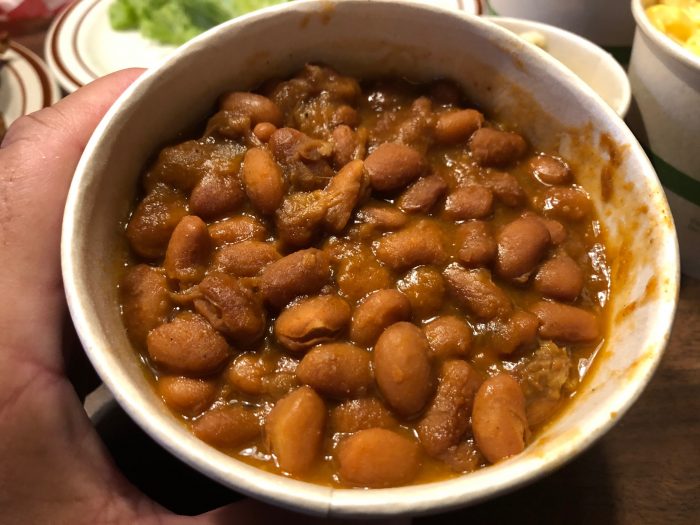 On another night we went back to P & J's Southern Takeout to try the pizza. This time we took the pizza to a table inside the restaurant to eat.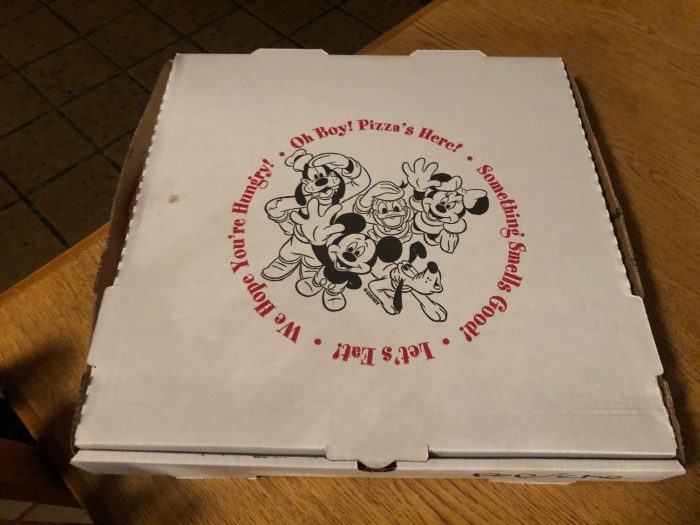 Cheese or Pepperoni is available, or you can ask for it to be split. While the picture may not look it, this may be the best pizza I've had at a Disney resort. The crust was much thinner and crispier than the normal pizza you get at food courts or through room service. This was a true surprise, because I went in thinking it would probably be the worst pizza on property, and instead it's one of the best.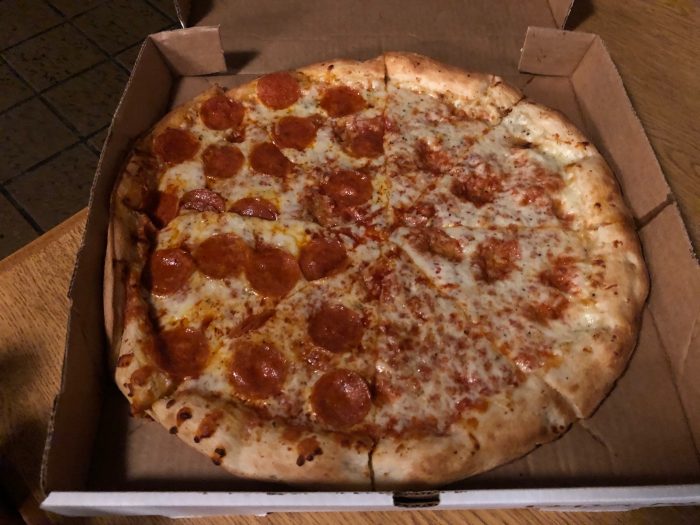 On both trips to P & J's I had to get the iconic strawberry shortcake. Now it's definitely not the same as our beloved dessert from Hoop Dee Doo, but at least it's something.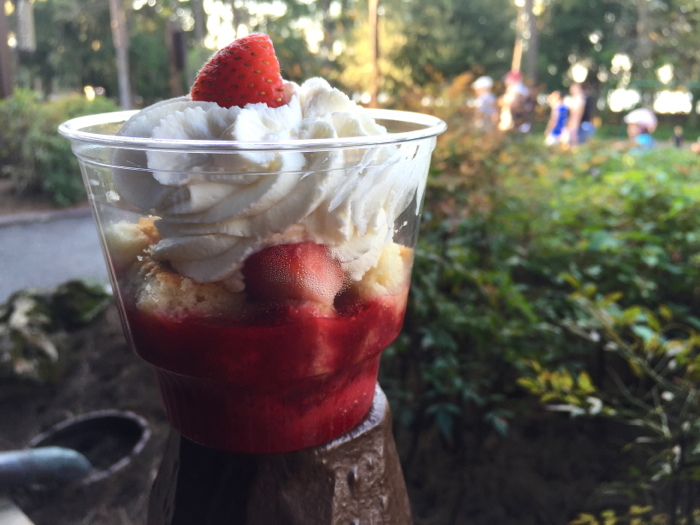 For the Halloween season, P & J's Southern Takeout offered these "Frightfully Spooky Strawberry Shortcake Push Pops." It was neat that there was a seasonal offering, but given the size I don't think it's a SPOILER ALERT to say they weren't worth the $4.99.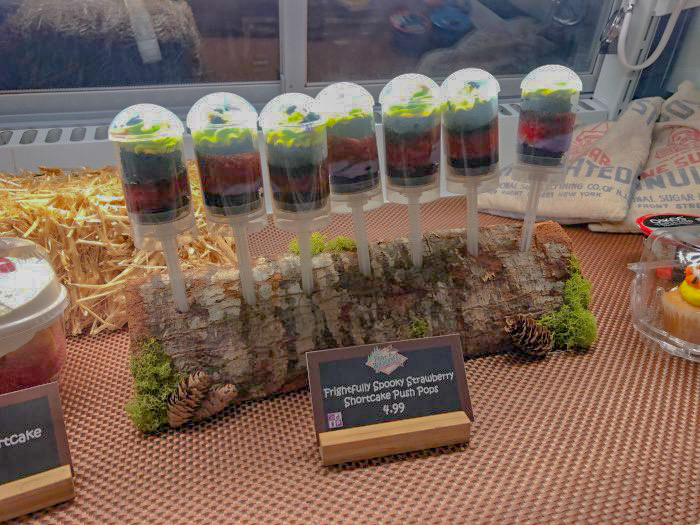 Located in the same building as P & J's Southern Takeout is Crockett's Tavern. This is a full bar that also has a to-go window which you can order from outside the building. The decor inside Crockett's Tavern was wonderful.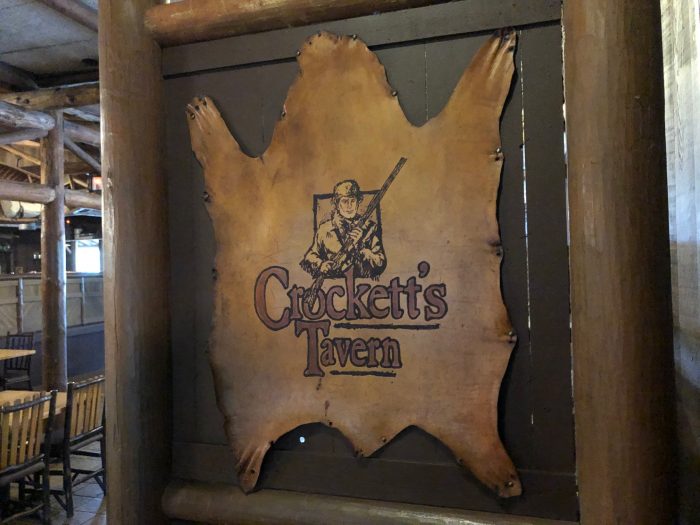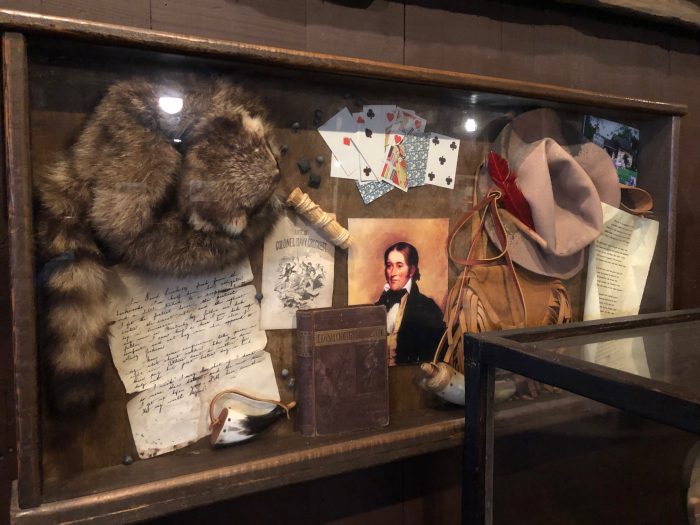 Including a nod to Disney's own Davy Crockett, Fess Parker.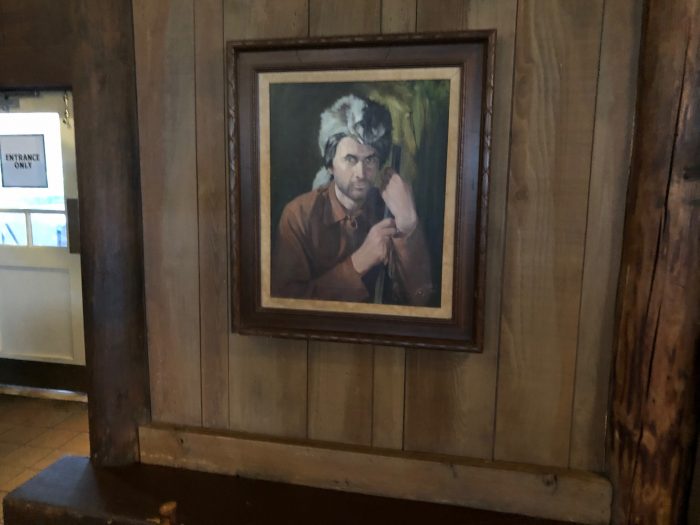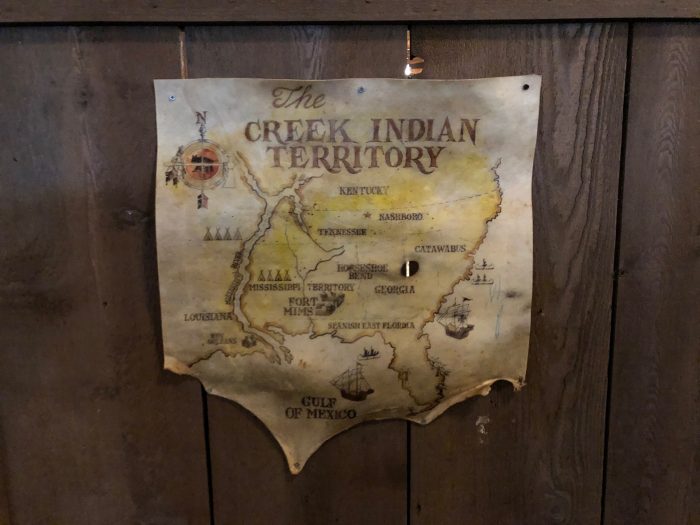 There were socially distanced tables both inside and outside at Crockett's Tavern. We got drinks at Crockett's while we waited for our meals from P & J's Southern Takeout.
Gullywhumper – Ole Smokey White Lightin', Bols Peach Schnapps, Pineapple Juice and Cranberry Juice.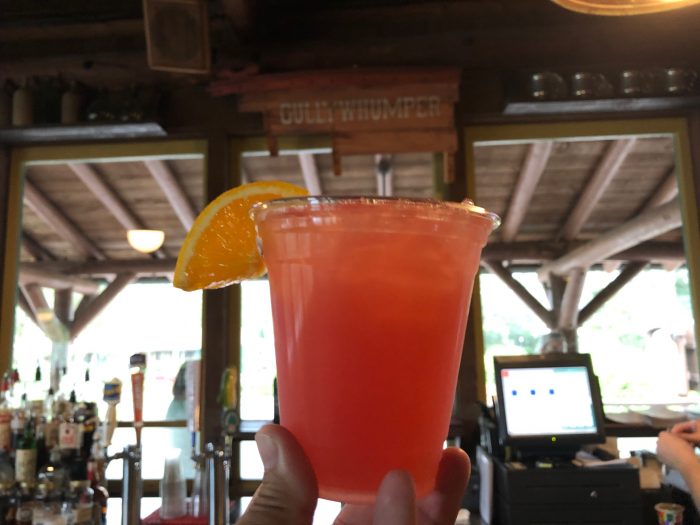 Blackberry Lightnin' – Ole Smokey Blackberry Moonshine, Blackberries and Odwalla Lemonade.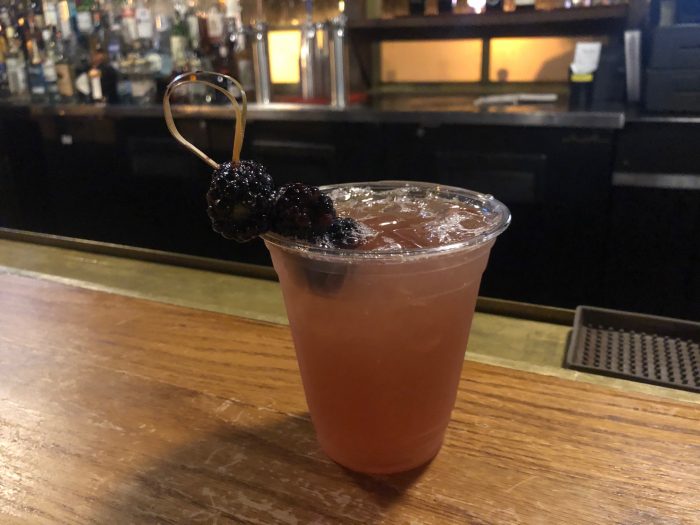 # 1 – The Activities
Some resorts at WDW have more to offer than others. For instance, if you had to spend a couple days at a Value Resort without leaving the area, you might – in fact – lose your mind. At Fort Wilderness, you could spend an entire week at the resort and not even feel the need to go to the theme parks because there is so much to do and see. Like all other WDW resorts, Fort Wilderness has a main pool and quiet pool to swim in, and similar to resorts near a large body of water (like the Grand Flo) it features a marina with many options as well. While other Disney resorts offer bicycle riding as an activity, Fort Wilderness is the only one with the amount of room – and view – to really enjoy yourself while biking around. Guests can fish or rent a canoe and head out into the water for some relaxation. Tennis, volleyball, basketball, and even tetherball is available.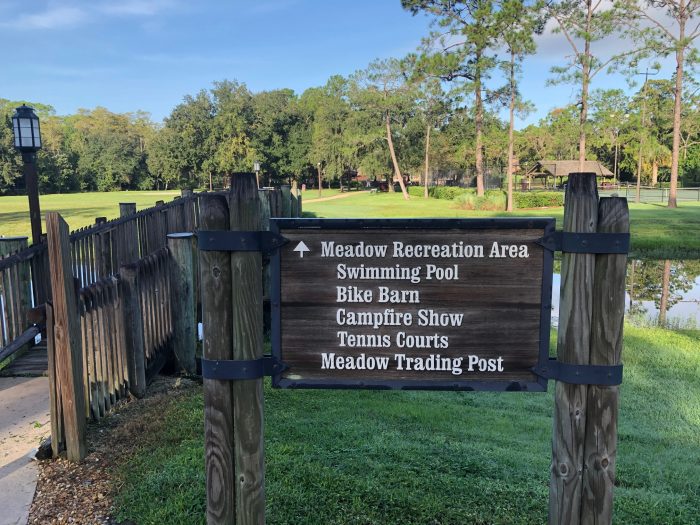 The Bike Barn is where you can rent a variety of equipment, including fishing gear or a kayak.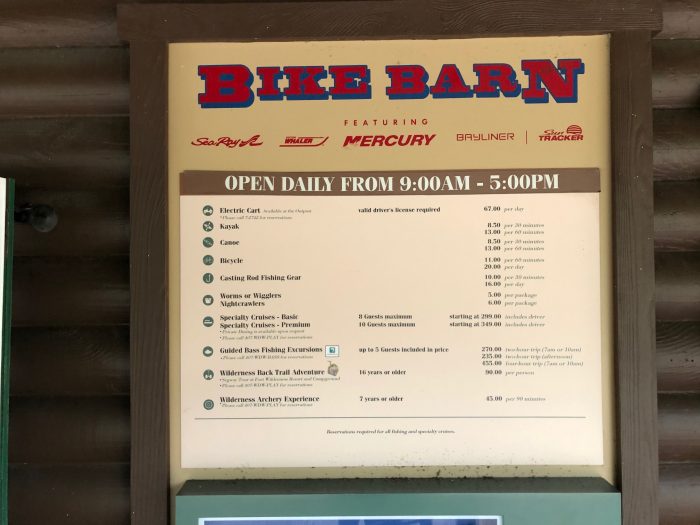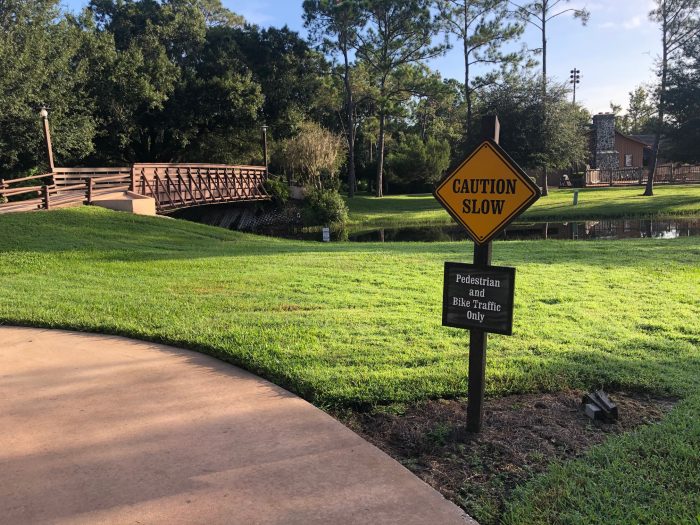 Each time I made my rounds walking around the bike barn I saw guests either leaving to go on a kayak/canoe trip or coming back from one. On several occasions there were families fishing from area at the front of the picture below.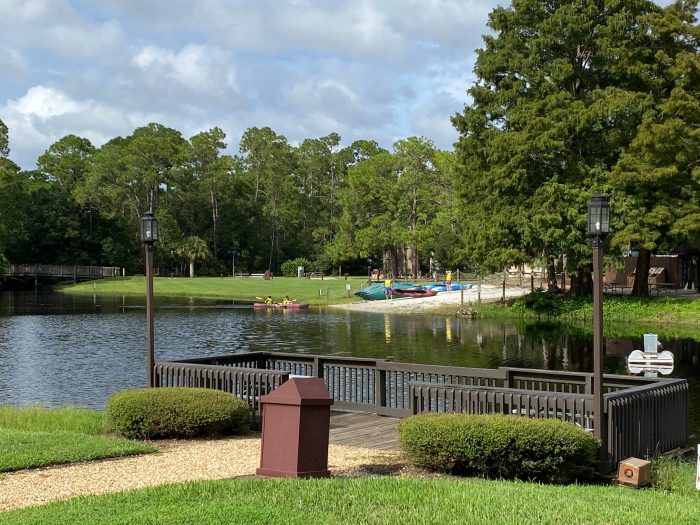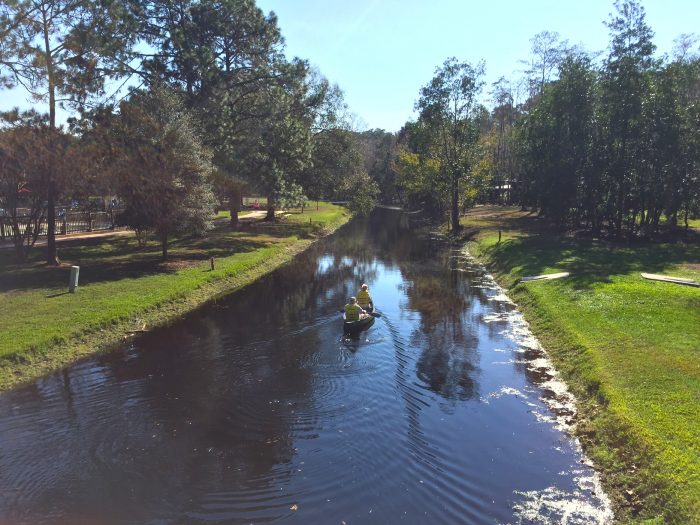 Guests were riding bikes throughout Fort Wilderness.
I thought this was one of the more unique activities at a Disney Resort. The Assay Station allows guests to clean their own gemstones.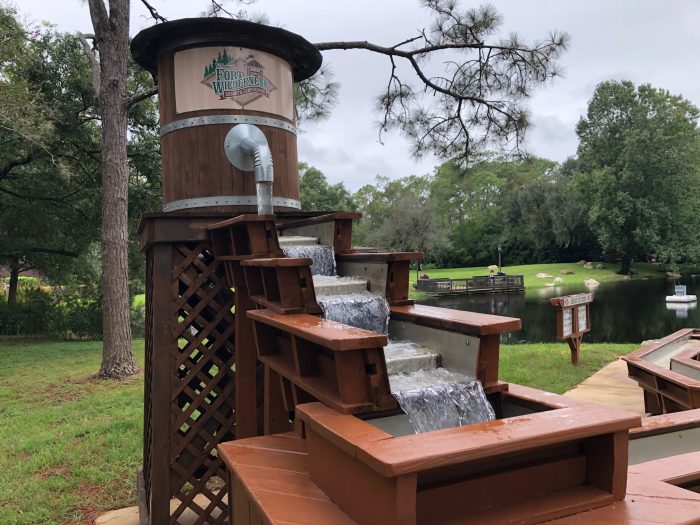 Bags of "mining rough" are available at the Bike Barn.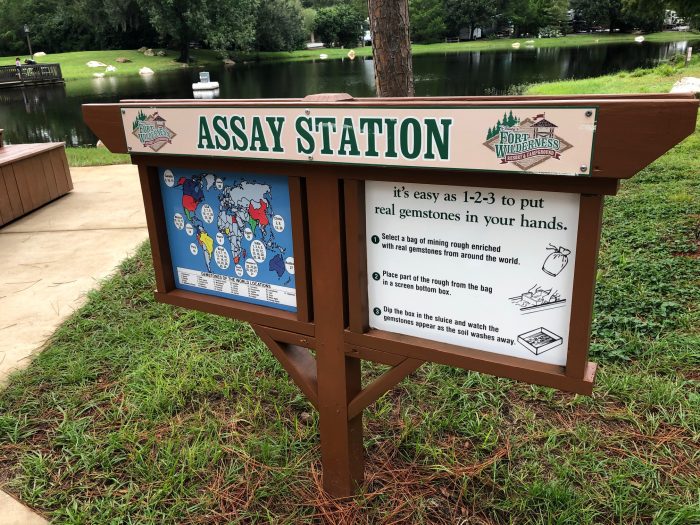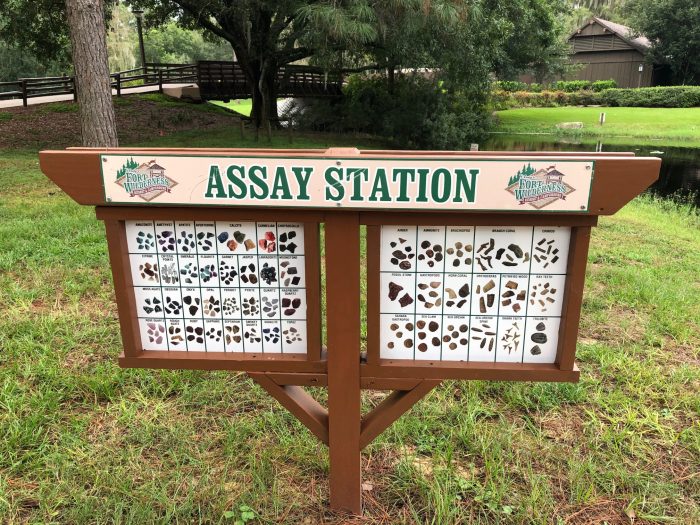 Areas at the Assay Station were marked for social distancing. Saw several families during our trip enjoying this activity, and will definitely be something we do when at the area with our family.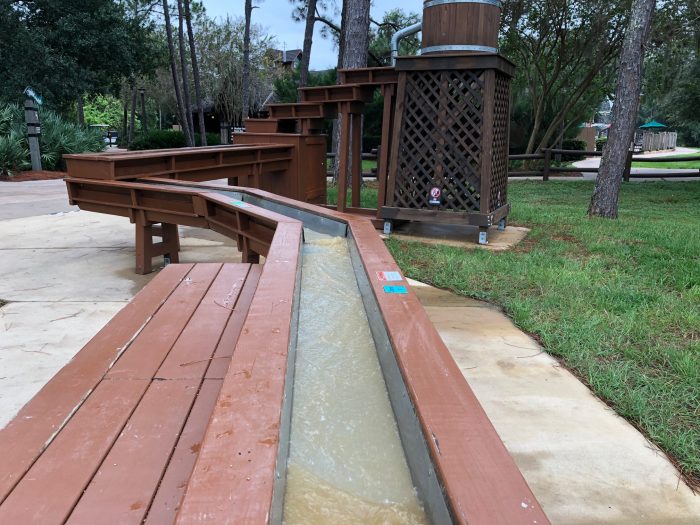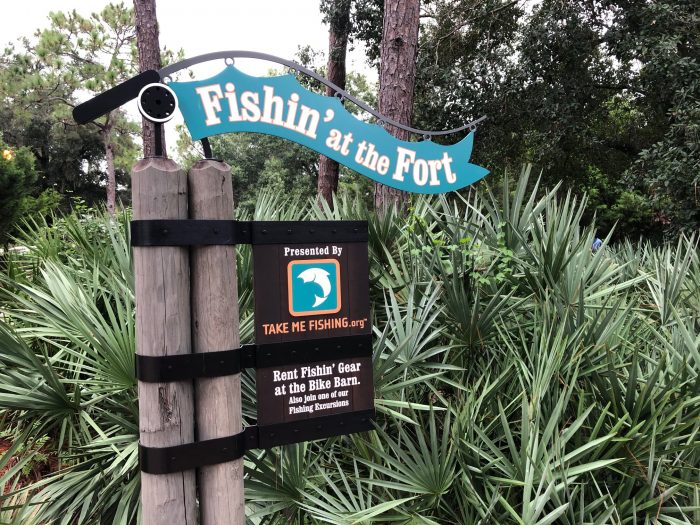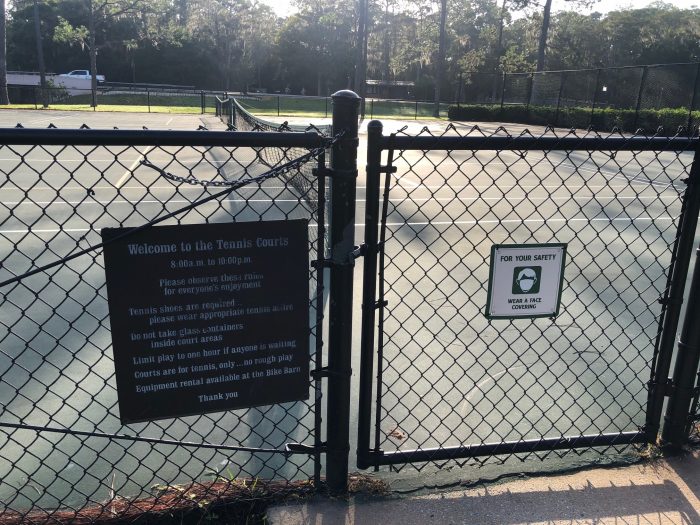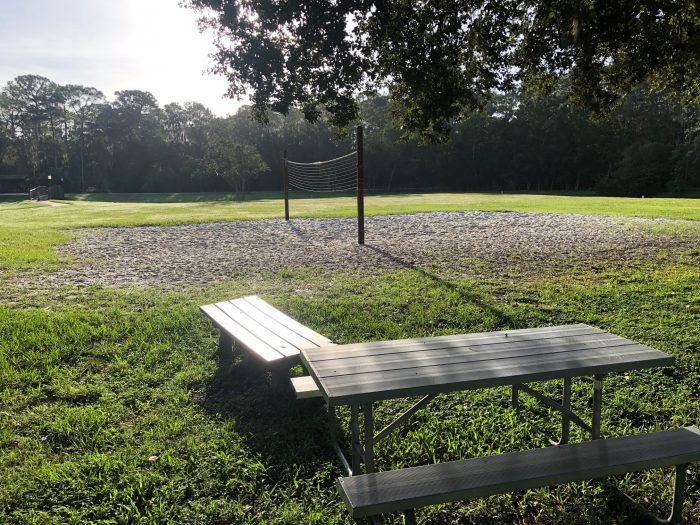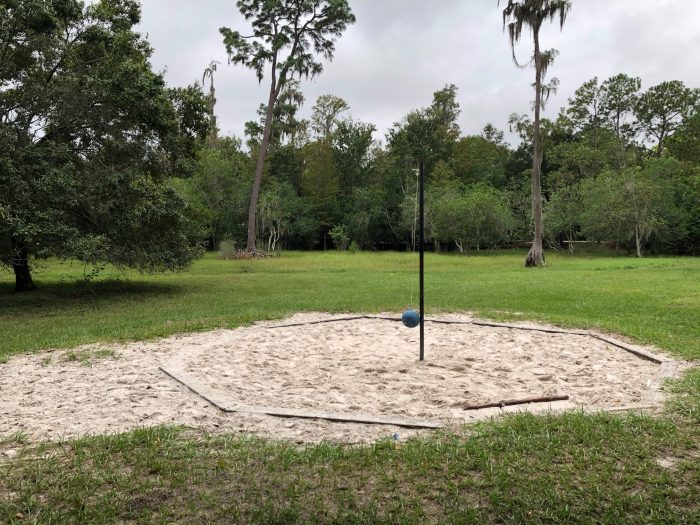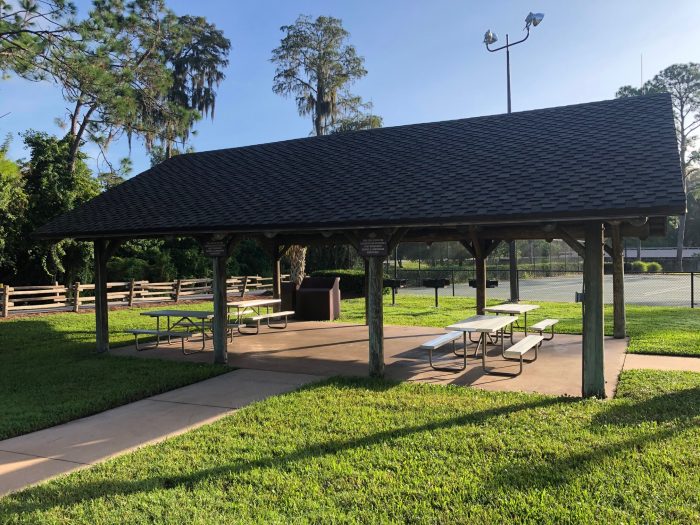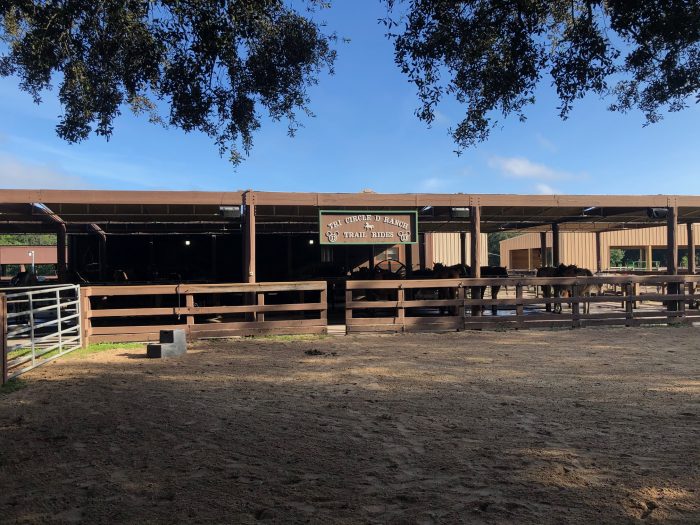 There are several play areas for children at Fort Wilderness, but all of them are currently unavailable to guests.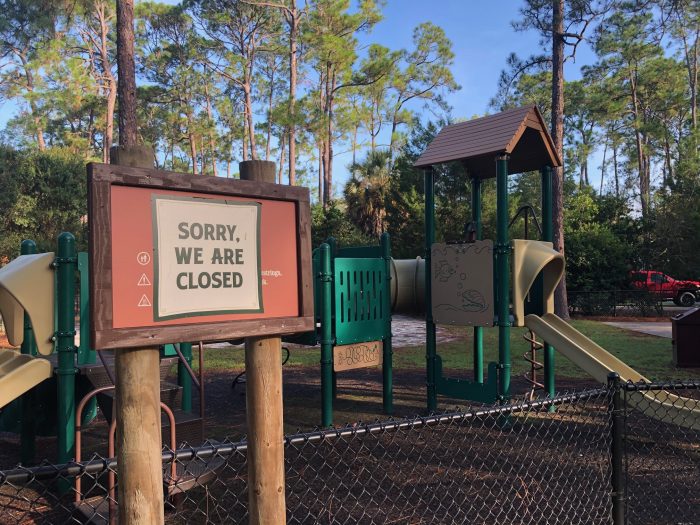 The main pool at Fort Wilderness is at The Meadow. Kids are going to love this area as the large pool has a themed slide, and there is a large water splash play area along with a traditional kiddo pool. I was surprised to see guests in the hot tub, something which Universal was not allowing at it's on-site hotels during my stays over the past few months.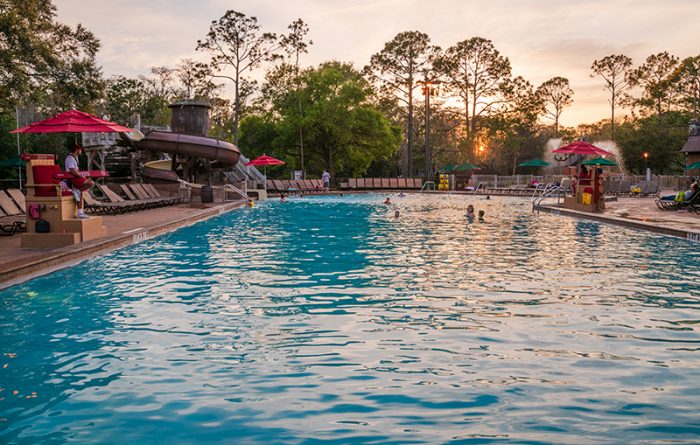 Over near our particular cabin loop was the "quiet pool" for Fort Wilderness. When we took the bus system, the announcement for this area called it the swimmin' hole.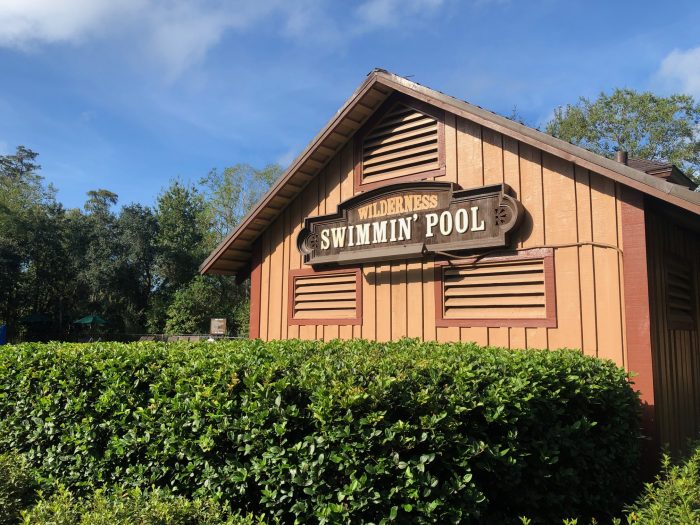 I like these pool hours!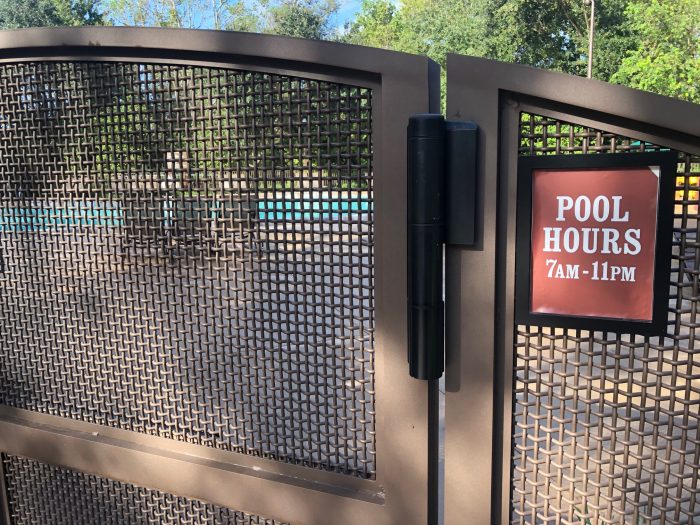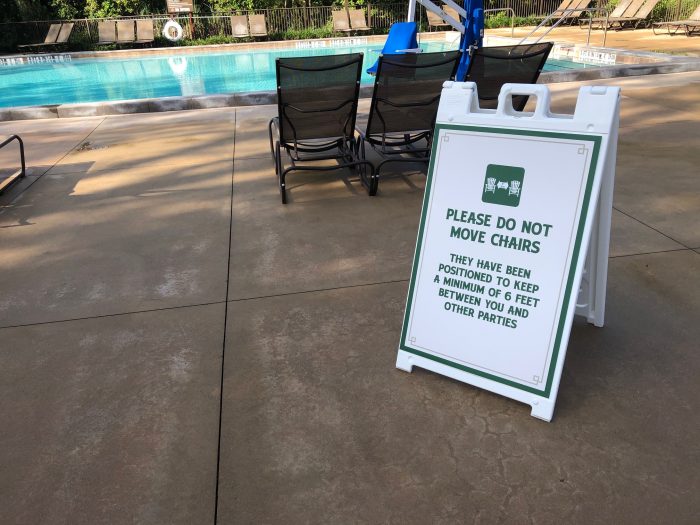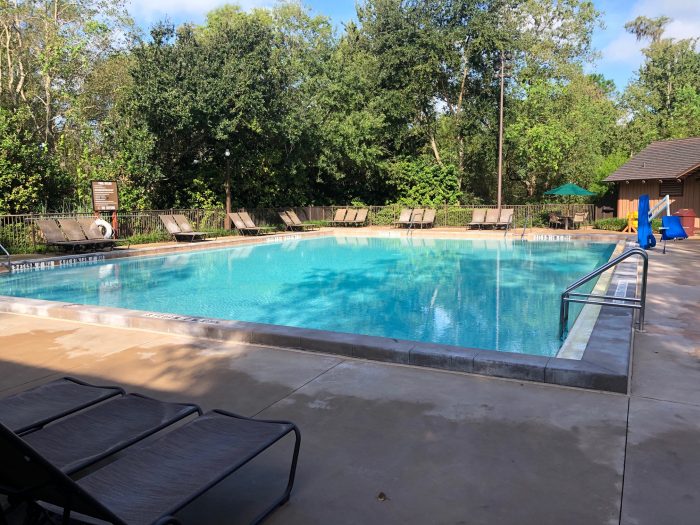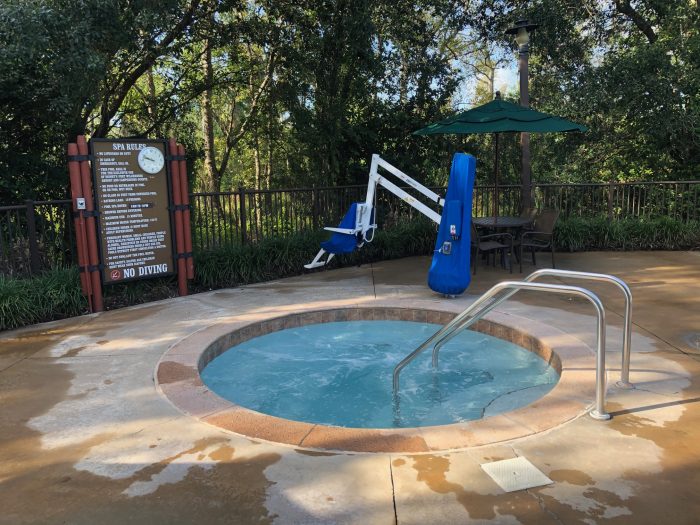 Fort Wilderness has to have the most rocking chairs in all of Walt Disney World. Almost everywhere you go you'll find a chair to relax in.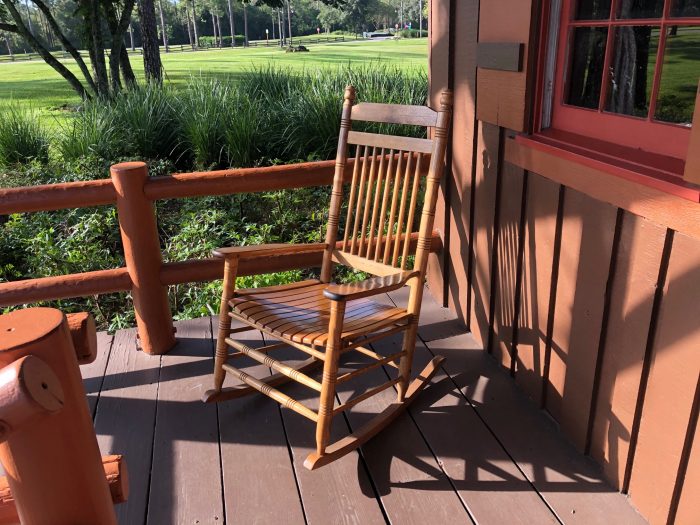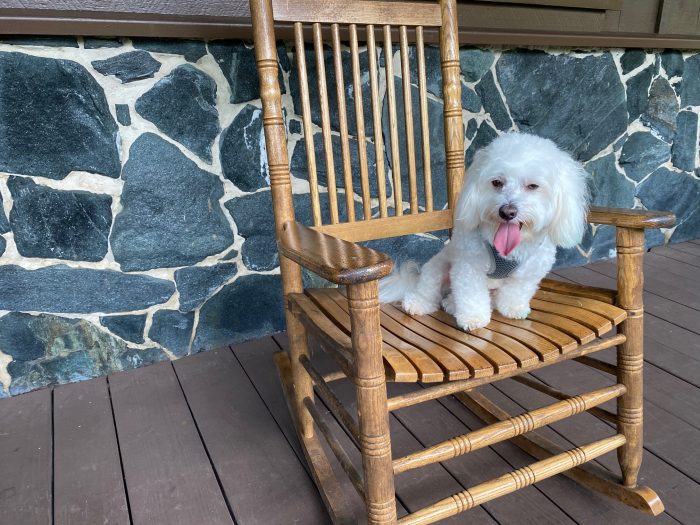 Honorable Mention – Bus Transportation
One thing you'll notice IMMEDIATELY at Fort Wilderness is how many guests are driving around in golf carts. The resort is sprawling, and I can definitely see the advantages to having one. Disney rents them for $67 a day. For this trip, we wanted to see what it was like relying on Disney transportation while at the resort. I am happy to report that the internal bus system at Fort Wilderness is flawless. There are bus stops all over the place, so you never have to walk far to find one. We never waited more than five minutes for a bus, and that is from all hours of the day at multiple locations across property.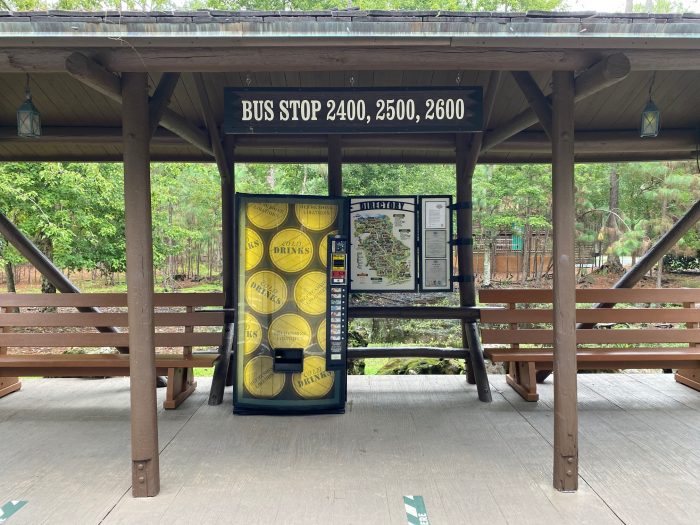 There are two internal bus lines at Fort Wilderness, Yellow and Purple/Orange. We never had to transfer to another bus because for all intents and purposes each line takes you to all the main areas at Fort Wilderness.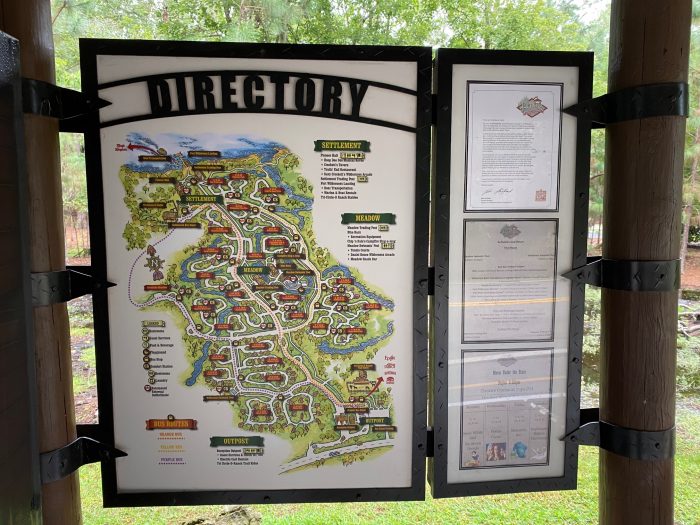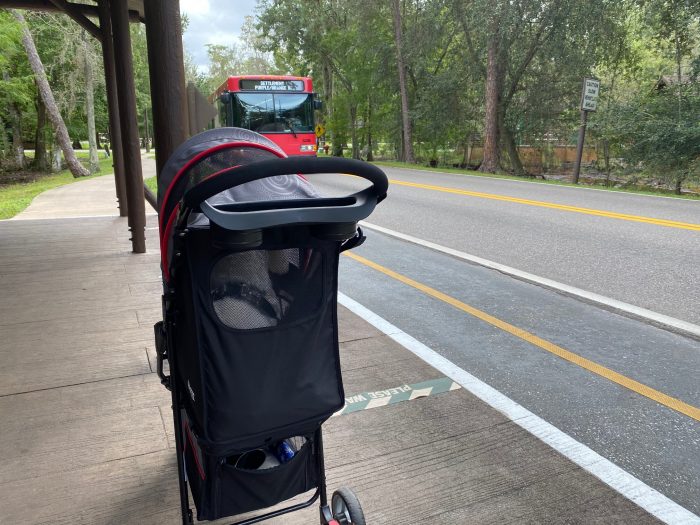 Each bus ride was pleasant and air conditioned.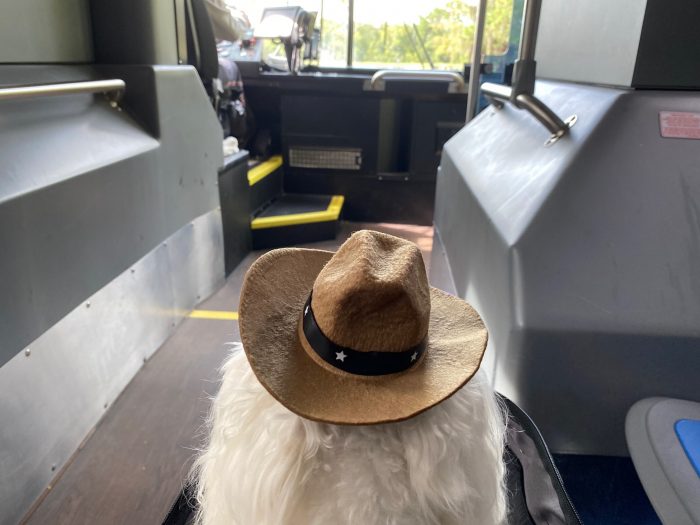 All in all we had an amazing time at Fort Wilderness. Loved it and can highly recommend. Unfortunately, the only downside for us could be a dealbreaker in the future. An uncomfortable mattress can make for a long night (and then an even longer following day at the parks). That said, this could be a "princess and the pea" situation and I did remind my girlfriend that many other guests at Fort Wilderness were literally spending the night on the ground in their sleeping bags. We'll try a cabin again in the future, and this time maybe rent a golf cart to what that experience is like as well.
So there you have it: The SATURDAY SIX (and Bacini) Spend a Night in a FORT WILDERNESS CABIN! See you next weekend for the latest installment of the SATURDAY SIX, where we'll look at something fun from the world of Disney and Universal. If you enjoyed yourself, be sure to check out The Magic, The Memories, and Merch! articles covering the latest from the Disney Outlet Stores. You can also follow Your Humble Author on Twitter (@derekburgan).
If you enjoyed this article, you will surely like the following: 
DAVID & DEREK: The Do's and Don'ts of COVID-19 Safety Protocols at the Theme Parks
The SATURDAY SIX Looks at Taking Your Pet With You on a Disney or Universal Vacation
SATURDAY SIX Presents: The Disney Signage Hall of Shame
Special Thanks to The Elite Brandon Glover, the bio-est of all reconstructs @bioreconstruct, Captain Cruiseline Scott Sanders of the world famous Disney Cruise Line Blog, my personal protege Hunter "Elvey" Underwood, the SAT SIX Fun Squad of Parkscope Joe and "the Dadalorian" Nick, hot shot Michael Carelli, charter member of the Universal Four @Nitro230, and Hermione Granger's tutor Megan Stump for their invaluable assistance with this article. The SAT SIX is inspired each week by goofballs Aengus Mackenzie and LitemAndHyde and you Potterheads will  enjoy Meg's other blog work over at the Central Florida Slug Club.