SATURDAY SIX: Six Reasons We LOVE the Magic Kingdom
This week's SATURDAY SIX looks at Reasons We LOVE the Magic Kingdom. As you know, this July we're celebrating Walt Disney World here on the SATURDAY SIX. At the beginning of the month we began our journey at Animal Kingdom, which now takes on new life at night. We then made our way over to Hollywood Studios, a park currently going through some growing pains but still has some of the best experiences in all of WDW. Last week? The one and only EPCOT, a theme park like no other across the globe. Today we are going to finish up by heading into the park which was the centerpiece of Walt Disney's "Florida Project," the Magic Kingdom.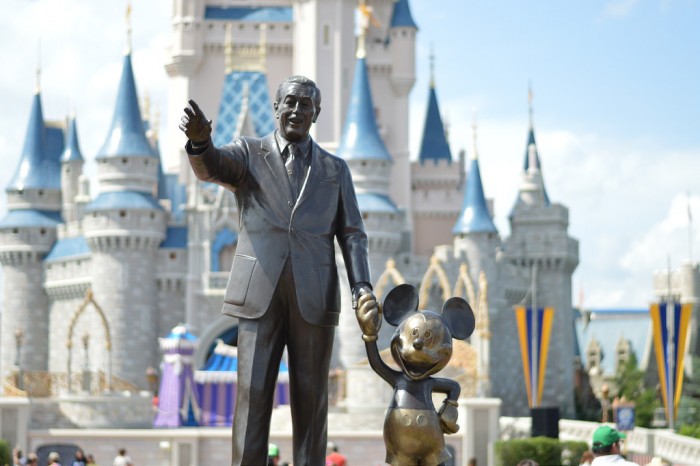 There are not enough superlatives for Disneyland out in California, but with Florida came the "blessing of size" which allowed Walt (and the Disney company) to fix problems they would never be able to in Anaheim. For example, driving to Disneyland is much like driving to the Universal Orlando Resort in Florida, in that you can see the park from the road. With the Magic Kingdom, Disney created a theme park where the very entrance to the park is an experience, slowly revealing itself to guests in a truly magical way. Opening in 1971, the Magic Kingdom quickly became the most popular theme park in the world, and retains that title to this very day. What makes it so great? Well, today we're gonna look at six of our favorite things inside this truly special park. So, sit back, relax in one of the rocking chairs on Tom Sawyer Island, and let's start our countdown with…
# 6 – Festival of Fantasy
Even with heated competition from Universal and many other parks from around the world, there are still areas which Disney parks are completely untouchable. One of those areas is parades, and one of the best parades at any Disney park is the Magic Kingdom's Festival of Fantasy. With elaborate floats, stunning costumes, an original score, and filled with many of our favorite Disney characters, this is a parade worth waiting for. The backstory of the parade is that each of the units were built by the citizens of Fantasyland. It's fascinating just looking at all the details on each float and how they seem to be designed from an era long ago. The music has that true Disney Difference, with Brave and Maleficent sections being standouts, and the amount of characters involved in the parade is staggering.  From Anna and Elsa to Mickey and Minnie and almost everyone in-between, Festival of Fantasy has something for everyone.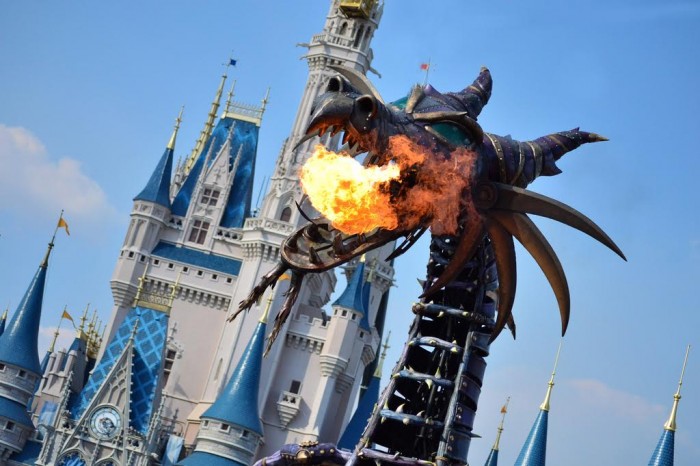 –
# 5 – Mickey's Not So Scary Halloween Party
It is rare when the Disney parks focus on the "bad guys," but when they do, they do it right. Mickey's Not So Scary Halloween Party is a separate hard ticketed event at the Magic Kingdom which – among other things – has a sensational parade with Mickey's Boo-To-You and in our opinion the best nighttime spectacular in all of WDW: Happy HalloWishes. The parade features a catchy theme song along with aWho's Who of Disney villains, including many that you never see inside the parks. From the A-Listers like Captain Hook, the Evil Queen, and the Tremaine family to cult favorites Big Bad Wolf, Oogie Boogie, and Bowler Hat Guy, this is a great lineup for fans of the baddies. Another parade unit featuring characters inspired by the Haunted Mansion is just spectacular. Happy HalloWishes is a visual tour-de-force featuring not only the Disney villains, but also the rare perimeter fireworks lighting up the sky. Free candy all over the park, incredible character meet and greets (such as Jack and Sally from The Nightmare Before Christmas or all seven Dwarfs together,) maybe the all time best WDW parade AND nighttime spectacular, and did we mention there is almost zero waits for rides? Mickey's Not So Scary is the party in which all other Disney hard ticket events are judged by.
–
# 4 – New Fantasyland
Every land in the Magic Kingdom is filled with great headliners but it is hard to top the lineup in New Fantasyland. Each attraction and experience has something truly amazing; from the rock work facade and jaw dropping Ursula AA in Journey of the Little Mermaid, to the magic mirror in Enchanted Tales with Belle, to the projection mapped dwarfs in Seven Dwarfs Mine Train, to the overall experience at Be Our Guest Restaurant, New Fantasyland will bring a smile to guests young and old. Let's face it, the original Fantasyland in the Magic Kingdom – with rides such as Peter Pan's Flight, Snow White's Scary Adventures, and Dumbo – will always hold a special place in our hearts, but everything has been improved in the new area.
–
# 3 – Main Street, U.S.A.
Main Street, U.S.A. is the most underrated land in all of the Magic Kingdom,  and one that we here at the SATURDAY SIX encourage guests to spend more time in. The overall theme and atmosphere of Main Street is going to transport you to a different time and place, one that is vibrant and full of life. Have you ever taken a quick ride on one of the Main Street vehicles? How about watching a Main Street Trolley Show, enjoyed the Main Street Philharmonic, or listened to a set from the Dapper Dans? Main Street, U.S.A. is filled with live entertainment and characters that will make your heart swell.
On your next trip to the Magic Kingdom, consider being around Town Square at 5 p.m. for the daily flag retreat, book a reservation at the Harmony Barbershop for a wonderful Disney memory, or spend a couple minutes enjoying the musical stylings of the pianist at Casey's Corner. You'll be glad you did.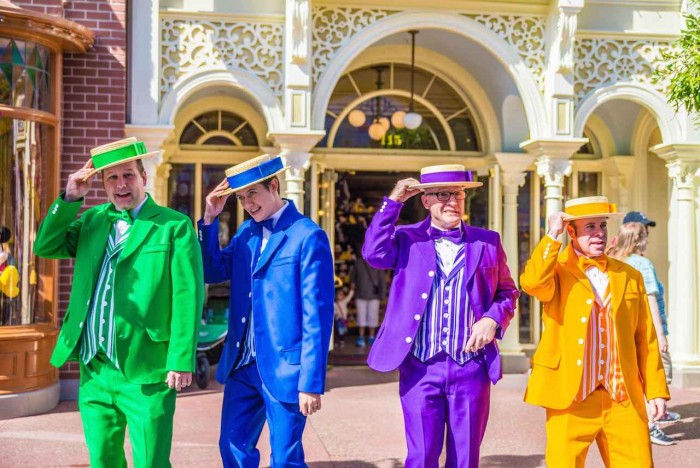 –
#2 – Classic Character Meet and Greets
Meet and greets are becoming a bigger part of the average vacation experience. For many guests, meeting their favorite characters and getting a picture or autograph is just as important as the latest E-Ticket ride or unique dining experience. The Magic Kingdom is the capital of the character meet and greet universe, with the best you'll find anywhere. Fairytale Hall allows guests to meet their favorite princesses while Pete's Silly Sideshow in Storybook Circus includes heavy hitters such as Minnie Mouse and Donald Duck. Ariel meets in her themed grotto, while Merida has an archery demo in Fairytale Gardens. The show stopper though is found back on Main Street, U.S.A., where Talking Mickey meets in Town Square Theater. Seeing Mickey Mouse interact with guests is pure magic. Many long time fans bemoan the fact that – for the most part – characters do not roam the parks anymore and instead are confined to these planned meet and greets. Let's see, air conditioned queues, ultra themed meeting areas, and the ability to know that you'll be able to meet the characters you want? We'll take that trade off any day of the week.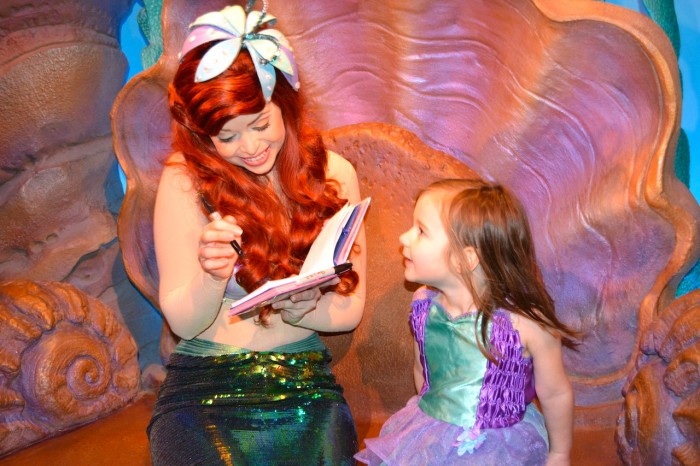 –
# 1 – Nostalgia
If there is one thing the Magic Kingdom does better than any other park in Florida, it's that it is filled with nostalgia. Despite opening 45 years ago, there are still 15 opening day attractions that continue to entertain guests today. These include Jungle Cruise, it's a small world, the Haunted Mansion, The Hall of Presidents, and the Country Bear Jamboree among others. In comparison, Universal Studios Florida has been open 25 years and has only one opening day attraction still standing, E.T. Adventure. While they weren't opening day attractions, Space Mountain, Pirates of the Caribbean, and Carousel of Progress have been around long enough that several generations of guests have been able to bring their kids to the parks and enjoy the rides together. While Walt Disney himself never stepped foot inside the Magic Kingdom, it's the only WDW park which gives you that sense of history you'll find out in Disneyland. Walking through MK is similar to looking through an old scrapbook, instantly bringing back cherished memories. Male or female, young or old, the Magic Kingdom means something different to everyone, but for all of us it is a constant reminder of how great and truly inspirational theme parks can be.
For me personally, my love of Magic Kingdom has evolved over the years. When I was younger I would look forward to riding the Mountains and their thrills. Years later it was more of a relaxing approach, treasuring the WDW Railroad and the Tomorrowland Transit Authority. After that, just walking around and enjoying the transitions between lands while listening to the various background music loops was as important to me as any ride. Today? Today it's introducing the younger generation of my family to the park and seeing everything through their eyes. I get to relive everything all over again from a whole new perspective. For me, that's what makes Magic Kingdom a great park
–
Honorable Mention: Wishes
Just as each night of the Magic Kingdom ends with an unforgettable nighttime spectacular, we'd be remiss by not closing out this article by mentioning the show which will bring a lump to your throat, a tear to your eye, and a smile on your face: Wishes. With narration by everyone's favorite conscience Jiminy Cricket, Wishes features extraordinary show taking place around Cinderella castle featuring classic Disney music, jaw dropping fireworks bursting in the sky, and a memorable appearance by Tinker Bell. Wishes shows the difference between a "fireworks show" and a "nighttime spectacular," and why no one is better than Disney at the latter.
So there you have it: Six Reasons We LOVE The Magic Kingdom. See you next weekend for the latest installment of the SATURDAY SIX, where we'll look at something fun from the world of Disney and Universal. If you enjoyed yourself, be sure to check out The Magic, The Memories, and Merch! articles, or, for your listening pleasure, check out the E-Ticket Report podcast. You can also follow Your Humble Author on Twitter (@derekburgan)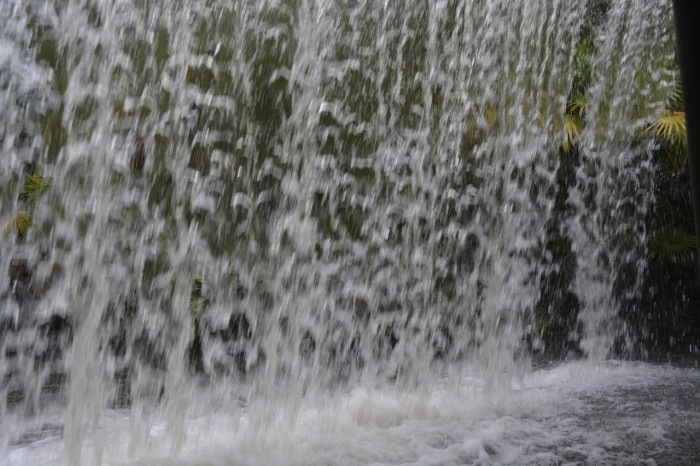 If you enjoyed this article, you will surely like the following:
Six Iconic Snacks at the Magic Kingdom
Six Best Attractions at WDW According to our All Star Panel
Six of our Favorite Shows That Went to WDW (Boy Meets World, Sabrina the Teenage Witch and more)
Six "Easter Eggs" in the Magic Kingdom
Six Things We STILL Can't Believe Happened at Walt Disney World
Special Thanks to crack staff photographer Brandon Glover, photo wunderkind Mike Sperduto, Stubborn as a Mule (but twice as smart) Tim Grassey, the man who gives 9 Dragons  5 stars "Brutal" Brian Carey, and blogger to the stars Megan Stump for their invaluable assistance with this article. Be sure to also check out Brandon on The Park Blogger podcast with co-host Aengus Mackenzie along with Meg's Yeti To Be Named Disney Podcast.