SATURDAY SIX Looks at STAR WARS in Walt Disney World
This week's SATURDAY SIX looks at STAR WARS in Walt Disney World. While those of us in Florida may be mourning the loss of the annual Star Wars Weekends event at DHS, fans of Star Wars have a lot to be thankful for at Walt Disney World. Not only do we have Star Wars Land coming, but while we're waiting for that to open a whole bunch of great attractions, events, and stores have opened to help satisfy our craving for anything and everything Star Wars. It's a good thing too, because The Force Awakens has washed away the bad taste of the prequels and has the entire world back in the grip of Star Wars mania. Today we're going to set our sights on our favorite Star Wars offerings in Orlando just like Luke used to bullseye womp rats back on Tatooine. So sit back, never tell us the odds, and let's begin our countdown starting with…
# 6 – runDisney: The Dark Side
The folks at runDisney have done the impossible, they have made exercise fun. The popularity of the events continue to grow and lately Disney has started to outdo themselves with great concepts and spectacular looking medals for the runners (we're looking in your direction Princess Half Marathon). Last year they introduced Star Wars events out in Disneyland with The Light Side series of races. This year the fun continues at Walt Disney World with The Dark Side.
The Dark Side fun started off at the Health & Fitness Expo held at ESPN Wide World of Sports, where runners got an opportunity to take pictures with Star Wars characters including Jabba the Hutt and BB-8. There was also a side array of unique merchandise available including t-shirts, hats, magnets, and even Dooney & Bourke handbags. However what makes runDisney events truly special is being able to run through the actual theme parks, along with meeting characters along the way. As a theme park fan, it is hard to beat running through EPCOT and seeing stormtroopers along with being able to take a picture with Captain Phasma after completing the run. The Dark Side may just be runDisney's best even ever, and has us looking forward to more Star Wars races in the future!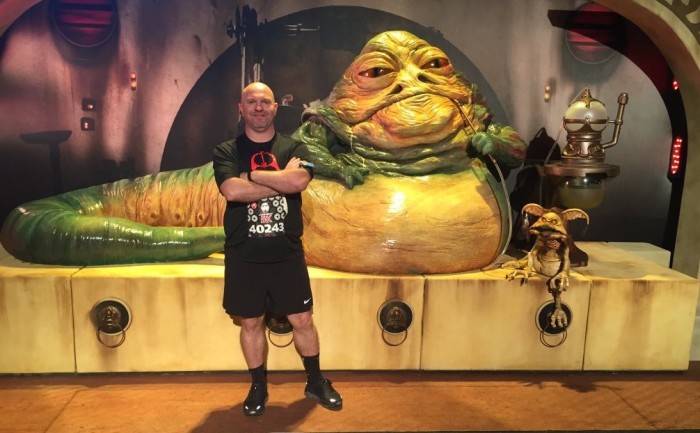 –
# 5 – Star Wars Galactic Outpost
We've said it before, Disney Springs has turned the corner and become an incredible destination. New dining venues such as Jock Lindsey's Hangar Bar, The BOATHOUSE, and Morimoto Asia have helped push Disney Springs above EPCOT as the best place to go on Disney property for a meal. For Star Wars fans, it also happens to be the only place outside of a theme park with a store dedicated completely to Star Wars merchandise. In the former home of D-Street, the Galactic Outpost has just about everything you could think of for the scruffy-looking nerf-herder in your life. This is your go to place for Star Wars clothing, prints, toys, iPhone cases and more. As Bill Murray would sing, "Star Wars, nothing but Star Wars…" 
–
# 4 – Star Tours: The Adventure Continues
There is not a single Star Wars fan on Earth who didn't have a smile the first time they see the life size AT-AT standing outside Star Tours: The Adventure Continues at DHS. There's also an awesome speeder bike outside for photo ops. Inside you have a wonderful queue featuring Star Wars characters and a lot of hidden stuff to look for. The attraction features elements from the Original Trilogy, the prequels, and even Force Awaken to provide over 50 different ride combinations. To top it off, each ride has an opportunity for a someone to be the "rebel spy," a great way to incorporate guests into the attraction. Exiting Star Tours leads us into Tatooine Traders, a store filled to the brim with Star Wars and Star Tours merchandise. In its various incarnations, Star Tours has been at DHS for over 25 years. It is a mainstay because it's a fantastic attraction that delivers.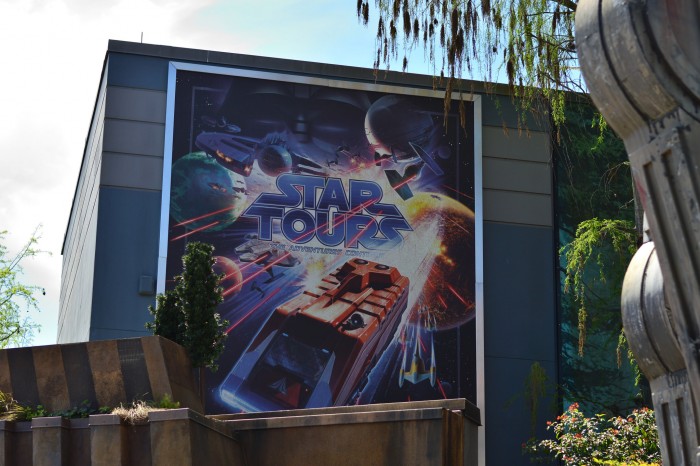 –
# 3 – Droid Factory
We're talking Star Wars, and the Star Wars empire was built on toys. From the famous Early Bird Certificate Package in 1977 to the aisles of action figures in stores such as Target and Wal-Mart today, Star Wars toys are a right of passage for kids (and more than a few adults as well). Inside Tatooine Traders is the awesome Droid Factory, allowing guests to make their own Star Wars action figures that even include Disney accessories. You get to pick every single component to build your own droid. There are different styles of domes (the "heads" of the droids), bodies, and legs to make your custom figures, but the best part is the various Disney inspired hats you can add on top. Mickey ears, Oswald ears, an Imperial officer's hat, a Sorcerer Mickey hat, and even a sombrero! Then your action figure gets it's own blister pack with stickers to provide whatever name you want.
There is also a Droid Factory at Once Upon a Toy in Disney Springs, and that area also includes a Build Your Own Lightsaber area (which, in our opinion, is nowhere near as cool).
–
# 2 –  A Galaxy Far, Far Away
We're going to cheat a little on this one and include the Stormtrooper procession which takes place shortly before each showing of A Galaxy Far, Far Away at DHS. Captain Phasma putting the stormtroopers through their paces is fun to watch, but Star Wars fans are going to love the stage show featuring tons of characters including BB-8, Chewbacca, Boba Fett, Darth Maul, Kylo Ren, Darth Vader and more. Clips play from all seven of the Star Wars films and pyro booms from the stage, what else could you ask for?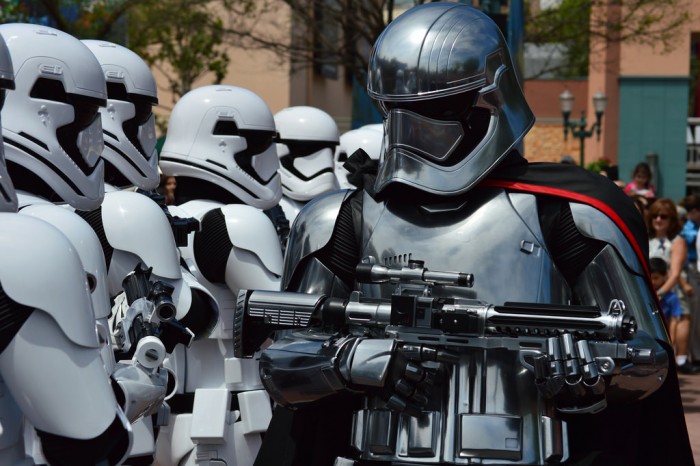 –
# 1 – Jedi Training: Trials of the Temple
Watching young kids have fun playing Star Wars will give you feelings of warmth usually only reserved for those sleeping inside the innards of a dead tauntaun. Taking place right next to Star Tours, Trials of the Temple has a Jedi Master (and apprentices) teaching young Padowan volunteers the art of lightsaber training. It's not long before some of the Star Wars villains come out (including the Seventh Sister from Star Wars Rebels cartoon) leading to epic battles where the Force is used to save the day. Whether you have a kid in the show or not, watching Trials of the Temple is a complete blast.
–
HONORABLE MENTION – Star Wars chocolate at The Ganachery
One of the great new shops at Disney Springs is The Ganachery located in The Landing (it is across from Jock Lindsey's and The BOATHOUSE). Here you are going to find some exquisite chocolate in various forms (including some fantastic chocolate lollipops featuring Disney characters), but today we're going to recommend the Star Wars chocolate bar. The Star Wars collector in us wanted to buy two: one to eat and one to display. But we ate the display one too. It's that good.
–
DISHONORABLE MENTION  – Star Wars Food at the parks
When the Wizarding World of Harry Potter opened and brought with it Butterbeer, it completely chance the fortunes of the Universal parks. When Diagon Alley opened, it debuted with a whole bunch of great tasting food and snacks completely themed to the Potter universe. Guests get to enjoy at ice cream at Florean Fortescue's Ice Cream Parlour, just as Harry Potter himself did in Prisoner of Azkaban.
Now think of the complete opposite of that synergy and you have Star Wars inspired food at the Disney theme parks. Many of the items are either next level bananas – such as the Royal Guard Burger served on a dark bun – or make no sense, including the Dark Side chicken and waffles. Whereas the Wizarding World gave us chocolate frogs and pumpkin juice, Disney gives us a Darth By Chocolate cupcake and I swear to God I'm not making this up, Blue Milk Panna Cotta.
If the Star Wars food options at the Disney parks could be represented as a character it would clearly be Jar Jar Binks.
So there you have it: SATURDAY SIX Looks at STAR WARS at Walt Disney World. See you next weekend for the latest installment of the SATURDAY SIX, where we'll look at something fun from the world of Disney and Universal. If you enjoyed yourself, be sure to check out The Magic, The Memories, and Merch! articles, or, for your listening pleasure, check out the E-Ticket Report podcast. You can also follow Your Humble Author on Twitter (@derekburgan)
If you enjoyed this article, you will surely like the following:
How to Survive STAR WARS WEEKENDS in Six Easy Steps
Top Six Meet and Greets at the Magic Kingdom
Six Most Unique Dining Experiences at Walt Disney World
Six Theme Park Questions For the Magic 8 Ball
Six Takeaways From Disney's Villains Unleashed
Special Thanks to crack staff photographer Brandon Glover and blogger to the stars Megan Stump for their invaluable assistance with this article. Be sure to also check out Brandon on The Park Blogger podcast with co-hosts Aengus Mackenzie and Brian Carey.