SATURDAY SIX PRESENTS: Disney's SHORTEST RAN Nighttime SPECTACULARS!
It is the last week for us at the Saturday Six Fun Squad running the show, so we decided to go grave digging.
Ok not really, you will see, but we did get you to click!
Last week we dived into the longest-running Disney nighttime spectaculars. It was filled with stone-cold classics and stalwarts of every Disney fan's playlist. But a lot of Disney nighttime shows run a median of 3.6 years before retiring, running their natural course before retiring into the sunset. Then there are a handful of nighttime spectaculars that barely ran for several months. These range from temporary fill-ins to shows so bad they became the gossip of LA. So for this week's Saturday Six we are looking at Disney's SHORTEST RAN nighttime spectaculars.
Same rules as last time: no international parks (sorry, it was hard enough to find dates for some domestic park shows), do the best we can counting days, no seasonal shows (except for some specific exceptions), and only count nighttime shows and parades. The complete data set is online for your perusing.
Now we run one last report on B.A.C.I.N.I. to find the Six SHORTEST RAN Disney nighttime spectaculars!
6 – Epcot Forever – 255 Days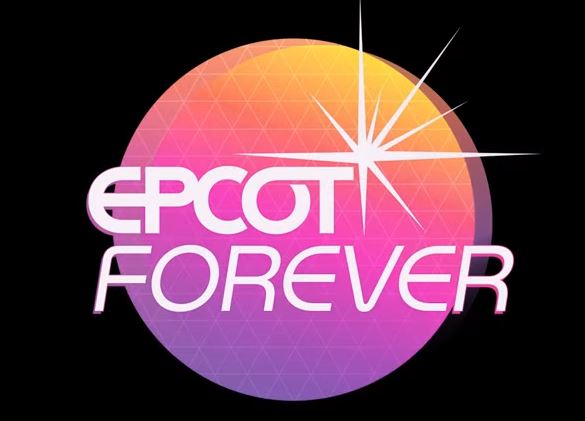 Only the good die young. – Billy Joel, 1977
The origin for these two Saturday Sixes started in the Fun Squad group message. While discussing Walt Disney World's 50th Anniversary celebration's reception a question was raised: If Harmonious or Enchantment closes at the end of the celebration would it be one of the shortest ran nighttime shows? So I spent a few nights looking up opening and closing dates for various domestic Disney nighttime shows. Yes, I am single.
The data painted a more interesting story than I thought I'd find. Each show told a story about that specific moment in Disney Park's history, whether it was a success or not. This leads us to our first entry, Epcot's interim show, Epcot Forever! Opening on October 1, 2019, Epcot Forever replaced the incredible Illuminations: Reflections of Earth fireworks show while we waited for the full installation of Harmonious. Originally designed to run just shy of a year of operation, its run was cut short due to the COVID-19 pandemic. It reopened briefly in summer 2021 before shutting for good on September 28, 2021.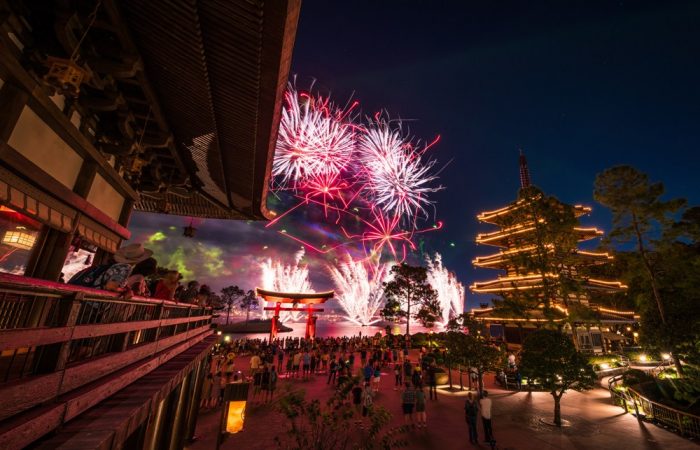 Epcot Forever celebrates all the musical sounds of classic Epcot – Veggie Veggie Fruit Fruit to Tapestry of Nations. The soaring music (pun intended) is set to children of the world singing, which sometimes either emotionally resonates or comes off as Children of the Corn. Fans were mostly positive about the show, with many enjoying the classic tunes but slightly disappointed the show ended with "A Whole New World" from Aladdin.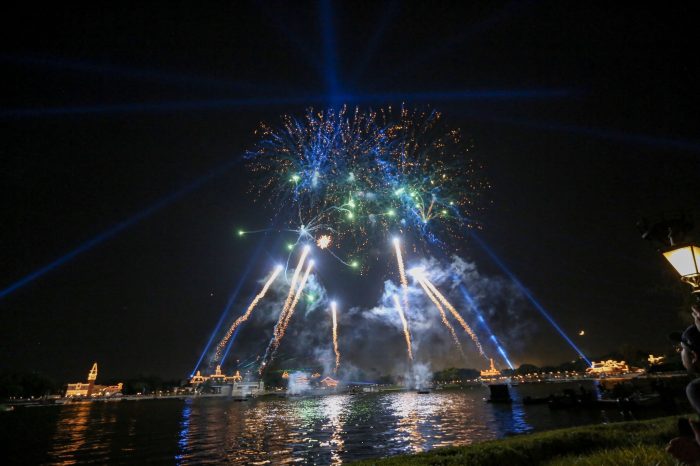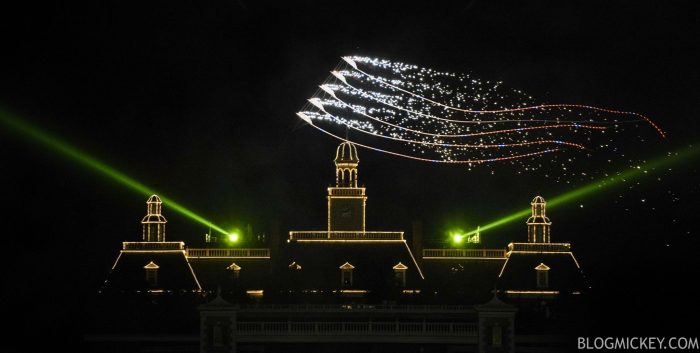 Forever used a lot of the same show infrastructure Illuminations, minus the fountain, inferno, and globe barges. Additional launch sites for fireworks were also installed among the islands in the middle of the lagoon giving the show more of a boom. The big new advertised feature was sets of illuminated kites pulled by jet skis around the lagoon. The kites were controlled by a second rider who would swoop, dive, and create patterns in the sky.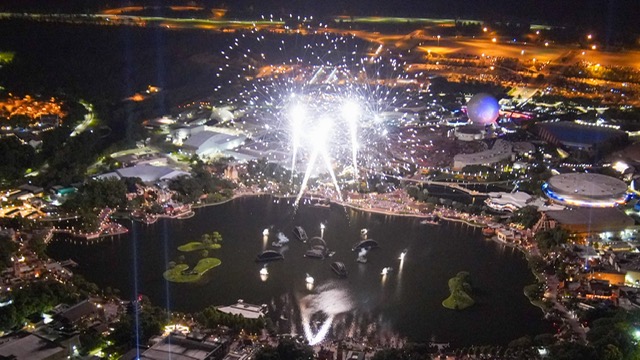 Oh, and the show had fireworks, of course. The show featured fireworks throughout the show, compared to Illuminations which mostly had them at the end of act 2 into act 3.
I never got to see Epcot Forever, or of the shows on this list really (ironically I WAS at the last night of Illuminations, the night before Forever debuted). Epcot Forever was a stepping stone between phases of Epcot, and in a way, it still is in that phase. Could we see Epcot Forever return if Harmonious goes down for retooling? Or is the past truly put away?
5 – Carnaval de Lumiere – 219 Days
Epcot opened with a nighttime show, bet you didn't know that.
Carnaval de Lumiere featured rear projected screens, fireworks, fountains, and lights all controlled by Apple computers. Not Macintosh, the original Apple II most likely. Anyway, sorry, side tangent from an Apple geek. Guests could only see the show between the Mexico and Canada pavilion, where the current Port of Entry gift shops are. Carnaval celebrated, well, the festivals around the world. Little actual media survives from the show, but we have a soundtrack.
Carnaval morphed into A New World Fantasy, which replaced Carnaval's festive music with new classical arrangements. Yet again this show morphed into Laserphonic Fantasy, which we actually have footage for courtesy of the folks at RetroWDW.
And that's really all we have about this short-lived show. If you consider Fantasy in the Sky at Disneyland and Walt Disney World the same show (minus their locations), then Carnaval is the second nighttime fireworks show Disney ever created. It is fascinating to see how humble Disney's nighttime shows began.
4 – Together Forever – 143 Days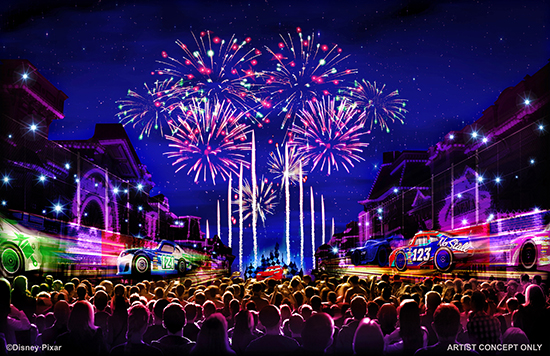 Together Forever is the odd man out on this list. It was relatively well-liked, it ran with no issues, and seemed destined to come back. And then… it didn't.
When I was doing research for this article I came across Together Forever and I had zero ideas of what this was. None. It could have been a Princess stage show that ran for two years for all I knew. This is more an indictment of Disney's crack marketing department having the same bag of words they pull from as if it's charades. What show is "Disneyland Forever"? Think it's the one with the Disneyland attractions on it? Oh no, you're thinking of Remember… Dreams Come True. Bonkers.
Together Forever debuted on April 13, 2018, as part of Pixar Fest, a summer festival created to celebrate the opening of Pixar Pier and the return of Paint the Night. The show used the new projection mapping installed Magic, Memories, and Merch You which allowed guests in New Orleans Square and Small World Mall to see the show.
Yo, I heard you like Pixar so we put Pixar in your Pixar. Seriously, this is an all-Pixar show with nearly every film released up till that time represented. It is actually easier to list the Pixar series not featured in the show: A Bug's Life. The projection mapping was accompanied by fireworks, fire, lasers, and Carl's house from UP replacing Tinkerbell over the castle.
It was a fun and well-liked show. It closed on September 3, 2018, and then… never appeared again. It is easy to see why a show created for a limited-time festival might go away, but Disney was on a Pixar kick with new lands debuting that year around the country. That it never showed up again during the Galaxy's Edge mess or at the Magic Kingdom is utterly bizarre.
3 – Light Magic – 101 Days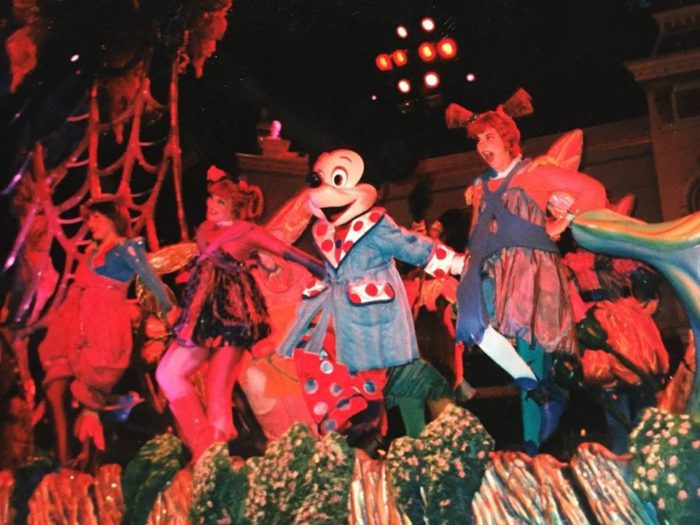 It is the mid-90s and Main Street Electrical Parade is slightly more than 20 years old. Disney's old faithful parade was seeing better days and guests were no longer staying around for the show, just like the long-in-the-tooth Tomorrowland. While Star Tours remained popular the circle vision film, Peoplemover, and Submarine Voyage were all underperforming plus the Carousel of Progress theater was deserted after America Sings was evicted.
A plan was concocted to hit two cans with one stone – replace Tomorrowland and the Main Street Electrical Parade in one fell swoop. Tomorrowland 2055, as it would have been called, would look forward to Disneyland's 100th anniversary when aliens would visit. Attractions like Timekeeper and Alien Encounter were originally destined for this new land in addition to a new thrill ride and other upgrades. Meanwhile, a new parade would act as a procession of these new alien visitors who just happen to be bioluminescent! How cool would that have been?
Then Disney opened EuroDisney Resort.
Cost overruns, low attendance, and empty hotel rooms lead to Eisner freaking out without Wells at his side. The Disney Decade, the name given to all the amazing plans for Disney parks around the world, stalled and died, taking Tomorrowland 2055 with it. A more modest Tomorrowland was proposed, one based on an "Agri-future" and lots of bronze. NEW New Tomorrowland opened in 1998 to mixed press. Some loved Rocked Rods, some liked Innoventions, and nearly everyone hated how it all looked.
The new parade was scratched, after all, why have aliens from a canceled land walk around Disneyland? So the development of a new parade started with a debut in 1997. Because this was the time Disney decided everything need an elaborate back story, Light Magic stars Tinkerbell and her fairy friends as they celebrate dreams with Disney characters. New lighting was installed at it's a small world and guest paths were widened. The coolest upgrade was the fiber optics woven through the Main Street shop facades.
With so much new infrastructure built, it must be amazing, right? Stories began leaking out of Disney that this new parade was a mess – over budget, constant creative meddling, and tons of technical issues. The parade debuted during an annual passholder $25 upcharge preview on May 13, 1997. Expectations were high.
I mean, how bad could it really be?!?!?!
The word on the street was disastrous, beyond catastrophic. Eisner's meddling, including deciding to add Irish step dancing after seeing Lord of the Dance, was infamous. The creative decisions were completely perplexing. They tried calling the parade a "streetacular" but it was just a rolling stage show. Floats came out at the Small World Mall, perform, roll all the way to Main Street, perform, then leave. If you were standing by the Matterhorn you were S.O.L.
The floats were covered in fiber optics to create awesome magic effects, which was pretty state-of-the-art at the time. But the floats themselves, they were hideous.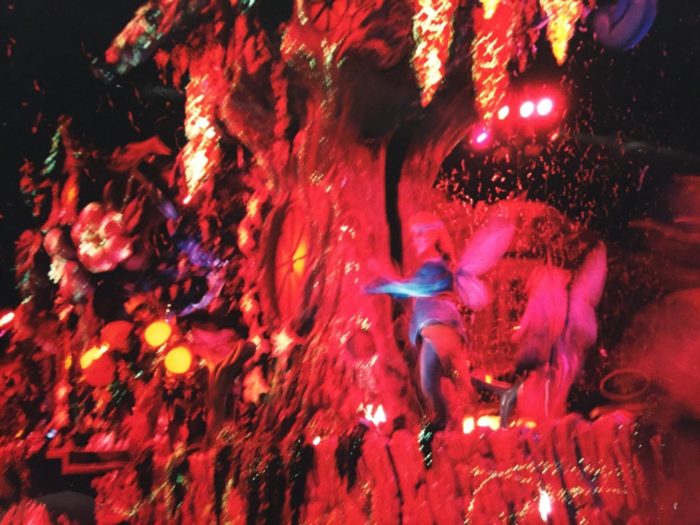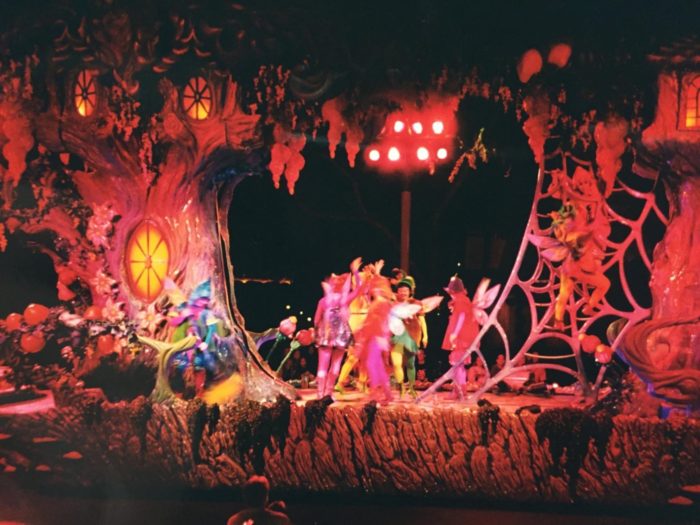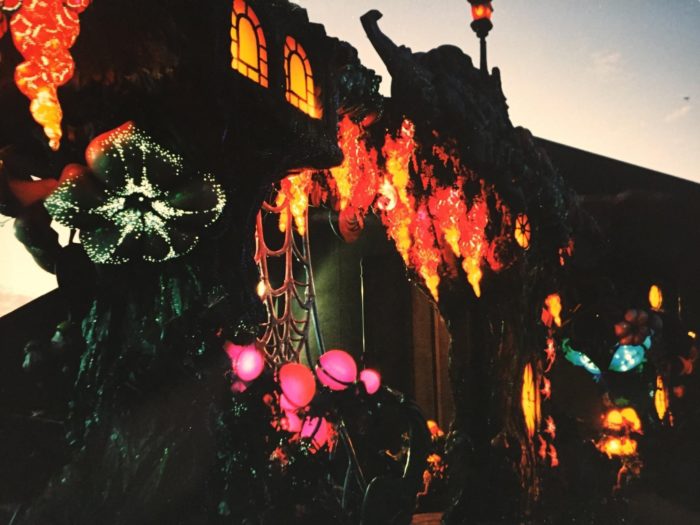 Tinkerbell's friends are wearing half masks that create a pointed ear-and-nose look which definitely sounded good on paper. The masks were removed shortly after opening night.
After some solo step dancing, all of our favorite Disney characters came out to… also step dance (Eisner REALLY liked River Dance). The main theme of the show was Dream our Dreams, which also likely came out of the Disney name marketing black hole.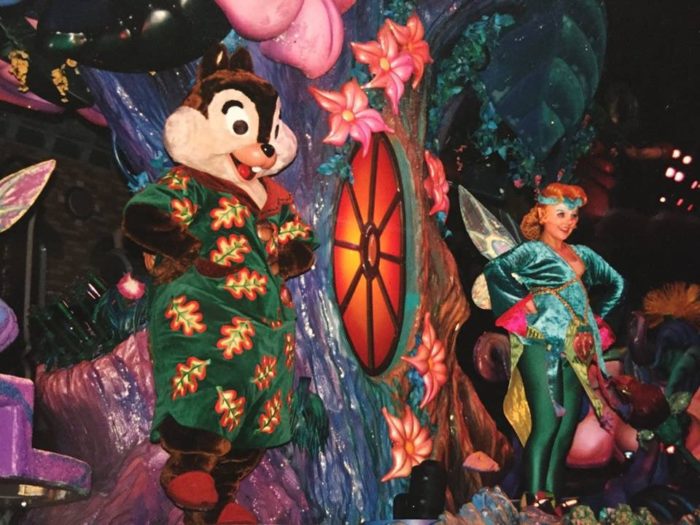 The Fab 5, Chip, Dale, and more donned their nightcaps and sleep shirts because of the theme of dreams. Or something? Despite having a "story" the actual plot of the show was pretty rough. Anyway, after some dancing, hidden screens would drop from the floats and an animated sequence would play as a break. The show closes with the theme tune again along with a huge cannon shoot of mylar confetti.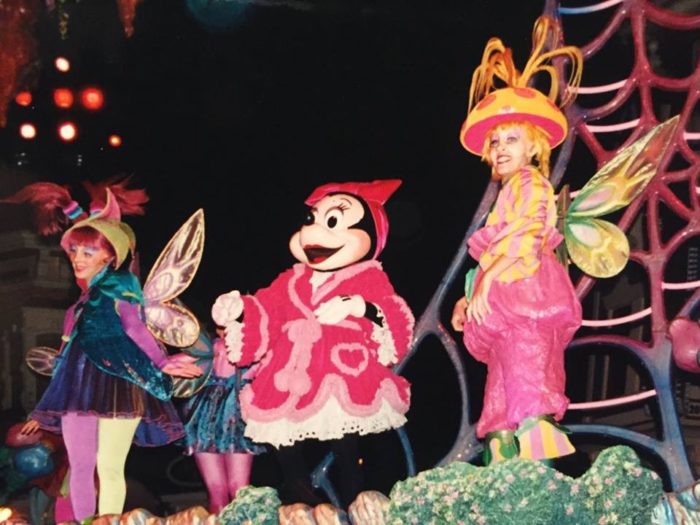 Light Magic was a mess, quite literally – the mylar confetti caused tons of slippage issues that noisy street sweepers followed the parade to clean up. Light Magic ran all summer to disappointed guests. Disney modified the ending music to include Baroque Hoedown from MSEP as a nod to the old parade and it just made guests angrier. Disney yeeted the parade on September 1, 1997, issuing a statement that the parade would be on hiatus till 2000.
The millennium came and went, with no information on Light Magic. It's easy to see why the thing bombed so hard they didn't use the word "Light" in any nighttime show… until 2017 with Rivers of Light.
2 – Jungle Book Alive with Magic – 100 Days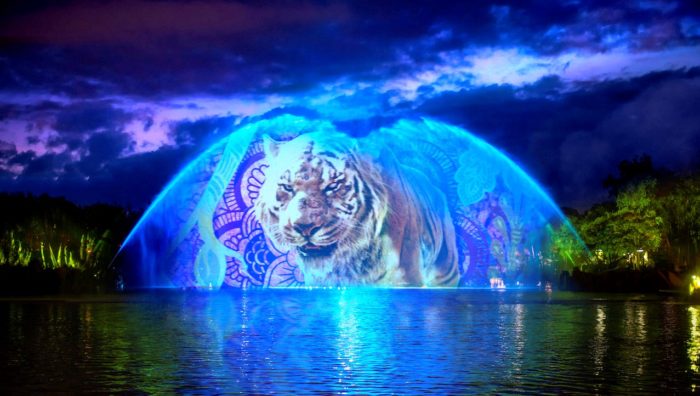 Animal Kingdom had a big problem. Its new marquee ride, Expedition Everest was making the mornings busier, but everyone still left before the dinner rush. This spread capacity and resources oddly across the resort plus Disney was losing revenue on a massive, expensive park to run. After Disney's successful refresh of California Adventure was shown to be a hit the same sort of project was rolled out for Animal Kingdom.
The goal was simple: keep guests in the park after dark. This is easier said than done due to one factor: ANIMALS. Loud, bright, and chaotic nighttime shows cause issues with animal habitats. So Disney modified and rolled out their Animal Kingdom redevelopment plan. First up would be new nighttime entertainment and a nighttime version of Kilimanjaro Safaris. The second part expands the food and beverage offerings with a major new restaurant and bar. Finally, the park is capped with a massive immersive land with a nighttime component.
It seemed flawless and a way to finally get put Animal Kingdom on the same footing as the other three parks.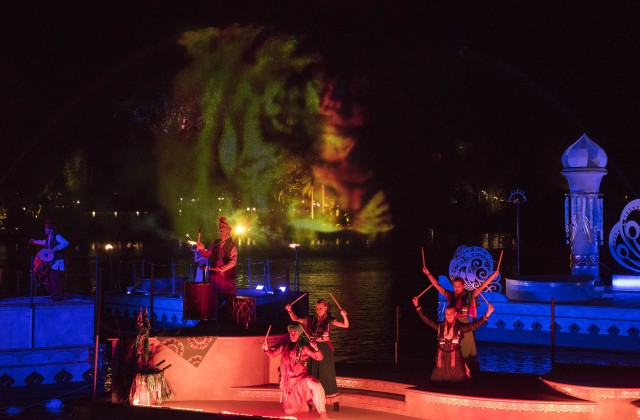 Well, it seemed flawless. Most of the project was massively delayed, including the massively hyped Rivers of Light nighttime show. Originally conceptualized as an animal-focused World of Color, the show morphed and changed to rafts and barges of dancers, musicians, fountains, and lanterns. Of course, Disney being Disney decided to make all these show elements DRIVERLESS so they are all controlled with computer tracking. This means huge complicated fountain units moving through choppy water. It was a recipe for disaster, and it was. The show was delayed from a spring 2016 opening till February 2017.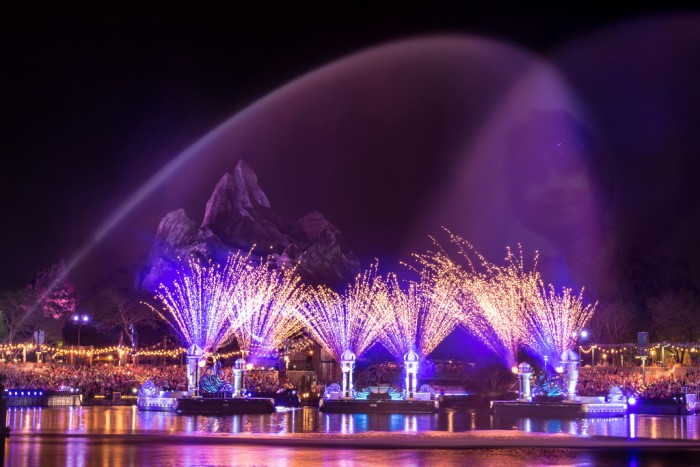 But Disney had a huge stadium ready to go, a summer period rush, a new restaurant with dinner packages to sell, and late-night hours to support. Well, the answer came from an unlikely place – Disneyland. Well, more specifically the barges used in their Fantasmic show. See the Rivers of America were down for its shortening to fit in Galaxy's Edge. Seeing an opportunity Walt Disney World took the barges and created a temporary show. Not just any temporary show, but one that would fit the Asian location of the theater and support a brand new movie – 2016's Jungle Book.
Alive with Magic was a short jukebox musical of hit Jungle Book songs as interpreted in an Indian style. The dancing segments were inter-spliced with footage from the movie on water screens behind the performers. At the end of the Bollywood dance segment, we get a short burst of pyro. Eat your heart out, Rivers of Light.
Guest genuinely liked the show but it could not last. Disneyland was asking for their barges back and Alive with Magic closed on September 5, 2016. A modified Rivers of Light, with the troublesome elements removed, debuted in February 2017. Before its ultimate closure during the COVID-19 shutdowns Rivers of Light was given one more chance at redemption through a modified show featuring characters from 2019's The Lion King. I guess some ideas never die.
1 – LuminAria – 66 Days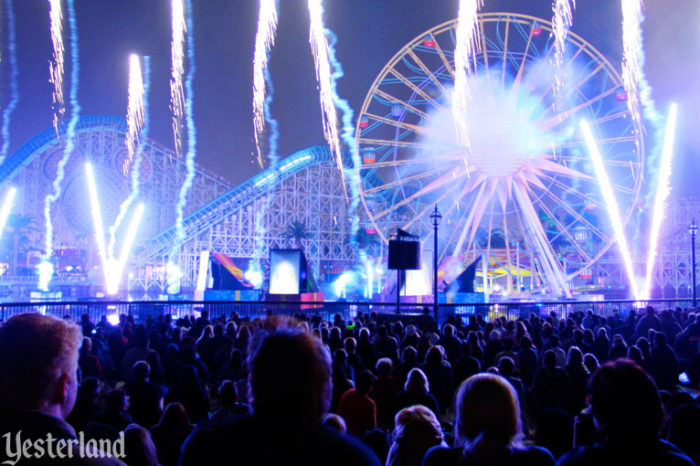 Disney California Adventure was the hip park, the park MICKEY vacationed. It was the park of surfboards, Hollywood, and extreme sports. It was also supposed to attract guests. DCA's opening year was beyond a failure, it was a full-blown 5-alarm fire of panic in Team Disney Anaheim. An active autopsy was performed and the cause of the issues was the park's bland appeal to families. Among several fixes proposed was a family-friendly holiday show.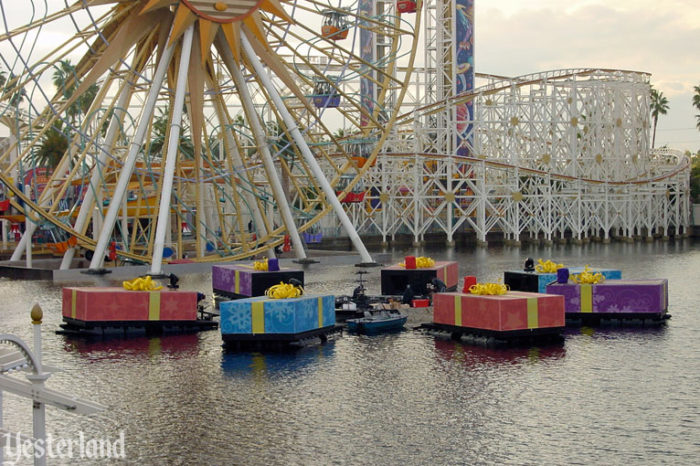 LuminAria was quickly put together, a small show on the Paradise Pier lagoon. The show combined fireworks, projections, lights, and a light tree to celebrate guests' creations. You see, the big hook for this show was the ability for anyone to create a gift card to add to the show.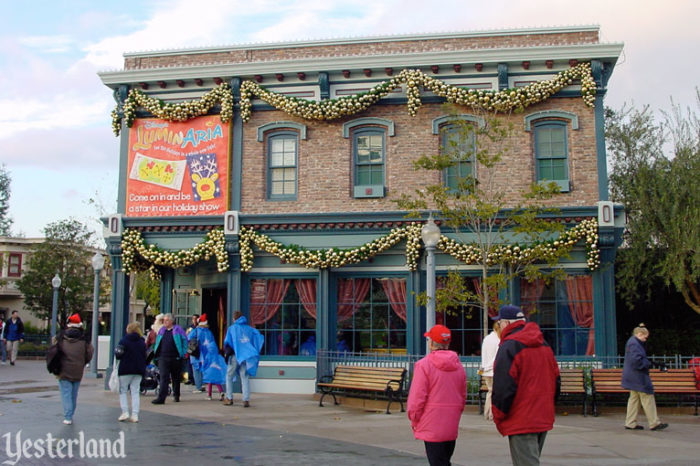 A building in the San Francisco portion of the park opened with all the supplies guests would need to decorate Christmas cards. Non-naughty cards were scanned into a computer and projected onto screens during the show. Sure this might not seem that incredible now but remember this was 2001!
The show took place in the middle of the Paradise Pier lagoon and unlike World of Color, the show was designed for viewing all around the lagoon. Gift package projector systems were set up in a circle around a barge full of fireworks, lights, and a telescoping tree. Classic holiday music accompanies the show in a fairly standard soundtrack.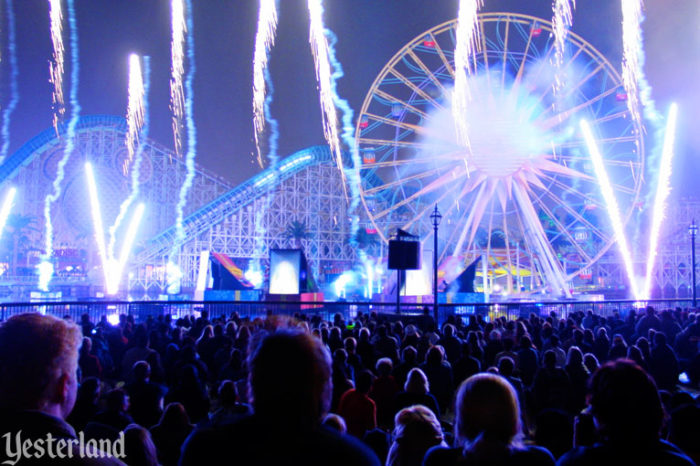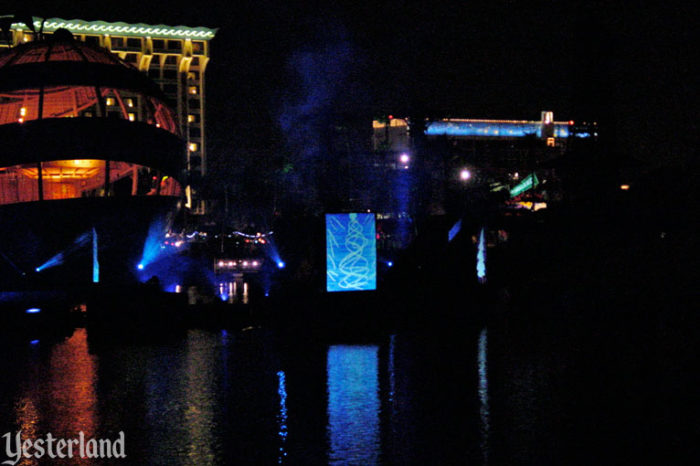 During the show, the gift packages would open and large projection screens would rise. Hey, that's pretty cool even today.
LuminAria was received with a big meh. The show was… fine? Ok? The cards were cool but there was very little wow. Problem number one was the firework smoke blocking the view of guests. The low-level pyro would shoot off then the fog would either drift into the audience or just linger. Then add on a lack of Disney characters or a solid gimmick and it was clear LuminAria's days were numbered.
At slightly over two months of operation, the shortest ran Disney nighttime spectacular is LuminAria.
So there you have it: The SATURDAY SIX Proudly Presents: Disney's SHORTEST RAN Nighttime SPECTACULARS! See you next weekend for the latest installment of the SATURDAY SIX. If you enjoyed yourself, be sure to check out the THEME PARK ENJOYMENT INDEX, giving a monthly recap of all the theme park news you need to know (and a lot more you don't need to know, but we're gonna tell you anyway). You can also follow Your Humble Author on Twitter (@derekburgan).
If you enjoyed this article, you will surely like the following: 
SATURDAY SIX Presents: The Disney Signage Hall of Shame
SATURDAY SIX Presents: The Disney Food Hall of Shame
SATURDAY SIX: Tribute to Josh easyWDW
Special Thanks to The Elite Brandon Glover, Digital Maestro Scott Walker, the bio-est of all reconstructs @bioreconstruct, Captain Cruiseline Scott Sanders of the world-famous Disney Cruise Line Blog, my personal protege Hunter "Elvey" Underwood, artist @SonderQuest, the mighty maven of merchandise Hedgehog's Corner, the SAT SIX Fun Squad of Parkscope Joe and "the Dadalorian" Nick, hot shot Michael Carelli, charter member of the Universal Four @Nitro230, the permit princess Alicia Stella, master cartographer Tommy Hawkins, and Hermione Granger's tutor Megan Stump for their invaluable assistance with this article. Absolutely no help was added by SeaWorld Influencer @SuperWeenieHtJr. The SAT SIX is inspired each week by goofballs Aengus Mackenzie and LitemAndHyde and you Potterheads will enjoy Meg's other blog work over at the Central Florida Slug Club.