Disney Data Dump September 13 2023
Friends!! We're back! I have to start off this week's post by thanking all of you that stopped me in the parks to say hi this past week. You truly made my trip better, and constantly put a smile on my face. My kids now think I'm famous, so I'm going to have to start re-adjusting their expectations. I'm glad so many of you also got to take advantage of the sunny and uncrowded days in the parks, and I hope you all had an excellent time on your vacations! I'm glad I don't influence enough people to actually tick the crowd levels back up when I tell people to go visit now 🙂
If you don't follow me on Instagram, head on over to see my posts that recap my family's park days. We accomplished a truly astonishing amount in our four park days. We visited each park once, and if we add up all of the numbers for just what I accomplished with my family during the day:
41 hours in the parks (including waiting for early entry to start)
74 attractions completed (plus Wilderness Explorers and the Caring for Giants tour)
77,750 steps in the parks
ZERO Genie+ purchases
Longest wait of the entire trip was 29 minutes for Slinky Dog Dash (which was down for almost 20% of the day) – or if you're my husband who doesn't have pre-check, 45 minutes for security at MCO
Most surprising wait was 17 minutes in standby for Rise of the Resistance
Double bonus round: On our rest day (9/7), the 1 pm TRON virtual queue was still open at 7 pm, so I rushed to Magic Kingdom and scored a boarding group at 7:45 pm!!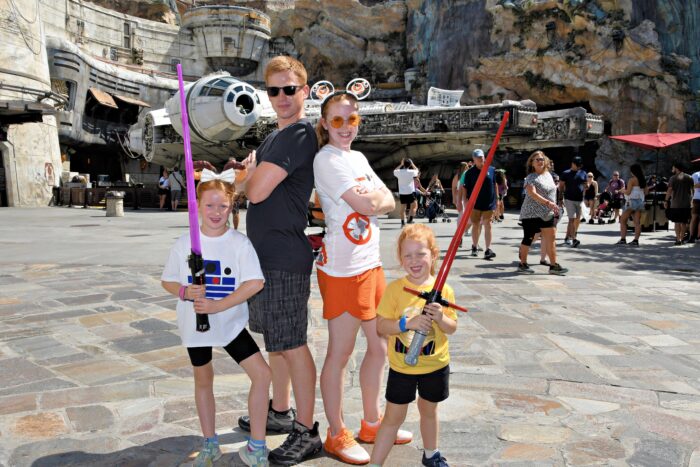 Observed Crowd Levels August 29 – September 11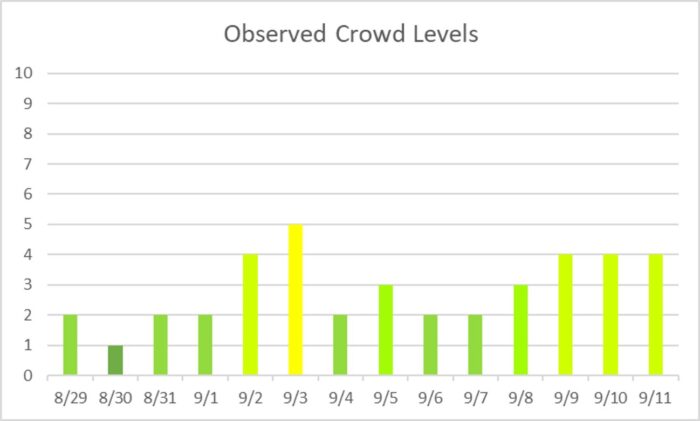 Oh hiiiiiiii September and all of you lovely green bars! We even saw an exceedingly rare crowd level one day on August 30th! And while the Sunday of Labor Day popped up to a crowd level 5, otherwise things are staying nice and below average. More on that string of crowd level four days below … try to hypothesize what is the driving force!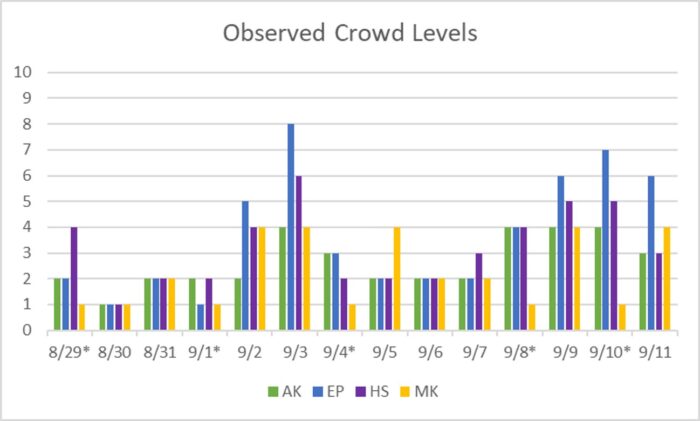 Lots of low crowds. Other than Labor Day weekend. And then starting on September 9th, EPCOT just jumps up the charts. There are a few driving factors here. First, EPCOT is always popular on weekends during Food and Wine festival. Second, Journey of Moana is ramping up its previews, which brings more people into the park. First was cast, then Club 33 and Destination D23 attendees, and soon Annual Passholders too. The line to get into Moana got visibly and noticeably long over this past weekend, and most of those folks are just doing Moana and then leaving the park. The Figment meet and greet was also introduced on the 10th, and immediately drew crowds 3-5 hours long. Again – those people generally aren't just standing in line for Figment. It's drawing more people to the park that wouldn't have otherwise been there.
But in general – the weeks before and after Labor Day are generally the low-crowd sweet spot. Mid-September is still low, but it's not surprising that things are already picking up a little again.
Performance of Crowd Level Predictions
Each week, I'm giving you a very transparent look into how our crowd level predictions performed. Each day at each park is one data point, so in the past two weeks we have 56 different crowd level predictions to evaluate. Any time a prediction is within one or two crowd levels, things won't really "feel" much different than what we predicted. Being off by 3 or more crowd levels is where we'd like to be more accurate because you might feel that difference in wait times throughout the day.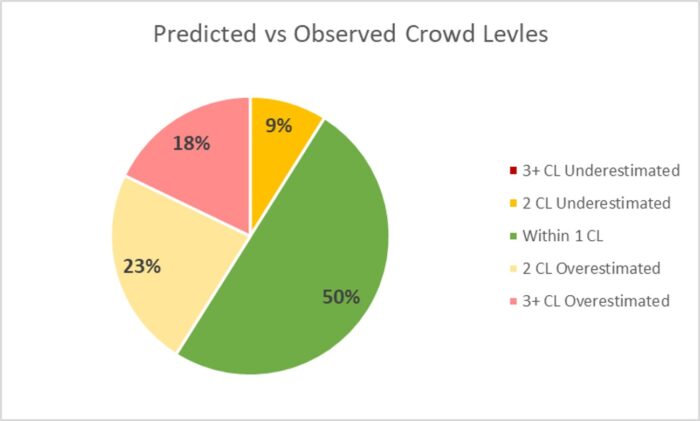 In the past two weeks, Touring Plans predictions were either spot-on or within 1 crowd level just 50% of the time. This is significantly worse than any performance we've seen since the crowd calendar update this summer. 82% of the time Touring Plans predictions were within 2 crowd levels, and that means we earn a B- for our predictions these past two weeks. The biggest misses of the past two weeks overestimated crowds by four crowd levels, and that happened four different times – twice at EPCOT and twice at Hollywood Studios. But if you follow my blog regularly, you know crowds were going to be really low. These overestimates shouldn't be surprising to you.
Attraction Downtime August 29 – September 11
If we average all of the capacity lost due to unexpected downtime over the past two weeks, it comes out to 4.6% of attractions unexpectedly being down. Ever-so-slightly down from the last week we looked at. The park with the biggest issues was Hollywood Studios, with 6.6% of its capacity lost due to unexpected downtime. This was followed by Magic Kingdom, with 5.6% downtime.
The worst day for attraction downtime in the past week was on August 30th. On that day, 8% of all capacity at WDW was lost due to unexpected downtime. The worst park-day of the week was at Hollywood Studios on September 3rd. On that park day, a truly terrible 18% of the capacity was lost at Hollywood Studios due to unexpected downtime. Hollywood Studios was open for 12 hours on the 3rd, so 18% downtime is the equivalent of the whole park being down for over 129 minutes. That's like the park choosing not to open until 11:10 am instead of 9 am.
Attraction Downtime Worst Offenders
The worst offender of the past week was Space Mountain, which was unexpectedly down for 21% of the past week. It was followed very very closely by Rock'n'Roller Coaster, which lost 20.5% of its capacity to unexpected downtime for the week. The worst day for Space was on September 6th, when it was down 99% of the day – only opening briefly for a few minutes around 9 am. And there were plenty of other days where it hovered around 40-50% downtime too (including the day my family was in the park – September 8th – when it had 57% downtime).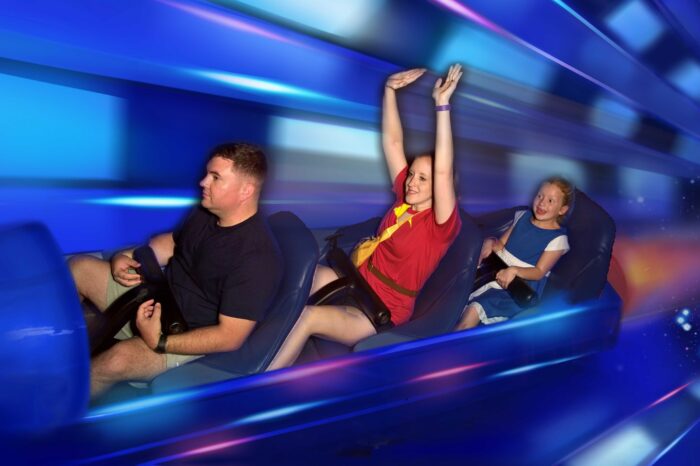 Rope Drop Downtime
Here are this week's problematic offenders:
Magic Kingdom: Space Mountain (unavailable for 29% of its first hour of the day), TTA PeopleMover (unavailable for 18% of its first hour of the day), Big Thunder Mountain Railroad (unavailable for 16% of its first hour of the day)
EPCOT: Test Track (unavailable for 18% of its first hour of the day), Journey into Imagination (unavailable for 16% of its first hour of the day), Frozen Ever After (unavailable for 14% of its first hour of the day)
Hollywood Studios: Slinky Dog Dash (unavailable for 26% of its first hour of the day), Rock'n'Roller Coaster (unavailable for 16% of its first hour of the day), Tower of Terror (unavailable for 14% of its first hour of the day)
Animal Kingdom: No rope drop downtime issues!
EPCOT and Hollywood Studios continue to be problems. At least at Magic Kingdom you have options when a big headliner goes down. If Test Track and Frozen are both down at EPCOT, it's a bad morning. On our Hollywood Studios day, the park opened well before early entry, so I followed my own advice and headed straight for Rise … which was down. Then we went to Slinky … which was having a "delayed opening". We ended up defaulting to Toy Story Mania and Millennium Falcon, but ouch.
Wait Times August 29 – September 11
Attractions with the Highest Average Posted Wait at each park
You will be hard-pressed to find any week of the year where the posted wait times at these attractions is any lower. And keep in mind that these are posted wait times – actual wait times are frequently much lower. Especially on lowest-crowd days when not many people are purchasing Genie+ … more on that later!
Parks with the Highest and Lowest Average Wait
These parks likely won't change week-to-week unless something ridiculous happens, but these data points will give us a high-level view of how wait times are trending from week to week.
Highest: Hollywood Studios, average park-wide posted wait of 29 minutes (40 minutes two weeks ago)
Lowest: Magic Kingdom, average park-wide posted wait of 19.5 minutes (23 minutes two weeks ago)
Hollywood Studios having an average posted wait of under 30 minutes is totally next-level crazy-bonkers. Think about all of the posted waits at Rise, Slinky, Runaway Railway, Tower of Terror, Rock'n'Roller Coaster, Millennium Falcon, Red Carpet meet and greet … etc. And what do they have to balance them out? Saucers, Muppet*Vision, Star Tours, Toy Story Mania, and Racing Academy? Plus lower-tier meet and greets. That number means a LOT of low wait times at headliners.
And under 20 minutes at Magic Kingdom is also great – but it hides the really spectacular days. On party days the average posted wait for all of Magic Kingdom is just 15 minutes. Which means the average actual wait is more like 7 or 8 minutes. For any attraction.
Most Inflated Posted Wait Times
We all know that Disney inflates their posted wait times on purpose. They have many reasons for doing this. Some are totally understandable, and some are potentially more problematic. We can figure out how much posted wait times are being inflated by comparing submitted actual wait times from the Lines App and the posted wait time when the person timing their wait entered the line.
Over the past two weeks, actual wait times in the Lines App averaged just 60% of what was posted. This is quite a bit lower than our historical average. That means posted wait times were even more inflated than usual in the past two weeks. If the posted wait time was 60 minutes, you could've expected to wait only 36 minutes instead.
Since I was in the parks, I have a hypothesis. On an average park day, about half of all guests are purchasing and using Genie+. That number was obviously and noticeably much lower the week of Labor Day when crowds and wait times were so low anyway. There wasn't much need to pay more to use Genie+. If I had to hazard a guess, I would say maybe a third of guests could have been using Genie+. Fewer Lightning Lane users means Standby lines that move faster than expected. So my guess is that Disney didn't adjust particularly well or quickly to the faster-moving Standby lines, and had more inflated posted waits as a result.
The worst offender for the past week is The Barnstormer. At this one attraction, submitted actual wait times were 38% of posted wait times in the past week. That means that if The Barnstormer had a 20 minute posted wait, you probably would've waited less than 8 minutes instead. Almost a third of what was posted. Remember to always check the Lines app for predicted actual waits instead of believing what is posted.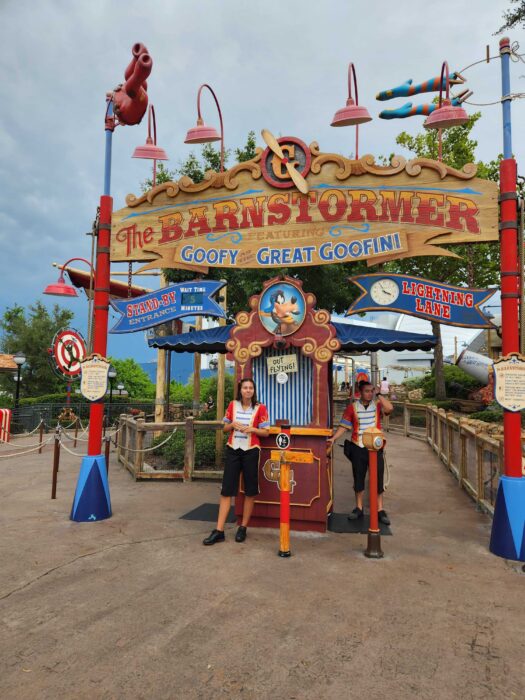 Actual Wait Time Rock Star
Since we've had two weeks pass since the last article, we'll have two rock stars this week, one for each of the 7 days!
The Actual Wait Time Rock Star for two weeks ago was … flandersb, who submitted 69 actual wait times through the Lines App over those 7 days! This includes 42 Lightning Lane waits, 24 Standby waits, 2 Single Rider waits and 1 Virtual Queue wait. Thank you for all of that timing, flandersb!
The Actual Wait Time Rock Star for last week was … brandybear1017, who submitted 65 actual wait times through the Lines App over those 7 days! This includes 32 Lightning Lane waits, 29 Standby waits, 1 Single Rider wait and 3 Virtual Queue waits. Thank you for all of that timing, brandybear1017!
That's right – even when I did my best to compete to win my own prize … I fell short. I only had 56 timed waits during my trip, and you all showed me up.
Neither winner made it to the all-time record of 78 recorded wait times in a single week, currently held by psymonds.
Looking Ahead: September 12 – 18
I scared all of the storms and rain away while I was in Orlando last week, so you're welcome for that. It's because I took up precious luggage space for ponchos. That always guarantees that it won't actually rain. But now that me and my ponchos are back home in the midwest, daily storms are back in the forecast. So have that rain/lightning backup plan in place for your park days!
Otherwise, it's a pretty uneventful week. EPCOT may stay a little busier than usual as people process through Journey of Water and meeting Figment. And Halloween parties are starting to get a little more frequent, which leads to Saturday being sandwiched in between two party days, leading to higher crowds on the one weekend non-party day.
But if you're headed to the parks next week, you're still travelling in September, which is always the right choice for avoiding crowds. Enjoy your quick waits 🙂