12 Ways You're Wasting Money During Your Walt Disney World Vacation
Disney World vacations are notoriously expensive – just getting into the park is going to cost you at least $100 per person. Here are some things you may be doing that are adding unnecessary expense to the cost of your trip.
1. Paying for water. You absolutely need to hydrate when you're trekking through the Disney theme parks, but you don't need to pay $3.50 for a single bottle of Dasani in the parks. Stop by any quick service restaurant at Walt Disney World and they'll give you a free cup of ice water. You can also fill a reusable water bottle at a drinking fountain or restroom sink. If you're not excited about the taste of Florida water, bring a small container of flavoring.
2. Being unprepared for the rain. If you're visiting Disney World during the summer, it will rain. Buying spur-of-the-moment ponchos in the parks will cost $10-12 per person. Instead, bring a light rain jacket from home and you won't have any additional expenditure.
3. Visiting during the wrong time of year. Walt Disney World theme park admission prices vary seasonally – ranging from a base price of $109 per day (for adults) on most weekdays in September to $159 per day during Thanksgiving and Christmas weeks. If you have school-age children, those September dates might not be realistic for you, but you might be able to choose late August vs. early August and read savings of more than $20 per person, per day.

4. Renting Disney strollers. The Disney World rental strollers cost at least $13 per day. You can find reasonably sturdy umbrella strollers for about $40 at places like Target or Walmart. Umbrella strollers are even sold at most WDW resort gift shops. If you're going to use a stroller for more than three or so days, bring your own. You can use the stroller at your hotel in addition to the parks (the rentals can't leave the theme parks) and you'll come our ahead financially. If you don't want to keep you purchase, offer it to another family arriving as you're departing.
5. Not sharing meals. Adult meals at WDW's quick service restaurants are often large enough to share. During a recent trip, my daughter and I both ordered the grilled cheese sandwich at Woody's lunchbox at Disney's Hollywood Studios. The sandwich was delish, but so dense with cheese that neither of us finished ours – could have easily shared, saving us $10.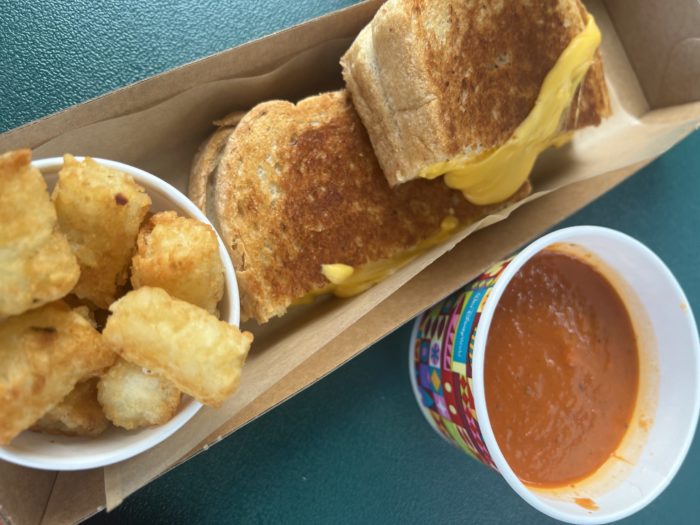 6. Buying Genie+ during every day of your trip. Our Genie+ expert Becky Gandillon has done the math (lots and lots of math) and sussed out how much time you're likely to save at each attraction using a Genie+ reservation vs. the standby line. Take a look at her numbers and think about the types of attractions you're likely to do in each park (do you like roller coaster? how tall are your kids?). You may not need to pay for Genie+ during every day of your trip.
7. Selecting a preferred room. Many of the Disney World resorts offer several room classifications within the hotel. For example, during one week in July 2022, there are four different rates for rooms at Pop Century resort. The rooms are all identical, the difference is in the placement of the room within the resort. Save up to $30 per day by walking for an extra 2-3 minutes to get to the food court. Also note that Disney charges more for rooms with a pool view. If, however, you have a baby that needs to nap during the day, being near that noisy pool may be problem that you're paying extra to endure.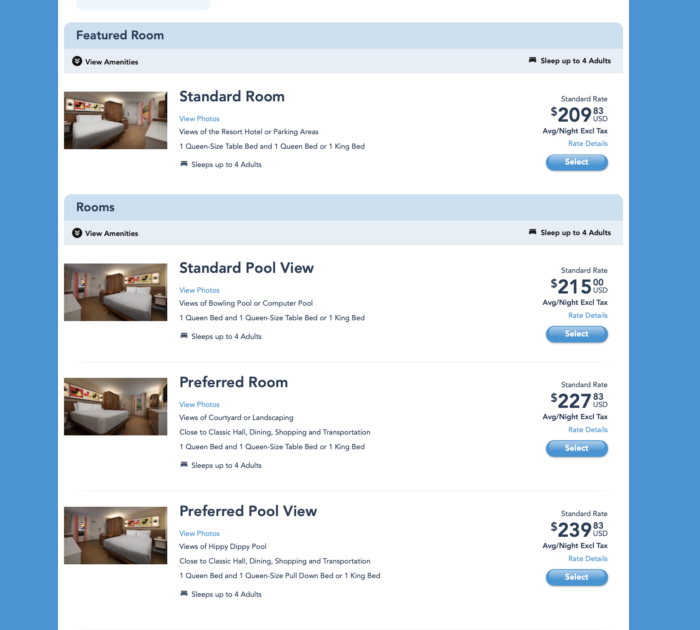 8. Planning a no-park day. This one seems counterintuitive, but hear me out. The longer you stay at Walt Disney World, the less each park admission costs. For example, for park admission beginning on May 20, 2022, an 8-day WDW theme park ticket costs $606 per adult. A 9-day park admission ticket costs $620 per adult – a difference of only $14. If you take a "no park day" you'll almost certainly spend more than $14 going to the movies, playing mini-golf, parking at the beach, or bowling at Splitsville. Being chill could be more expense than taking another lap through the Magic Kingdom.
9. Buying MagicBands. MagicBands were a no-brainer back when they were free for all WDW resort guests. But now Disney is charging for bands – typically $20-40 each. You can do everything a MagicBand does with your phone or a plastic card – at no additional charge.
10. Not asking for discounts. There are sometimes discounts available for hotel rooms, dining and merchandise for certain categories of guests including Florida residents, military personnel, AAA members, and those with a range of Disney affiliations. Unfortunately, in many cases, Disney cast members won't tell you about these discounts unless you ask. ALWAYS ask if there are reduced rates available — you may get lucky.
11. Forgetting to cancel meal reservations. Disney makes you give a credit card number every time you make a table service meal reservation. The fine print on the reservation tells you that you'll be charged a $10 fee per person if you fail honor the reservation or cancel it less than 24 hours in advance. With all the hullabaloo that happens during a Disney visit, you can easily forget to cancel reservations you don't need. Here's a couple of pro tips: 1) As long as at least one person shows up at the restaurant, you won't be charged a penalty fee. For example, if you have a reservation for six people, but only two feel like dining, you won't be charged a $40 penalty. 2) If you're within the 24 hour window, but decide you can't honor your reservation, try stopping by the restaurant podium and kindly explaining your situation. Nine times out of ten, we've have our penalty forgiven.
12. Not setting a souvenir budget in advance. Guess what – many rides at Disney World really do exit through the gift shop. This can be a form of minor torture for kids (and adults) who tend to want everything they see. Setting a budget and realistic expectations about souvenir expense – in advance – can help prevent meltdowns and frivolous expense. At the very least, try to focus on souvenirs such as clothing and kitchenware that have long term utility.