Sci-Fi Dine-In Review: Cheesy Movie and Burger Goodness
Part of our day-to-day in-park research includes revisiting restaurants to ensure our dining reviews are up to date.  A few days ago I had the opportunity to tag along with Christina as she ate lunch at Sci-Fi Dine-In at Disney's Hollywood Studios.
Sci-Fi Dine-In Setting and Atmosphere
Whether it's the 50's Prime Time Cafe or the Hollywood Brown Derby, theming is probably the strength of most sit-down restaurants at Disney's Hollywood Studios.  That's also true of the Sci-Fi Dine-In, where the setting is an outdoor drive-in, the dining tables sit inside miniature cars, and you eat while watching 1950's-era newsreels, plus movie trailers involving all manner of oozing space alien and atomic-age mutant.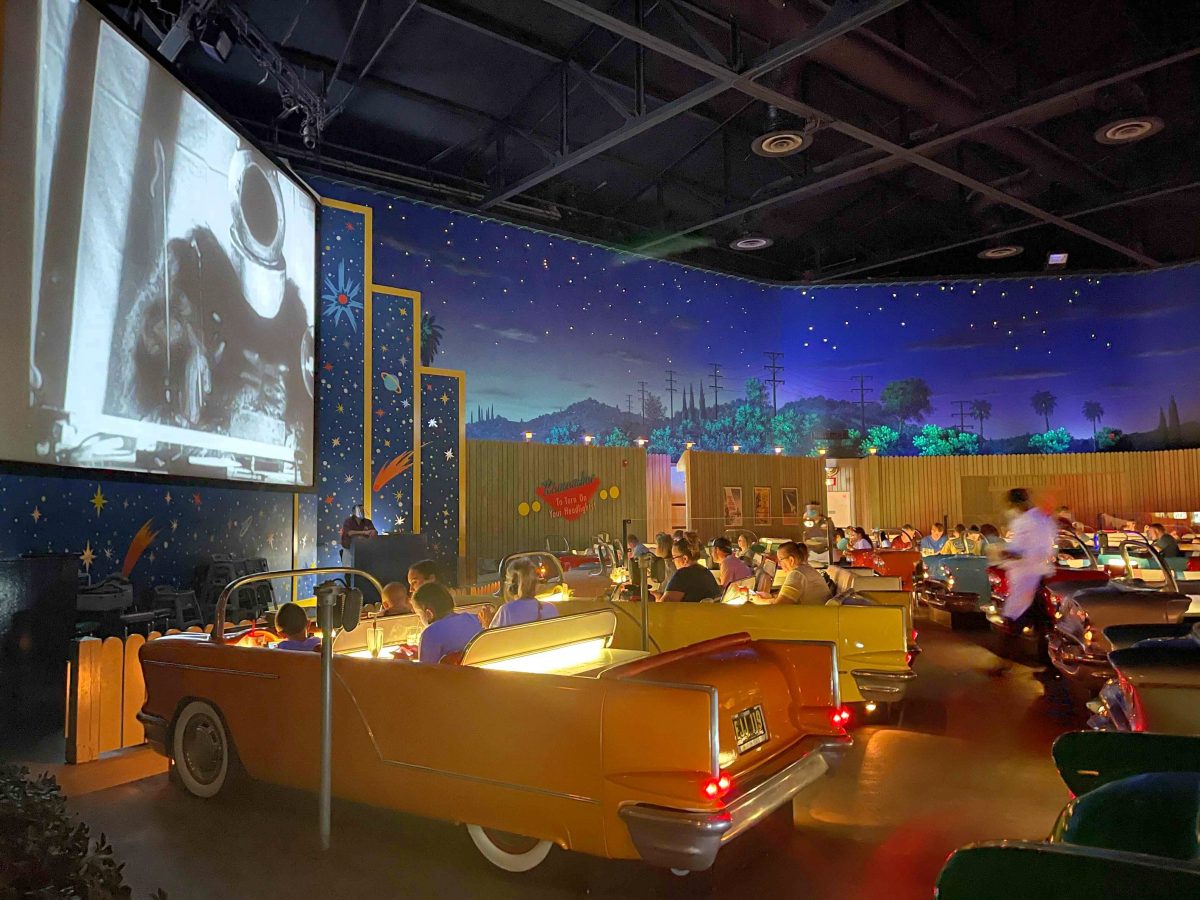 Sci-Fi Dine-In Menu
Burgers feature prominently in Sci-Fi's menu, taking up 6 of the 9 spots on the entrée list (including one special of the day).  I could see myself ordering the Buffalo Chicken Salad or the Oven-Roasted Turkey Sandwich for lunch.  I'm not sure how many people will want to order the Pan-seared Shrimp or Chicken Pasta, especially now that it's routinely 90 degrees every day in Orlando.
One thing to note: We were told that Sci-Fi's menu will change on May 1, 2021, and that the burger line-up, in particular, will be revamped.  We'll be back for another review once the kitchen is familiar with the new features.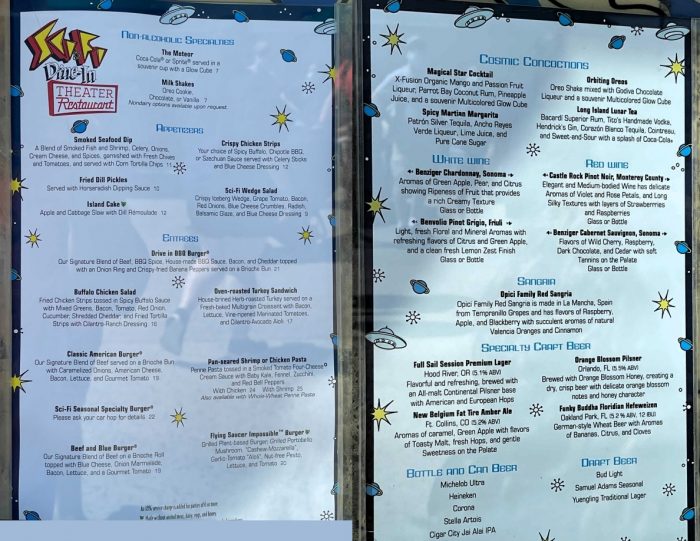 Our Dining Experience at Sci-Fi Dine-In
We ordered two appetizers, one burger, one kid's meal, and two desserts for lunch.  The two appetizers were the Smoked Seafood Dip ($11) and the Island Cake ($12).  Of the two, the Island Cake is the better choice.  The Island Cake is a plant-based version of a crab cake, made from apple and cabbage slaw, and seasoned with dill and what tasted like Old Bay spices.  It looks like the Island Cake was lightly fried on a grill, and it was surprisingly light and tasty – we were hard-pressed to say it didn't contain crab meat.  We'd definitely order this again.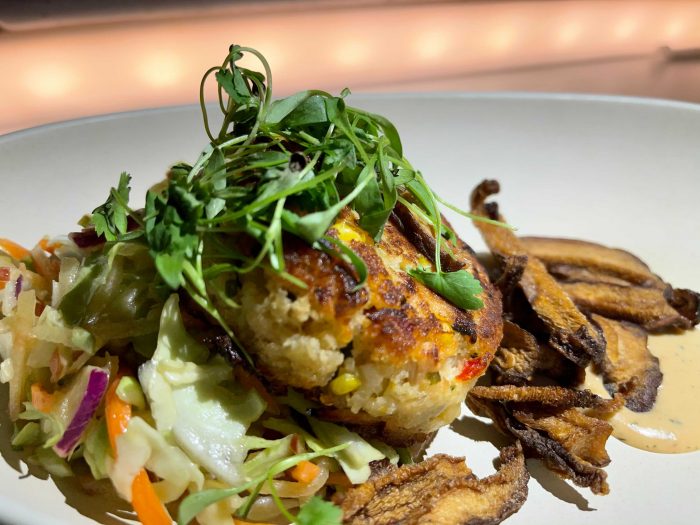 On the other hand, the Smoked Seafood Dip was heavier, and too smoky in its seasoning. While it came with tortilla chips for dipping, we finished neither, and wouldn't order this again.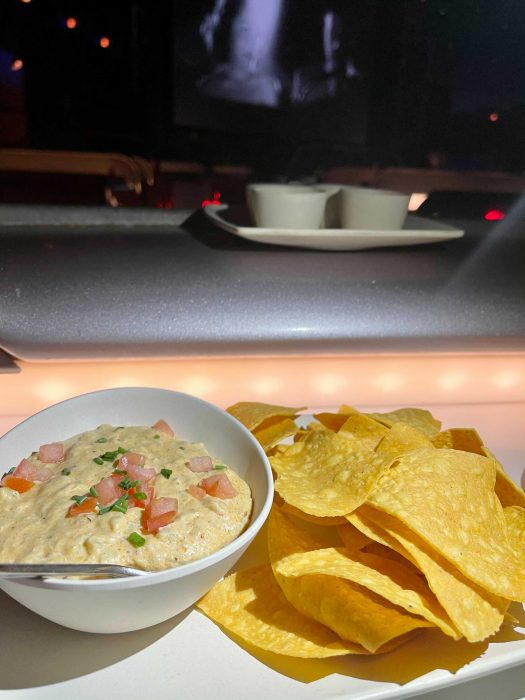 Our two entrées were the kid's Beef Skewer ($12), which came with two selections of either sides (green beans and carrots, mashed potatoes, corn on the cob, or sliced apples) or desserts (fruit salad, ice cream sundae); and the "burger of the day" special, a Bacon Cheeseburger with Pimento Cheese ($24).  We opted for onion rings as a side, which was a great choice.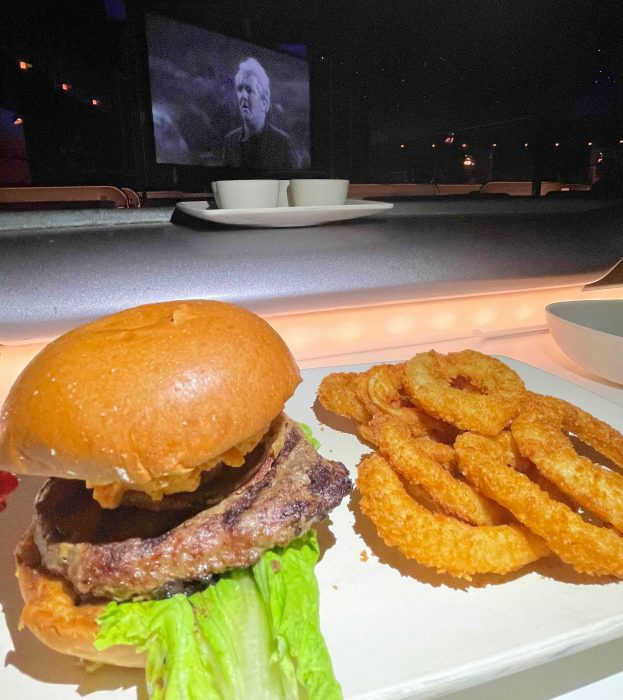 This pimento cheese-and-bacon burger was almost certainly the best option on the menu.  The burger was juicy, and the pimento cheese added a zing that cut through the meatiness.  The onion rings were crispy and delicious, and we recommend these over the fries.
The kid's beef skewer was a single 6″ stick of sirloin steak, with two scoops of mashed potatoes.  The steak was cooked medium-well (we didn't get a chance to specify a temperature), and was tasty.  The mashed potatoes are home-style, with a nice bit of texture.  We thought it was an appropriate amount of food for most children ages 3-9.  If you're an adult and you just want something light, this would absolutely work as an entrée.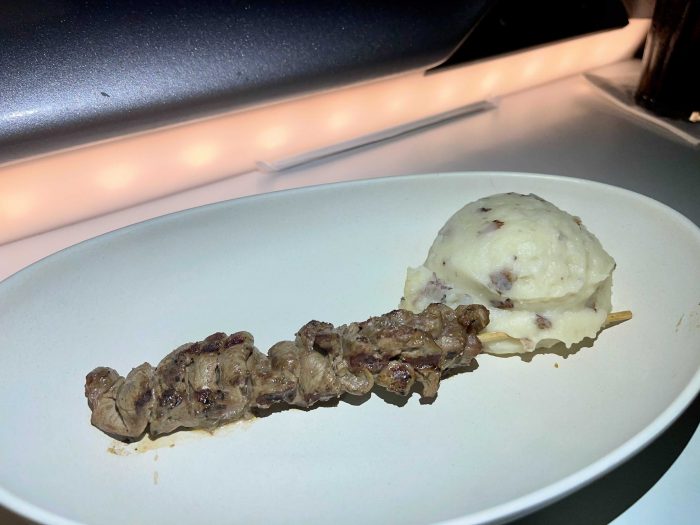 Desserts were the highlight of our meal.  We ended up with three: the House-Made Sci-Fi Candy Bar ($9), the Warm Glazed Doughnut ($10), and the kid's sundae.
The House-Made Sci-Fi Candy Bar is layers of cookies-and-cream mousse, chocolate ganache, and chocolate sauce. served chilled.  It was rich, yet light, with a nice balance of sweet from the mousse, and bitter from the dark chocolate coating.  It's also big enough to share between two adults, especially if you're at lunch and staying in the park for the rest of the day.  For variety, I would've liked to have the ability to substitute a berry or caramel sauce for the chocolate sauce, just to add a different flavor to this dessert.  As it is, it's still one of the menu's highlights.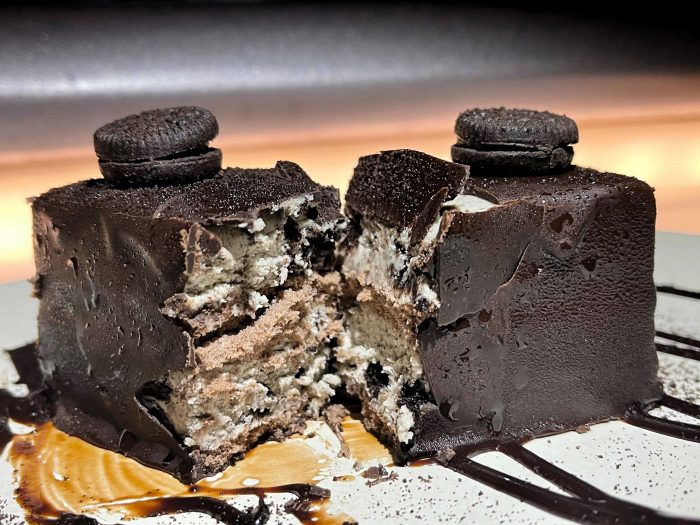 Our second dessert was the Warm Glazed Doughnut.  Perhaps because we were watching movie clips about UFOs in the background, the construction of this dessert reminds me of a delicious flying saucer speeding through clouds of warm cinnamon-infused apples, the scoop of ice cream on top functioning as the saucer's command center.  Or maybe that's just the sugar talking at this point.
The doughnut is a fluffy, super-sweet raised dough along the lines of a Krispy Kreme.  The apple base is served warm, and thankfully isn't as sweet as you'd expect.  Combined with the glazed doughnut frosting and the vanilla ice cream, all three flavors combine well.
The last dessert we tried as the kid's sundae, which was a scoop of vanilla ice cream. We asked for the chocolate sauce on the side. It's one small scoop of ice cream, which is probably the right amount of a child.  Ours came out half-melted, which wasn't a great experience.  It tasted as you'd expect – no surprises.  Here's what it looked like: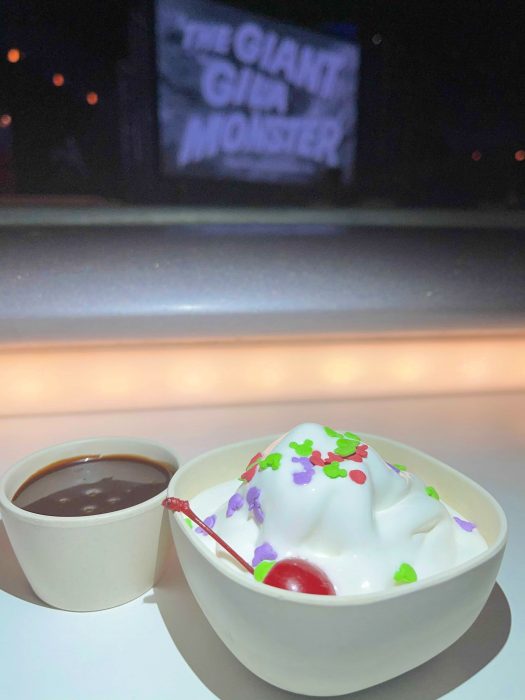 Sci-Fi Dine-In Ratings
In the past 6 months, Sci-Fi Dine In has earned an 88% thumbs-up rating on 269 reader restaurant surveys (confidence interval is +/- 4.4%).  That's average for Walt Disney World's sit-down restaurants, and up about 2 points from its 2019 rating.  After this meal, we think the readers are spot-on with this rating.
Our Dining Recommendations for Sci-Fi Dine-In
Going in to this meal, our advice for the Sci-Fi Dine-In was this:
We consider the Sci-Fi an attraction, not a dining destination: The concept is fun, but the prices are sometimes too high for what you get. Stick with simple fare, fill up on appetizers, or just order a shake or desserts.
After this meal, we'd amend this to say that splitting a burger and a dessert is also a good option.  For example, we'd happily split the bacon-and-pimiento cheeseburger and the home-made candy bar dessert.  That's not too much food, especially if you're going to spend the rest of the day in the parks (and in the heat), and the bill would be right at $40 with two sodas, before gratuity.
Sci-Fi Dine-In offers discounts to Annual Passholders (10%) and to those who still have Tables In Wonderland (18%, plus 18% gratuity).
Sci-Fi Dine-In's menu gets updated on May 1, and we'll be back soon after for another round of testing.