Sebastian's Bistro – A Wave of Caribbean Flavors
Sebastian's Bistro is one of the newer Disney World restaurants and recently reopened following the resort's COVID-related 2020 closure.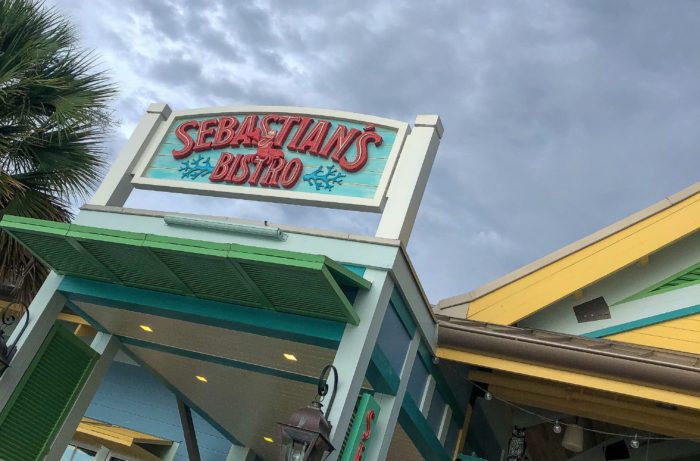 This tropical table-service restaurant is located at Disney's Caribbean Beach Resort and can be found along the Old Port Royale promenade.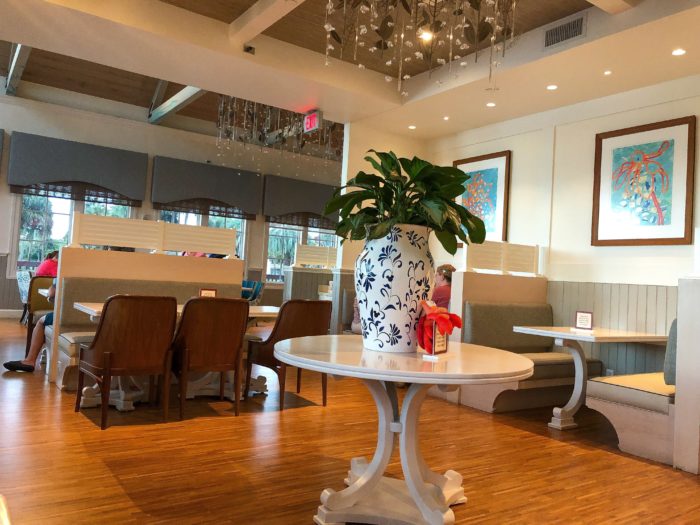 Here guests enjoy waterfront views and the resort's breezy, island-inspired atmosphere with a few touches from The Little Mermaid.
What You Need to Know
Sebastian's Bistro is only open for dinner and serves Latin and Caribbean inspired-dishes served family-style for $29 per adult and $17 per child. Annual Passholder and Disney Visa Cardmember discounts are accepted.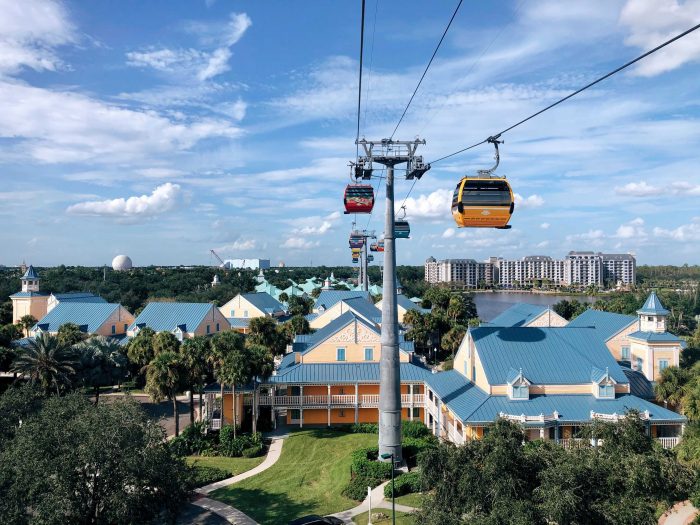 Disney's Caribbean Beach Resort also just happens to be a Skyliner resort making it even easier to visit from EPCOT or Disney's Hollywood Studios.
If Sebastian's Bistro is on your to-do list, advance dining reservations are strongly encouraged. But, if you're already within that 60-day window, consider using the TouringPlans Reservation Finder.
The Menu
Again, Sebastian's Bistro is a family-style meal meaning all items are brought to your table and your servers will provide more of an item upon request!
Buttery House-baked Pull-apart Rolls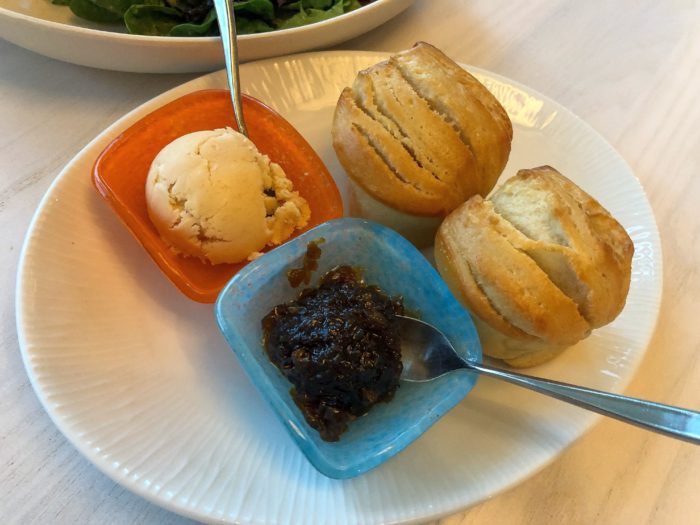 Served with Guava butter and caramelized onion jam, the buttery house-baked rolls, and their spreads live up to their description!
The only complaint? Our park reporter Ivonne said they looked a little underbaked in the center. Fortunately, the spreads were nice and creamy with a nice hint of guava flavor while the onion jam held a taste of sweetness with its onion flavor.
The Spice Necklace Salad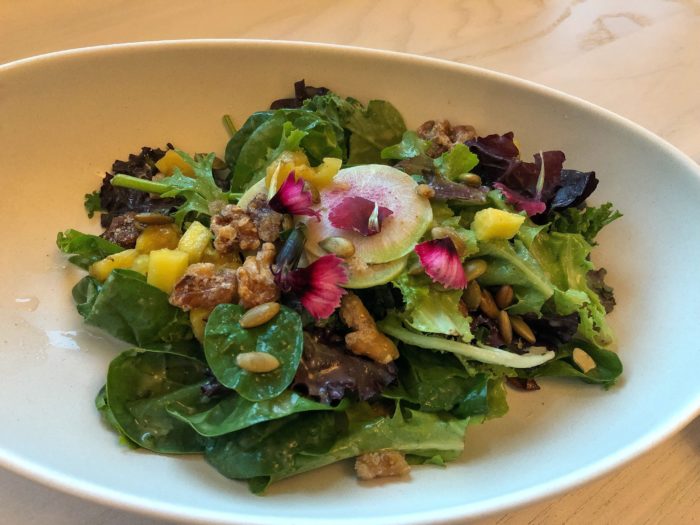 Listed as mixed greens and kale with toasted pumpkin seeds, grilled pineapple, orange, spiced candied walnuts, and radish with Key lime dressing, Ivonne really liked this salad! She says the key lime dressing was nice, light, and the salad itself was drowned in it which she appreciated. Ivonne also liked the addition of the roasted pumpkin seeds and walnuts for that extra crunch.
Taste of the Caribbean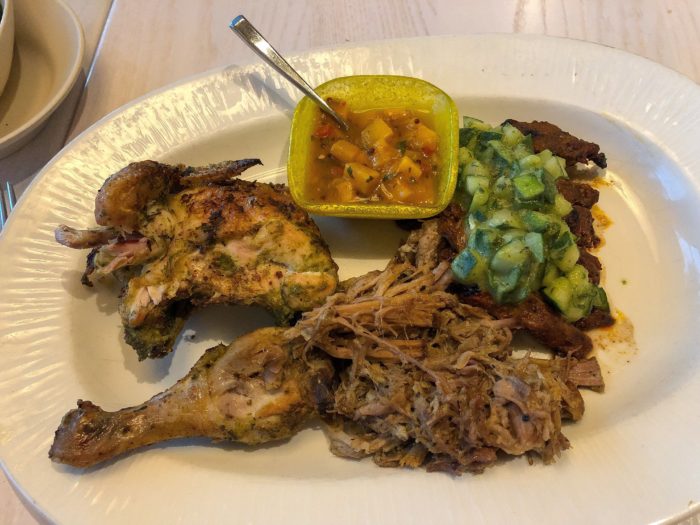 The meal's main course and sides, the Taste of the Caribbean consists of platters of oven-roasted citrus chicken, slow-cooked Mojo pork with mango sambal, grilled flank steak with mojito relish with cilantro rice and beans, vegetable curry, and grilled broccolini.
According to Ivonne, the oven-roasted citrus chicken was just okay. It was well-cooked, but nothing impressive and lacked flavor. She enjoyed the grilled flank steak more as it was tender, and the mojito relish on top gave it nice added flavor and freshness.
But of the three meats served at Sebastian's Bistro, the slow-cooked Mojo pork was her favorite. While delicious all on its own, accompanied with the mango sambal it's on another level. The saltiness of the pork pairs well with the sweetness of the mango.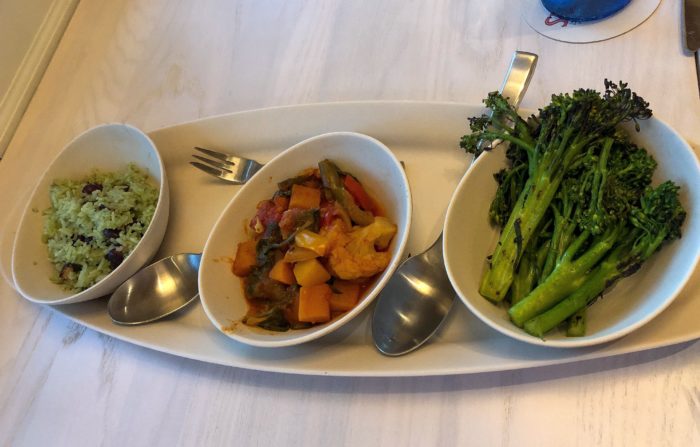 The cilantro rice and beans were fine. The rice was cooked well, but it didn't taste much like cilantro to her. However, the vegetable curry was surprisingly good! It was almost like a vegetable stew with a tomato taste she enjoyed and that went well with the meats.
In regard to the grilled broccolini, since it is grilled Ivonne naturally expected some char, but sadly it just tasted like plain broccolini with little to no seasoning.
Taste of the Caribbean Enhancement – $8.00
For an additional cost, you can also add fried coconut shrimp with a creamy chipotle dipping sauce to your meal.
Celebrated House-made Coconut-Pineapple Bread Pudding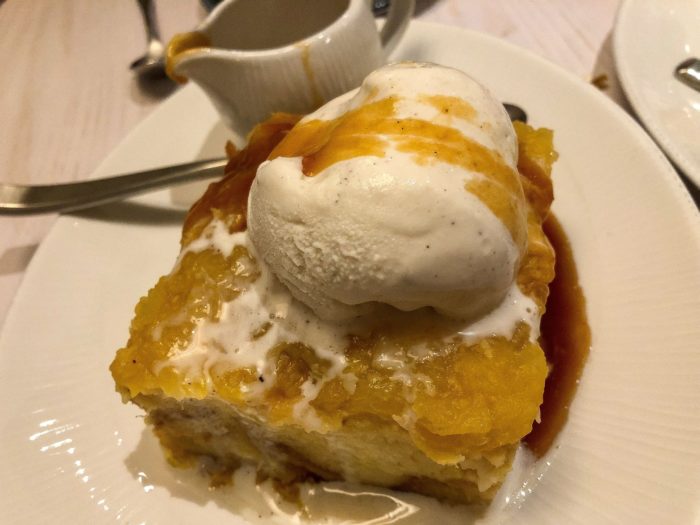 Served with caramel sauce and vanilla ice cream, Disney would have to put in real effort to make this sweet finale subpar; and just like the bread pudding from 'Ohana at Disney's Polynesian Village Resort, they drizzled caramel over the top!
Of course, Ivonne found the flavors of coconut and pineapple together delicious – like you're eating a pina colada, but better!
Taste of the Caribbean Plant-based Menu
The majority of Disney World's restaurants offer allergy-friendly and plant-based menus; and at Sebastian's Bistro, Ivonne sampled this dining destination's plant-based menu as well.
Ivonne enjoyed the plant-based rolls and thinks they may be the same as those served at the Beach Club's Cape May Cafe. They have a wheat flavor and chewiness that she enjoys. They're also served with plant-based guava butter that has a peanut butter-like consistency and the same caramelized onion jam from the main menu.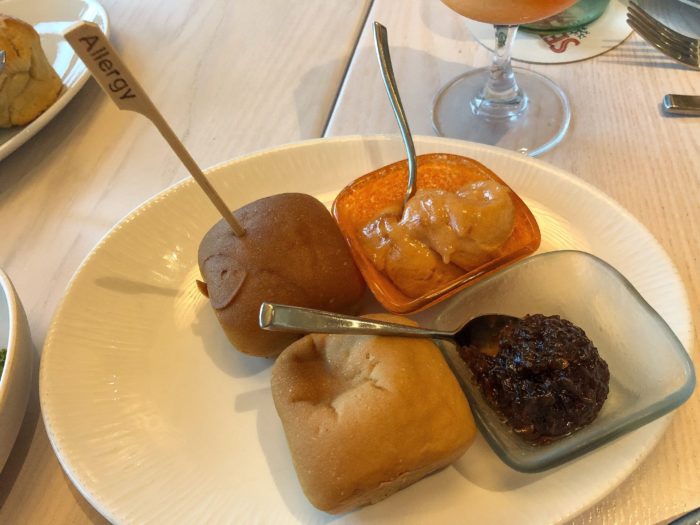 The Spice Necklace Salad is also the same as the main menu, but the Taste of the Caribbean menu differs with items like Impossible kabobs, fried Jerk tofu, and Impossible sausage along with the cilantro rice and red beans, vegetable curry, and grilled broccolini.
According to Ivonne, the Impossible kabob was the best of the plant-based "meat" options. Good flavor and consistency and it tasted good with that mango sambal.
Now full disclosure, Ivonne admits she's not big on tofu so she didn't love the fried Jerk tofu. Although, she's sure that if you love tofu you will probably feel differently about this one. In fact, a friend of hers who does enjoy the dish found this tofu cooked well. Regardless, she said the breading gave it a nice crunch, and it comes with the same mojito relish served with the flank steak.
Now the Impossible sausage tasted good, but it also seemed to lack seasoning? Ivonne ended up dipping it in the vegetable curry for some extra flavor.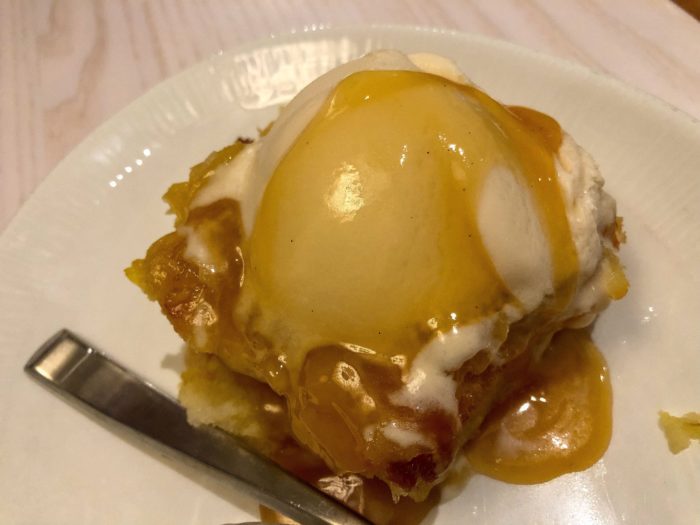 Last, but not least, is the plant-based coconut pineapple bread pudding. In Ivonne's estimation, it came pretty close to what the normal one tastes like. The consistency and flavor were good, but the caramel was a delightful surprise. She wasn't expecting to like it, but it truly tasted like caramel, just thinner.
The Drinks
Sebastian's Bistro offers a vast variety of alcoholic beverages, along with a selection of non-alcoholic drinks as well.
However, Ivonne ordered the Island Time Seasonal Margarita during her visit to Sebastian's Bistro.
Island Time Seasonal Margarita – $17.00.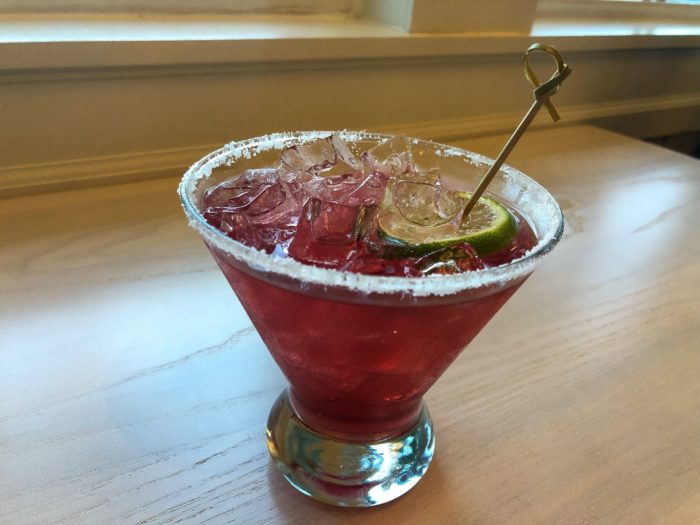 Listed as Casamigos reposado tequila, Grand Marnier, and sweet-and-sour with seasonal signature flavor, Ivonne said her flavor was Desert Pear – a nice, tart flavor which she prefers and lends itself to a pretty, purple color. Granted, the color doesn't actually matter, but it certainly made it fun to look at!
So what are your thoughts on Sebastian's Bistro? Are you planning to visit Sebastian's Bistro during your next trip? Let us know in the comments!