Sebastian's Bistro: Best Dinner Value at Walt Disney World?
Located at Disney's Caribbean Beach Resort, Sebastian's Bistro is an understated, island-style restaurant offering Caribbean fare; and even though it's often overlooked, our team believes it's one of Walt Disney World's best values for dinner!
Guests will find this dining gem on the dock behind Caribbean Beach's Old Port Royale; and despite it being named after Sebastian the crab from The Little Mermaid, Sebastian's is lightly themed. Expect a bright, airy dining room with modern, seaside-inspired touches.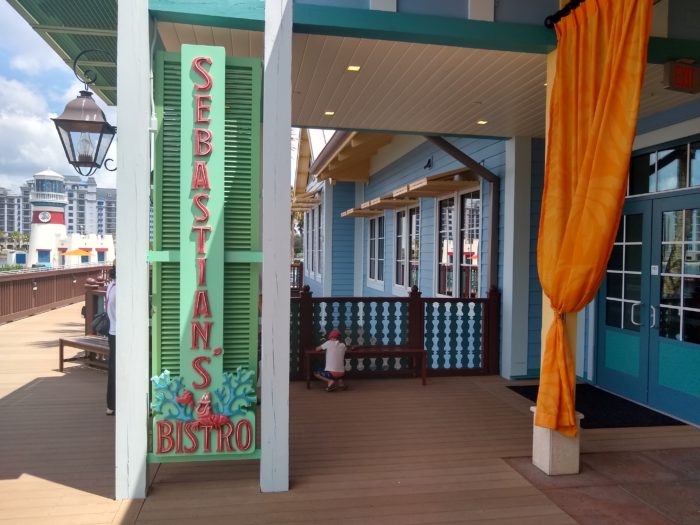 Sebastian's Bistro is only open for dinner and serves from 4:30 p.m. to 9:30 p.m.
However, unlike other Walt Disney World restaurants, it's closed on Tuesday and Wednesday. So if you're looking to experience this dining location, it may require some extra planning and scheduling.
Now, even though Sebastian's offers a walk-up list, Advance Dining Reservations are encouraged and can be made on the My Disney Experience app. But if you're already within that 60-day window, be sure to check out our free TouringPlans Reservation Finder!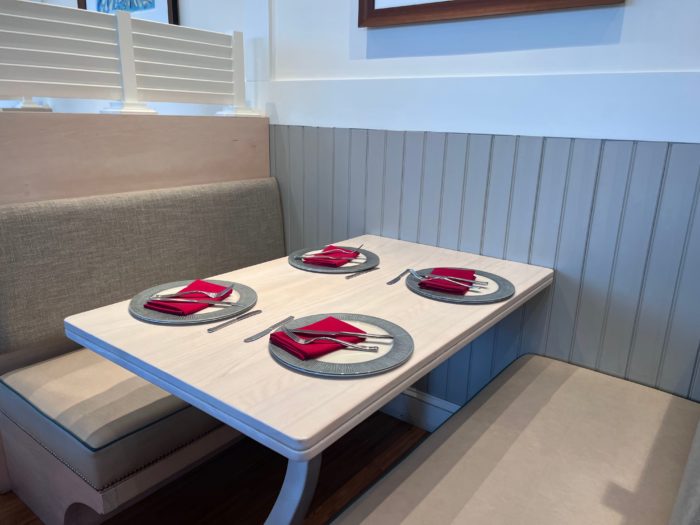 As for price, this family-style meal is priced at $29.00 per adult and $17.00 per child, not including tax and tip. Annual Passholder and Disney Visa Cardmember discounts are available.
Finally, when planning to visit Sebastian's Bistro, keep in mind there are several ways to reach this resort restaurant.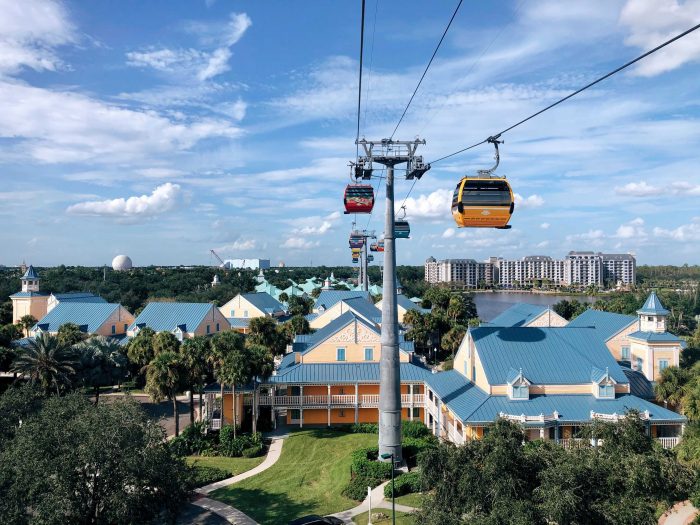 While, again, it sits right behind Caribbean Beach's resort Old Port Royale (aka main lobby), it's within walking distance of Disney's Riviera Resort and thus accessible via Skyliner. But if you feel you've walked enough, take a bus directly to Caribbean Beach and just cut through the lobby.
The Menu
Since Sebastian's Bistro is a family-style meal, that means everything is brought to the table for the family to share. Allergy-friendly, gluten-free, or plant-based versions of Sebastian's Bistro's dishes are available as well.
In addition to non-alcoholic drinks and cocktails, the only additional charge on the menu is the fried coconut shrimp with creamy chipotle dipping sauce for $8.99.
Non-Alcoholic Speciality Drinks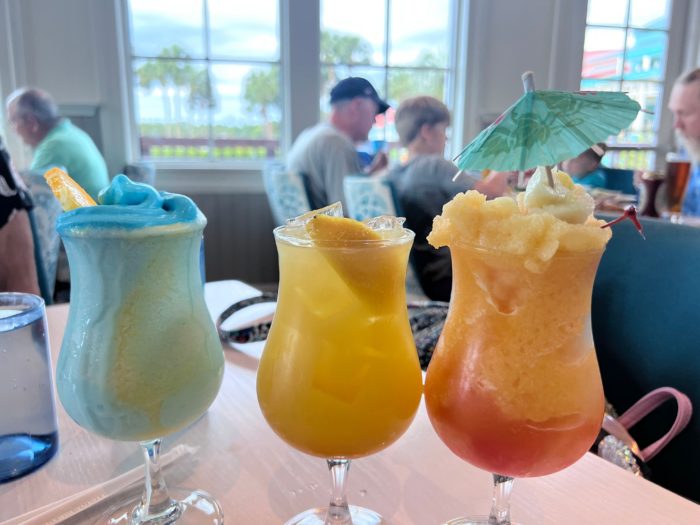 Sebastian's Bistro offers a selection of fun non-alcoholic drinks which are hit with both kids and adults; and when our park reporter Chrissy visited Sebastian's, she and her family tried them all!
Flounder Colada of Reason – $5.99
Since life is the bubbles under the sea, dessert first is perfectly acceptable; and let's be honest, this frozen treat of pineapple, coconut, banana, and orange-flavored ice cream is a dessert. It's super sweet, but kids will love it!
The Peachcomber – $4.49
The least sweet of all 3 drinks Chrissy tried, but it was also her favorite. Expect a blend of orange, lemon, and peach with soda water.
Sebastian Island Paradise – $5.49
This drink is basically a frozen version of Disney's famous POG juice, which is a blend of pineapple, orange, and guava juices. It's simply delightful!
The Bread Service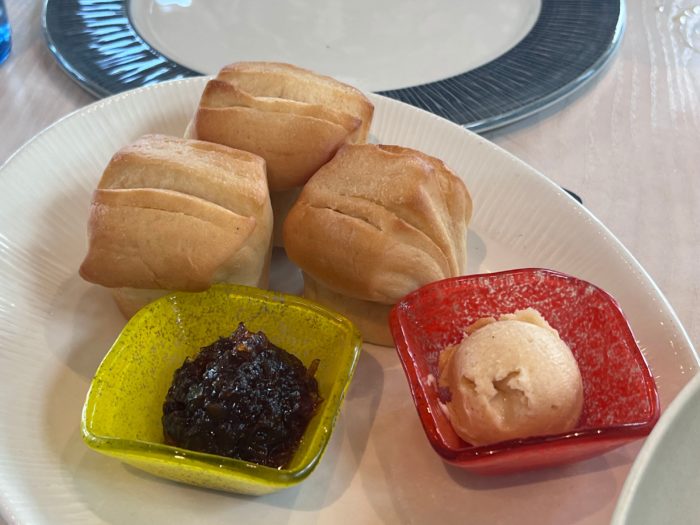 These are soft rolls you remember, and they come with two spreads: a carmelized onion jam and guava butter. Chrissy reports that the onion jam is one of the best condiments ever to meet bread. Don't skip it. Ask for extra.
As for the guava butter, it's a win as well. This sweet tropical spread combined with the super-soft rolls is the equivalent of a dessert.
The Spice Necklace Salad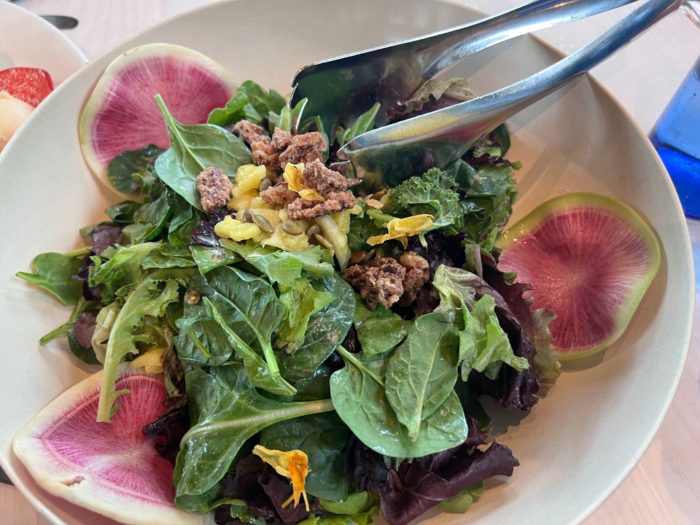 This dish is the first clue that you'll be presented with way more food than you could possibly consume at Sebastian's Bistro!
The menu describes this one as mixed greens, kale, toasted pumpkin seeds, grilled pineapple, orange, spiced candied walnuts, and giant watermelon radish with key lime dressing; and it's as gorgeous as it is delicious!
Taste of the Caribbean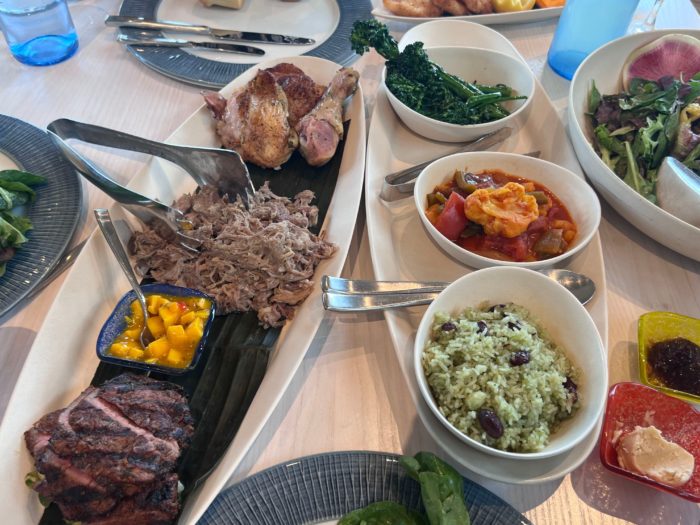 The main part of this Caribbean feast is the Taste of the Caribbean which consists of citrus chicken, mojo pork, grilled flank steak, cilantro rice and beans, vegetable curry, and grilled broccolini.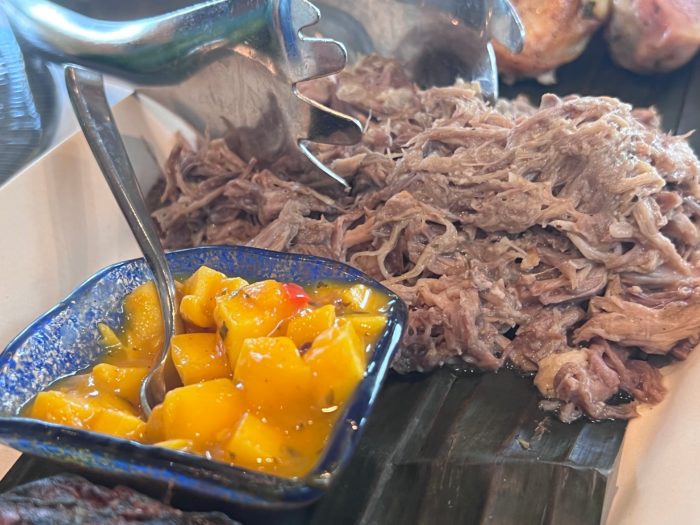 If it wasn't obvious already, this is a stunning amount of food. And, it's all fantastic!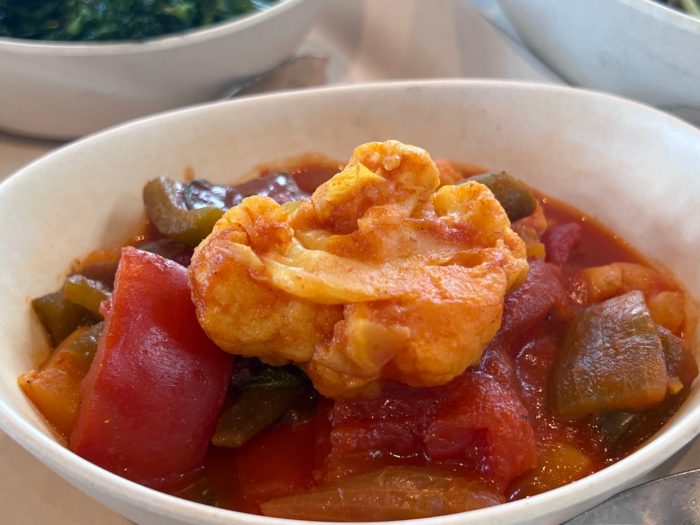 The flank steak was well seasoned, flavorful, and so tender.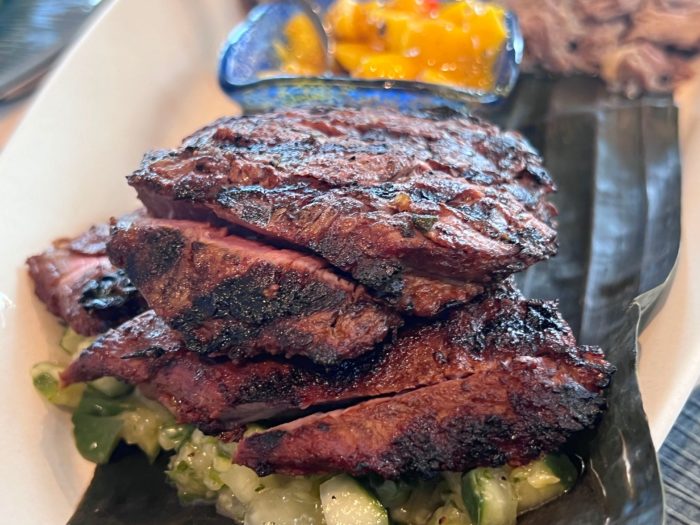 And, the cilantro rice – which is usually a filler dish everywhere else – was outstanding.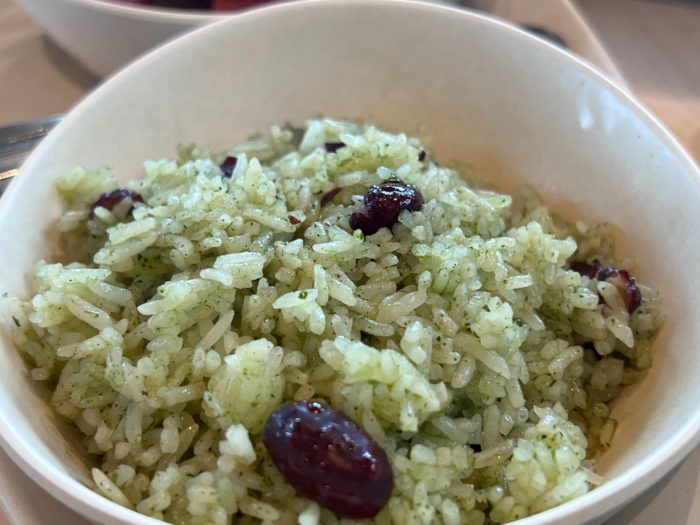 The other standout? That citrus chicken. Chrissy and her family loved this one.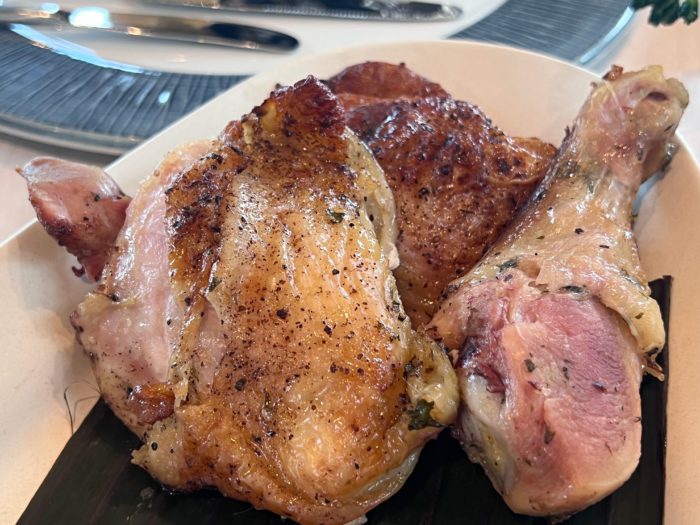 Fried Coconut Shrimp – $8.00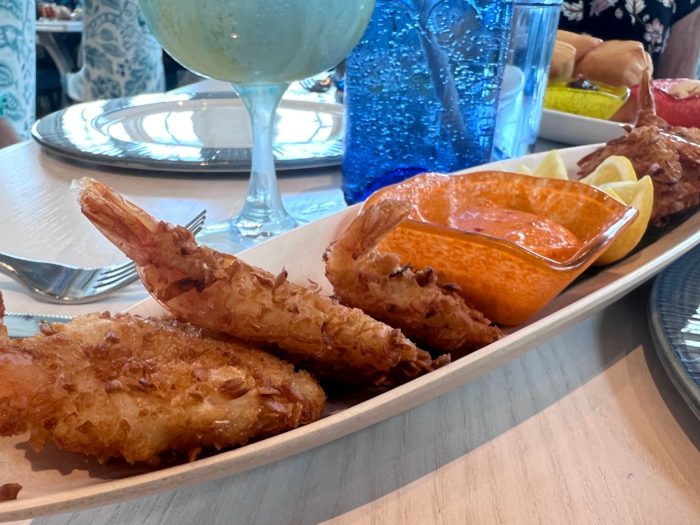 We 100% endorse ordering the fried coconut shrimp for an extra $8.00. You're on vacation; live your dreams.
The shrimp have a mild coconut flavor, are beautifully fried, and pair well with the creamy chipotle dipping sauce
Dessert
House-Made Coconut-Pineapple Bread Pudding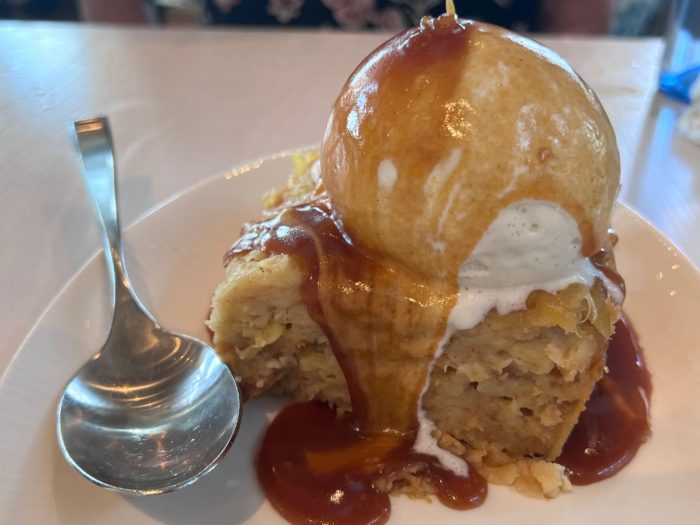 This, fellow readers, is where you and yours will need to put aside that "quality family time" because once everyone has sampled this treat, battle lines will be drawn and it's survival of the fittest for who gets the last bite. Ask for two if you can.
Final Thoughts
Sebastian's Bistro is one of the best values at any Walt Disney World dining location. Tons of scrumptious food at a super good price, plus a stunning view and a lovely atmosphere? This one deserves to be a must-do.
Have you ever dined at Sebastian's Bistro? Let us know in the comments!