The SATURDAY SIX Looks at Our Favorite Snacks From HALLOWEEN HORROR NIGHTS
This week's SATURDAY SIX takes a look at our favorite HHN SNACKS! Recently we covered Universal's Halloween Horror Nights 30 and looked at all the amazing parts of what has become the premiere spooky event in the world. Haunted houses loaded with original concepts and well known IPs, scarezones filled with scareactors, and world class shows. HOWEVER, regular readers of this fine blog series know that's not what we go for. NAY NAY. We go for the food! We've long held the belief that HHN has become the "EPCOT International Food & Wine for the working man." While Food & Wine has 4 ounce pours of wine that you drink with your "pinky up," HHN has the world famous Blinky Cup. Food & Wine has bite sized portions (at full sized prices) of culinary delicacies made with exotic ingredients from around the world. HHN has fried Twinkees and pizza fries. AND WE LOVE IT. This year the food got even better and we're here with our favorites, starting with…
# 6 – Twisted Taters
Our first selection is one of the iconic snacks of the event. Twisted Taters: Flash fried potatoes spiraling around a stick. As Mickey Premium Ice Cream Bar and corndog eaters know, everything tastes better on a stick, especially when you can walk around when eating it at a theme park. I personally always get the traditional version along with a beer, because they are quite liberal with the seasoned salt. This year you could also add toppings that included Garlic Parmesan, Sour Cream & Chives, or Ghost Pepper. For adventurous types there is the Blood 'n' Guts (a Twisted Tater smothered in chili and roasted pepper queso.) Once you've had enough drinks you may even order the Twisted Franken Coil, a Twisted Tater wrapped around a giant hot dog.
Two pro tips: 1) pass on the Twisted Franken Coil. Interesting idea in theory, but execution leaves a lot to be desired as the potato ribbon has a hard time staying on the hot dog. Besides, the regular Twisted Taters are iconic for a reason.
2) It appears that you need to pick your spots when ordering a Twisted Tater as we have heard several reports of guests getting cold or soggy Twisted Taters. This has never been my experience, but after doing some extensive research on this subject, it seems this could happen when the Twisted Tater booths are busy and the Team Members are trying to get as many out as possible to make the line go faster. The oil the Twisted Taters are being fried in can't stay hot enough with the amount being made.
tl;dr: Don't get into a long Twisted Tater line.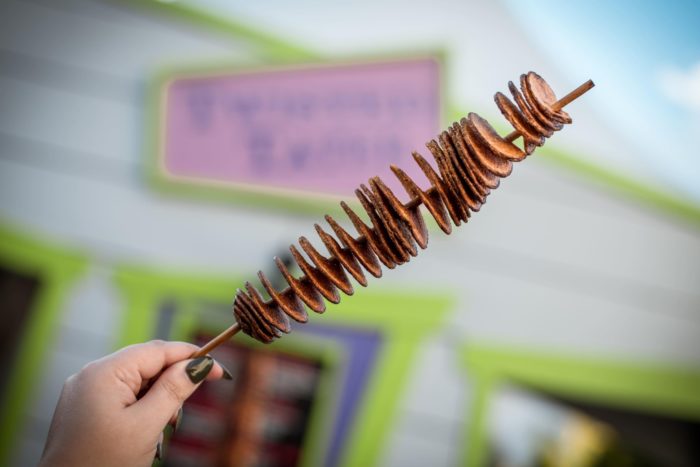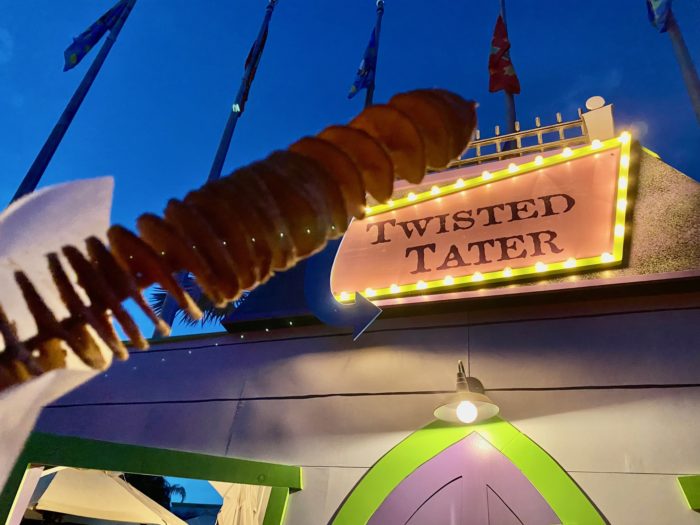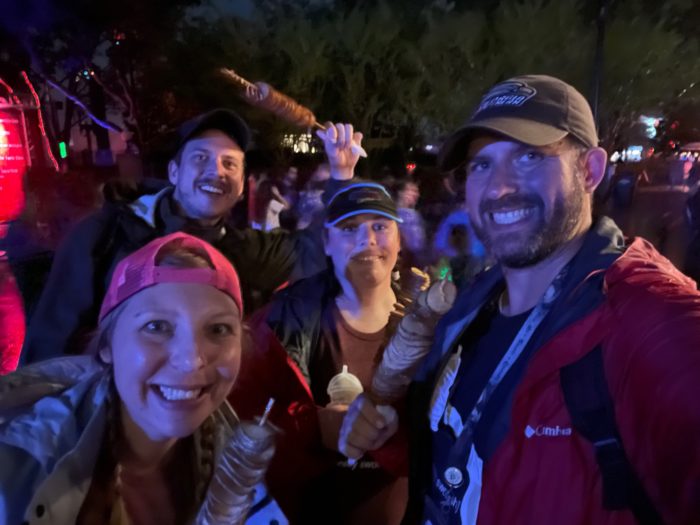 This year the Twisted Taters are served at two themed kiosks that are clearly inspired by Beetlejuice. The Twisted Taters themselves are so popular that Universal would probably be doing themselves a big favor by next year having the tasty treat served out of an actual kitchen that can keep up with the demand better than a pop up kitchen.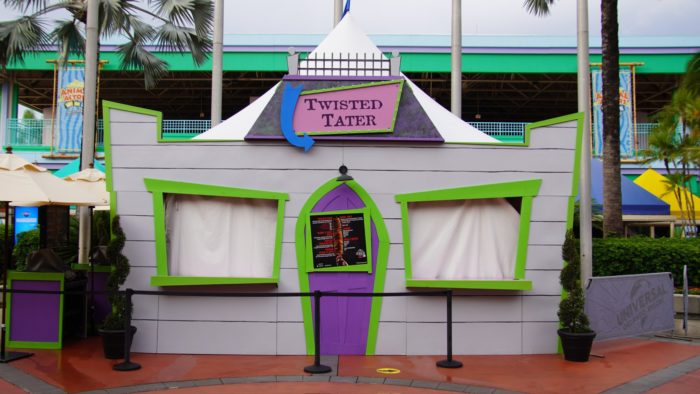 # 5 – Pumpkin Guts
The big surprise of HHN 30 food wise may be the huge hit that is Pumpkin Guts. One of the few vegan dishes,  Pumpkin Guts is comprised of zucchini and butternut squash sautéed with hazelnuts, pumpkin seeds, and brown butter served over roasted delicata squash. Love the whimsical name with a hint of horror to tie into the event. Always good to see more vegan items at both Universal and Disney because for the longest time there were almost no options for them.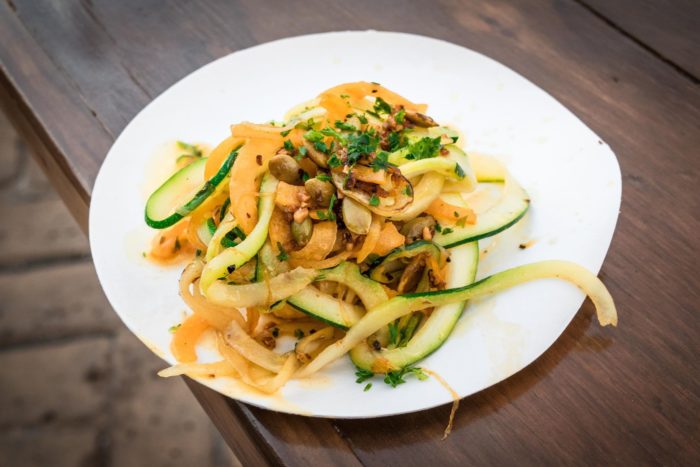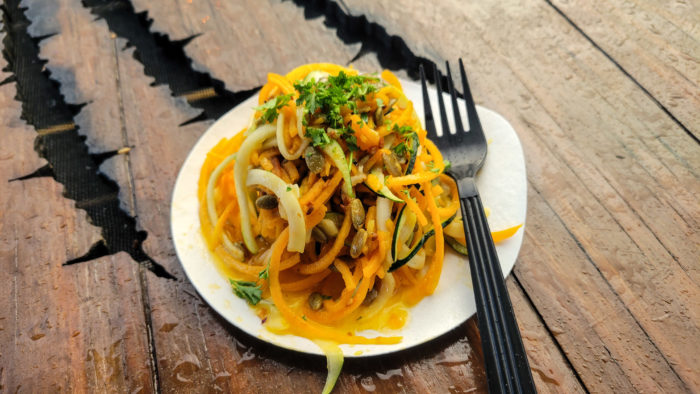 Pumpkin Guts is found at the Wicked Growth food kiosk, and another item served there has also been a huge hit with fans. The Field of Screams Gyoza is spicy ground turkey and butternut squash-filled dumplings.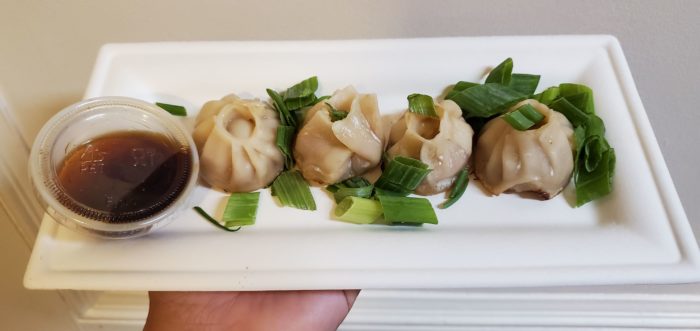 # 4 – Jack'd Up Donut Slider
If you serve something with a donut, it's going to make the SATURDAY SIX. That's our policy. Universal really showed us something a couple years ago with the infamous Voodoo Doughnut Burger. For that burger, the buns were comprised of two full sized Voodoo Donuts. For HHN, the chefs went the other way with smaller donuts and made the Jack'd Up donut slider. The beef patty is topped with bacon jam and American cheese.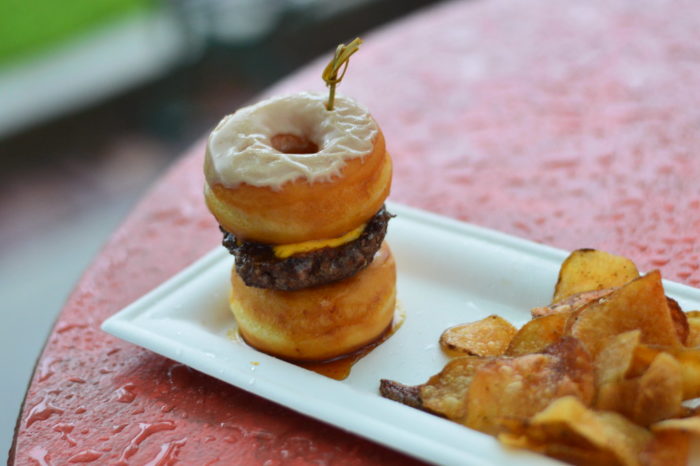 Items like the Jack'd Up Donut Slider make me wish I could fulfill my lifelong dream of becoming the Food Czar at Universal. One of my ideas is having a food festival in Springfield USA. We'll hold it during the 10 days between Mardi Gras and Halloween Horror Nights. This food festival would be BONKERS. Fried food stuffed with other fried food. What do you think of this one: a fried Oreo but the batter is cookie dough, it's sprinkled with Cinnadust, and served as as sandwich with full size Kit Kats as the "buns." Yes, we may need to invest in defibrillators to have at each booth, but my gut says this would be a hit.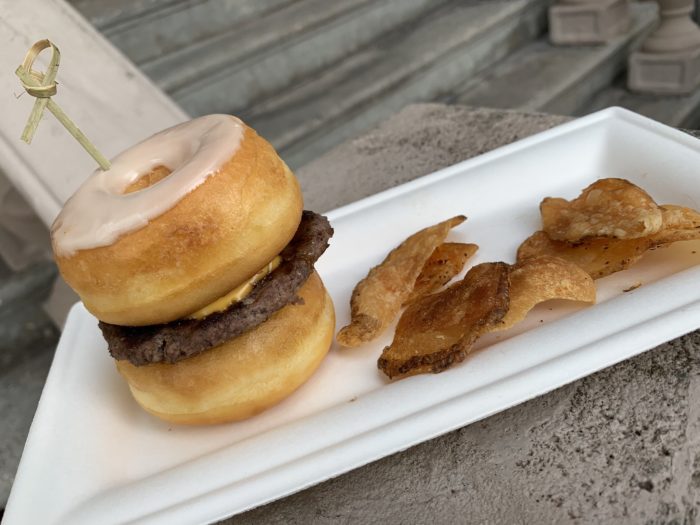 One of our favorite treats at the Disney water parks are the mini-donuts. This year's HHN has the Bag O' Donuts, which are available in powdered sugar or cinnamon sugar. For me, you gotta go cinnamon sugar. Could probably eat 50 of these in one sitting.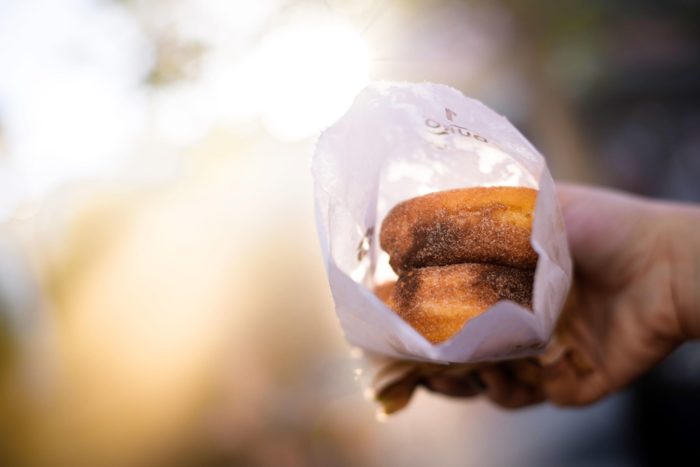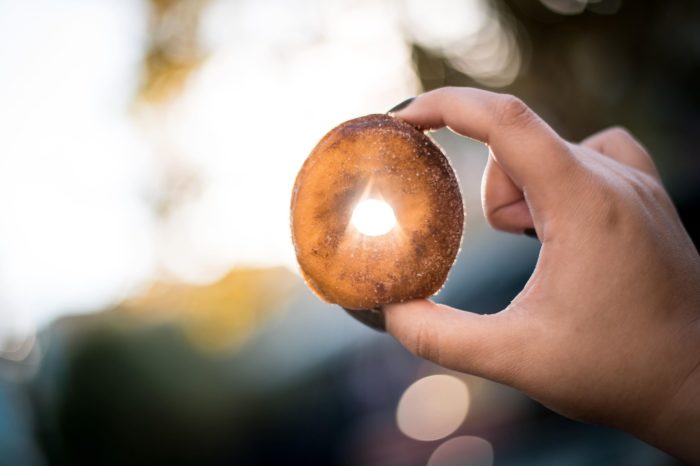 # 3 – Leatherface Cherry Pie
Sometimes there are food items that transcend the medium. The Leatherface Cherry Pie may be the "perfect" HHN snack in that it is horror based but "cute," tied to a well known franchise, and relatively inexpensive (just $5.99 and the sound you heard was Bob Chapek having a heart attack thinking Universal is just giving these away.) On top of it all, it's pie and who doesn't love pie?!!! A concept so good in theory and execution that it needs to return every single year to HHN. The "blood spattering" with cherry sauce is just ::chef's kiss::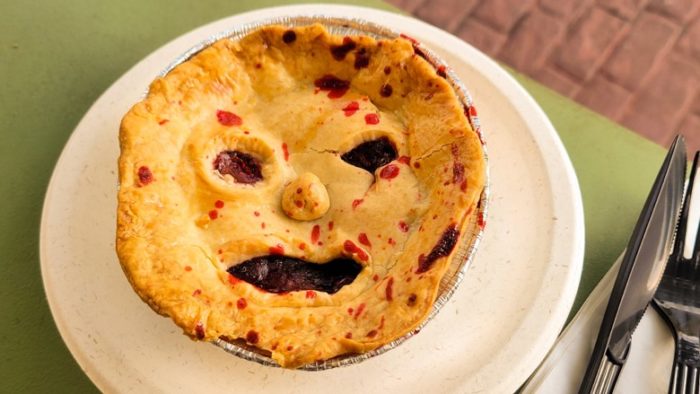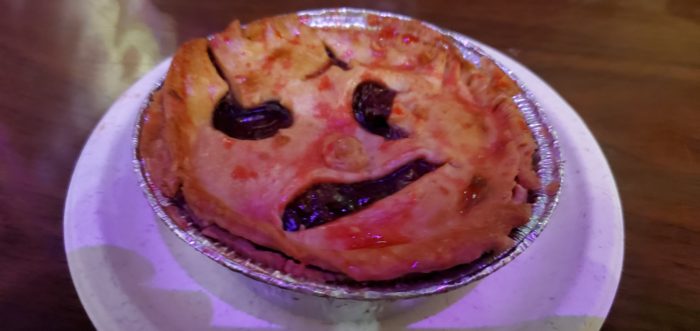 The Leatherface Cherry Pie is sold at a booth themed to the Texas Chainsaw Massacre Universe, and of course in Texas we are going to see other items be BBQ based. Not just regular BBQ, but Coca-Cola BBQ. I love Coke as much as the next person, but even with the Coca Cola Cake in Galaxy Bowl at Cabana Bay, Coke as an ingredient in food has never swayed me one way or the other. For me, it's like "beer battered" anything and I don't really taste it that much. The Coca-Cola BBQ sauce did taste really good though, so I'll give them that.
Three BBQ items are available. The one getting the most raves is the roasted lamp spit ($10.99.) We got the Severed Ribs ($11.99) to fit more of the horror theme. There is also a vegan option with Grandmaw's skeleton tray which uses plant based sausage and chicken. Love the small touch of a piece of white bread being served with the BBQ and anyone who follows me on social media will appreciate that Universal also throws in the pickles because pickles are not a side.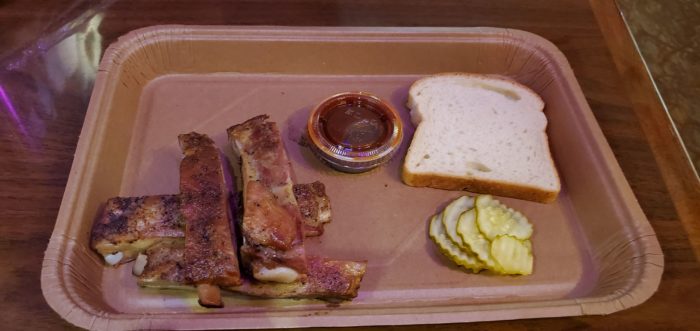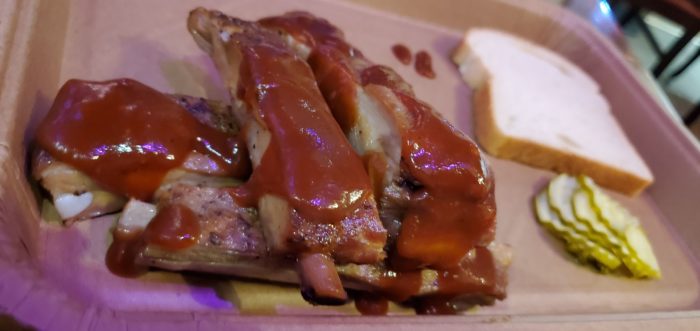 The food booth selling the Leatherface Cherry Pie and Coca-Cola BBQ had a nice touch with the gas pump theming. The sale price of 1974 is referencing the year Texas Chainsaw Massacre was released (which featured the debut of the character Leatherface)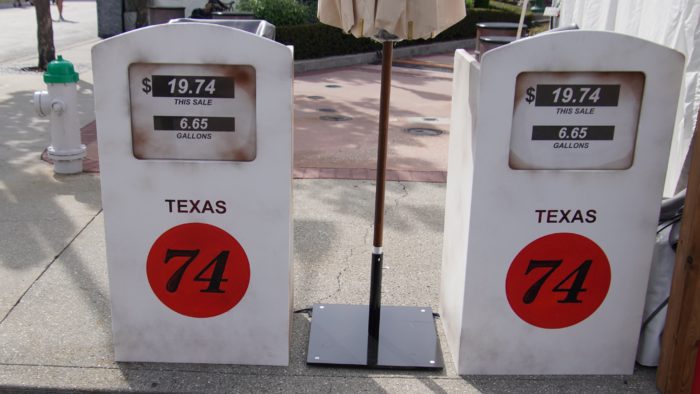 # 2 – Fried Uncrustable
My two favorite things ALL TIME when it comes to Halloween Horror Nights goes in the following order: 1) Bill & Ted's Excellent Halloween Adventure. My favorite show in any theme park, ever. 2) The fried peanut butter, jelly, and banana sandwich which was served at HHN many years ago.
Like Andy Dufressne in the Shawshank Redemption, I have been writing Universal letters every single week for years to bring the friend PBJ&B sandwich back to HHN. My prayers were for the most part answered this year with the introduction of the No "Chance" in Hell PB&J. Basically a fried uncrustable that is drizzled in hot honey and topped with hot pepper flakes for flavor.  I like uncrustables in general, but having them fried and topped with hot honey is absolutely amazing. It took years, but we finally got the Wizarding World to sell Hot Butterbeer all year long, and I think it's time to start writing Universal two letters a week to get this on the every day menu and not just HHN.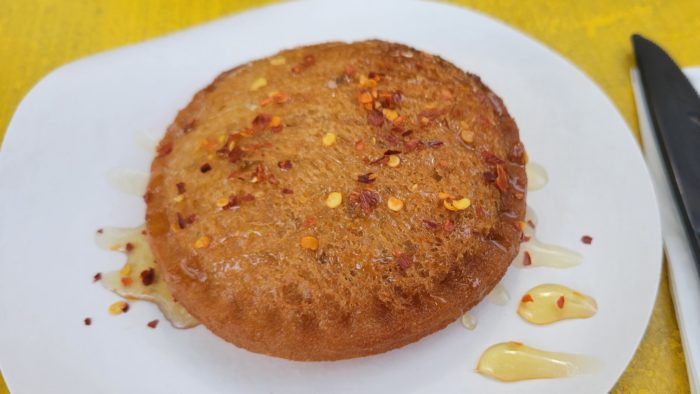 Fried Twinkees are a staple of any state fair's menu, and this HHN 30 has Tiny's Twinkies: deep fried, cream-filled Twinkie dusted with powdered sugar. As a snack connoisseur, although I generally prefer Oreos to Twinkies as a snack, I think fried Twinkies blow away fried Oreos.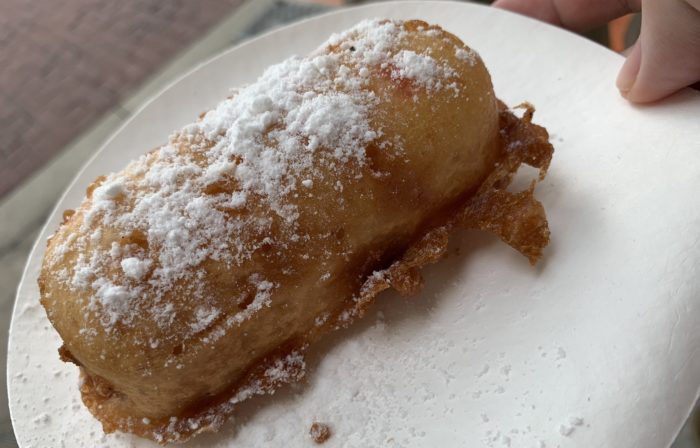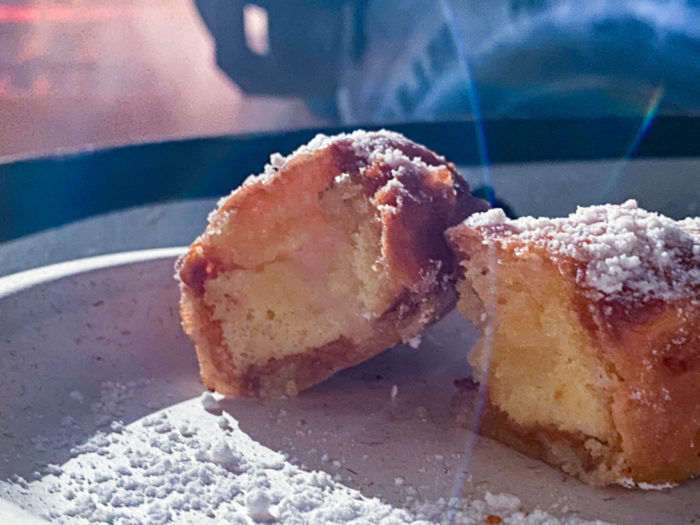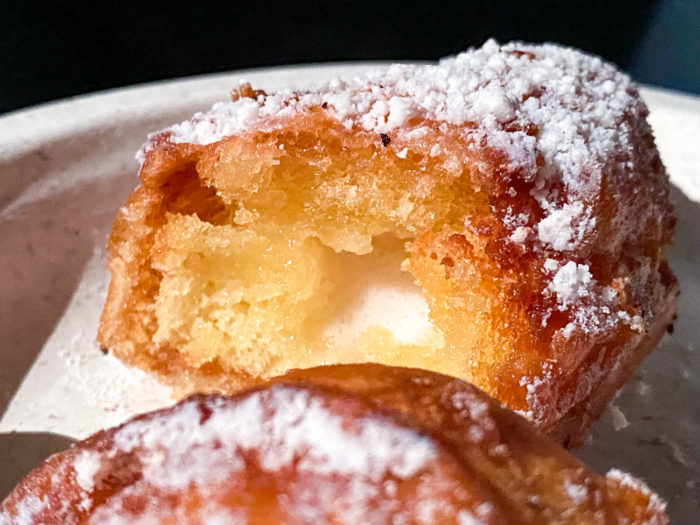 # 1 – Pizza Fries
From their introduction, Pizza Fries have become to HHN what Butterbeer is to the Wizarding World. An item you pretty much have to get as a fan because it delivers in a major way. Pizza Fries are served out of KidZone Pizza Company, but you'd be doing even better by going to Louie's in the New York area of the park. There the Team Members making the pizza fries have a huge advantage compared to pop up kitchen booths found throughout HHN. This makes the consistency of the Pizza Fries to be extremely high. The base of pizza fries is crinkle cut French fries, which in my mind is pound for pound the best version of a fry. Maybe we'll do a full breakdown of the French fry ranking down the road, but know that crinkle cut, waffle fries, and tater tots are at one end of the list and all the way at the other end is stuff like curly fries, shoestring fries, and – ugh – cottage fries. The pizza fries are mixed with mozzarella, marinara, pepperoni, and sausage. It's THE BEST.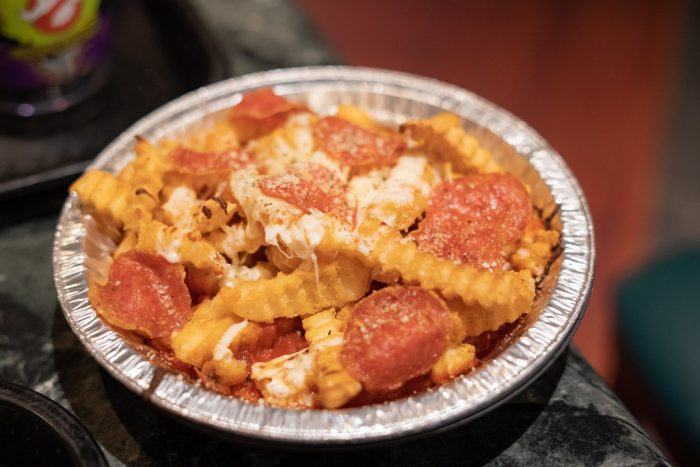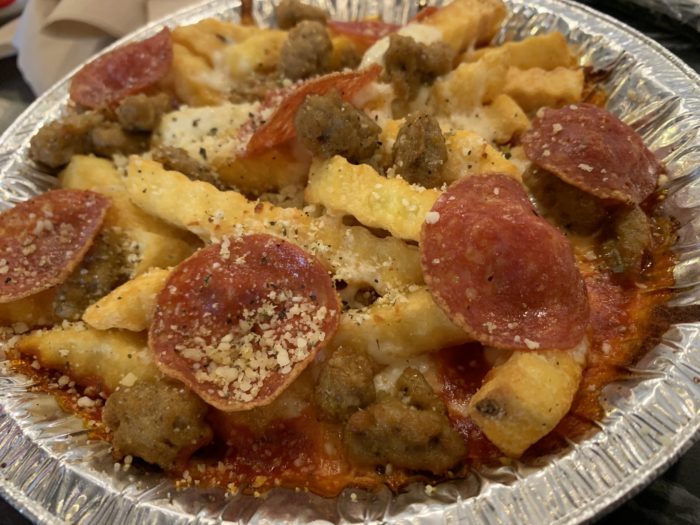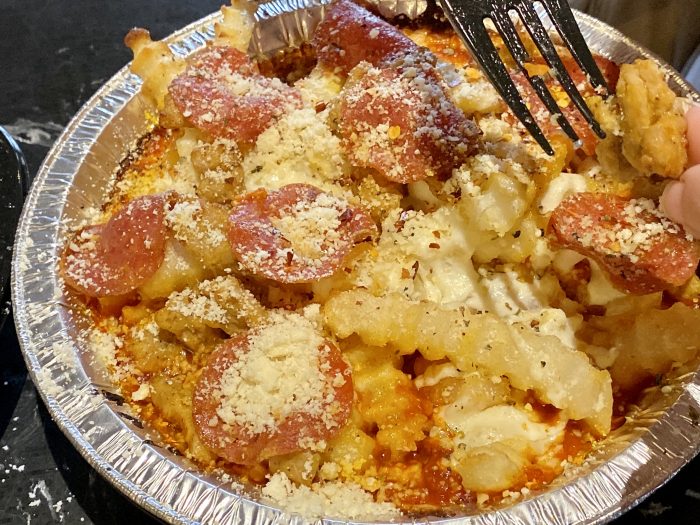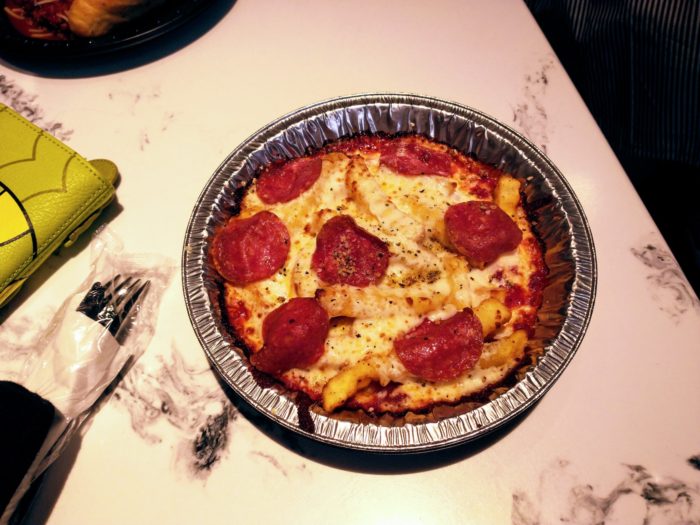 Several years ago Universal followed up Pizza Fries with a dessert version of the concept: S'Mores Fries. This is made out of sweet potato fries, marshmallow, white and milk chocolate chips, graham cracker crumps, and drizzled with Hershey's chocolate sauce. I'm not the biggest fan of sweet potato fries, so I'm out on this one but many others say it tastes great.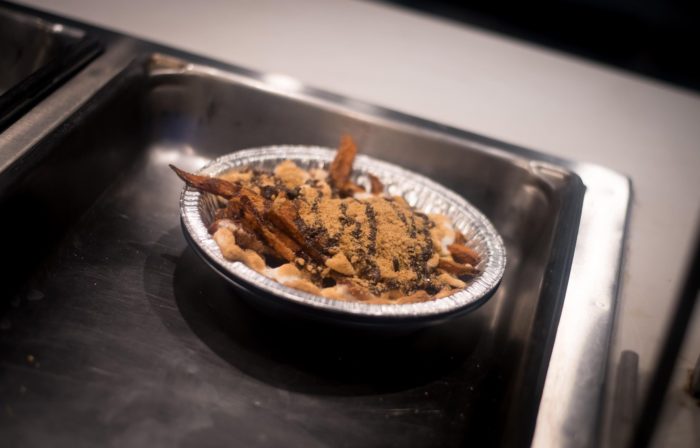 This year the Universal chefs brought their A game by introducing the "Fryer and Ice." Now, back in the real world many people love dipping their Wendy's fries into a Frosty. Universal has brought that concept to the theme parks, as the Fryer and Ice includes a try holding: French fries, chipotle ketchup, and chocolate soft serve ice cream. Dipping the fries into the ketchup first and then into the ice cream turned out to be pretty tasty!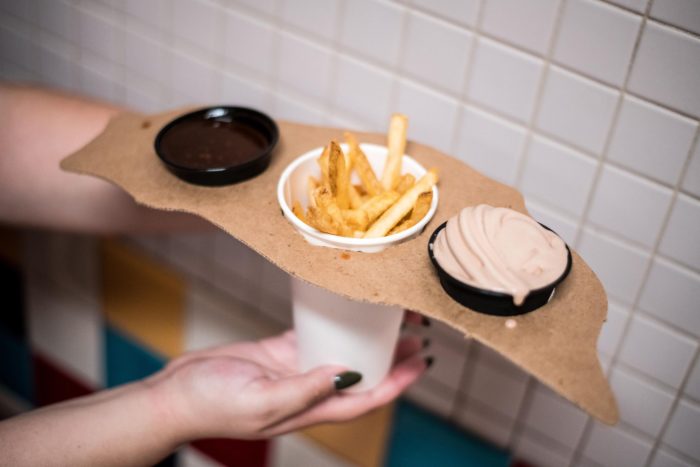 Speaking of ice cream, one big hit this year was the Bride of Frankenstein Swirl. Another item that should probably be on the menu all year long at a place like Universal Classic Monster's Cafe.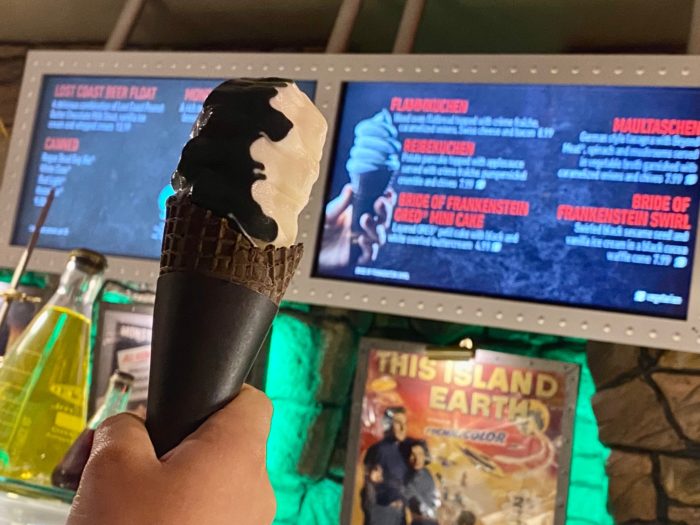 Million Dollar Body, 10 Cent Brain Award – Monte Cristo Waffle Sticks
An item we had high hopes for but didn't ultimately deliver was the Monte Cristo Waffle Stick. Major points for creativity and we have mentioned how much convenient food can be when served on a stick. However the taste just isn't there and we tried this multiple times. Maybe try the idea again in another year and leave out the Monte Cristo items and just stuff the waffle with a more traditional breakfast item like sausage. Lean into the severed torso waffle gimmick and serve with strawberry "blood" syrup. Just my two cents because I really wanted this item to be a homerun.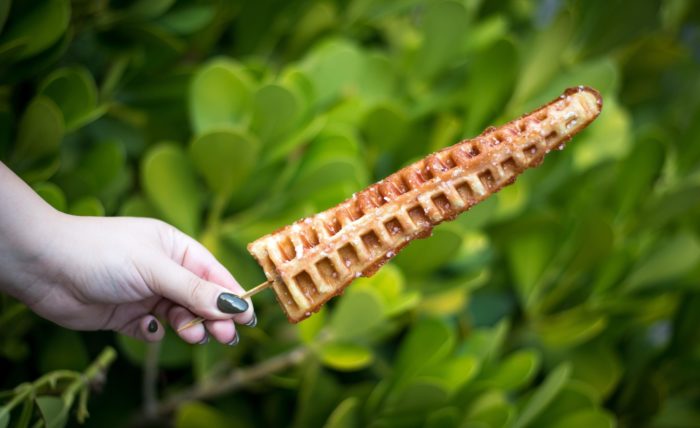 Not all is lost though, because if you go to the Revenge of the Tooth Fairy booth (where the Monte Cristo Waffle Sticks are sold) you can order a much better item with the Bourbon Candied Pork Belly. Served on a stick, we have a thick cut pork belly coated in an apple bourbon candy shell and it is incredible.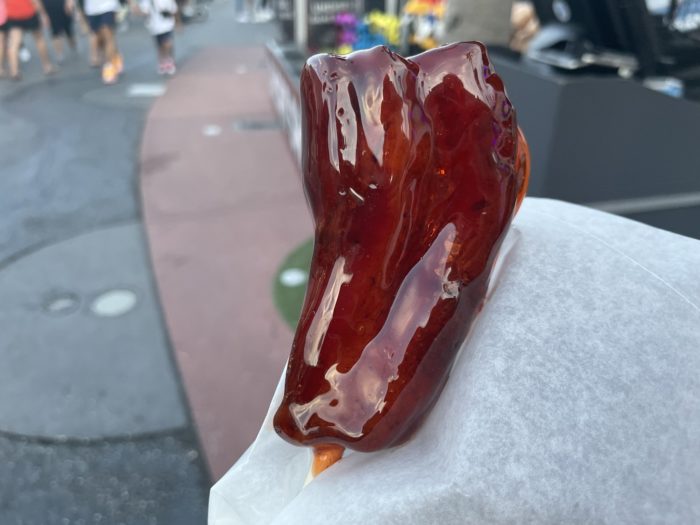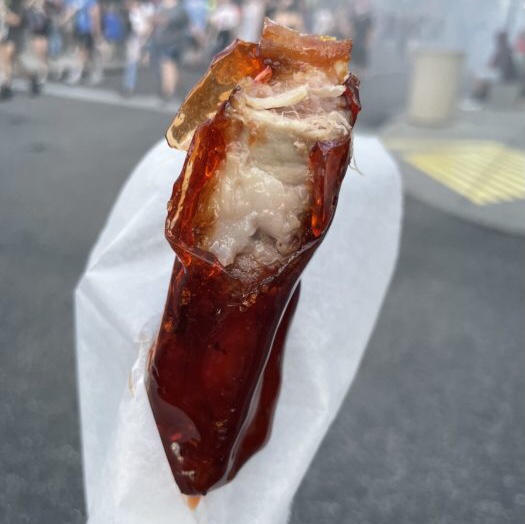 The Sweet Shop theming of the Revenge of the Tooth Fairy booth is wonderful, but pay attention to all the little details, such as the glow in the dark fairies built into the facade.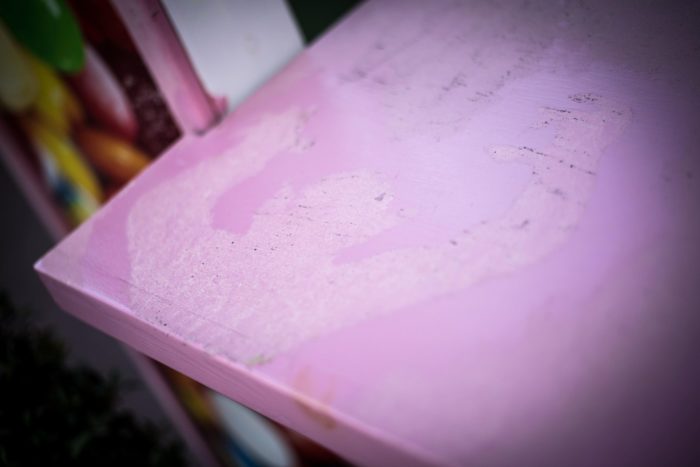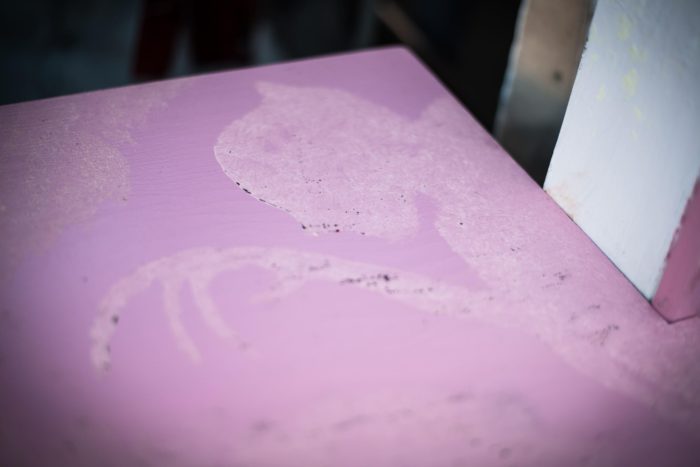 TRIBUTE STORE
We did a whole article on the HHN 30 Tribute Store and it's important to remember just how many HHN themed snacks are available there, including the always great vegan brownie.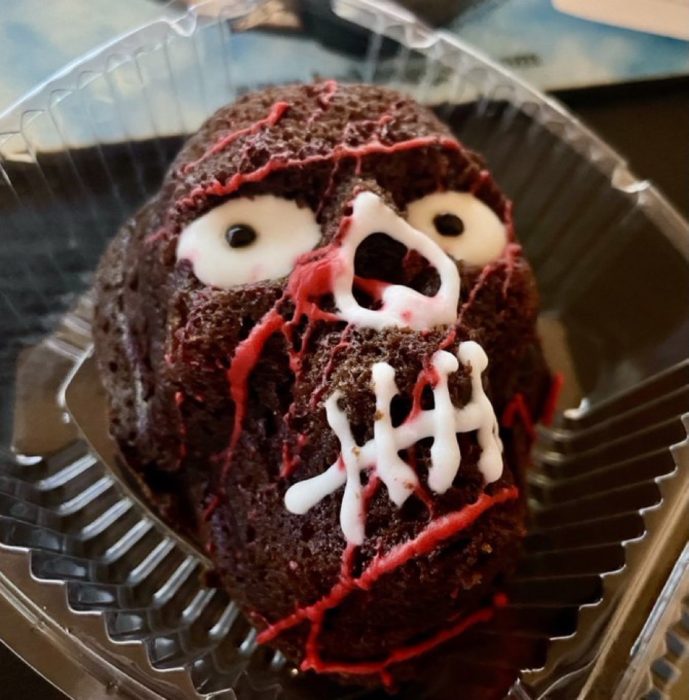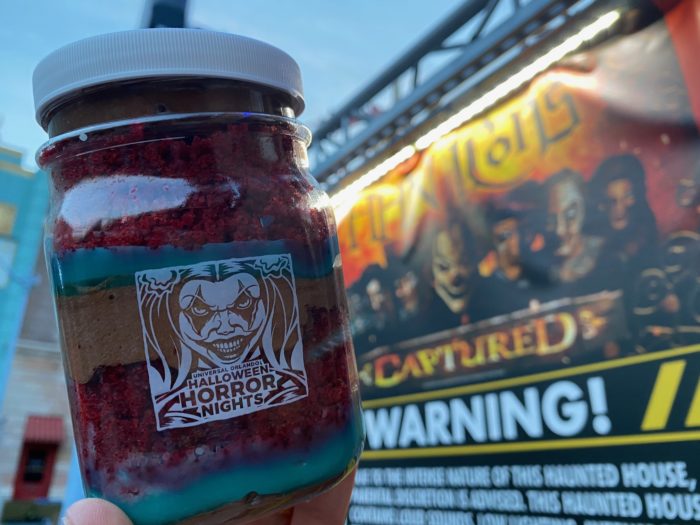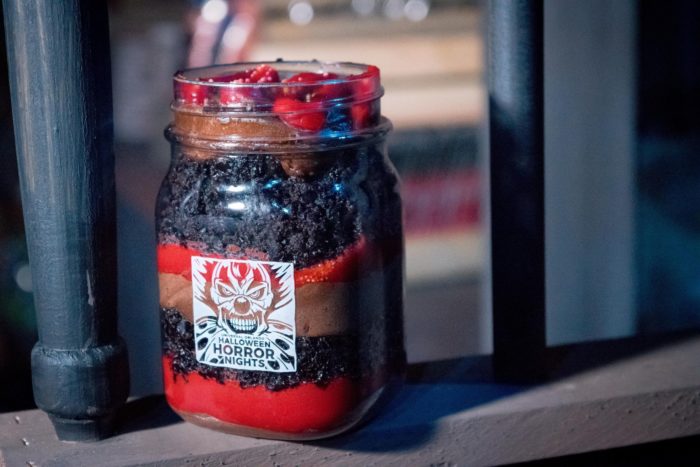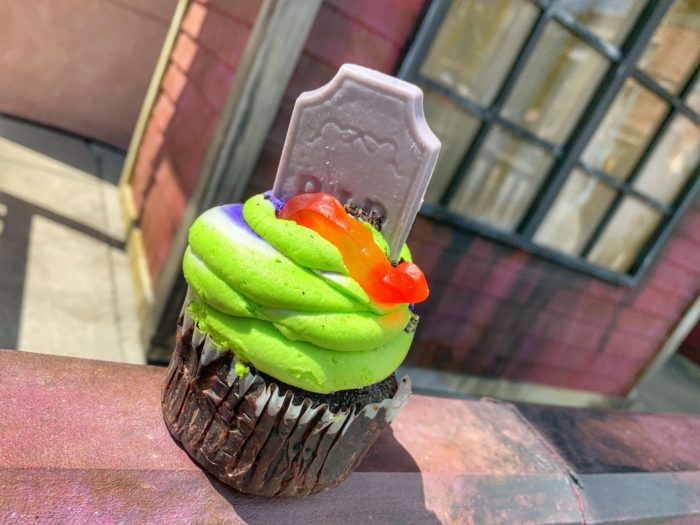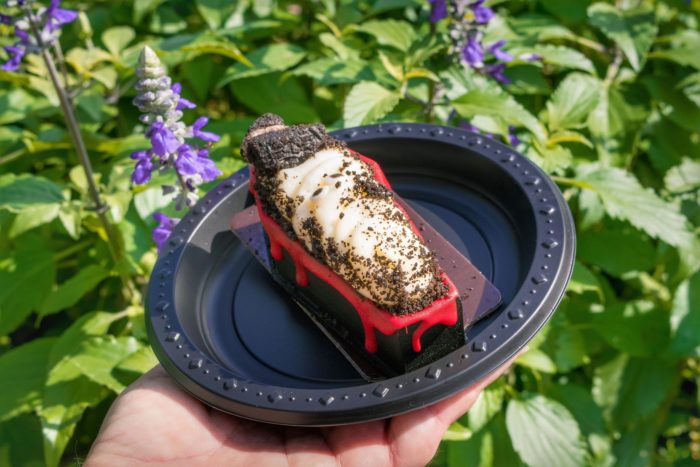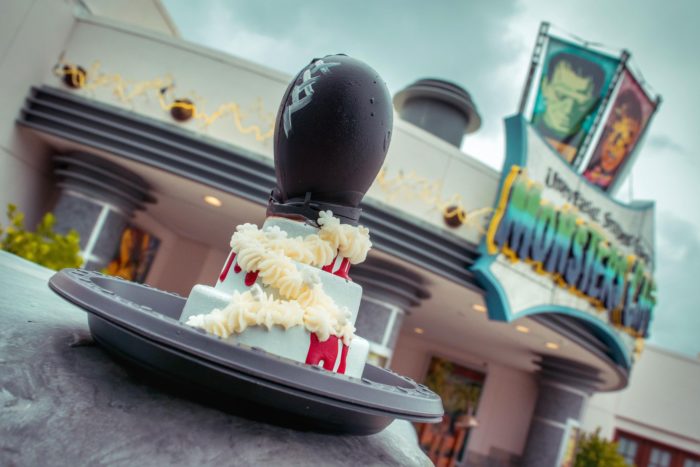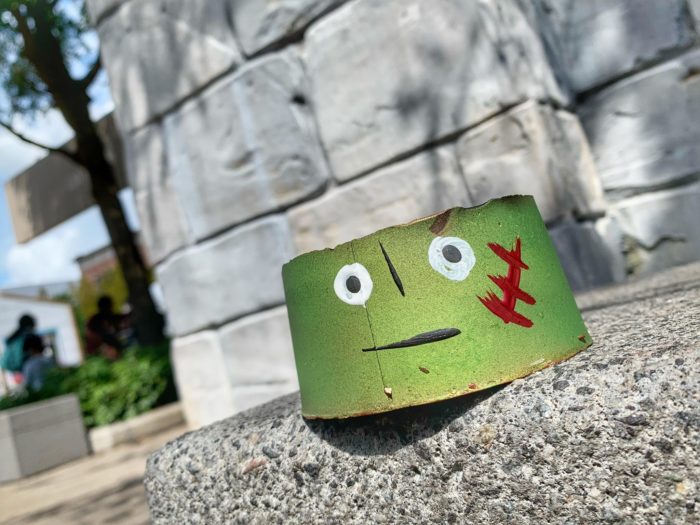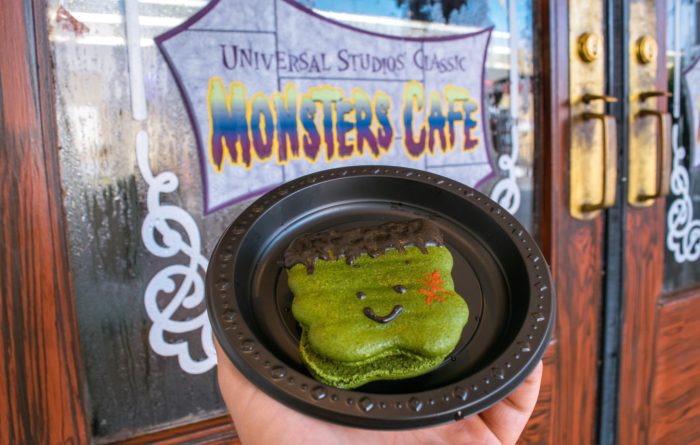 HONORABLE MENTION – The Drinks
A staple of HHN is the famous Blinky Cup available for adult beverages. This year we have several options.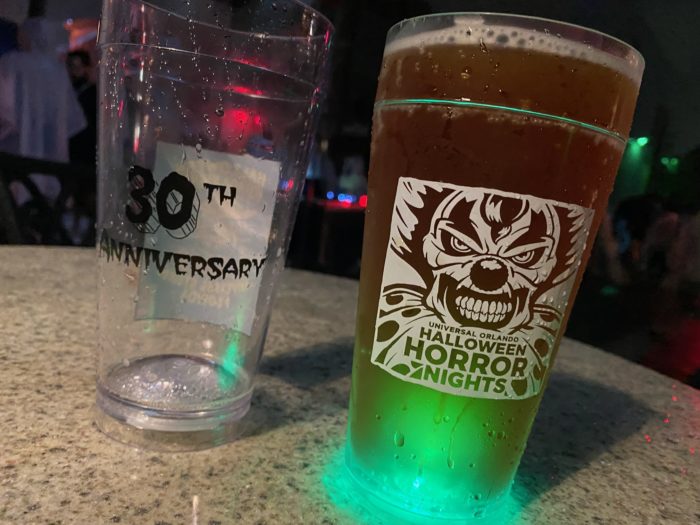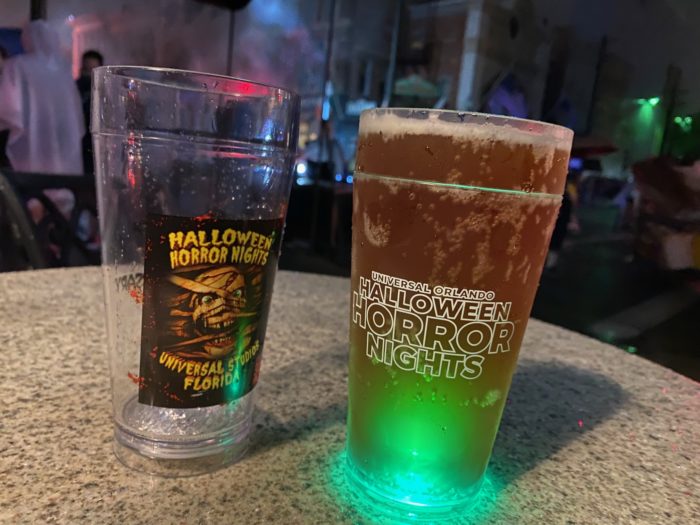 There are specialty cocktails found throughout the event. One of the biggest hits overall has been the Poison Tea Party (Myers's Original Dark Rum shaken with Honest Tea – half tea, half lemonade-  blue curacao, huckleberry, lemon, allspice bitters, and topped with a dehydrated orange). For me personally, I tend to stick to beer at HHN because it's too busy for the bartenders to be as good with mixed drinks as they probably would be under normal circumstances. A premixed drink coming out of a huge reservoir just doesn't slap when all the ingredients are mixed together per drink.
Now, over at the Cabana Bay Beach Resort we have a different situation, as the Swizzle Lounge has been transformed into the Icons bar for HHN. The menu is loaded with new drinks and these are all made with TLC.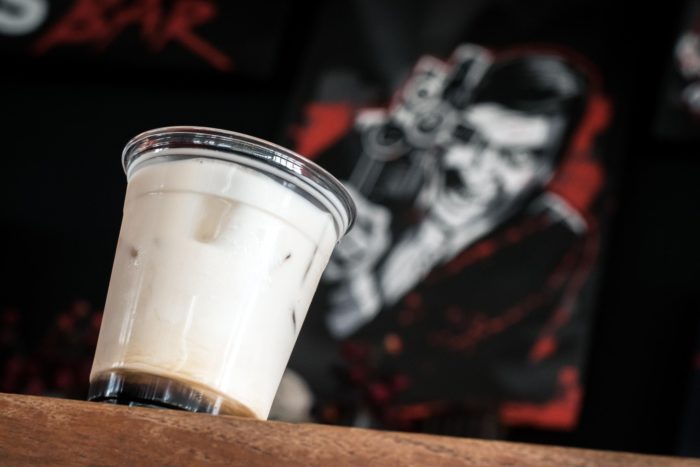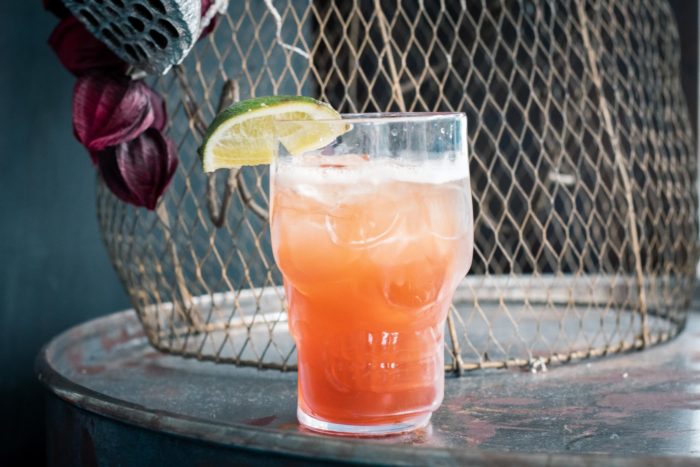 So there you have it: SATURDAY SIX takes a look at our favorite HHN SNACKS! See you next weekend for the latest installment of the SATURDAY SIX, where we'll look at something fun from the world of Disney and Universal. You can also follow Your Humble Author on Twitter (@derekburgan).
If you enjoyed this article, you will surely like the following: 
6 Reasons We Love Universal's HALLOWEEN HORROR NIGHTS 30
Artists Inspired by Universal's Halloween Horror Nights
Special Thanks to The Elite Brandon Glover, the bio-est of all reconstructs @bioreconstruct, Captain Cruiseline Scott Sanders of the world famous Disney Cruise Line Blog, my personal protege Hunter "Elvey" Underwood, artist @SonderQuest, the SAT SIX Fun Squad of Parkscope Joe and "the Dadalorian" Nick, hot shot Michael Carelli, charter member of the Universal Four @Nitro230, and Hermione Granger's tutor Megan Stump for their invaluable assistance with this article. Absolutely no help was added by SeaWorld Influencer @SuperWeenieHtJr. The SAT SIX is inspired each week by goofballs Aengus Mackenzie and LitemAndHyde and you Potterheads will  enjoy Meg's other blog work over at the Central Florida Slug Club.