Seven Things That Cost Extra on Disney Cruise Line (and How to Avoid Those Costs)
When you plan a Disney Cruise Line voyage, it's possible to experience the entirety of your sailing for very close to the price you paid when booking. Your cruise price includes your stateroom accommodations, lots of food, lots of entertainment, and even childcare for most ages. But it wouldn't be Disney if they're weren't many (many, many, many) opportunities to "plus up" you vacation – adding extras to make your trip fancier, flashier, or more indulgent. But it's more than possible to have a fabulous Disney Cruise vacation without spending extra on any of these embellishments.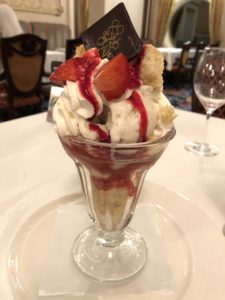 Here are seven things that cost extra on Disney Cruise Line – and ways to circumvent those cost if you want to keep your budget in check.
1. Alcohol.
You will be presented with opportunities to imbibe at every turn: beer stands by the pool deck, wine packages at dinner, bars in the main thoroughfares, tasting classes, roaming bartenders on the beach at Castaway Cay. Beers starts at about $7 per serving, glasses of wine start at about $8, and cocktails start at about $10 – with prices rising to multiples of this for special pours.
There is no imperative to drink, plenty of teetotalers cruise every day. But if you do want to partake and also want to keep your budget in check, feel free to bring your own booze on board. Each adult (21+) may bring up to 2 bottles of unopened wine or champagne (no larger than 750 ml) or 6 beers (no larger than 12 ounces) on board at the beginning of the voyage AND at each port of call. These beverages must be packed in carry-on (not checked) luggage.
There are a few rules about where you can consume your personal alcohol on the ship, but if you plan to drink a fair amount, you can reap substantial savings by bringing your own.
2. Shore excursions.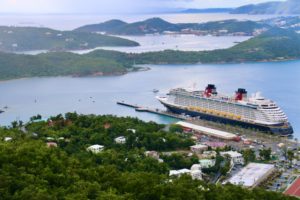 Shore excursions (in Disney-speak, port adventures) are planned activities off the ship. In various ports, these might include cultural exploration like museum tours, animal experiences like dolphins encounters, sporty activities like hiking or kayaking, or more. These are nice, but can add anywhere from a few hundred to a few thousand dollars, per person, per excursion, depending on the activity.
To save money, you have two alternative. First, tour the ports on your own. Nearly every DCL port stop has access to shuttles or taxis that will bring you into the nearest town where you can explore at your own pace. Or second, arrange for a non-Disney port tour. Many independent providers offer excursions similar to Disney's, often at a lower cost.
3. Movie or theater snacks.
Preludes snack bar exists on the theater level of all five Disney ships. They sell snacks such as popcorn, candy, and sodas, all for an upcharge. But that's not the only food you're allowed to bring into the theater.
Before your show, head up to the pool deck, grab a free soda and some fries or chickens nuggets and you have your nosh for no fee.
4. Adult Dining.
Each Disney Cruise Line ship has one or two restaurants that are adults-only and charge a sometimes substantial fee to dine there.
To save money, you can obviously skip these restaurants. But that doesn't mean you can't have a more special meal in the regular dining rooms. Feel free to order multiples of any course, order menu items from other rotational restaurants, or ask for your food to be customized in a way that suits your palate. Enlist your serving team as your ally in creating the perfect meal for you, at no upcharge.
5. Fancy ice cream.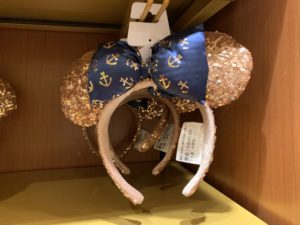 Three of the Disney ships have on board specialty ice cream shops: Dream (Vanellope's), Fantasy (Sweet on You), Wish (Joyful Sweets). They have fancy flavors available for a fee, but there is plenty of free ice cream on the ships as well.
There will be a sundae offered on nearly every main dining room dessert menu. And there is free soft serve available on every ships' pool deck (always chocolate and vanilla, but often additional fruity flavors as well). A little creativity can make your free soft serve more special. Grab some cookies from the buffet and make an ice cream sandwich. Add some soft serve to a free soda to make a float. Bring a dish of fruit or syrup from the buffet to top your soft serve.
6. Souvenirs.
The Disney ships all have multiple gift shops, with ample opportunity for spending. You can just skip the souvenirs. But if you do want some DCL merchandise, you should know that much of the shipboard merch is also available online at shopDisney.com. Shop Disney often offers sales and discounts that are not offered on the ships and they almost always have free shipping codes for orders over $75. If you want, say, a tee shirt that says "Disney Cruise Line," you many be able to get it for less off the ship.
7. A verandah.
Verandah is the Disney term for balcony. Staterooms with verandahs almost always cost more than oceanview (porthole) or inside (no window) staterooms. A verandah can be nice, but there are plenty of places on deck to sit outside and watch the water. Particularly on a short cruise, you can have an equally lovely experience without spending hundreds or thousands of dollars extra on a verandah.
Let us know what your favorite DCL money saving tips are.