SATURDAY SIX: Examining the DOG WITH KEY scene in Pirates of the Caribbean
This week's SATURDAY SIX takes a look at the "Dog with Key" scene from Pirates of the Caribbean! We all have our favorite rides at theme parks, but some attractions have moments which transcend the actual ride and take on a life of their own. These are the moments that will stick with guests long after the ride has ended. For example, in this Fine Blog Series we have often joked about guests who recite the Ghost Host spiel in the Haunted Mansion, but there is no denying that many do it because the Stretching Room moment is so meaningful to them. Creating that memorable moment isn't as easy as it seems, but when Disney and Universal nail it, trust me,  you know. Whose mouth doesn't drop when the transport ship's door opens on the Star Destroyer in Rise of the Resistance? What guest doesn't love the sensation of "falling to your doom" in The Amazing Adventures of Spider-Man, only to be saved by ol' Spidey himself at the last second? The flailing arm of the giant Yeti as you pass underneath in Expedition Everest…okay, maybe not that one.
For me personally, one of my favorite rides of all-time is Pirates of the Caribbean. Growing up in New Hampshire, I had ridden plenty of roller coasters and other rides at various amusement parks and carnivals across New England. It wasn't until my parents took me to Walt Disney World when I understood the difference between amusement park rides and theme park rides. Amusement park rides were fun, but I never thought about them a second after the ride was over. When returning from a Florida vacation, all I could think about was how much rides such as Jungle Cruise, Kongfrontation, and – of course – Pirates, blew me away. One moment in particular that I loved was the "dog with key" scene in Pirates.  It resonated with me in a way very few things do in any theme park, as it told its own smaller story in the tapestry of a much larger one.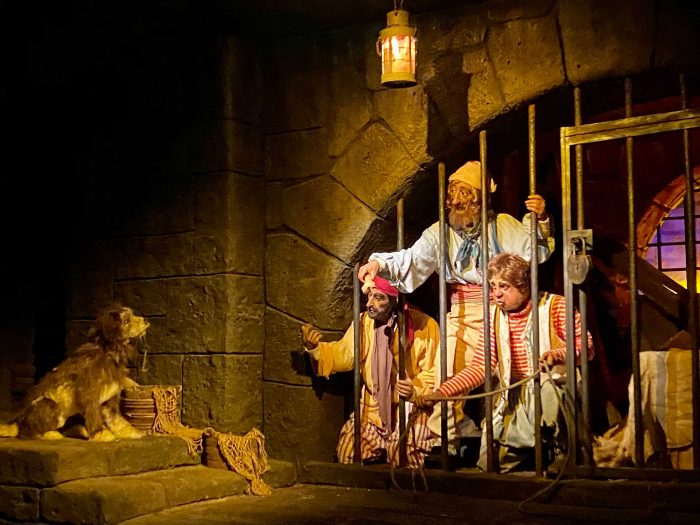 Apparently I wasn't the only one inspired by this iconic scene, and today we're going to look at how it has been presented in other areas of the theme parks, on merchandise, and across pop-culture in various forms of media. Let's kick it all off with…
# 6 – Curse of the Black Pearl
When it was announced that Disney would be making a full length movie based on the Pirates of the Caribbean ride, even the most pixie-dust filled supporter of the Mouse had reason to be skeptical. Disney's track record with movies based on theme park attractions was abysmal at best (we're looking in your direction Haunted Mansion, The Country Bears, and Tower of Terror.) When Pirates of the Caribbean: Curse of the Black Pearl was released in 2003, we all went to the theaters prepared for the worst.
Then a funny thing happened. The movie was actually good. Better than good in fact, Black Pearl was great! It had audiences leaving the movie theaters on cloud 9, as they all had just watched something magical. For theme park fans it was an even better experience, because not only did we watch a wonderful movie, but it paid homage to several key moments from the Pirates attraction, including the Dog with Key scene.
Not only does Black Pearl reference the Dog with Key moment early in the film, but it brings back the dog later in the movie for a similar gag with Jack Sparrow. It's worth noting that Black Pearl has several subtle nods to the Pirates attraction, but the Dog with Key moment was just about lifted straight from the ride and put on the big screen.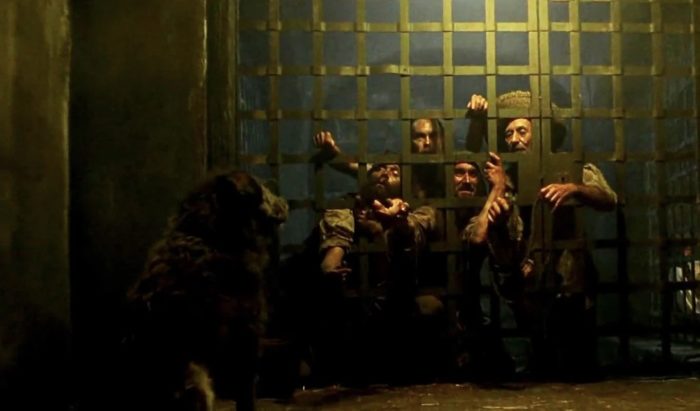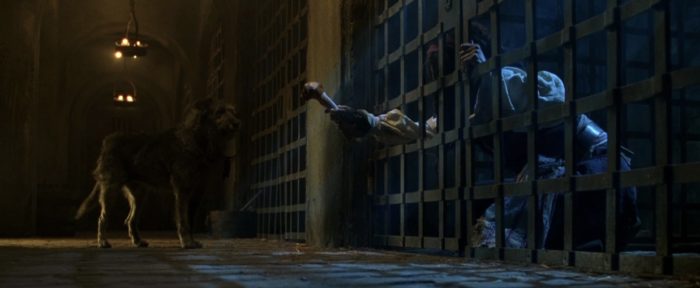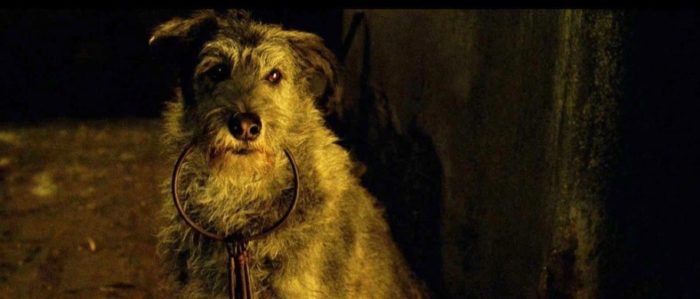 # 5 – Photo-ops
For the 55th Anniversary of Disneyland, a photo-op was put in the park featuring Pirates of the Caribbean artwork by none other than Disney Legend Marc Davis. In the photo-op, guests could "be" the Dog with Key. For anyone who saw The Imagineering Story on Disney+, it was pointed out how influential Marc Davis was in the creation of the original Pirates of the Caribbean attraction.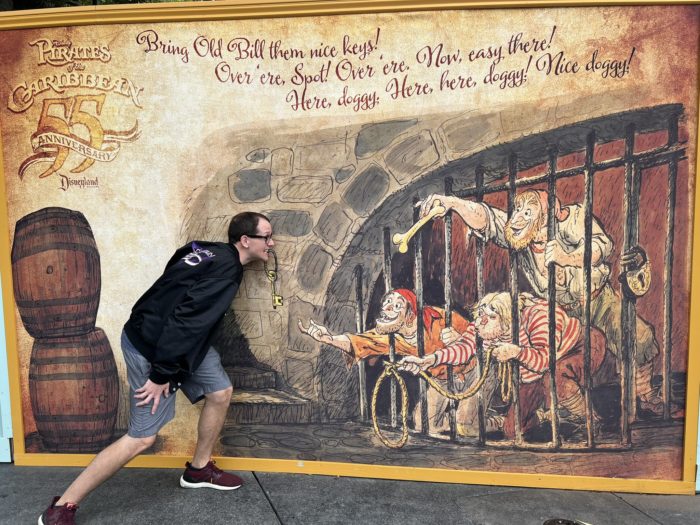 Somehow this one photo-op had more thought put into it than everything we got in Florida for Walt Disney World's 50th anniversary.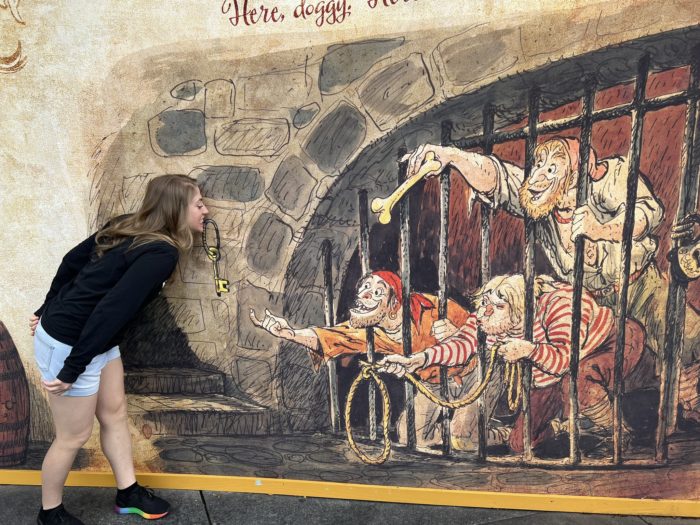 Another Dog with Key photo-op has been used at the D23 Expo.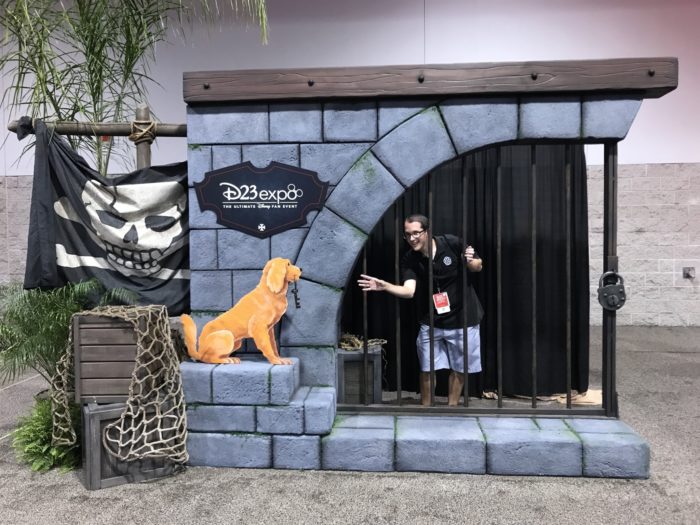 # 4 – Pop Culture
People have been paying tribute to the Dog with Key scene in various forms across pop culture, including video games, television shows, and of course the highest form of nuanced art: social media memes.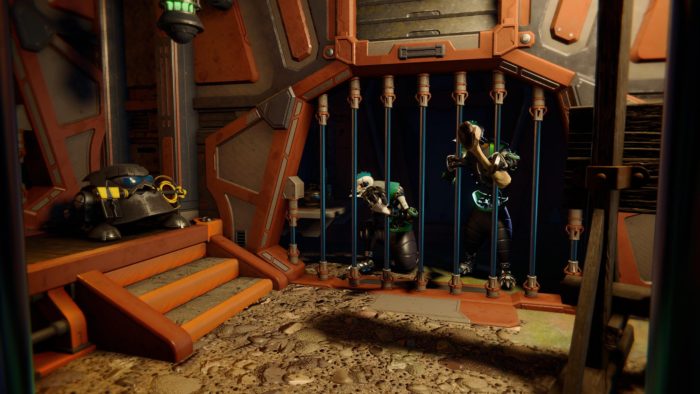 We've done several articles on how many episodes of The Simpsons were filled with theme park references (which you can read by CLICKING HERE and by CLICKING HERE, TOO) but believe it or not Spongebob Squarepants also did an episode that was loaded with references to the Disney parks and even Walt Disney himself. Fire up Paramount+ and look for Season 12, Episode 13: "Escape from Beneath Glove World" (or watch a more pixelated version on YouTube.) For theme park fans, this one is worth going out of  your way to watch.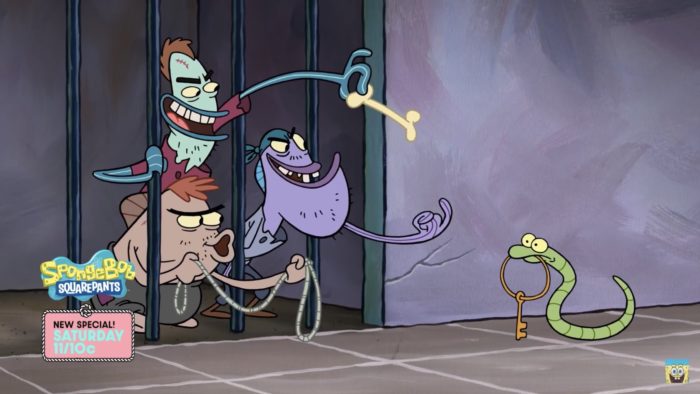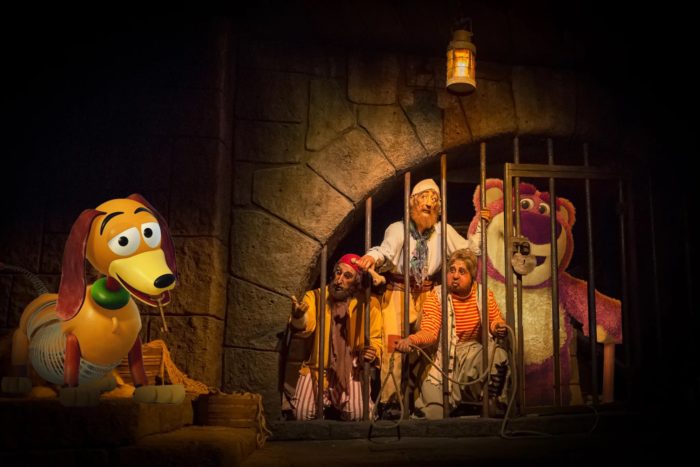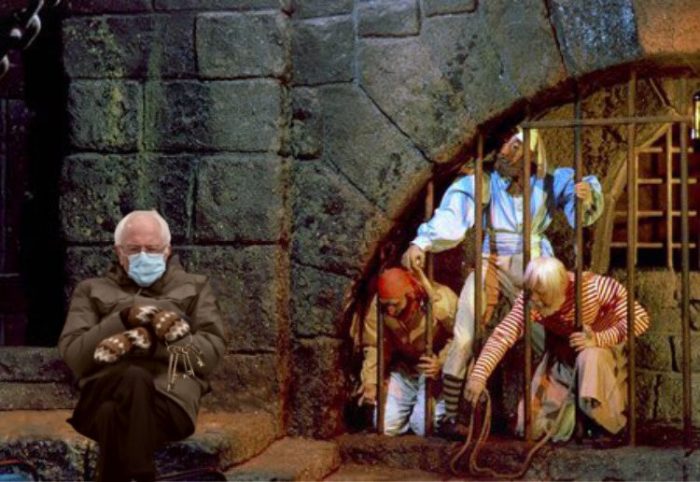 When Disney first announced it was changing the Tower of Terror in DCA to incorporate the Guardians of the Galaxy, we did a special SATURDAY SIX suggesting other ways Disney could introduce Marvel characters into the theme parks. One of our ideas was to add Stan Lee to everything, including Haunted Mansion, Rock 'n' Roller Coaster, Carousel of Progress, and – of course – Pirates of the Caribbean.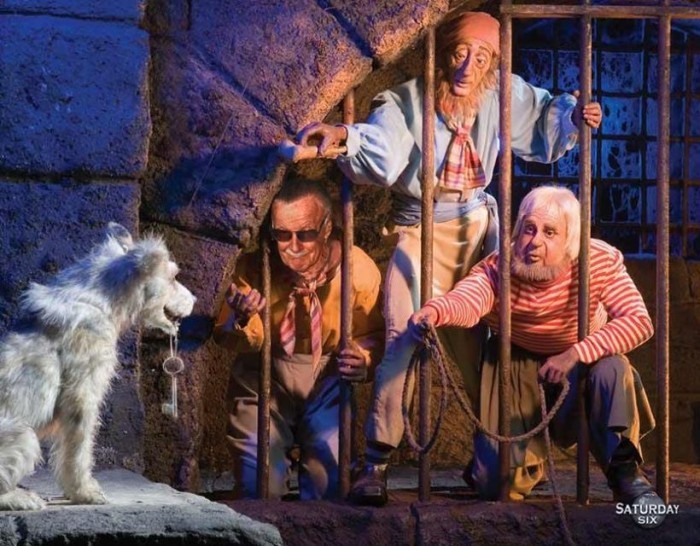 # 3 – Art
The Dog with Key scene has been recreated artistically by many Disney fans, but also in prints by Disney itself, including this piece "Parlay" by artist Craig Fraser.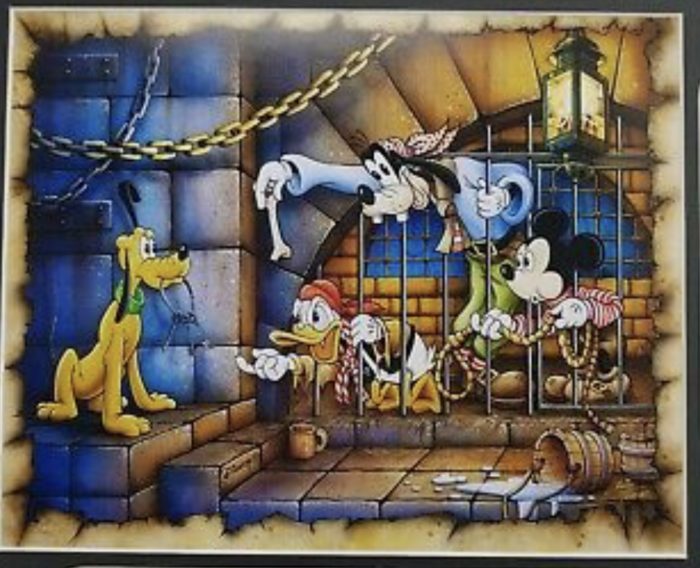 One of the hottest comic book characters of the last 30 years is Deadpool, created by artist Rob Liefeld. One of the most prolific creators in comics, Liefeld is also a fan of theme parks and was able to pay homage to the Dog with Key scene in this cover to Deadpool Corps issue 3.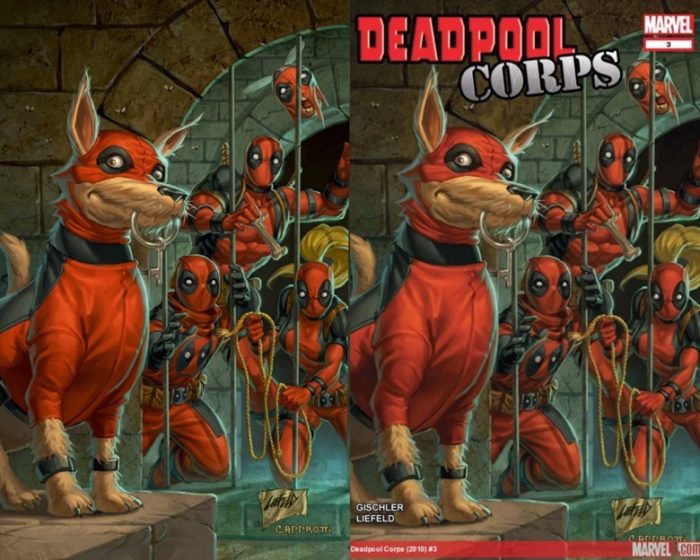 One of the annual traditions of this fine blog series is our Artist Spotlight series every February to tie-in with Disney's Festival of the Arts. One of the artist featured – Jess Siswick – did her own tribute to this iconic scene.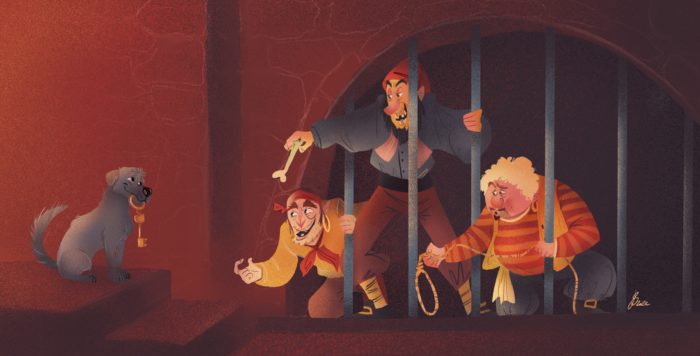 Back in 2020, when both Disney and Universal shut down their theme parks, Your Humble Author wrote and drew a benefit comic book with all proceeds going to affected Cast Members and Team Members. The theme of the comic book was "Batman visiting the theme parks" and each page played with the idea of Batman (or someone from his Rogue's Gallery) at Disney or Universal. This included things like Batman & Robin at Popeye & Bluto's Bilge Rat Barges, enjoying the old Jaws ride, and having fun in Springfield USA. One of the drawings in the book was of course going to pay tribute to the Dog with Key scene, and for this one I used Ace the Bat-Hound, along with the Penguin, Riddler, and Joker.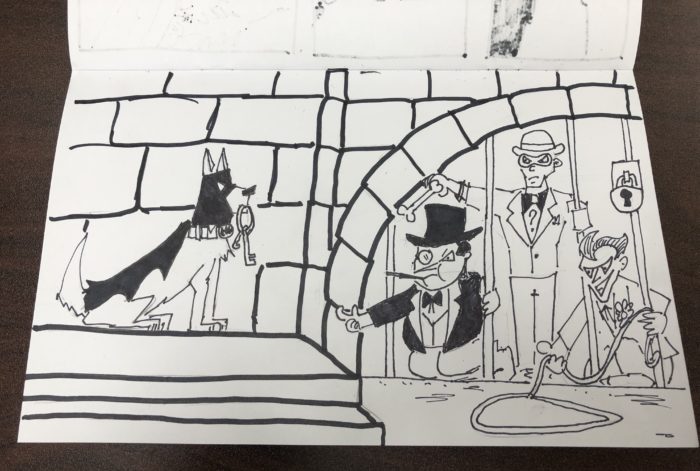 Here's a sneak peek at the creation of my drawing and how I originally envisioned it. As you can see, I gave up on trying to draw The Ventriloquist as it became obvious he was outside my limited drawing skills.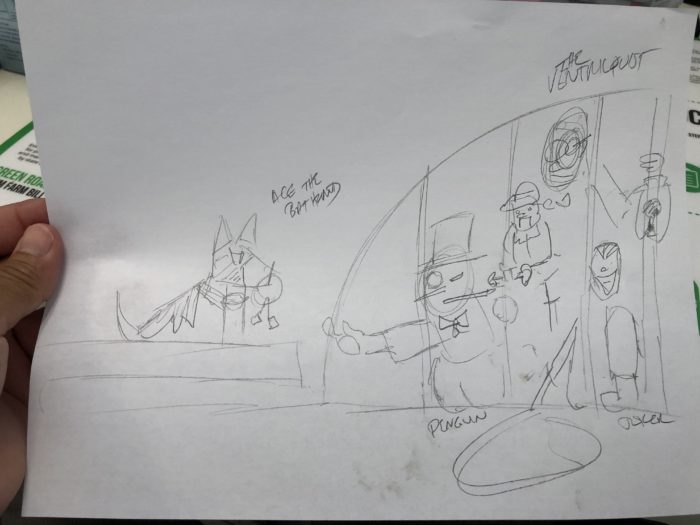 2020 may go down as the craziest year in theme park history, but one of the most bonkers stories that year which was theme park adjacent was the popular account @DrunkAtDisney being banned on Twitter. You can read about the entire story by CLICKING HERE. Having fun with the idea of "Drunky" being in "Twitter jail," artist SonderQuest created this piece using the Dog with Key scene as inspiration. The prison dog in this drawing is none other than Bacini – the official dog of DisTwitter.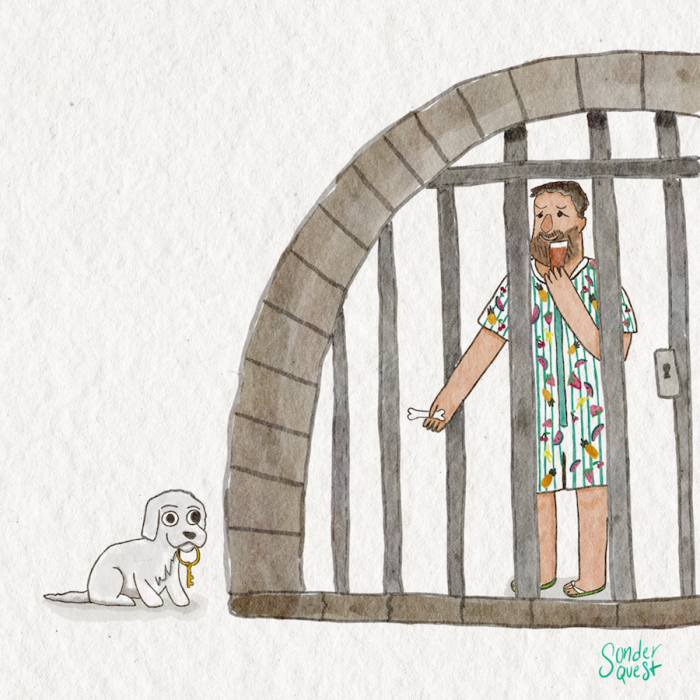 UPDATE: In early 2023, Disney released a Little Golden Book based on the Pirates of the Caribbean attraction, featuring – of course – our favorite canine and his buccaneer captives.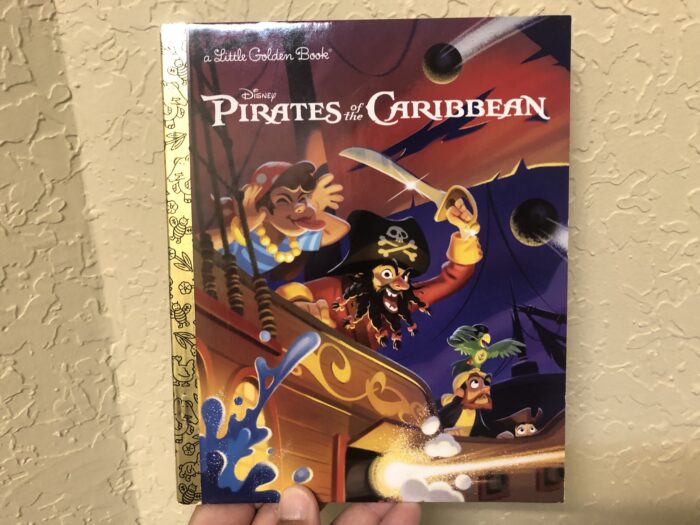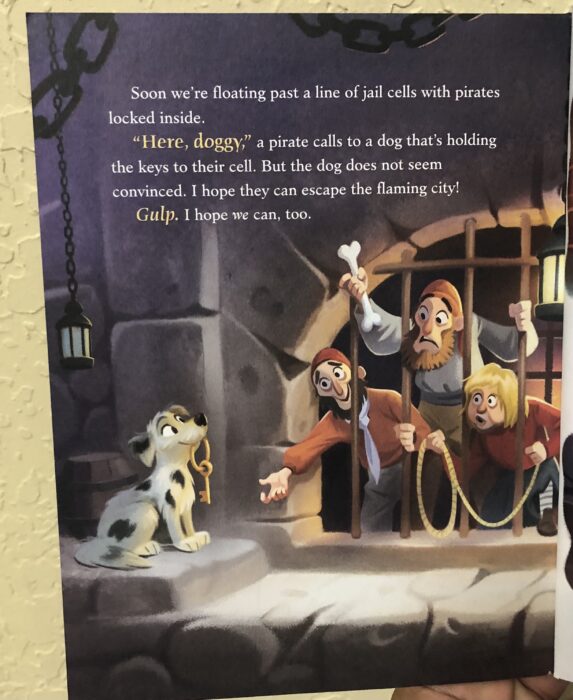 # 2 – The Merch
The Dog with Key has been used for a whole bunch of official Disney merchandise over the years. Below are just the ones I know about and surely is just the tip of the iceberg.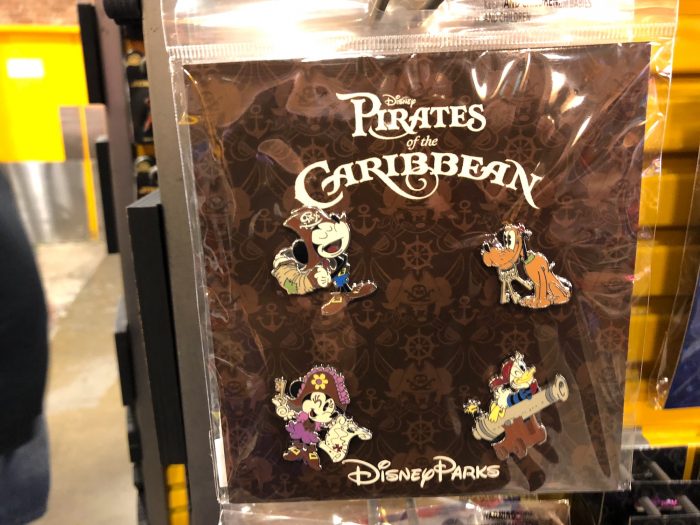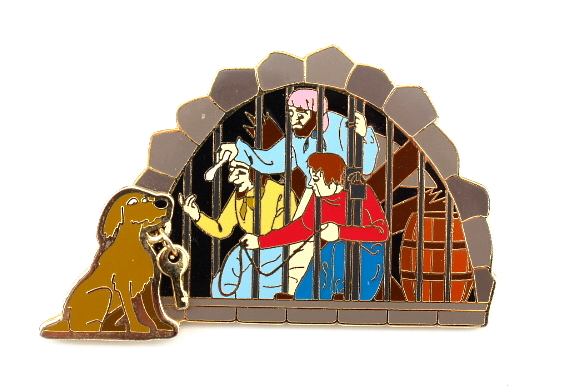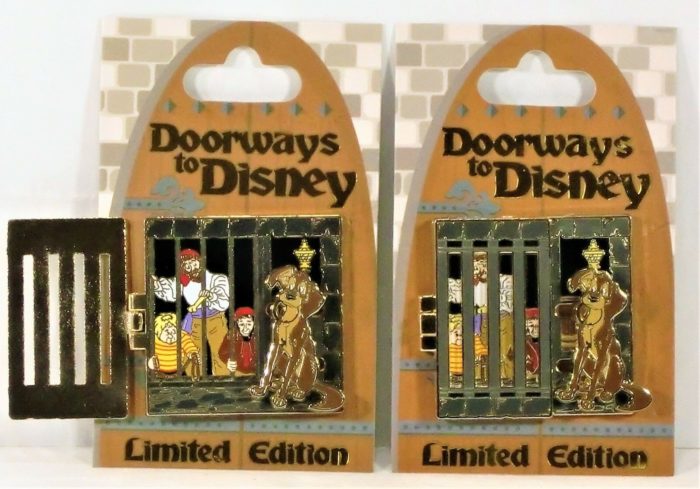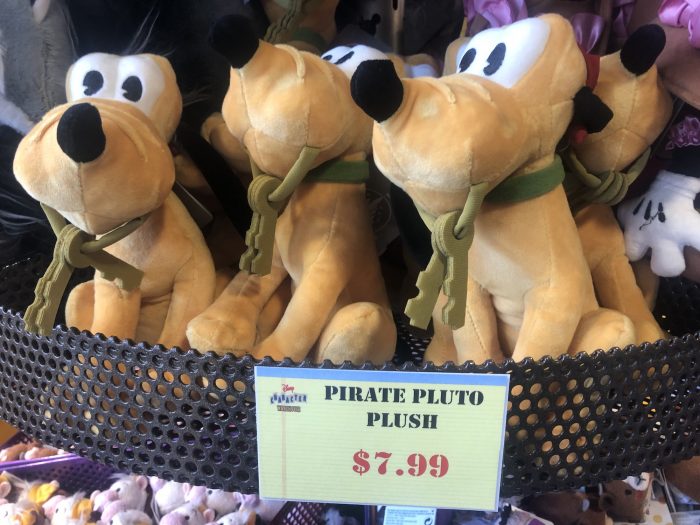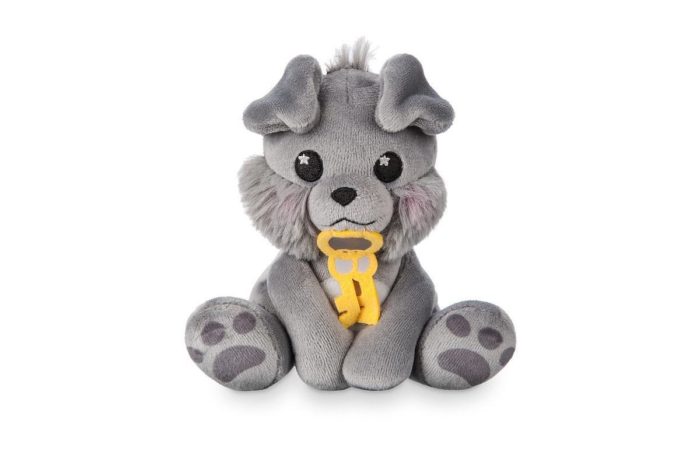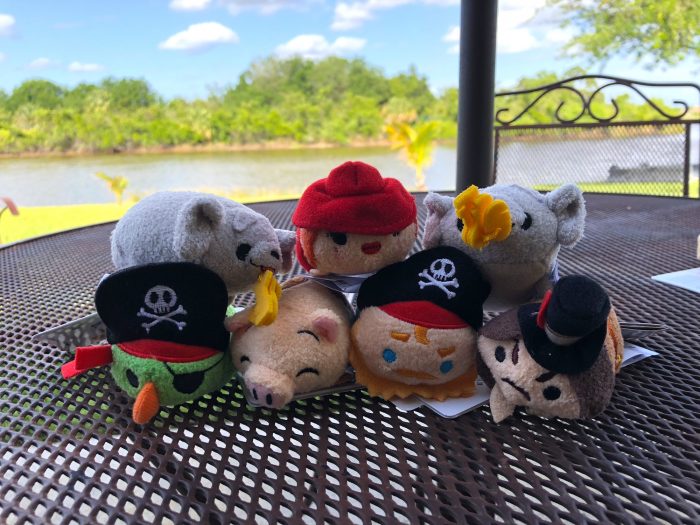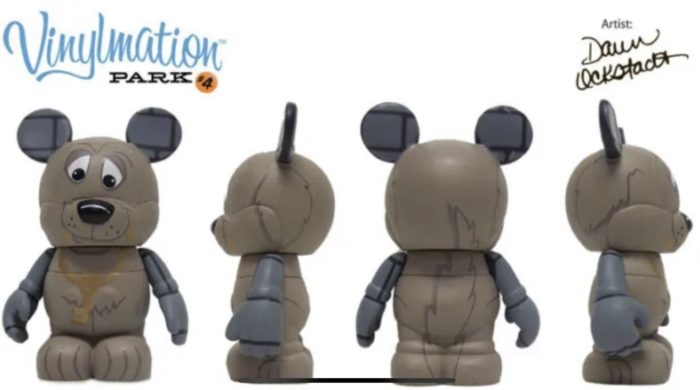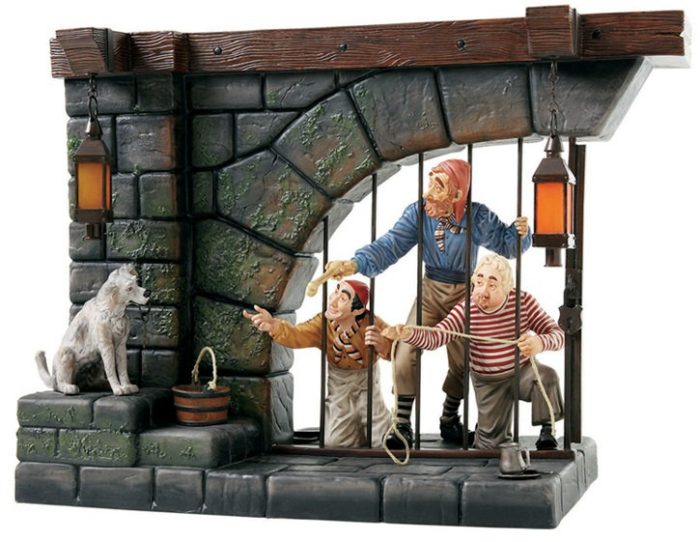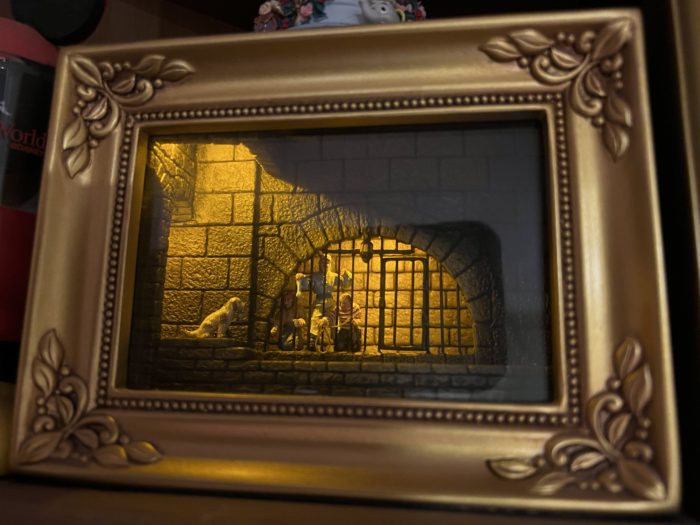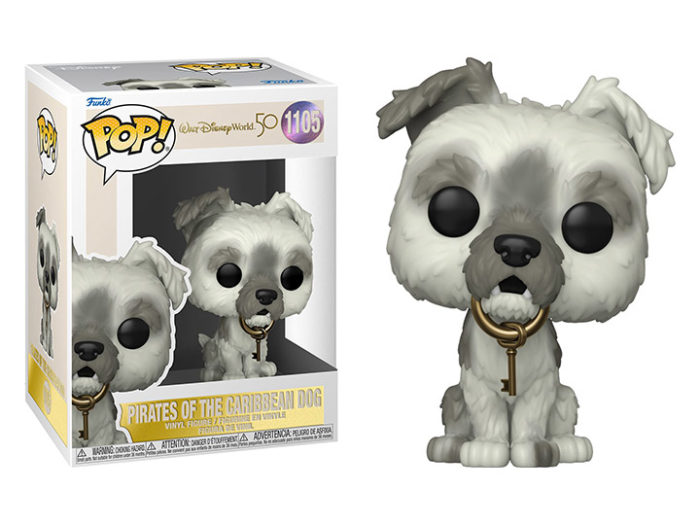 # 1 – THE SHIRT
A little backstory. By now you know how much the Dog with Key scene means to me personally, and for YEARS I have wanted to do an article on it. It has always been on the back burner and part of my "To Do" list. Finally, this past week, we had what is known  as an "inciting incident" that compelled me to sit down and finish my passion project. So what happened this past week? Well, this shirt was released in Disneyland.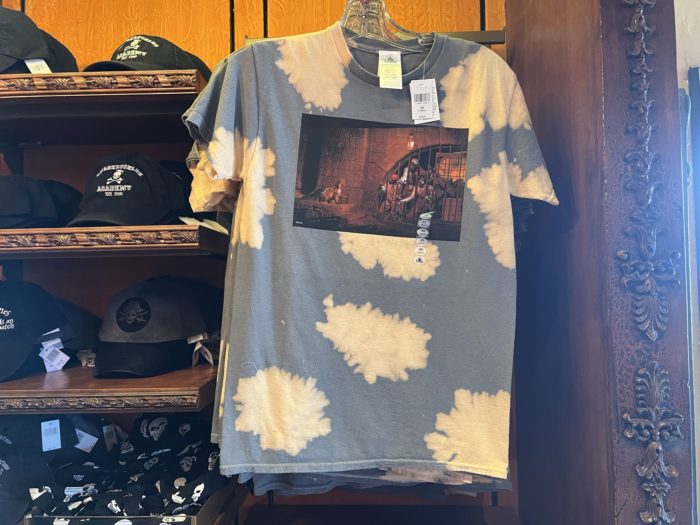 Released is probably a strong word. "Escaped" may be a better term.
As the worldwide expert on bad Disney merchandise, I can say with full authority this is one of the worst shirts ever made by Disney…and imagine the ground that is covering. Not only is it non-sensical, but it looks like a child attempted to make their own shirt at summer camp using an iron transfer for the first time. Not only are the picture and shirt background incongruous, but they really needed to slap a  Copyright Disney logo on the bottom of the photo? WHAT?!!!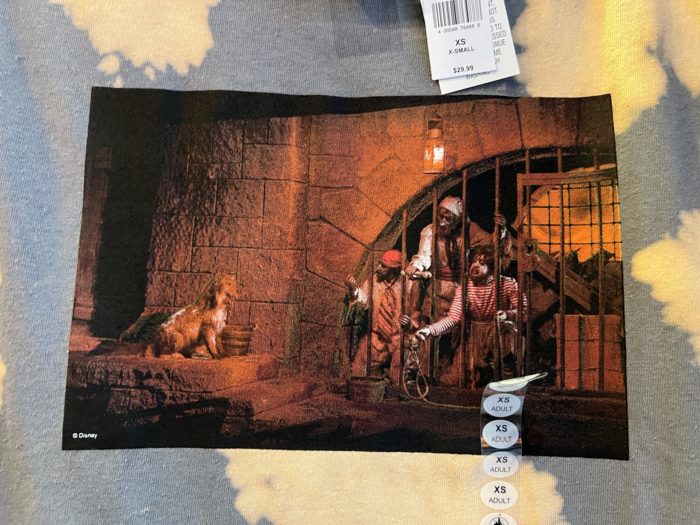 They say you either die a hero or live long enough to become the villain, and I've now lived long enough to see the greatest Disney ride moment in my life become the single most embarrassing piece of merchandise the company has put out. So bad that it is actually great and you better believe I'll buy one once they hit the Disney Outlet Store, and I'm not alone…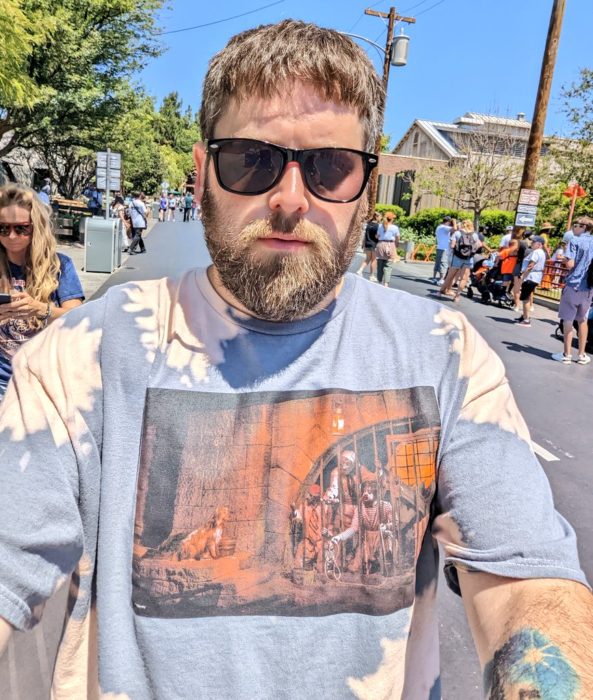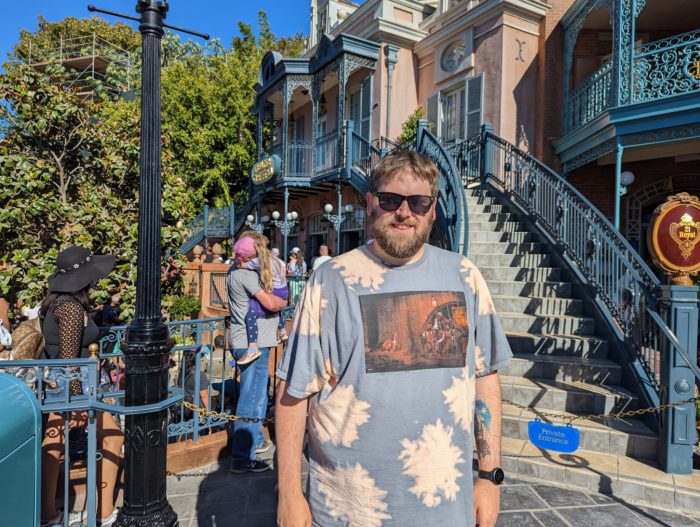 For the INCREDIBLE header drawing this month, artist Brian Cooper brilliantly recreated the Dog with Key moment. As always, Brian filled the artwork with Easter Eggs including the coloring of the drawing being a nod to the watercolors used in the concept art by Marc Davis. Bacini is once again playing the titular role of Dog with Key, while the pirates locked up include Brian, the character Derek from the David & Derek series, and Len Testa's close personal friend Hank Lonely. Brian, Derek, and Hank are trying to entice Bacini with merchandise seen in this article.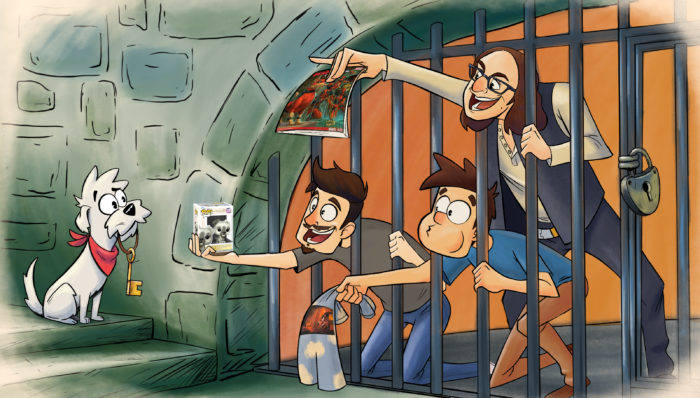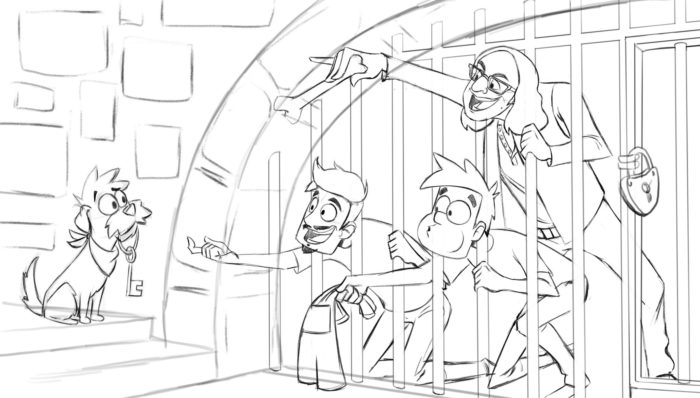 Honorable Mention: Skyliner
With the amount of Intellectual Property available to Disney, being one of the IPs to make it onto a Skyliner cab isn't as easy as you would think. Very few Disney attractions made the cut. There is no Skyliner art featuring well known Disney attractions such as Jungle Cruise, Space Mountain, or its a small world, but there is a design featuring characters from Pirates of the Caribbean, and wouldn't you know who is featured…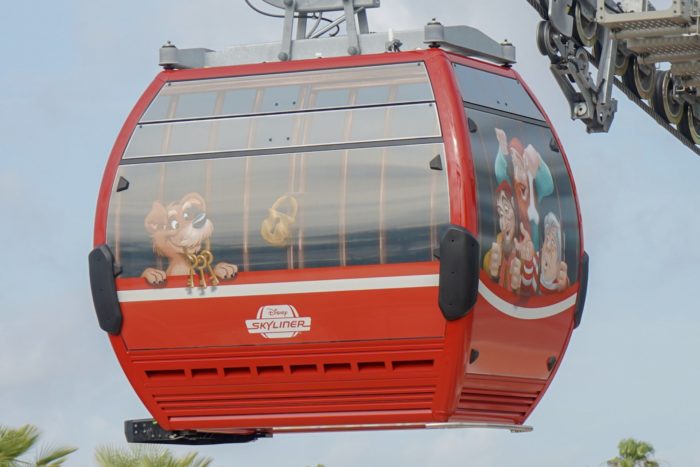 So there you have it: The SATURDAY SIX Looks at the "Dog With a Key" Scene from Pirates of the Caribbean! See you next weekend for the latest installment of the SATURDAY SIX, where we'll look at something fun from the world of Disney and Universal. If you enjoyed yourself, be sure to check out the THEME PARK ENJOYMENT INDEX, giving a monthly recap of all the theme park news you need to know (and a lot more you don't need to know, but we're gonna tell you anyway). You can also follow Your Humble Author on Twitter (@derekburgan).
If you enjoyed this article, you will surely like the following: 
SATURDAY SIX Presents: The Disney Signage Hall of Shame
SATURDAY SIX Presents: The Disney Food Hall of Shame
SATURDAY SIX: Tribute to Josh easyWDW
Special Thanks to The Elite Brandon Glover, Digital Maestro Scott Walker, the bio-est of all reconstructs @bioreconstruct, Captain Cruiseline Scott Sanders of the world famous Disney Cruise Line Blog, my personal protege Hunter "Elvey" Underwood, artist @SonderQuest, the mighty maven of merchandise Hedgehog's Corner, the SAT SIX Fun Squad of Parkscope Joe and "the Dadalorian" Nick, hot shot Michael Carelli, charter member of the Universal Four @Nitro230, the permit princess Alicia Stella, master cartographer Tommy Hawkins, and Hermione Granger's tutor Megan Stump for their invaluable assistance with this article. Absolutely no help was added by SeaWorld Influencer @SuperWeenieHtJr. The SAT SIX is inspired each week by goofballs Aengus Mackenzie and LitemAndHyde and you Potterheads will  enjoy Meg's other blog work over at the Central Florida Slug Club.