Slushies with Candy Straws in the Magic Kingdom
In the heat of the Orlando summer, you may need a rush of cold energy absolutely STAT.
There are several frozen slushy drinks at the Magic Kingdom that will give you enough of an immediate sugar surge to power you through the day. Some of the slushies are single flavors or simple flavor blends including:
These are all fine, yummy even, but they positively pale in the creativity department when compared with the Magic Kingdom layered slushies served with candy straws: The Space Ranger Slush at the Lunching Pad, the Wonderland Slushy at the Cheshire Cafe, and the Witch's Frozen Brew at Prince Eric's Village Market.



I sampled two of these layered drinks during my most recent visit to the Magic Kingdom: the Space Ranger Slush and the Witch's Frozen Brew.
Commenting on the flavor of these drinks is pointless. They all have multiple zones of taste depending on where you place the straw. Single flavor. Various blends. They're like drinking a giant Costo-size bag of SweeTarts blended with a Slurpee. Some parts are grape-ish. Some parts apple-ish. All are like the part of your Halloween haul that you'd trade to your younger brother before he wised up enough to understand that Snickers are more valuable than Jolly Ranchers. I'm not saying that's a bad thing, but you should understand what you're getting into, or getting your kid into.
The real point of interest in these concoctions is the "candy-coated straw" that comes with all of them. The straws are barber-pole striped, in a color coordinated with the drink, that has had rock candy grown over it. They're absolutely adorable and would be perfect in a Prosecco cocktail at a bridal shower.
This is the Space Ranger Slush as it was presented to me. Pretty! But the end of the straw was covered with rock candy, rendering the drink unsippable.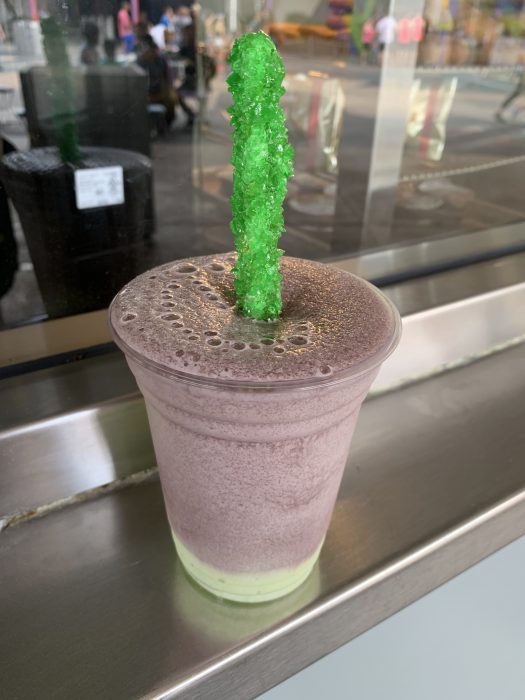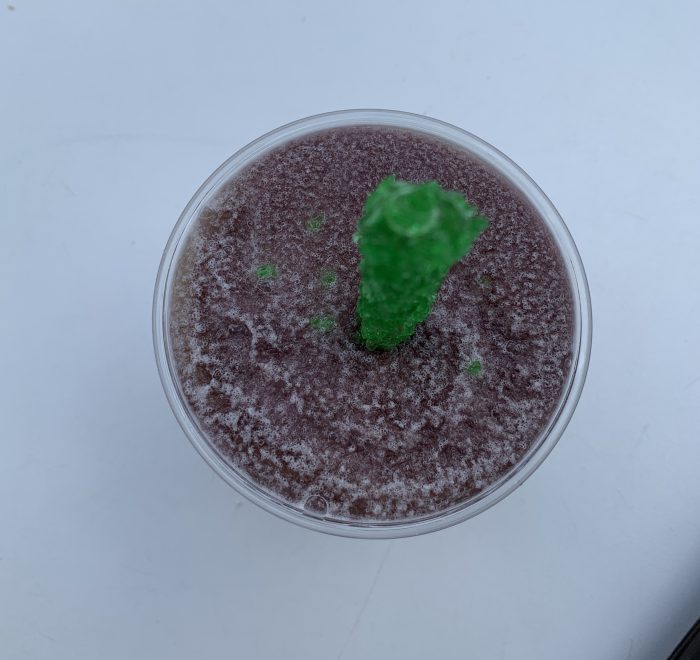 But then I was served the Witch's Brew.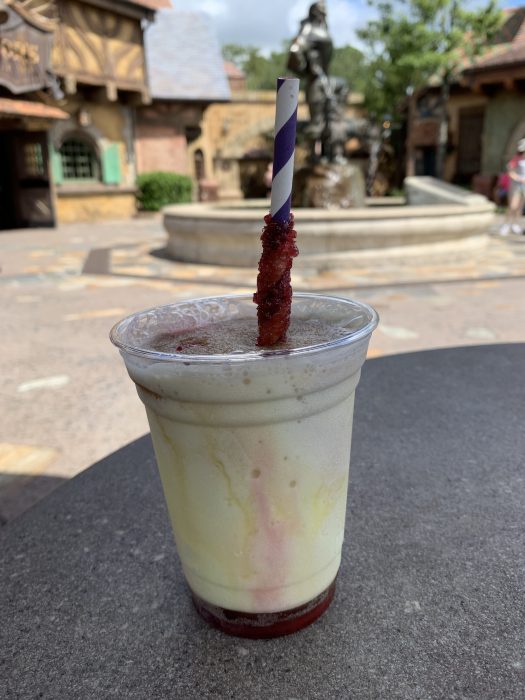 Look! The straw is inverted, with the candy part primarily in the liquid. This makes the straw slightly less photogenic, but much more utilitarian. Once the candy is in the drink, it softens enough to clear the hole, creating the full tunnel in the straw to need to make it function.
So there you have it, folks, a sweet sipper stirred into a super sweet drink.
But if you're going splurge on these sugar bombs, make sure you ask the cast member making your drink to position the straw properly, so you can actually get that G-rated buzz you're after.