Space 220 Gives a Stellar Opening-Day Performance
It's finally happened. Literally years after it was first announced in 2017, EPCOT's Space 220 has finally made its debut!
Located next to EPCOT's Mission: SPACE, Space 220 transports guests to a space station that's tethered to Florida 220 miles above the Earth for a meal that's truly out of this world.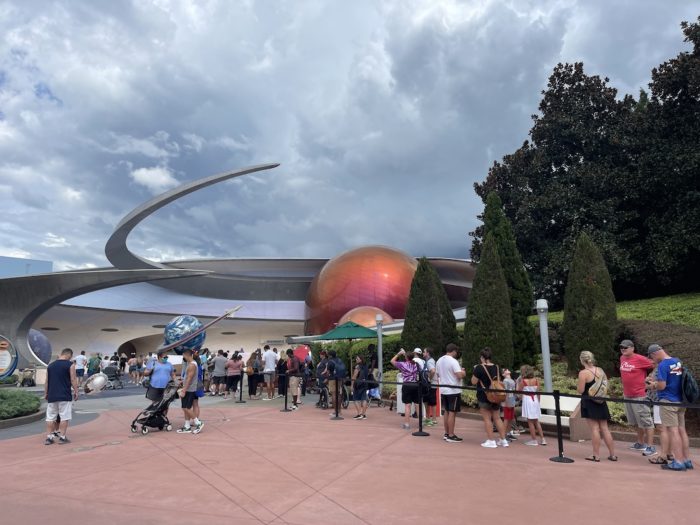 Now the restaurant is only open for lunch and dinner; however, lunch is currently priced at $55.00 per adult and includes an appetizer and entree. Dinner is much pricier at $79.00 per adult but includes an appetizer, entree, and dessert.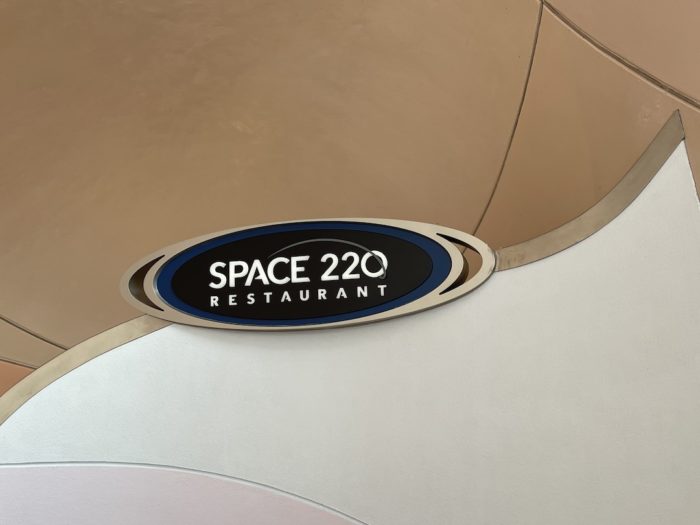 On Space 220's opening day, our park reporter Chrissy was on the scene to see if Space 220 was worth the wait and its hefty price tag.
Note: While the opening day was a walk-up only but it is reported that it has since debuted a virtual queue. Reservations opened September 20 for September 27 which is when the lounge will be a walk-up only. However, the bar will require reservations for at least the initial opening on September 26. In all, there are no advance reservations available for opening week and it's currently unknown how they're handling things until then.
Space 220 Check-in
The entrance sign for Space 220 is just to the right of Mission: SPACE as the restaurant and attraction share, well, space. In fact, Chrissy noticed the lines for Mission: SPACE Orange, and the outside queue for Space 220, are only separated by a chain.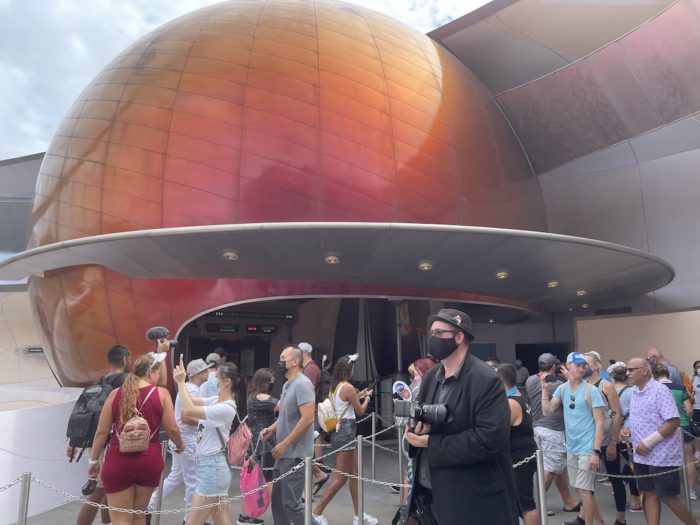 On opening day, guests entered the line just to the left of the Space 220 sign and followed a curved wall until arriving at the exterior check-in desk.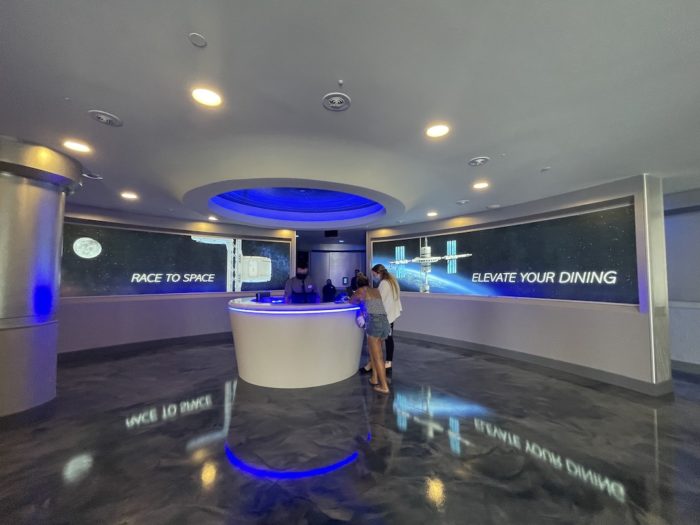 Parties were grouped together, similar to how it's done at a Hibachi restaurant, and then escorted into the sleek, interior lobby to receive boarding passes and wait to be called.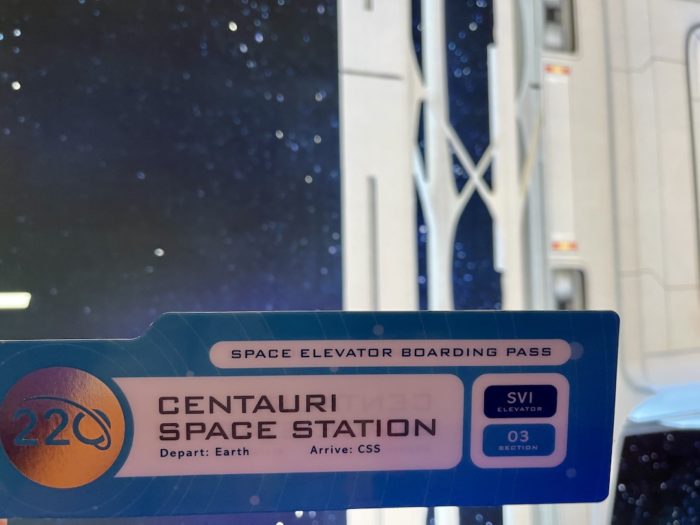 The boarding passes are laminated plastic cards reading "Centauri Space Station Space Elevator Boarding Pass" and lists your departure planet, arrival location, elevator, and section. But really, they're more for show than anything else.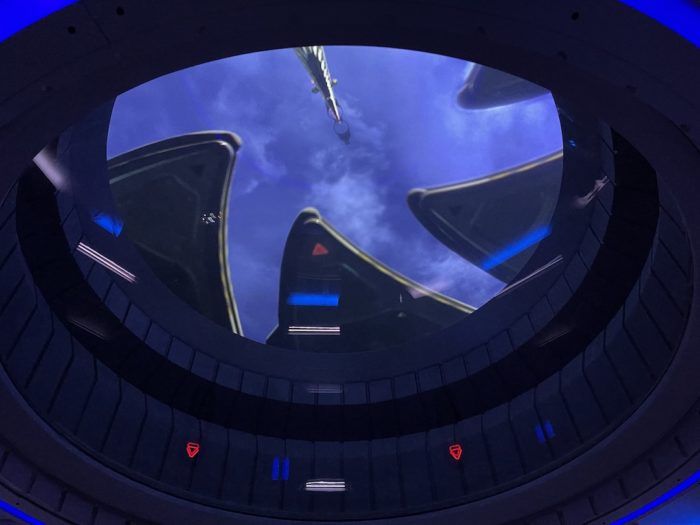 The elevator simulating your travel into space shows EPCOT growing smaller and smaller via a screen on the floor and the station growing closer upon approach on a screen above.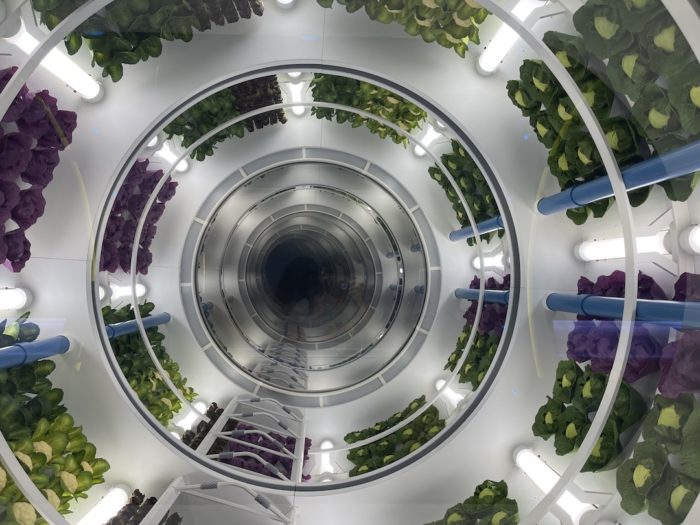 Upon stepping off the elevator, guests are in the space station where a hydroponic garden of lettuce (with serious Living with the Land vibes) is gently rotating. As Chrissy noted, if the hydrolator elevator ride to space didn't get you hyped, the view of spinning, sterile lettuce will.
The Dining Room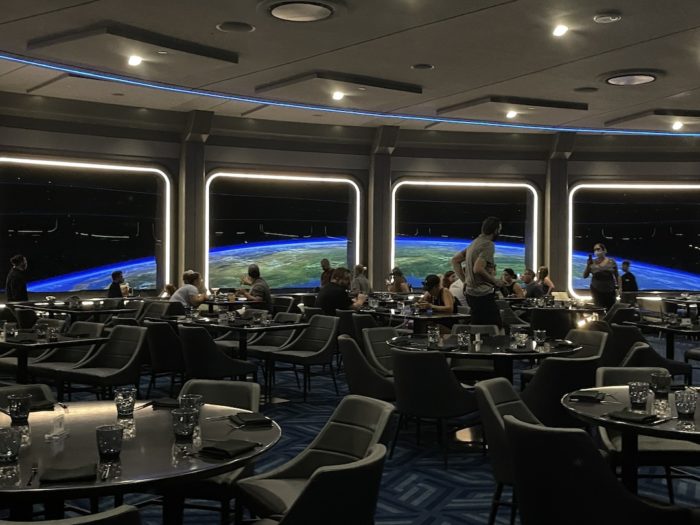 The dining room itself is the main attraction with large windows that look out into space and offer a view of the Earth. Chrissy noted that even Disney's photos and videos failed to do these window visuals justice as they were so stunning and detailed in person.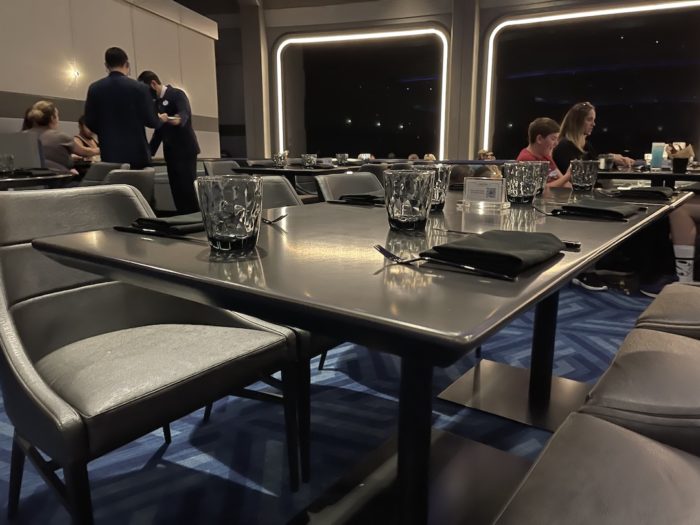 Also, it never stops moving, and astronauts often appear fighting with lightsabers, holding X-wings, and the like. Look away for a moment and you'll miss something.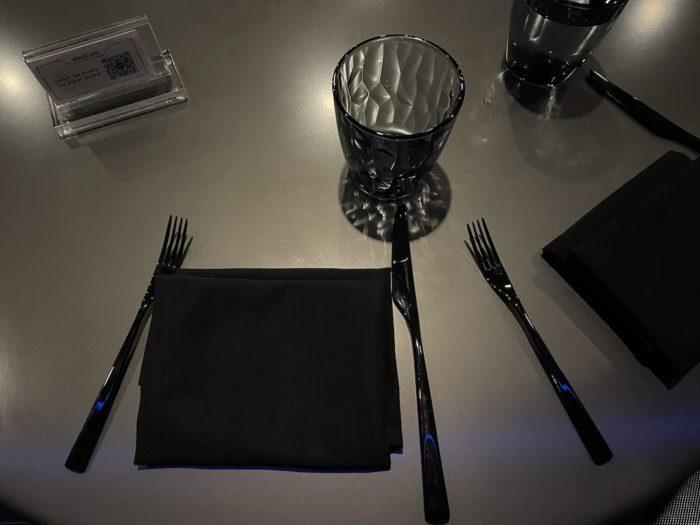 She also added that while the cutlery looked just meh in pictures; in person, it's aerodynamic, sleek, and surprisingly heavy. Other parties nearby were commenting on it as well. The same can be said for the long, narrow, cylinder-esque water pitcher. Everything has a futuristic design that's so cool in person.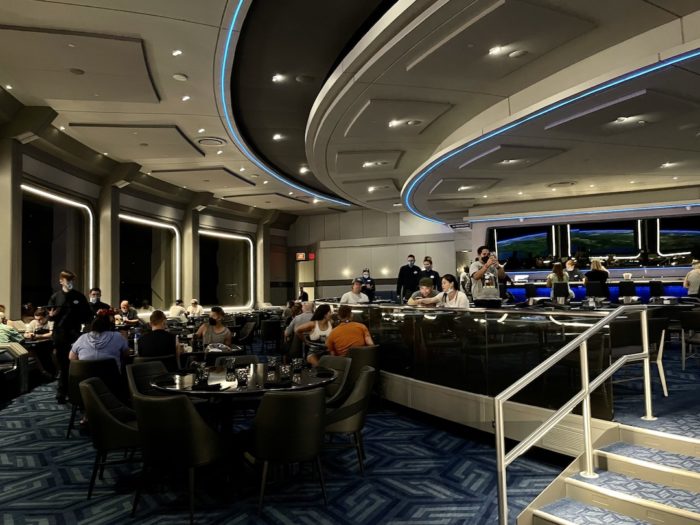 While Chrissy was seated on the upper level of the restaurant, the most popular seats are bound to be the 22 booths next to the windows. If you're looking to request these tables, be aware that they fit four people with two on each side. The lounge has 15 tables with 10 seats at the bar.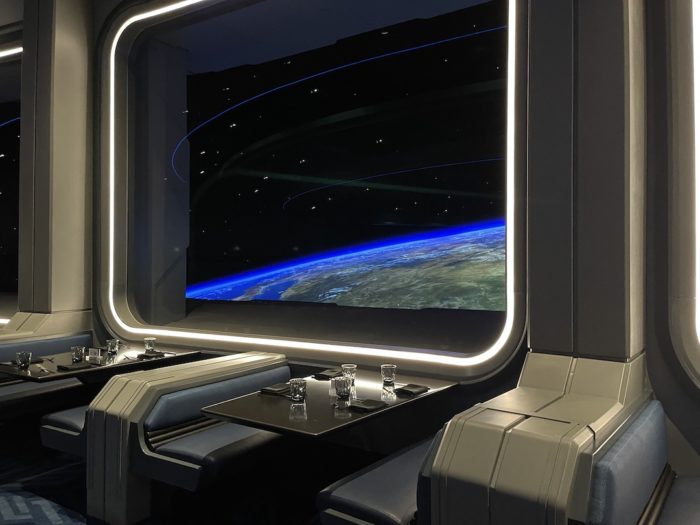 The Menu
The menus for both meals are largely similar with only a few extras selections for dinner. Chrissy, however, was there for lunch where the House Specialities consisted of Planetary Punch and Atmospritz cocktails, the Galactic Lobster Globe, and the trading cards for every kids or non-alcoholic beverage.
"Space Station Supplementals," which are additional entrees for an additional price, are available to select at both lunch and dinner, and the lounge menu has a few additional offerings that aren't on the main menus.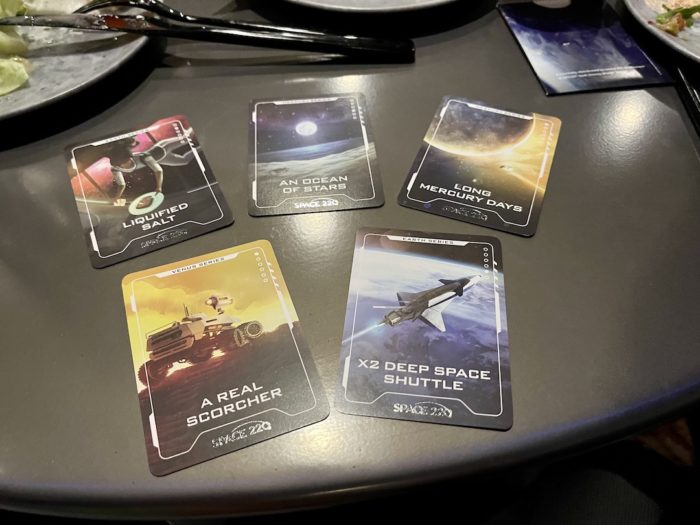 Chrissy found that they were pretty strict on the whole "kids meals are for kids" thing which is unusual for Disney. Still, kids 9 and under get a placemat, crayons, and a pack of Space 220 trading cards. They're also able to order a special rocket sipper. The kids' lunch and dinner is priced at $29.00 per child and includes an entree, dessert, and a drink and is mostly American, kid-friendly fare like macaroni and cheese, chicken, and spaghetti.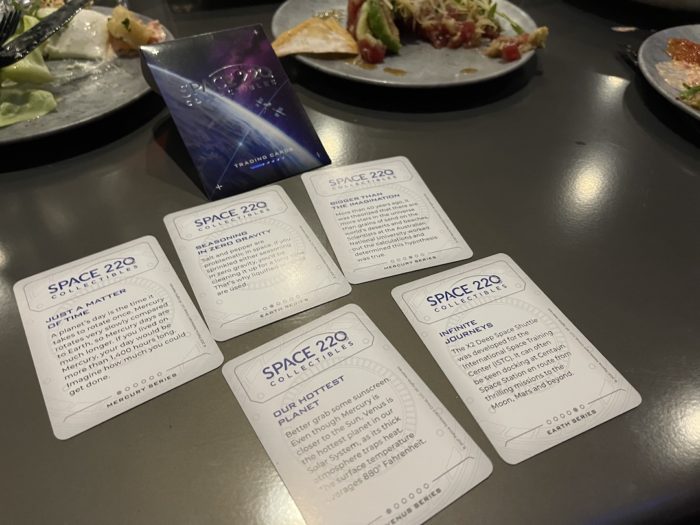 The Lunch Menu
"Lift-Offs" Appetizers – $55.00 per person & includes 1 Lift-Off (appetizer) and 1 Star Course (entree)
Big Bang Burrata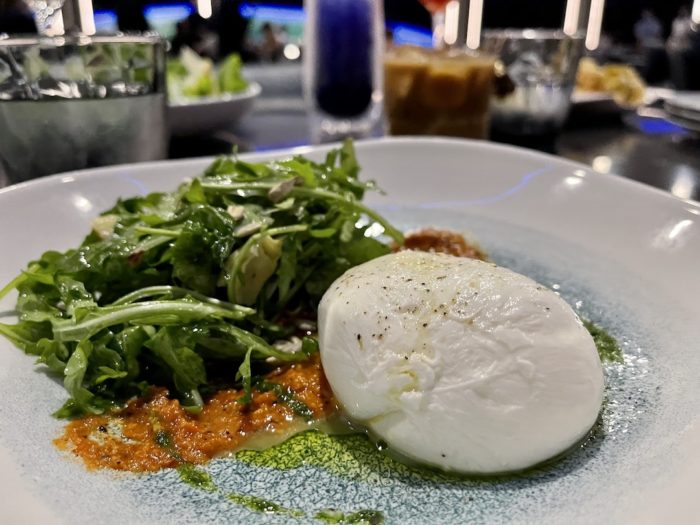 Soft. Creamy. Enormous. The best ways to describe cheese. Fin.
Starry Calamari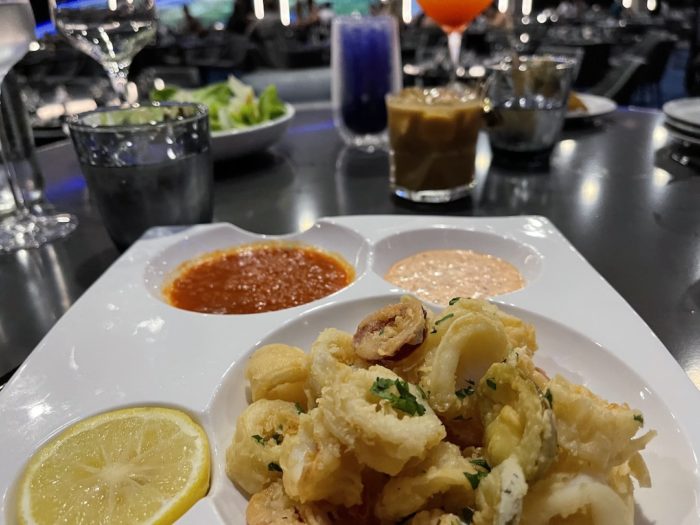 Perfectly crispy and well-seasoned silvers of squid in light, crunchy batter. The spicy marinara is definitely SPICY! Like, your mouth will still feel aflame after a few bits and water. The roasted pepper citrus aioli is delightful! It's not innovative or creative like Citricos, but it's the best version of what it is – familiar American fare.
Neptune Tartare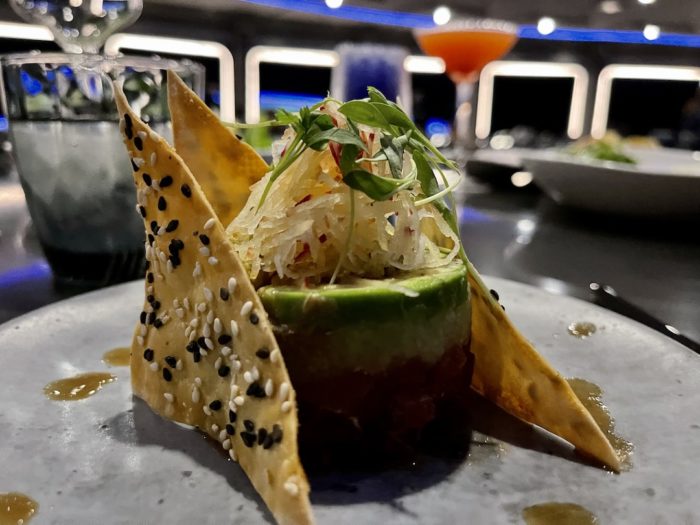 Fresh, beautiful, and a portion large enough to justify the price. The presentation was immaculate which Chrissy thought may be due to the fact it was the first day, but hopefully this effort will be the norm.
Space Greens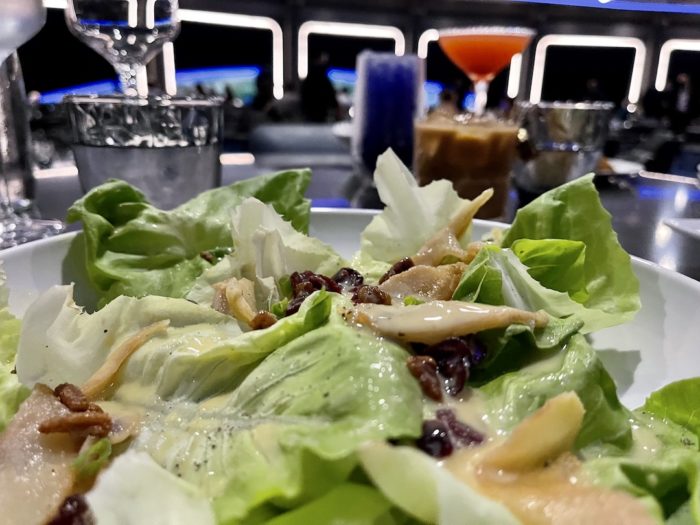 The best salad outside the epic strawberry salad at Citricos. Sweet, tart, and yummy.
Galactic Lobster Globe – $18.00 (as it's one of those "Space Station Supplementals"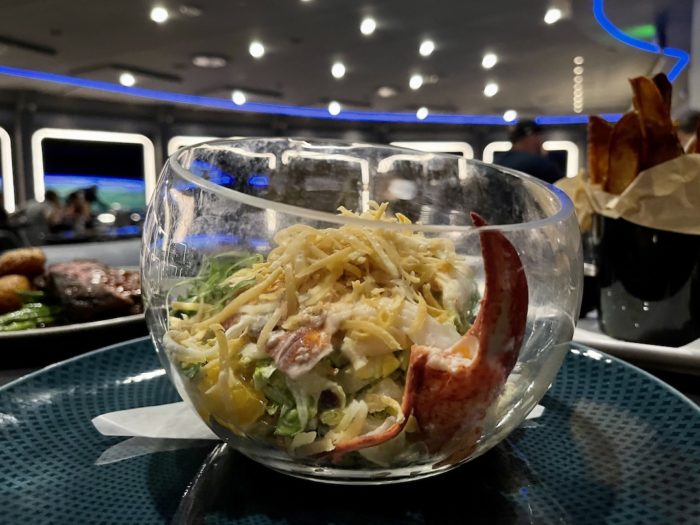 This was presented in a thick, glass bowl resembling a terrarium that would be right at home on the desk of that 1970s scientist in Spaceship Earth.
It's dramatic, striking, and even more impressive when you start to fish out the enormous chunks of lobster. Now it's no secret that Disney lobster is often lacking, but not this dish. It's so fresh and beautifully prepared, and there's huge piles of it. It feels like it should cost more than $18, and Chrissy bets it won't stay at the price for long.
Centauri Burger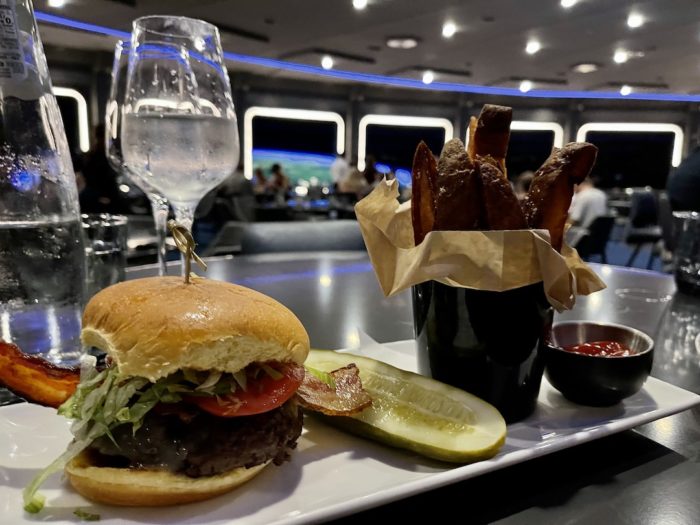 Chrissy's okay with going on record saying that these fries were the best she's had outside of the Canfield Fair in Youngstown, Ohio. Each fry is 1/4 of a potato with the softest interior and the most wonderful, crunchy skin that is somehow not greasy? The burger was her least favorite of each of the entrees, but it was still better than anything else she's ever had in any EPCOT table service location. The Sriracha Aioli is perky but not overpowering.
Flat Iron Steak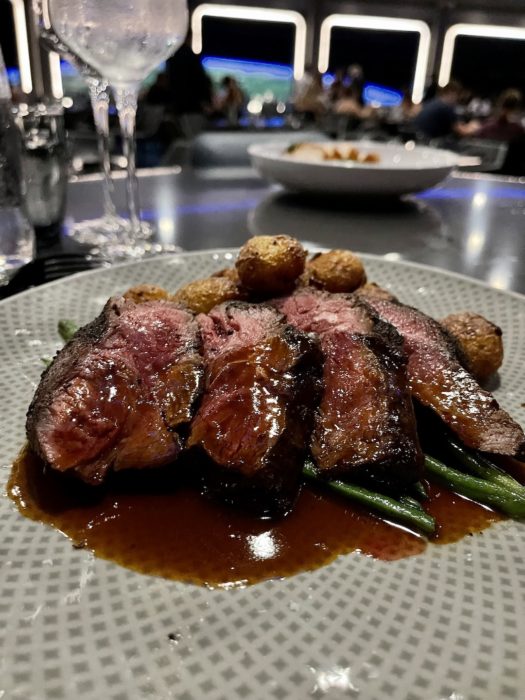 Medium-rare and perfect. This was one of those moments that Chrissy was so excited about the food that she said forgot she was supposed to be working and taking pictures. The Coffee Space Rub gave each piece a gorgeous high-heat sear that seals in the justice of the quality cut of meat. So perfectly done.
Roasted Free-Range Chicken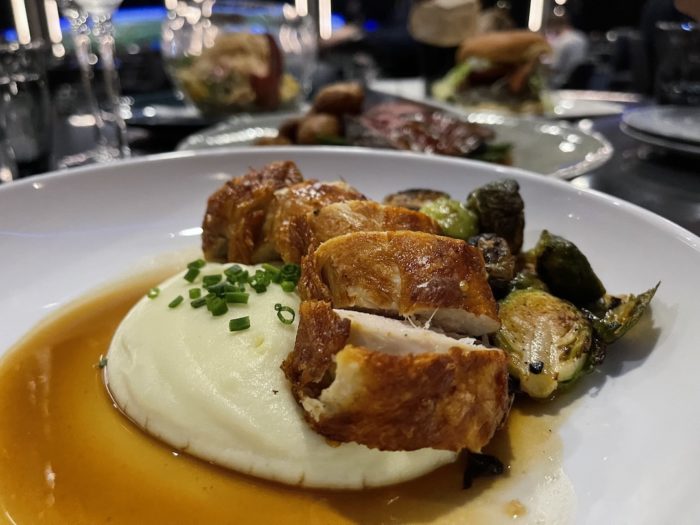 This is the mirror twin of the roulade chicken at Citricos. Moist chicken and liquid gold in the form of roasted garlic thyme jus. She cannot wait to go back for this and the steak. It's so nice to experience a chicken dish that isn't terribly overcooked.
"Super Nova Sweets" Desserts 
Plant-Based Carrot Cake – $14.00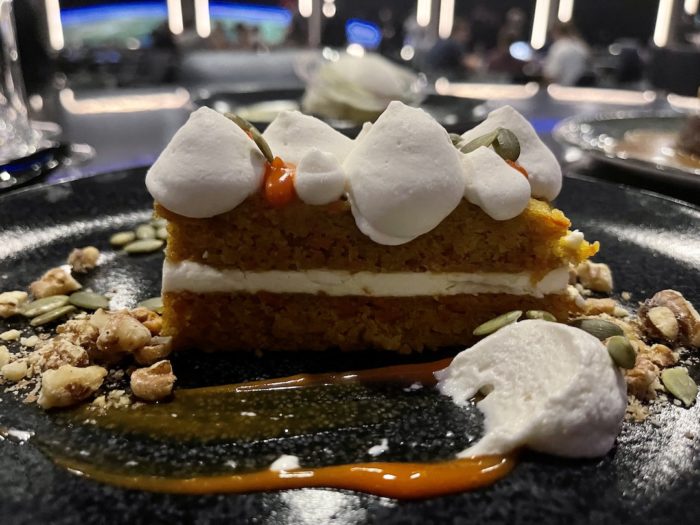 This was Chrissy's favorite of the three desserts. Such pretty presentation with a beautiful, deep, sweet flavor.
Sticky Toffee Pudding Cake – $14.00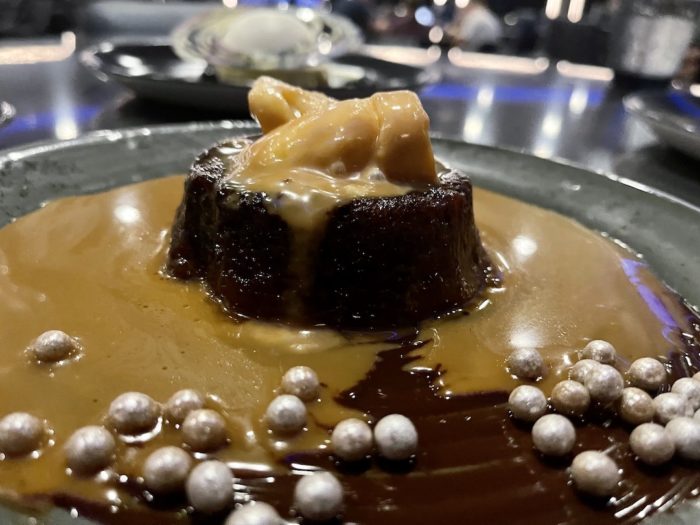 The best version of this British classic. If you like that slight bitter bite of a dark treacle, this is your jam. Your server will pour the warm splash of sticky, sweet caramel over the perfect little mound of cake and bananas, so have your phone ready.
Lemon Mousse – $14.00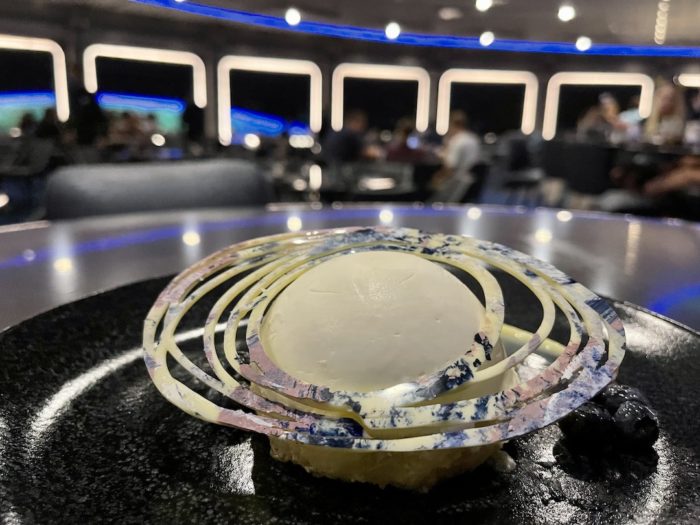 Gorgeous white chocolate rings make this the most visually on-theme of the desserts, but it's so piquant that it's impossible to move past the pucker to properly appreciate the fluffy, creamy texture as you swipe your spoon through the custard.
As someone who's ready to stand up and cheer for each citrus addition to any menu, this was far too sour for Chrissy's taste. Her server did warn her that while it was going to make a great picture – and it did – it wasn't her favorite.
The Drinks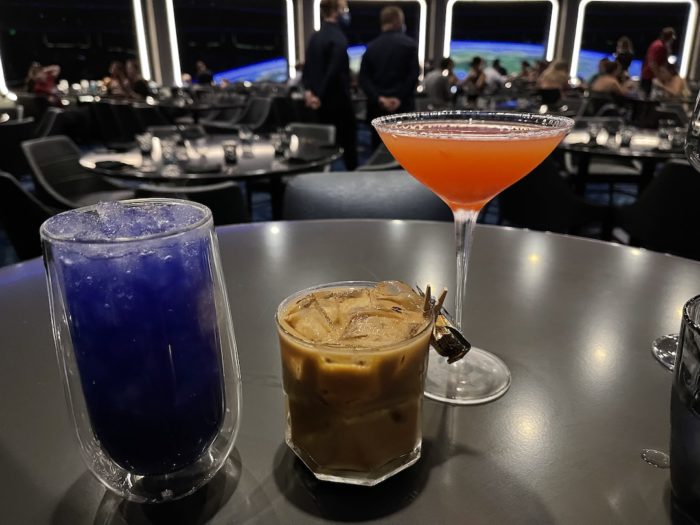 Planetary Punch – $15.00 
Hooray for any drink promising bubbles and a show and delivers for more than a second or two! This was blue and purple fun with a sweet flavor.
Atmospritz – $15.00
Served in a martini glass, your server will pour this very strong drink over a puff of cotton candy. Even a fist full of fairy floss can't sweeten this potent drink enough for Chrissy. She only had two sips so that she could continue to function.
The Milk Way – $12.00 (non-alcoholic)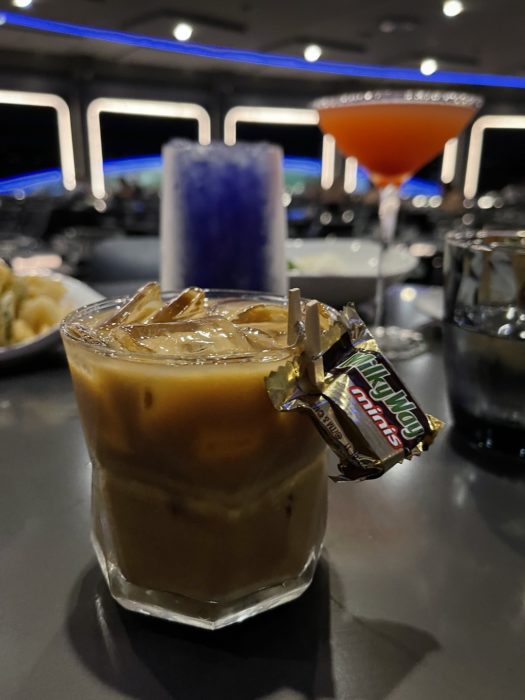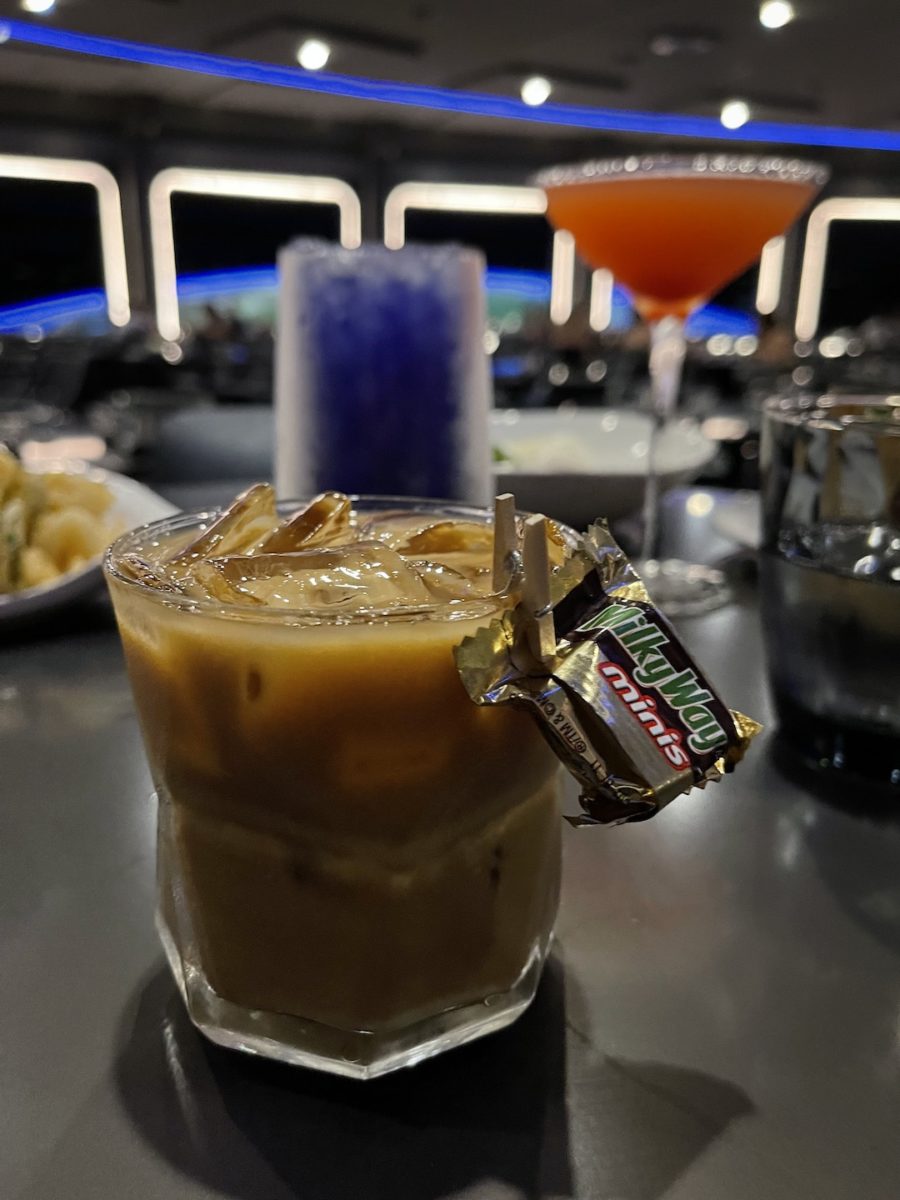 Comes with a little clip and a bite-size Milky Way. The best part? The Space 220 trading cards come with all the kids' meals and non-alcoholic drinks.
Final Thoughts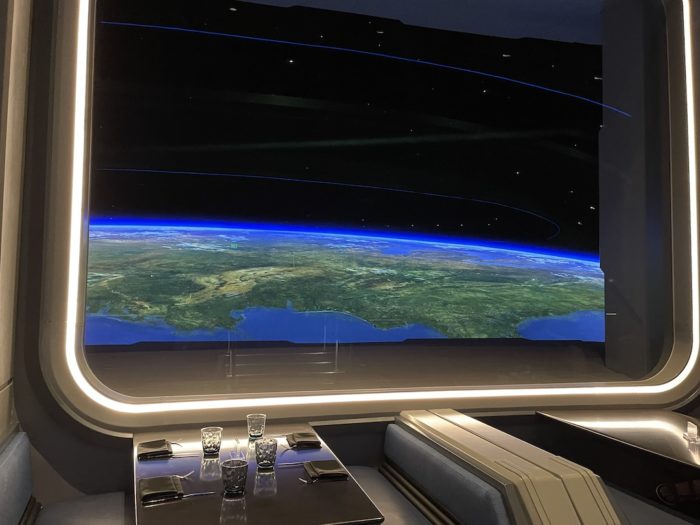 Chrissy loved everything about this experience except for the lack of communication from Disney as everyone wanting to get in was crushed out front for 75 minutes. Thankfully, it seems they have that under control now meaning everyone can focus on the experience and the food.
Overall, this is now one of her top 3 dining locations in Walt Disney World now. The other two would be Citricos and Topolino's. The wonderfully prepared, familiar food in combination with the coolest entry experience and ambiance make this is a real experience. To her, this is the money she would spend over the Droid Depot. You'll spend less per person and you won't feel nearly as rushed.
Speaking of which, she was impressed by the calm, laid-back vibe of her server all while knowing there was a mob of guests chilling in the sun downstairs waiting to get in. It was nothing like a character dinner where you know they're keeping guests on a tight schedule to turn that table on the second appearance of the last character in rotation.
Chrissy was able to look over the drinks and wasn't prompted to name her appetizer until after drinks were at the table. There were a few Cast Members walking around just making sure water glasses were filled – a small thing that makes your time feel more relaxed and less like a ticking stopwatch.
Basically, she loved, loved, loved this spot and can't wait to go back. Yes, it's pricey; but as Chrissy said, she pays $12 for popcorn and $3.50 for a bottle of water so this is right in line and the quality holds up.
What do you think about Space 220? Are you interested in checking it out? Let us know in the comments!