SATURDAY SIX: In Memoriam – Six Things We Lost From the Theme Park World in 2014
This week's SATURDAY SIX takes a look at Six Things We Lost From the Theme Park World in 2014. As theme park fans, we've had a lot to be thankful for this year. Unfortunately for us, the theme park business itself seems to be turning into a zero-sum game, where we only get new things if we lose something else. So while it's fantastic that we're getting a Frozen attraction, James Cameron's World of Avatar, and restaurants such as Cowfish, it comes with a sense of sadness as it also means we're probably saying goodbye to something in the parks and resorts that we have been enjoying. Today we pay our respects to some of those that we lost in the past year, starting with….
# 6 – Camp Minnie-Mickey/ Mickey's Jammin' Jungle Parade (Animal Kingdom)
Regular readers of the SATURDAY SIX know how much we love Animal Kingdom, so it was tough to see two things leave this year: Camp Minnie-Mickey, and Mickey's Jammin' Jungle Parade. While Camp Minnie-Mickey had no major attractions outside of a stage show and character meet-and-greets, the entire area was wonderfully designed and was delightful to take in while appreciating all the whimsical details. The area of Camp Minnie-Mickey is scheduled to be part of the upcoming Pandora expansion to the park.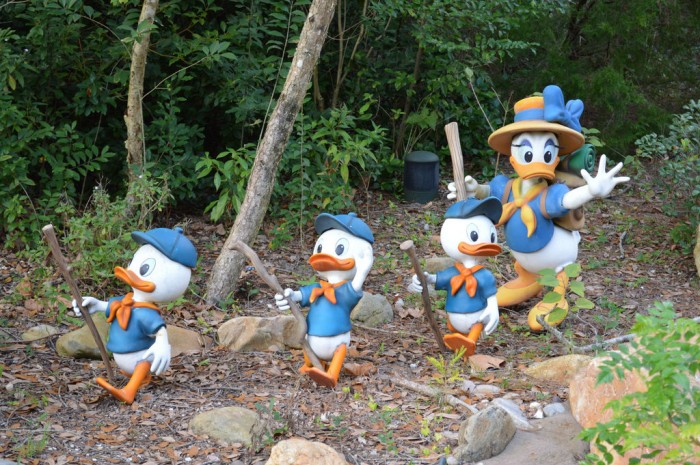 Losing Mickey's Jammin' Jungle parade was sad to see, as it leaves the Magic Kingdom as the only park at WDW with daytime parades. We love Festival of Fantasy as much as anyone, but it would be nice to have similar experiences at Animal Kingdom, Hollywood Studios, and Epcot. The music for Jammin' Jungle was fantastic, there were some truly creative puppetry, and the safari jeeps were just plain fun. Here's hoping that when all the work is done at Animal Kingdom for the Avatar expansion and the upcoming Rivers of Light nighttime spectacular, that a new parade comes back to the park too.
Mickey Mouse waving goodbye to the Jammin' Jungle parade at Disney's Animal Kingdom. (photo by Brandon Glover)
# 5 – Wimpys (Toon Lagoon, Islands of Adventure)
My white whale.
I am still not 100% convinced Wimpy's was ever actually open. In fact, the restaurant could actually be an elaborate facade for a Bilge Rat Team Member break room. After seemingly hundreds of visits to Islands of Adventure, I never once saw Wimpy's open, only signs directing me back to Comic Strip Cafe as an alternative. Universal has some odd operating hours for its restaurants, such as the Captain American Diner being open for such a short window of time that even a banker would blush, but I've eaten there. I've eaten at Green Eggs 'n Ham Cafe in Seuss Landing, another "seasonal" restaurant like Wimpy's. I've eaten everywhere on property. Everywhere… but Wimpy's.
BREAKING NEWS UPDATE: Wimpy's was in fact SAVED. And to top it off, THIS SUMMER I ATE THERE!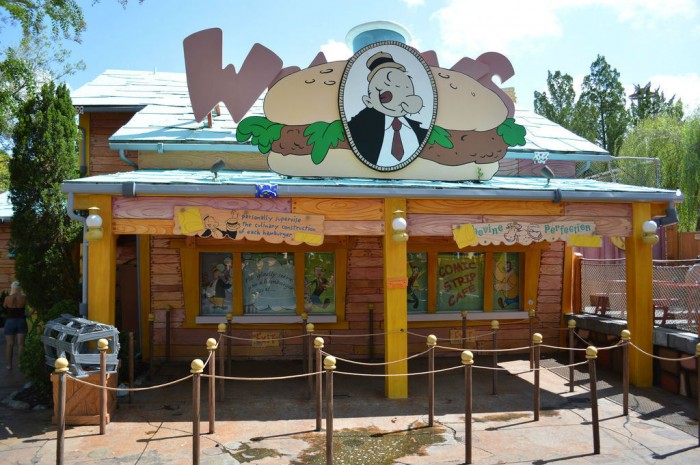 Wimpy's, the only way I have ever personally seen it.
# 4 – The Giggle Gang (Storybook Circus, Magic Kingdom)
"The flame that burns twice as bright burns half as long." – Lao Tzu
Blink and you may have missed them, but the Giggle Gang's short run in Storybook Circus came to an end this year. In the last couple years, Magic Kingdom has made an effort to extend streetmosphere characters beyond Main Street. Both Fantasyland and Storybook Circus were given walk around characters who would interact with guests. The Royal Majesty Makers, ambassadors of Cinderella's Court, are still cavorting in Fantasyland, but Chuckles Buffoon McMonkeyshine III, Whinny Horselaugh and Snort were given their pink slips in Storybook Circus. Sources tell us that, upon receiving their walking papers, all three stuffed themselves into one Smart Car and drove off into the sunset.
# 3 – Off Kilter (Canada Pavilion, Epcot)
Like Maelstrom, the band Off Kilter has been performing in World Showcase for so long that many guests can't remember a time when they weren't playing there. The kilt-wearing band that you could hear clear across the lagoon, had become a part of Epcot's overall atmosphere. The group always played with high energy and were very entertaining. Let's face it, how many rock bands do you know that use bagpipes in their sets?! Off Kilter was a unique experience, and its loss was only made worse by being replaced with a lumberjack show.
# 2 – NASCAR Sports Grille (Universal CityWalk)
Heaven needed a sports bar.
It's still hard to write about this one. The butt of many jokes, and openly mocked even by Universal fans, the NASCAR Sports Grille closed its doors for the final time in November. It's legacy? First of all, NASCAR had the greatest appetizer in any Orlando restaurant. Le Cellier's cheddar cheese soup and Sanaa bread service taste like hours-old french fries from an All-Star resorts food court compared to NASCAR's fried pretzel breadsticks. Not only were there dozens of big screens around the restaurant playing all the games from every professional sport, but many of the individual booths had their own TV in them. This is not a drill people! Lastly, NASCAR will be remembered as an innovator in the area of souvenir mugs with its legendary FAN FUELER. Not only are you drinking beer out of a gas can, you're also drinking it out of a straw, which is next level bonkers.
I think many guests were turned off by the NASCAR name itself, not realizing that once walking inside the restaurant it was more like being at the ESPN Club at Disney's Boardwalk, minus the two hour wait. It's not yet known what will be replacing the NASCAR Sports Grille. The good money is on a NBC Sports bar and grille. One rumor making the rounds recently is a Cheesecake Factory going into CityWalk. I've argued with my fellow Universal friends that the area needs an over-the-top family friendly restaurant like T-Rex at Downtown Disney. But it really doesn't matter. Like Rose on the Titanic, I have watched my beloved Jack Dawson be swallowed by the sea…. but… somehow… my heart will go on.
Before we get to #1, I think I should add that Epcot's Maelstrom was originally penciled in as taking the top spot. However, we just covered the Maelstrom/Frozen story in last week's SATURDAY SIX while handing out the 2014 "Turkey" of the Year awards, and we'll also be putting a spotlight on the now-extinct attraction in an upcoming article as well. So don't cry for the oil rigs, trolls, or that weird guy on the huge mural who looked like an extra in the GEICO "caveman" commercials, as Maelstrom will always be in our hearts and minds.
# 1 – Push the Trashcan (Magic Kingdom)
Keep it simple, stupid.
For me, the news of Push leaving the Magic Kingdom earlier this year wasn't even the headline. I was actually floored by finding out that Push wasn't the creation of Walt Disney Imagineering, but instead was contracted out from a third party vendor. Arguably more successful from a guest standpoint than any of the Disney-created Living Character Initiative audio-animatronics (including Muppet Mobile Labs and Lucky the Dinosaur) who would have thought a talking trashcan would become so popular? The genius is in its simplicity. We've all seen and interacted with trashcans at theme parks a million times, but Push was the one trashcan who interacted back. Entertaining guests for almost 20 years, Push's legacy will be having guests wondering if the trashcan they are about to use will talk back to them for at least the next 20 more.
HONORABLE MENTION: King of Kong arcade (Orlando International Airport)
While not technically in "the theme park world," the Orlando International Airport is the first stop for  many Disney and Universal vacationeers, so I'm gonna allow it. The airport housed what is possibly the greatest idea for an arcade of all time. Based on the incredible documentary King of Kong: A Fistful of Quarters, here was an actual video game arcade based on a movie about video games. Talk about meta. First, let's get the bad news over with. As an actual arcade, it wasn't that good. There weren't many games overall, and – inconceivably – there was no Donkey Kong game. Whaaaaaat?! 
That said, the signage of the arcade brought back every feeling from watching the documentary. Billy Mitchell, the smug "villain" versus Steve Wiebe, a seemingly good natured baby face entering the high stakes world of Donkey Kong. It sounds ridiculous (and it is,) but the story itself has everything you want in a good movie. Colorful characters, deceitful action, and a look into a world many of us didn't realize existed.  There was also a whole bunch of King of Kong merchandise you could buy, including autographed limited edition shirts, trading cards, and Billy Mitchell's own hot sauce. There was even a trading card for the referee who plays a major role in King of Kong.
So there you have it: Six Things We Lost From the Theme Park World in 2014. There were still others who did not make the list who we would like to say goodbye to, including Cat Cora's Kouzzina restaurant on Disney's Boardwalk and the Lost Continent carnival games in Islands of Adventure. If you'd like to pay your respects to something we missed, please leave a comment below. See you next weekend for the latest installment of the SATURDAY SIX where we continue our end-of-year shebang! If you had fun, be sure to check out The Magic, The Memories, and Merch! articles, or, for your listening pleasure, check out the Pardon the Pixie Dust podcast.
If you enjoyed In Memoriam – Six things We Lost from the Theme Park World in 2014, you may also enjoy:
Observations from the Universal Orlando Resort (featuring Margaritaville, Red Oven, and more)
Six "Secrets" of Marvel Superhero Island
Six "Secrets" of Islands of Adventure's Port of Entry
Six "Secrets" of Disney's Art of Animation Resort.
Special thanks to crack staff photographer Brandon Glover and Megan Stump for their invaluable assistance with this article. Be sure to also check out Brandon on The Park Blogger podcast with co-hosts Aengus Mackenzie and Brian Carey. Also, we'd like to send a thank you to Attractions Magazine, our all time favorite theme park magazine. Did you know that Attractions were the first people CRAZY enough to let me write a theme park based article? It's true, and here's the proof!