SATURDAY SIX: Six Ways to Repurpose Your Extra MagicBands
This week's SATURDAY SIX takes a look at the Six Ways to Repurpose Your Extra MagicBands. MagicBands. We all have 'em. They multiply faster than Tribbles on the USS Enterprise or selfie sticks at a theme park. But what do you do with all the extra MagicBands you have lying around your house? Throw them away? Seems wasteful in this era of going "green," and besides, we have more important things at WDW to take to the dump.  Sell them on eBay? Good luck, the only thing with less value is a share of SeaWorld stock. But, there has to be something we can do with all these bands… right?
Have no fear, the crack team at the SATURDAY SIX offices got together and came up with six ways you can use MagicBands in your everyday life. This is life hacking meets theme parks and we'll start it all off with…
# 6 – Pet Collars
Pet owners around the world have been forced to buy expensive pet collars from the Big Chains for years, but did you know that you can reuse your MagicBands as the perfect* collar for the Aristocats or 101 Dalmations in your household?
–
WARNING: In some rare and unique cases, certain dog breeds did not appreciate having MagicBands being put around their necks. Make sure your health insurance is paid in full before attempting to put on.
*and by perfect we mean possibly the absolute worst.
–
# 5 – Ponytail holder/hair accessory
Kids today are all about fashion. As a parent, do you want them to be influenced by Kim Kardashian or Kim Possible? We all know the answer to that and the Disney MagicBand has us covered. Perfect for ponytails and pig tails, you can now get rid of all the unnecessary hair bands that you have all over your house! And ladies, talk about a fashion statement. These MagicBands tell everyone you like to have fun!
–
# 4 – Luggage Identifier
Approved by the TSA*, MagicBands are a great way to easily recognize your bag from the other 200 black bags traveling across the luggage carousel.
*The Salvation Army (Also approved by the K.I.S.S. Army)
–
# 3 – Napkin Rings
We've all been there. You're looking all around the house for your napkin rings and can't find them anywhere! No need to worry, these eye-catching MagicBand napkin rings bring an elegant touch to any table setting. For extra fun, color code your napkin rings for the evening's meal. Use green bands for vegetarian options, red for steak, blue for fish, and gray for British food.
–
# 2 – Computer Cord Tie Wraps
There's no two ways about it, we live in a plugged-in society. We have to plug in our smart phones so that we can access the My Disney Experience app. We have to plug in our iPads so we have something to take pictures with at the theme parks. FitBits. E-cigarette chargers. Ear hair trimmers. Google glasses. Pretty much everything we need in our every day lives is run on electricity.
But the cords! Trying to figure out what cord goes to what item is the closest any of us will get to untying the strands of lights used for the Osborne Family Spectacle of Dancing Lights. Who needs the hassle, especially when each bottle of Xanax only comes with 30 pills? MagicBands solve this problem by neatly tying all your electronic cords together in an orderly fashion.
–
# 1 – Wine Charms
Here's the scenario. You're having a party to celebrate the fact that in four hours you'll be able to make reservations 60 days out for a lunch at Be Our Guest Restaurant. All your friends are here and the box of wine has been opened. But how do your party guests tell whose glass is whose? Are you going to waste money on those high end wine charms? Or are you going to save that money for something useful, like Tsum Tsums or a Duffy the Disney Bear dressed like a flower? This is financial advice even H&R Block would listen to.
–
HONORABLE MENTION: Earrings for Walt Disney Imagineer Joe Rohde
The perfect gift for a man who has given us The Adventurer's Club, Animal Kingdom, and Aulani. No, thank you, Joe.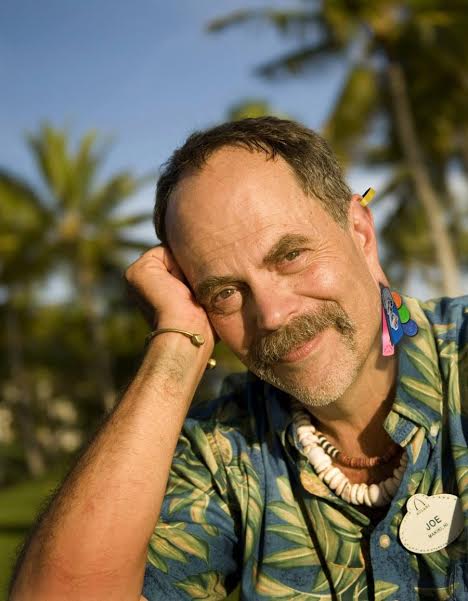 Have your own ideas on how to repurpose MagicBands? Let us know in the comments below and we'll get to work on part two of this (sure to be nominated for a pulitzer prize) series!
And now a Public Service Announcement: if you are ever going to repurpose your MagicBands, please deactivate them first. Log onto your My Disney Experience account. Click on MagicBands and Cards. Select your band from list and select "deactivate." The true BEST KEPT SECRET at Walt Disney World is not DVC, but instead it's the fact that all these unused – but still activated – MagicBands are slowing down the check-in process at the on-site resorts.
So there you have it: Six Ways to Repurpose Your Extra MagicBands. See you next weekend for the latest installment of the SATURDAY SIX, where we'll look at something fun from the world of Disney and Universal. If you enjoyed yourself, be sure to check out The Magic, The Memories, and Merch! articles, or, for your listening pleasure, check out the Pardon the Pixie Dust podcast.
If you enjoyed this article, you may also enjoy:
Six Reasons We Love Disney's Port Orleans French Quarter
Six Ways To Get Your Disney Fix Outside of the Theme Parks
IN MEMORIAM – Six Things From the Theme Park World We Lost in 2014
Six Surprises of the Disney Cruise Line
Special Thanks to crack staff photographer Brandon Glover, "The Mad Statistician" Steve Bloom, photo wunderkind Mike Sperduto, Crazy Cat Lady Laurel Stewart, Disney Cruise Guru Erin Foster, WDW Fanboy Tim Grassey, and Megan Stump for their invaluable assistance with this article. Be sure to also check out Brandon on The Park Blogger podcast with co-hosts Aengus Mackenzie and Brian Carey. 
Did you know The Unofficial Guide to Universal Orlando has a special edition of the SATURDAY SIX in it? Finally, someone came up with an actual reason to read a book. PRE-ORDER this baby now! (For every copy sold, a percentage of the profits* go towards buying a DVD of the Seven Dwarfs Mine Train rap video.)
*0%