SATURDAY SIX: Six Ways Disney is Playing "Chicken" with Guests This Summer
This week's SATURDAY SIX takes a look at Six Ways Disney is Playing "Chicken" with Guests This Summer. We are little over a month away from the ultimate Disney fan event – the D23 Expo – where we will gain some insight into the future of the Walt Disney World parks. While the California parks have been blessed in recent years with a $1 Billion renovation to Disney California Adventure (bringing Cars Land, World of Color, and a new park entrance) along with upgrades to Disneyland for the park's upcoming 60th anniversary (including the critically praised Paint the Night parade and Disneyland Forever, a new nighttime spectacular,) the Florida parks have been recipient of things less noticeable by your average guest like MagicBands, My Disney Experience, and Downtown Disney's transition to Disney Springs. While additions like Animal Kingdom's Wilderness Explorers and Winged Encounters have drawn rave reviews, they don't have the pick-your-jaw-off-the-ground moment like seeing Radiator Springs Racer's Cadillac Range mountains or walking into Universal's Diagon Alley. 
Many expect us all to be wowed by what will be announced at the D23 Expo, some even speculating a $3 Billion overhaul to DHS (for the record, we here at the SATURDAY SIX don't expect anything approaching that number, but even "just" a Billion dollars goes a long way baby.) One thing is for certain, whatever is coming isn't coming soon, and today we're going to look at how Disney is all but taunting guests to open their wallets starting with….
# 6 – Disney's Hollywood Studios outright dares guests to go to the park
What a year for Disney's Hollywood Studios. In fact, DHS has removed so many things without replacement that Matt Hochberg – the park's biggest defender – is rumored to be hiding in the same bunker Saddam Hussein was found in. The Sorcerer's Hat, gone. Studio Backlot Tour, gone. American Idol Experience and The Legend of Captain Jack Sparrow, gone. Recently it was announced that the Magic of Disney Animation will be closing on July 12th and those in the know report that One Man's Dream is also on the chopping block. Every park loses stuff as its part of normal theme park operations, but the difference here is nothing has come in to replace anything. Well, to be fair, a recent Soundstage Lounge was installed at the Jack Sparrow location. Unfortunately it looks more like the filming location for a sequel in the Saw series of films than your usual WDI made ultra-detailed area. The park has a shrinking amount of attractions, and while Frozen Summer Fun will get us through the next couple months, then what?
–
# 5 – Avatarland is months behind schedule and millions over budget, HOWEVER…
On the most recent Disney Dish with Jim Hill and Len Testa podcast it was brought up that things are a little behind on the upcoming James Cameron's Pandora: The World of Avatar expansion. Jim says eight months behind, and while others in the know argue it isn't that far off and the project has hit some key benchmarks, it's clear that we won't be stepping foot on Pandora until at least Earth Day in 2017. The news isn't all bad though, as it is looking more and more like this Animal Kingdom project is going to deliver on that "Wow Factor" we mentioned earlier. Construction at the park looks massive, and Jim Hill mentioned that the boat ride attraction will be like nothing we have seen before with "200 foot ceilings" and animals stalking us in the foliage. We know the main attraction in Avatarland is going to be show-stopping flight around around Pandora in the vein of Soarin'. That combined with an upgrade to the boat ride and what could be a game-changer in the use of bioluminescent plants in a walk-through attraction makes this area look to be worth every second of its wait.
–
# 4 – "Water Parks and More!" option becomes "Water Parks and Not Much Else"
In a surprising move this week, Disney announced that DisneyQuest will be closing sometime in 2016 to make way for the upcoming NBA Experience. DisneyQuest has received it's fair share of criticism over the years, but mostly from people who just want it to be better. The concept of DisneyQuest is exceptional and there are some neat things in it, but this location was screaming for more. Disney never kept up with the latest arcade games, and there was the no-brainer of including simulators of long-gone WDW attractions, but instead the venue has pretty much remained unchanged since 2002. That's a shame because with some minor tweaks DisneyQuest could have been one of the greatest things on Disney property. We've reviewed FoodQuest, the venue's restaurant, and while it was perfectly acceptable, why wasn't there anything video game related on the menu? The Wizarding World of Harry Potter, and even Cars Land to a lesser extent, prove that guests want themed food and drinks, and the world of video games offer an almost unlimited opportunity to mine from. We'll miss the Pirates of the Caribbean interactive game, and we still wish the Toy Story/Donkey Kong and Star Wars/Super Mario Bros mash up games advertised outside DisneyQuest were real, but overall we don't have many tears to shed for this missed opportunity.
–
One thing that will interesting to see is just how well the NBA Experience will work in Disney Springs. Say what you will about DisneyQuest, but it did offer something to do when the weather got bad (which it does often in Florida) and  it appealed equally to girls and boys. Does an NBA themed venue have that same attraction to both sexes? DisneyQuest was also a neat selling point for Disney's "Water Parks and More" add-on, whereas now the "More" mostly consists of golf courses.
–
# 3 – The snacks have hit the fan at Animal Kingdom
The recent poop snacks at Disney's Animal Kingdom are the sole reason for the SATURDAY SIX's existence. They define exactly what we love about the theme parks. Debuting out of nowhere two weeks ago, snacks themed to animal feces showed up and took the social media world by storm. Then they took off into getting non-theme park media coverage as well. However, within a week and a half Disney pulled the items from the shelves, citing "they were only a test." This is an answer most believe to be full of, well, animal kingdom poop snacks. Surely there were people without a sense of humor that complained causing the rest of us to suffer, but if there is a silver lining to this story it's that none of the snacks tasted that good anyway. This is strange because almost every item from the Disney bakeries are fantastic, but these were just off.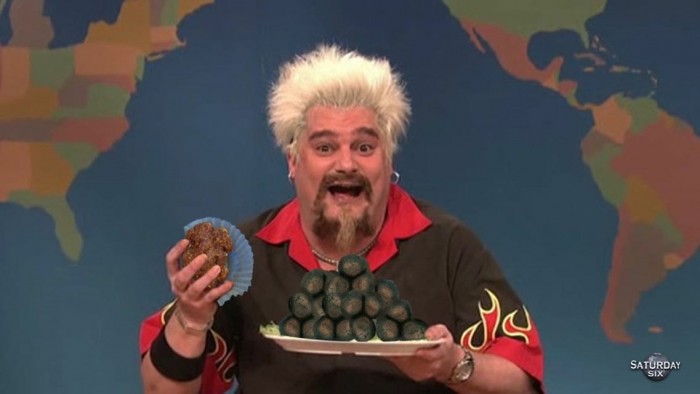 –
# 2 – Our long national nightmare is over: Selfie Sticks have been banned
In a move we still can't believe happened, Disney banned the use of Selfie Sticks at all of its WDW theme parks and water parks. Now when you arrive at the parks you are given a pamphlet at the parking booths, are reminded by the tram driver, and pass by signage leading to the parks. For me personally, I finally understand how my grandparents felt when we first landed on the moon, but there are many others in our entitled and narcissistic society who may feel this is infringing on their God given rights. Even stranger, despite being a safety threat on the actual attractions as well as an outright nuisance to guests trying to see shows and parades, both WDW and Universal sell selfie sticks on property. Talk about sending mixed messages.
# 1 – By the time you finished reading this article, Universal will have opened three new things
On top of all THAT, Disney has to deal with its neighbor across the street going through and unprecedented level of expansion. In the past two years alone the Universal Orlando Resort has opened a new parade, a new nighttime spectacular, Transformers and Diagon Alley while expanding Springfield USA (including Fast Food Blvd, the greatest quick service restaurant in theme park history.) They opened the Cabana Bay Beach Resort, which immediately became the gold standard of theme park value resorts. Recently they debuted the Raptor Encounter – one of the coolest meet and greets on property – and are about to add the sixth new restaurant in CityWalk with the upcoming NBC Bar & Grill. 2016 will bring a new King Kong attraction along with another new hotel AND a new water park not long after. Sounds like a lot, right? Well, we haven't mentioned Universal also announced a partnership with Nintendo for  new attractions and even the popular Hello Kitty for an interactive retail experience.
You'd think that HAS to be it, but no, as the site Parkscope.net keeps uncovering permits for even more things coming to Universal Orlando including a possible HUGE refurb coming to The Hulk coaster and the removal of TWISTER…Ride It Out for a rumored Tonight Show with Jimmy Fallon attraction. More and more buzz is coming around that Disaster and Beetlejuice's Graveyard Revue may be gone sooner than later to make way for an attraction based around the smash franchise The Fast and the Furious.
Competition between Walt Disney World and Universal is only a good thing for guests, as it will lead to better attractions, dining, and hotel options. And it's not just Universal, as International Drive is doing more than ever to attract people into that part of Orlando. SeaWorld has announced another new roller coaster, and even Fun Spot is staring to incorporate live entertainment and – believe it or not – a dark ride in their park. There has NEVER been a better time to be a fan of the theme parks in Central Florida.
–
HONORABLE MENTION: The MagicBand Watch Slider debuts
There was a time when you could tell the quality of a movie when it went "straight to video." Well, Disney this week put out a piece of merchandise that should have went "straight to the Disney Outlet Stores." The new MagicBand Watch Slider was released (or should we say escaped?) and now your kids can finally see the technology we all had growing up in the 1980s. How about this for the fine print? "This Slider is intended to be worn on either side of the MagicBand. Do not push the slider to the top of the MagicBand as it will interfere with the proper function."
Every time you think you've seen it all, here comes a watch face that you are intended to put on the SIDE OF YOUR WRIST. This would be equivalent to Steve Jobs unveiling the first iPod and finding out it was bigger than your Walkman and holds less songs than a CD. Having a MagicBand watch had to be at the top of many guest's Wish Lists when the Bands first came out, but always remember the adage be careful what you wish for.
So there you have it: Six Ways Disney is Playing "Chicken" with Guests This Summer. See you next weekend for the latest installment of the SATURDAY SIX, where we'll look at something fun from the world of Disney and Universal. If you enjoyed yourself, be sure to check out The Magic, The Memories, and Merch! articles, or, for your listening pleasure, check out the Pardon the Pixie Dust podcast. You can also follow Your Humble Author on Twitter (@derekburgan)
If you enjoyed this article, you will surely like the following:
Six Events That Will Not Be On ANY Theme Park Calendar
The 2015 Inaugural Theme Park Awards (AKA "the Burgys)
How to Survive Disney's STAR WARS WEEKENDS in Six Easy Steps
Six Disney Obsessions We Just Don't Understand
Special Thanks to crack staff photographer Brandon Glover, the true master of photoshop Matt Cleary, New Kid On the Block Michael Sheehy, and – of course – Blogger to the Stars Megan Stump for their invaluable assistance with this article. Be sure to also check out Brandon on The Park Blogger podcast with co-hosts Aengus Mackenzie and the afore mentioned Brian Carey. 
FINAL PLUG! Did you know The Unofficial Guide to Universal Orlando has a special edition of the SATURDAY SIX in it? Finally, someone came up with an actual reason to read a book. PRE-ORDER this baby now! (For every copy sold, a percentage of the profits* go towards buying a DVD of the Seven Dwarfs Mine Train rap video.)
* 0%