What I Wish I Knew Before My Disney Cruise
Several weeks ago, I took my very first Disney Cruise! I had debated whether or not to try out the Disney Cruise Line for years, as I am one of those people who likes to go 12 hours straight at Disney World and wasn't sure if I could handle being confined to a single ship. But after hearing so many glowing reports about the Disney Cruise Line from other Disney fans, I decided to take the plunge with a 3-Night Bahamian Cruise on the Disney Dream with stops in Nassau and Castaway Cay, Disney's private island. So how was it? Let's just say that I'm already looking at booking my next cruise! But I have to admit, as a cruising newbie, there were a few things that I had to figure out during my incredible 3 days aboard the Disney Dream; and while I have very few, if any, complaints I still couldn't help but think on what I wish I knew before my Disney Cruise that would've made things a little easier.
So if you're planning your first Disney Cruise, or it's been awhile since you cruised with Mickey and the gang, here's a few things that I wish I knew before my Disney Cruise on the Disney Dream. Bon Voyage!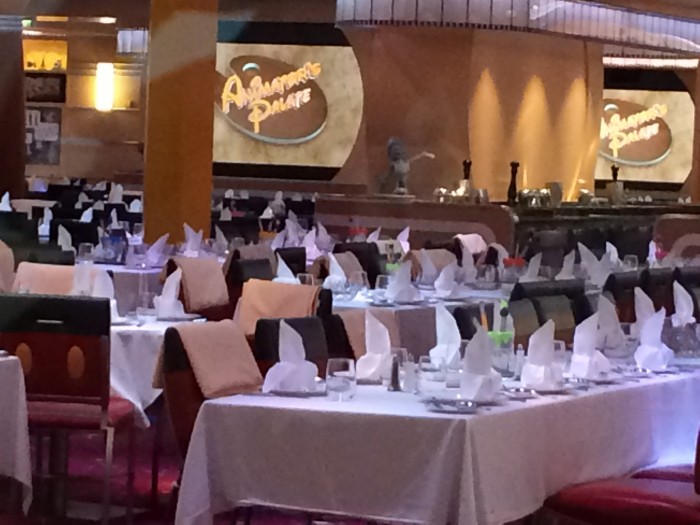 1. Your Dining Rotation is on Your Key to the World Card – Your Key to the World Card is the most important item you will have on your cruise. Not only is it the key to your stateroom, it's needed to get on and off the ship and tells you which muster station to report to. What I didn't know before my cruise was that the three capital letters printed at the bottom of the card were my restaurant schedule for the cruise. For example, my card had AER printed next to my dining time. Maybe you fellow cruisers are smarter than me, but I had no idea what that meant! As it turned out, the first letter stood for Animator's Palette, where I was scheduled to eat the first night on board. The second stood for the Enchanted Garden and the third for the Royal Palace.
2. Can't Pay with Cash in the Onboard Stores – During my first night on the Disney Dream, I ventured into the collection of shops near the Walt Disney Theatre to scout out the Disney Cruise merch. As an avid pin trader, I picked up a few Disney Cruise Line pins and when I went to pay, I was told that they couldn't accept cash. I was told that could charge my pin purchases to my Key to the World Card, but I prefer my souvenir purchases to be separate and so I used a debit card instead. So if you're planning a Disney Cruise, don't make the same mistake and set aside your souvenir budget in cash!
3. Know About Officer Pin Trading – On the last night of my cruise, there was an event between the shops and the Walt Disney Theater called Officer Pin Trading. Officers of the Disney Dream were stationed around the circular area sporting pin-laden lanyards, and there was even a pin counter set up displaying a variety of Disney Cruise Line pins. What was really cool about this event was that many of the pins the officers had were rare and hard to find! For example, one officer had a Dixie Landings Pin on his lanyard, the former name of Port Orleans Riverside! While I love pin trading at Disney World, I realized that trading on a Disney Cruise is not nearly as picked over and is a great opportunity to interact with some of the people who have worked to make your cruise such an amazing experience.
4. Check Out the Debark Talk Broadcast– If you're a first time cruiser, or you haven't been on a cruise in awhile, be sure to check out the Debark Talk Broadcast which is continuously shown on one of the television channels in your stateroom. In the broadcast, the Disney Dream Cruise Director easily explained the process for debarking and the Express Walk Off option. It's very helpful and will sure to ease your mind if you're unfamiliar with Disney Cruise Line's procedures as I was.
5. Arrive Early for the Nightly Show – During my 3-day cruise aboard the Disney Dream, there was a show in the Walt Disney Theater each night with two showings per night. The shows are scheduled in such a way as not to interfere with the two main dining times. What I didn't know was that the doors to theater open about 30 minutes before show time and the theater can fill up fast! In true Disney fashion, most seats in the theater offer great views of the entertainment, but I discovered that there were a few that didn't. Avoid seats behind or near the decorative pillars, as they will block your view. Also, the balcony seating reveals a lot of the special effects that kind of take away from the magic. Lastly, cruisers are told that they can't reserve seats for others, so make sure your whole family or group is together and prepared to stay when you pick out your seats.
6. There are Two Movie Theaters – So this is something that I learned the hard way. You see, there are two theaters on board: The Walt Disney Theatre and the Buena Vista Theatre. The first is where you go each night for a show while the other is mostly for onboard movies. During my cruise, I saw on the awesome Disney Cruise Line Navigator App that the Tomorrowland film, which I had yet to see at that point, was playing at 1:30 PM. What I didn't know was that it was a special showing in the Walt Disney Theatre instead of the normal Buena Vista Theatre. I needlessly sat through previews and the first minutes of the Avengers at the Buena Vista in complete confusion until realizing that I hadn't checked exactly where my movie was playing. I got to the right theater in the end, but missed the first ten minutes of my flick. So fellow cruisers, once again, learn from my mistake and know that the Walt Disney Theatre isn't just for shows and to read more than the headings on your Navigator App and Personal Navigator.
7. The Pools are Crowded – It's true. The pools on the Disney Dream are awesome and are right in front of the giant Funnel Vision screen, but that doesn't mean you will get a chance to enjoy them without bumping elbows with the person next to you. They are also smaller than you might expect if you're thinking of your Disney Resort pool at Disney World; and, on some nights, the pool is covered for Pirate Night entertainment. If you want to take advantage of a less chaotic pool time, try to visit at night. You and your family may not have the pool to yourself, but it's better than what you will encounter during the day.
8. Choose the Express Walk Off – If you are in a hurry to get off the ship or to start more Florida fun on debarkation day, choose the Express Walk Off option. This allows cruisers to take their own luggage off the ship and through customs themselves; but for me, the real perk was that I didn't have to leave my luggage in the hall the night before and be without my stuff the next morning. However, I thought I made the wrong choice when I hauled my luggage to the lobby atrium that morning and discovered a line that rivaled that for Soarin' or the Seven Dwarfs Mine Train. But once it was actually time to debark, the line moved fast and I was off the ship and through customs in about fifteen minutes! I would definitely choose this option again as, even though I was in a line, I was continuously moving and and didn't waste the morning sitting around to disembark.
9. Shops Are Not Open in Port – According to regulations, the Disney Dream shops can't be open while the ship is in port. The problem with a 3-Day cruise is that you're in port a majority of the time leaving little time to shop as the ship was usually at sea in the evening, which was also when everything else was happening. This also meant that when the shops were open, they were packed! Did I still do some souvenir shopping anyway? Absolutely. But let's just say it was a little strange to this Disney World Regular that I was restrained from browsing the selection of Disney plush or pins at whim!
10. You Will Wait for Elevators – The only thing that bothered me on my Disney Dream Cruise was the long waits for the elevators. There are many elevators, as the ship is massive, but there was almost always a line to get on one and the trips up and down were crowded. Several times I simply gave up and took the stairs, which was probably a good decision considering the amount of food I consumed onboard. I noticed that the lines were especially bad after dinner and after the nightly show. So for all of you future cruisers, prepare yourself to wait and to be stuffed into elevators, especially if you have kids in tow.
11. Catch the First See Ya Real Soon! Party – The night before debarkation day, Mickey and the gang host the See Ya Real Soon! Party in the lobby atrium; but what I discovered was that there are two parties! The first was held at 4:30 PM, and as I had come back onboard a bit early from Castaway Cay, I decided to check it out. As most people were still on the island, there were very few people waiting for this event and I got a great view of Mickey, Minnie, and the gang, in their cruising apparel, performing a little song and dance number on the grand staircase. But the best part was at the end when they spread throughout the lobby for photos as the lines were shorter than any other character line I had seen onboard throughout the cruise. Of course, Mickey and Minnie were the most popular, but I went around the corner and only had to wait behind two people for a photo with Donald Duck! While I didn't catch the second show that was scheduled for 10:15 PM, I doubt that it was as crowd-free as the early show and I recommend it for guests who want those character interactions with minimal waits.
12. Castaway Cay Is Just as Amazing as Everyone Says – So I expected Castaway Cay to be great, but it more than exceeded my expectations. It really is everyone's perfect fantasy of an island and the view of the ship in the distance was just as amazing as the pictures and brochures. I was one of the first cruisers off the ship when the Disney Dream docked at Castaway Cay and I spent the day snorkeling, parasailing, enjoying the beach, and exploring. I also did some eating too, especially since the free ice cream on the ship is on the island too! I went back to the ship a little early simply due to exhaustion; but Castaway Cay is definitely one of the biggest highlights of my Disney Dream experience.
So is the sea calling your name? Are you ready to book your own Disney Cruise? If so, I hope that these few things will help you avoid a little of the confusion that most first-time cruisers face so that you won't be thinking of what you wish you knew, but rather that you're glad you already know. Happy sailings!
Want even more Disney Cruise Line information? You'll love The Unofficial Guide to the Disney Cruise Line or our Disney Cruise Line subscription.