Stroller Showdown: A Review of Third-Party Vendors
For parents with young kids, or occasionally adults with lots of stuff, strollers are a necessity at Walt Disney World. Although you can bring your own stroller (and take your chances that it will make it through being gate checked at the airport) or rent a stroller from Disney (and pay high prices for not-the-most-comfortable strollers), another popular option is to rent a stroller from a third-party vendor. Disney has three "Disney Featured Providers" that they note on their web site. How do these stroller rental services stack up? We tried three different rentals — here's our experience.
Orlando Stroller Rentals: City Mini GT Single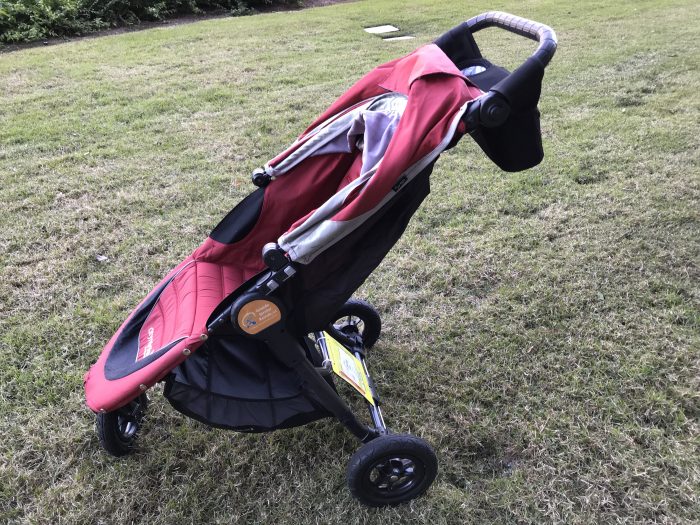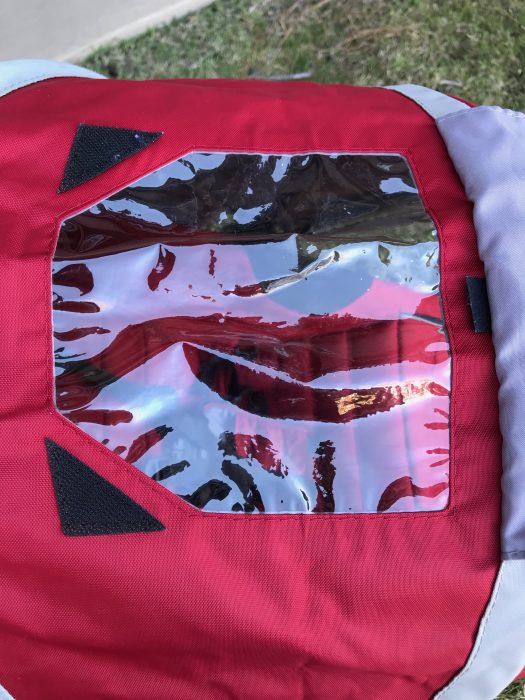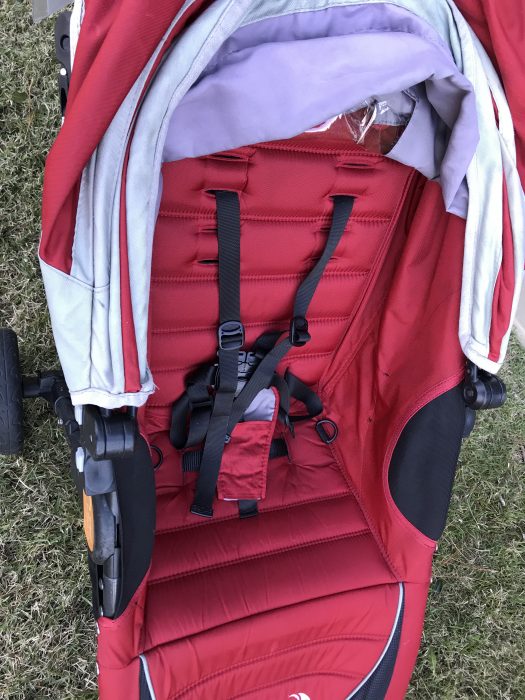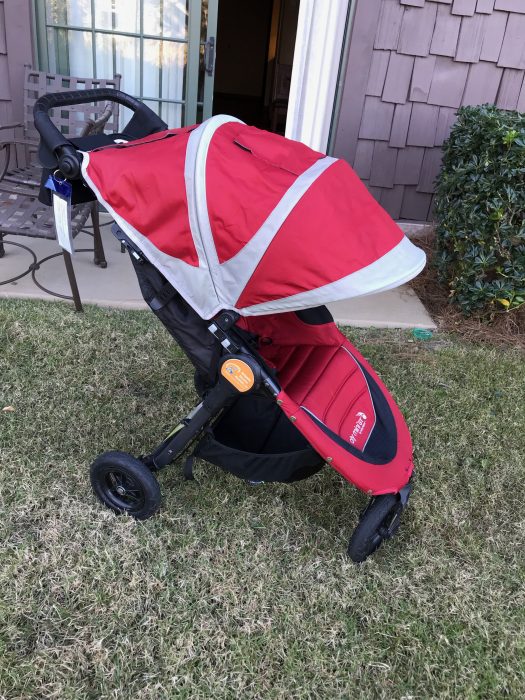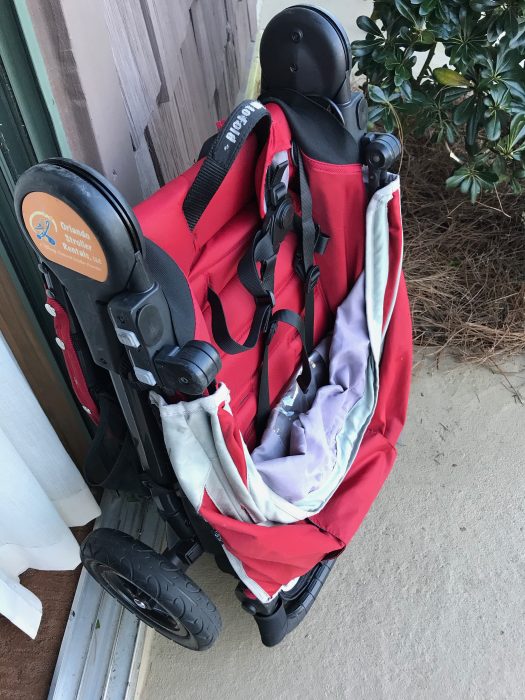 From the Orlando Stroller Rentals web site, it was very easy to set up the rental. The credit card was charged and en email confirmation and receipt came through promptly. This was the last contact that we received from the company, however. There was no reminder the day before, or a notification that the stroller was at the hotel.
That said, the stroller was at the hotel at the requested time of 8:00 a.m. The stroller itself was in good working order. It rolled smoothly, and was easy to fold. In a case of operator error on our end, figuring out how to unfold the stroller provided quite a bit of amusement. Eventually, our test pilot had to look for a video online about how to unfold the stroller.
The stroller had a few tiny spots of wear on the fabric, but nothing serious. The stroller was clean–no goo, no "baby residue", and so on. There was however, a fine but noticeable coating of glitter on the whole stroller, likely left over from a day at the Bibbidi Bobbidi Boutique. Having experience with pixie dust before, it's practically impossible to remove that ultra fine glitter from things, and so although this was worth noting, we didn't view it as a strike against them.
Cost: Starts at $45 for a 1-3 night rental for a single or $50 for a 1-3 night rental for a double
Kingdom Strollers: City Mini Double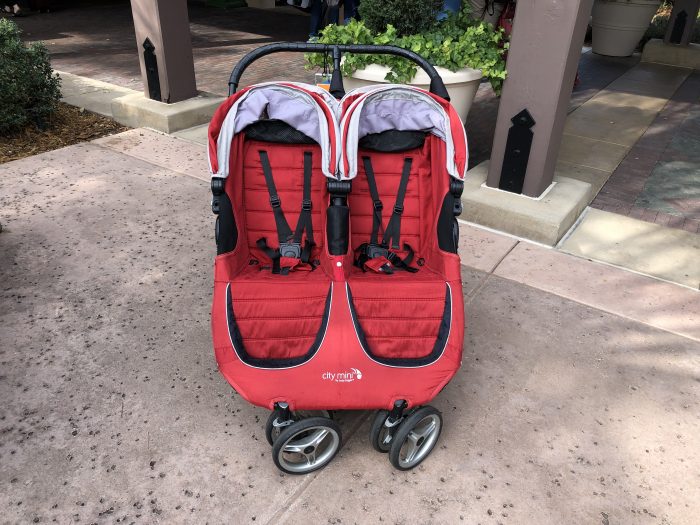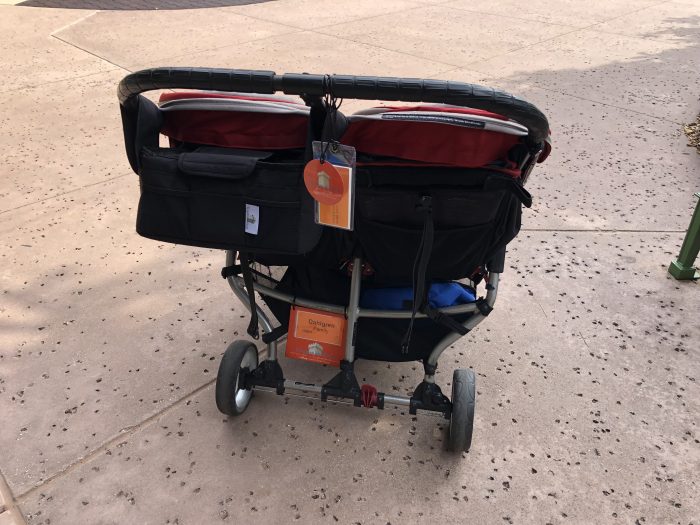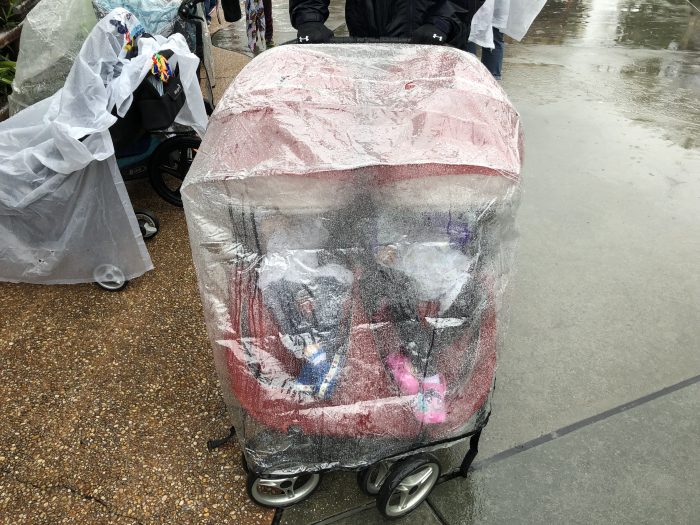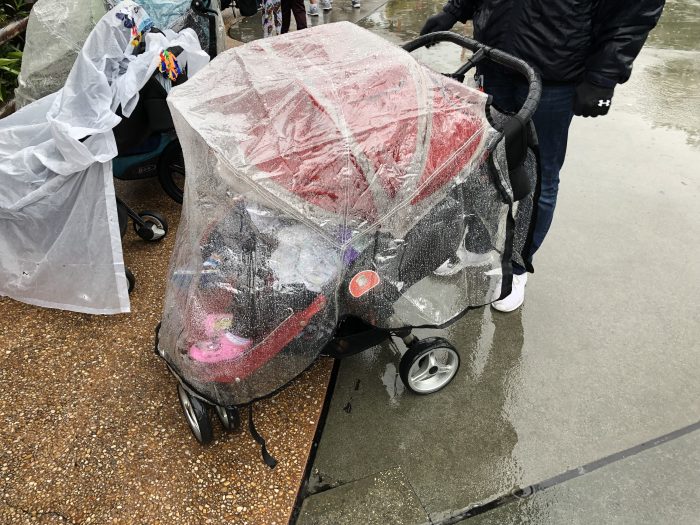 Booking through the mobile web site for Kingdom Strollers was easy, and confirmation came through quickly. The stroller arrived on time and was in perfect condition. There was an option to request a plastic stroller cover and a cooler at no additional cost, and this was a huge benefit. The day the stroller was used in Magic Kingdom was a day with a torrential downpour, and so that cover kept the stroller and kids nice and dry. (Yes, how wonderful that they sat under cover chomping down on popcorn while the rest of us got soaked.)
For a double stroller, it maneuvered very well, and the brake was easy to use when needed. It took a little bit to figure out how to close the stroller, but once our test pilot figured it out, it was a very easy process.
There were two issues with this stroller. First, considering the ample storage space underneath, it was very hard to get items into the storage below. Second, there were two straps on either side of the seats that always dragged when pushing the stroller. It didn't affect the use of the stroller, but would it cause wear-down sooner?
Like Orlando Stroller, there was no confirmation sent from Kingdom Stroller that they had received the stroller back.
One other note, Kingdom Strollers also offers the Liberty Special Needs stroller in their inventory.
Cost: Starts at $45 for a 1-3 night rental for a single; $55 for a 1-3 night rental for a double
Magic Strollers: SummitX3 Single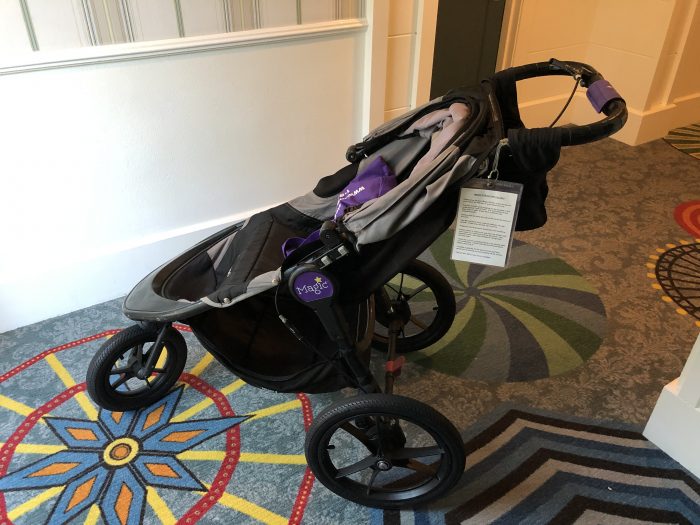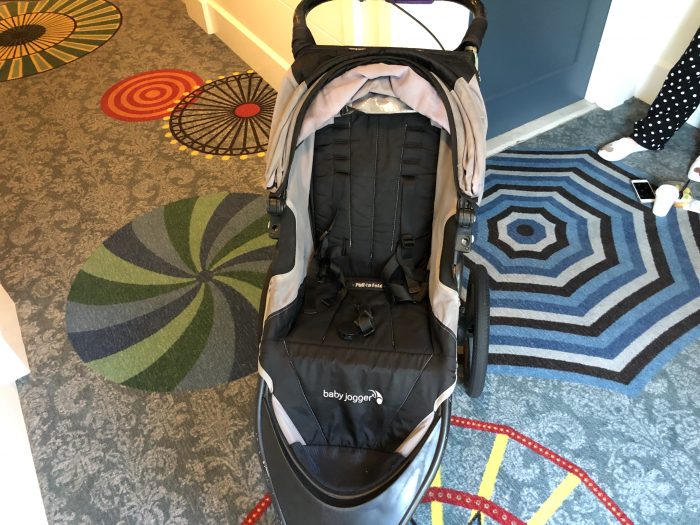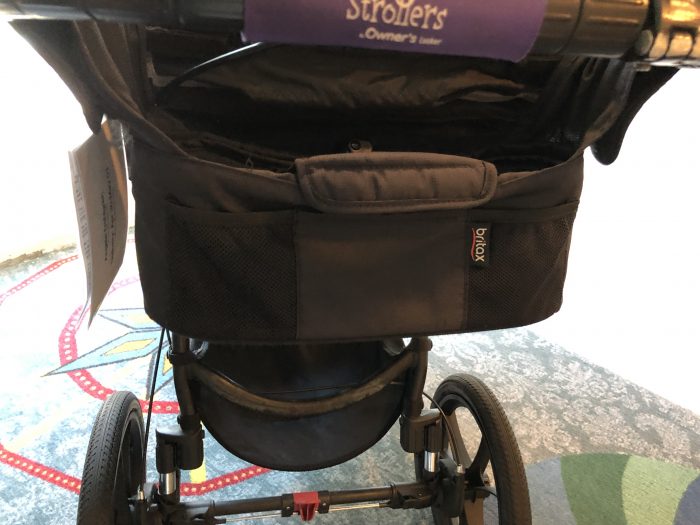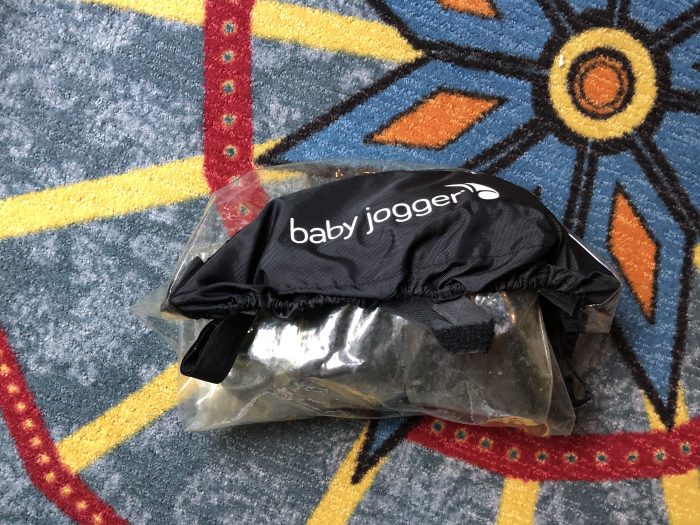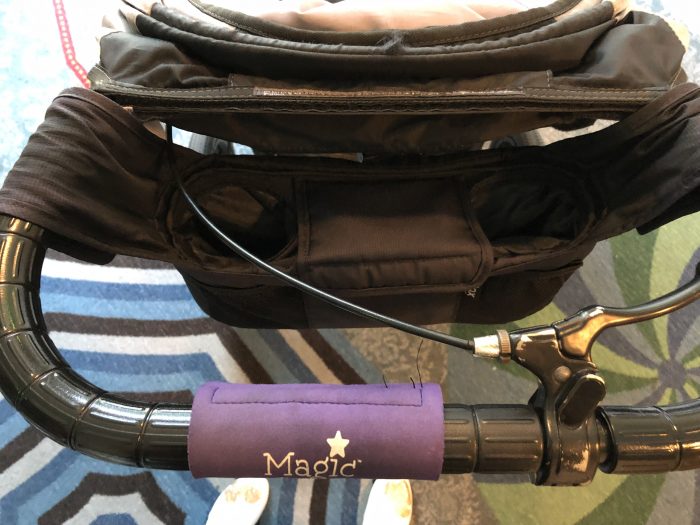 From a communication standpoint, this was the clear winner. As soon as the order was placed on the Magic Strollers web site, a text and an email came through. There was also a text sent when the stroller was delivered to the hotel, and then a reminder the night before the stroller was supposed to be returned.
This stroller arrived in pretty good shape, with only minor wear in a few places. It was clearly branded with the Magic Strollers logo, and a rain cover came in a Magic Strollers bag. The rain cover was custom made to fit this specific stroller, and so there was a slight learning curve at first, but the rain cover felt secure once it was correctly attached.
The stroller maneuvered well, and there was a hand brake that could be used on steep hills. Unlike the other strollers, our test pilot had no issues opening and closing this stroller.
Like the other companies, however, there was no confirmation that the stroller had been picked upl
Cost: $50 for a 3-night rental for this version, however the City Mini singles and doubles rent for the same $45/3-night rental and $55/3-night rental, respectively, like the other options.
Disney Options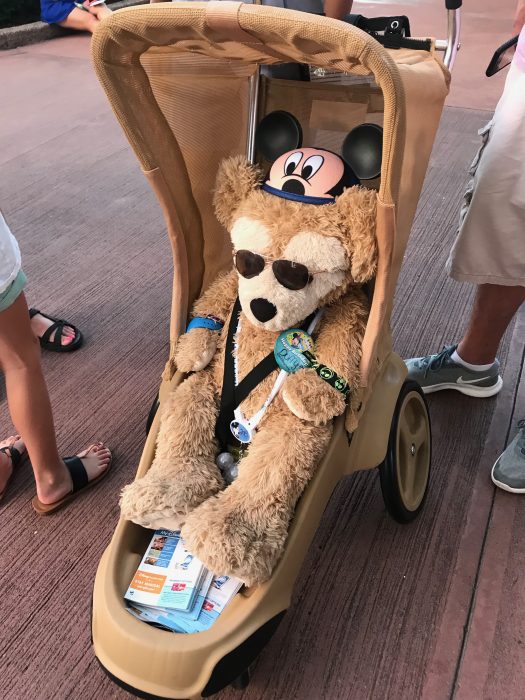 Last month, Disney's Animal Kingdom theme park was testing new types of strollers available for day rentals. You can read about it here. As of this week, the stroller test has been discontinued and Disney is back to only renting the large plastic single and double strollers at $15 and $31 per day respectively.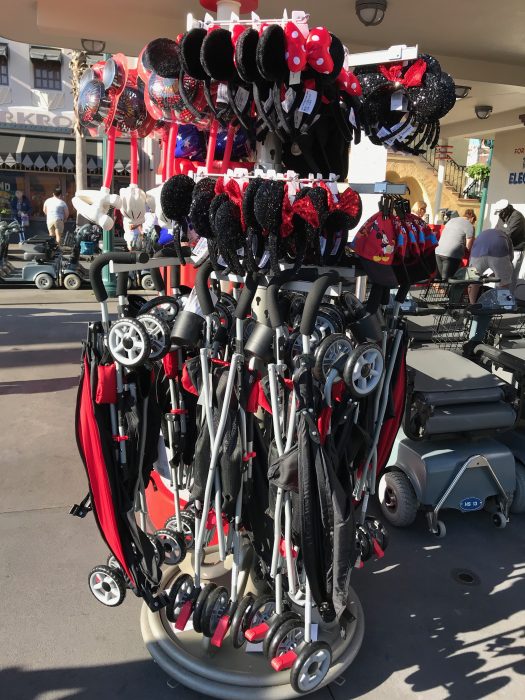 One other alternative is to purchase a Kohlcraft umbrella stroller at Walt Disney World. The cost for this stroller is $45. If you think of it as a rental for length of stay and opt to leave it in the room, it may still work out cheaper than a Disney rental depending on how long you stay. The negative for this stroller, however, is that it is an umbrella stroller — absolutely a no-frills option.
Just like buying a car, selecting a stroller can be a very personal decision based on your needs and what is comfortable to your child. After renting strollers from a variety of companies, our test pilots found that they would be comfortable doing business with any of the companies, with all in the same price range. Your best bet is to look at what inventory each company offers, go to a store in your area to test out the stroller you want (to make sure that it will accommodate your needs), and then book in advance and let your child enjoy the ride.
Special thanks to Angela Dahlgren and Erin Foster for testing out these stroller options.
Have you rented from one of these stroller companies before? What has your experience been like? Let us know in the comments.