Strong Water Tavern – Universal's Best Bar
Here at Touring Plans, we enjoy our hotel lobby bars. There is nothing quite as special as picking up that first drink upon check-in. The Loews and Universal hotel lobby bars are especially good with the cream of the crop being Strong Water Tavern at Sapphire Falls Resort. In this article, we will look at all the reasons we love this lounge and convince you to visit.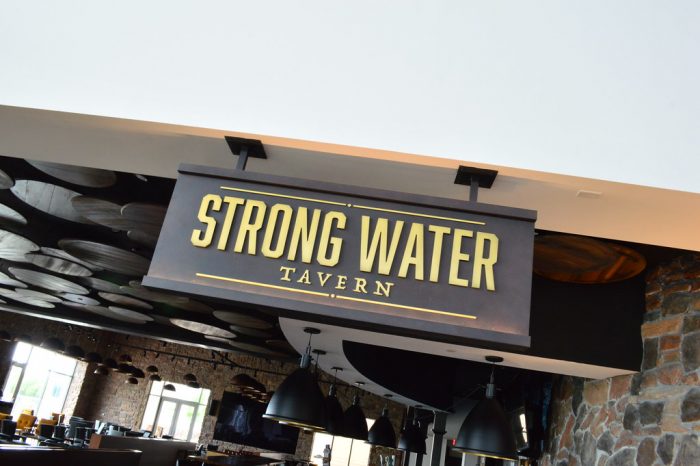 Situated in the back right corner of the lobby, Strong Water Tavern's design takes cues from the Caribbean rum trade. Large rum barrels form a drop ceiling area and walls are covered in stacked stone. The bright seating stands out on the dark-stained wooden floor. A large, nautical-themed mural hangs above the bar. TVs placed in the dining room and bar offer an excellent opportunity to watch sports or major events. Outside lounge seats and tables overlook the waterfalls that give Sapphire Falls its name.
The tavern gets busy but never too loud unless a contentious sports game is on. The bar is the most popular place to sit and fills up within minutes of opening. We suggest arriving 5 minutes early to guarantee a bar spot. Seating is readily available throughout the evening.
Strong Water specializes in rum and rum-based cocktails ranging in price from $15 to $17 per drink. The rum cocktails are among the best at Universal, all juices are squeezed fresh daily and are created using the best rums. Our personal favorites include the Tavern Grog, Rum-Lore (which tastes just like a chocolate-covered raspberry), and the signature Mai Tai. Small samples of house-infused rums, called tots, are also available. If you are a rum connoisseur we suggest discussing the rum-tasting options with your bartender or server.
For a bar, Strong Water Tavern has some of the best food options at any resort. The small plates are inspired by the Caribbean and the Gulf of Mexico, with dishes separated into distinct styles from different countries. Our favorites include the Curry Goat from Jamacia, tacos, and ceviche. We have not had a bad meal at Strong Water, but note these are small plates and not full entries. We suggest sharing several with friends.
We love Strong Water Tavern and go out of our way to visit this excellent lobby bar. Strong Water opens at 5:00 pm Sunday through Thursday, 4:00 pm on Friday and Saturday, and closes at midnight. Interested in Strong Water Tavern and the rest of the amenities at Sapphire Falls? Request a free quote from Touring Plans Travel today!

Have you eaten at Strong Water Tavern? What are your favorite drinks and small plates? Leave your comments down below!