The Best Ways to Spend $50 at EPCOT's 2020 Festival of the Holidays
One of the down sides of any EPCOT festival is the price of the food and beverages. It is easy to get carried away trying tasting plates of international cuisine, and thus overspend. In hopes of helping you enjoy the festival without wreaking terror on your budget, Chrissy on our field team and our friend Chef Todd set off into EPCOT on a $50 challenge.
Each person needed to stay within a $50 budget and needed to select two items from the following categories: meat, vegetable or plant-based, seafood, and desserts. Chef Todd, being a chef, had the freedom to color outside these lines should he desire. In addition, they had very specific criteria about what would be a successful purchase.
Chrissy: Must taste good and be enough to share with a hungry 2nd grader
Chef Todd: Focus on quality–is the item what is advertised, and is it well prepared and delicious
Chrissy's Picks: Total, $48.25
Chef Todd's picks: Total, $54.20
Meat Category
Kālua Pork at Mele Kalikimaka $5.25 – This dish is a great balance between smoky, salty, and sweet. It is a hit with Chrissy and other members of our team and should be on your must-do list.
Chorizo Tostada at Los Posadas $9.25  -This dish can eat up the bulk of your budget, but it's worth it. There are perfect bites of several flavors with each forkful. It's enough for two people to share or one greedy person to enjoy.
Dinde Forestiere, Pommes Dauphine at Le Marche De Noel Holiday Kitchen $6.95 – Turkey during the holidays may be cliche, but this dish is worth the redundancy. The turkey was cooked perfectly. The Mushroom bacon veloute would have made you a hero at you holiday party, according to Chef Todd. Pommes Dauphine are a mix of potato puree and choux paste and fried to puffy glory.
Red-stewed Beef Rice Bowl at Shanghai Kitchen $9.50  – This one has our team at a crossroads. Chef Todd loves it; others on our team feel the high price tag may not be worth it. Braised beef in a red chile brown sauce that is full of lip-sticking gelatin. The sticky rice soaked up all the goodness.  If you wish to keep the purse strings a little tight the Curry Chicken Rice Bowl at this booth is a good bet at $8.00.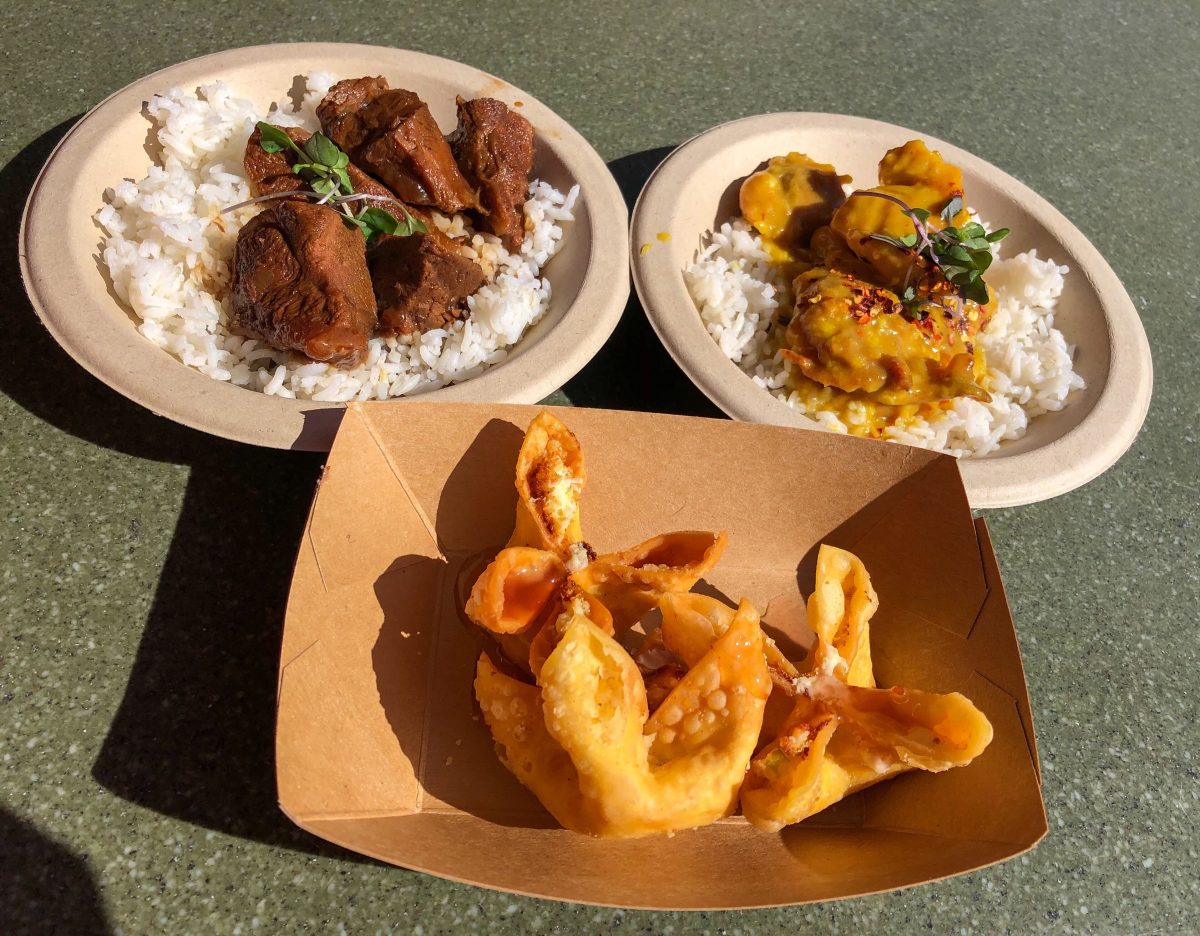 Duck Confit and Dumplings at Festival Favorites $8.00 – In typical Chef Todd fashion, the rules are broken to allow this extra entry. This dish in as a supreme value, and delicious. A full leg quarter of duck for under $10.
Vegetable / Plant-Based Category
Potato Latkes at L'Chaim Holiday Kitchen at $3.75  – Perfectly cooked and flavorful these latkes have a lovely bit of  little dill cream popped on top. They are also available with smoked salmon.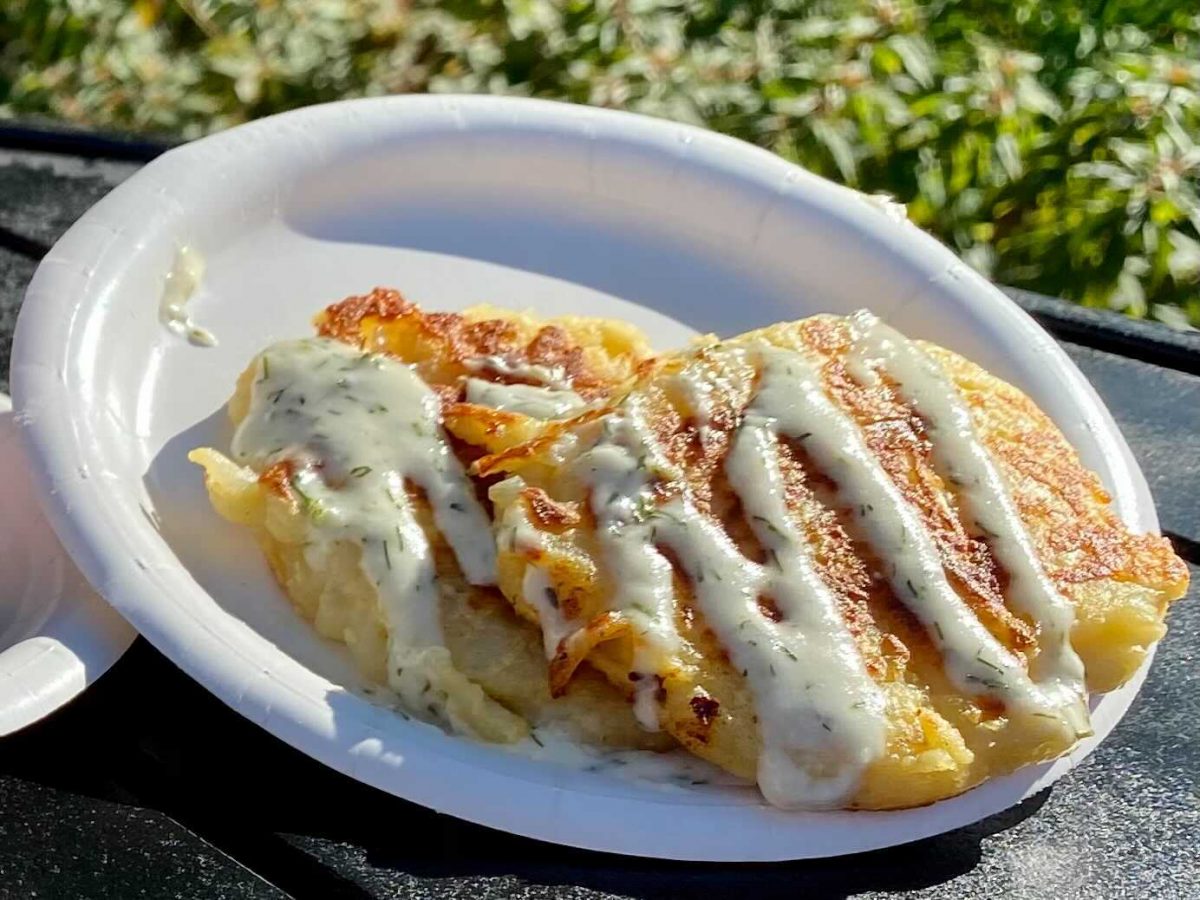 Cheese Fondue at Bavaria Holiday Kitchen $8.75 – This comforting dish of warm cheese, bread, and vegetables is a hit with everyone on our team. Even my picky niece, who only ate mac and cheese and chicken fingers for the first 17 years of life, demands her own and we don't argue. It's good even when it cools off a bit and the cheese isn't as runny.
Seafood Category
Blackened Sea Bass at Festival Favorites $7.00 – The price point is reasonable for a decent portion of fish. The pan-sear results in a nice, spicy crust. Not too much as to overpower the delicate filet. Toothy cheddar grits and a few hunks of fried okra make this Cajun classic a winner.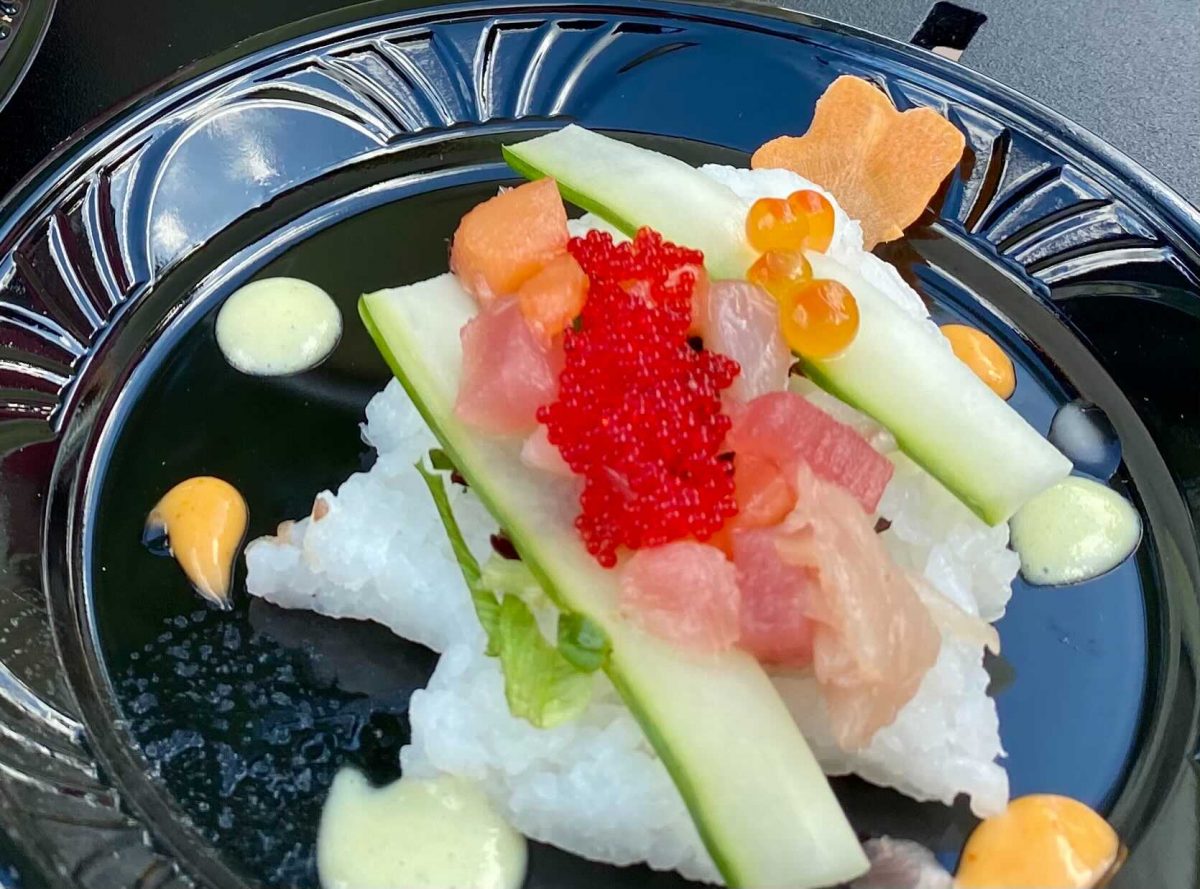 Chirashi Sushi Tree at Shi Wasu Holiday Kitchen $6.00  – Any sushi lover will appreciate and enjoy this affordable, delicate dish. They say we eat with our eyes first and this one certainly delights.
New Year Celebration Soba at Shi Wasu Holiday Kitchen $7.50  -What a good way to bring on some good will for the new year. The chewy buckwheat noodles are slurpable, so, in these unprecedented times, our team does not recommend sharing. A crispy little tempura shrimp garnishes this bowl, which added a nice touch.
Desserts Category
We saved the most important category for last – the sweets! We've previously put together a list of the best desserts at the festival, but the four picks below highlight the best values in the dessert category.
Maple Buche de Noel at Yukon Kitchen $4.50  – This is a lovely blend of sweet maple and chocolate, and the serving is very generous. We've been concerned that the serving size may end up being reduced, but so far, so good.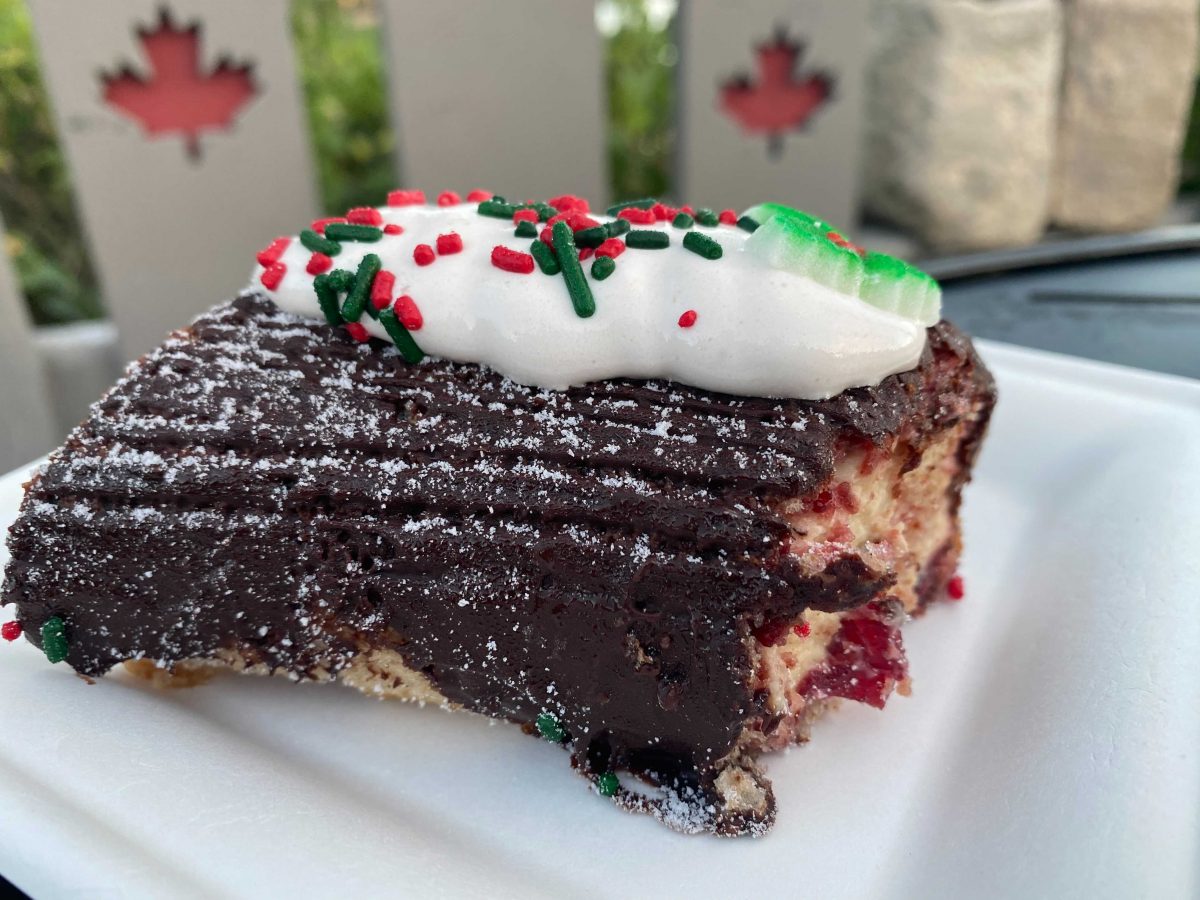 Pumpkin Gingerbread Cheesecake  at American Holiday Table $4.25  – A great treat for anyone who loves traditional holiday flavors of pumpkin or gingerbread. Chef Todd states this is a stunning dessert, simply irresistible.
Dulce de Leche Churros at Las Posadas $5.50  – Churros are ubiquitous in The World.  The standard churros in the parks can sometimes be stale. But these are fresh, crunchy out, fluffy fluffy in. A river of dulce de leche down the center guilds the lily.
Sfenj at Sapphire Holiday Kitchen $6.00  – These crispy little fried donuts are piped full of a magical cinnamon pastry cream. A little chocolate drizzle and some powdered sugar to make you cough finishes the top. Chef Todd believes in moderation and states he would limit himself to 25 – 50 of these.
Do you enjoy dining around during EPCOT's festivals? How do you stay on budget?