The Chef and the Mom at Le Cellier's New Brunch
Epcot's Festival of the Arts opened a few days ago and Le Cellier Steakhouse in the Canada pavilion introduced a brunch to celebrate. Chef Todd and I are both fans of Le Cellier's lunch and dinner standards so brunch was an exciting prospect.
One reminder before we get going – Touring Plans staff gets zero special treatment from Disney. We aren't given any special opportunities or reservations. We have to book our dining like any other guest, we pay for everything we do and consume, and we pay exactly what every other guest does. We don't get press previews and we wait in all the same lines as other guests. We tell you our honest opinions even when what we say is unpopular with Disney. If our staff thinks something is a terrible value, we're going to spell that out. The converse is true too – when we love something and feel it is worth our own money for an event or meal, we will endorse it enthusiastically. Now we can proceed.
Hopefully you'll have already read the collaborations that Chef Todd Santanello and I have done recently. To refresh your memory, Chef Todd is a trained Chef who cooks amazing meals for his beautiful wife and child, and spends a lot of his life eating around Disney property. I am a life-long Unofficial Guide / Touring Plans geek with a budget and average kitchen skills and time.
Epcot's Festival of the Arts is my favorite of the Epcot festivals. This is in large part because the weather automatically puts people in a better humor than the suffocating fire bath of the opening days of Food and Wine. Weather not factoring into the equation, Epcot seems to get progressively better at small touches and whimsy with each new festival. Except the Italy pavilion outdoor kitchens. Ugh. That has to be a whole other post.
Le Cellier Steakhouse announced their Festival of the Arts Brunch and menu a few months ago. The brunch dates run through February 23 and is a prix fixe menu for $67 per person, plus tax and tip. For those of you using a Disney Dining Plan, brunch requires the same 2 table service credits as a lunch or dinner seating at Le Cellier because of its Signature Dining status.
The Menu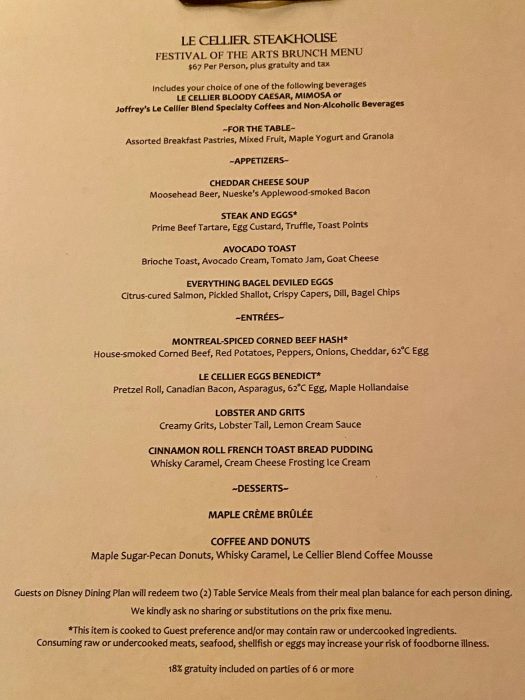 I was initially excited about the price point of $67 because I'm familiar with the quality of a Le Cellier lunch or dinner service and I have yet to find an occasion to justify the $95 per person for brunch at the California Grill. To be fair, $67 plus tax and tip is steep, but you'll spend $41 per person for breakfast at The Crystal Palace. Pooh and pals have their value but the focus at Le Cellier is on the food and the experience and, spoiler, the price point is exactly right for this one. A value even. Let's discuss.
Because I read lots of Disney blogs, I had memorized the announced menu weeks in advance. We were more than a little thrilled when we saw the Lobster and Grits on the printed version we received. First of all, lobster should be on every brunch menu in some form, and secondly, the online menu did not show lobster!
The Drinks
So that we could try each of the items we were most interested in, our party of 3 all ordered different drinks, appetizers, and entrees. We've each had coffee at Le Cellier in the past so we ordered the mimosa and the Le Cellier Bloody Caesar.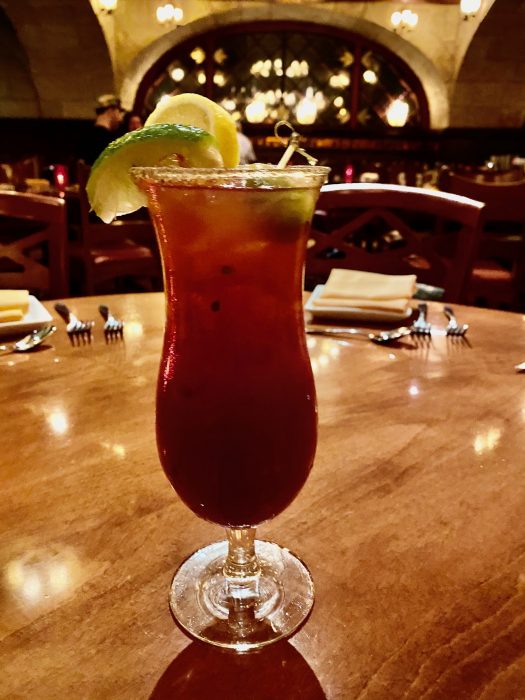 Chef Todd's Take -The term 'aperitif' describes a drink that is taken before a meal that stimulates the appetite. Bloody Marys aren't typically lumped into this category. The Bloody Caesar here, however, was as good as any aperitif I have ever had at creating anticipation for more food. There was something in the salt on the rim that turned on the waterworks in my mouth.
My View -I am fussy about a Bloody Mary in the way that Chef is fussy about all food. And drinks. And sweets. I want enough olives but not over the top garnish. (I am always suspicious the drink is terrible if they have to serve it with a cheeseburger on top). The salt on the rim has to be flavored but not overpowering. This is the best Bloody Mary (Caesar) I've ever had on property and I have done my share of "research" on the topic. It was so delicious that I had to nag our lovely server about the contents. One of the ingredients is Bittermens' Hellfire Habanero Shrub. It made the drink fruity and spicy and I found the size to be generous.
The mimosa was the standard – basic but decent. I enjoy a mimosa and there was nothing wrong with this one except that it wasn't a Bloody Caesar.
For the Table
Assorted Breakfast Pastries, Mixed Fruit, Maple Yogurt, and Granola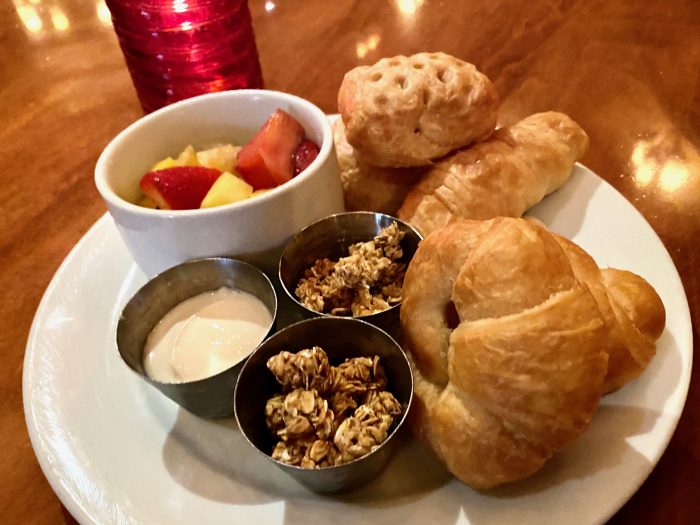 Chef Todd's Take -A very beautiful and substantial plate of pastries were offered to start the day. Specially baked croissants filled with loveliness were the eye-catchers. They were all flaky and buttery and delicious. I loved the house-made granola, and I dipped mine in the yogurt.  There was also some fruit on the plate, I think. But how do you eat fruit when there is croissant?
My View – I am no brunch rookie. The pastry and fruit plate was pretty but I had bigger things in mind. One note though – don't let the server take away the croissants. You may need them in a tartare emergency (see Steak and Eggs below).
Appetizers
Steak and Eggs – Prime Beef Tartare, Egg Custard, Truffle, Toast Points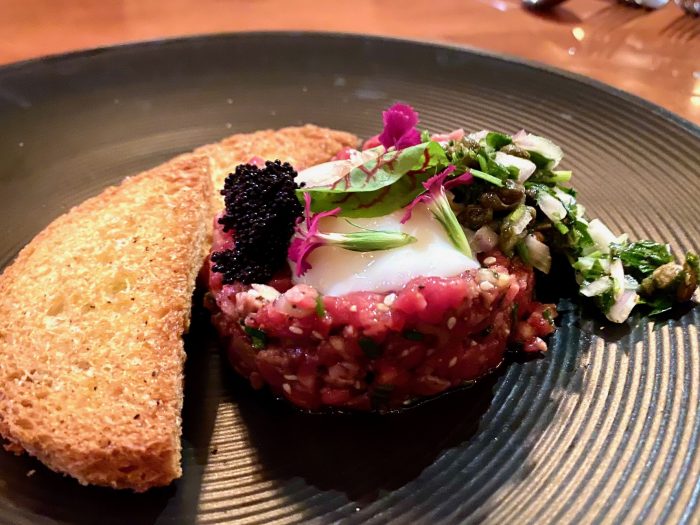 Chef Todd's Take – This dish was the highlight of my meal, maybe my weekend. If you are looking for a medium rare steak, this ain't it. This is tartare.  Tartare is very fresh beef that is chopped, seasoned and served raw. (Yes, it is safe!) My plate was pure, un-altered beef goodness.  Having a surplus of AAA Canadian Prime tenderloin scraps laying around is a nice luxury. Kudos to Chef Tony for recognizing this, and creating this exquisite utilizer. The first of many runny eggs on the menu was a smart topper for the beef. The caviar, another egg, was very high quality, not just a throw-in. This starter was exceptionally crafted, and is a $20-plus dish on any menu.
My View -I love a medium rare steak and I totally understand why some places refuse to serve a well-done cut. It's an abomination. I get it. That said, I make that squeamish face when I see "tartare" on a menu. To say that I was pressured into trying this dish by Chef Todd would be harsh. It's true, but it makes him seem more Gordon Ramsay than he usually is. Cut to me trying it, loving it, and using our discarded butter croissants as a vessel for this beef joy after we devoured the toast points. His face reminded me of the one I make when I see children lick the handrails on the monorail. No matter. It was delicious and I am proud of myself for trying it. I am clueless about why the flavors all make magic when they're put together; they just do. While I would gladly eat my next serving out of a paper cup, I did take a second to appreciate the presentation. The garnish was perfect and you could tell a lot of thought went into the overall picture.
Avocado Toast – Brioche Toast, Avocado Cream, Tomato Jam, Goat Cheese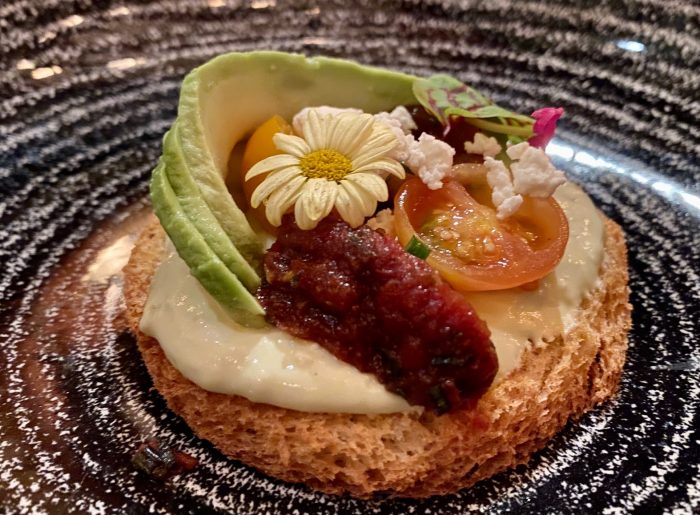 Chef Todd's Take -This was my least favorite dish. Avocado toast is very trendy, so I don't blame them at all for adding this. The brioche base was crunchy and buttery. I love me some brioche. Sweet and tart tomato jam was the key component for me. Tangy goat cheese was a smart addition as well. Tasty and balanced, but the other dishes were a little better. Beautiful presentation.
My View – From just a visual perspective, this was the dish that sold me. The plate is a campfire coffee pot vibe and the food is bridal brunch quality which is perfect for an art festival brunch in a heavy setting like Le Cellier. (See what I mean about whimsy? I can't help myself when the humidity is below 90%)
Everything Bagel Deviled Eggs – Citrus-cured Salmon, Pickled Shallot, Crispy Capers, Dill, Bagel Chips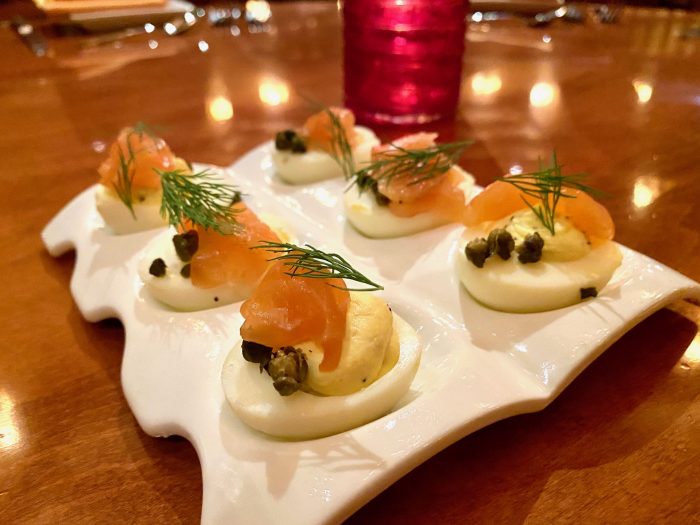 Chef Todd's Take – Any good New Yorker will tell you that everything seasoning is the right way to start your day. Poppy, sesame, garlic and onion season this creamy deviled egg filling. Citrus cured salmon added an oily richness. Fried capers popped with crunch. Adorable and delicious.
My View – Deviled eggs are to brunch for my age group what avocado toast is to the youngsters. The everything bagel seasoning is in the filling and it's just delicious. The dill and crispy capers were a good salty foil for the salmon and egg. The serving size of 6 was enormous and the dish was beautifully plated.
Entrées
Montreal-Spiced Corned Beef Hash – House-smoked Corned Beef, Red Potatoes, Peppers, Onions, Cheddar,  62°C Eggs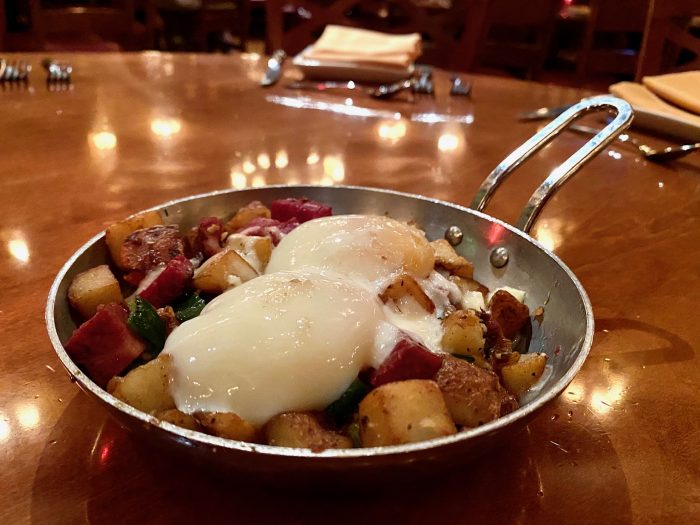 Chef Todd's Take – Let's food nerd a little bit again. Corning beef is an ancient preserving technique. Curing salt and other flavoring spices are dissolved in a brine that the intended protein spends up to a week in. The cute tie-in here is coriander, a key spice in both Montreal seasoning and traditional corning spices. The resulting roast has a deep pink color, tons of spice flavor, and all of the juice. This house corned beef is diced and browned with potatoes, peppers and onions to form a signature crust. The Cheddar was a unique and welcomed addition. Another couple 62-degree eggs (told you) finished a near perfect dish.
My View – I was distracted by how geeked out Chef got over the eggs and hash that I almost went off my Bloody Caesar. I have never used a sous vide machine and never intend to do so. I also don't pretend to understand the beef smoking and corning process but can guess from Chef Todd's excitement level that it's involved and this dish represented it well. Fancy stuff aside, it was for sure a dish I'd recommend for bigger appetites. The portion size was large and it was yummy even though I don't understand the science and chemistry that got us here.
Le Cellier Eggs Benedict – Pretzel Roll, Canadian Bacon, Asparagus,  62°C Egg, Maple Hollandaise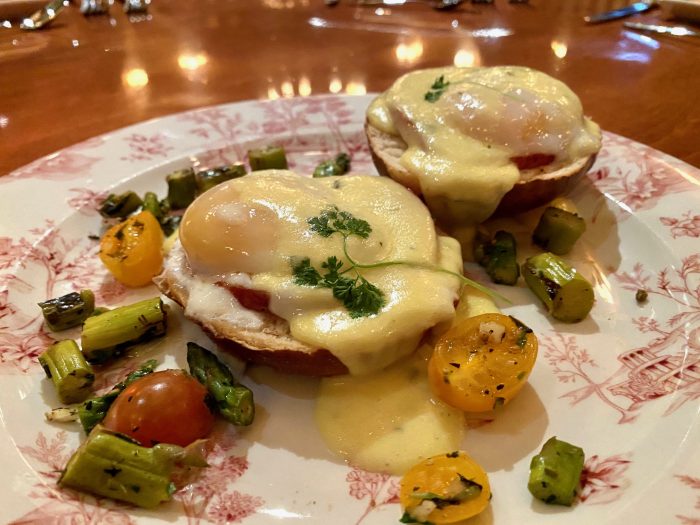 Chef Todd's Take – The online menu still shows this as served on a cronut, but the in-house menu says pretzel roll. I was glad for the switch. I liked the chewy texture of the new base, but a knife is necessary. The traditional version offers poached eggs, but here they are being replaced by 62-degree eggs. Let's talk about this a little. This is an egg that is slowly taken to the ideal temperature, where the white is just set, and the yolk is happily runny. Sous vide is the technique used here. Eggs are sealed in a vacuum bag and immersed in a water bath. A digitally controlled circulator keeps the poaching liquid at the exact temperature. The resulting product is an evenly cooked and luxurious egg. LOVED the addition of asparagus. LOVED the maple hollandaise. Well thought out twist on the brunch standard. Very good.
My View – I like eggs, love a pretzel roll, and grilled veggies make me happy. A great version of a brunch standard.
Lobster and Grits – Creamy Grits, Lobster Tail, Lemon Cream Sauce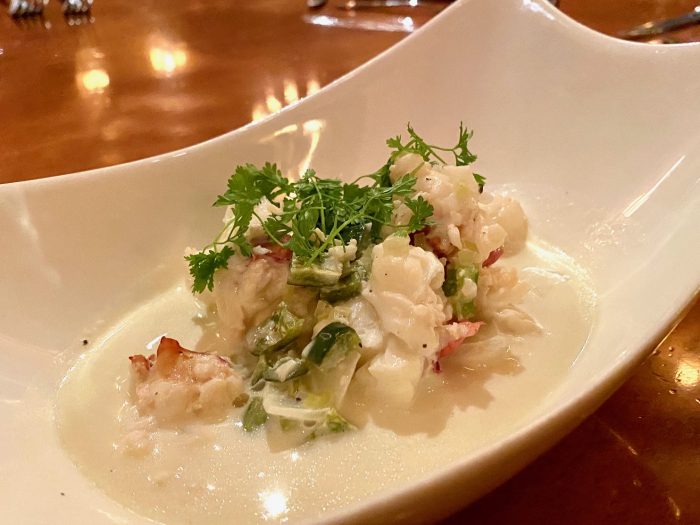 Chef Todd's Take – Not listed on the online menu, but so glad it was listed on mine. The grits were stone ground, which produces a coarser product, and these were perfectly al dente. Big chunks of lobster were a welcome change from the ubiquitous shrimp. The lemon cream was worthy of pouring into a snifter, and sipping by the fireplace. Stellar entrée.
My View – This dish made me realize that I have brought shame to Sicilians everywhere each Christmas Eve with my Feast of the Seven Fishes lobster prep. This was, and I say this with all gravity, the most well prepared bite of seafood I've ever had. This and the Bloody Caesar are the stars for me and I'm happy to petition or march and picket or whatever to get them added as regular menu items. So I was making some pretty embarrassing (for Chef, not me) sounds and faces while enjoying this dish and was surprised when Chef Tony Marotta stopped by our table. Maybe it was because we were at the first seating of his new brunch or maybe it was to ask me to stop yelling about the lobster. Either way, he was kind enough to explain that the lobster was one of his favorites and is an entrée he took great care in thinking through.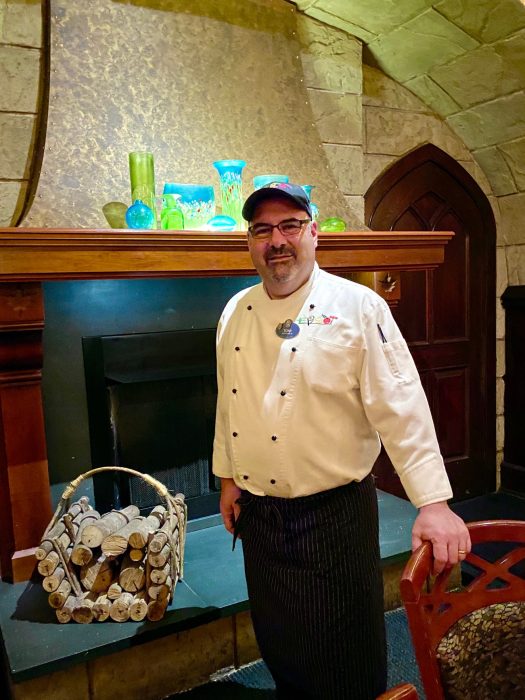 Dessert
Coffee and Donuts – Maple Sugar-Pecan Donuts, Whisky Caramel, Le Cellier Blend Coffee Mousse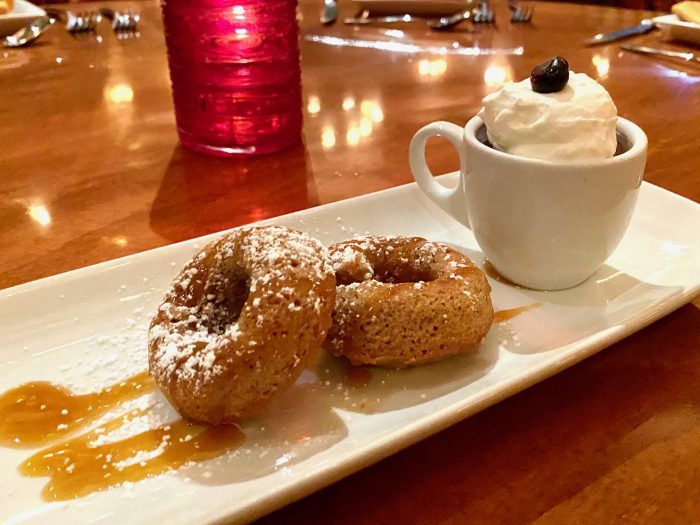 Chef Todd's View – We were fortunate to be able to talk to the Chef quite a bit during our visit. Being literally the first group to experience this brunch, I'm sure he was anxious to hear our comments. I like that. He was very proud of the coffee mousse on this dessert, and with good reason. It was outstanding. Give me anything coffee, any time. Especially in dessert. The pecan cake donuts were baked, not fried, resulting in a light and airy donut packed with pecan crunch. Serving the mousse in a demitasse made for a playful take on coffee and donuts. We ordered two, could have eaten four. They were that good.
My View – The Maple Creme Brulee is a staple at Le Cellier and always a safe bet, so we decided to try the coffee and donuts instead. The donuts were better than a hot Krispy Kreme glazed. Yeah, I said it. As good as the donuts and scrummy caramel sauce were, the best part of this dessert is the pot of coffee mousse. The whipped cream is light, the simple garnish is adorable, but the layer of chocolate goodness (technical term) will have you needing a moment of food privacy.
Final Thoughts
While the brunch at Le Cellier is limited to this specific festival, we were informed that if it is successful Le Cellier may roll out new brunch options for future festivals. Other than being aware of the short availability of the menu, I will warn diners to make their menu selections wisely. If you're going to devour the chocolate croissant at the start of the meal, maybe skip the Cinnamon Roll French Toast Bread Pudding in favor of the Lobster and Grits (always get the lobster) so that you will still enjoy the sweet donuts and mousse.
You can follow Chef Todd on Twitter and Instagram and on his Facebook page Chef Todd Eats Disney.
Have you had an opportunity to enjoy the new brunch offerings at Le Cellier? Tell us what you thought!