The Future of Cabanas on Disney Cruise Line
Sponsored by Storybook Destinations
Ahoy, mateys! I'm Heather, and I'll be bringing you the up and coming on all things Disney Cruise Line. Welcome back again this week. Let's see what's new in the DCL world!
Cabanas, ooh-na-na. I love the buffet in Cabanas, the buffet in Cabanas….
(Sorry in advance for the earworm.)
Last week Michael Bayley, the president and CEO of Royal Caribbean International, hinted that buffets on the cruise line may be a thing of the past – at least as we once knew them. While he did not give specifics, he mentioned that the service system in the buffet restaurants would be revamped once cruising starts back up again.
Reasonably, the future of the Cabanas we've come to know and love on DCL sits delicately in the balance.  We may not know what it's going to look like upon our return, but we can muse on some possibilities!
My guess is that the self-serve, somewhat free-for-all way of the buffet breakfast and lunch will definitely be eliminated. In the past, when there have been instances where there was an illness onboard, such as norovirus outbreaks and (most recently) cruises leading up to DCL's coronavirus closure, all self-serve food and beverage areas would become attended stations with crew members wearing gloves serving guests. Still all the same offerings, just put on your plate or in your glass by a crew member. This could certainly be a viable option for the future. And let's be honest – though they have hand washing stations and/or sanitizing wipes that guests are *supposed* to use before self-service at Cabanas – does that really always happen? Less transmission of germs with shared utensils doesn't really sound all that bad!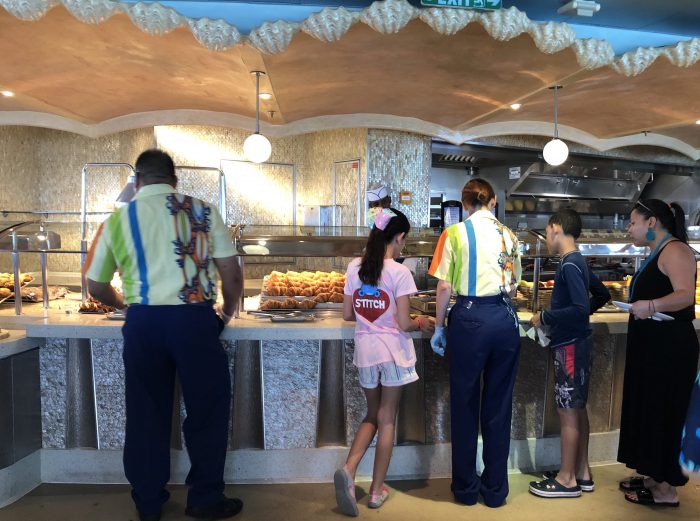 On select nights, Cabanas has traditionally been open for dinner as a casual table service option. Would we potentially see the same for breakfast and lunch? How would that change the overall dynamic and guest satisfaction for what tend to be quicker grab a bite and get on with the fun meals? Given the sheer number of guests that make their way here for breakfast or lunch, a table service option would need to be done with adequate speed to be able to accommodate everyone. Could that mean a reduced menu? Would things like the fan-favorite all you can eat shrimp and crab disappear for awhile?
What do you think the future of Cabanas looks like? Would you prefer to see it stay as a crew-served buffet, or move to a table service option? Share your thoughts in the comments!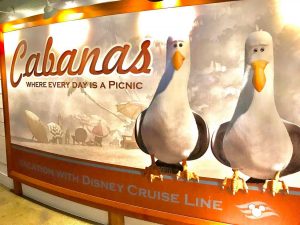 Thanks for joining me again this week. "Sea" you next time!
The Disney Cruise Line Update is brought to you by Storybook Destinations. Storybook Destinations specializes in Disney travel, is consistently highly rated by our readers, and is owned by our own blogger extraordinaire, Tammy Whiting. Storybook also offers free subscriptions to TouringPlans to clients with qualified bookings.