Resort Rundown: Disney's Beach Club Overview
Take a trip to the Atlantic seashore with a touch of Disney magic. Disney's Beach Club and Yacht Club Resorts are wonderfully seaside-themed resorts that neighbor each other, and share some amenities. Disney's Beach Club has a bright, cheerful atmosphere with relaxed, but polished decor reminiscent of upscale beach cottages that families flock to in the summer. With one of the best pools on Disney property and a long list of great features, Disney's Beach Club is like finding buried treasure along the seashore.
Location
The Yacht and Beach Club Resorts are part of the EPCOT Resorts area. It is smack dab in between EPCOT and Disney's Hollywood Studios. You can walk to either theme park, walk to neighboring resorts, and over 15 restaurants. Disney's Fantasia Gardens mini golf is a reasonable walk from this resort too. This resort area is one of the most loved areas in which to stay at Walt Disney World. It can be hard to pick a favorite out of the hotels in this neighborhood.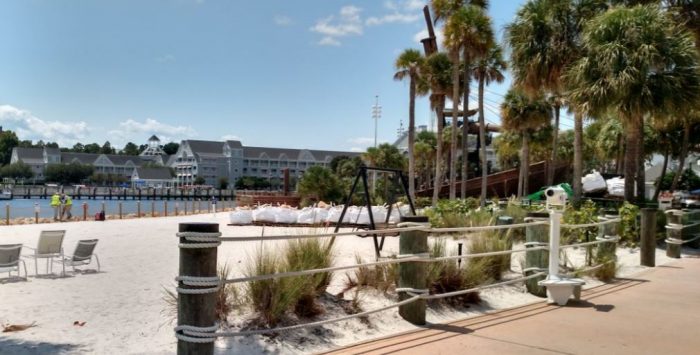 Rooms
Disney's Beach Club has regular hotel rooms, suites, and Disney Vacation Club deluxe villas. The interior of the rooms and suites evoke the seaside and the beach itself. The furniture and walls are soft tan and sandy tones. The linens, curtains, and accent pillows are soft blue hues. Bright polished metal furnishings add a modern touch, and there is quite a bit of shelving and storage throughout the rooms.
The balconies are great for a morning cup of coffee or an afternoon session of reading – if your room indeed has a full balcony. Some rooms have a small, standing-room-only balconette. Most rooms have two queen beds, though one king bed is available in select rooms. Some rooms also have a daybed in them. The rooms are very elegant with wall art inspired by the sea. There's just a pinch of Disney touches in the decor, which include a framed art piece featuring Mickey and Minnie, and hidden Mickeys in the shower curtain.
There are three view types: Standard, Garden, and Water / Pool views.  Speaking of views, you can use the awesome TouringPlans Room Finder to help you narrow down the exact room location you would like. You can plug in your preferences and find rooms that match your needs. Then when you make your reservations and check in you can request your desired rooms. This tool is free to use.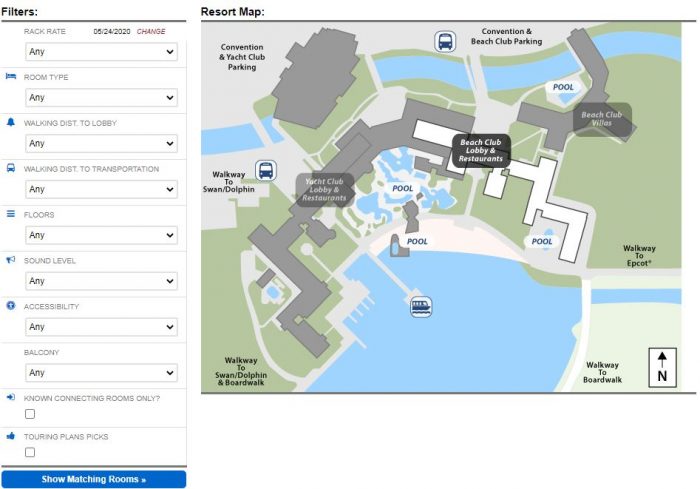 Tour a standard room, that is literally right next to EPCOT, in our video:
Club Level
The Stone Harbor Club Lounge at Beach Club is casual, yet elegant, with soft colors and beach decor throughout. A small balcony adds to the amenities of the lounge itself. Regular rooms, as well as suites, are available to stay in as part of the Club Level experience. Club Level rooms include: evening turndown, secured key access to the Club Level lounge (serving refreshments 7:00 a.m. to 10:00 p.m. daily), complimentary newspapers in Club Level lounge, and health club access.
Disney Vacation Club
This resort is a favorite among Disney Vacation Club members. The villas building has its own pool with a nice beach theme. Plus, there are two large sitting rooms that are a great place to relax, maybe even read a book, or to simply enjoy a change of scenery. The DVC wing is also very close to EPCOT itself. Each villa has its own spacious balcony – you won't find any tiny balconettes here.
Enjoy Deluxe Studios all the way to Two Bedroom Villas. Deluxe Studios were recently refurbished and now offer a pull-down bed in addition to the queen bed and double-size sleeper sofa. The One Bedroom Villas are interesting here at Beach Club. Each has a king bed in the master bedroom, but some have a queen sleeper sofa, while others only have a double-size sleeper sofa. Then the Two Bedroom Villas have a king bed in the master bedroom then either two queen beds plus a double-size pull-down or a queen-size sleeper sofa. A little confusing, right?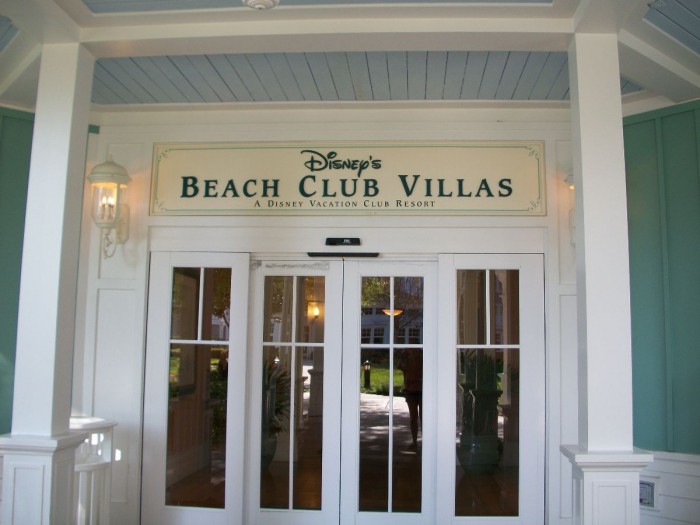 Dining
One of the biggest advantages of Disney's Beach Club and the EPCOT Resorts area is the variety of dining options. Not only does Beach Club has its own variety of dining, but right next door Yacht Club does as well. Plus, you can easily get to the dining at Disney's Boardwalk as well as the Walt Disney World Swan and Dolphin hotels. At Beach Club itself you can enjoy breakfast or brunch with beloved Disney characters at Cape May Cafe. Cape May Cafe also offers a clambake-themed dinner without characters. For a casual lunch or dinner, reminiscent of the classic soda fountain and ice cream shops in a bygone era, visit Beaches and Cream Soda Shop.
Inside the merchandise shop, just off the lobby is Beach Club Marketplace, which is open in the early morning and well into the late evening. Made-to-order sandwiches and other eats are available for breakfast, lunch, and dinner, and a variety of grab-and-go items are available too. When you're splashing the day away at Stormalong Bay, you can visit Hurricane Hanna's Grill for great food and poolside drinks. Hurricane Hanna's is popular with many Disney fans thanks to its beautiful views and great menu. Finally, Martha's Vineyard is a lovely lounge that has gone through multiple changes through the years. It isn't very remarkable, but if you're looking for a relaxing lounge for a cocktail or glass of wine it is a nice choice. In-room dining is also available.
Securing dining reservations at popular full service restaurants like Cape May Cafe can be frustrating and time consuming. You can use the TouringPlans Reservation Finder to help you secure dining reservations and save time. Simply select your desired restaurant, then plug in your desired date and time or meal period, select to be notified either via email or text message, and voila! This incredible tool is available with or without a TouringPlans paid subscription, but you do need to create, or have, a TouringPlans login.
Pools
This seaside-themed resort is home to three pools – one at the DVC Villas side, one quiet pool, and one feature pool that is the envy of all other Disney resort pools. The themed feature pool is Stormalong Bay and it has three great features that make it the most sought-after pool experience at a Disney resort. First, there's the sandy beach that leads into the water itself. Then, there's the waterslide that starts off at the top of a shipwreck. But arguably best of all is the lazy river. This feature pool sits right in between Beach and Yacht Club, and is available to guests of both hotels, and absolutely no one else.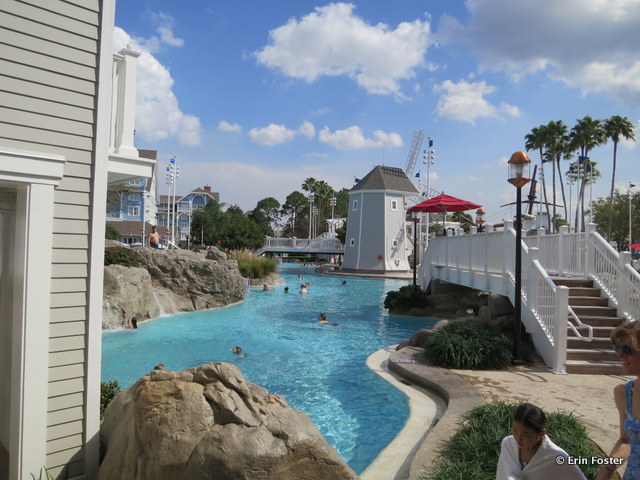 Recreation
Being a beach-themed resort, there are lots of ways to have fun here. Go for a blissful run, jog, or walk around the entire boardwalk and even up to Disney's Hollywood Studios. Head over to Disney's Yacht Club marina to rent a variety of watercraft and enjoy Crescent Lake. There's even volleyball and tennis courts, fishing excursions, nightly campfires, and movies under the stars. And don't forget, Disney's Fantasia Minigolf is within walking distance too. There's so much to do!
There are three modes of transportation at this resort. Being so close to EPCOT and Disney's Hollywood Studios, there is a delightful boat transportation that is shared with the neighboring resorts. It takes less time to walk to the theme parks, but if you're looking to save your energy and rest your legs then the boat transportation is a very attractive feature. You can also walk to the EPCOT Disney Skyliner station just outside the park gate and head to Disney's Caribbean Beach station then transfer to Disney's Hollywood Studios. Beach Club is mere steps from the Skyliner station. For the other theme parks, water parks, and Disney Springs there is continuous bus transportation. One main bus station is located out front of the lobby.
Convention Center 
Disney's Beach Club Resort offers meeting and event space. You'll often find conventions and weddings at this resort.
Other Information
Come tour both Disney's Beach Club and Yacht Club, in our video:
We sure ran through a lot of information about Disney's Beach Club Resort, so here's a handy-dandy infographic that sums it all up: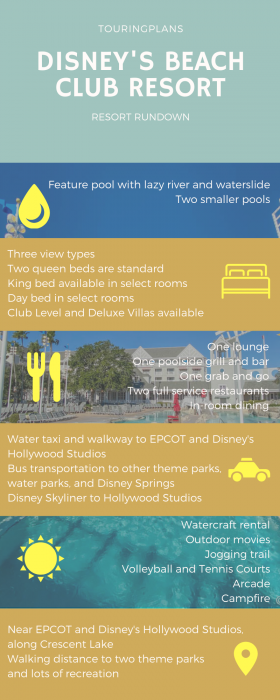 Are you a fan of Disney's Beach Club? What's your favorite feature for this resort? Let us know in the comments.