The Last EVER Disney Outlet Store Photo Report (Maybe)
"You either die a hero, or live long enough to see yourself become a villain." – Harvey Dent, The Dark Knight
When I joined TouringPlans back in late June of 2013, one of the things I wanted to do the most was covering the Disney Outlet Stores in Orlando. Even back then there were so many websites covering Walt Disney World, yet none of them ever covered this part of Orlando. I had pitched the concept to a site I had previously worked for and they had no interest. Maybe it was just to humor me, but Len Testa – the grand poobah of TP himself – signed off on the idea and in July I did the very first edition of this fine blog series.
Here we are 8 years later and a lot has changed at the Disney Outlet Stores, and pretty much all of it for the worse. Now, as I said, when I first started the Outlet Report there was a widely held belief by many theme park centric websites that "nobody cares about the Outlets." My response to that line of thinking? I'll make them care. Unfortunately, what was once an oft-overlooked part of the WDW experience is now fodder for the content machine, and that machine never sleeps. Not only are there are several sites who cover the Disney Outlet Stores, but also an unfathomable amount of vloggers who film their shopping trips for YouTube.
Anyone who collects or enjoys theme park merchandise has seen the rise of eBay pirates and resellers over the years, immediately buying up stock to gouge everyone else. As bad as the reselling community is at the parks and Disney Springs, it is even worse at the Disney Outlet Stores. Think of it as Mad Max Fury Road meets Dollar General.
Over the past year we have detailed ad nauseam about the effect the coronavirus safety procedures have had on the Outlets. It's one thing to get a two-hour virtual wait time for rides in California Adventure or Hollywood Studios, and another to get it at the Orlando Premium Outlets, trust me.
Recently, a new wrinkle has been added to the Disney Outlets which took away the last reason I would put up with all of the above…price increases.  This is something we should have seen coming because it started happening at the Disney Outlets in California as soon as they reopened (which was months after our stores down in Florida). It may have taken a little extra time, but the price increases have made their way to Orlando. There are probably several factors that contribute to this, but common sense dictates a large part of it is simply because Disney is a victim to disruptions of the supply chain like almost every other company in America. Aside from the start and restart of our country (and the labor shortages seen everywhere) there are also things like cargo ships not being allowed to unload at the ports. What was once a free flowing wave of merchandise to Disney (and Universal) has now slowed to a drip. Much of this is completely out of their control.
As longtime readers know, merchandise turnover at the Disney Outlets is extremely fast. For Disney, that was great, because they had a seemingly endless supply of items to replace the sold ones with. Now they don't. Since the actual amount of supply is something they can't control, the one thing Disney can do to limit demand is raise prices. As a consumer, that may seem counter intuitive. Disney wants to sell everything they have, right? Well, not if they can't replace it. Perception wise, nothing makes a store look worse to customers than a bunch of empty shelves. All of you reading this remember what it was like walking into stores last year and seeing aisles of paper towels, toilet paper, and cleaning products being barren. As customers, we were going to the stores with a level of expectation, and leaving hugely disappointed (and many probably angry). I believe Disney is raising the prices to ensure that their Outlets don't look like the water aisle at Publix during a hurricane warning. More power to them, and I personally believe they would be foolish not to do it.
For me though, that was the straw that broke the camel's back. Going to the Disney Outlets hasn't been "fun" for a long time, and when you remove the huge discounts, there's really not much difference between them and every other Disney store. It's time to bid adieu to this monthly blog series, at least for the time being. I didn't expect all of the changes above to happen, so for all we know there will be a big reset and the Disney Outlets will be worth covering again in the future. Time will tell. The good news is that WE WILL BE BACK next month with a brand new blog series. This is another idea I have wanted to do – from all the way back in 2013 – but never had the time because of the commitment to this and the SATURDAY SIX. So stay tuned True Believers…
~ Derek Burgan, June 30, 2021
Before we go, let's take a look at some items from the Disney Outlets in California this month. These always fascinated me more than the items we saw in Florida because most of the time we never saw the Disneyland merchandise these Outlets regularly got.
However, the first item is not Disneyland-centric and is in fact part of the Disney Button series we covered in Florida last month. If you remember, last month our buttons were originally $9.99 reduced to $2.99. The button set below was also originally $9.99, but reduced to $6.98. To quote Kevin Malone of NBC's The Office, "are you kidding me?!"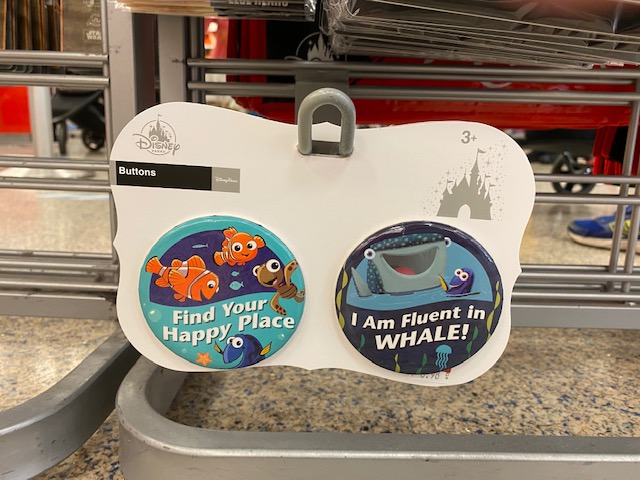 The Redhead in Pirates of the Caribbean is fascinating to look at from a merchandise perspective. When they installed the "new" Redhead character into the attraction and released merchandise based on her, it went to the Outlets relatively fast. I consider that surprising because whether you like the change in the attraction or not, it was a major moment for one of Disney's most cherished attractions. I would have guessed collectors would have scooped stuff up left and right for value on the resale market looking ahead years from now.
This t-shirt below features the character in her previous version. Original price unknown, reduced to $18.50.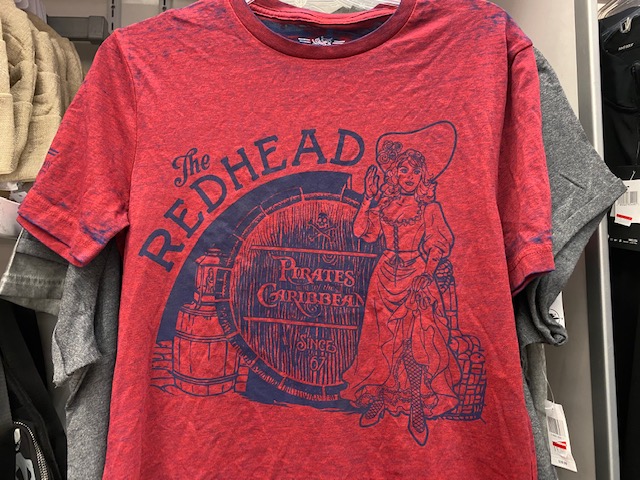 Cars Land sweatshirt. Love that logo.  Originally $59.99, now $24.99.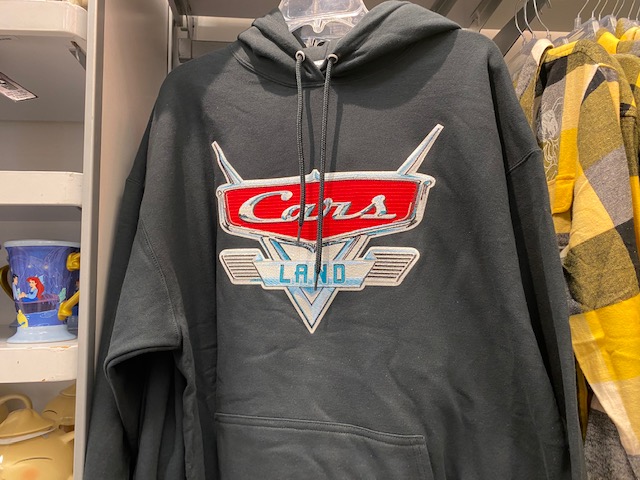 Who could this hat possibly be for? It's based on a fictional TV station in the Cars Universe. I love Pixar's Cars as much as anyone. Probably more than most because I would place the original Cars film in my Pixar top 5 along with Toy Story 2, Ratatouille, The Incredibles, and Finding Nemo. Even among Cars fans does though anyone even care about RSN?! Originally priced $27.99, now "just" $22.99.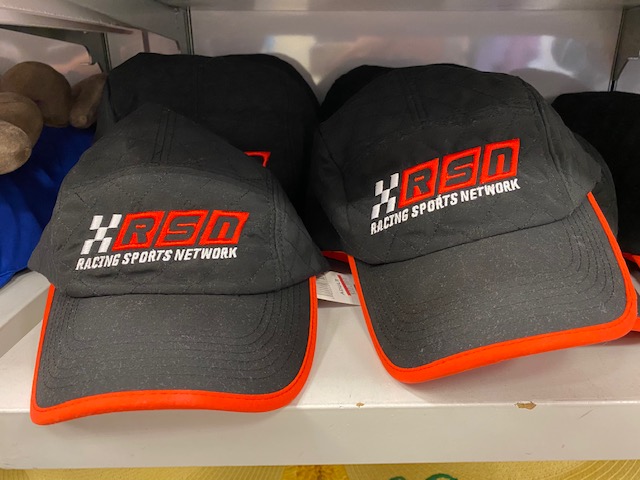 This hat is like a mash-up of Genie from Aladdin and Dumbo. Original price unknown, reduced to $22.99.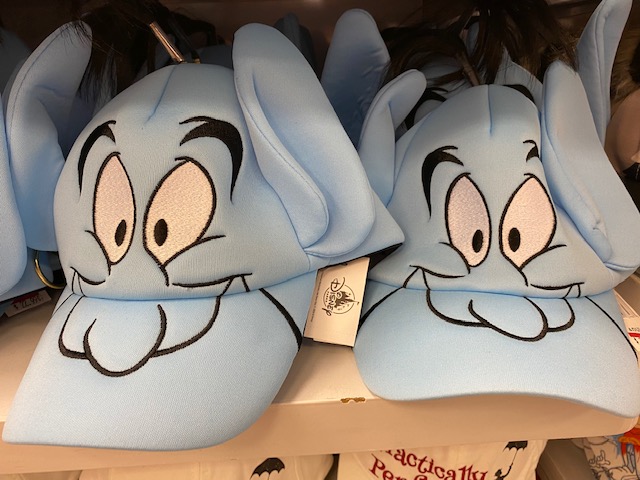 Star Wars Galaxy's Edge backpack/purse. Originally $54.99, reduced to $43.99.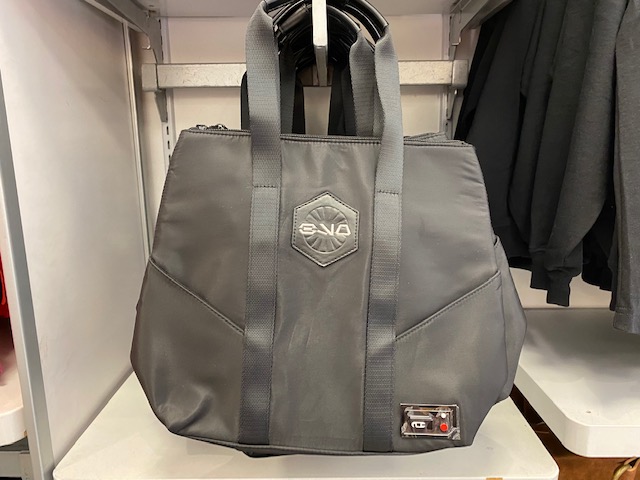 I guess you can probably see why you there aren't many backpack/purses in the real world.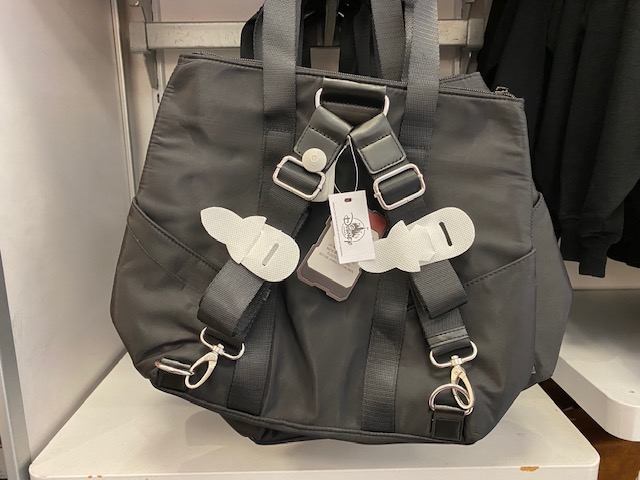 The Droid Factory action figure set. As a Star Wars collecting kid growing up, I would have killed for this if I saw it in the parks. Originally $49.99, now $36.98.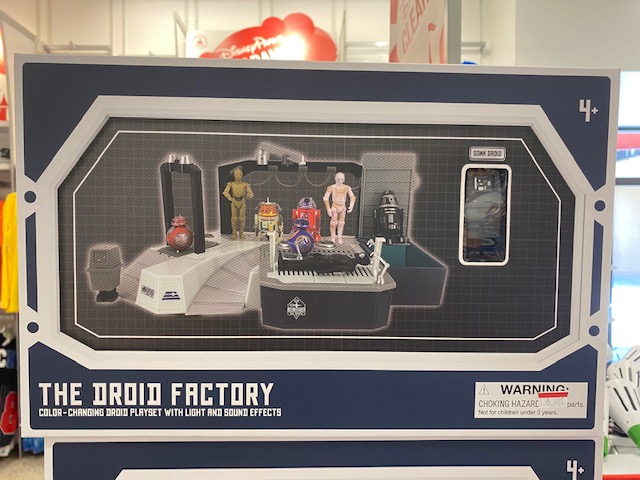 A Droid Depot Hair Bow. Well, if you're gonna close out a series based on the Disney Outlet Stores, it would be hard to find a more fitting item. Originally $14.99, reduced to $10.98.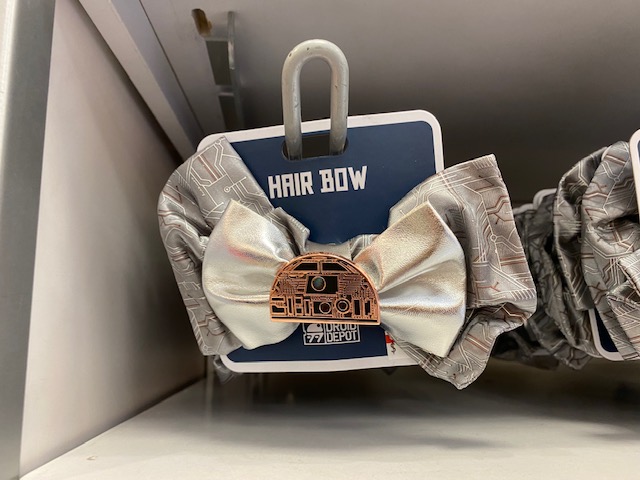 Lastly, I need to thank some of the people who have made the Outlet Report what is was over the past 8 years. The very first month we did this, the idea would be photographer Brandon Glover and I would go to the Outlets together and he would take glamour shots, while I would take notes and then write the article. We found out immediately that this was not practical. His photos of crappy items looked a million times better than my iPhone shots though. Over the years many others have helped with photos including Blog Mickey, Ben Wszalek, Nitro 230, Jaycob from Theme Park Shark, Captain Cruiseline Scott Sanders, and Joseph Machado. We can't thank Christela McC enough for her amazing contributions over in California. Megan Stump has dutifully been along to try and catch all of the million typos I make each month, while the SAT SIX Fun Squad of Parkscope Joe and Nick have always been there to bounce ideas off of. TouringPlans' own Julia Mascardo has been invaluable in resizing "header" photos, which is something I never understood how to do even after 8 years (including this month's photo!). None of this would take place with Len Testa and Laurel Stewart signing off on it, but mostly I want to thank YOU, Dear Reader. I owe a debt of gratitude to every single one of you who took the time to check out The Magic, The Memories, and Merch! over the last 8 years. While going to the Outlets wasn't always great, writing the Outlet Report was, and I appreciate you letting me into your life for that brief period of time each month. It was a blast, and here's looking ahead to the next adventure….
SEE YOU NEXT MONTH WITH A BRAND NEW SERIES!
Let's remember some fond times over the last eight years..
…such as when there were rumors abounding that the Outlet Stores were banning photography. The discount stores, now being overrun by eBay resellers and YouTube vloggers like zombies overtaking cities in World War Z, had possibly had enough. But your intrepid Outlet Reporter had a plan. A plan so crazy, it just might work…
But we also did SCIENTIFIC EXPERIEMENTS…
In a controlled environment, we carefully inspected our Note Pad Set. It contained four separate  note pads, each themed to an attraction in Magic Kingdom, including: Peter Pan, Haunted Mansion, Carousel of Progress, and Pirates of the Caribbean.
CONFIRMED: Each individual note pad is the exact same throughout the pad.
As a person who has written on many notepads, it seemed illogical to me that anyone would want a notepad where there were other words on the pad that would make the note YOU would be writing harder to read. So we thought maybe the top sheet of the note pad would have the Disney-themed phrases on it, but underneath be blank ones you could actually use. During the special investigation we discovered this was not the case.
CONFIRMED: These note pads may be the cheapest quality ever created.
After we wrote a note, we discovered the mere act of removing one note from the pad almost ALWAYS damaged the actual note. Notice in the picture below that the "hand" of Peter Pan is already ripped. This tear happened even when removing the top note slowly from the pad.
Also, the "stickiness" of the note pads scored a "9" on our ranking. This was out of a possible score of "1,000." As you can see, even when pressing the note down firmly on a flat area, it tended to "peel up."
WHAT THIS MEANS: If you are a possible serial killer trying to leave taunting clues for the police, you may want to also carry a roll of scotch tape so that your note will be seen.
Walt Disney Imagineers are warned not to leave your important notes on these pads, as the words intended effect may be somewhat lost.
Here is what the Pirates of the Caribbean note pad looked like after slowly removing the top note in the picture above.
FINAL RESULTS: Do not buy these notepads.
You might ask yourself, who is this pen set for? Kids most likely don't know what these creatures are, and if they did they probably don't want the skulls unless they are Sid from Toy Story. The pen set was also originally priced at $24.99, which would make sense if the pen set was released in 2154 – the year the movie Avatar takes place in – but not so much in 2018. The set came to the Outlets and was priced at $7.99, and sat on the shelves for months.
Its a rough guesstimate, but I would say there is just about a complete turnover in merchandise at the Outlets every 4-6 weeks. Its not often for an item to last at the Outlets for a long time, and on the rare occasion it does, the item is generally something that is sold across the entire property, like a Star Wars toy (which  you can buy at gift shops in all four Disney parks, at Disney Springs, and at many Disney hotels.) This pen set has been sitting at the Outlets for over half a year. Believe me, I've checked every single month to see if Disney came to their senses and lowered the price. FINALLY they did. The pen set was lowered to $3.99 and you better believe I bought it.
Turns out, the colors on the pens have absolutely no relation to the ink color. They all write in black. There is also no cover for any of the pens, nor a way to retract the tip, so its just a matter of time before they all dry out. This may be the most ill thought out pen design in the history of mankind. That said, it does make a good writing instrument for the important documents in your life.