Visitor Toll Pass – A New Option for Visitors with Rental Cars
Travelers renting a car in Orlando are familiar with the tollways leading to Walt Disney World, Universal Orlando, I-Drive, and Fort Lauderdale. Previously, guests would need to carry spare change or purchase a toll program from the rental car companies. The new Visitor Toll Pass promises to save time and money for those driving in the Orlando area.
How Does It Work?
Visitors register on a dedicated mobile app for their Visitor Toll Pass prior to their trip and pick up their passes at the airport. Visitor Toll Pass is hung on the rearview mirror of their vehicle, granting entry through any E-Pass, SunPass, or LeeWay express lanes. Tolls are automatically paid for using an on-file credit card.
Tip: Place your Visitor Toll Pass on your car's rearview mirror before exiting the rental car garage or lot, your pass is activated as you exit (hat tip to Bruce in the comments).
Once your vacation is complete return the Visitor Toll Pass at a drop box located along the pedestrian walkways from the rental cars to the airport terminals. Any Visitor Toll Passes not returned will incur a $10 fee in addition to any tolls the vehicle passed through.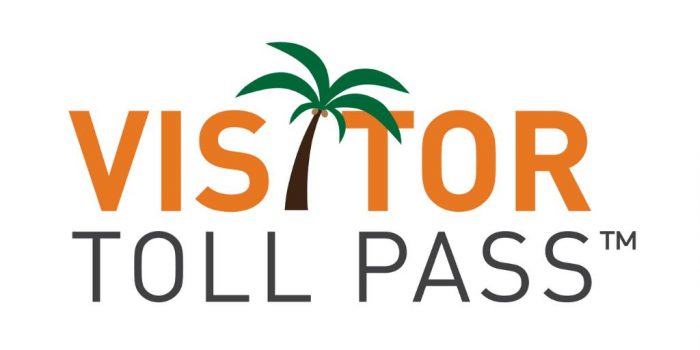 Why Use A Visitor Toll Pass?
There are two advantages to using a visitor toll pass: time and money. Travelers with a visitor toll pass can skip the staffed toll booths lines and use the express lanes to pay for tolls. Additionally the Visitor Toll Pass grants travelers a reduced electronic toll rate, 23% off the listed toll (a $2 toll would reduce to $1.54).
How Much Does It Cost?
The Visitor Toll Pass is free, you just have to pay for the tolls you pass through. If a Visitor Toll Pass is not returned at the end of a trip a $10 fee is applied to the credit card.
How and Where Do I Get One?
Register on the mobile app prior to the trip with the name, address, trip information, and a credit card of the guest using the pass. Once at the Orlando International Airport proceed to the Visitor Toll Pass vending machines on Level 1 of Terminal A or B to acquire your pass. Once you return your car, take the Visitor Toll Pass with you and deposit it in a Toll Pass drop box located at the parking garage or in Level 1 of Terminal A or B.
For additional questions visit the Visitor Toll Pass FAQ site or call 1-407-690-5300.
Does the Visitor Toll Pass sound like something that would be a must-do for your visit to save time and money? Let us know in the comments.
First published May 10, 2019. Updated July 2, 2021.