The Most Highly-Coveted, Heavily Sought-After Disney Awards: TouringPlans' 2011 Picks!
The title is hyperbole, you say? Well, would it surprise you to learn that a certain B. Iger called me up yesterday and said: "Yo, Tom, it's Igizzle. When are you going to sling out your totally legit awards for 2011?" Would it also surprise you to learn that a certain T. Baxter texted me and asked something similar?! Admittedly, the former was my distant cousin Bud Iger, pizza-making extraordinaire, and the latter was Tron Baxter, a random guy I met at elecTRONica who was staring at Laserman for several hours. (I'm not even sure that's his real name–he had made quite a few stops at the End of Line Club, if you get my drift.) Still, the point stands. The world, nay, the universe, has been sitting on pins and needles, waiting on me to award the first annual "Planies." Or "Touries." Or maybe I should call it my "Airing of Grievances," since that's what a lot of them will be, anyway.
Whatever they might be called, rest assured, these are the definitive awards in the Disney theme park universe. Unlike other awards that are the product of silly things like a "consensus," these are the sole product of my preferences, thoughts, and ire. Without further adieu, let's get the ball rolling!
Best New Disney Attraction: Star Tours: The Adventures Continue, Walt Disney World

This is a no-brainer. Well, except for those of you who contend that this attraction wasn't new, but rather, a refurbishment of an existing attraction. That's like arguing American Idol Experience was merely a refurbishment of Doug Live! If you've actually experienced Star Tours: The Adventures Continue, you know that it's a wholly different attraction. Everything, from the queue to the film to the exit, is different. It's a new attraction that resides in the shell of the former one, and shares the same intellectual property. To the point, though, this attraction deserves this award because it's technically astonishing, incredibly re-rideable, and because it took the soul of its predecessor and replaced it with something equally soulful and even more entertaining. The fact that it's self-referential and includes some wonderful details puts it over the top and gives it the nod over The Little Mermaid ~ Ariel's Undersea Adventure and Mickey's Soundsational Parade. It also receives the nod over the Disneyland version of the attraction because, overall, it's a slightly better experience.
Biggest Disappointment: Frontierland, Walt Disney World

With slipping maintenance standards in many Disney theme parks, this was a pretty heated race. Two candidates emerged for me immediately, and given the locations of those candidates, I knew it would have to be an entire land. Of course, I'm referring to Splash Mountain and Big Thunder Mountain Railroad. In early 2011, Kevin Yee first brought the plight of Splash Mountain to the attention of the Disney fan community. I had experienced the attraction in Mid-May, shortly before Mr. Yee wrote his article, and I was astonished by what I saw. Dozens upon dozens of lifeless Audio Animatronics, filth, and a plethora of broken water (and other) effects. Similarly, on the same trip, I had the "privilege" of experiencing Big Thunder Mountain Railroad with its third lift hill in a state of utter disrepair. A tarp covered (and would cover for the next several months) the location of a missing boulder. Other boulders wouldn't move. It was disappointing, to say the least, that these attractions have been allowed to operate in such states for so many months. Some may argue that Disney couldn't simply take down two of the Magic Kingdom's flagship attractions because of the impact on crowds and "ruined" vacations. I'd argue that Disney simply shouldn't allow them to operate because, in those states, these two normally amazing attractions weren't worthy of the Disney name.
Park of the Year: Disney California Adventure
Note that I wisely did not name this award "Best Park of the Year." Were that the award, Disney California Adventure wouldn't have won (that title would go to its older brother across the esplanade). However, this award measures everything the various parks have done over the past year, how they have handled with guests, and various other factors that are part of my secret algorithm. For this award, Disney California Adventure pulled together a surprise victory. First, we'll start with what Disney California Adventure debuted in 2011. It opened Goofy's Sky School (uh oh, we're not off to a good start…), The Little Mermaid ~ Ariel's Undersea Adventure, Paradise Garden Grill, Boardwalk Pizza & Pasta, among other things. It also plussed the already incredible World of Color with new tags, and added thematic enhancements around the park.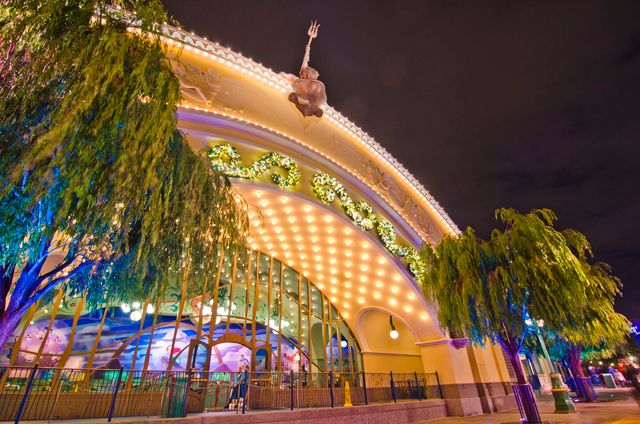 These additions, however, would not be enough for it to take the crown. While fully operational, Disney California Adventure continued its massive transformation, which included the addition of new turnstiles and a new "main street," to be known as Buena Vista Street. The park opened a surprisingly well-done temporary entrance behind Soarin', and has managed to deal with guest-flow remarkably well during all of this. With this massive re-imagining of Disney California Adventure, Disney has shown that it's not afraid to undertake a colossal project on a working theme park, while still allowing that theme park to shine with some of its new and plussed attractions. Despite all of the construction, Wine Country Trattoria and Ariel's Grotto still made great places to relax, as did Paradise Garden. (Mark my words, in 2012 this park will contain Disneyland Resort's version of a World Showcase as far as relaxing locales and leisurely hideaways.) Kudos to Team Disney Anaheim for making a construction-site theme park so fun, and kudos to every Cast Member who beams the excitement of what's to come. Something tells me this park will be making another appearance in these awards in 2012…
Dining Establishment of the Year: Trader Sam's, Disneyland Resort
While 2010 was a big year for restaurants at Walt Disney World, 2011 was Disneyland's year to shine. Hungry Bear Restaurant and Village Haus both received incredible new menus. Pizza Oom Mow Mow made way for the incredible Paradise Garden Grill and Boardwalk Pizza & Pasta. However, the biggest and best change of all happened out at Disneyland Hotel, where Trader Sam's was bestowed upon Western Civilization. In case you haven't experienced it, Trader Sam's is no simple tiki bar. This is Walt Disney Imagineering at its peak. The place is absolutely loaded with Disney Details and gags, and features many specialty drinks that create reactions in the bar. Trader Sam's traces its roots to the Adventurers Club, Jungle Cruise, Walt Disney's Enchanted Tiki Room, Joe Rohde, and other tropically-infused Disney offerings. For the sake of "research," when we were there in November, our party made sure to order one of every drink and appetizer. The drinks are excellent and inspired, and the food is delicious. Even if you don't drink, you absolutely must visit Trader Sam's.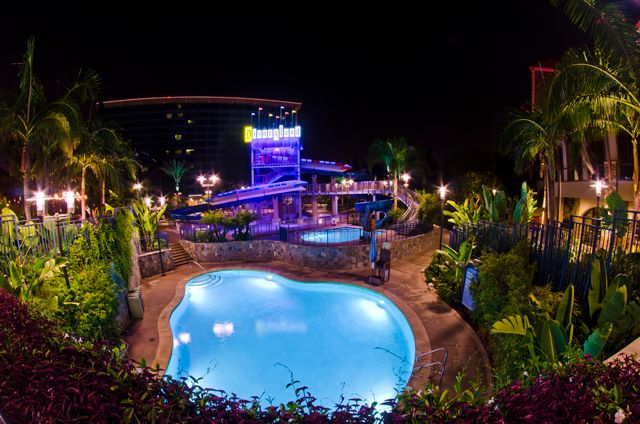 Resort-Hotel of the Year: Disneyland Hotel
Disneyland Hotel has been under the knife for a couple of years now, and the dividends began to pay off this summer as the new Monorail pool opened. This pool initially received a lukewarm reaction, but subsequent additions, including the E-Ticket pool, the new themed suites, and the details throughout the hotel demonstrated that the newly remodeled tours of the Disneyland Hotel would pay homage to the history of the hotel and Disneyland in general, while taking the luxury of the hotel to the next level. The new details here are stunning, from the fixtures to the classic attraction wallpaper in the restrooms! It may still be overshadowed by the beautiful Grand Californian Hotel & Spa, but the Disneyland Hotel now once again stands tall as one of the nicest hotels around Disneyland.
Announcement of the Year: Avatar Land, Walt Disney World
A lot of announcements were made this year (although not as many as fans would have liked, as evidenced by the reaction to the D23 Expo), but none were as divisive as the Avatar Land shocker. Divisive might be overly optimistic, actually. Many fans hated this announcement. As you can probably guess by my dubbing it the "Announcement of the Year" I fall into the minority of fans who were excited and elated about this announcement. Very excited and elated! To me, Disney's Animal Kingdom is the weakest of the four Walt Disney World theme parks, despite having the most potential. The details are there, the theming is there, it has the makings of a beautiful and absolutely amazing theme park. Unfortunately, the attractions are not there. As far as I'm concerned, details and theming are only subterfuge for substantive shortcomings. The Nahtazu campaign? An implicit admission that the park is too much like a zoo, and careful marketing to convince guests otherwise. Yes, I realize Avatar is not Beastly Kingdom, and I'm actually not that big of a fan of James Cameron.
However, I am a fan of highly immersive environments and I am a fan of quality. James Cameron will demand both. Cameron is a perfectionist, and this is one project that I highly doubt will go under budget. To be sure, it would have been great if Disney executives trusted WDI to create a great original concept, but no attraction ever failed because of the property on which it was based. Just look at fellow "award" winner Splash Mountain. How many people who love that attraction have seen Song of the South? The quality of the Avatar expansion at Animal Kingdom will be mutually exclusive of the popularity and quality of the films. The environment and the attractions that get built in that environment (and from what I've seen, the environment of Avatar is a pretty awesome and detailed mythical natural environment…wasn't that exactly what Beastly Kingdom would be?!) will stand on their own, and will hopefully give Animal Kingdom what it has lacked: attractions predicated on the mythical world, instead of live animals, that capture the sense of fantasy and awe that the other parks achieve so wonderfully. It's because the announcement of Avatar Land will finally help Animal Kingdom realize so much of its unrealized potential that this is the announcement of the year.
Am I way off with my picks? What are your picks for 2011 Disney Awards? Share your thoughts in the comments!